Last Updated on October 26, 2016
The article "Should A Child Attend A Funeral?" is a guest post by Litsa Williams (M.A., L.G.S.W.) and Eleanor Haley (M.S.) of the poignant, winsome, and well-written grief & loss blog What's Your Grief. In addition to the many helpful insights you'll find on their blog, you would be well-served by following their thoughtful posts on Facebook or Google+.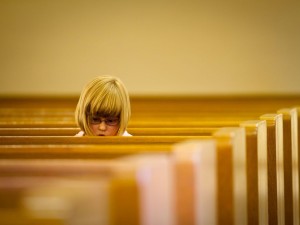 The question of whether children should attend funerals is one I have heard time and time again in working with families at the end-of-life.  Most adults want to make sure they do the "right thing" on behalf of children at such a difficult time, and it can be stressful when it isn't immediately obvious what the "right thing" is.  Lucky for you we are going to break down some considerations that should make it a little easier to involve kids in the funeral process.
First I am going to ask you to eliminate one common misconception from your thinking:  this decision is about age.  Don't worry, if you thought it was about determining if your child was 'old enough' to attend a funeral, you are not alone.  I cannot count the number of parents who have told me they are not allowing a child to attend a funeral because they feel the child is too young.  Others ask what age is the right age to bring a child to a funeral.  Others still say they are making an older child attend, even though the child doesn't want to.  They often feel the child is 'old enough' and needs to say goodbye.
I am going to ask you to shift your thinking here: the decision to bring a child to a funeral should be about one thing – the individual child.  It should not be a decision based on age.   There is a very simple way to determine whether a child should attend a funeral: ask the child!  So simple, right?  You may be thinking that your child is too young to make this important decision.  Keep in mind that the decision to attend itself is one of the most important things that children will remember about the funeral process.  Children who are deprived of the ability to make the decision about whether or not to attend a funeral will often resent that the choice was taken from them.  Children who are forced to attend a funeral they do not wish to attend are more likely to have a bad experience at the funeral and feel anger and resentment that they were forced to go.  So step one is simple: ask your child and respect their decision.
Should a child attend a funeral? Ask your child and respect their decision.
When discussing this decision with a child it is important to ensure that what to expect from a funeral has been clearly explained to them and all their questions have been answered.  You want the child to make their own decision, but to do that they need all the appropriate information.   Describe what the funeral will be like, talk about the reasons they may want to come, and also the reasons they may not want to come.  Explain to them why people attend funerals at all, and let them know what the alternative is if they do not attend (where will they go, who will stay with them, and that they will still be able to say goodbye in other ways).
If a child decides they do wish to attend the funeral, the following are some tips to make sure it goes well.
Let them be involved.  Include them in choosing photos for any displays or videos at the funeral home, ask if there is anything they would like to draw or write to display at the service or place in the casket.
Let them know what to expect.  This includes everything from discussing whether there will be a casket (and will it be open or closed), an urn, flowers, photographs, etc.  Let them know if there will be other funerals in the funeral home at the same time.  Discuss that there will be a lot of people, adults may be crying, etc.  If they seem apprehensive, take advantage of your camera phone and offer to take pictures of the funeral home in advance to show the child, so they have a visual of what to expect.
Give them a buddy.  Have an adult whose role is to be there with the child to answer questions, explain things, and take them outside (or home) if they wish to leave.
Tell them it is okay to leave.  Make sure they know that even if they decide to attend, if it gets overwhelming they can always decide to leave.  Let them know their buddy will be happy to take them home or somewhere to take a break.
Bring distractions.  Be it a coloring book, journal, games, books, or other toys, kids might need a break from the viewing or funeral.  Make sure they have something to do if they need some space but aren't ready to go home.   Before the funeral or viewing starts try to find them a "break" spot where they can leave the items and where they can go to get space.
Debrief afterwards.  Once the funeral is over, take time to process with the child.  Find out how they are feeling about the funeral.  See if there is anything they are confused about or didn't ask about.  Discuss whether there was something they wanted to do at the funeral and weren't able to.
You may find that a child does not wish to attend a funeral, and that is okay too.   Make sure you have answered all their questions, but if they still do not wish to go, do not force a child to attend.  If a child does not wish to attend the funeral, see if they would like to work with you to create their own goodbye ceremony or ritual.  This could be big or small and should be whatever the child is comfortable with.  It could be as simple as creating a drawing, singing a song, or going to a favorite place.  Be open-minded to whatever the child suggests.  If they do not wish to do anything right away, that is okay too.  Let them know that if/when they are ready to do something that you are happy to help.
Supporting a grieving child through a funeral can be a daunting task, but just remember that if you allow them to drive the process and honor their needs, you are on the right track.  Open communication, active listening, support, and flexibility will ensure that you are able to meet the child where they are and provide them the support they need.
Was this article helpful to you? Share it!