Gifts for grieving children are best given as a way to make life a little bit more bearable for a precious child who has just lost someone very important to them.
With this reality in mind, today we're going to be sharing with you not only 10+ thoughtful gift ideas for bereaved children, but we'll also weave in some tips for helping kids in the midst of grief over their loved one's death.
Our website is supported by our users. We sometimes earn a commission when you click through the affiliate links on our website. Learn more here.
Children Grieve, Too
Even very young children understand more than we often give them credit for when it comes to death and dying.
But whether they've just experienced the loss of a beloved pet, or the life-changing death of a parent, grandparent, sibling or friend, the pain they're feeling is very real and can be all-consuming (and downright confusing) especially if it is the first real loss they've gone through.
So more than anything right now, you want to understand the grieving child in your life, to better help them work through the complicated emotions.
So as you think about what to give the grieving child in your life, try to think from their perspective.
A grieving child needs:
To be treated respectfully, like a human being with real and deep emotions
Time and space to process their grief, and room to make mistakes
Forgiveness and patience for when they don't act or react appropriately
Support and encouragement, even if they don't have anything to say back to you
Someone who will explain things to them without leaving them in the dark
Someone who will be available to listen when they're ready to talk
We'll share some more insightful tips below to help you choose an appropriate, thoughtful gift. But for now, let's take a look at some of our most carefully curated gift ideas for grieving children.
10 Thoughtful Gifts for Grieving Children
The goal here is not just to give your child a toy or something else to temporarily get their mind off their sadness; rather, these gift ideas have real meaning, and can go a long way in helping your child heal from their loss.
1. Cardinal Memorial Seed Packs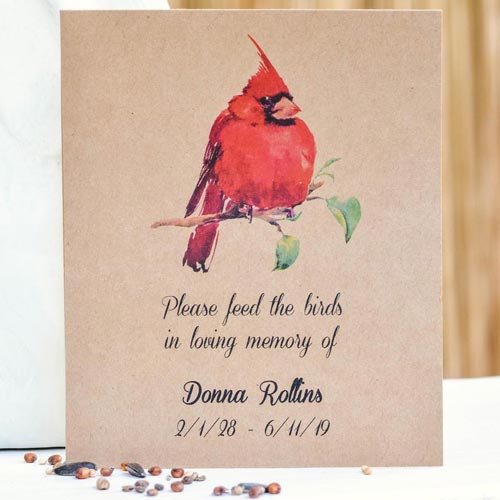 Getting out in nature can be very therapeutic for anyone. This is especially true for a child who has just gone through a loss.
These memorial seed packs, which come personalized with their departed loved one's name, hold ready-to-plant wildflower seeds and depict the image of a cardinal.
The cardinal is often seen as a symbol of loved ones in heaven. Read more here.
2. Memory Bear (Made from Loved One's Clothing)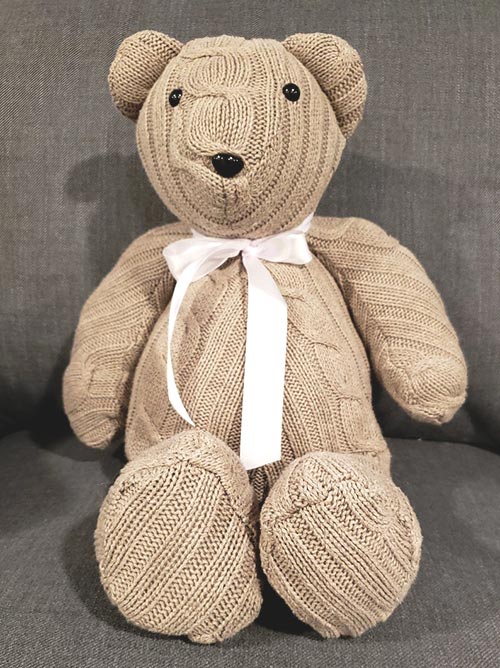 Mementos & Monograms is an Etsy shop that will take your late loved one's clothing and use them to create a one-of-a-kind teddy bear. This memory bear is a sweet forever keepsake for the grieving child in your life, a gift they are sure to treasure.
3. Personalized Keepsake Box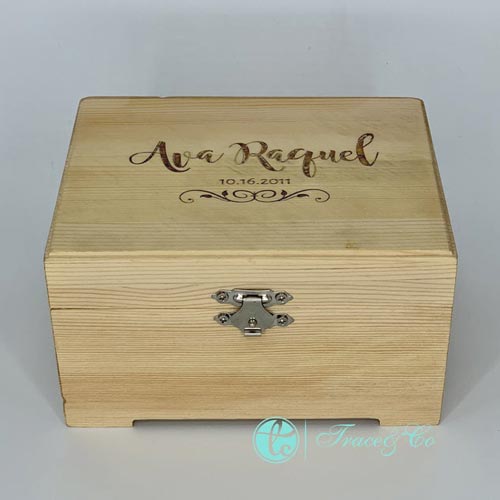 This keepsake box comes personalized with your child's name, or the name of their loved one and an important date.
It's the perfect sympathy gift for tweens or teens who need a special place to keep photos, cards, inherited jewelry or trinkets, etc.
4. "The Fall of Freddie the Leaf"
Books make wonderful gifts for grieving children. The Fall of Freddie the Leaf is one of my personal favorites; it details the "death" of Freddie, a leaf who slowly becomes aware that life as he knows it will one day end.
For even more books to help children grieve, see here.
5. Children's Sympathy Gift Basket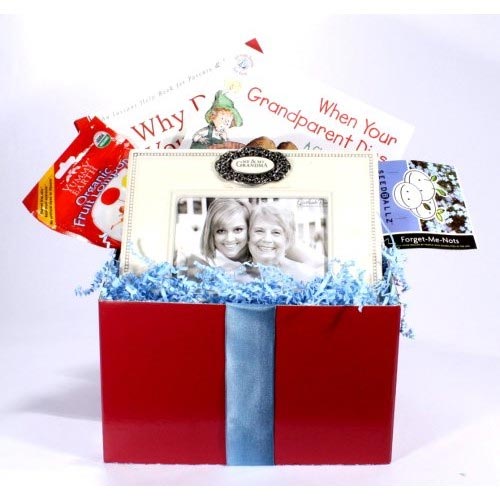 Gift baskets make thoughtful gifts for grieving children who are mourning the death of a family member.
At Healing Baskets, they offer a range of child-centered sympathy gift baskets. The "Grandmother" one, for instance, includes a mosaic picture frame, forget-me-not seed planters, age-appropriate grief guides and some yummy snacks. And that's just one of many!
Alternately, you could put together your own sympathy gift basket. Fill it with things you know your child will love, and you may help brighten their day if only a little bit.
Some ideas include:
Food/snacks/treats
Hot cocoa & mug
Books
Journal and writing/drawing supplies
Card games
Art supplies
6. Grief Journal for Kids
Through simple question-and-answer prompts and other creative means, the Angel Catcher for Kids Journal offers a therapeutic outlet for kids who enjoy that kind of thing.
You can get the grown-up version for yourself, too.
Related: Grief Journaling – 10 Healing Benefits & 40 Writing Prompts
7. 3D Photo in Memory of a Pet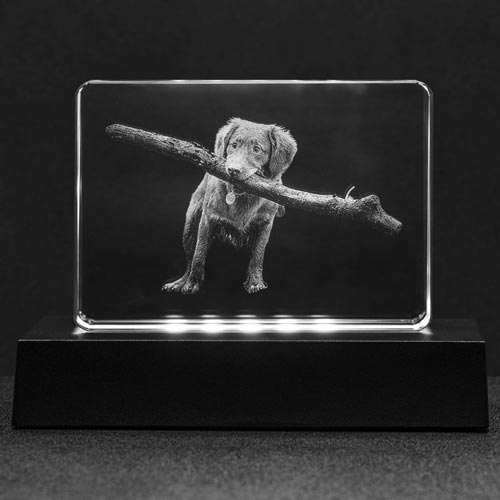 For the child who's dealing with the loss of a pet, consider gifting them this 3D engraved photo keepsake. The seller simply takes a photo of your child's pet and turns it into a keepsake memorial that will be treasured forever. It includes an optional light-up base.
8. Angel Dad Memory Necklace
This one's for the daughter who's lost her daddy, the first love of her life. This beautiful stainless steel necklace, which is also available as a bracelet, would make a very thoughtful gift for tween or teen girls.
9. Memorial Quilt (Made from Loved One's Clothing)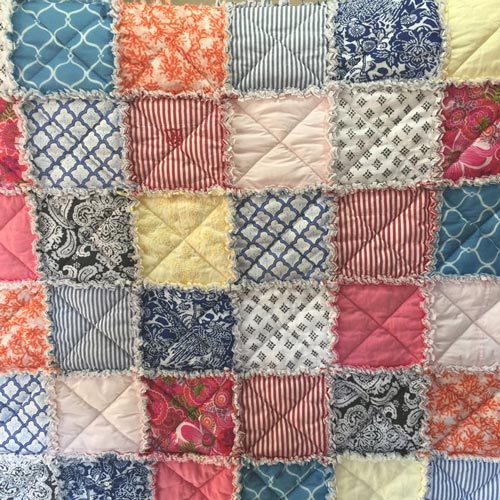 Similar to the teddy bear (#2) above, this memorial quilt is handmade of clothing that belonged to your child's departed loved one. Perfect for snuggling with together on days when the grief is raw.
10. Easel Art Set
Expressing oneself through art can be therapeutic for anyone, but perhaps especially for kids.
This art kit comes with crayons, oil pastels, markers, colored pencils, paints, and more to get them started. An art kit would make a great accompaniment to the grief journal (#6) mentioned above.
Tips for Choosing Gifts for Grieving Children
These tips are based on grief tips supported by both child grief experts and parents alike, and are tailored to help you give appropriate and thoughtful gifts to the grieving child in your life.
Start with self-examination
Take a good look at your own emotions, because there's no way that you can be there completely for your child if you're at a complete loss yourself over your own grief experience.
That said, most experts agree that it's not necessarily a bad thing for children to see the adults in their life upset… it's a healthy reminder that it's perfectly okay to cry, that you don't have to be strong all the time, etc.
When it comes to gift-giving, the same thing applies. Don't give a gift that is an expression of what you're feeling at the moment. Aim, instead, for something that will help, encourage, or bless the child.
Put your child's needs ahead of your own
Your child's needs always come first. It's your job as the adult in their life to be there for them mentally, emotionally, physically, and spiritually.
When choosing a gift, put yourself in his or her shoes. What might they find comforting? Or would it be better to go with something that provides distraction and relief?
Of course it's not going to be easy, and be overwhelming if you yourself are burdened by grief.
That leads to our next tip…
Don't be afraid to ask for help
Whether you need help explaining to your child what has just happened, or need mental or spiritual help yourself, there is absolutely no shame in seeking it. You and your child will be better off for it.
The same thing goes for gift ideas – sometimes, you just need help picking the right sympathy gift! That's ok, that's what this article is about.
Keep up with routines
Children find stabilization in everyday routines, which can help them know what to expect next if they're feeling confused over what's going on.
So make your gift in continuity with the past. Did you take them out to ice cream every week? Keep doing it. Did the departed loved one take them out for ice cream every week? Ask if you can honor their memory (not replace it) by taking the child out to ice cream now that their loved one is gone.
Talk to them about what is going on
In a similar vein, let your child know what's happening next, especially in regards to funeral arrangements.
If the child is going to the funeral, it may be the first one they've ever been to, and that can be scary.
Explain every step along the way: "Tonight we're going to the viewing. Aunt Jane will be lying in her casket. People will be visiting with one another and looking at the casket, but you don't have to look if you don't want to." Or "Tomorrow morning is the funeral. It'll be kind of like going to church. There will be singing and praying, and people will stand up and talk about Aunt Jane's life. Some people may cry, including me, so it's okay if you cry, too."
Applying this tip to your gift, tell the child why you got them what you did. "I got this because I was thinking of you" is a perfectly fine reason. You can also tell them you chose the gift because you thought it would be nice to be reminded of the person, or explain that it's a keepsake to honor their memory, or that you hoped you could provide a little welcome distraction.
Don't underestimate the "gifts" of time and talk. The child will appreciate being spoken to and treated like a mature human being.
Ensure that your child is eating and sleeping well
No one who is nutrition or sleep-deprived is going to be able to work through grief, much less a little person.
If they are struggling to eat, offer to take them to their favorite restaurant to get their mind off things for a while. If they are having trouble sleeping, allow them to sleep with you for a while, or you with them.
Of course, there's nothing wrong and everything right with seeking professional help if you notice that your child's eating or sleeping patterns have greatly diminished.
For a thoughtful sympathy gift, avoid stimulating gifts (like video games) or junk food and candy if they are already having trouble sleeping or eating. Think about how they are doing in relation to what you give, and how your gift might negatively affect them.
Give them time and space
Every kid is different. Depending on their age and developmental maturity, it will take some longer than others to get back to a place of normalcy.
Regarding sympathy gifts, this means that they might not react the way you hoped they would when receiving the gift. That's ok. Remember that they are going through a lot, and probably don't know what to feel or how to react.
So give the gift and let them be. Don't pester and ask how they like it or whether they have used it or displayed it. Give your gift, let them know you care, explain why you gave it to them, talk to them if they are willing (or listen if they need to talk), and then give them some space.
More Gift Ideas for Grieving Children
Here are just a few more gift ideas for grieving children. These ideas are not necessarily gifts that you can buy your child, but are rather the gift of time spent together:
Look up some Winnie the Pooh quotes and talk about their meanings. In our house, Winnie the Pooh is a favorite… he offers such wise reminders that life doesn't have to be complicated to be good, even when you're sad. Characters like Eeyore go to show that it's okay to feel down from time to time. And Pooh-themed grown-up books like this one and this one can serve as self-help whenever you yourself need a gentle pick-me-up.
Take your child somewhere that was special to the person they've lost. Did Grandma love the beach? Go! Write her name in the sand on the shore and watch together as the waves slowly pull it out to sea. Was Uncle Mark a movie fanatic? Every year on the anniversary of his death, make it a happy occasion by going to the movies. He would have loved that.
Do your own balloon release. Many funeral homes actually offer services like these, but you can just as easily create this experience yourself at a fraction of the cost. And it's something truly meaningful that kids can get in on. If balloons aren't your thing, here are some environmentally-conscious alternatives to this idea.
Keep a shared journal. A place where you both take turns writing your thoughts and feelings and hopes for the future.
---
We hope that this has been helpful for you as you carry out the difficult task of comforting and caring for a grieving child.
Feel free to bookmark this page as a resource, or if you have any other gift ideas or tips that have worked for you and your family, we'd love to know about them. Help out us and a fellow reader by sharing them in a comment below.
Pin It