The Christmas season is here, but it is so very different without your loved one near. Many families create a Christmas memorial ornament that honors the memory of their loved one. This is a small way to feel their much-missed presence during the special holiday time.
So look back on yesterday's memories and begin creating new ones for you and your family. These ornament provide a great way to share your love and holiday memories. Here are 35 of our favorite Christmas memorial ornaments.
Our website is supported by our users. We sometimes earn a commission when you click through the affiliate links on our website. Learn more here.
Christmas Memorial Ornaments
We'll begin with some of the most popular, beautiful, and heartwarming Christmas memorial ornaments for your tree this holiday season.
1. Holiday Chair Christmas Sympathy Ornament
This wooden chair ornament with a holiday wreath signifies the empty chair of your loved one. Not to be forgotten at this special time of year, you have saved a place at the table for them!
The chair is 3.5 inches tall and will be a charming addition to your Christmas tree.

2. Memorial Heart Ornament Christmas Gift
Let someone know you are thinking of them as Christmas approaches. This heartfelt poem and ornament memorial gift is sure to touch that special friend or family member. It's like receiving a note from your loved one in heaven.
Displaying the delicate filigree heart on your tree will add to special Christmas memories.
3. Because Someone We Love Is in Heaven Ornament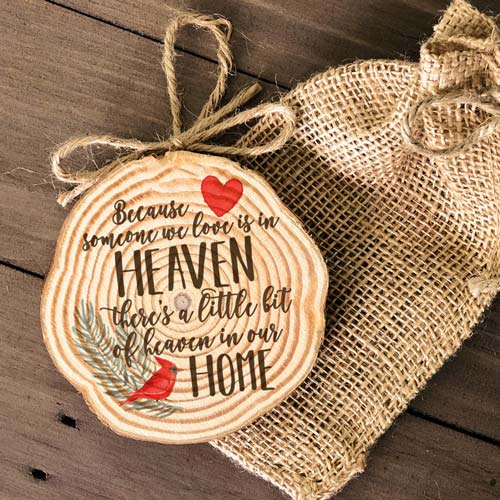 This uniquely designed wooden memorial ornament will add a sweet sentiment to Christmas! A bright red heart to signify your love, and a dazzling cardinal to represent your loved one.
It is said when you spot a cardinal, it is your loved one dropping in. Letting you know that you are not alone.
4. Cardinal Memory Ornament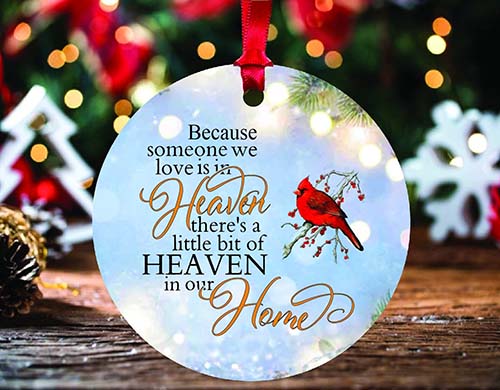 It has been stated that cardinals appear when angels are near. A truly wonderful thought! A pleasant way to remember that special someone that is looking on from heaven.
Anyone that has lost a loved one would invite this radiant little bird into their home. This handmade, 2.85″ diameter ornament is a perfect token to represent that special visitor.
Learn more about the history of that saying and find other inspirational cardinal-themed memorials here.
5. When Someone You Love Becomes a Memory Memorial Ornament with Tree & Bird Feeder
Remembering your treasured loved one is easy with this elegant and timeless keepsake! Bring back memories of the touching times spent together.
This uniquely designed memory ornament is sure to last through the years. Display on your Christmas tree or in a window.
Hand detailed and crafted in pewter. Makes a perfect holiday gift for a friend or a special token for yourself.
6. Remembrance Lawn Chair Ornament
This adorable beach chair is perfect for that special someone that loved the sand and waves! What a thoughtful way to celebrate your loved one. Included with this ornament is a heartfelt poem.
You'll always be reminded of your loved one with an empty chair that you have saved just for them!
The size is 4″ long, 3.5″ wide, 3.5″ high and can be hung on your tree of displayed anywhere else.
Personalized Memorial Ornaments
Each of the memorials below include a customized addition of your loved one's name and dates.
7. In Our Hearts Forever Personalized Ornament
Memorialize your special loved one on this decorative heart-shaped ornament. Adding your loved one's name and dates will remind you that you always carry them in your heart.
The heart represents your love while the dove represents the peace and goodwill of the Christmas season. This ornament is hand painted on resin and will last for years to come.
8. Christmas in Heaven Personalized Wood Ornament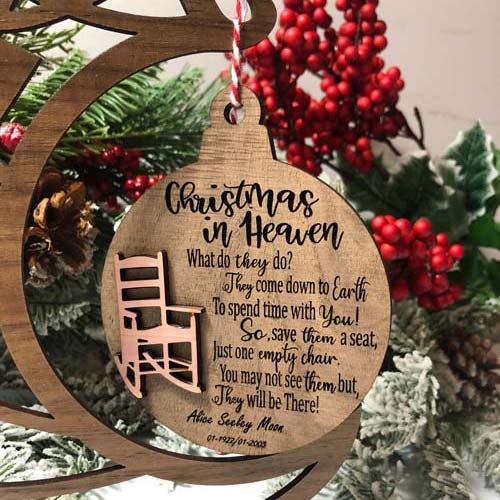 Personalize this handmade ornament with your loved one's name and dates. Thinking of this beautiful sentiment "You may not see them but, they will be there" can bring you comfort as you celebrate the holiday.
Choose from cherry or maple for your uniquely designed memorial tribute. Beautiful to display on a table top. Dimensions are 4.5″ H, 3.75″ W, 0.25″ D.
Related: Is There Christmas in Heaven? Bible Verses, Memorial Ideas, Poems & More
9. Willow Tree Personalized Memorial Ornament
This charming and unique ornament is the perfect addition to your Christmas ornament collection. Personalize the misty weeping willow with your loved one's name and dates.
Printed on clear acrylic, your personalized design will stand out. The ornament will provide years of remembrance for your loved one.
Measuring 3″ X 3.6″ and coming with a decorative cord (for hanging on your tree) the finishing touches to this ornament are just right.
10. In Loving Memory Personalized Ceramic Ornament
The soft shades of green leaves enhance your loved one's personalized ornament. This is a special way to include someone who lives on in your heart as you celebrate Christmas.
Perfect as a gift for a friend or family member. Or maybe a sweet way for you to recall precious memories of your own. This ornament is crafted from ceramic and measures 3″ in diameter.
11. Paws On My Heart Personalized Pet Memorial Ornament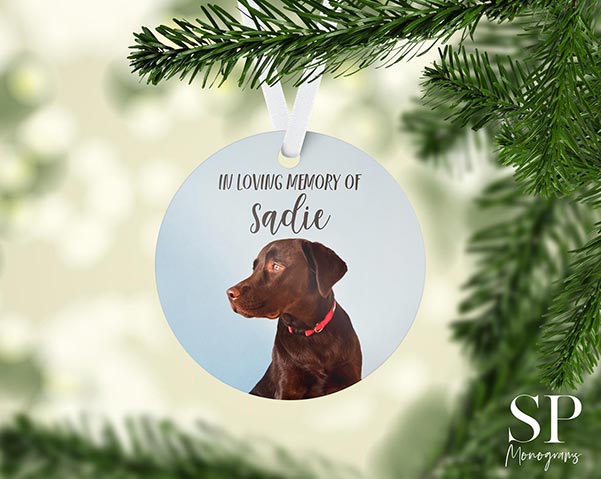 Remembering your fur baby at Christmas can be bittersweet. They can still help you celebrate with this personalized tree ornament. Create a beautiful adornment with your pet's photo and name and they'll be with you each holiday season!
This hand-crafted aluminum ornament will stand the test of time. You can also display it all year long by hanging it in a window.
12. Angel Wings Personalized Memorial Ornament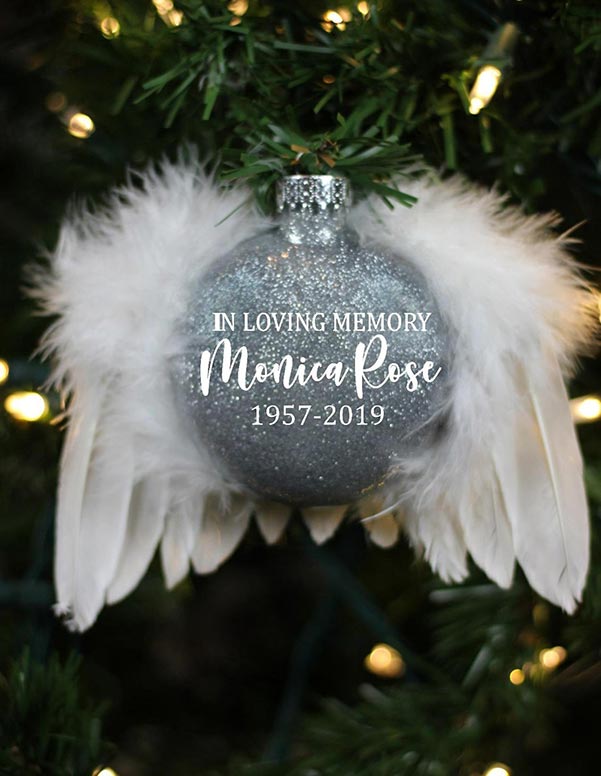 Let your own angel grace your Christmas tree this season. Personalize this glimmering ornament with your loved one's name and dates.
The delightfully designed ornament measures 5″ H, 6″ W, 1″ D. This is shatterproof with the glitter sealed inside. It's the perfect way to remember your loved one is safe in the arms of an angel!
Memorial Photo Ornaments
Your loved one's photo deserves a special place of honor on your Christmas tree. Each of these holiday ornaments includes a way to display a beautiful picture of your beloved.
13. Angel Wings "Always in My Heart" Photo Ornament
This loving ornament will hold a 2.25″ photo of your loved one. Wrapped up in angel's wings and kept securely in your heart!
Hang on your Christmas tree, place on a display stand, hang from your window, or even your rearview mirror. Keep your loved one close to you in this gem-encrusted frame.
14. "Because Someone We Love is in Heaven…" Keepsake Photo Ornament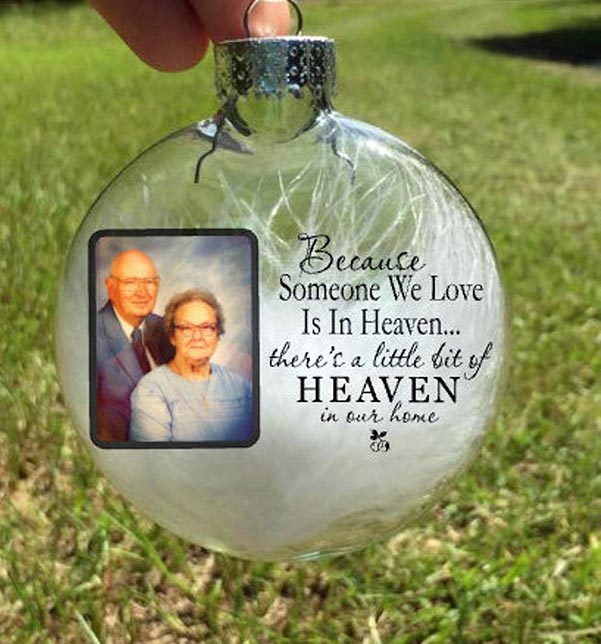 This is a uniquely designed handmade Christmas memorial ornament. Your custom decoration is crafted in glass and embellished with your loved one's photo. It is a true treasure to be displayed annually on your Christmas tree. The feathers that fill this clear glass ball will remind you of angels' wings.
Penned with a beautiful sentiment of having a little bit of heaven in your own home. This ornament is sure to keep your loved one's memory close to you.
15. Engraved Photo Holder Ornament
Exceptionally made and personalized, this gift is one of a kind!
The pewter finished ornament has an engravable plaque on the back for a name and dates. The ornament will hold an oval photo 1.5″ high. Your memorial comes with the sentimental poem "Merry Christmas From Heaven."
This keepsake would make an amazing gift for anyone who has lost a loved one. Proudly display this ornament on a Christmas tree or an ornament stand.
Related: Merry Christmas Wishes From Heaven
16. Loved One in Heaven Personalized Photo Ornament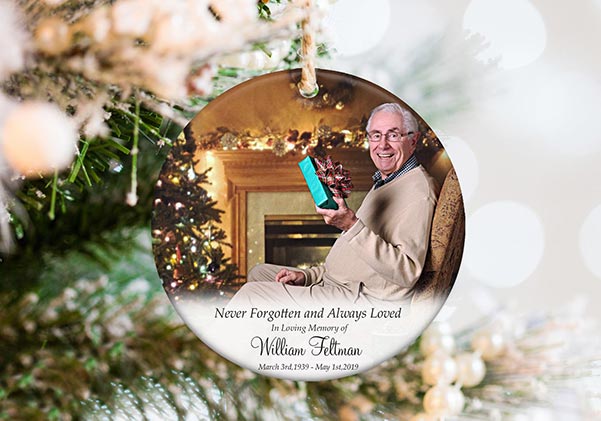 Hand-crafted from tempered glass, you have never seen anything quite like this. These highly personalized Christmas memorial ornaments feature your loved one's photo, name, and dates.
These remembrances will be fantastic keepsakes for years to come. You and your entire family will gladly display them on your Christmas tree or an ornament stand. Each new ornament will measure 3.5″ in diameter.
17. Merry Christmas in Heaven Personalized Photo Ornament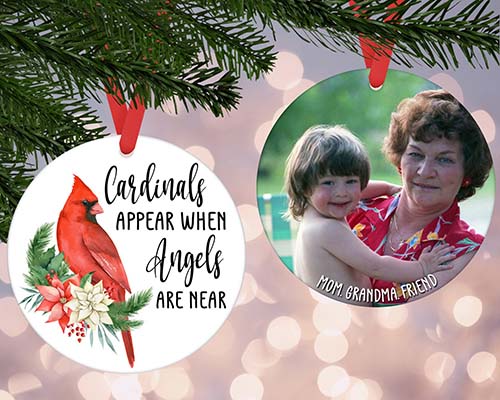 This handmade "Cardinals Appear…" ornament features a photo of your loved one on one side with a beautiful cardinal on the other. Personalize this with the name of your precious angel. Hanging from your Christmas tree will remind you that your loved one is near.
The cardinal is a thoughtful reminder that your loved one is watching over you. This particular ornament measures 3″ in diameter and has a glossy finish.
18. Pet Memorial Photo Heart Ornament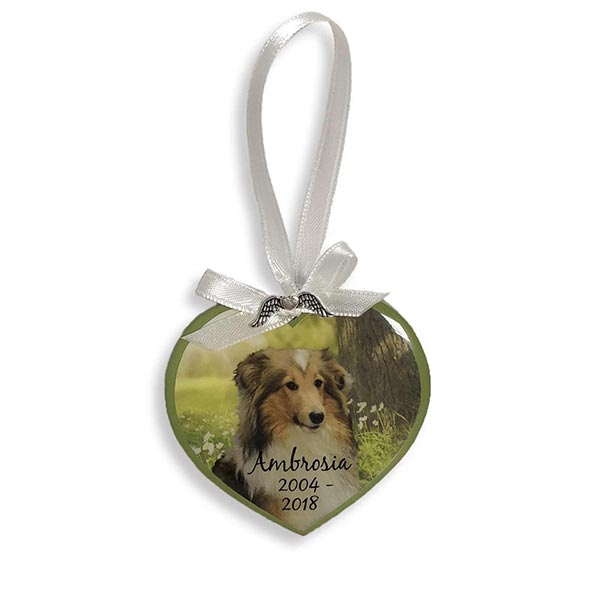 This adorable custom Christmas ornament keeps your fur baby in your heart! Personalize this ornament with a picture of your pet, along with their name and dates.
Finished in a high gloss resin and embellished with angel wings and a satin bow. Perfect for any Christmas tree. Remember your pet this holiday season and for many years to come.
Your sweet memorial will measure 2-1/2″W x 2-1/4″L x 1/4″ thick.
Memorial Ornaments for Parents, Grandparents, & More
Here are some beautiful Christmas ornaments for all the special relationships in your life.
19. Memorial Ornament for Mom
A stunning memorial to "Mom." Give this beautiful filigree teardrop an honored place on your Christmas tree. A fitting testimonial to a woman that will live in your heart for always.
This striking silver-toned ornament measures 2.25″ x 0.2″ x 3.63″.
20. Memorial Ornament for Dad
This silver-toned teardrop encompasses how you are feeling for "Dad." Included with the ornamental teardrop is a heartfelt message.
Display in a prominent place on your Christmas tree. It's a beautiful reminder of how special the man you called "Dad" will always be. This elegant ornament measures 2.25″ x 0.2″ x 3.63″.
21. Memorial Ornament for Grandma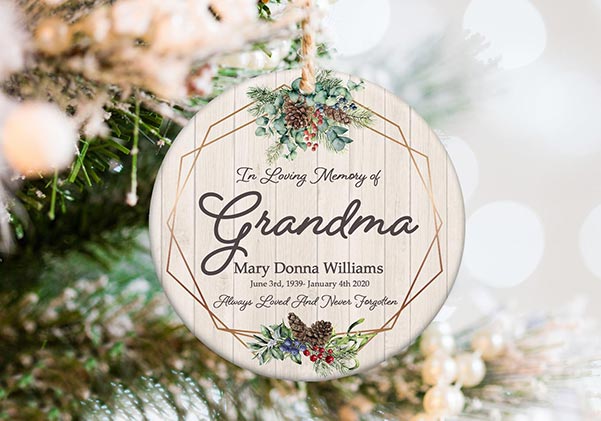 In appreciation of a lady known as "Grandma." Personalize this stunning Christmas memorial ornament with her name and dates. As the ornament states, "Always Loved And Never Forgotten."
Anyone seeing this memorial hanging on your Christmas tree will know that you still carry your grandma in your heart.
Your new ornament will measure 3.5″ in diameter and is made out of tempered glass. This piece is sure to give you years of memories.
22. Memorial Ornament for Grandpa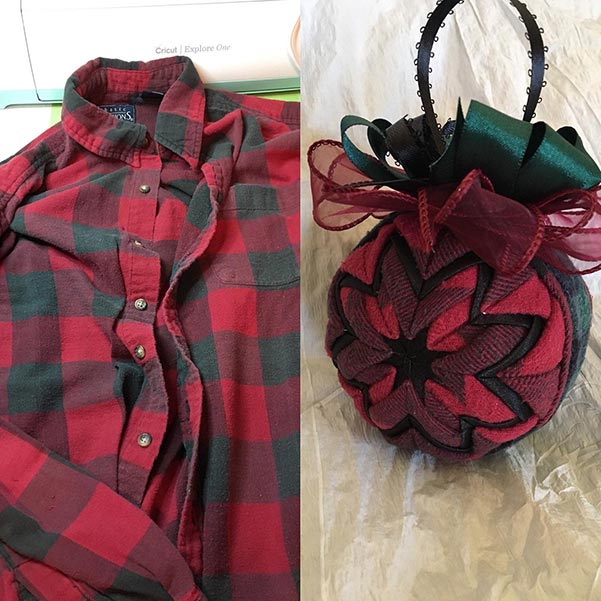 Turning his favorite shirt into a Christmas ornament is a great way to have him close by during the holidays. This is a one of a kind ornament that only your loved one will have. Imagine touching the shirt that Grandpa used to wear! This is truly a proper tribute to the man, the myth, the legend, Grandpa!
This personal tribute measures approximately 3″ in diameter.
23. Memorial Ornament for Baby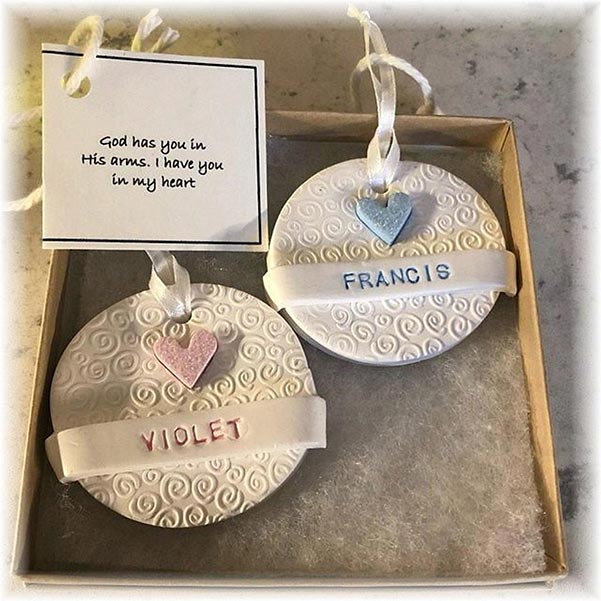 These precious ornaments are handmade from polymer clay. A sweet way to remember your baby is being held in the arms of an angel. Personalized for your baby with their name and a heart in pink or blue.
Display this sweet ornament on your Christmas tree or an ornament stand. This is a thoughtful gift for a mom or dad who has lost a pregnancy. Let that special someone know you are thinking of them.
24. Memorial Ornament for Pet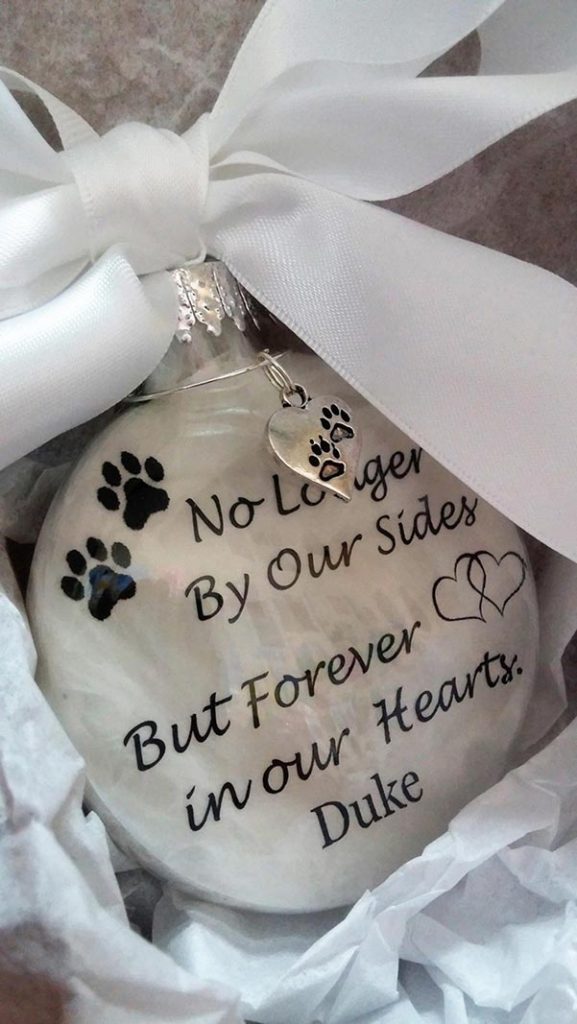 This personalized glass pet memorial ornament is one of a kind for your sweet fur baby. Just add your pet's name and hang from your Christmas tree or display it in a place of honor.
Your loving pet may not be here in your arms, but will always be in your heart. Your ornament is filled with white feathers and topped with a silver-toned pawprint charm.
Glass Memorial Ornaments
25. Glass Angel Christmas Memorial Ornament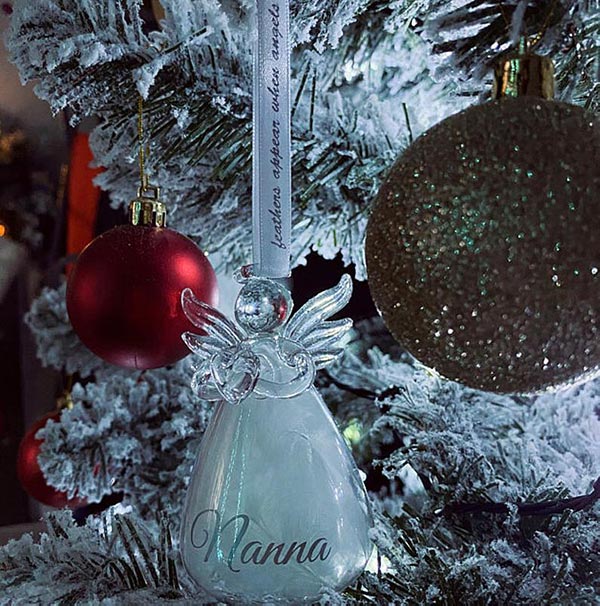 This is an "angelic" addition to anyone's Christmas ornament collection. You can honor that special angel that is celebrating Christmas in heaven.
Hang their glass angel memorial ornament from a prominent position on your Christmas tree as a beautiful way to include your loved one in your Christmas celebration. Your new ornament will measure approximately 3″ x 2″.
26. Glass Cardinal Christmas Memorial Ornaments
This special suncatcher memorial will add cheer to the holiday season. The legend of the cardinal is distinctive! When a cardinal is sent to you, it is a visitor from heaven.
Hanging your ornament in a noticeable place will bring your loved one closer to you. This bright and cheerful bird will remind you that a special someone is watching over you.
Related: "Cardinals Appear…" Personalized Cardinal Bird Feeder Memorial
27. Personalized Glass Teardrop
This timeless memorial teardrop is a special tribute to your loved one. Personalized with their name and dates, it can be hung from your Christmas tree. You can display your remembrance ornament in a place of honor for all to see. Share your love with everyone who sees this dignified adornment.
This glass ornament measures 3 3/4″ x 2 5/8″ x 1/8″ and would make an exceptional addition to anyone's collection. So it's perfect for a sympathy gift!
28. Glass Memorial Cremation Ash Ornament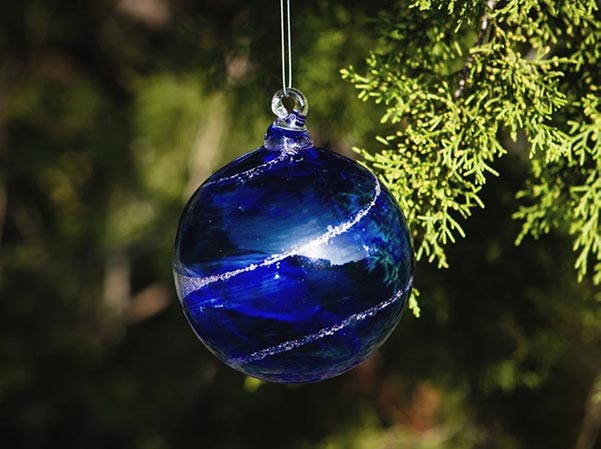 This memorial ornament is truly one-of-a-kind: Your loved one's cremated remains are memorialized within this beautiful handcrafted ornament. A thin line of cremated remains runs through the color of your choice.
This is an elegant and dignified way to honor your loved one. Hang at the front of your Christmas tree in a place of honor. Your new glass ornament measures about 3″ in diameter.
Related: 15 Memorial Ideas Made From Ashes
29. "A Feather is an Angel" Glass In Memory Ornament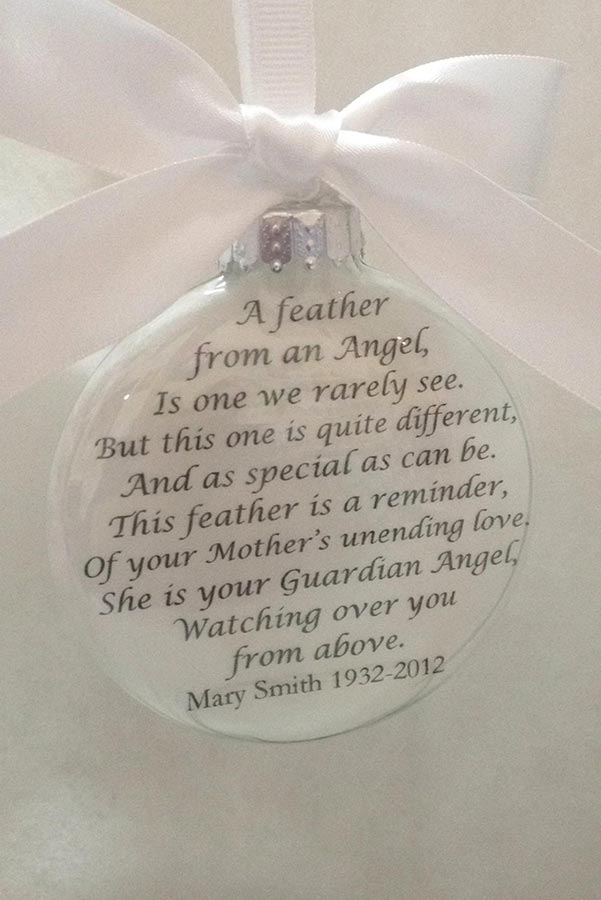 This is a graceful way to memorialize your loved one:
A feather from an Angel,
Is one we rarely see.
But this one is quite different,
And as special as can be.
This feather is a reminder,
Of your Mother's unending love.
She is your Guardian Angel,
Watching over you from above.
Such a beautiful remembrance ornament for that special someone acting as your guardian angel! You can display this tribute at Christmas time or all year round.
Measures 3″x3.5″ and filled with delicate white feathers. Add their name and dates to this handmade glass ornament.
30. Clear Glass Butterfly Memorial Ornament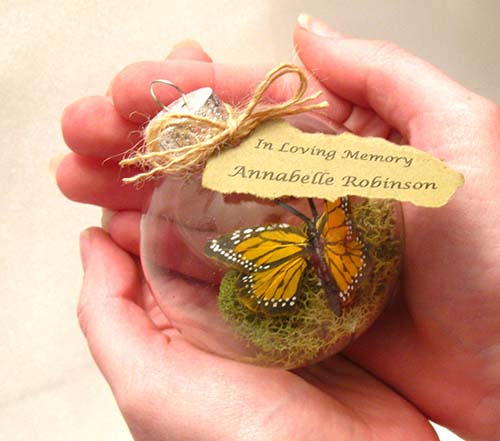 This unique clear glass Christmas memorial ornament features an orange monarch butterfly inside the terrarium-like globe. Accented with a customized note printed on lovely paper, this is a remembrance ornament to be treasured.
DIY Christmas Memorial Ornaments
Sometimes, the hands-on work of creating your own memorial is the most meaningful of all. Make any of these Christmas memorial ornaments for your own tree or to give as a special gift to your family this holiday season.
31. DIY Wooden Ornament Kit w/ Paint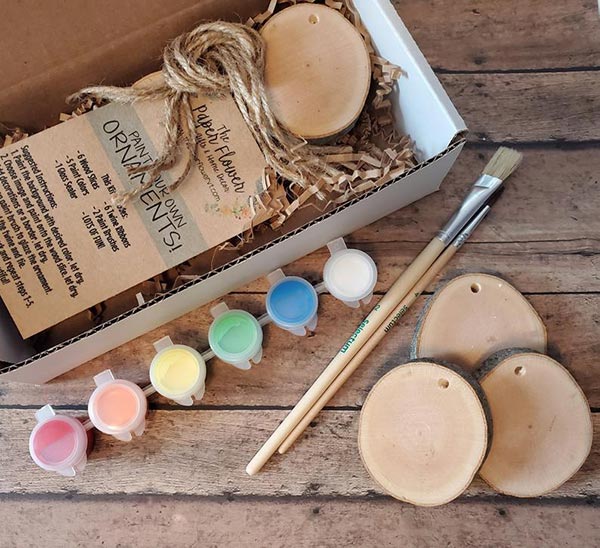 A great project for the kids over Christmas break! Let the little ones get involved in making a memorial to your loved one. A perfect way to make new memories!
Each wooden disc measures approximately 2″-3″ (none will be exactly alike).
This DIY memorial ornament kit contains 6 wood slices, twine, 5 paint colors, 1 glaze, 2 paintbrushes, and instructions. You and your kids will add the fun.
32. DIY Angel Wing Feathers Personalized Ornaments
Here's a simple project that the kids can help out with. Get some fillable clear glass ornaments like the ones shown above, paint markers (designed to write on glass and other surfaces), and feathers to put inside as a token of your loved one's flight into the heavens.
Supplies:
33. DIY 3D Photo Ornament
Here's how to create your own 3D-style memorial photo ornaments. You'll just need a photograph, some fillable ornaments, and basic crafting stuff like glue, scissors, and so on.
34. Christmas Memorial Ornament Embroidery Kit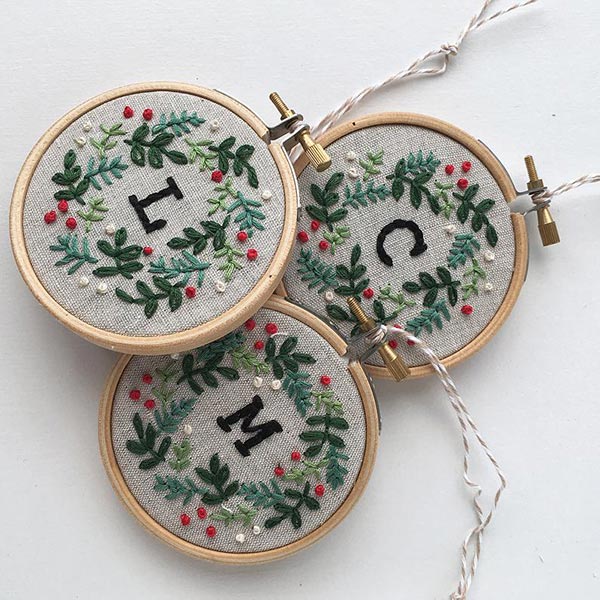 A fun way for you to commemorate your loved one. This Christmas ornament embroidery set is a great way to honor the ones you hold in your heart.
You can embroider names, dates, or even initials.
Each kit contains everything you need to make a personalized memorial keepsake. The finished adornment will measure approximately 3″, a perfect size for your Christmas tree.
35. Create Memorial Ornaments with Funeral Flowers from their Funeral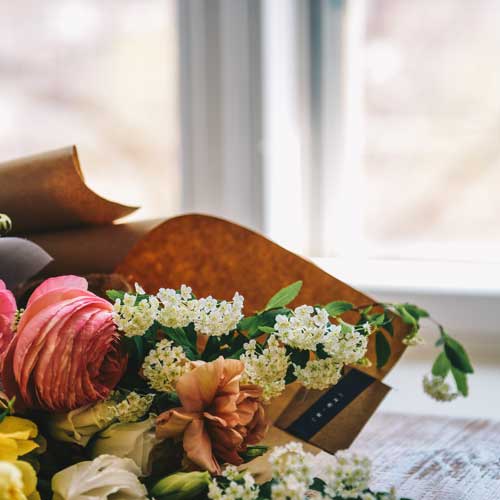 This DIY ornament is made extra special by the flowers you have chosen to use in its creation.
Follow the tutorial here. You will find a list of supplies (basic crafting stuff) along with instructions to make this one of a kind tribute. What a special way to celebrate your loved one!
More Christmas Memorial Ideas & Grief Resources
We hope you've been inspired to honor a special memory with these Christmas memorial ornaments. Losing a loved one is hard, so every little bit of cheer helps.
The grief you feel can get even harder around special times of the year, such as anniversaries, birthdays, and, yes, the holidays.
Here are some more resources that you may find helpful.
Pin It