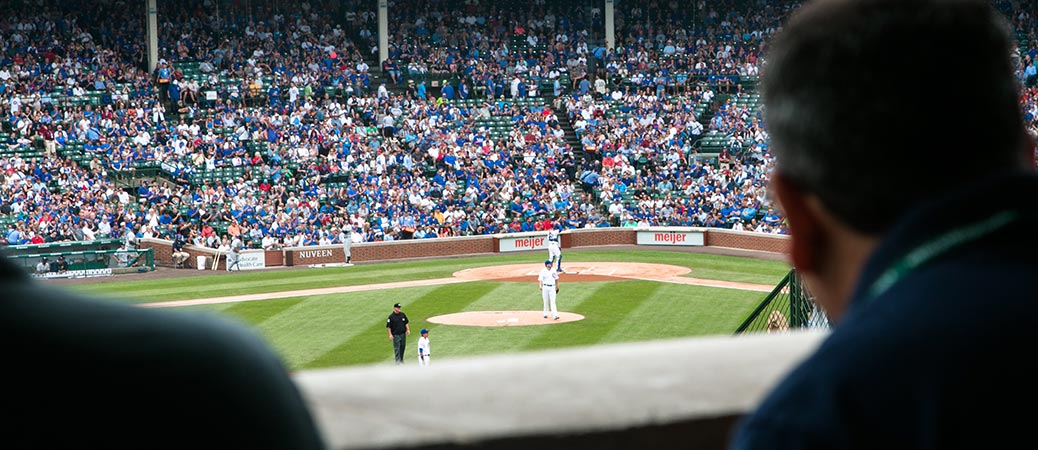 Last Updated on
108 years is a long time. The 2016 World Series win of the Chicago Cubs inspired an array of unique memorial tributes for the fans who didn't live to see it. Here are some of those stories.
During the World Series, Chicago Cubs fans began writing messages on Wrigley Field's brick walls and the surrounding sidewalks with chalk. Some of these are vanity graffiti, with fans writing their own names. Others are boasts. ("We Did Not Suck.") Many are tributes to loved ones who spent their lives rooting for the Cubs but died without seeing them win a championship.
Game 7 wasn't just a victory for a baseball team. It marked the end of generations of longing, passed down to children by parents who, in many cases, weren't around to experience the fulfillment of their hopes. Here are the stories of Wrigley Field's wall chalkers. Read more…
Many not in-tune with just how long 108 years is in the sports world, can refer to the ineffable joy of Cubs fans finally released Thursday morning after being bottled up for generations. One story epitomizes what exactly this win means for Chicago fans, even those who aren't even still walking this Earth.
Wayne Williams got in his car Wednesday and drove back home from North Carolina to Indiana to keep a decades-old promise to his late father. Read more…
Beyond the Ivy was built in 2009, based on an idea by Dennis Mascari, a true blue Cubs fan with a cemetery background. The columbarium is a true replica Wrigley's outfield wall, complete with ivy that was transplanted from the Friendly Confines.
The Bohemian National Cemetery Association's President David Pimm said the cemetery tries to represent people as they were in life.
"For baseball fans, especially Cubs fans, they live their entire lives for the game," Pimm said. The bricks, ivy, grass, and seats for visitors were all taken from Wrigley Field. Read more…
Sheckard was a terrific ballplayer by any standard. Moreover, he has the rarest of distinctions of any player — Sheckard was a member of the only two World Series championship teams in Chicago Cubs history.
Despite that distinction, there is little public recognition of Sheckard in Lancaster County.
His grave is in a cemetery in Columbia overlooking the Susquehanna River. It is marked by a simple gravestone that reads: HUSBAND, JAMES T. SHECKARD, 1878 – 1947. Read more…
My wife's grandfather, a decorated World War II veteran, who survived being named Bob Weinberg in a German prisoner of war camp, died in May. He grew up in Chicago and loved the Cubs, and as the season went on, my wife and I talked about how cruel it seemed for a man to live for 94 years, survive his bomber being shot down and being held captive, only to die five months before the World Series he longed to see.
With him in mind, I reached out to a half-dozen area hospitals and to the team itself, looking for fans who were hanging on, hoping to find someone who might beat Bob's odds. The Cubs connected me with a woman named Ginny Iversen. She listened to the games on the radio religiously, even at 93, and loved to tell people she shared a birthday with Andre Dawson. Read more…
Celebration for the Cubs' win not only took place in Chicago but around the nation, including Oklahoma.
One family in particular visited the site of a family member who passed away before the win. Sara Sweet put a Chicago Cubs jersey on her father's chair at the Oklahoma City National Memorial & Museum Thursday morning after the World Series win. Read more…
Hours after the Chicago Cubs broke their 108-year-old slump with a World Series victory, Erin Stanton found herself smiling and crying at the same time as she placed a World Series flag on her grandmother's grave at All Saints Cemetery in Des Plaines. Read more…
While the Chicago Cubs defeated the Cleveland Indians to win their first World Series in 108 years on a rainy Wednesday night in Ohio, thousands of Chicagoans swarmed outside Wrigley Field to celebrate. Amidst the raucous street ceremony, fans turned the outside of the stadium's right field wall into a memorial to loved ones who died before seeing the Cubs break their championship drought. Read more…
 These are just a few of the Chicago Cubs memorial tributes inspired by the 2016 Chicago Cubs World Series win. There are likely many more tributes like these being slowly played out across the nation. Congratulations to the Cubs on their championship!
(Visited 492 times, 1 visits today)