Blue urns are the ideal final resting place for someone who truly loved the color blue. There are many blue cremation urns on the market today; these are 10 of the best. Combining top quality with beauty, elegance, unique designs, premium craftsmanship, and affordability, our list of the top 10 blue cremation urns is intended to help you find the perfect memorial for your loved one.
Most of the urns below are also available in different colors, as well as sizes (such as small keepsake urns for a portion of the remains or for pets, or "companion urns" for two people). Some of the most affordable urns are good quality imports, while most of the items featured below are made in the USA and reflect top craftsmanship in quality, excellence, and beauty.
20 Best Blue Cremation Urns
Our website is supported by our users. We sometimes earn a commission when you click through the affiliate links on our website. See our privacy policy & disclosures for more information.
1. Mystic Blue Cultured Marble Cremation Urn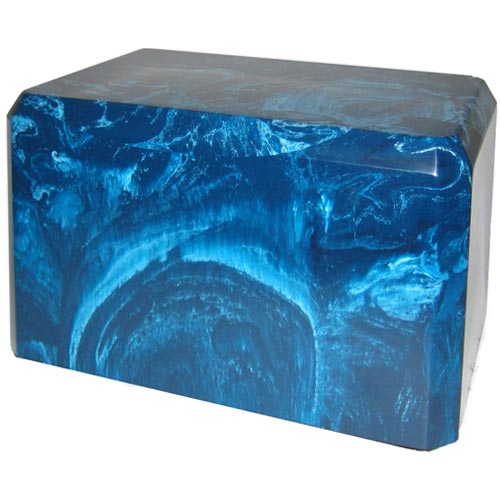 Cultured marble cremation urns are also sometimes called "vaults," meaning that they can be buried in the ground without need for an additional burial vault. The non-biodegradable stone construction will endure for generations.
This particular urn is in a bright Mystic Blue color. The consistent shades of traditional blue are enhanced by bold splashes of lighter aqua blue marbled throughout. We also offer the same urn style other shades of blue along with many other colors. Contact us if you don't see the color you like.
The Mystic Blue Cultured Marble Cremation Urn offers an ideal surface to personalize with custom engraving. We can etch names, dates, and more, and we can customize further in a wide variety of ways including art etching and even photo sublimation.
2. Mediterranean Blue Cremation Urn in Brass
These blue urns are handcrafted from enameled brass and polished to shine luminously. The "Mediterranean blue" hints at the aquas, light blues, and rich deep blues of the famed Eastern sea. This is a standard sized adult urn.
3. Blue Cremation Urn in Hand-Blown Glass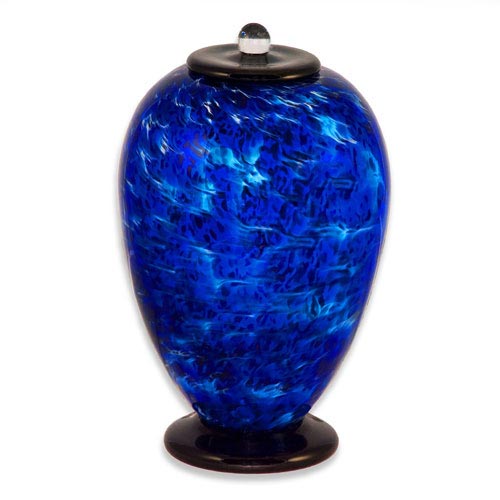 This deep blue "Water" hand blown glass cremation urn is unmatched in beauty and elegance. The Deco Series of blown glass urns boasts a sleek and artistic design that highlights the rich and mysterious colors characteristic of the glass blowing process. The blue cremation urn is made in the USA with superior craftsmanship and is the perfect way to celebrate the depths of your loved one's life.
4. Hand Turned Blue Oak Wood Cremation Urn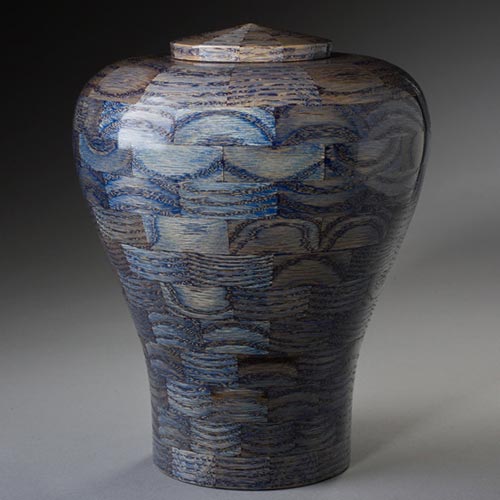 Here is a truly unique entry in the hand-turned wood urns category. Many vase-shaped wood urns made on a lathe are crafted from a single block of wood. The artist who crafts this urn, however, takes dozens of wood pieces and fits them together beautifully to create a captivating look.
The Hand Turned Blue Oak Wood Cremation Urn is made from oak wood, which is then stained a rich blue that still manages to highlight the spectacular wood grain patterns inherent within oak wood. A masterpiece.
5. Blue Angel Wings Ceramic Sculpture Urn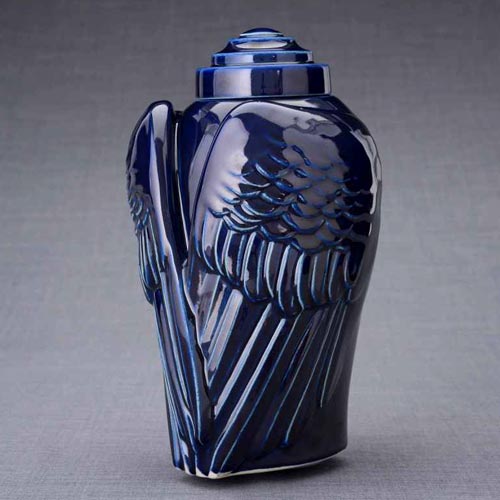 Cast ceramic cremation urn crafted in the shape of stunningly detailed angel wings. The Cobalt Blue finish is a deep and rich shade of blue. Lighter accents enhance the edges and highlight the shapes of the memorial art piece.
Available in several additional colors with the option to pair it with a matching (yet different) small keepsake urn.
6. Flying Home Teal Cremation Urn with Doves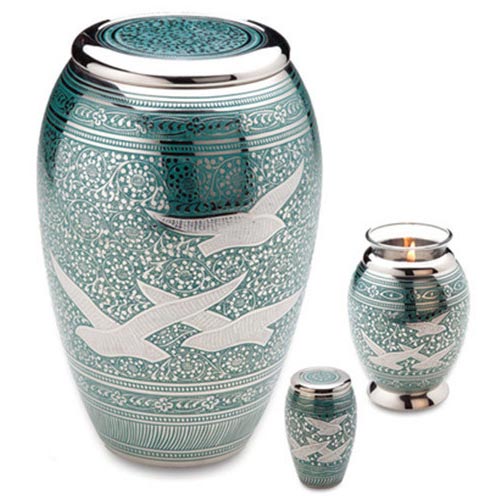 This elegant cremation urn is made from solid brass with an enameled silver inlay detailed in teal/aqua decorative patterns. It's not completely blue, probably a little closer to green than anything, but it's still in the wider family of blue coloration with its attractive teal palette.
The images of the doves shows up in relief, creating images of peace and serenity that turn your thoughts to the heavens. Matching smaller keepsake urns (including the popular tealight urn) are also available.
7. Aluminum Rock Blue Cremation Urn
This unique cast aluminum cremation urn boasts a creative, natural shape and a stunning gray-blue color. This is a full-sized adult cremation urn and can easily hold the remains of the average individual. The artful teardrop shape is decidedly modern.
Also, the dark blue is laced with lighter marbled striations which ensure that this art piece won't go unnoticed.
8. Serene Corsica Blue Urn
This light blue metal cremation urn for ashes is solidly made and affordably priced. The "Corsica blue" is a light seafoam color associated with the beautiful island in the Mediterranean Sea.
9. Blue Ceramic Pet Urn – Small Keepsake Urn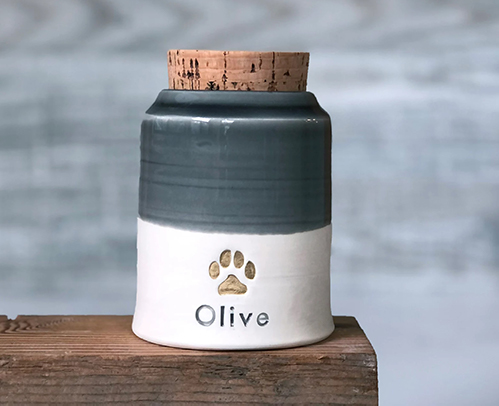 This sweet little piece would make such a wonderful final resting place for your special friend. Each of these pretty urns is hand turned on the potter's wheel, then finished with your choice of glaze and inscription.
You can choose from four different sizes as well, so be sure to check the guide provided to see which one would be best for your pet. Small enough to keep on the mantle or in the bookcase, they're sure to take a place of honor in your home.
10. Biodegradable Blue Urn for Natural Water Scattering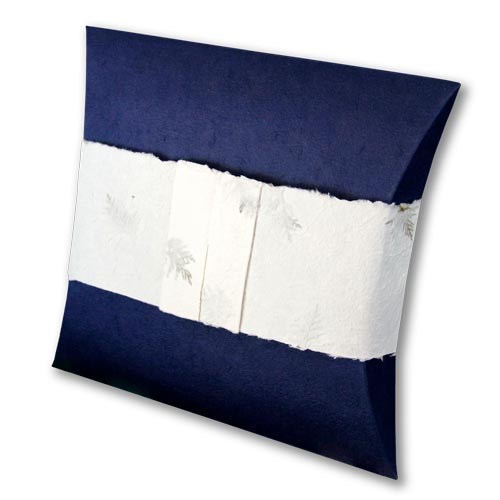 This biodegradable navy blue cremation urn provides an eco-friendly water or ground burial. Made from biodegradable paper extracted from the bark of mulberry trees, this eco-friendly urn is sustainably produced and allows you to securely spread ashes at sea. The scattering takes place without a mess and without negatively impacting the environment.
Simply place the urn into the water. We designed the urn to float for a few minutes before filling with water and sinking to the ocean floor. The material will break down over the next few days and take your loved one's remains into the ocean and throughout the world.
Related: Best Biodegradable Urns
11. Blue Hummingbird Urn
How elegantly charming is this blue hummingbird urn? Hummingbirds have long been used as symbols of the spirits of those we love, which makes them a popular choice for urns.
This particularly delicate little bird hovering near a stalk of flowers is so pretty. The vibrant blue backdrop is stunning as well. If your loved one loved birds or the color blue, this would be a wonderful option.
12. Royal Blue & Gold Metal Urn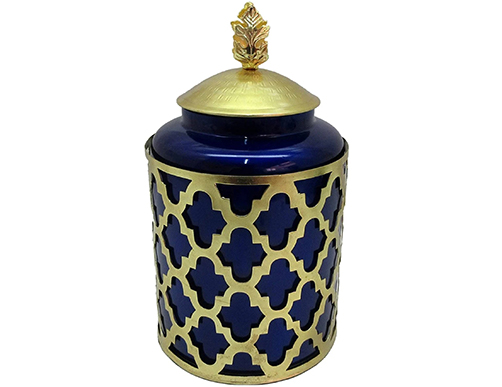 We believe an urn should reflect the personality of the individual it is honoring, and if your loved one was like a king or a queen to those whose lives they touched — well, then this urn is perfect.
A piece pretty enough and regal enough for royalty, it makes a wonderful option. The gold metal surround is designed by hand, and the lovely topper seals tight to keep ashes safely confined. Also comes with a black velvet bag for storage or transportation.
13. Oval Swarovski Crystal Flower Urn in Blue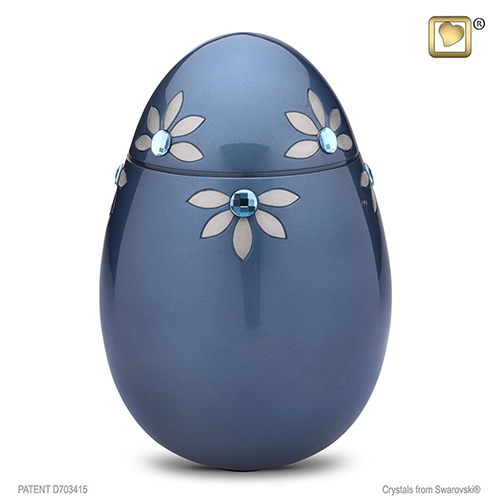 If you are looking for an urn as stunning and unique as your loved one, then this may just be one of your best options. Few urns could top this oval, Swarovski studded urn when it comes to elegance and craftsmanship. These pretty memorials are like little pieces of art, worthy of proud display in a place of honor.
Available in multiple sizes including keepsake urns, which you can give to the family members.
14. Tree of Life Deep Blue Urn
There's a reason gold and blue are such a beloved combination. So striking and elegant, this tree of life urn is so special. The tree of life is a symbol of eternity and the spirit, and the deep shade of indigo creates the most wonderful backdrop.
Handcrafted of high quality aluminum, these urns are made to stand the test of time while maintaining their beauty and integrity.
15. Dark Blue Tealight Candle Urn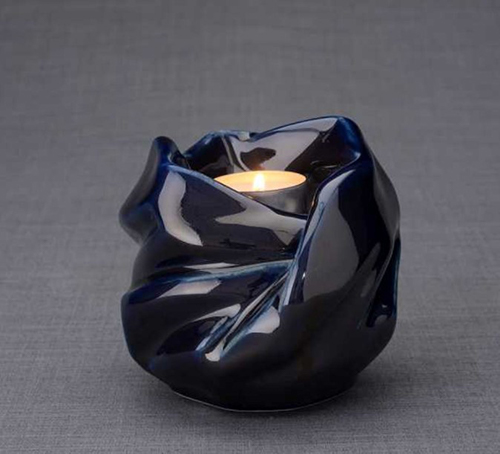 These beautiful keepsake urns will keep your loved one's memories so close to your heart. Meant to hold a small amount of ashes, the form is fashioned to also hold a tealight or small votive candle.
Keep it somewhere you can easily see, like a coffee table or bookshelf, and you can think of them each time you light it. Handmade of cobalt ceramic ware in Bulgaria.
Related: Best Ceramic Urns
16. Beautiful Blue Butterfly Cremation Keepsake Urn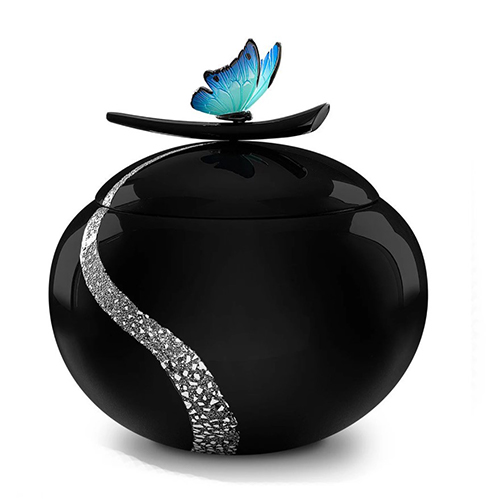 So stunning and unique! This butterfly urn is a wonderfully modern take on a more classical, round urn. Each piece is meticulously crafted with care by the artisan, and is guaranteed to last a lifetime and beyond.
Each urn measures 8″ x 8.75," and holds up to 256 cubic inches of ashes.
17. Tear Drop Blue Stone Cremation Necklace Urn
Carry a piece of them with you wherever you go with one of these pretty, memorial urn necklaces. Crafted from 925 sterling silver and paired with a dazzling blue CZ, these pendants can hold a small amount of ashes within the metal body of the design.
A real treasure that will keep them close to your heart.
18. Blue Reflections Glass Urn
These incredible, art glass mosaic urns remind us of the ocean. Each urn is crafted by hand with utmost care and attention to detail. The urns close with a secondary glass topper that can easily be sealed with a few drops of adhesive. So pretty and so peaceful, these make a wonderful final resting place for your loved one.
19. Wings of Hope Butterfly Cremation Urn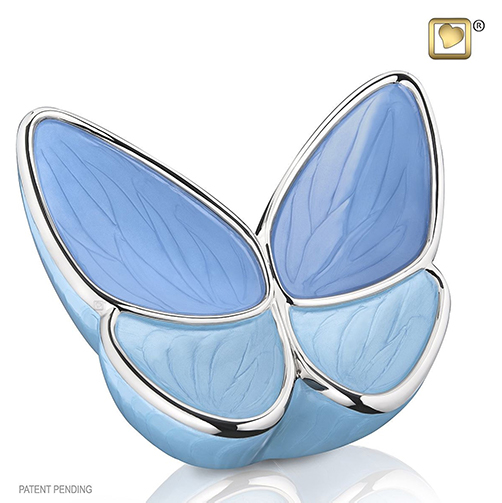 Another wonderful piece for the butterfly or nature lover. These exquisite urns are crafted from a durable brass alloy, then sealed with a hand applied, pearlescent powder finish. They are also available in keepsake sizes for the family, and as memorial necklaces, too.
These urns are as much art as anything, and would look beautiful in a columbarium or your home.
Related: Butterfly Urns for Ashes
20. Handcrafted Blue Rose Sculpture Urn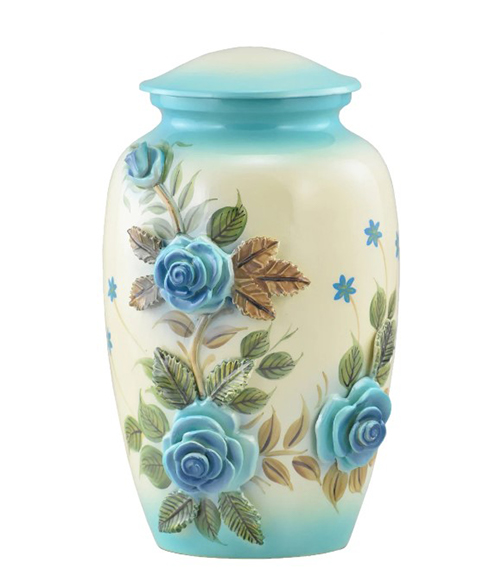 A beautiful combination of pottery and sculpture, these urns are so sweet and soft. Each sculpted rose is handcrafted and painted, and therefor completely unique to your urn. Despite the delicate design, these urns are still sturdy and durable, and are guaranteed to last.
If you or your loved one enjoyed the beauty of blossoming roses, then this urn would make an excellent choice.
Shop more blue urns at Urns Northwest.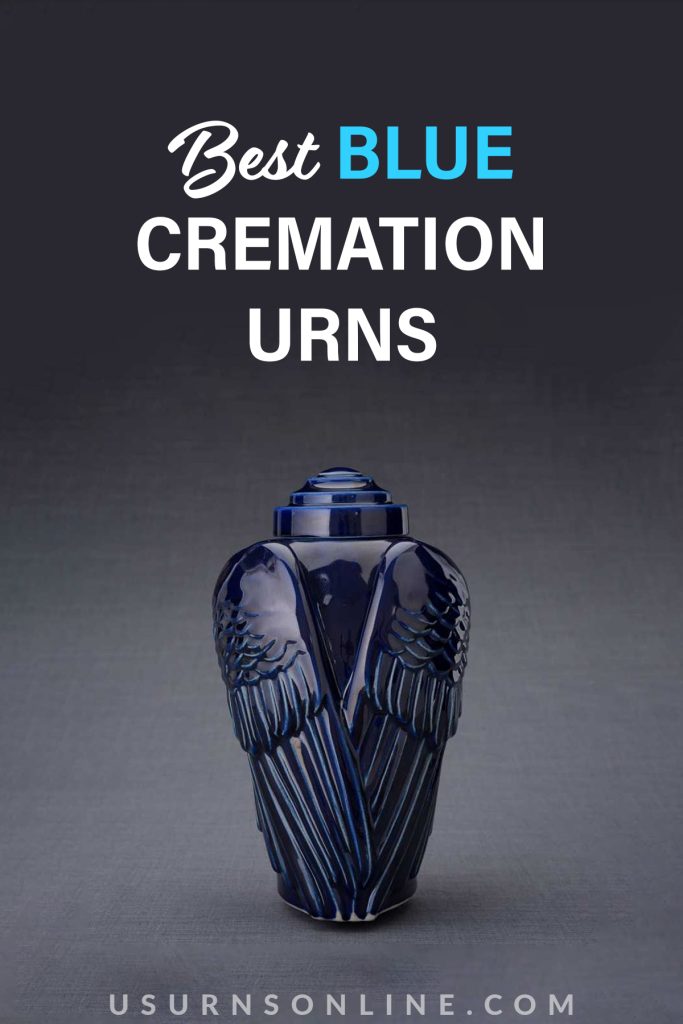 Daniel has been working in the funeral industry since 2010, speaking directly to grieving families as they made funeral arrangements.
He began researching and publishing funeral articles on this website as part of his role as product and marketing manager at Urns Northwest.
Having written hundreds of articles and growing the site to multiple millions of views per year, Daniel continues to write while providing editorial oversight for US Urns Online's content team.