Environmental concerns are consistently growing in importance to families making their final arrangements. According to one survey by AARP,
Slightly over one-fifth of respondents (21%) report that they would be interested in a burial that is more environmentally friendly than a traditional burial with embalming.
This is where biodegradable cremation urns can be of great value. Large, expensive coffins and embalming with formaldehyde, families are opting for the simpler method of cremation and a smaller, more affordable urn. With so many urn options available, each family has much more freedom to prioritize low-cost and eco-friendliness when choosing the urn.
Water burial has become a popular option for the final disposition, and we have the perfect biodegradable cremation urns to help this happen. With a sense of beauty and simplicity combined with affordability, our biodegradable water burial urns are a great choice for water disposition.
Made in the USA from premium cardboard, lined with elegant designs, and designed to be placed in the water, float briefly, and then sink gradually to dissolve and release the remains over time, these urns are the perfect solution for an environmentally friendly burial alternative.
How do I fill one of these urns? Scroll to the bottom of this post for a video demo, or click here to watch on our YouTube channel.
Here is a brief video showcasing the urns:
As detailed in the video, features include:
Biodegradable
Easy-pour opening (for scattering)
Eco-friendly plastic bag (to secure remains during travel)
Decorated lid adds elegance
Option for water burial (no need to open the urn and pour)
Small matching urns for each family member to participate
The "water burial" option means that you can place the remains into the urn in the plastic bag, twist it closed, put on the lid, and simply place the urn into the water. After floating for a few brief minutes, the urn will sink below the surface and slowly biodegrade, releasing your loved one's ashes into the water over time.
The "Gold Floral" design shown in the video above is just one of three design options. The other two, "Blue Marble" and "Green Leaf", are equally beautiful: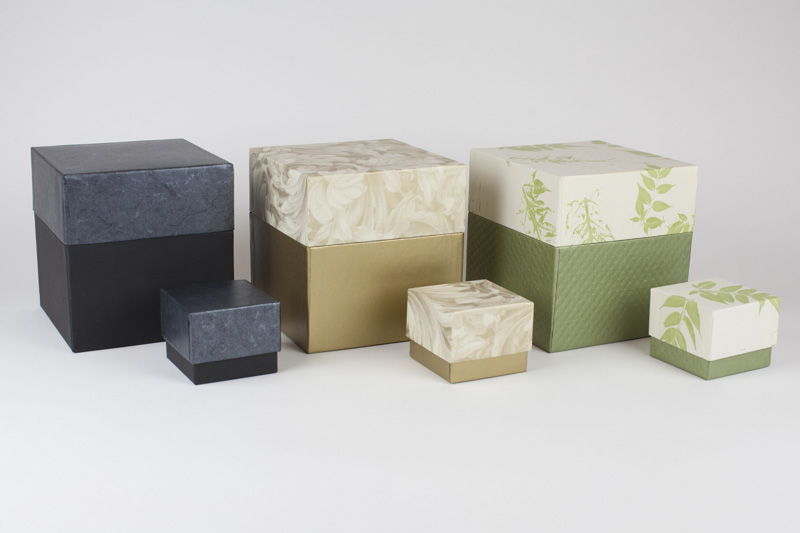 Below are a few more pictures of these biodegradable cremation urns for water burial. For more information or to purchase, simply click or tap each picture to view the product details page.
To see how these urns are filled, here is a demonstration: