Last Updated on March 7, 2022
Ceramic urns are some of the most delicately beautiful cremation memorials in which to inurn your loved one's remains.
If you are interested in a ceramic cremation urn, here are fifty of the world's most beautiful.
Our website is supported by our users. We sometimes earn a commission when you click through the affiliate links on our website. Learn more here.
50 Most Beautiful Ceramic Urns for Ashes
Here are ten of our favorite ceramic cremation urns, from all types and styles.
Find inspiration – or perhaps even the one – to honor your loved one today and forever.
1. Dragonfly Raku Ceramic Urn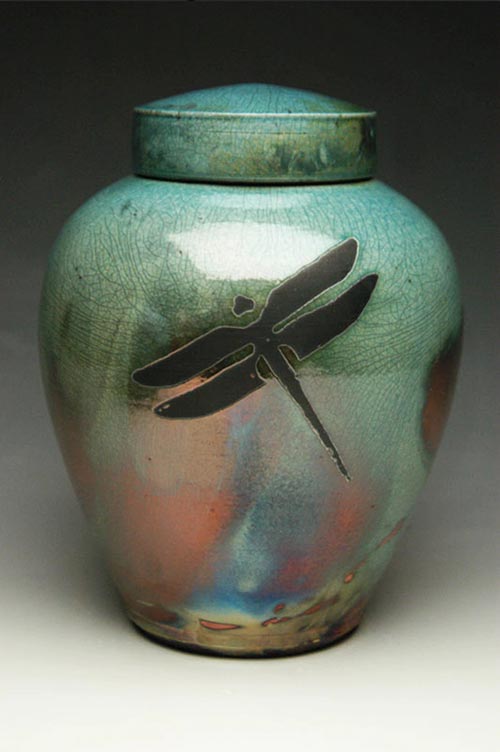 Raku-style pottery vessel, individually handmade in the USA.
2. Elegant Ceramic Urn
Gorgeous, sturdy, and solid design with thick ceramics and a brilliant glaze.
Learn: What size urn should I get? What size do I need?
3. Passage Memorial Candle Art Urn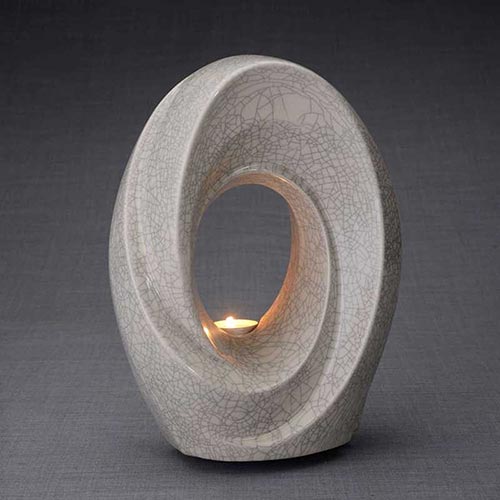 This art piece is made in Bulgaria, yet ships to you within just a few days. It's hollow inside, where the remains are stored, and holds a memorial tealight candle.
4. Handcrafted Ceramic Urn with Celtic Cross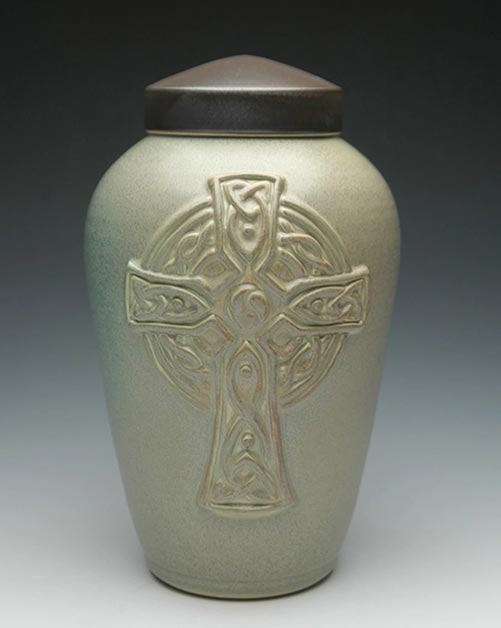 Another handmade gem crafted in the USA, this one features a raised Celtic cross to honor one of the Christian faith.
For more beautiful cross urns, check out our article here.
5. Forever Loved Heart Ceramic Urn Vessel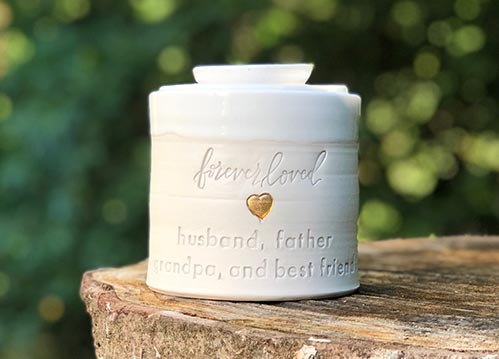 This small vessel has a truly contemporary look and feel, and includes personalization. It will hold a partial amount of ashes for an adult, but other sizes are available.
6. Angel Wings Sculpture Ceramic Cremation Urn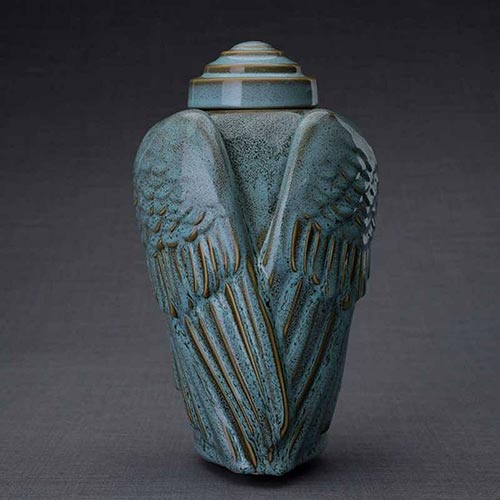 Gorgeously cast angel wing urn, available in an array of attractive colors.
7. Biodegradable Shell Urn for Water Scattering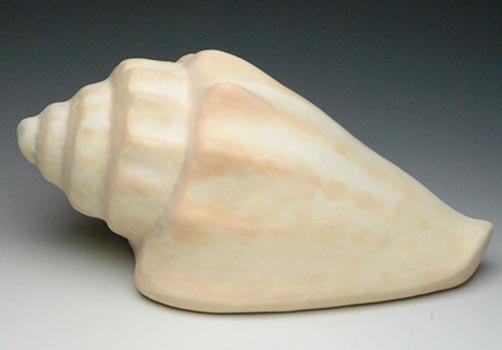 Here we have a stunning eco-friendly ocean burial urn shaped like a seashell. Ideal for water scattering, the Grolleg porcelain will float for a few minutes before sinking, then biodegrade to release the ashes into the ocean.
Related: 25 Totally Unique Urns
8. Whispering Maple Leaves Ceramic Urn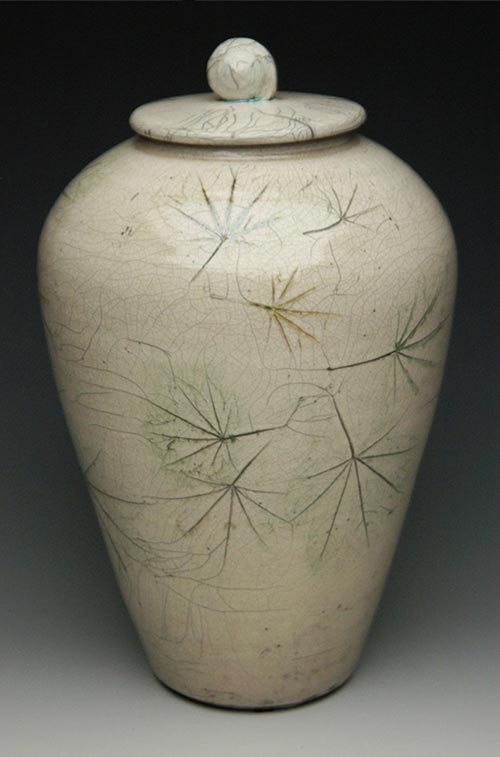 The classic urn shape is adorned with imprints of real maple leaves.
9. Blackberry Raku Ceramic Urn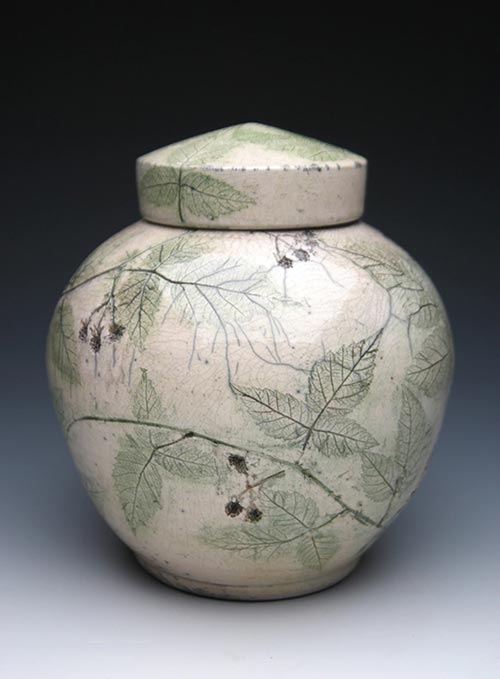 This one features real blackberry branch imprints, so each urn will have a unique design and pattern, handcrafted specifically for your loved one.
10. Horsehair Raku Ceramic Urn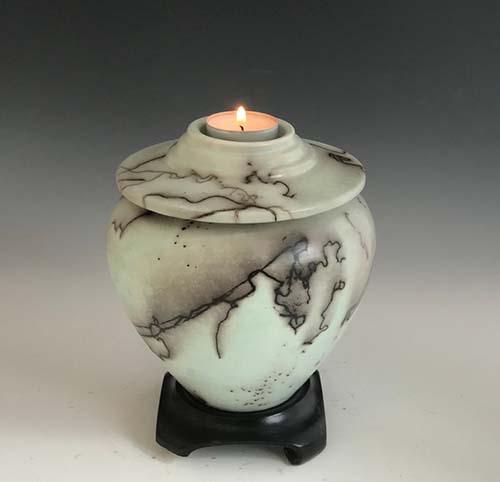 Porcelain pottery finished with finished with lue stain terra sigilatta, Raku-kiln fired with horsehair and sugar to create a stunningly unique design. The lid is designed to hold a tealight candle.
Related: 19 Tealight Cremation Urns to Light a Candle in Memory
10 Beautiful Ceramic Pet Urns
Ceramic art cremation urns designed for your beloved fur baby.
11. Handmade Ceramic Pet Memorial Urn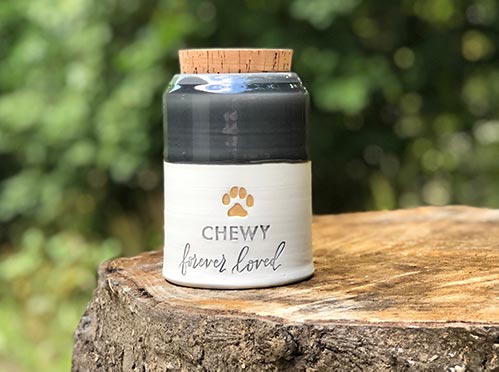 This gorgeous tall vessel with non-tapered sides includes a paw print and your furry friend's name.
12. Tree of Life Ceramic Urn
This pet urn holds up to 50 cubic inches, which works for a pet weighing up to 50 lbs, and features the elegant Tree of Life design on the front.
13. Personalized Pet Urn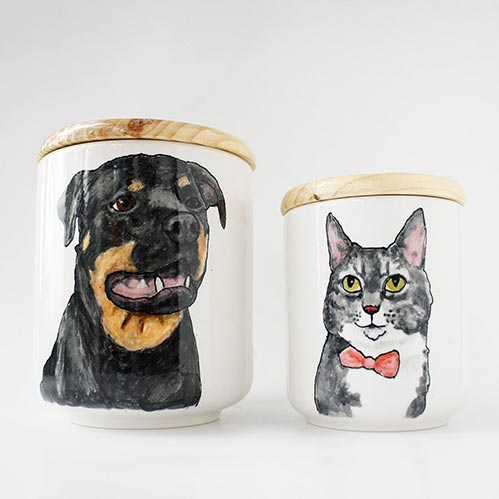 What more could you want than a lovely ceramic urn with an artistic painting of your pet's likeness? It's a wonderful way to remember your special little friend.
14. Candle Pet Urn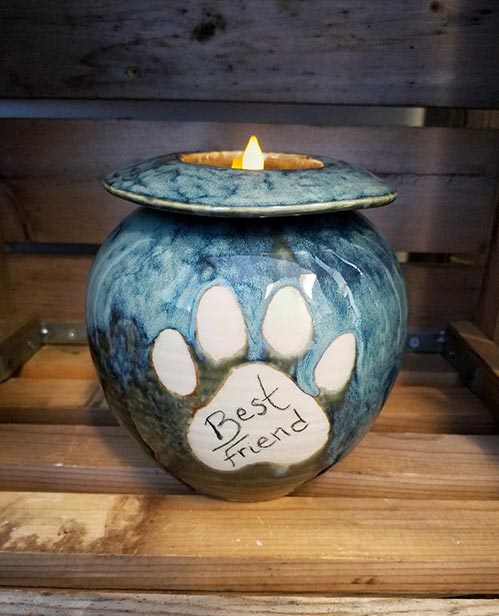 Here we have a lovely handmade pet urn with a pawprint, space for tealight candle, and a one-of-a-kind finishing glaze.
15. Angel Wings Ceramic Sculpture Urn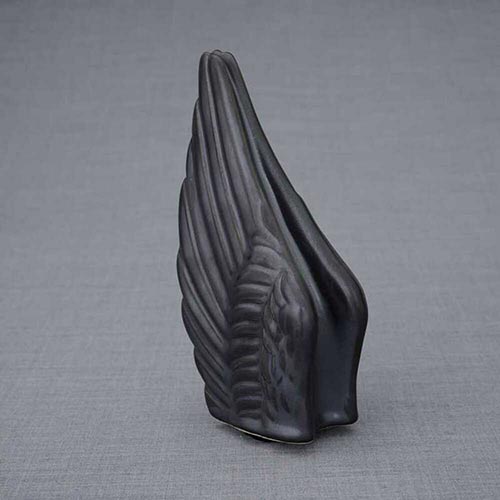 This art piece is shaped like angel wings – to represent your pet's journey heavenwards – yet holds 13 cubic inches of cremated ashes inside. That will work for either partial remains of a large pet, or the ashes of a pet who weighed up to 13 lbs.
16. Old-Fashioned Ceramics Keepsake Urn
Old-fashioned and timeless elegance at its best. This small vessel would certainly work for humans as a keepsake urn for a partial amount of ashes, but due to its small size we are including it here with the pet urns.
17. Heart Pet Urn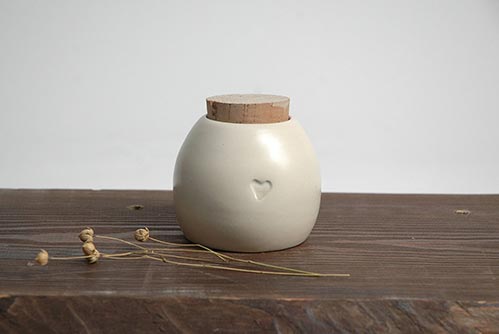 Just look at that photo; sometimes, simple is best.
18. Elegant Green Pet Urn
An elegant handcrafted emerald green ceramic urn that will look great anywhere.
19. Small Sapphire Blue Ceramic Pet Urn
This small urn features a stunning glaze, holds up to 12 cubic inches of remains, and includes the lovely velvet box you see here.
20. Black & Cream Ceramic Pet Urn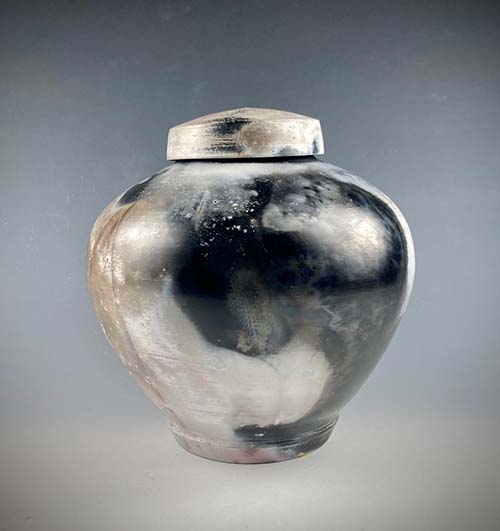 Hand-thrown urn tumble-stacked in a barrel with combustibles and minerals in a creative alternative to Raku firing. Finished with museum-quality crystalline polish and buffed to obtain a nice shiny sheen.
Pretty much all the rest of the urns on this list are for adults, though some are smaller and designed for a portion of the remains. Many of these will still work for pets, just be sure to check the sizes and capacity options.
Truly Elegant Ceramic Urns
Here are ten ceramic urns with a focus on timeless elegance and simple beauty.
21. Raku Ceramic Cremation Urn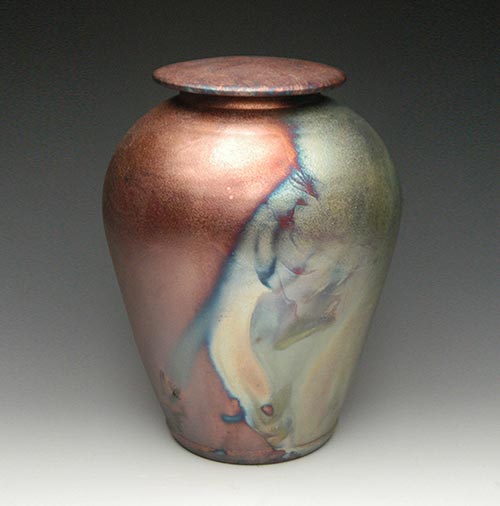 Raku firing in a combustion chamber brings out brilliant, original, and one of a kind designs.
22. Ceramic Heart Urn with Photo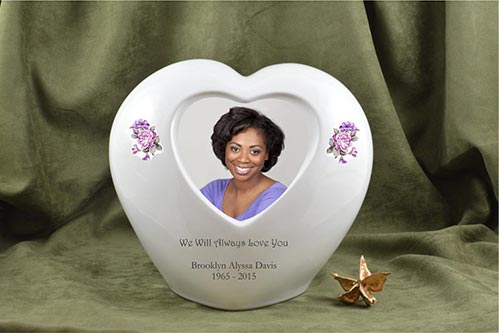 An elegant heart-shaped ceramic urn with a photo of your loved one printed in brilliant color.
23. Butterfly Raku Ceramic Cremation Urn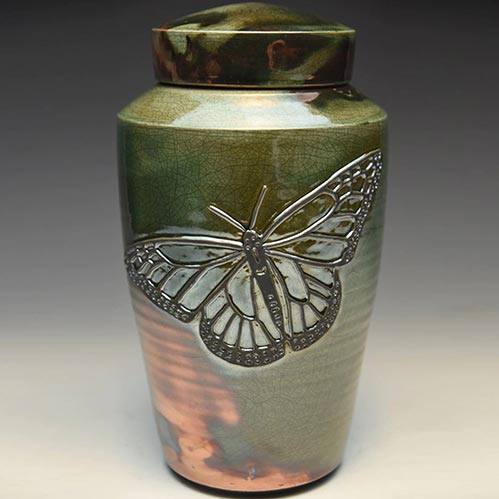 Another Raku fired ceramic urn, but this one has a gorgeous raised butterfly emblem adorning the front surface.
Related: 25 Beautiful Butterfly Urns
24. Hummingbird Ceramic Cremation Urn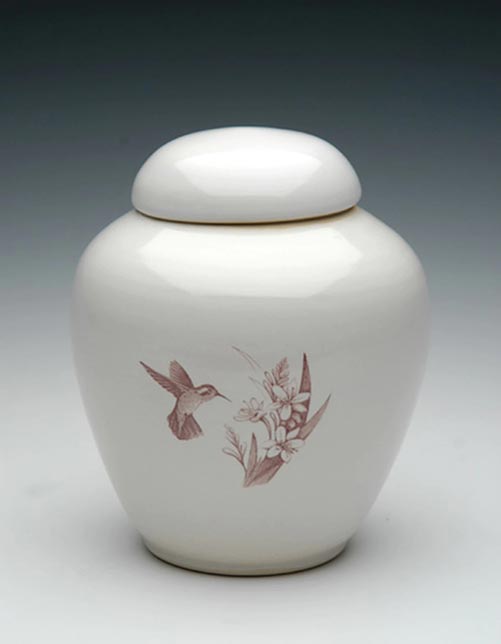 This affordable and graceful urn has long been one of our most beloved and best-selling ceramic urn designs over at our sister site, Urns Northwest.
25. Geometric Tealight Urn
This geometric design puts a contemporary twist on the classic ceramic memorial urn style, yet still has a timeless feel.
26. Celtic Cross Raku Ceramic Urn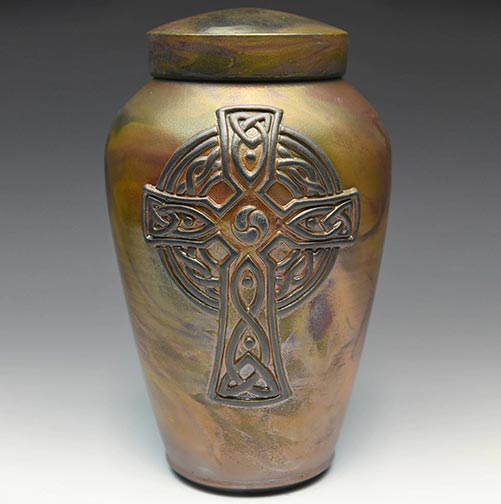 More Raku style, this time with a stunningly raised Celtic cross.
27. Heart Ceramic Urn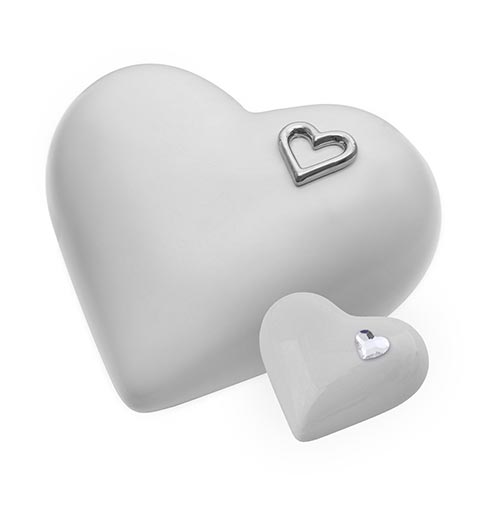 Ceramic urns cunningly formed into the shape of a heart, these provide an enduring tribute to your beloved.
28. Stone Shaped Urn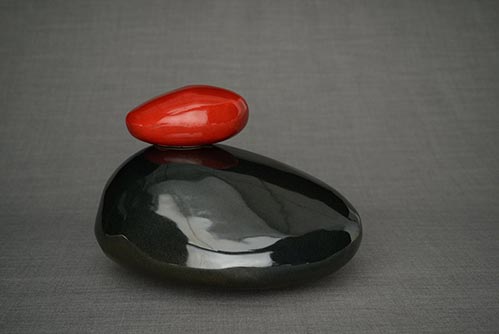 Yes, this is a neo-modernist work of art. Yes, it is available in many color schemes. And yes, it really is a ceramic cremation urn.
29. Christian Symbol Raku Ceramic Cremation Urn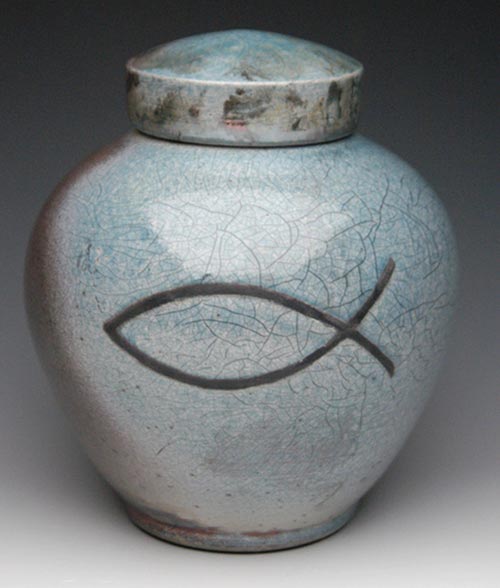 A crackle-glazed Raku style urn with the ancient Christian fish symbol carved into the front surface.
30. Small Infant Urn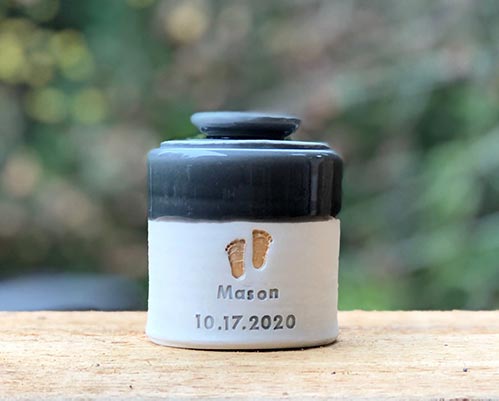 Here's another jar-style ceramic urn, this time designed for a wee little one with name, dates, and baby footprints.
Traditional Ceramic Cremation Urns
A look at some of the more traditional ceramic urns, but always with a modern twist that reflects the genuine originality of your loved one.
31. Handmade Celestial Aqua Raku Ceramic Cremation Urn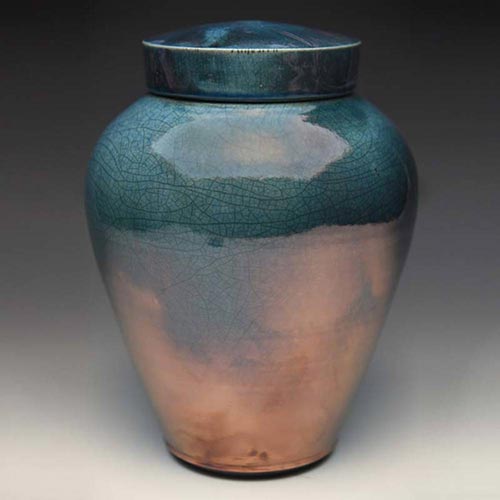 Handcrafted ceramic urn in a "Celestial" Raku-fired finish, combining rich blue hues with the copper-toned "flashing" from the combustion chamber method of firing.
32. Handcrafted Asian Calligraphy Urn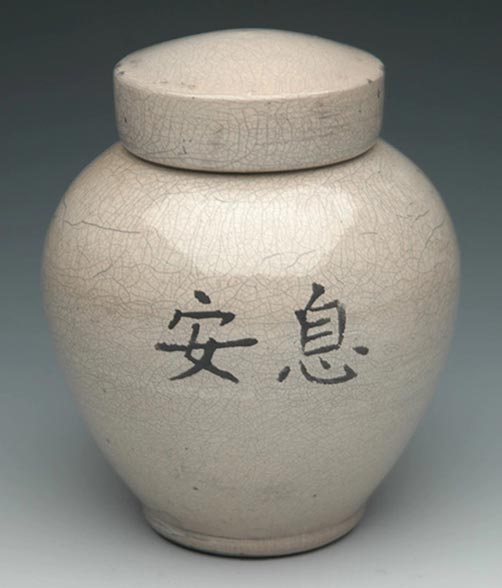 Gorgeous Raku ceramic urn personalized with the calligraphy characters of your choice. This might be significant words like "Love, Honor, Peace" or a family name – it's up to you.
33. Small Pet Urn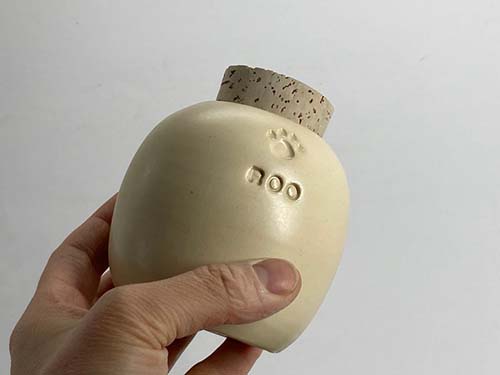 This classy, minimalist urn vessel reflects the purity and gentleness of your beloved pet.
34. Handcrafted Oval Rose Ceramic Cremation Urn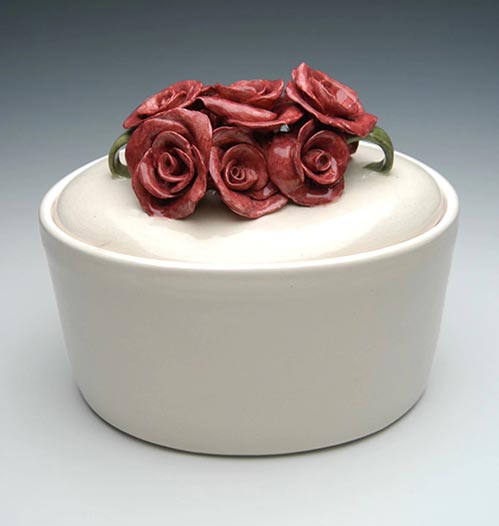 Here we have a jar-style vessel made in white porcelain with handcrafted ceramic flowers adorning the lid.
35. Porcelain Ceramic Urn with Hand-Painted Flowers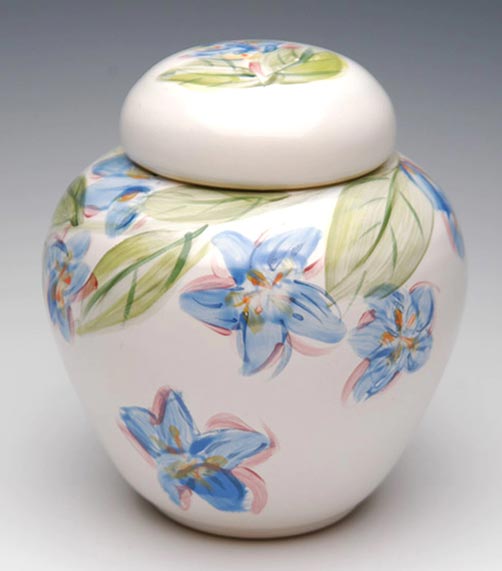 This is a truly traditional urn, complete with individually hand-painted flowers in one of several attractive color schemes.
36. Ceramic Urn With Custom Photo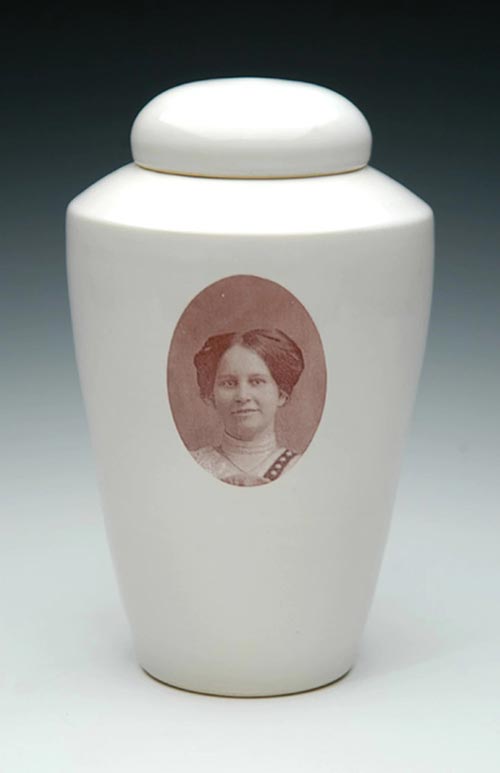 This classic vessel is crafted by hand in a timeless, clean porcelain, with a photo of your loved one fired on and glazed over for a permanent memorial.
37. Biodegradable Sea Breeze Scattering Urn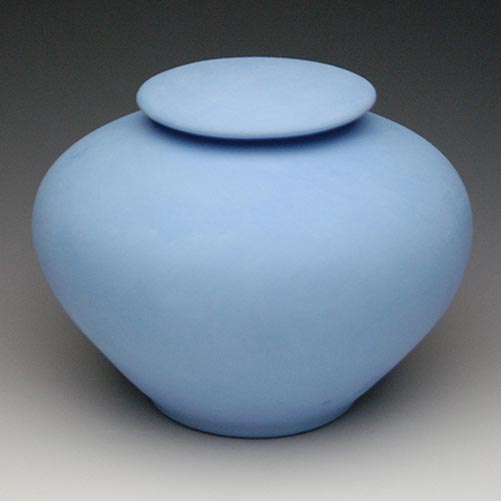 This may look like the traditional shape, but the eco-friendly function is truly modern. This ceramic urn is crafted from biodegradable clay, and it's designed to be placed into the ocean, float for a few brief minutes, then sink to the ocean floor where it will dissolve over time and disperse the ashes throughout the sea.
38. Teardrop Urn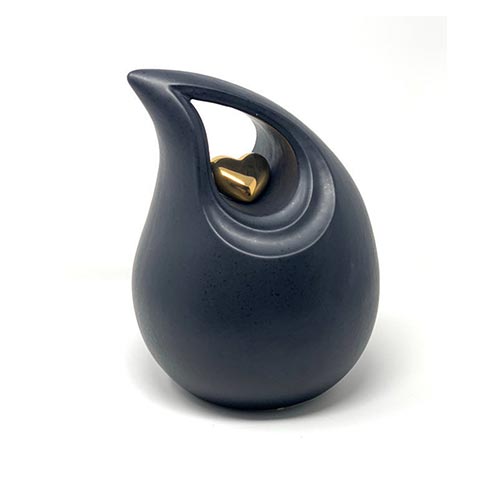 This teardrop-shaped cremation urn has a traditional feel but completely modern look.
39. Forest Crackle Raku Ceramic Cremation Urn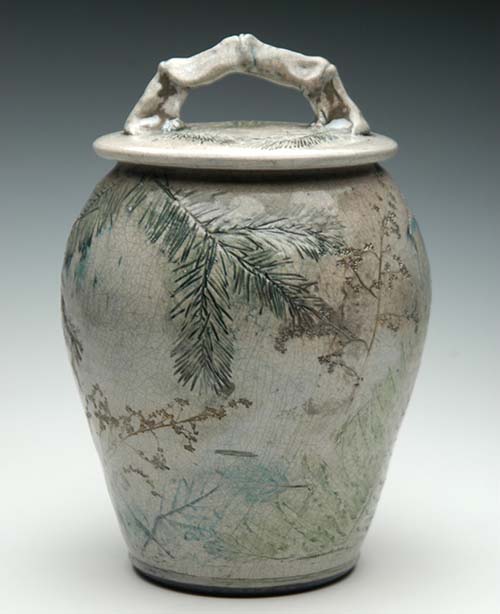 Our hummingbird urn proved to be so popular that the artist put a new twist on it and made the art in full, gorgeous The Forest Crackle Raku Urn is handcrafted in the USA from start to finish. The design incorporates real foliage from found tree branches, creating a natural and unique pattern for each piece.
40. "Pure in Heart" Ceramic Bible Cremation Urn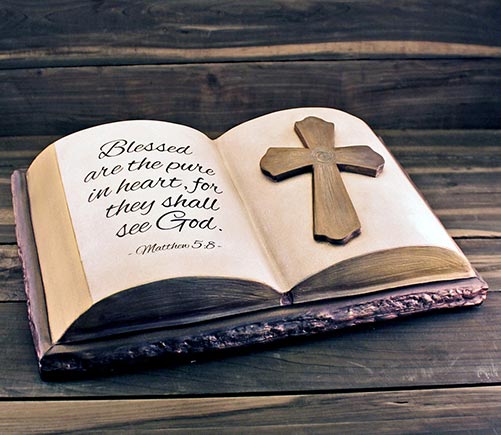 The Bible is certainly a beautiful tradition for any faithful believer. This urn, while beautiful, is anything but. Still, the unique book shape of the ceramics plus the reverence for God's Word results in a one-of-a-kind memorial urn with a traditional sensibility, a truly timeless heirloom.
Unique Ceramic Urns
Here are ten urns with a fresh take on the medium of ceramics.
41. Passage Candle Urn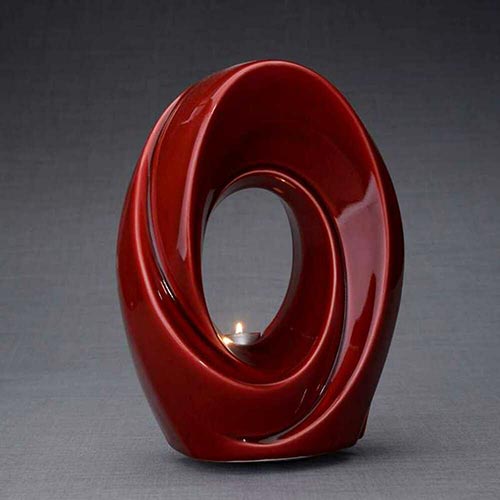 The Passage is one of our Top 10 picks, see above. But it also comes in many colors, like the stunning Red, pictured here.
42. Pineapple Cremation Urn
The pineapple symbolizes hospitality. If your loved one was noted for their hospitableness, this ceramic art piece will be just the thing.
43. Motorcycle Helmet Urn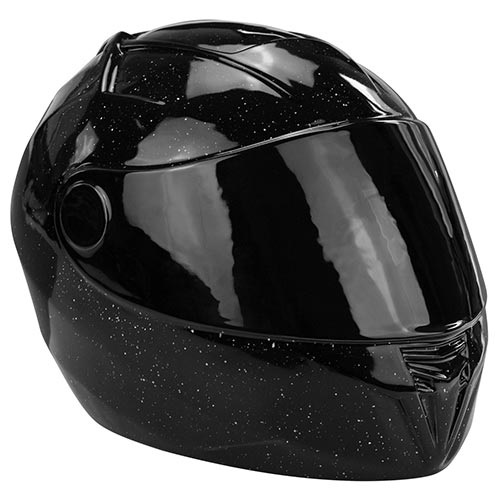 Finally, a ceramic cremation urn for the motorcycle enthusiast!
Related: More Motorcycle Urns for Ashes
44. Handmade Ceramic Guitar Cremation Urn – Wall Mounted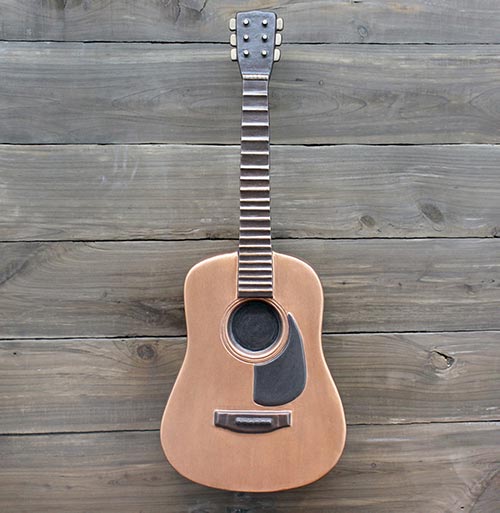 This wall-mountable cremation urn is made from ceramics in the shape of an acoustic guitar. Ideal for the musician.
45. Sunflower Urn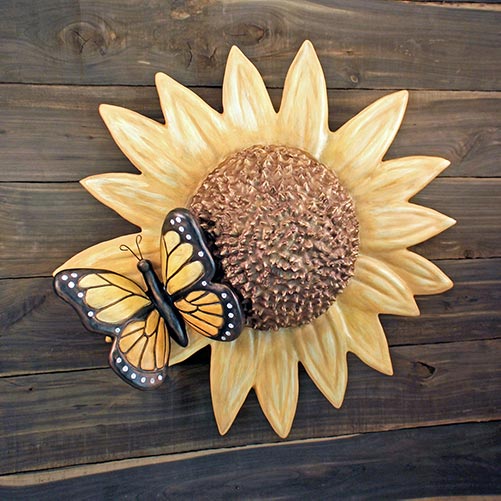 Another wall-mounted ceramic art piece, no one will ever know that this stunning sunflower and butterfly décor accent is actually a cremation urn… unless you tell them!
46. Seashell Ocean Theme Handmade Ceramic Urn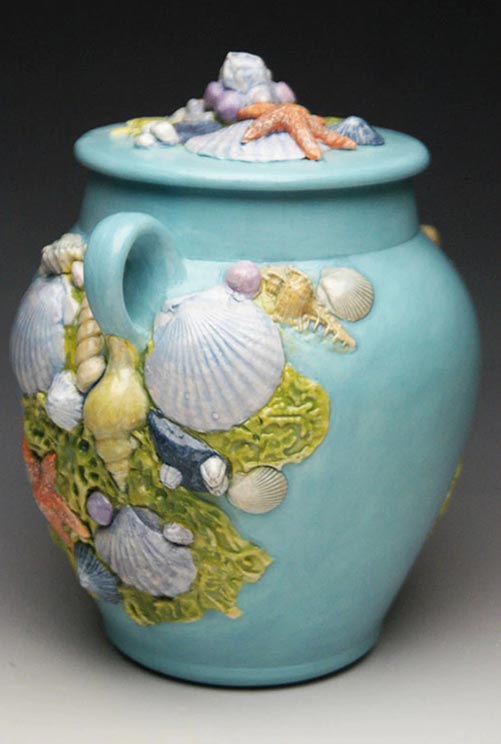 Each element on this ocean lover's urn is individually made using handcrafted molds from the artist's own casting of real seashells.
47. Handmade Ceramic Texas Longhorn Bull Urn – Wall Mounted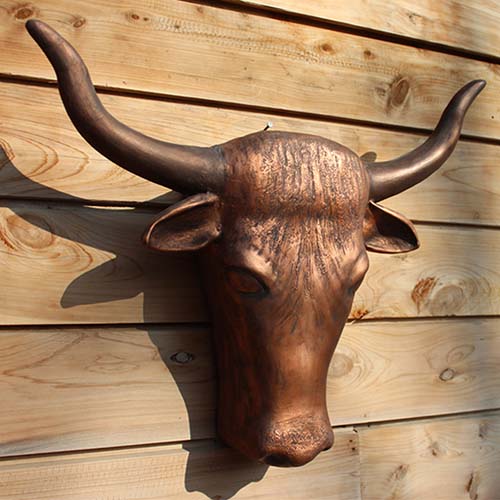 This stunning wall-mounted art piece is actually a cremation urn. The interior is hollow and can hold up to 185 cubic inches, ideal to celebrate the life of your beloved cowboy or cattle rancher.
48. Personalized Pet Urn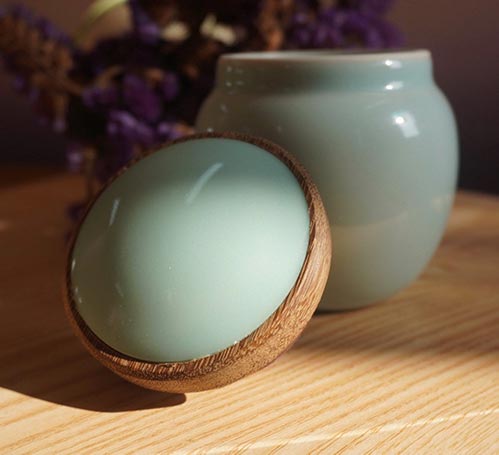 Celadon pottery, handcrafted using millettia laurentii and porcelain that is designed with a smooth base and natural beauty.
49. Birdhouse Scattering Urn Ceramic Egg in Cobalt Blue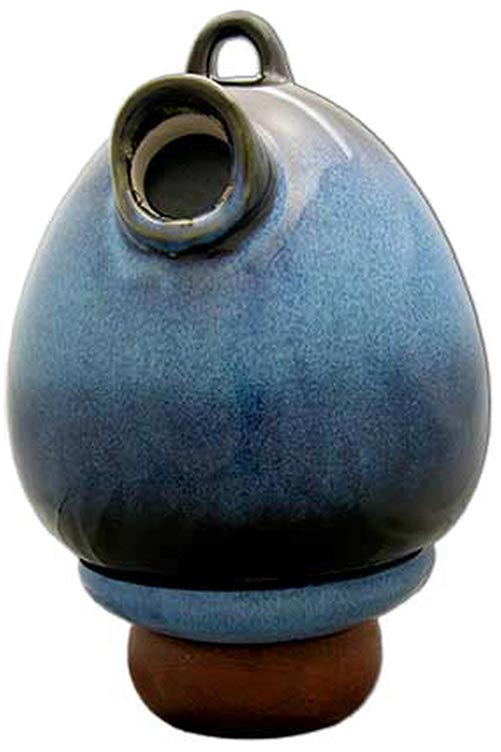 This unique ceramic urn holds the ashes for a period of time, and has an opening that allows for easy scattering of ashes. When that is complete, the urn can be strung up in your yard and used as a birdhouse, providing a home for wildlife in memory of your loved one.
See more birdhouse urns here.
50. Elephant Keepsake Urn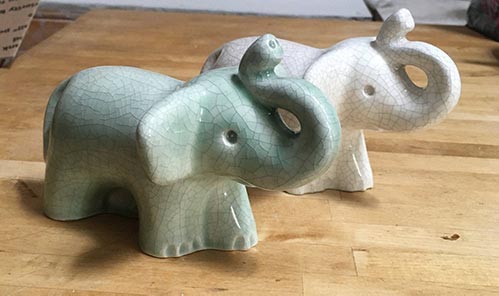 Baby elephant keepsake urn for cremation ashes or as a memorial keepsake. Handmade in USA with personalized custom inscription available.
Read Next: 8 Things to Know About Cremation Urns
Pin It