Today we're going to show you 25 of the most beautiful butterfly urns.
Cultures all over the world have come to revere the butterfly as a symbol of death. Historically, the winged creature is a sign of a departing soul fluttering off to the next world. They represent a beautiful part of the tragedy of death: the transformation of life.
But for many others, they simply love butterflies for their undisputed beauty, fragility, and elegance. Whether it is for the rich symbolism or as a cherished favorite, butterflies are among the most popular designs for cremation urns.
Butterfly engravings, reliefs and ornaments make a beautiful addition to an urn, as a way of showing that the spirit of the deceased has not truly gone forever, but grew wings to fly away.
Top 10 Butterfly Urns for Ashes
Our website is supported by our users. We sometimes earn a commission when you click through the affiliate links on our website. See our privacy policy & disclosures for more information.
1. Astoria Butterfly Cremation Urn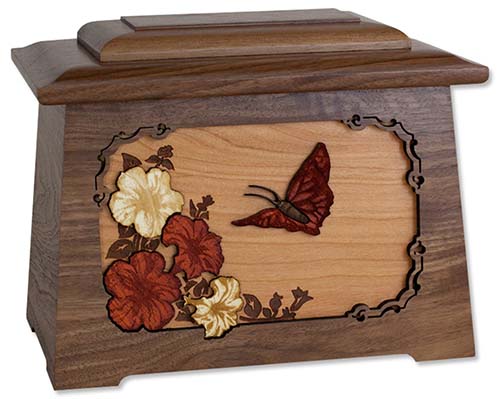 This wooden urn, available in four wood types, comes with a relief of a butterfly over flowers inlaid together, hand carved and imprinted by master craftsmen. It shows the simple beauty of a butterfly on wholly natural material.
2. Blue Butterfly Heart Urn Keepsake
This is a ceramic urn shaped like a heart, which is held up by a metal stand so it can be displayed with its beautiful, decorated print in view. It depicts butterflies in blue and pink on a deep indigo background among a patch of flowers.
3. Handmade Ceramic Sunflower and Butterfly Cremation Urn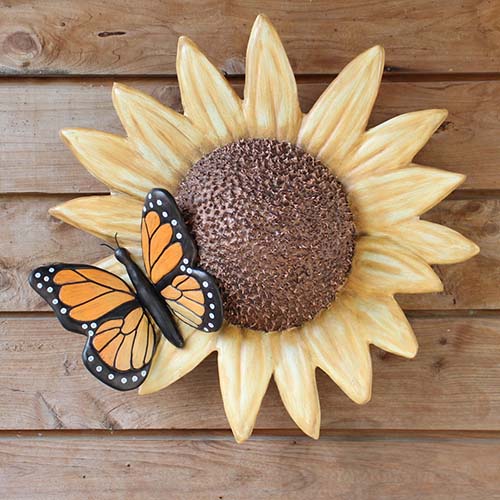 Here is a unique piece that combines a hand-painted ceramic sunflower with a bright yellow monarch butterfly decoration.
What makes it truly one-of-a-kind is that you will display this urn by hanging on a wall, with a wire hook on the back. It can also be displayed facing up, like a true flower.
Related: 30 More Unique Urns
4. Hand Painted Ceramic Butterfly Cremation Urn
A very simple ceramic urn, in the shape of a vase, which goes through a standard porcelain firing process and finished to last a long time. Hand painted butterflies adorn it, in a variety of bright colors and wing patterns. 
5. Monarch Butterfly & Calla Lily Urn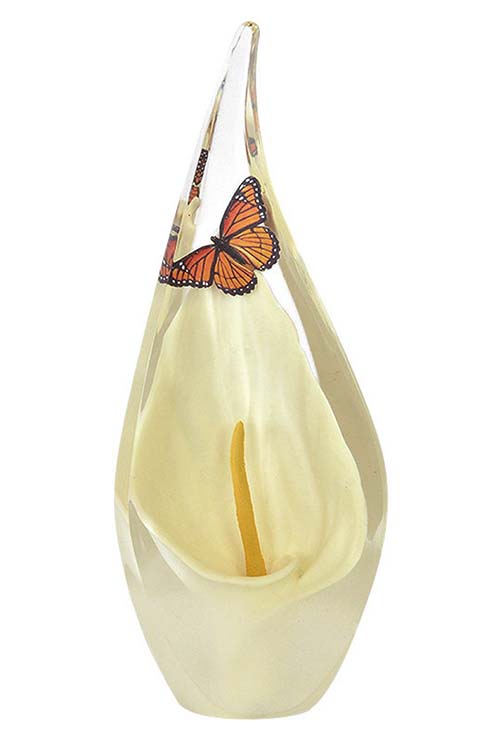 This stunning piece combines the beauty of a Calla Lily and the natural presence of a monarch butterfly, becoming something like a bright white candlelight cast in in resin with a light underneath to act as the decorative top of the container below.
6. Calligraphy Gold Butterfly Urn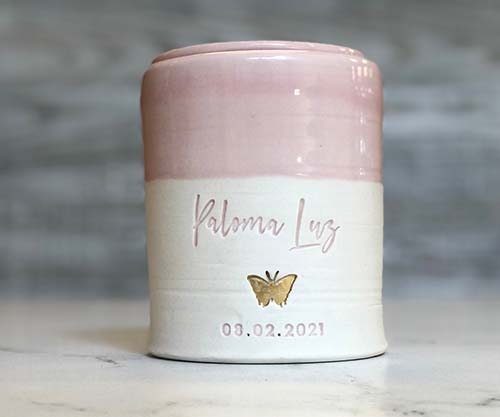 A simple cremation urn, embossed with a butterfly emblem, which boasts hand-carved custom calligraphy font. The butterfly relief is layered with a thin gold leaf covering to give it a shining effect.
Your loved one deserves a golden butterfly to spirit their soul to the great beyond.
7. Butterfly & Roses Cremation Urn Box
A scenic box-top decoration for a standing urn, attached to the lid of the engaged plate container beneath. The scene depicts a memorial carnation growing from the ground with a small branch and three butterflies in states of rest around the outside.
8. Whispers Butterfly Maple Wood Cremation Urn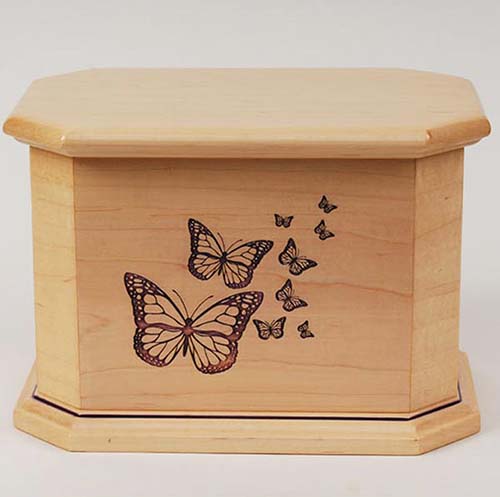 A wooden urn hand carved from solid maple wood and finished with a lovely, subtle purple glaze. The glaze comes out especially well in the flock of butterfly reliefs on the front. It has a round-cornered octagonal shape, and will look wonderful on any shelf or mantle.
Related: Beautiful Solid Wood Cremation Urns
9. Eternal Butterfly Sphere Urn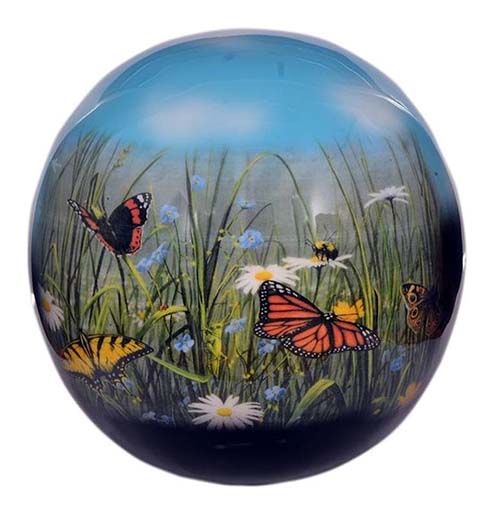 A depiction of a peaceful meadow with grass, daffodils, bees and all kinds of butterflies adorns this perfectly spherical container. The metal case is polished and cast using a traditional form of sand-casting and hand painted with a glossy finish all around.
10. Wings of Hope Butterfly Cremation Urn in Lavender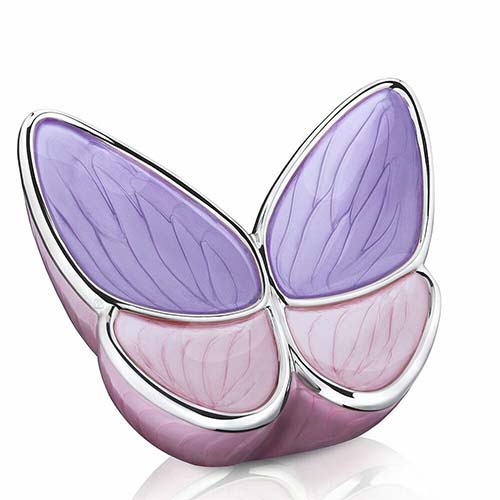 This brilliant lavender purple and light-pink urn is shaped like a butterfly's wings, with a rounded bottom and flat top. It is as pretty as a jewel, and comes with matching jewelry – not with any capacity in them for cremated ashes, but the matching set will help you keep their memory close, always.
More Timeless Butterfly Urns
You're looking for that special, unique, and perfect urn to memorialize your loved one. Here are more of our favorite butterfly urn designs.
11. Modern Butterfly Cremation Urn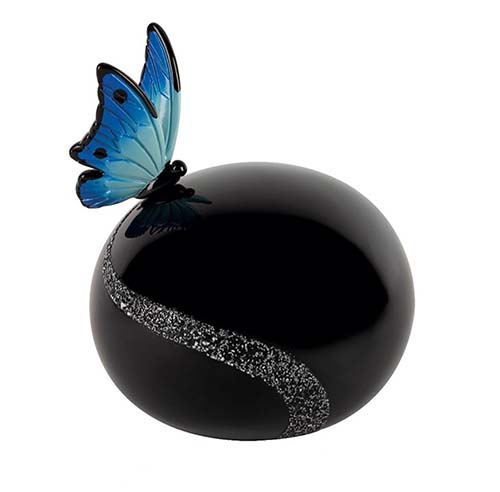 This urn blends a minimal, modern style of a simple black sphere like a well-polished stone with the spiritual presence of a morpho butterfly. The smooth fiberglass composite exterior and durable gel coat finish will leave it looking brand new for as long as you keep it.
12. Butterflies & Tulips Wall Mounted Wood Cremation Urn Plaque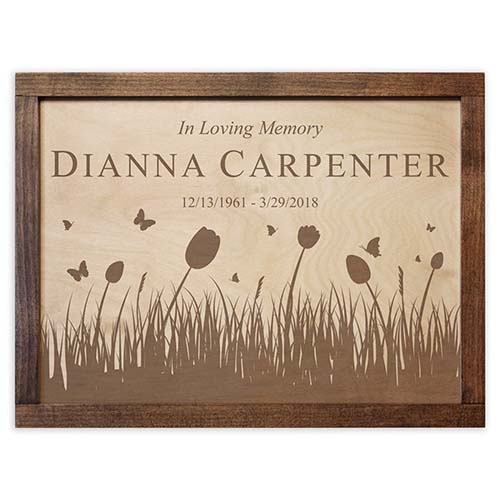 This timeless urn can be hung on the wall as a memorial plaque. A laser engraved silhouette shows a field of grass and flowers with butterflies in the distance. This plaque has depth and a hollow inside to fit your loved one's ashes.
13. Blue & Brass Butterfly Urn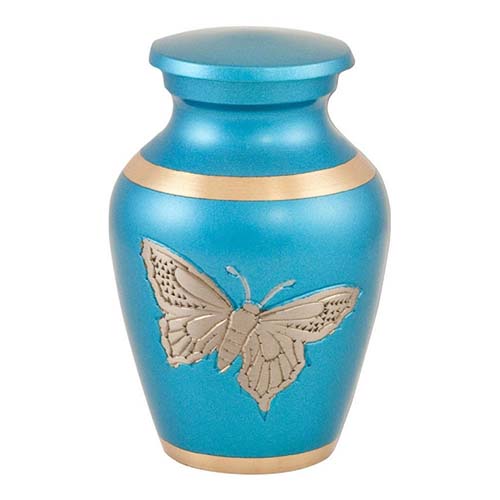 A very traditional shaped urn, a simple vase with a lid. The urn is made of brass with a blue color finish and reliefs exposing the polished material underneath in the shape and pattern of butterflies.
Solid brass will keep it stable and secure indefinitely.
14. Wild Butterfly Cremation Urn
This ornate urn has a panorama around its midsection of realistic butterflies, framed by gilded floral engravings with a brassy finish. Made of metal and ceramic, this urn is very simple and delightful, and an eye-catcher for anyone who likes the sight of butterflies.
15. Wooden Monarch Butterfly Urn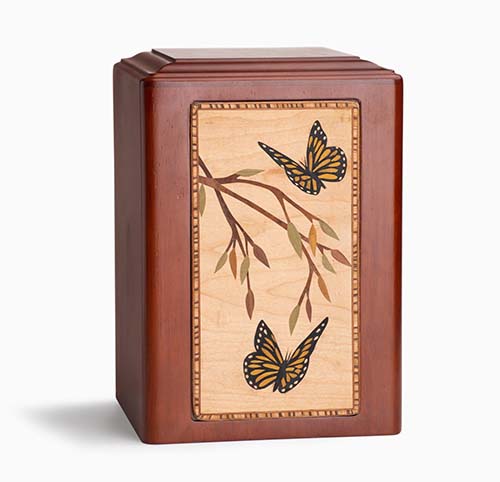 Here is a stunning box-shaped butterfly urn. The memorial comes with a detachable hand-painted wooden plate depicting monarch butterflies in flight around a tree branch. The plate can be detached at will and remains attached via magnets built into the simple and unassuming wooden body.
16. Those We Love Butterfly Urn for Ashes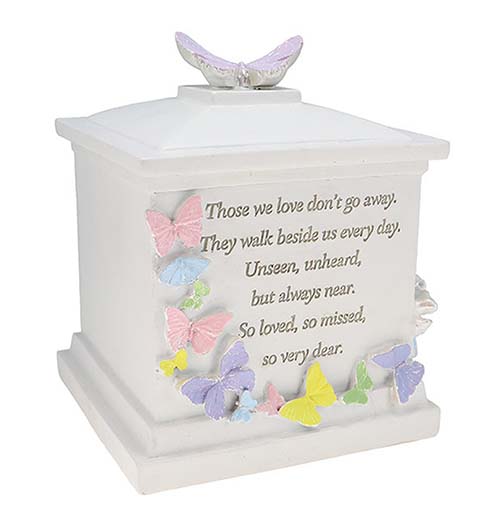 This urn bears the shape of a grave broad grave marker, or memorial stone, and is wreathed by a line of multi-colored butterflies with one ornamental figurehead attached to the top. A wide space for engravings in the stone and resin surface allows many words to be shared with the dearly departed.
17. Pearl & Gold Butterfly Urn
This traditionally-shaped urn comes with a pearl finish and golden/brass metallic polish which are embedded in the shape of butterflies going in all directions. These simple, symbolic depictions help carry home the same symbolic meaning of a butterfly's spiritual flight.
18. Butterfly Gathering Brass Urn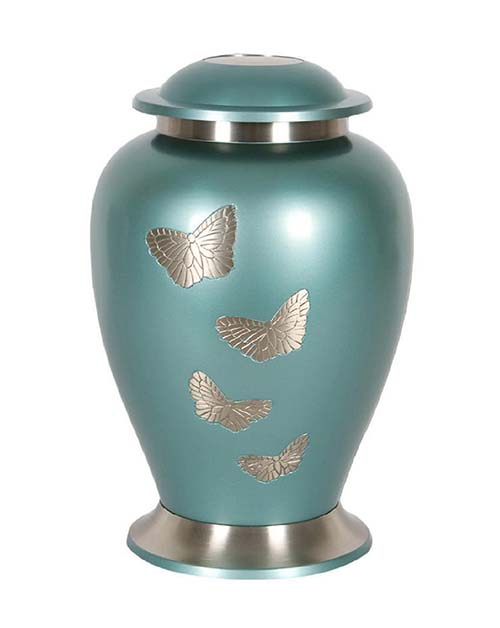 A solid brass urn, weighty but functional, with a solid base and threaded lid will protect your loved one's remains in any room or under any condition. Celebrate your loved one's memory with this urn, which boasts a natural teal-colored finish plus shining brass reliefs of butterflies up the front face.
19. Pink Brass Butterfly Urn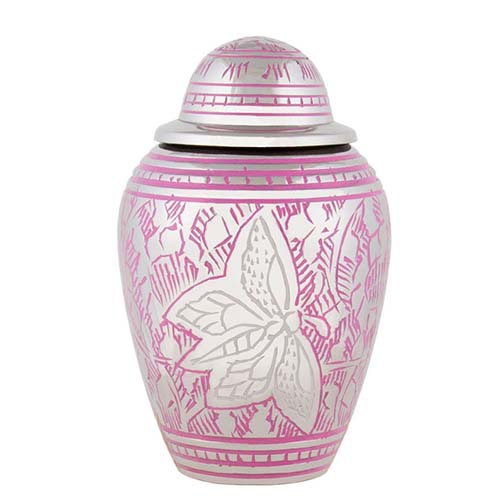 Pink is a cheerful and warming color, something that is needed when arranging for a final resting place for your loved one. This solid brass, pink-etched vessel comes with a large and small butterfly print opposite one another, allowing you to choose the main face side.
20. Handcrafted Butterfly Raku Ceramic Cremation Urn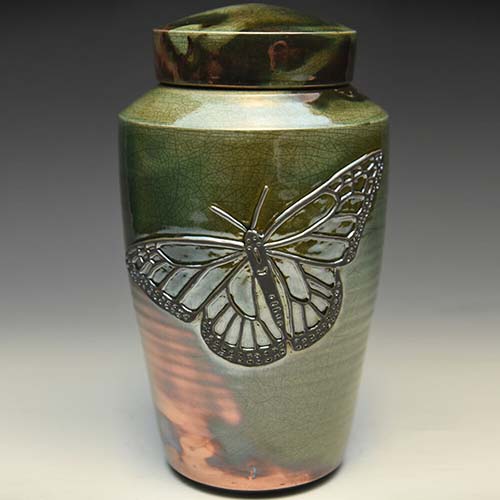 Using the unique Japanese Raku firing technique, this ceramic butterfly urn a glossy finish across its entire surface, which highlights the touches of copper-toned "flashing" and turns the container into a brilliant work of art. Each one is fired differently, ensuring yours is as one-of-a-kind as the one who will occupy it.
21. Wings of Hope Butterfly Cremation Necklace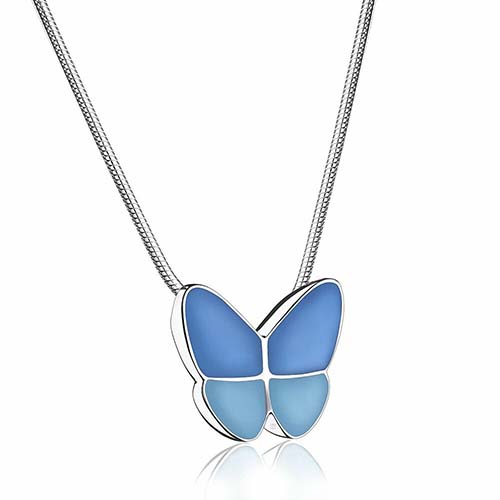 While this butterfly cremation necklace is similar to the above model, it comes in a royal and robin's egg blue. Both colors are meant to elicit a deep sense of calming and comfort.
Click here for more beautiful cremation jewelry ideas.
22. Butterfly Glass Memorial Keepsake Urn
A combination of ornate wooden exterior brings a natural feeling, while the Tiffany style stained glass gives the butterfly wings a gorgeous and almost otherworldly mosaic of colors to stand out.
Made with the highest quality of copper foil technique so the colors radiate with lively glow to create this beautiful butterfly urn.
23. 3-Dimensional Inlay Art Companion Urn (for two people)
This classic companion wooden urn is depicting a relief inlay carving of a butterfly among a cluster of flowers. It is also available in other woods and has enough capacity for a pair to stay united forever.
To learn more about companion urns, check out this guide.
24. Embrace Metal Butterfly Urn in Pearlescent Candy Red
Each of these solid metallic urns comes with a hand-applied pearl finish for an unmistakable shine. High quality, crisp laser engraving ensures your final message, and their name will never be forgotten.
A relief of butterflies in flight stands out against the colorful exterior.
25. Laser Carved Wood Butterfly Urn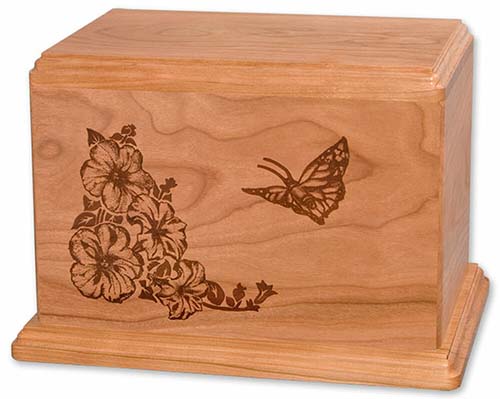 Returning to the top of this list, this butterfly urn for ashes is a laser-engraved version of the same relief inlaid into a gorgeous hardwood vessel. Available in three kinds of wood with space for engravings on the top or back.
Bonus: Butterfly Bird Feeder Memorial Gift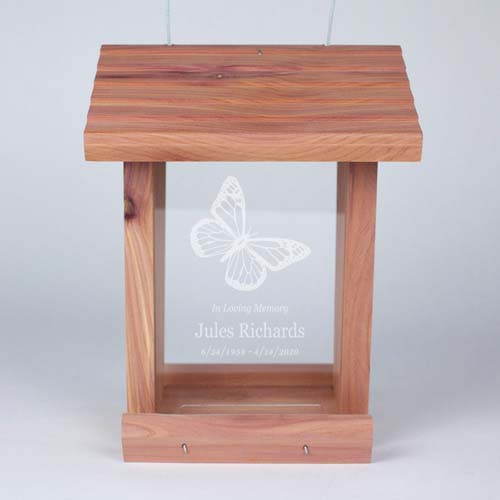 We'll close out this list of butterfly memorials with one more idea that is not an urn. Rather, this bird feeder is something to preserve ongoing life while commemorating one who was lost. A perfect keepsake to honor the memory of those who have gone.
The acrylic plate has an engraved butterfly image with space for an epitaph of the fallen. The base is capable of safely storing birdseed and other kinds of feed while the top is attached by a strong metal wire to hang from a favorite tree or birdhouse hanger. In this way, your loved one's memory can continue sustaining life by feeding the birds.
For more memorial gift ideas, click here.
Read Next: Every Type of Cremation Urn
Pin It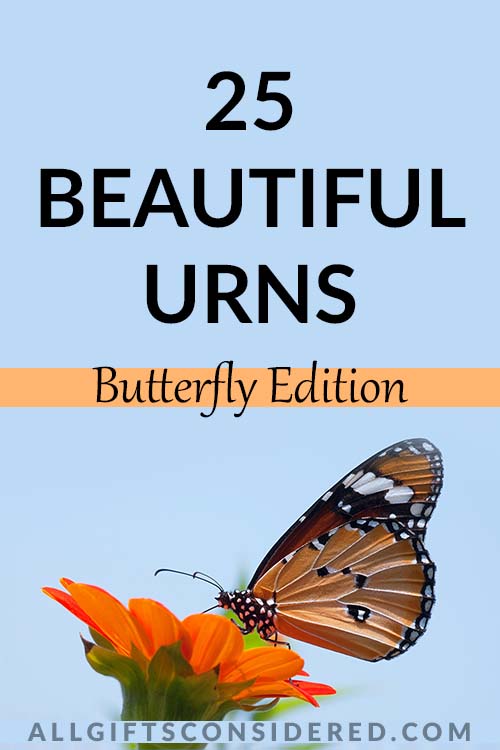 Daniel has been working in the funeral industry since 2010, speaking directly to grieving families as they made funeral arrangements.
He began researching and publishing funeral articles on this website as part of his role as product and marketing manager at Urns Northwest.
Having written hundreds of articles and growing the site to multiple millions of views per year, Daniel continues to write while providing editorial oversight for US Urns Online's content team.