If you are planning to bury cremated ashes in the ground, here are the options available to you as well as a selection of cremation urns and vaults designed for this purpose.
Our website is supported by our users. We sometimes earn a commission when you click through the affiliate links on our website. See our privacy policy & disclosures for more information.
Do You Need a Special Urn for Burial?
Legally, you do not need a specific type of urn for burial. It will depend on the cemetery's policies. Some cemeteries require a protective vault, while others (specifically, "green" or natural burial cemeteries) actually forbid vaults.
What Type of Urn is Best for Burial?
A stone urn (made from granite, marble, etc) is perhaps the best type of urn for burial. However, you can bury just about any urn, as long as you meet the cemetery's requirements.
There are essentially three ways to bury an urn. We'll discuss each of these in turn.
1. Burial Vault Urns
These are urns that you can bury directly in the ground, which will be protected and preserved without an additional outer container.
These cremation urns serve double duty, both as an attractive urn to hold the ashes and a sturdy container that can be safely buried.
Made from non-biodegrading materials such as granite, cultured granite or marble, polystyrene, and more, these cremation urn vaults will support the surrounding soil and prevent ground collapse.
As always, check with the cemetery or your funeral director to confirm that these vaults meet their requirements. See below for some of our favorites, or shop here.
2. Eco-Friendly Biodegradable Urns
These urns can be buried directly in the ground. They are designed to biodegrade over time and be absorbed into the earth.
Eco-friendly cremation urns are safe for the environment and designed to be buried into the ground to promote a natural, organic return to earth for your loved one's ashes.
These urns intentionally function in the exact opposite way as protective vaults; they are designed to break down and integrate safely with the surrounding soil.
Many cemeteries do not allow the burial of biodegradable urns, but with the changing times more are offering "green burial" grounds or other solutions. These natural burial sites are becoming popular enough that you can most likely call around your area and find one.
Otherwise, you'll need to use your own land, a relative's private property, or get permission from the city/county or other landowner prior to burial of an eco-friendly urn.
3. Burial Vaults to Hold Cremation Urns
These containers are designed for burial in the ground and will hold a cremation urn.
The last option, which works for with just about any urn, is to bury the cremation urn inside an urn burial vault. These vaults are made from sturdy plastics such a polystyrene or reinforced metal. The sizes, shapes, and designs vary to accommodate a wide range of cremation urns.
Most cemeteries and funeral homes will offer their own urns and urn vaults, but remember that you are always allowed to bring in your own container (cremation urn) to hold the remains.
Also, you can also bring in your own burial vault provided it meets the cemetery's requirements for ground burial.
If you would like to learn more, here is an in-depth guide to burial vaults.
How to Bury an Urn
At the cemetery:
Choose the cemetery
Purchase your urn, and urn vault (if necessary)
Commission a grave marker
Arrange the burial date
Plan and hold a committal service to bury the remains
At home or other private property:
Choose the cremation urn, or bury the remains in the "temporary" urn you received from the crematorium
You can only bury an urn on property that you own, or with the owner's express permission
Check with local cemeteries or funeral homes to see if there are any ordinances that apply to you
Dig a hole at least 3 feet deep, at least 6 inches wider than your urn or vault, and that allows at least 12 inches of earth above the top of the urn
Once the hole is dug you can hold a committal service; here are some ideas
Fill in the hole with dirt, make sure to mound it up by a few inches to account for the ground settling
Mark the location as you choose, with a headstone, grave marker, garden stone, tree, and/or using GPS
Related: How Many Urns Can Be Buried in One Plot?
20 Best Cremation Urns for Burial
All right! Here are our favorite urns for burial. Below, we have examples of each type mentioned above:
Burial Urns (no additional vault needed)
Natural Burial Urns (biodegradable urns for a "green" cemetery burial)
Urn + Vault Options (urns that you'll need to bury in a protective vault)
Please read each section heading and description carefully, and also confirm any info you read here with the cemetery of your choice before purchasing an urn. Remember, each cemetery or funeral home will have its own policies regarding what they will allow you to bury on their grounds.
Here's the one principle that always applies: As a funeral consumer, by law you are free to purchase an urn or a vault anywhere you like. This means you do not have to buy one from the cemetery or funeral home; you are free to shop around.
So, do I need to buy an urn from the funeral home? Short answer: Nope.
Burial Urns (no additional vault needed)
In this first section, we feature urns you can simply bury. These cremation urns are made from non-biodegradable materials (typically granite, marble, or cultured marble; sometimes plastic) which will not decompose over time.
Tip: "Cultured" means man-made, from actual round-down granite or marble dust mixed with resin and formed in a mold. "Real" or "Authentic" means, well, real; as in, it's made from an actual slab of marble or actual chunk of granite.
Both are durable, heavy, stately, attractive, and can be used in place of a burial vault. The "cultured" version will be more affordable, while the "authentic" stone urns are more expensive.
1. Cultured Granite Photo Cremation Urn
Granite is a timeless stone and makes wonderful cremation urn material. This cultured granite cremation urn features an engraved photo of your loved one along with other personalized details.
2. Cultured Granite Photo Companion Urn (for two)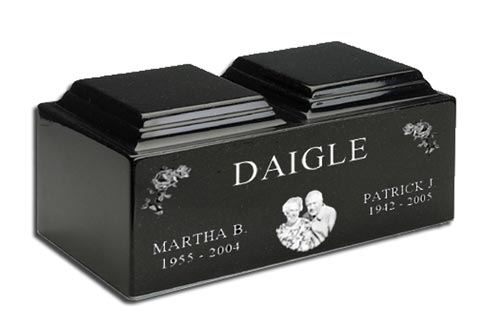 A gorgeous companion urn constructed of polished black cultured granite. Remains may rest next to one another, in separate compartments, or together with a single opening.
3. Legacy Natural Marble Cremation Urn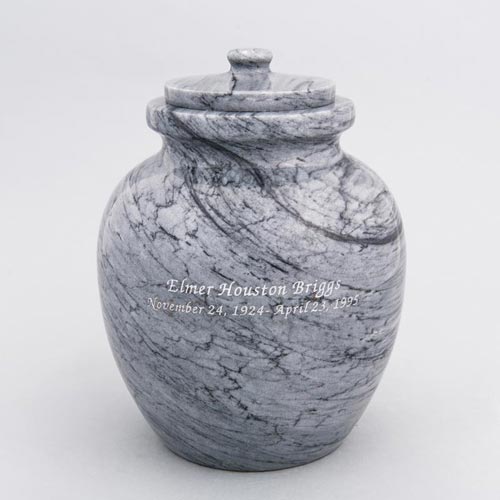 The Gray Legacy Urn is everything elegant, modern, and reverent all in one cremation urn. This is a marble piece and naturally quarried for a unique memorial to your loved one.
4. Classic Cultured Marble Urn in Camo
This made-in-the-USA cremation urn is constructed of cultured marble. Personalization is optional and many sizes are available.
5. Classic Cultured Marble Urn in Berry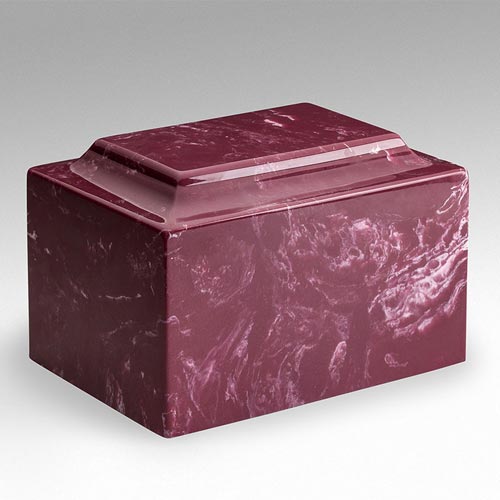 The Classic Cultured Marble Urn in Berry is simple and sweet. Again, laser-engraved personalization is optional, and various size options are available.
6. Crown Natural Marble Urn (Green)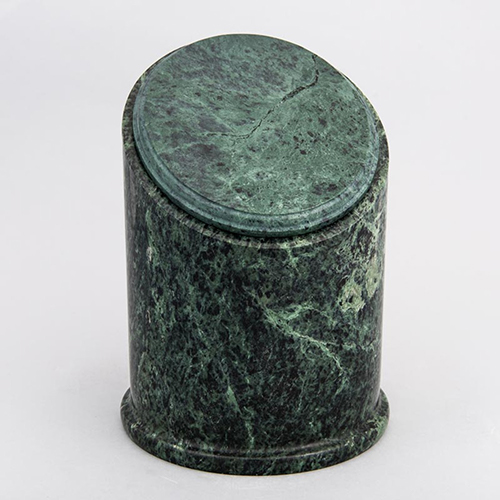 The Crown Natural Marble Urn is a solid marble cremation urn that will last a lifetime. You can also personalize this urn.
7. Crest Natural Marble Burial Urn (Gray)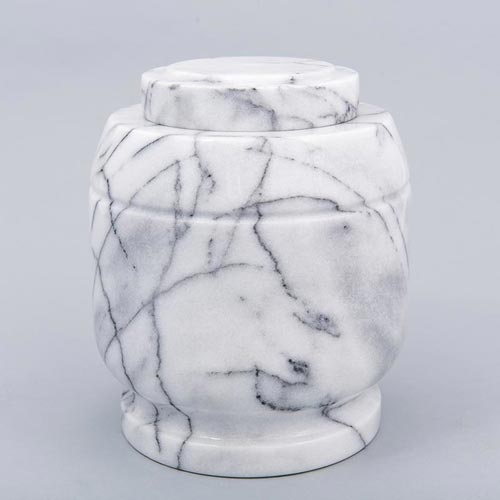 Perhaps the most spectacular urn featured on our list today. The Crest Natural Marble Cremation Urn is naturally quarried, hand-turned on a lathe and finally, polished to perfection.
8. Evermore Natural Marble Urn (Champagne)
This Evermore Square Marble Cremation Urn looks like an ancient work of art, but is actually made to order. Personalization is available.
Natural Burial Urns (for burial at a "green" cemetery)
When you want to return your loved one's ashes back to the earth as naturally as possible, these biodegradable urns provide the perfect way.
Bear in mind that you can also bury the ashes directly into the ground, with no urn at all. You can do this on your own private property, or at a green cemetery (where allowed). But most families like to have a beautiful and respectful container in which to bury their loved one's ashes.
The urns below are ideal for this purpose.
9. Memorial Tree Urns (to grow a tree from ashes)
The Dogwood Tree Biodegradable Memorial Urn is just one of many eco-friendly urns for burial we have available.
Please note that these only hold 35 cubic inches of remains, which is approximately the equivalent of 35 lbs of pre-cremation body weight.
10. Journey Earthurn
A simple handmade paper urn ideal for water burial disposition. The Journey Earthurn Biodegradable Urn is totally "green" and made from the bark of mulberry trees.
11. Biodegradable Sand Urn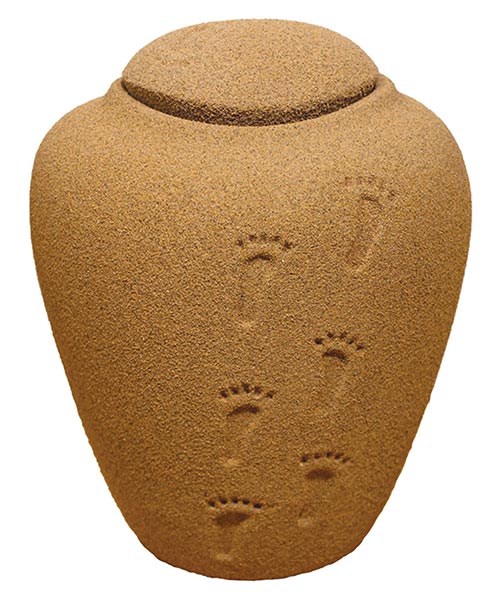 The lovely Biodegradable Oceane Burial Urn is for water or ground burial. Comes complete with a special "Footprints in the Sand" design as well as a biodegradable bag in which to secure the remains.
12. Himalayan Rock Salt Urn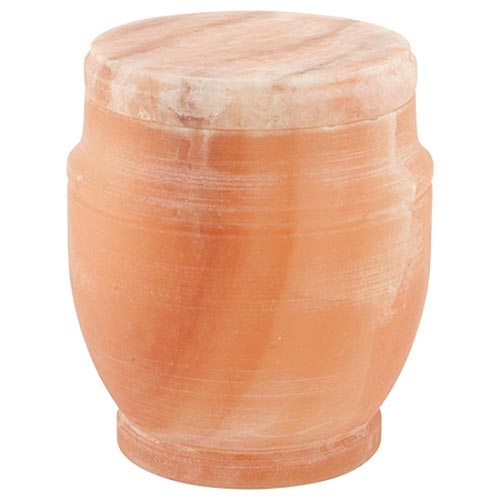 An organic rock salt urn perfect for sea burial or other disposition by water. The Himalayan Rock Salt Cremation Urn is as practical as it is beautiful. It will generally float for a bit on the waves before finally sinking and dissolving completely.
13. Biodegradable Turtle Urn
A precious way to send your loved one off on their final journey. This Biodegradable Paper Turtle Water Burial Urn is made by hand from recycled paper. It will float gracefully for a time on the water, before sinking and eventually biodegrading.
14. Biodegradable Shell Urn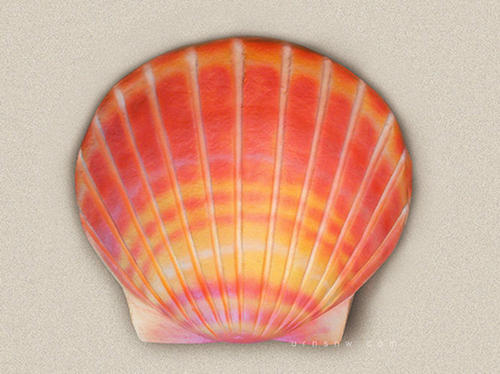 Another beautiful urn inspired by the fingerprints of God. Urns Northwest's Biodegradable Shell Urn is for water scattering. This Grolleg paper clay urn will dissolve rapidly once placed in water.
15. Tribute Scattering Urn Tubes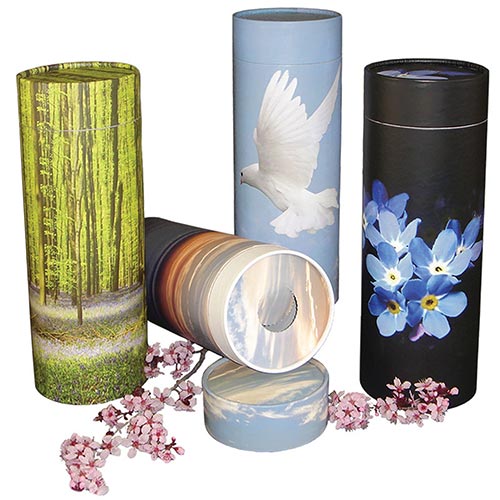 While chiefly designed for scattering of ashes, the Tribute Scattering Urn Tubes are also fully biodegradable. This means that you can decide (now or later) whether you would like to scatter the ashes or simply bury in the ground using the biodegradable urn.
Either way, it's an affordable and eco-friendly option for the final disposition of your loved one's remains.
Related: Everything You Need to Know About Scattering Ashes
Urns that Require a Burial Vault
To give you the full picture, we're going to include some beautiful urns that (typically) will need to be buried inside a protective burial vault.
Most urn vaults have limited space, so the best urns for burial in a vault will be a fairly typical size and shape. This is often a rectangle (for wood and metal urns) or a vase shape (for glass and ceramic urns).
16. Wood Inlay Art Urns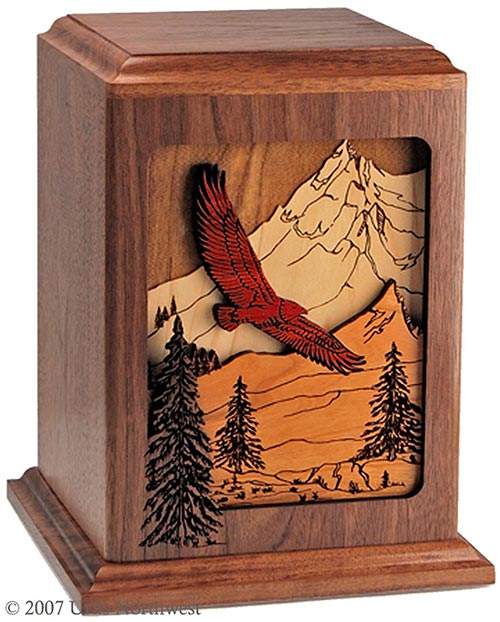 For something a little different yet just as beautiful as a traditional stone urn, consider a wood inlay art cremation urn. Laser cut pieces of wood, of varying tones and hues, come together to create beautiful nature scenes.
You can find the Soaring Eagle cremation urn you see in the photo above here.
17. Glass Art Urns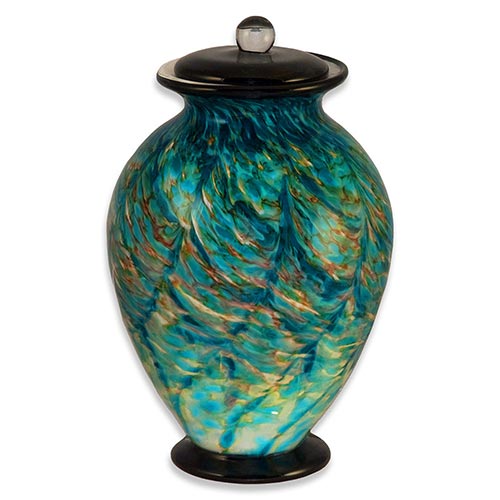 Hand-blown glass has always been an artistic endeavor. But hand-blown glass cremation urns? Even more so.
The process of glass-blowing makes for one-of-a-kind urns, each with their own distinct patterns and colors. Glass urns from Urns Northwest are made right here in the USA.
We call the stunning glass urn you see above the Amato Aegean; you can find it here.
18. Mother of Pearl Brass Urn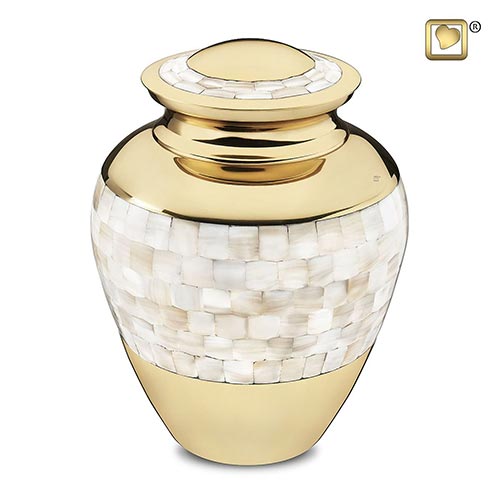 You will be astonished at the detail of our Mother of Pearl Brass Cremation Urn, which features an inlay of gorgeous mother of pearl pieces situated neatly within the brass underneath. The manufacturer uses GlossCoat technology for a shiny finishing touch.
19. Classic Hamilton Wood Urn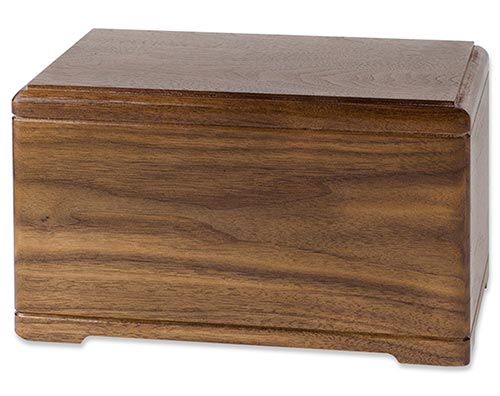 When in doubt, you can't go wrong with a classic solid wood urn. Our Hamilton Solid Wood Cremation Urn is made to order in the USA. It is affordable yet the quality you would expect from Urns Northwest.
20. Handcrafted Ceramic Raku Urns
The Dragonfly Raku Cremation Urn is one of the more exquisite urns we feature on our list today.
This ceramic urn is special because, although it's made in the USA, the artist refines it using the ancient Japanese firing process known as Raku. A dragonfly design graces the stone, and a glaze finish blankets the urn's entire surface.
Burial Vaults
Again, burial vaults are durable containers into which the cremation urn is placed. These are used to provide a measure of protection to the urn and to ensure that the ground doesn't collapse, creating a divot in the cemetery's landscaping.
We've written extensively about urn burial vaults here, so if there is anything further you need to know you'll find the answer there.
Rather than picturing our vaults here, it's probably easiest to simply browse our vault collection.
Where to Bury Ashes
There are several places you can bury a cremation urn with the cremated remains.
Cemetery
To inter (bury) the remains in a plot at a cemetery, you will want something that is sturdy, durable, and non-biodegradable. Most cemeteries have some basic requirements which ensure that the ground above and around the urn does not collapse.
Burial vaults and cremation urns made from durable material such as cultured marble or granite will generally work perfectly. Just be sure to contact the cemetery, or speak with your funeral director, to confirm that the vessel you choose will work.
Private Property
On your own private property there are no legal limitations for burial (or scattering) of ashes. You can bury any cremation urn, with or without a protective vault. If it the private property belongs to someone else, just be sure you have permission to bury or scatter on their land.
If you choose to bury a wood, ceramic, glass, metal, or other type of urn, be aware that these will break down over time due to moisture and the pressure of the earth's weight. This may eventually cause the ground to dimple downwards a little. If you're ok with that, then there is no need for any protective burial vault.
If you want the remains and/or the urn itself to be protected from the elements, or if you want to ensure that the soil around the urn doesn't collapse, you can get an outer shell which is known as an urn burial vault. This vault will hold the urn and keep the moisture, earth, and other elements at bay.
Green Cemeteries
Green burial grounds are becoming more popular as consumers think about the environmental impact of their funeral plans.
This type of cemetery allows for burial or scattering of remains without the traditional urn vault, and you can often use eco-friendly biodegradable urns, direct burial of remains, and other innovative options such as plantable tree urns.
The best way to find a green burial site is to call a few local funeral homes. The funeral professionals will likely be able to direct you to any green burial options nearby. You can also try some of these links below:
Urn Burial Guidelines
For burial of cremated remains, most cemeteries require some sort of durable protective burial vault to make sure that the ground doesn't cave in over time. That, or you can choose a cemetery that allows natural burial of biodegradable containers.
So you will need to meet at least one of these conditions:
Cremation urn buried inside a durable, protective urn burial vault
Cremation urn made from non-biodegradable materials (for instance, granite) that can serve as its own burial vault
Biodegradable urn buried at a cemetery that allows it
Choosing the Right Burial Urn
Do you want the more traditional burial at a typical cemetery?
You will be free to choose just about any urn you like
Talk to the cemetery and ask about what they require
Stone urns, such as granite, marble, onyx, etc, do not require an additional burial vault
Other urn materials will biodegrade (e.g., wood) or can bend/break (e.g., metal, ceramic, glass) and will thus need to be place inside a burial vault
Do you want to go with the most affordable option?
Choose a stone urn, as you will not need to purchase a separate burial vault
Do you want to go with the most eco-friendly option?
Find a cemetery that allows natural burial. There are some cemeteries that are 100% eco-friendly; others have a section for natural burial or will permit it upon request; still others do not permit it at all. Each cemetery will have their own policy, so just ask.
Get an eco-friendly burial urn; you will not need a vault
Find More Urns for Burial
We invite you to explore more cremation urns for burial at our retail store on Urns Northwest.
Here are some places to visit for next steps: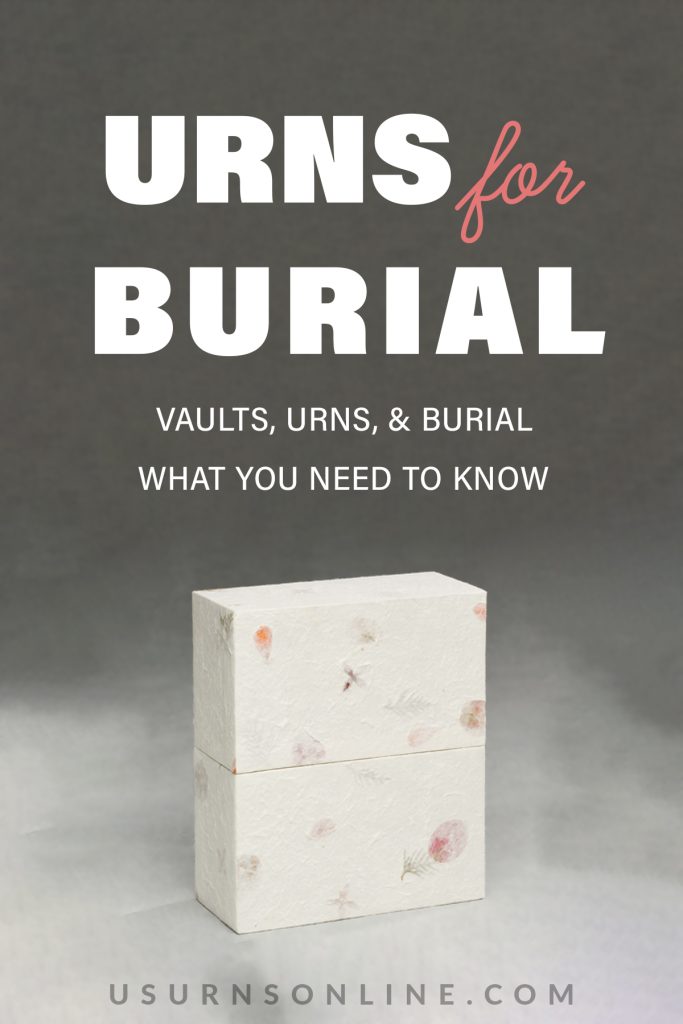 Daniel has been working in the funeral industry since 2010, speaking directly to grieving families as they made funeral arrangements.
He began researching and publishing funeral articles on this website as part of his role as product and marketing manager at Urns Northwest.
Having written hundreds of articles and growing the site to multiple millions of views per year, Daniel continues to write while providing editorial oversight for US Urns Online's content team.