Let's take a look at some of the best and most meaningful memorial gifts for the loss of a son. At the end we'll include some guidance on etiquette when giving your gift to someone who is grieving.
The loss of a child is often described as the worst pain one can ever go through. If you know someone who is experiencing that pain first-hand, you understandably want to offer comfort to them in any way that you can.
One appropriate way to do so is by gifting your loved one something that will gently remind them of their son and who he was in life. So today we'll be sharing our top 10 picks for memorial gifts for loss of a son.
Let's get started.
Top 10 Memorial Gifts for Loss of Son
Our website is supported by our users. We sometimes earn a commission when you click through the affiliate links on our website. See our privacy policy & disclosures for more information.
1. Memorial Bear Made from a Shirt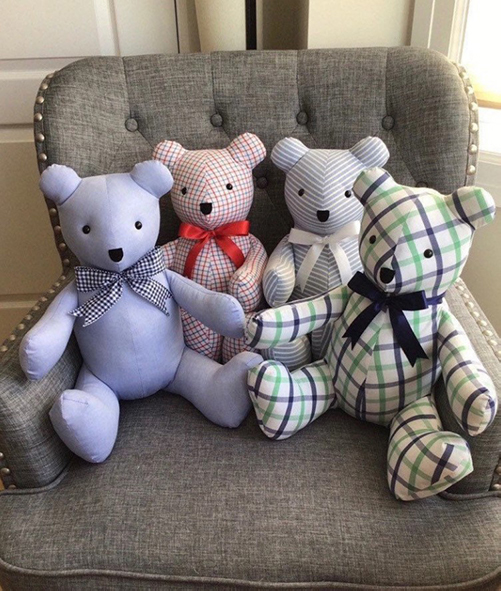 The first idea to be featured on our list of memorial gifts for loss of son is this t-shirt teddy bear. This bear is made precious by the fact that it is sewn from the shirt of the son who has passed away. Custom embroidery is available.
Besides a teddy bear, you can choose from several other animals: a cat, a bunny, a dog, a gecko, and elephant, and more.
Also check out this teddy bear that can be made from an infant onesie or pajamas.
2. Personalized Memorial Bird Feeder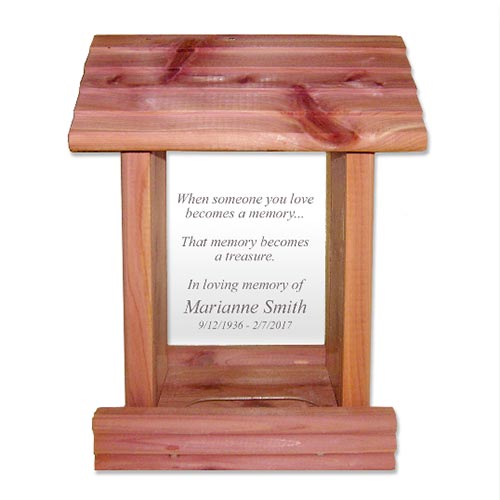 Bird feeders are a wonderful way to memorialize a loved one. Placed outside among the trees and the birds, a bird feeder can bring a sense of calm and peace to your loved one during an otherwise tumultuous time; as they navigate their fried over the loss of their son.
This custom-engraved bird feeder from Urns Northwest is handmade from cedar wood right here in the U.S.A. You can personalize the front panel with an inscription and anything else. The back side is also available for additional custom text.
3. Memorial Garden Stone
There's nothing like stepping outside among nature, out in the sunlight, to provide a much-needed sense of grounding just when it's needed most.
If your loved one enjoys gardening, but is having difficulty getting back out there in the wake of their son's death, give them a reason to go outside once more. Gift them this beautiful garden stone, to set in the earth and to bring them comfort every time they look at it.
This garden stone is made of resin and measures 10.5″ tall.
4. Rustic Wood Memorial Photo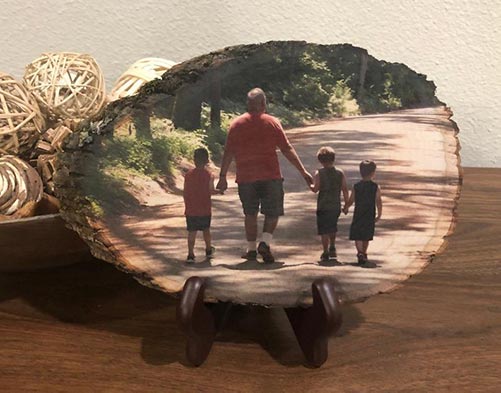 Out of all keepsakes, photos are perhaps treasured the most of all. When it comes to memorial gifts for loss of son, framed photos are fine. But to give a truly unique photo gift, you need look no further than nature itself.
This gorgeous rustic photo is printed on a round of natural basswood. It is meant to last and makes a wonderful keepsake display for any location in the house, whether it be a table, shelf or fireplace mantle.
Simply send the artist the picture you want represented and they will take care of the rest.
Related: Best Photo Memorials & Remembrance Ideas
5. Custom Engraved Memorial Tumbler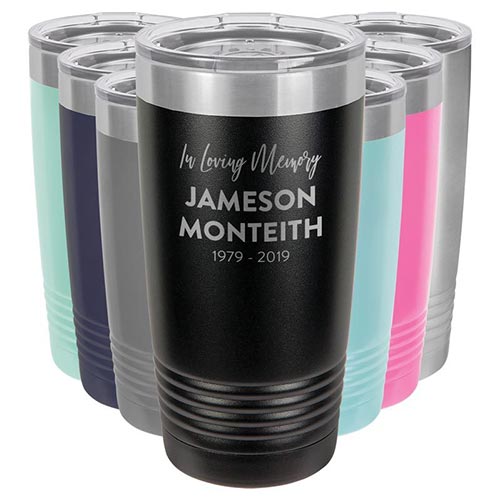 Here is a sympathy gift that is both a keepsake as well as something your loved one will be able to utilize on a daily basis. Help your love done memorialized their son, while also gently reminding them to take care of themselves.
A Polar Camel custom-engraved drink tumbler is as high-quality as it gets, but still economical. The tumbler is double-walled and also vacuum-sealed – which means their drink will stay as hot or cold as they need it to.
"In Loving Memory" personalization is included. Available in a variety of colors and styles.
6. Here for You Care Package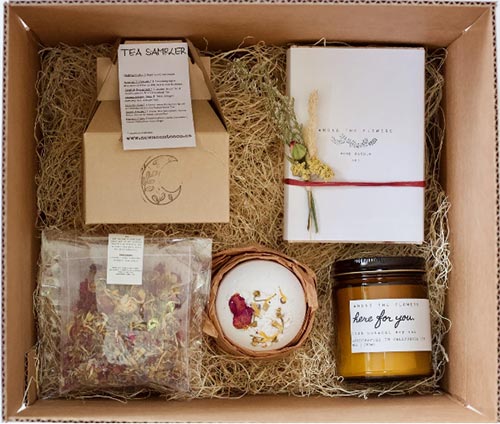 Gift baskets are a thing and always will be. But now, for your friend who is dealing with the loss of their son, you have the option of choosing a curated "care package."
A care package from Here for You will not only provide your loved one with a bit of refuge, a bit of "me time" away from the storm. It will also remind them that you are thinking of them during this most difficult time.
Choose from several different care package styles, including Home Box, Body Box, and Bath Box. Additional add-ons are optional. See our unboxing here.
7. Personalized Memorial Plaque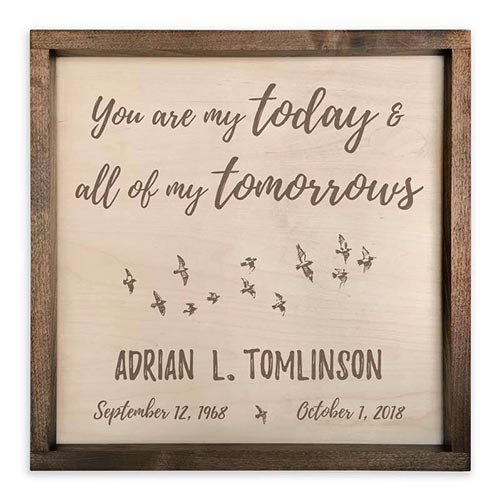 Next on our list of memorial gifts for loss of son is this gorgeous plaque from Northwest Gifts.
Handcrafted in Oregon, this plaque, from the original Pacific Crest series, features personalization of name as well as dates. An engraved flock of birds and thoughtful quote adorn the rest of the memorial.
This solid wood plaque is available in two different sizes, 12″ x 12″ or 18″ x 18″.
8. Custom Photo Frame with Poem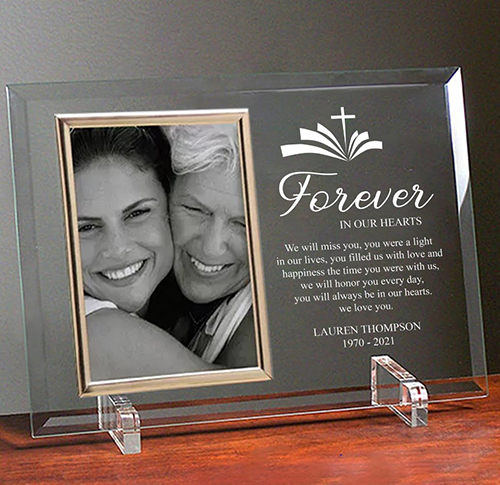 This exquisite memorial frame is made of heavy weight beveled glass, and is laser engraved to create a one-of-a-kind piece to be treasured. The sweet poem (or passage of your choice) is such a wonderful reminder, and you can have it inscribed with your son's name and dates, too.
Place this lovely memorial on an end table or bookshelf where you can easily see it and cherish his memory.
Related: 101 Loss of Son Quotes for Sympathy & Healing
9. Custom Memorial Necklace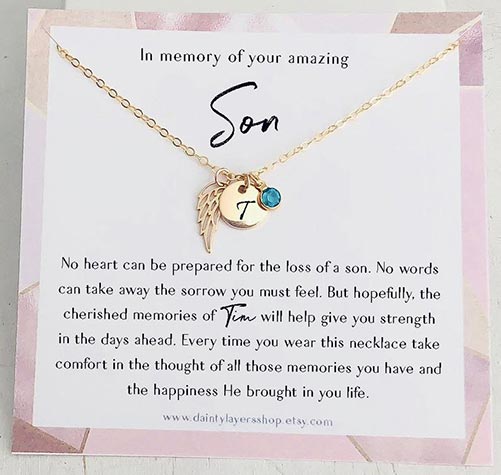 Your friend has lost her precious son, and there are no words that you could say to provide the comfort that she needs right now. Allow this stunning memorial necklace – and the included personalized message – provide her with a little bit of peace.
This custom necklace for loss of son will feature her child's initial as well as his name in the sympathy message. Choose between several different necklace chain lengths, as well as silver, gold, or rose gold coloring.
10. DIY Digital Video/Photo Collection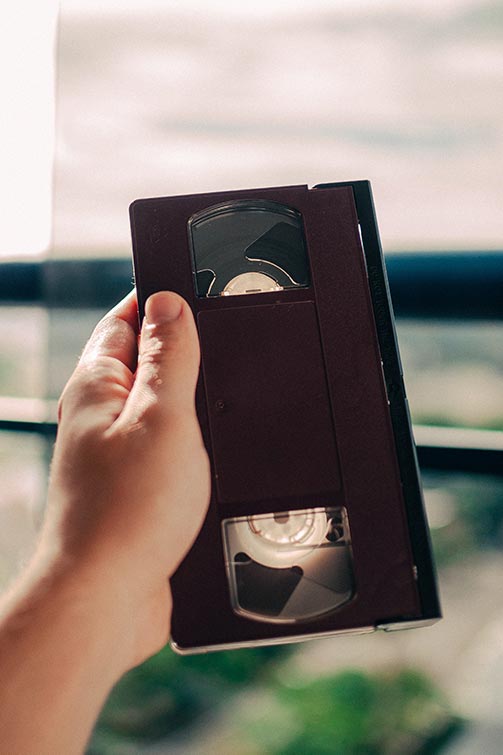 The last gift featured on our list today is a do-it-yourself one. Because there are just some things in this world that money can't buy.
This one is going to take a bit of work on your part, but the end result will be a wonderful keepsake gift that your loved one will treasure forever. All you have to do is compile video clips and/or photos of their son, and create a slideshow or other video. Save it to a drive and it will be theirs to watch and reminisce over whenever they're ready to.
If you like this gift idea, here are some articles and websites to help get you started with the tech aspect/logistics of it all:
Click here for 50+ more ways to memorialize a loved one.
Showing Sympathy: A Few Helpful Etiquette Tips
Now that you've got some inspiration for memorial gifts for loss of son, let's consider sympathy etiquette and how it plays a role in your gift-giving.
Tip #1: Do mention their son by his name. Your loved one is still processing the fact that their child has passed away. Mentioning his name aloud when offering your sympathy ("I'm so sorry to hear about Kevin") offers validation to the loss.
To help you figure out what else to say, we've compiled a list of 101 condolence messages to show your love and support during this difficult time.
Tip #2: Don't refer to any future children. This one should be a no-brainer; if your loved one has lost a young child or infant son, do not refer to any future children he or she may have. ("I'm sure there is room in your heart to love again" or "At least you can still have children.")
To your loved one, there is no one more important in this moment than the child they have just lost.
Tip #3: Do give your loved one time and space to process their loss. Unless they've otherwise asked you for help, let them be. Just as their love for their son knew no end, so will not their grief.
That said, there is a difference between needing space to grieve/heal, and falling into depression…
Tip #4: Do keep an eye on them. Like we've mentioned, losing a child is life's greatest tragedy, no matter how old that child was. Be there for them, and watch out for their welfare. Here are 22 tips on ways help someone who is grieving.
If you notice over time that your loved one is not participating in life like they once did, or are depressed or suffering another way physically or psychologically, if may be best to encourage them to seek professional or spiritual help.
Read Next: 15 Compassionate Gifts for Grieving Moms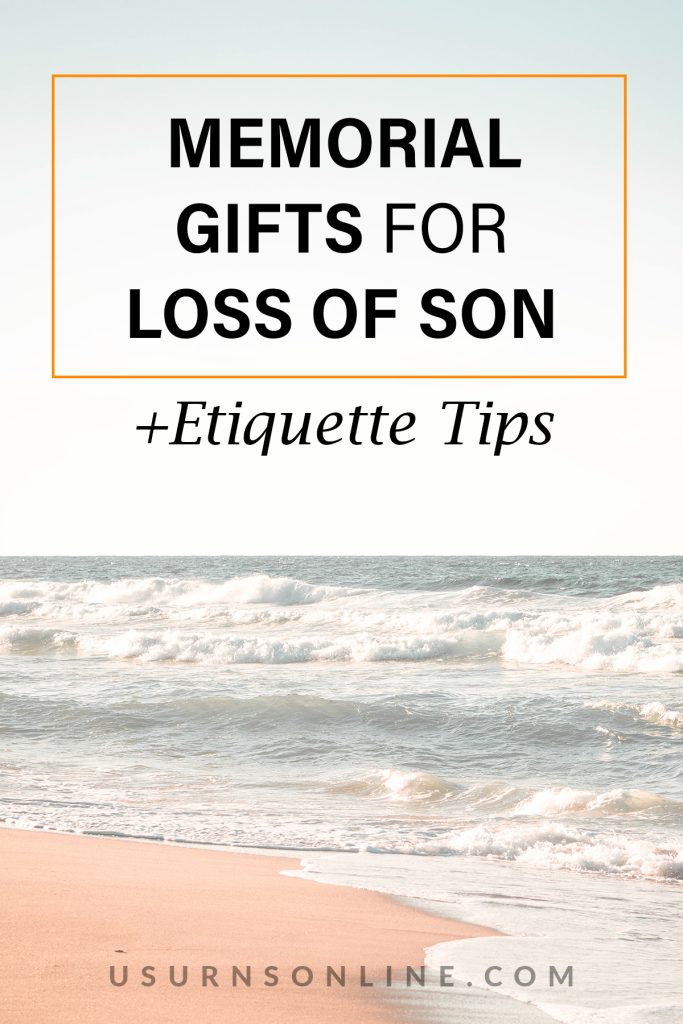 Aubrey is a lifelong writer who has served in the funeral industry since 2016. After graduating from Dallas Institute of Funeral Service, she knew she wanted to continue to serve families through her writing, but didn't know how.
Soon after, Aubrey experienced a "lightbulb" moment and started her eulogy writing business, Eulogies by Aubrey, in 2019.
Aubrey has written professionally since 2012, covering not only funeral-related topics and gift trends, but also for TV guide listings, as well as legal topics. She began writing for US Urns Online in 2019.
Aubrey's work has been featured in Huffpost, Coming of Age Magazine, and 1800Flowers.com. Increasingly interested in prenatal and postpartum mental health, as of 2023 Aubrey is a trained and certified birth and bereavement doula (SBD), and is currently studying toward her degree in Health Science. She also holds additional certifications in Cremation Arrangement (ICCFA) and Burial at Sea (NEBAS).