If you're like most people, chances are this is the first you've thought about what exactly, if anything, you need to know about cremation urns.
What is a cremation urn anyways? Are there any requirements for buying or using one? How do you use one? Is there anything you should be aware of?
I remember my first week working for Urns Northwest… I barely knew what cremation was, let alone any answers to questions a customer may have about the urns on our website. The memory of having absolutely no clue sticks with me!
In the 10+ years since that first week, I've picked up quite a bit from quality training, handling the products, talking with others in the funeral industry, researching, and interacting with customer inquiries. I've written many articles on this website as it's grown into one of the top resources on funerals, urns, and final arrangements.
So here's a bit of what I've learned – eight things you need to know about cremation urns.
1. A cremation urn is simply a container
What is an urn? An urn is just a container – box, vessel, capsule, etc. – which holds the remains (also called "ashes") after cremation.
If you're not the sentimental type, you can use a bag or a coffee can. You can make your own from wood, ceramic, or even paper mache. You can also commission an artist to make a custom urn from wood, ceramic, or just about any other type of material.
Our most popular urns are decorative wood boxes with woodcut art scenes of butterflies, lighthouses, country lanes, and other heartwarming themes. Collections of hand-made ceramic urns and blown glass art memorials are close behind. We have cultured granite and marble urns, urns made from metal, paper, sand, and even cornstarch.
There are urns which use the ashes to help grow a memorial tree, urns shaped like turtles, and creative urns that don't look like urns at all. Just about any shape, style, or design you can think of has been made into an urn.
2. You don't have to buy a cremation urn from the funeral home
You can build your own, buy your own, buy from the funeral home, or use the "temporary urn" in which the remains will come from the crematorium.
There are no regulations as to what constitutes an urn, and the only laws that exist regarding cremation urns are to ensure that funeral homes do not require or unduly press you into purchasing from them. (You can read the actual laws here.)
Since families can often easily pull up cremation urns online via their smartphones, funeral homes have generally become more competitive in their pricing, more exclusive in their product selection, or both.
Funeral homes used to have a (sometimes unfair) reputation for ripping off their customers, but the accessibility of information via the internet has leveled the playing field and helped remove some of the stigma.
So if you find that the funeral home offers an urn that is perfect for you and the family at a good price, go for it. Just be aware that you are free to choose any urn from any provider.
Related: Funeral Costs: Here's what to expect
3. You can (usually) rent an urn for the funeral service
This is a great way to get the exact urn you want without having to pay big $$ for expensive overnight rush shipping.
Most funeral homes have a selection of nice cremation urns which you can "rent" for use during the memorial service. For a small rental fee, you can avoid the stress and headache of trying to order an urn online, arrange expedited shipping, pay the extra costs, and make sure that someone is around to sign for the package.
At Urns Northwest, most of our finest cremation urns take several days up to a week to produce and personalize for you.
If your memorial service date is approaching, take advantage of our offer of free ground shipping and rent an urn locally. This will save you stress and money while allowing you to receive the exact urn you and your family truly want for your loved one.
4. Cremation urns made in the USA are much, much better
Generally speaking, of course. There are exceptions; while we at Urns Northwest specialize in American-made urns, we also offer a few very high-quality urns made elsewhere and imported into the States. These are all premium quality imports from genuine artisans.
On the flip side, here in the USA there are getting to be more knock-off vendors who are attempting to jump into online urn sales. So you might find a few items which are "made in America" but have lower-than-expected quality. Those are the exceptions, however.
By and large, when you see companies or websites that have been around for a while, are well-reviewed, and offer return policies which stand behind their American-made products, the memorial you receive will be of a much higher quality than the bargain-basement import items you'll find at major name-brand retailer websites.
Check the website's About Us page or the individual product pages to make sure that you're getting an urn made in the USA.
5. Capacity (not exterior measurements) is what matters for urn size
One question we often receive from our customers is about what size urn to get. Often, the customer is thinking about the outside measurements of the urn, when what they are really wanting to know is the capacity.
Since many urns have decorative accents or edges, exterior dimensions (which are listed in the product details) are not the best way to figure out if the urn is the right size to hold the ashes.
Urn capacity is measured in cubic inches, and most standard adult urns are about 200 cubic inches, which will hold the remains of an individual weighing roughly 200 lbs.
For more information on figuring out how many cubic inches you need, click here.
You may be looking for the inside measurements in order to insert the entire "temporary urn" that you received from the funeral home.
Since our urns are designed to hold the same capacity as one of those temporary urns, they generally won't fit inside a standard cremation urn. However, we do have an urn designed to hold most temporary urns… just be sure to check the interior dimensions listed on the product page to ensure that the temporary plastic or cardboard urn will fit.
6. Exterior measurements generally only matter for placement
The exterior measurements can be important depending on where the urn is going. If an urn is going to be placed into a columbarium niche, then you will definitely want to make sure that the outside dimensions of memorial urn will fit into the opening.
Or perhaps you would like an urn that fits onto a mantle or shelf, or some other specific location. In these cases, and also just for the sake of having an idea of the physical size of the item you are going to receive, it is helpful to know the exterior dimensions.
The important thing to remember is this: Unless you have a particular placement in mind for displaying the urn, you do not need to worry about the exterior dimensions of the memorial. The capacity of the urn is the determining factor for sizing.
Related: How Many Urns Can Be Buried in One Plot?
7. Purchasing a cremation urn pre-need is a smart thing to do
There are many advantages to buying an urn before you actually need it. If the urn is for yourself, you can pick out exactly the one you want. At the same time, you'll help your family to avoid the stress of an extra decision to make. This checks off a big item on their to-do list for arranging the funeral.
Purchasing the urn in advance allows the family member who will be passing soon to participate in the selection process if they so choose. It also keeps you from having one more thing to take care of in the days after they depart this world.
Even if you or your loved ones are not planning on dying anytime soon, it is still a good idea to get the cremation urn now. You can store the urn in the box in which it comes (our urns are always shipped in well-protected packaging). Or, if you're going with a designer ceramic or wood art urn, you can add the piece to your home décor.
You'll also save some cash when ordering the urn in advance. Instead of paying the ever-increasing rush shipping costs to get an urn quickly after a death in the family, you can go with the free delivery option. This saves you from plenty of headaches, stress, additional choices, and excessive shipping charges.
Benefits of buying an urn ahead of time:
Peace of mind knowing your resting place has been finalized
You get the exact urn you want
You can choose the inscription or personalization you want
No need to pay expedited shipping fees
No chance of delay-causing shipping mishaps
You save your loved ones from additional stress
8. The funeral home will transfer the remains for you
Despite the unfortunate stigma sometimes associated with morticians, most are really quite nice. Part of their job is to take care of the remains for you. And since the law requires the funeral home to use any container you choose, they will transfer the remains into the cremation urn of your choice.
But sometimes, if you decide to order an urn online and it shows up a few weeks after everything is done, the funeral home or crematorium will give you the remains in an inexpensive cardboard or plastic box, known as a temporary urn.
If you're uncomfortable transferring the ashes into the permanent urn yourself, you can bring both the temporary and permanent urns to the funeral director and they or their staff will usually complete the transfer in a few minutes without a problem.
Common Questions About Cremation Urns
Here's everything else you might want or need to know about urns.
What is a cremation urn?
A cremation urn is any container that holds cremated remains. From a coffee can to an urn disguised as a shelf, from a DIY cremation urn to a traditional cultured marble urn, anything you choose to use to hold the "ashes" is by default a cremation urn.
How do you do the urn inscription when buying pre-need?
The real question behind this is how do you engrave dates when the person is still living? We have an entire article devoted to that here, but for now, here are the main points.
No Inscription
Get the urn now, just don't engrave it
Have a nameplate engraved at a trophy shop when you need it
With Inscription
Note that matching the size/font of engraved partial dates (eg, "1946 – ____") is very difficult and not recommended; many engravers won't do it at all
We recommend engraving the person's name and any sentiment desired, just skip the dates
You could also do a partial engraving into the surface of the urn, then later cover it up with a name plate
What are my consumer rights when buying an urn?
According to the FTC's Funeral Rule, you have the right to:
Buy only the funeral arrangements you want (including the cremation urn)
Get price information on the telephone
Get a written, itemized price list when you visit a funeral home
See a written casket price list before you see the actual caskets
See a written outer burial container price list
Receive a written statement after you decide what you want, and before you pay
Get an explanation in the written statement from the funeral home that describes any legal cemetery or crematory requirement
Use an "alternative container" (a cardboard casket) instead of a casket for cremation
Make funeral arrangements without embalming
Most funeral homes will gladly comply with all of these and more. Learn how to choose a good funeral home here.
Is there a regulation as to how large or small a urn can be?
No, there is no regulation about the size of an urn. An urn is simply any container that holds cremated ashes. The key, generally speaking, is to figure out the volume of the cremated remains and then get an urn to fit.
As long as the remains fit into the urn, there are no regulations or requirements concerning how large or small the urn should be.
How much ashes will there be after cremation?
The rule of thumb used in the industry is that there will be approximately 1 cubic inch of cremated remains per 1 lbs of pre-cremation body weight.
Read our guides to learn more about the cremation process and cremated remains (ashes).
What urn sizes are available?
Cremation urn sizes are measured by volume in cubic inches. To figure out what size you need, simply take the weight of the individual and convert it at a 1:1 ratio to cubic inches.
So, for example:
A 175 pound man will require an urn with a capacity of roughly 175 cubic inches
A 12 lbs pet will require an urn with a capacity of 12 cubic inches
Two people whose combined weight equals 360 pounds will require a "companion urn" of roughly 360 cubic inches
With that sizing rule of thumb in mind, here are some of the most common urn sizes available:
Standard Adult Cremation Urn – 200 cubic inches
Companion Urn – 400 cubic inches
Keepsake – Designed to hold a very small amount of remains, typically between 1 and perhaps 50 cubic inches
Small/Child/Pet – Smaller urns in the range of 10 to 100 cubic inches
Cremation Jewelry – Holds a small pinch of remains in a locket or pendant
Where can I keep the urn?
Cremation urns can be buried, placed into a columbarium niche, or kept at home.
If you're bringing the urn home, here are some ideas for storage or display:
Mantle or shelf
End table
Bedside table
Bedroom vanity
In your walk-in closet
Storage closet, drawer, or cupboard
Garage, basement, or attic
Near where you spend most of your time:

Coffee table near your favorite reading chair
End table in the TV room
On the desk in your home office
On a shelf in the sewing/craft room
Continue reading here for even more urn display ideas.
How do you use a cremation urn for scattering ashes?
Here are the different ways you can scatter ashes from the urn. For more information on scattering, see our guide here.
Scattering Urns for Pouring
The 'typical' and most common way ashes are scattered is by pouring them out.
Whether from a helicopter, on a mountaintop, or at sea from a boat, the idea is the same: use a container that helps you easily transport the ashes to the scattering location, and provides ease of use when pouring out the remains.
Here are some scattering urns designed for this. Of course, you can use any urn you like, but ceramic urns can break, wood urns need the screws holding in the base removed, etc.
Scattering Urns for Water
Water scattering is a popular choice, but some families are worried about things like the wind blowing or the ashes being spilled.
That is why we offer a selection of urns that biodegrade upon contact with water. This makes scattering at sea very simple. All you need to do is fill the biodegradable urn beforehand, take it with you out to sea, then drop or gently set it in the ocean and the water will take care of the rest.
These urns are engineered to float for a few minutes, then slowly descend to biodegrade over time on the ocean floor. As the eco-friendly urn wears away, the ashes will be dispersed by the ocean's natural currents.
Scattering Urns for Burial
A third option relating to scattering ashes is via ground burial. When cremation urns are buried at a cemetery, the urn is ensconced in a burial vault which protects the urn and keeps nature from interfering with the remains.
However, some families like the idea of returning to the earth: "earth to earth, ashes to ashes, dust to dust." The idea is that, when committed to the earth, the person's remains will not be kept away from nature but actually return to it.
So there are biodegradable, eco-friendly urns for this type of burial. These urns biodegrade when buried due to contact with the environment, and ever so slowly, over time, the remains are "scattered" into the ground.
How do you fly with a cremation urn?
You will need (and most likely want!) to take the urn as a carry-on item. The main condition is that you will need to make sure the urn can be scanned during the security screening, as the TSA will not open a cremation urn.
More information here.
More questions?
Check out our complete resource on cremation here. Also, here are answers to 25 weird questions people always wonder about regarding cremation.
Lastly, you can shop for cremation urns at our retail store and sister site, Urns Northwest. Our customer service team is always ready to answer any questions you have about urns and how to use them.
This article was originally published in 2014. We have revised and expanded it to keep up to date with the changing times.
Pin It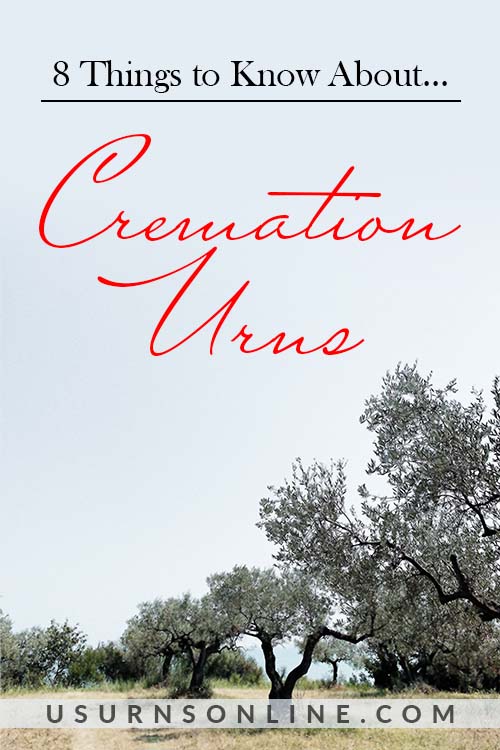 Daniel has been working in the funeral industry since 2010, speaking directly to grieving families as they made funeral arrangements.
He began researching and publishing funeral articles on this website as part of his role as product and marketing manager at Urns Northwest.
Having written hundreds of articles and growing the site to multiple millions of views per year, Daniel continues to write while providing editorial oversight for US Urns Online's content team.