A columbarium niche is a display vault in a wall or structure specifically designed to hold cremation urns. It's a stately choice for a final disposition available at many cemeteries, churches, and funeral homes.
In this article, we're going to answer the question, "What is a columbarium niche." In doing so, you will learn everything you need to know about columbarium niches.
But before we get to the niche part, let's talk define the first word: Columbarium.
What is a Columbarium?
A columbarium is a wall, room, or building with niches that store cremation urns.
Similar in purpose to a mausoleum (which holds non-cremated remains), the columbarium is a sacred final resting place and should be treated with the same respect.
What is a Columbarium Niche?
Also known as a cremation niche, a columbarium niche is a single compartment within the columbarium that holds a person's cremated remains.
The niche can be part of elaborate, decorative structures or a simple room with shelves. It can be indoors or outside. The front can be clear glass to display the urn or tucked away behind a metal door.
Columbarium niches vary in size as well. One standard size measures about 9″ cubed, though most cemeteries offer several sizes for individuals, couples, or families. There may also be larger, fancier (and more expensive) niches and smaller, simpler (and more budget-friendly) niches in the same columbarium.
The specific sizes and options will vary with each location and design.
Why Choose a Columbarium Niche?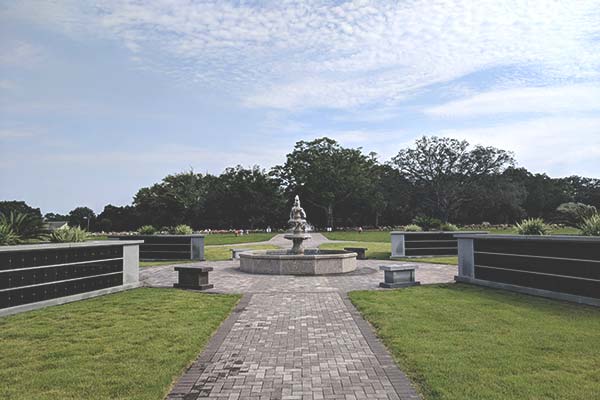 Cremation – as opposed to traditional embalming and burial – is gaining traction in the United States. As with any market, with demand comes supply, and this includes within the funeral industry. We therefore have many options available to us today when it comes to choosing our final dispositions and how we wish to be interred.
Read more: Burial or Cremation: Which is right for you?
Should you choose to be cremated upon death, a columbarium niche may be the more practical choice. As more people populate the earth, more people of course die. Each person will still require (mainly, though there are many alternatives) either cremation or burial.
It's true that as cities are becoming more and more populous, so are their cemeteries. So we are now having to think outside of the box (pardon the pun) when it comes to our final resting places.
Cremation solves the problem of cemetery over-population. Even if you would choose to have your remains kept forever in an urn rather than scattered, there is always space to be occupied as long as you're willing to build up.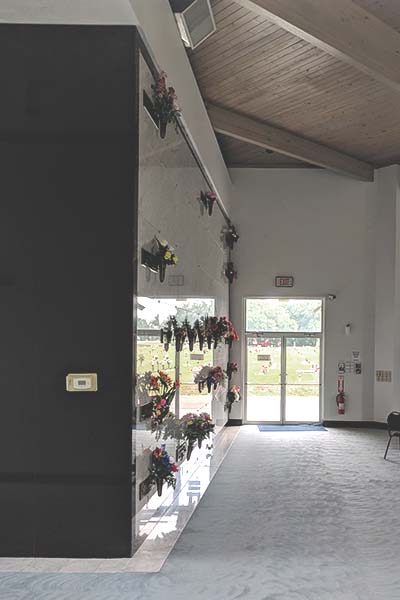 Enter the columbarium niche! Above the ground and found not only in cemeteries, but also in churches, indoor crypts and outdoor monuments, a columbarium is a practical, economical, and beautiful memorial perpetually dedicated to the safekeeping of cremated remains.
The design possibilities for the niches of the future are limitless, too, as opposed to traditional cemetery plots.
Other Considerations for Columbarium Niches
Choosing a cremation niche may be considered a wise investment in "vertical" real estate.
Other things to consider when deciding upon your niche is, as with any real estate, location, location, location. Do you want your niche to be eye level and easy to see? Or do you prefer that it be high and out of reach from possible damage?
(It helps to know that, if you are on a budget, the lower the columbarium niche, usually the lower the price.)
Maintenance of columbaria are also easier and less costly than traditional burial grounds, which are an added bonus.
Choosing cremation and inurnment in a columbarium niche is also an environmentally friendly alternative to traditional burial in a cemetery. A big plot of the ground is kept unearthed, no harsh embalming chemicals are placed in the ground, and only a small amount of space is utilized.
How Much Does a Columbarium Niche Cost?
Columbarium niches are available for purchase for the family member who wishes to be cremated upon death, and can also be purchased in advance of passing. But how much does a niche cost?
Generally speaking, a single-space (9x9x9-inch) columbarium niche will run you, on average, between $500 and $800. But varying details will, of course, affect the price.
For starters, it's good to understand that cremation niches can be purchased not only in single units, but also in double or even family units. Some locations may also allow you to lease a space for a certain time period, usually for a decade or longer. This gives the family some flexibility if they decide they would rather not keep their loved one's cremated remains at a certain location.
Also, depending on who you ask, the price you pay may vary depending upon whether the niche will be inside or outside (indoor columbariums may cost more due to the fact that they are protected from the weather and are generally more comfortable to visit).
What's the Difference Between a Columbarium and a Mausoleum?
The terms mausoleum and columbarium can be used interchangeably (and often are). But the two words actually have two separate meanings.
A mausoleum is a sacred final resting place, usually above ground and in a designated building, for casketed, whole body interment.
A columbarium, on the other hand, is a sacred final resting place, also above ground, for inurned cremated remains.
Both mausoleums and columbarium niches serve as everlasting memorials to the dead.
Here's an image that shows the difference between a columbarium and a mausoleum: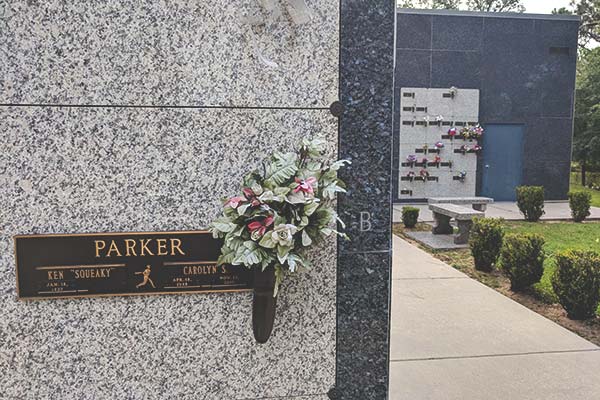 On the left side, in the foreground, you can see a mausoleum niche. The face of the niche is approximately 2′ by 2′, and the the casket is stored lengthwise behind it. The photo shows one niche (plus the bottom part of another), and the entire wall is filled with them.
On the right side of the image, in the background, you can see the columbarium niches. These niches are approximately 1′ x 1′, and thus four cremation urns can be stored in the same amount of space.
Here's a closer view of those same columbarium niches you see in background of the first photo: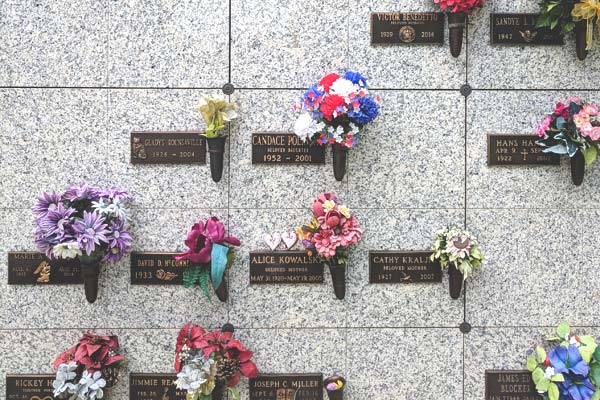 Now let's look at what size urn you will need to fit into one of those smaller columbarium niches.
Niche Size Urns
Choosing the right columbarium niche is only one step you must take in planning for the final disposition of yourself or your loved one. You must also pick out an urn to go into the niche!
There are many types and styles of cremation urns out there. You can choose from various styles and themes. You will find metal urns, ceramic urns, wooden urns, and even biodegradable urns for natural burial or sea burial.
Cremation urns come in all shapes and sizes, from infant-size to over-size. There are fancy marble urns, glass urns, economical urns, and much more.
But will the urn fit into the niche? That's the question.
Not all urns are designed to fit into a niche. That's why we offer our Premium Wood Cremation Urn Designed for Niche. It was designed specifically to fit into the rather small niches at Arlington National Cemetery, which measure 9″ wide, tall, and deep.
You can actually fit two of these urns into one of those columbarium niches, meaning that both husband and wife can be inurned together.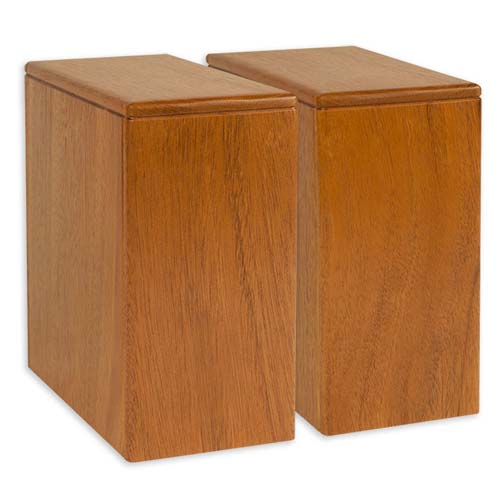 Each urn measures 8.5″ tall, 8.5″ deep, and 4.25″ wide. You can personalize them with laser engraving and/or add military service emblems for Air Force, Army, Navy, or Marine Corps.
Wood urns are an extremely popular choice, not only for their timeless beauty, but also for their longevity. Take a look at our wood urns for columbarium niches and see for yourself!
---
We hope you found this article about columbarium niches helpful! If you were in the market for an urn right now, what theme or style would you pick? Let us know in a comment below.
Read next: Best-Selling Urns for Ashes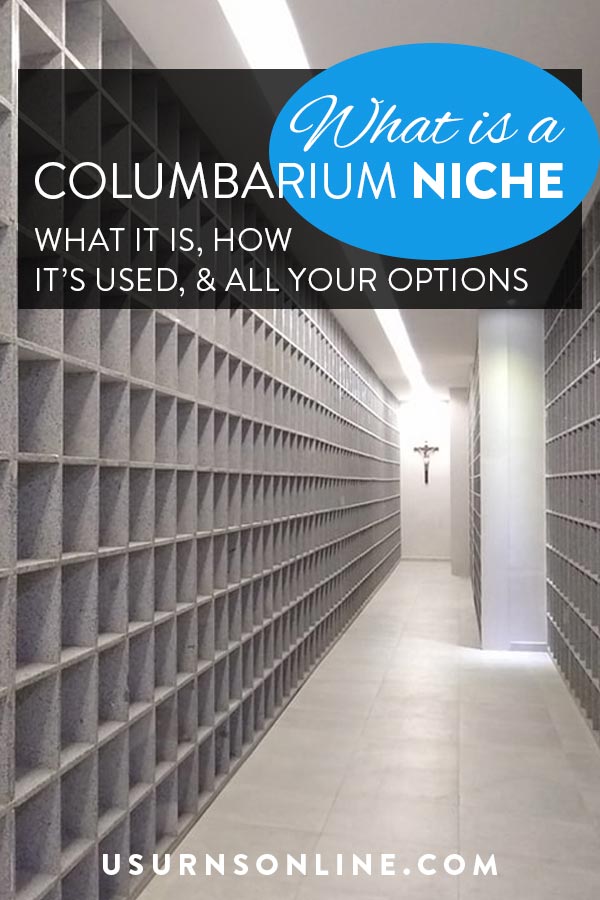 Daniel has been working in the funeral industry since 2010, speaking directly to grieving families as they made funeral arrangements.
He began researching and publishing funeral articles on this website as part of his role as product and marketing manager at Urns Northwest.
Having written hundreds of articles and growing the site to multiple millions of views per year, Daniel continues to write while providing editorial oversight for US Urns Online's content team.