What do you do when someone you love dies? Many of us have no idea what first steps we should take after the death of a loved one. Who do you call, what needs to be done, where do you begin?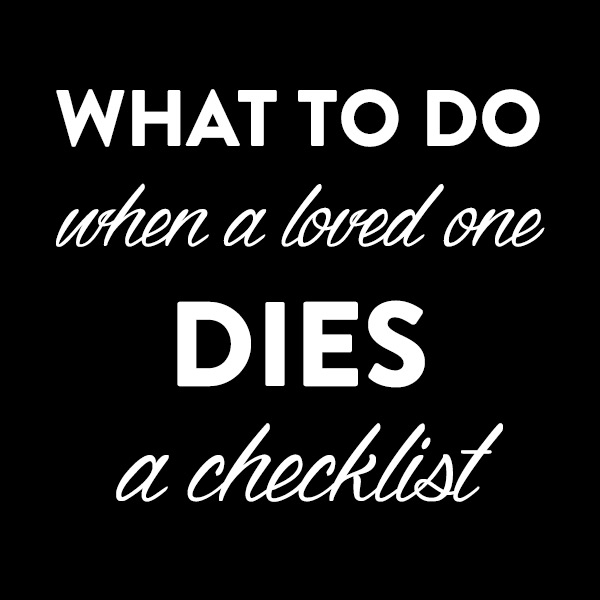 Get Legal Certification of Death
One of the very first things you will need to do is get a legal certification of death. This can be done by a variety of professionals, depending on the situation and location.
State laws vary, but generally a hospice care worker, emergency medical technician (EMT), registered nurse (RN or APRN), physician, coroner, or medical examiner can pronounce death.
Once the death is pronounced, you can work with the medical professional or the funeral director to obtain the actual death certificate.
Note that you will want at least 10-15 copies of the death certificate. Many institutions will require a copy to properly handle the decedent's accounts. These range from various government agencies like the IRS and Social Security to credit card and insurance companies.
People to Notify
There are also many people you will want to notify. Here is a brief list.
Immediate family members. Ask them to contact others.
Close friends. Ask them to contact others, if you would like them to do so.
Minister, pastor, or priest.
Employer and other business associates. Ask them to cancel appointments.
Ask someone to look after the decedent's home and/or pets.
Ask someone to look after the house, to prevent theft.
Contact the Funeral Home
Call the funeral home, mortuary, or medical school about transporting the body. You will need to decide on which funeral home to use. Soon after you will want to decide, or find out what the decedent chose, for final disposition. This means whether the body will be buried or cremated.
Arrange the Funeral
Contact the people who will help you arrange the service. This can include religious leaders, family members, and vendors for flowers, funeral programs, caskets, or cremation urns.
Schedule an Obituary
Notify the local newspaper of the death and include information in the obituary on location of service, donations, flowers, etc.
Begin Settling the Estate
Immediately after a death is not the appropriate time to settle the estate. However, the funeral home needs to get paid, bills are still due, and you want to make sure that everything is in order. At the very least, contact the lawyer and executor of the estate to get the process started.
Other Matters to Resolve
You will also need to contact many of the following organizations and service providers.
Social Security office
Life insurance company
Civil service or Veterans organizations regarding funeral or death benefits
Department of Motor Vehicles (DMV) to cancel driver's license – this helps prevent identity theft
Volunteer organizations, fraternities, or any other commitments
Credit card companies and credit reporting agencies
Subscriptions and automatic bill payments
See this article for a list of accounts to cancel when someone dies.
Printable Checklist for What to Do When a Loved One Dies
You can use our downloadable, printable checklist (available here), or build your own list based on these important tasks.
Pin It