Last Updated on October 24, 2016
Our collection of premier military flag displays is continually growing, showcasing the highest quality of craftsmanship and quality. These flag display cases will proudly display your loved one's military flag for an heirloom memorial. Here are 13 of our best military flag displays and accessories.
Military Flag Displays
1. Personalized Heritage Military Flag Case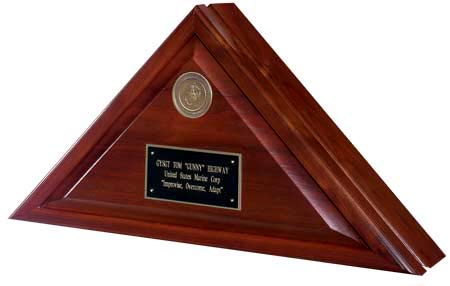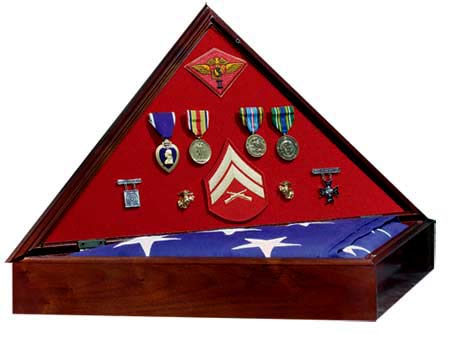 The Heritage Military Flag Case is crafted in the USA from solid walnut wood and includes a medallion of your loved one's service branch and a free personalized name plate. The wooden case keeps the flag free from dust, and the felt lined hinged lid provides an area to proudly display awards and insignia.
2. Military Memorial Flag Case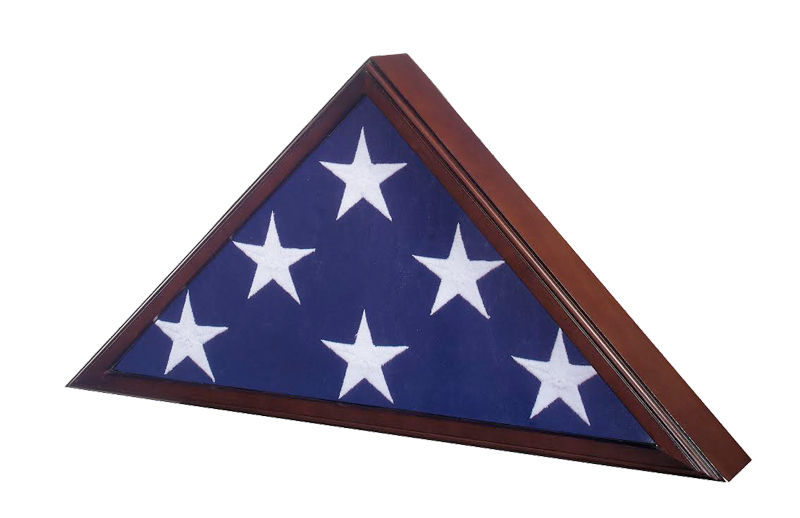 The Military Memorial Flag Case is our budget-friendly option, a simple maple wood import with a lovely cherry finish. This is a simple and "traditional" military flag display which is wall-mountable and includes a glass front and the interior is accessed via an easy-opening back panel and turn-button closure.
3. Five Star General Military Flag Case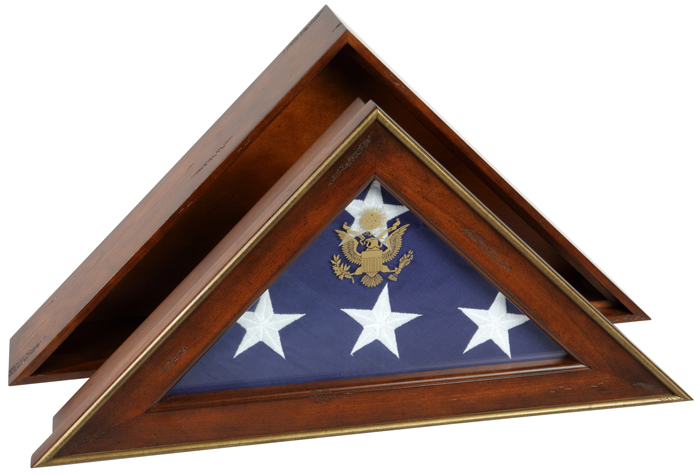 The Five Star General Flag Case is the premier flag display in our military memorials collection. Made in America from solid cherry wood with hand painted gold accent surrounding the frame. This flag case is a two piece unit which encases the flag; the front piece holds the flag and slides into the back portion, securing the cleanest and most dust-free environment possible. Every Five Star General Flag Case is unique with antique classic cherry finish and hand distressed effects.
4. Burlini Studios Vista Flag Case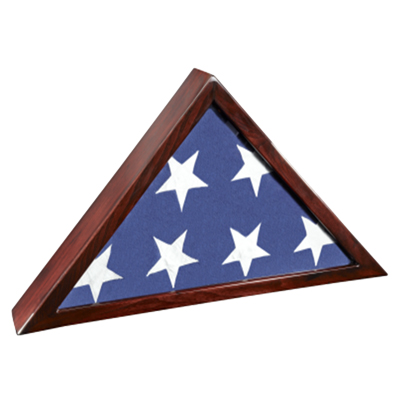 The Vista Flag Case, from Burlini Studios, features the signature Piano Wood Finish, a high-gloss ten-layer glaze over the rich Rosewood finish. This is the perfect military memorial to accompany any of our series of Piano Wood Finish Cremation Urns.
5. Capitol Burial Flag Case for 3′ x 5′ Military Flags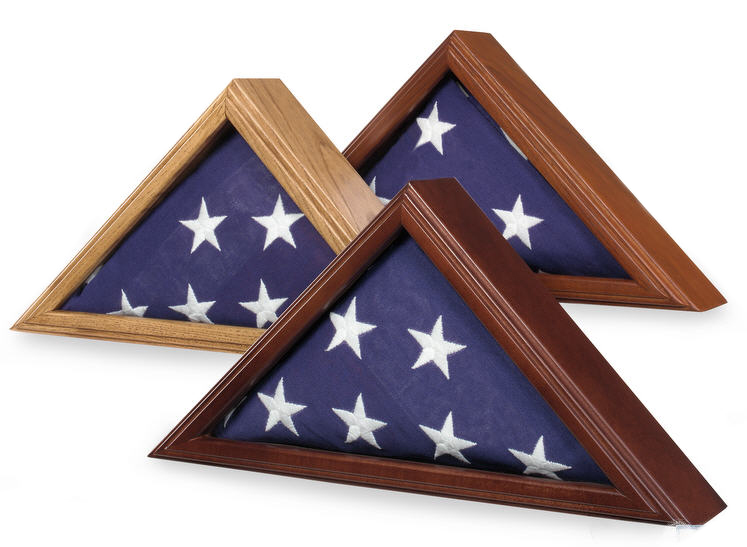 If your military flag is 3′ x 5′ (the size of the flag flown over the Capitol), you'll want to check out our Capitol Burial Flag Case. Made in the USA from your choice of Oak, Cherry, or Heirloom Walnut, these flag displays feature glass fronts and turn button closure on the back side for easy and secure placement of the flag.
6. Gray Granite Flag Case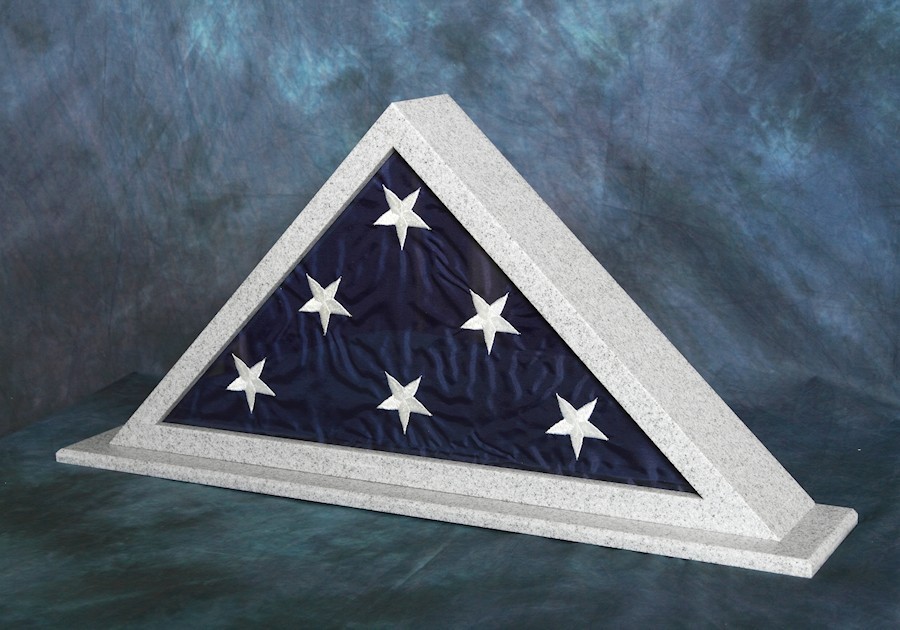 This beautiful military flag case is made from solid surface material which perfectly imitates gray granite. The Gray Granite Flag Case features non-glare glass and provides a lasting way to store and display a flag received from a military burial in memory of a departed veteran.
7. Antique Distressed Pine Military Flag Case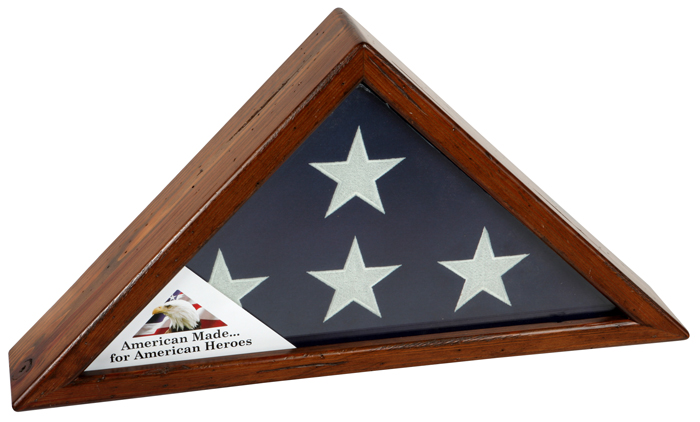 The Antique Distressed Pine Military Flag Case is made in the USA using reclaimed pine wood from a variety of sources, resulting in a one-of-a-kind old-world look highlighting the unique distress marks and grain pattern of the pine wood. Each military burial flag display includes a glass front and opens via the solid wood back panel.
8. Military Burial Flag Case & Memorabilia Display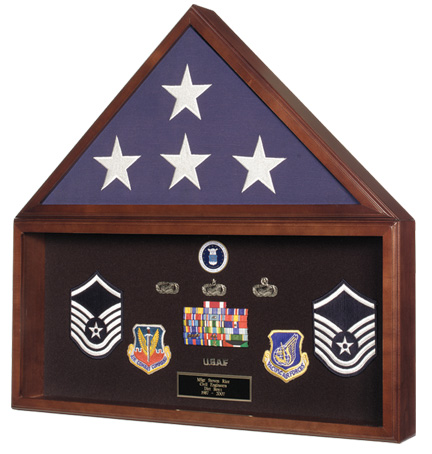 Our Military Burial Flag Case & Memorabilia Display is made in the USA to proudly showcase the burial flag and a wide array of memorabilia. Made from walnut wood, this military memorial is wall mountable and showcases the standard 5′ x 9-1/2′ burial flag behind a glass front along with awards, patches, photos, insignia, and more in the acrylic-front display case.
Military Flag Displays with Cremation Urn
9. Military Flag Chest Cremation Urn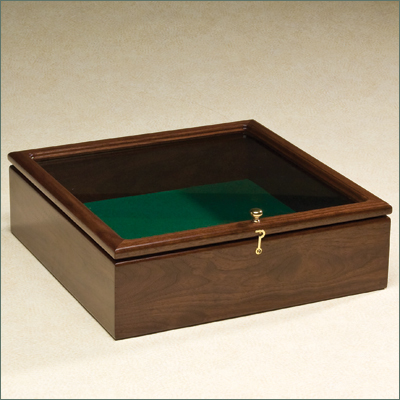 The Military Flag Chest Cremation Urn is a combination flag display case and funeral urn. Remove the screws from the bottom to insert the cremains in a hidden bottom compartment. The top-opening lid features a glass panel and is hinged to access the flag/memorabilia area. Crafted in solid walnut with our beautiful satin finish.
10. Eternity Flag Case and Cremation Urn
The Eternity Flag Case and Cremation Urn discretely houses the cremated remains in the urn compartment to the rear of the display. In front, the military flag is proudly displayed behind the glass, which is embossed with the Great Seal of the United States. Made in the USA from solid American Walnut wood.
Military Flag Case Accessories
11. Urn Base for Military Flag Displays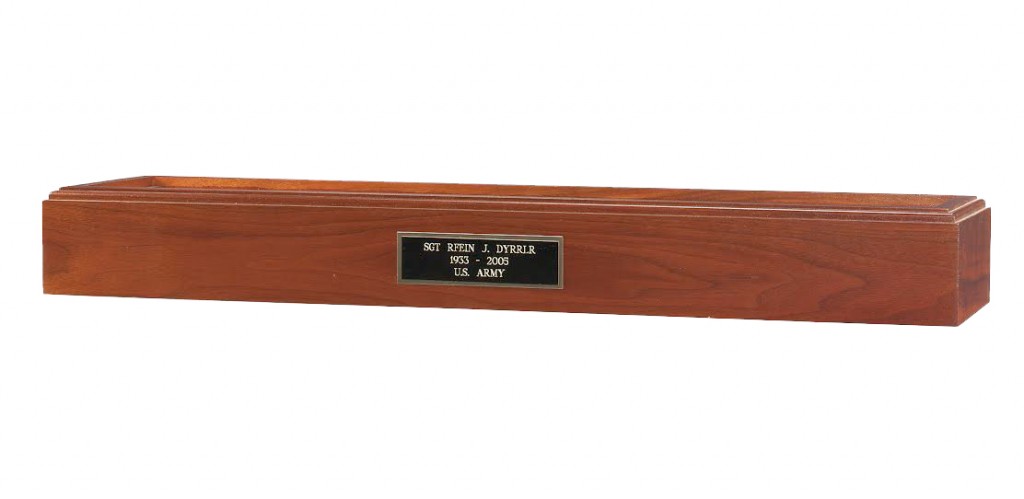 The Pedestal Urn for Military Flag Displays is a pedestal base which will hold up to 225 cubic inches of cremated remains. This is designed to fit perfectly – and match wood types – with most of the military flag display cases in our product line. The pedestal base is offered as an optional add-on on the flag case product pages which will fit.
12. Military Flag Display Pedestal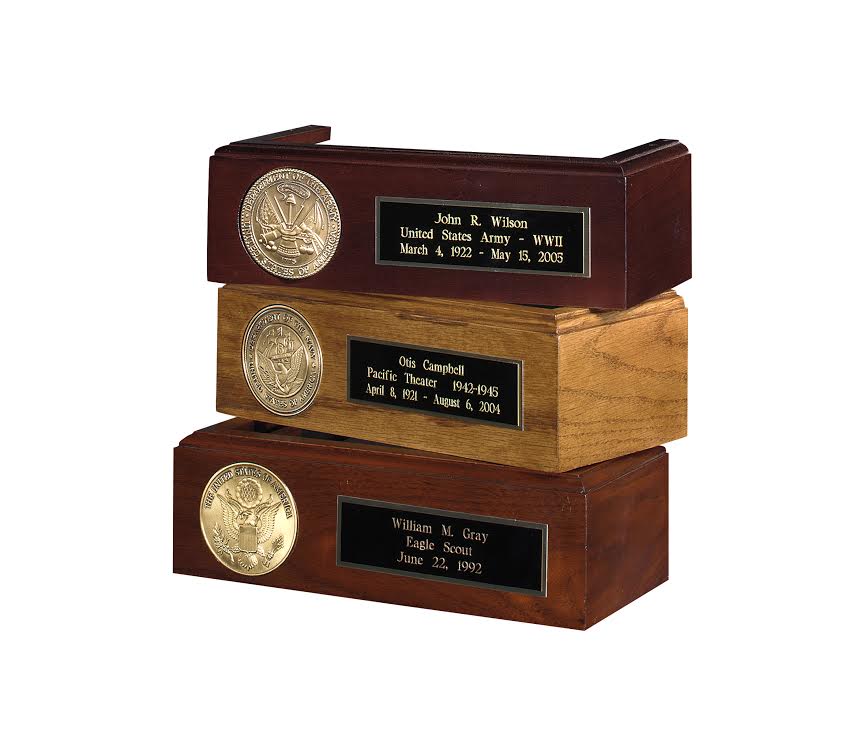 The Flag Case Display Pedestal is an attractive, American-made accessory to accompany your military burial flag display. These solid hardwood Pedestals are available in your choice of Cherry, Oak, and Walnut finishes and will complete the look of your flag display case. The stands include military medallion and engraved name plate.
13. Medal Display Case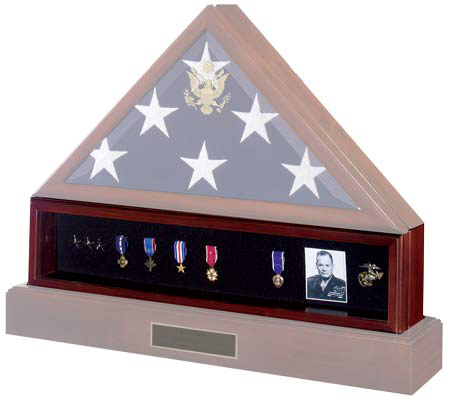 The Medal Display Case, pictured in the center between the flag display and the pedestal urn, is the perfect accessory to showcase your loved one's insignia, achievements, photos, and more.
Looking for more military keepsakes, memorials, and cremation urns? Browse here.