What should you do with a military funeral flag? What is the proper military funeral flag etiquette?
Let's find out.
Military Funeral Flags
A military funeral flag is a standard United States flag, draped over the coffin of a member of the military services or veteran during his or her funeral.
The blue field of white stars laid over the area of the deceased's head and left shoulder, with the stripes trailing down the length of the casket.
Also known as a military burial flag, the folded keepsake is given to the closest surviving family member. This would be first the spouse, and if no spouse then the parents or other "next of kin."
Funeral flags are provided by the VA at no cost to active duty or retired veterans of the U.S. armed forces. Additionally, any civilian can request a flag, but must pay for it.
Related: Learn About the VA Burial Benefits
What Size Are Military Burial Flags?
The military funeral flag is 5′ x 9-1/2′, which is about twice the size of the standard household flag. During the service, just after TAPS is played, the American flag is folded 13 times into a triangle measuring 24″ (bottom) by 16-3/4″ (diagonal) by 2-3/4″ (width).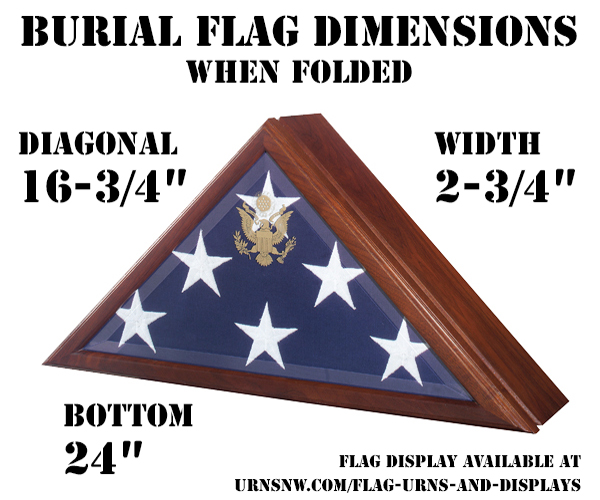 Several legends exist explaining why the flag is folded thirteen times (for the 13 original colonies, so the story goes) into a the shape of a triangle (which, according to folklore, represents the tri-corner hats worn during the Revolutionary War), with the stars uppermost (reminding us of the national motto, "In God We Trust").

While the origins of such symbolism are lost, and military funeral protocol does not include or confirm such meanings, it is acceptable and appropriate to make such associations during the funeral service if the family wishes to do so. Protocol does not prohibit it.
After the flag is folded, it is handed to the nearest relative of the deceased veteran, usually a parent or spouse. If you are the recipient of a military funeral flag, you may be asking, What do I do with the flag? Here are a few options available to you.
What To Do With A Military Funeral Flag
1. Fly it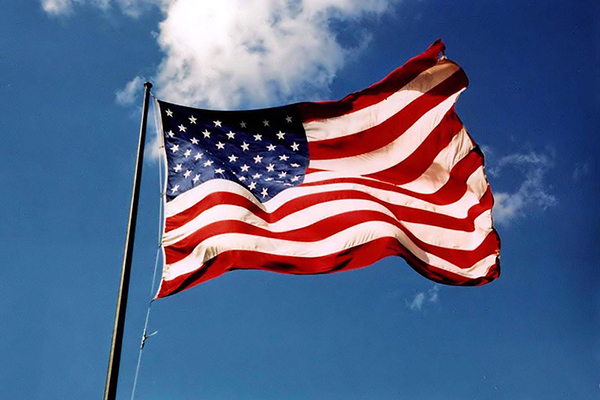 Should a flag used for a military funeral be flown? There is some difference of opinion among legal and historical scholars on this point.
The official flag code does not make mention of the issue; some hold that once a flag is folded it should remain folded, while others have concluded that it is a noble and patriotic way to honor the life of the military service member.
Again, while the flag code does not mention the usage of funeral flags, it does not expressly forbid the unfolding and flying of the flag after the funeral service.
2. Display it in a Funeral Flag Case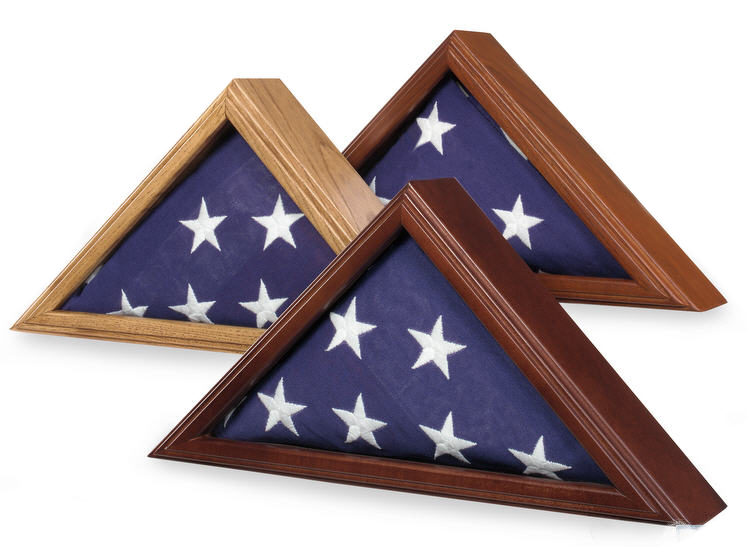 In our cremation urn and memorial store, we offer a wide selection of American-made military funeral flag displays.
These include a variety of solid wood cases, optional custom engraved name plates, medal and insignia displays, and cremation urn base attachments.
Each display can be easily mounted on a wall or showcased on a mantle to honor the sacrifice of a military service member.
3. Make your own Flag Case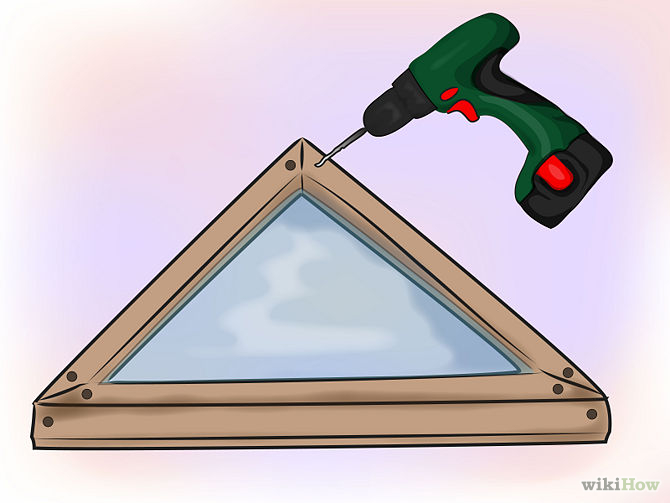 If you're handy with a skill saw, wikiHow has a simple tutorial for a DIY military flag display case. This is a great way to invest your own time and craftsmanship into creating a unique memorial to honor the memory of a beloved veteran.
Military Flag Displays
1. Personalized Heritage Military Flag Case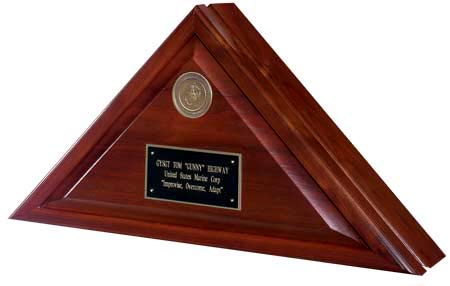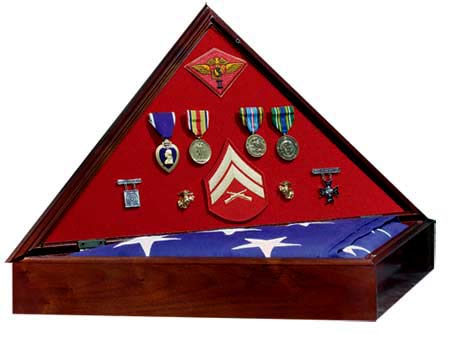 The Heritage Military Flag Case is crafted in the USA from solid walnut wood and includes a medallion of your loved one's service branch and a free personalized name plate. The wooden case keeps the flag free from dust, and the felt lined hinged lid provides an area to proudly display awards and insignia.
2. Five Star General Military Flag Case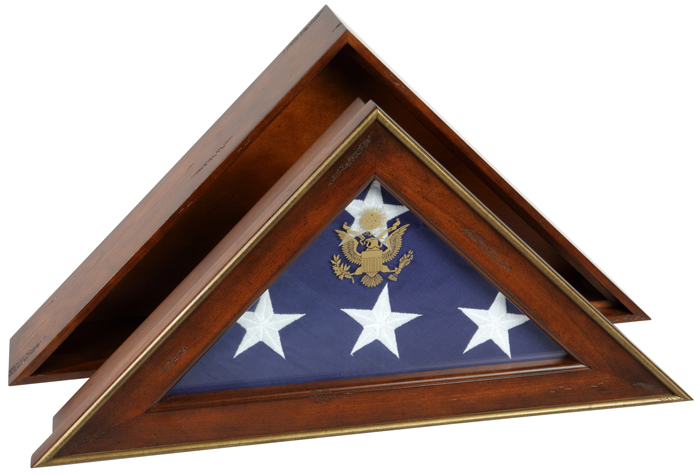 The Five Star General Flag Case is the premier display in our military memorials collection. Made in America from solid cherry wood with hand painted gold accent surrounding the frame.
This flag case is a two piece unit which encases the flag. The front piece holds the flag and slides into the back portion, securing the cleanest and most dust-free environment possible. Every Five Star General Flag Case is unique with antique classic cherry finish and hand distressed effects.
3. Capitol Burial Flag Case for 3′ x 5′ Military Flags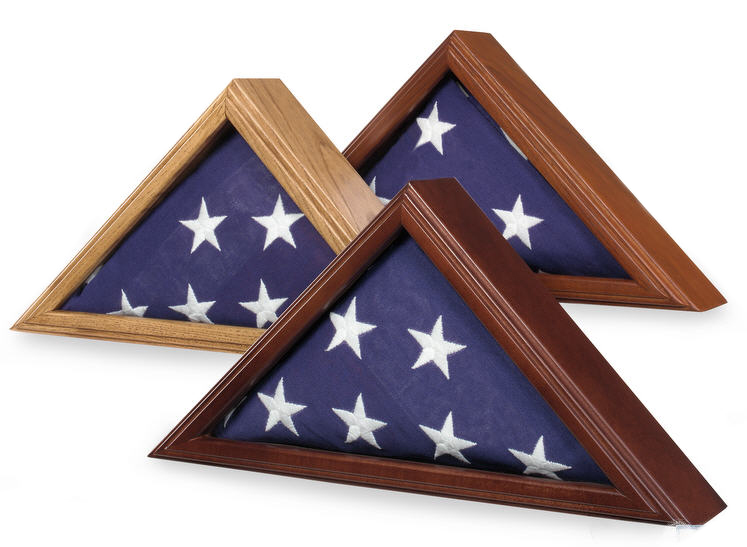 If your military flag is 3′ x 5′ (the size of the flag flown over the Capitol, hence the name), you'll want to check out our Capitol Burial Flag Case.
Crafted in America from your choice of Oak, Cherry, or Heirloom Walnut, these small flag displays feature glass fronts and turn button closure on the back side for easy and secure placement of the flag.
4. Military Burial Flag Case & Memorabilia Display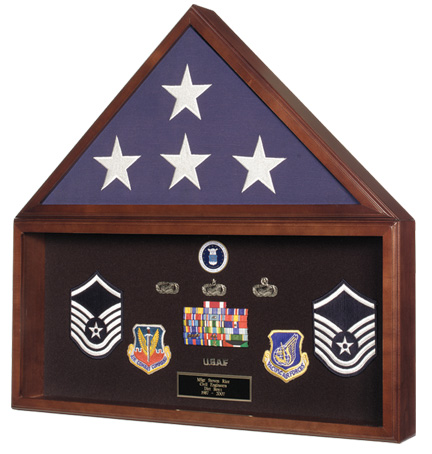 Our Military Burial Flag Case & Memorabilia Display is made in the USA to proudly showcase the burial flag and a wide array of memorabilia.
Built from walnut wood, this military memorial is wall mountable and showcases the standard 5′ x 9-1/2′ burial flag behind a glass front. Below, the acrylic-front display case is perfect to exhibit awards, patches, photos, insignia, and more.
5. Urn Base for Military Flag Displays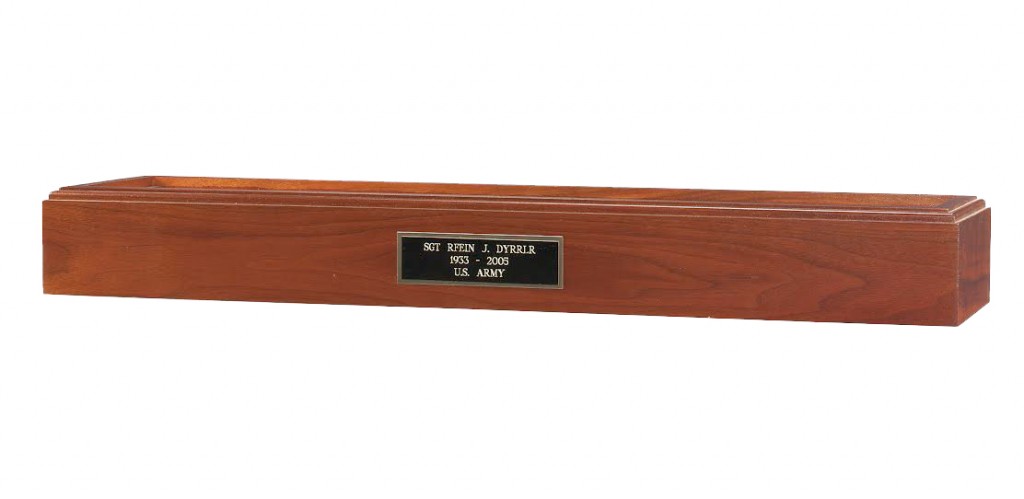 The Pedestal Urn for Military Flag Displays is a pedestal base which will hold up to 225 cubic inches of cremated remains.
This is designed to fit perfectly – and match wood types – with most of the military flag display cases in our product line. The pedestal base is offered as an optional add-on on the flag case product pages which will fit.
Browse our entire collection of burial flag displays & accessories.
Military Funeral Flag Etiquette
Can you unfold the flag?
Typically you will want to keep the flag folded. However, it is entirely proper to display or fly the United States flag – even a burial flag!
To do so, you will want to use either a flagpole to fly it properly outdoors, or display it flat on a wall.
How do you display a military burial flag?
As mentioned above, you can display the folded flag in a case, fly it from a flagpole, or hang it flat against a wall.
Flagpole. Because the 5′ x 9.5′ flag is significantly larger than most "household" flags, the flagpole should be at least a good 20 feet tall.
Wall display. It's up to you whether to hang the flag horizontally or vertically. Either way, proper flag etiquette dictates that the stars should be in the upper left corner from the viewer's perspective.
What do I do with an unwanted funeral flag?
You could ask friends and family if they would like it; otherwise, there are many places to donate flags. Inquire at the Department of Veteran's Affairs, the American Legion, branch recruitment centers, or any local veterans' organizations.
Whatever you do, treat the flag with respect. Always remember that your loved one served under that symbol.
Continue reading the comments below for more questions and answers about military burial flag etiquette and protocol.
Read Next: What happens at a military honors funeral?