Many people look for memory keepsakes as a way to honor and remember a departed loved one.
After all, often they are buried in a cemetery or interred in a columbarium. Or their ashes may be scattered, or perhaps you have the remains with you at home but you don't particularly want a cremation urn sitting out and about.
So the solution is to create some sort of memory keepsake. Something special, something that speaks to you about your loved one. Something that you can keep in your home in honor of their memory.
There are thousands of options; but here, we've curated the best for you. Let's take a look.
Looking for memory keepsakes to give out at the funeral or memorial service? Here are 25 Beautiful Funeral Favors & Keepsake Giveaways
Our website is supported by our users. We sometimes earn a commission when you click through the affiliate links on our website. Learn more here.
12 Meaningful Memory Keepsakes
Our website is supported by our users. We sometimes earn a commission when you click through the affiliate links on our website. Learn more here.
1. Personalized Cardinal Memorial Bird Feeder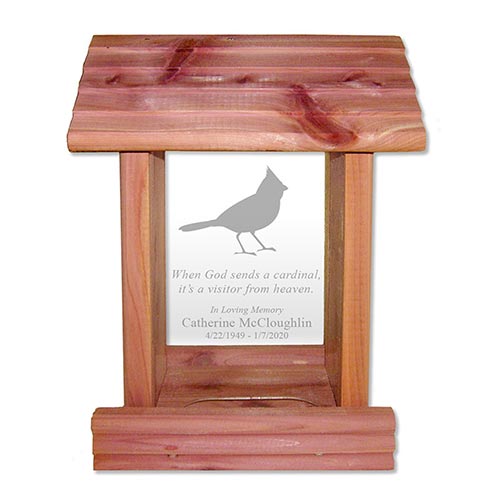 In popular culture, the appearance of a cardinal is a sign that a departed loved one is visiting. For those who find meaning in the saying, "When a cardinal appears, a loved one is near," this cardinal sympathy bird feeder will make a wonderful memory keepsake.
Laser-engraving of name and dates is available on the front acrylic panels, with optional engraving available on the back panel. This feeder is American-made of sturdy cedar wood and measures 7″ x 4.75″ x 10.5″.
You can read more on the popular "When a cardinal appears, a loved one is near" quote here.
2. Favorite Recipe Cutting Board Memory Keepsake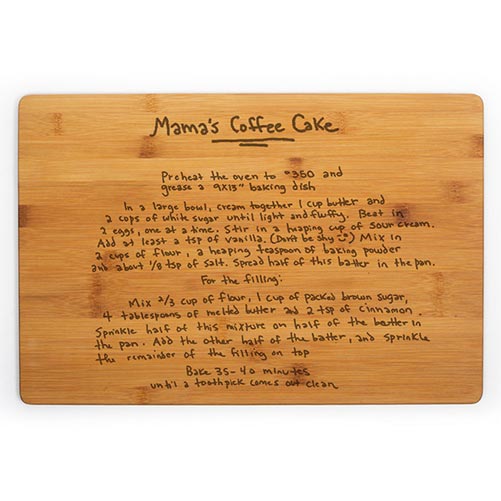 Recipes make wonderful memory keepsakes in and of themselves. But now you can turn those old paper recipes into something a little more permanent: a cutting board.
This bamboo wood cutting board from Northwest Gifts will turn a loved one's recipe into something that won't fade over time, unlike a paper copy. It can be used practically in the kitchen or set out on display for all to see.
Measures a spacious 18″ x 12″ x .75″.
3. Amazing Grace Wind Chimes
Like bird feeders, wind chimes are one of those staple patio/backyard features that echo nostalgia every time the wind blows. Add the familiar tune of an old beloved hymn, and you've got a thoughtful memory keepsake gift.
What separates the Amazing Grace Wind Chime from other chimes is that it sounds the opening notes of the song each time a breeze hits. From top to bottom, this ash wood chime (complete with cherry finish) measures a stunning 40″.
4. Memorial Plaque (& Cremation Urn)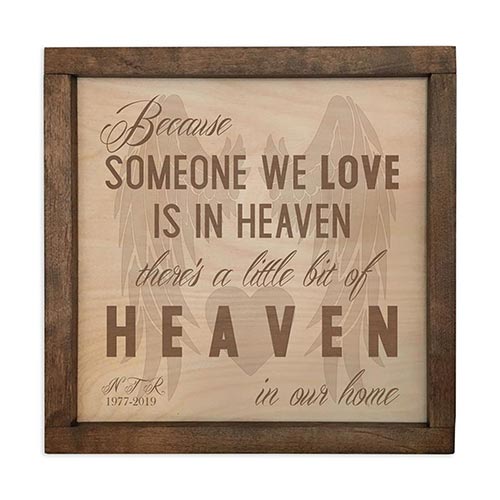 When you think of cremation urns, you probably think of a wood box or vase-like container. You probably don't think of a beautiful memorial plaque, right? That's what makes Urns Northwest's memorial plaque urn so unexpectedly unique.
Because if cremation is to occur, it can be reassuring to know that you have more options to choose from than a standard cremation box (however fine they may be). This plaque is U.S.A.-made and comes engraved with your loved one's name/initials as well as dates.
Measures 12″ x 12″ x 3″ and will hold up to 170 cubic inches of cremated remains; the equivalent of a 170 lb person.
5. Remembrance Pillow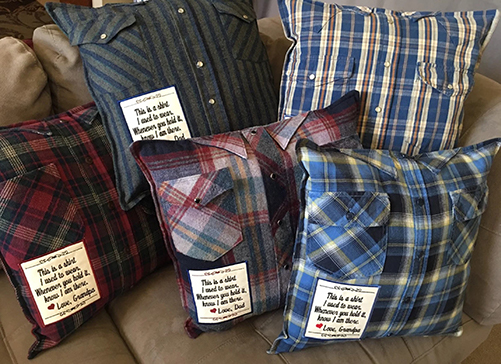 An old up-cycled shirt turned into a comforting memory keepsake. What could be more special?
To create your special keepsake shirt, all you have to do is send in the button-down garment that belonged to your loved one, and the shop will take care of the rest.
6. "Raise a Glass" Memory Keepsake Bottle Opener
It may not seem like it at first thought, but a bottle opener can make an excellent memory keepsake gift. Especially when the phrase "Raise a Glass," in honor of someone who was very special, is seen on the front. Every time it's used, this opener will serve as a loving reminder of the person who once was and the life that they lived.
This high-quality bottle opener is constructed in the U.S.A. of contrasting walnut and alder woods. It can be used portably, but also comes with a screw for easy wall mounting. The loved one's name will be carefully etched into the "Raise a Glass" design, along with dates if desired.
Measures 8.75″ x 5.25″ x 1″.
7. Personalized Handwriting Necklace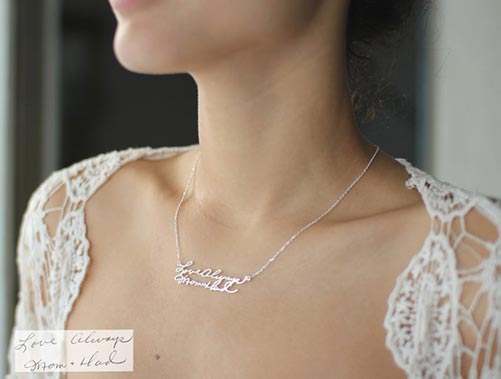 There's just something about handwriting, wouldn't you agree? It can be instantly recognizable, so a necklace or other piece of jewelry depicting a departed loved one's handwriting would naturally make a treasure.
You can consider a necklace featuring handwriting like the one pictured above, or any other piece of jewelry. Just upload the words written by your loved one you'd like depicted, and the shop will create for you a beautiful keepsake memory for you to treasure forever.
8. Thumbprint Memorial Keepsake Ring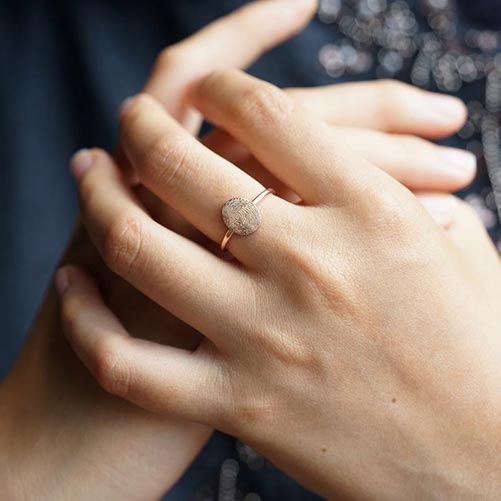 Perhaps even more unique than a person's handwriting is their individual fingerprints. So how cool is it that you can also get your loved one's fingerprint etched permanently onto a piece of jewelry, that you can keep on you at all times?
Many funeral homes offer this service. But it may be more personal for you to follow the provided tutorial for garnering your loved one's fingerprints on your own.
This ring is made to order. Choose between sterling silver, gold plated or rose gold plated.
Related: What Is Cremation Jewelry? (Plus 50 Beautiful Examples)
9. Memorial Garden Stone
The garden is the perfect spot for a memory keepsake. This lovely garden stone features butterflies, leafy designs, and a classic memorial inscription.
The poem reads,
Those we love don't go away.
They walk beside us every day.
Unseen, unheard, but always near;
Still loved, still missed, and always dear.
Measures 10″ x 10″ x 1″. Finished with a protective coating to weather against the sun and outdoor elements.
10. Custom Engraved Heirloom Pocket Knife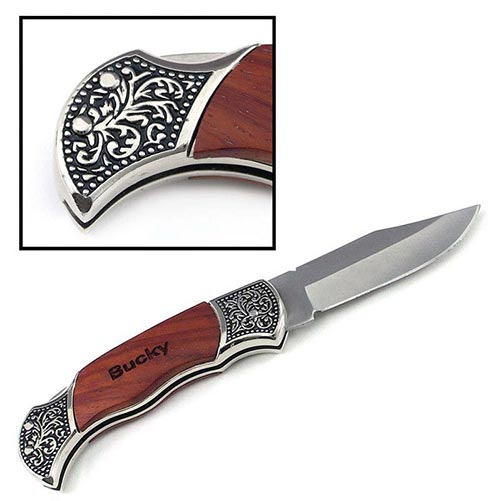 This is a good one to give to an older boy or young teen in memory of his father. If the departed loved one enjoyed camping and the great outdoors, encourage that passion with an heirloom pocket knife.
This one has old-fashioned charm, with an antique-style handle in stainless steel and rosewood, custom engraved with your loved one's name, initials, and/or dates.
11. Memory Keepsake Music Box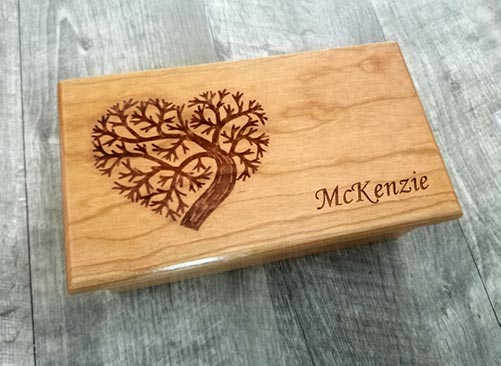 Music boxes offer a classic, nostalgic way to honor a loved one's memory. Just as with most of the gift ideas on this list, if it's customizable, it makes it all the more special for the recipient.
This keepsake music box is hardwood, but the inner workings are electronic. You get to choose the exact design and text that you want custom-engraved. Also choose the song you want the music box to play! An additional message inscribed under the lid of the box is optional.
Choose between four different woods: mahogany, cherry, walnut or maple. Measures 8″ x 4.5″ by 3″.
12. Glass Cremation Urn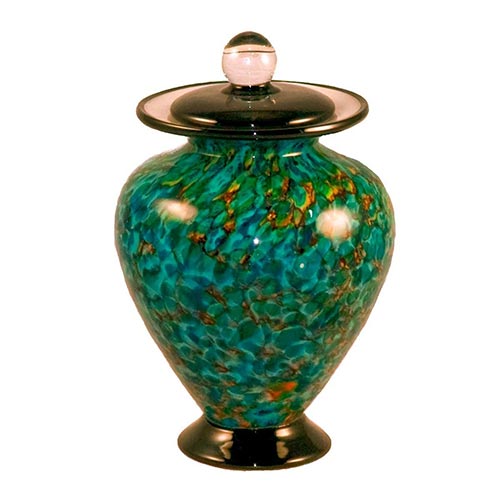 When cremation occurs, it is not uncommon for family members to "split" the remains among themselves. Each set of split remains should be in its own receptacle, of course. These smaller urns are what we refer to as "keepsake urns."
In the example above, the Amato Aegean glass keepsake urn will hold up to 100 cubic inches of remains (equivalent of a 100-lb. person).
In contrast, full size adult glass urns are larger and meant for the entire set of remains. They can generally hold up to 220 cubic inches of remains.
DIY Memory Keepsakes
Keepsakes like the ideas listed above will always make a great memorial or sympathy gift. But you don't have to buy something to honor a loved one's memory – you can create your own!
Here are some popular and meaningful DIY memory keepsake ideas.
DIY Memorial Ornament
Get a set of clear plastic fillable ornaments, and make your own holiday ornament that celebrates your loved one's memory.
Fill them with scraps of their clothing, a photo, a hand-written memorial tribute, or anything else that signifies the memories you treasure. Make several for your tree, or give them out to family members.
DIY Memorial Scrapbook
Combine a photo album with letters, notes, press clippings, certificates, and other memorabilia from your loved one's life to create your own scrapbook.
This is an easy and fun project which will remind you of so many special moments as you comb through old photos and keepsakes.
DIY Memorial Rocks
You can go many creative routes with a personalized memorial rocks project. Paint large rocks with your loved one's name or some meaningful "in loving memory" quotes, then place them in your garden or throughout the yard.
Adapt "kindness rocks" to spread around, painted in bright colors with inspirational quotes that will be found by strangers, and note "In memory of [initials]" on the back. (Use initials for the sake of privacy.)
There are plenty more ideas; after all, you can paint anything on a rock, large or small!
DIY Memory Jar
A memory jar is an easy yet very meaningful project that will have you treasuring up memories of your loved one. Simply fill a jar with written accounts of your favorite memories you shared.
Invite family and friends to contribute, too, so that you have plenty of "new" memories to enjoy. You may be surprised at some of things you never knew your loved one did, which had a great impact on the lives of others! This is often done at the funeral or memorial service, where you can pass out cards and ask people to fill in their favorite memories.
Read Next: Creative "In Memory of" Gift Ideas