A recent commenter mentioned that they were planning on using their loved one's ashes to make memorial garden stones, because gardening was one of the things they loved most.
I immediately thought, What a unique and personal! Kudos to the family for creativity and for honoring their loved one's memory in a special way.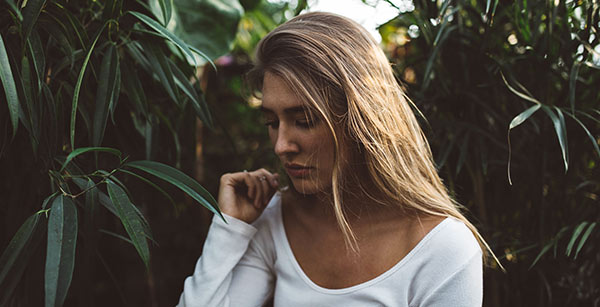 However, the commenter was posting with a question: Is there any place that makes memorial garden stones from ashes?
To my knowledge (and especially so since this is the first we've encountered the idea), there are no companies that mix remains into garden stones. My thought was that you can go about this in one of two ways:
Call around to local stone manufacturers, concrete specialists, handymen, or artists to see if they will do this for you
Do it yourself
The first option is going to involve a lot of calling, a lot of explaining, probably a lot of weird responses, and small chance of success. My recommendation is option #2 if you are planning to make garden stepping stones with your loved one's ashes.
It's really not too difficult as a do-it-yourself project; all you need are a few common supplies, a few inexpensive materials, and an afternoon of labor.
Below are some of our favorite DIY decorative memorial garden stone tutorials. All you'll need to do is add a little of the ashes (a.k.a. cremated remains) to each stone as you are mixing the concrete.
There are several ways to use memorial garden stones. Stepping stones is perhaps the most popular. But you may not be too sure about the idea of walking on the remains of a loved one. So you can either use the stones for decoration where people won't be walking, or you can skip mixing in the ashes and simply make this a memorial project. The possibilities and ideas are endless.
DIY Memorial Garden Stones Tutorials
How much ashes to add? One reader mentioned that she has done this multiple times and used a few tablespoons. I haven't personally done this with cremated remains (so use your judgment) but I have done plenty of cement projects. I'm confident that I'd be able DIY this. If you've ever done cement work, you'll have a good feel for what seems like the right amount.
I wouldn't recommend more than a couple cups of ashes in a medium-sized (16-20″) stone. The sweet spot will likely be between a tablespoon or two on the low end of the scale up to a few cups at the very most (for larger stones). And of course it will depend on your ratio of concrete, gravel, and water.
With that in mind, here are a few tutorials.
1. DIY LEAF MEMORIAL GARDEN STONES
Use concrete and large plant leaves to create detailed leaf-shaped stepping stones. Tutorial here.
2. DIY MOSAIC MEMORIAL GARDEN STONES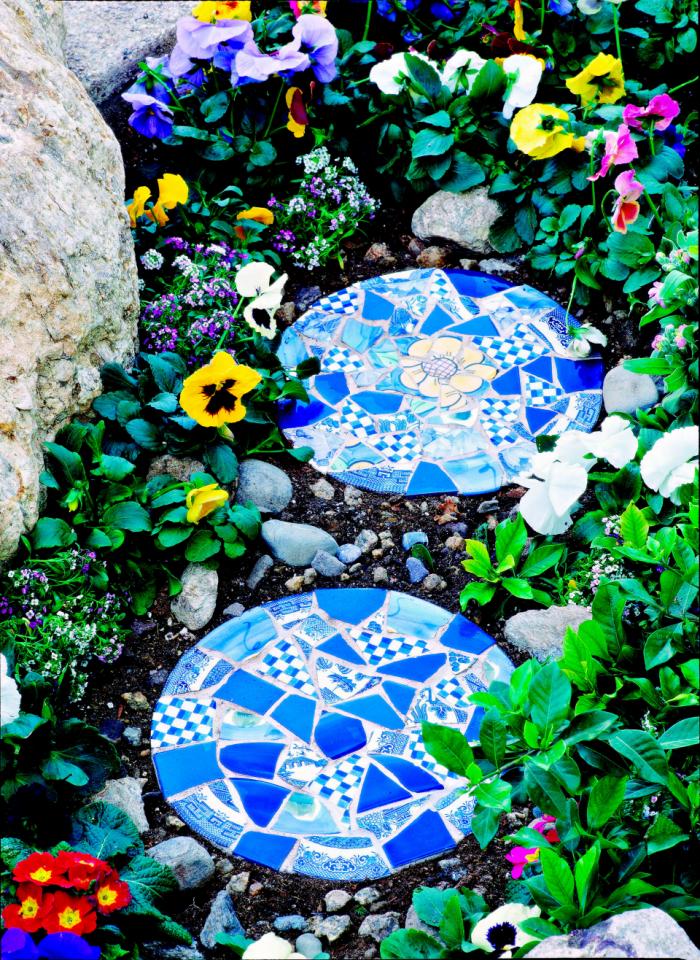 Mosaics are unique and beautiful yet relatively easy to make. Plus they can add a splash of cheerful color to your garden or yard. Tutorial here.
3. DIY PEBBLE MOSAIC GARDEN STONES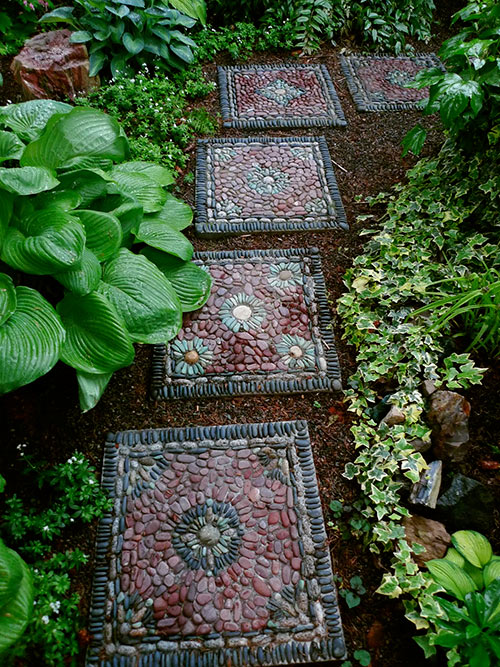 Using pebbles will add a very natural yet artistic flair to your garden stones. Tutorial here.
4. DIY STEPPING STONES PATH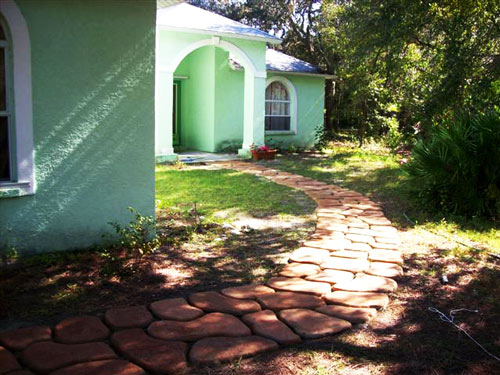 Lovely garden pathway with simple, shapely handmade bricks. Tutorial here.
5. DIY MEMORIAL GARDEN STONES FROM DISHES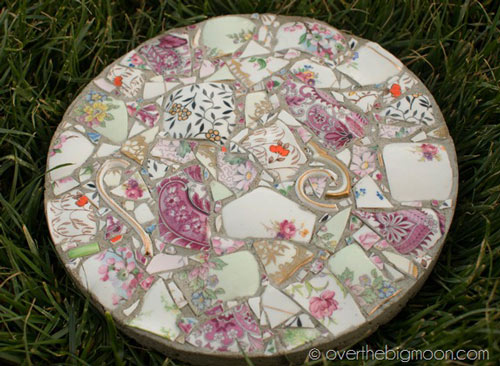 Saving perhaps the best idea for last, use broken bits of treasured teacups or fancy chinaware in the mosaic for a beautiful memorial garden stone. Tutorial here.
Well, those are some of the simplest and most beautiful DIY memorial garden stone tutorials. Add ashes to make it truly personal, or customize it with your beloved's name and dates.
Thanks for reading, pin it to save for later!