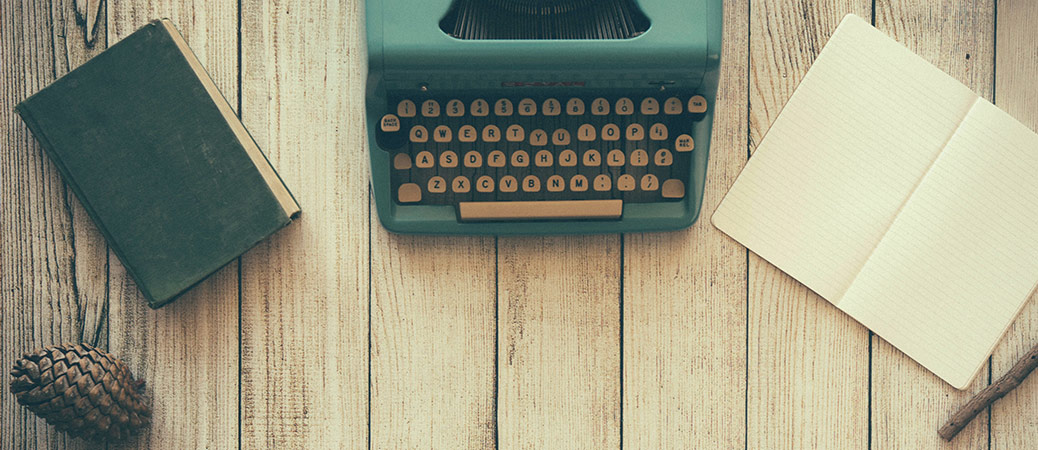 If you've hunted around for free funeral program templates, you've likely discovered that most of the links you find are not free at all. To ease your search, here are some of our favorite resources we've found that are actually free.
1. Four Free Funeral Program Templates from My Wonderful Life

Brought to you by My Wonderful Life, these four simple and elegant funeral program templates are attractive, easy to download, and easy to use. You can see the basic design themes in the images above. Here is a brief description of the steps needed to make one of these memorial service templates a reality:
Instructions:
Choose your design.
Click on the design of your choice, and it will begin downloading.
Open the file.
Edit the document with your own information.
Swap out photos. (For the last option with the maroon boxes, make sure the photo is the same size as the box next to it. Double click on the image and make sure the height and width are both set to 2.31″ – you may also change the color of these boxes, by double clicking on them and choosing another color).
Print. Refer to your printer manual for double sided printing instructions.
2. Two Free Funeral Service Templates from Love to Know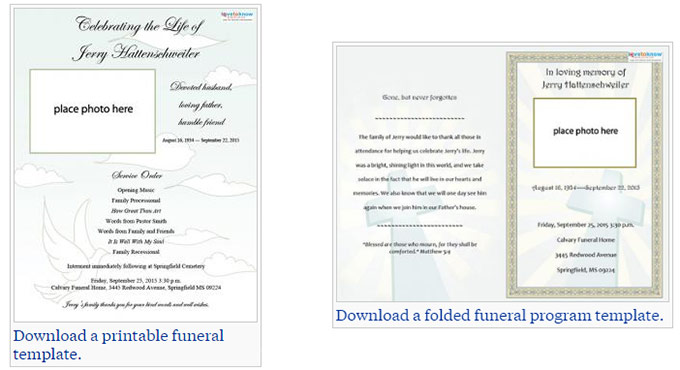 Love to Know offers these two free downloads, both of which are editable PDF documents. The first is a simple one-page program, and the second is a folded design that provides four 'pages' for you to use. Here is the outline of this folded funeral service template:
Page 1: The first page starts with In loving memory of and is followed by a photo. Below this are the birth and death dates followed by the date and location of the service.
Page 2: The second page features a biography of the deceased. This is where you provide highlights of the important aspects of the deceased's life. Use the example provided within the template as a guide.
Page 3: The third page provides the service order.
Page 4: The final page of the program is the family's opportunity to thank those who came to pay their respect. You can also add a comforting Bible verse, a favorite saying, or one of these 33 Inspiring Life Celebration Quotes.
3. Five Free Decorative Funeral Programs from Hoover Web Design

Hoover Web Design offers a set of five free funeral program templates that you can choose, download, edit, and print for your loved one's memorial service. Each features a highly decorative image on the front page, including butterflies, flower and Bible, and several nature scenes.
4. Tips for Making Your Own Funeral Service Program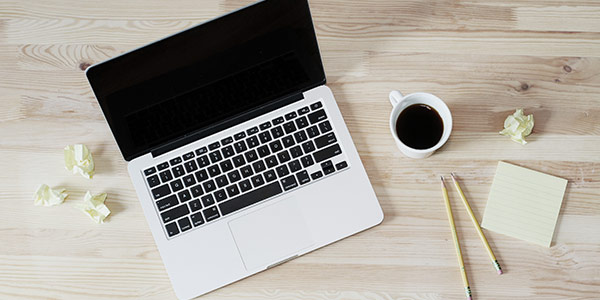 From Caring.com, this helpful article presents several ideas, tips, and outlines for how to put together your own funeral service program or outline. Using these guidelines, you can easily create a simple program or bulletin in a Word document, then print it out yourself. Creative Funeral Ideas also has some… you guessed it, creative funeral ideas on making your own funeral program template.
Premium Funeral Templates
Ok, we know you're looking for something free. And the templates above are the best freebies out there. But sometimes it's worth it to pay a few bucks and have it done – very well – for you. Let's take a look at some premium templates that you may find surprisingly affordable, freeing you up to do more and with less stress.
Some of these premium funeral program templates are downloads for you to customize yourself, others are print ready so that all you need to do is order, send over the details, and receive a file that is ready to take to the printers.
Prices and availability are all at the time of this posting; please leave a comment to let us know if you see any changes.
1. Print Ready "The Story" Personalized Funeral Program for a Woman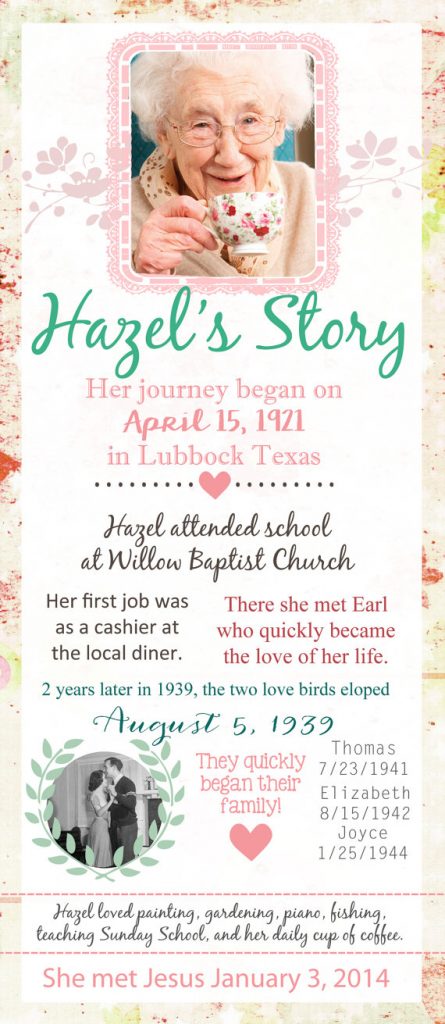 Cost: $29.99
What you need: Order the item, send the personalized info, proof it, then take the file to the printers.
Easy, attractive, and modern, this program will be delivered to you as a print-ready digital download that you can email or upload to the printers and you're done. This is one of the most attractive and fun programs we've found, and it's surprisingly affordable.
2. Print Ready "The Story" Personalized Funeral Program for a Man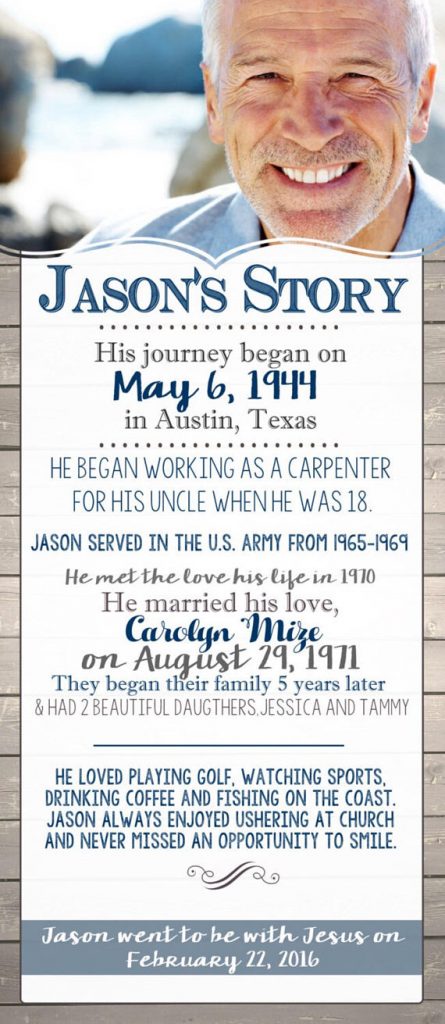 Cost: $29.99
What you need: Order the item, send the personalized info, proof it, then take the file to the printers.
From the same graphic artist as the one above, this one is designed for a man with the colors and style to match. Just contact the artist with your details, and they will customize the funeral program for you and send you a print-ready download.
3. Black & White Heart Funeral Program Template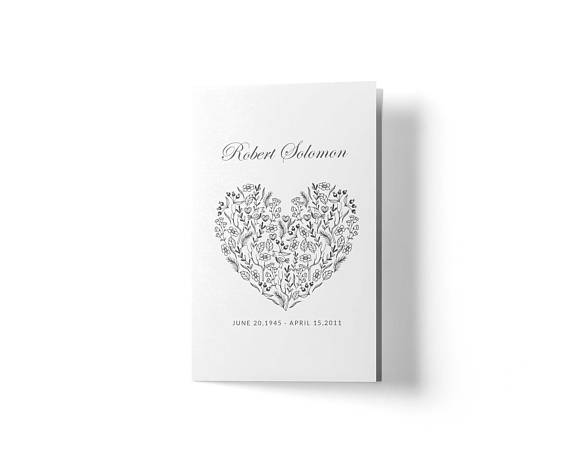 Cost: $6.40
What you need: Any program that can open and edit a Word document. Ability to edit the document to personalize it, and then take it to the printers or print at home.
Digital download from Etsy which you can edit and personalize in Word. Since the program design is in black and white, this one is ideal for printing at home. You can, of course, change the colors, sizes, fonts, and text, but for just a couple bucks this has it all ready to go for you, and looks great. Features include a cute flowery heart, modern minimalist design, and elegant fonts.
4. Dark & Elegant 5×7 Funeral Program Card Template – PSD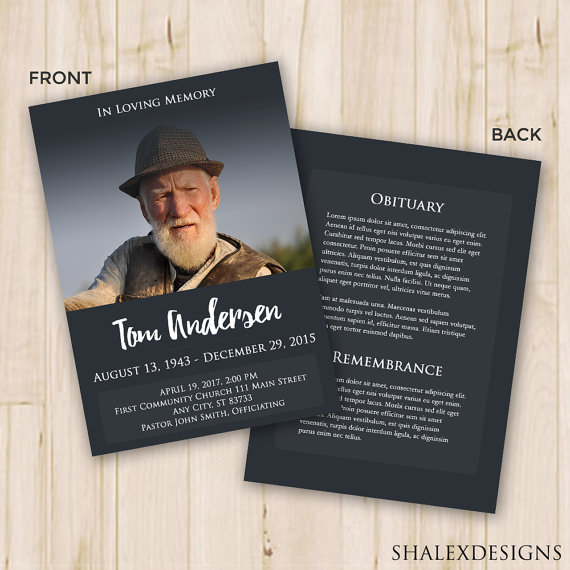 Cost: $6.50
Computer Program Needed: Photoshop, and you'll need a basic knowledge of how to use it
This download is for PSD (Photoshop) files for the front and back of a printable 5×7 funeral program card. It uses free fonts and includes a list so you can easily download what you need. With a basic knowledge of Photoshop, you'll be able to customize this funeral program in minutes.
Remember to Pin it for later: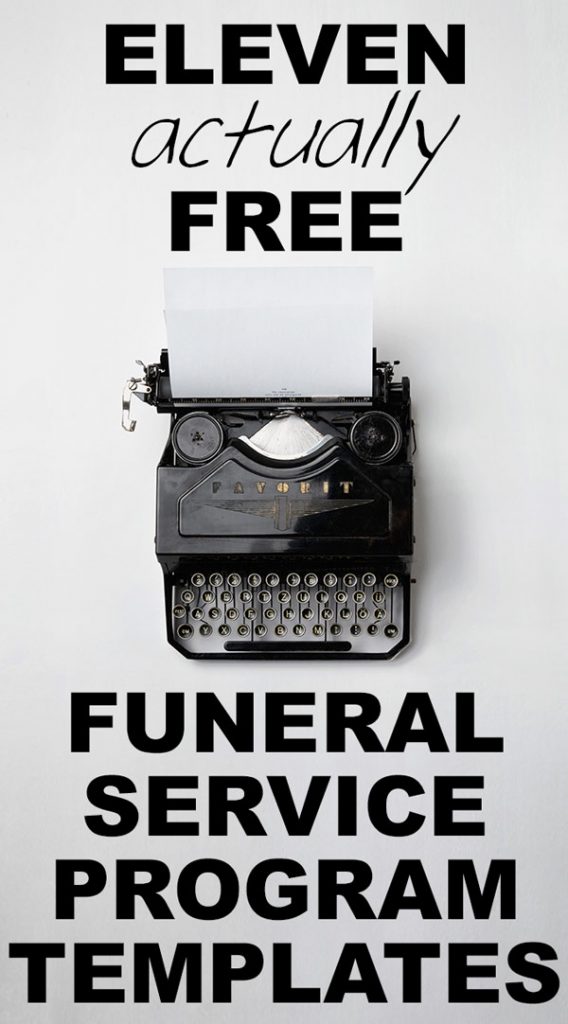 What are some of the free funeral resources you've found?
(Visited 153,410 times, 8 visits today)
Further reading: