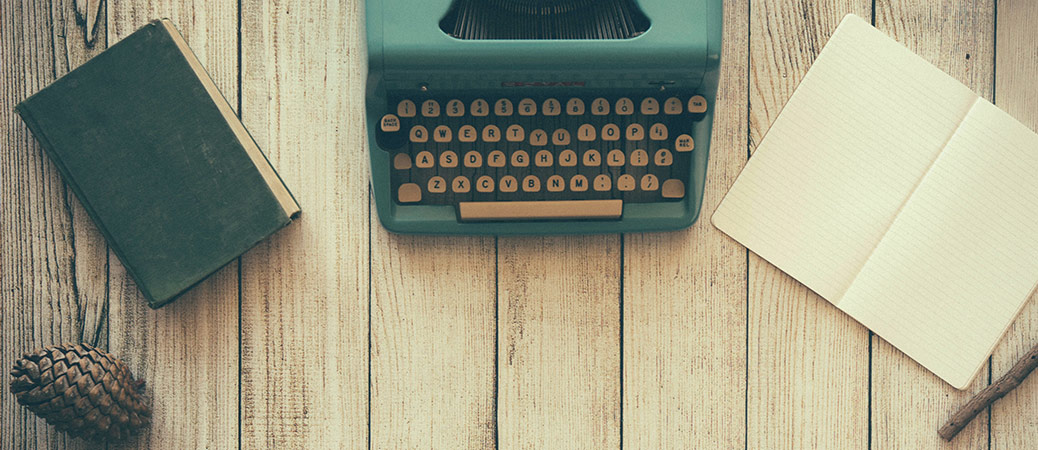 If you've hunted around for free funeral program templates, you've likely discovered that most of the links you find are not free at all. To ease your search, here are some of our favorite resources we've found that are actually free.
1. Four Free Funeral Program Templates from My Wonderful Life

Brought to you by My Wonderful Life, these four simple and elegant funeral program templates are attractive, easy to download, and easy to use. You can see the basic design themes in the images above. Here is a brief description of the steps needed to make one of these memorial service templates a reality:
Instructions:
Choose your design.
Click on the design of your choice, and it will begin downloading.
Open the file.
Edit the document with your own information.
Swap out photos. (For the last option with the maroon boxes, make sure the photo is the same size as the box next to it. Double click on the image and make sure the height and width are both set to 2.31″ – you may also change the color of these boxes, by double clicking on them and choosing another color).
Print. Refer to your printer manual for double sided printing instructions.
2. Two Free Funeral Service Templates from Love to Know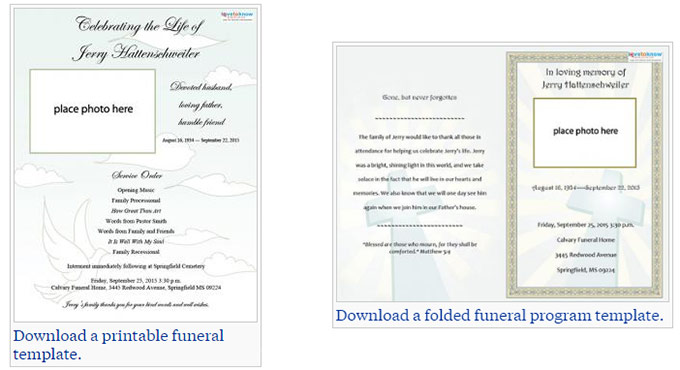 Love to Know offers these two free downloads, both of which are editable PDF documents. The first is a simple one-page program, and the second is a folded design that provides four 'pages' for you to use. Here is the outline of this folded funeral service template:
Page 1: The first page starts with In loving memory of and is followed by a photo. Below this are the birth and death dates followed by the date and location of the service.
Page 2: The second page features a biography of the deceased. This is where you provide highlights of the important aspects of the deceased's life. Use the example provided within the template as a guide.
Page 3: The third page provides the service order.
Page 4: The final page of the program is the family's opportunity to thank those who came to pay their respect. You can also add a comforting Bible verse, a favorite saying, or one of these 33 Inspiring Life Celebration Quotes.
3. Five Free Decorative Funeral Programs from Hoover Web Design

Hoover Web Design offers a set of five free funeral program templates that you can choose, download, edit, and print for your loved one's memorial service. Each features a highly decorative image on the front page, including butterflies, flower and Bible, and several nature scenes.
4. Tips for Making Your Own Funeral Service Program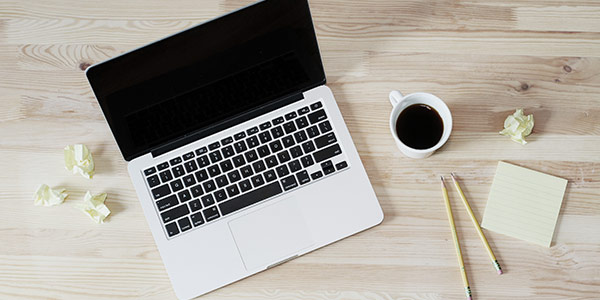 From Caring.com, this helpful article presents several ideas, tips, and outlines for how to put together your own funeral service program or outline. Using these guidelines, you can easily create a simple program or bulletin in a Word document, then print it out yourself. Creative Funeral Ideas also has some… you guessed it, creative funeral ideas on making your own funeral program template.
Remember to Pin it for later: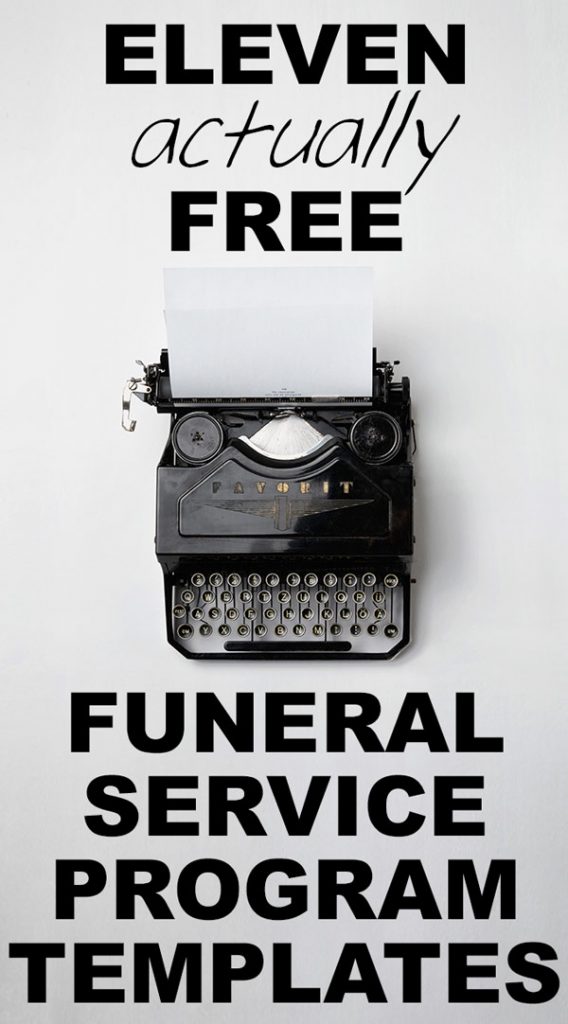 What are some of the free funeral resources you've found?