If you've hunted around for free funeral program templates, you've likely discovered that most of the links you follow take you to products and programs that are not free at all.
To ease your search, here are some of our favorite actually free funeral program templates.
Update: After years of constantly editing this post to keep up to date with the ever-changing landscape of "free" stuff, we've decided to create and offer our own funeral program templates free. Read on!
Some "Free" Funeral Program Templates are NOT Free!
If you do a web search for "free funeral program templates," you'll find quite a few results. But be forewarned, some of the top ones are not really free!
Sure, you may be able to design or edit the program for free, but when all is said and done, you have to pay a fee.
Here are some culprits in this charade:
AVOID: Canva — Canva is actually a pretty great site that you can use to design things yourself for free (from templates or from scratch). Their site is usually one of the first results, and you can browse and edit templates. But when you put in all the work and click "download" — lo and behold — there is a charge. Go figure.
AVOID: Quick Funeral — This site has a page called "Free Funeral Program Template – Self Editable and Printable." Unfortunately, it's nothing more than a marketing ploy. They showcase their templates without listing any costs, but by the time you choose one, edit, and go to download, it costs $29.99 to do so.
AVOID: Template.net — Here's another first-page search result that claims, "17+ Funeral Program Templates | Free & Premium Templates." But where are the free ones? Once again, if you wish to download, you have to pay for a subscription.
AVOID: Word Templates Online — Their listing claims "25+ FREE Funeral Program Templates (Word, Photoshop, Illustrator)," but we counted four funeral program templates, two obituary templates, and one mass template. The designs look awful, and when you click to download you have to subscribe. Highly misleading and disappointing.
I'm sure you get the gist. You've probably already looked at some of those sites with your eyebrows raised. Save yourself a headache and avoid them.
Free Funeral Program Templates
But you're still in need of a nice, free, editable template! That's why we've created our very own templates for you.
Below, we have a selection of funeral templates that are really, truly free. No marketing ploys or sneaky subscription fees in sight. Just download them and edit to suit your needs.
We've designed them to print on a standard 8.5×11 sheet of printer paper, which you'll fold in half to create a "four page" brochure.
After our own free templates, we feature a couple of others we sourced from the web, as well as some of our favorite "premium" (or purchasable, in other words) templates, but for each of those you'll know the cost up front.
If you are okay with paying a few bucks, you can really step up the game with some incredibly classy program designs, some of which the seller will even personalize for you.
But first, let's look at the best *actually* free editable funeral program templates.
1. Blossoms Funeral Program Template for Microsoft Word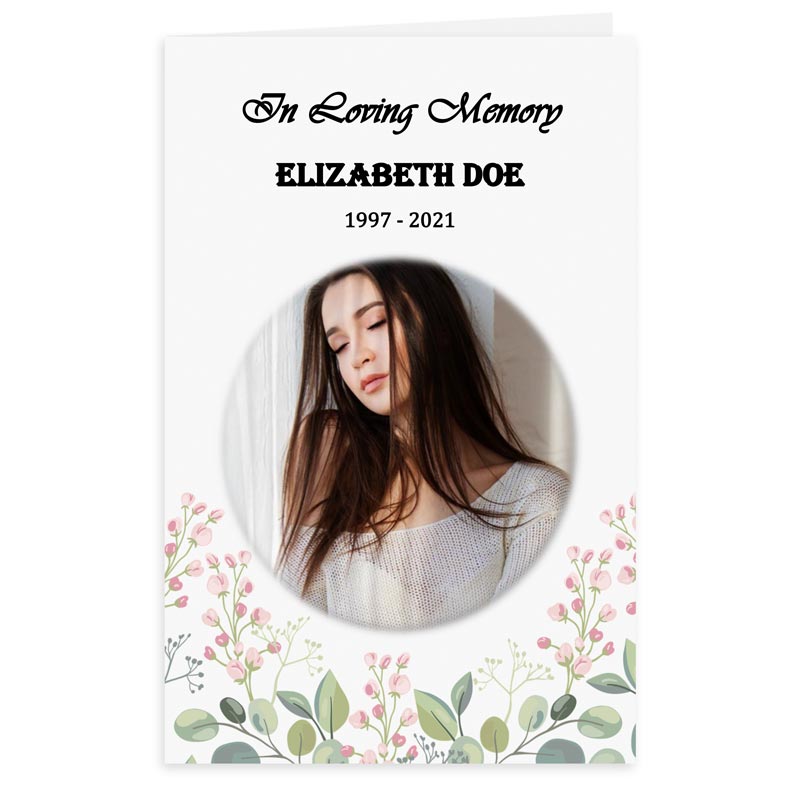 This lovely program has a soft feel and contemporary design.
A beautiful way to celebrate the life of your loved one, the template includes setup for a photograph and plenty of space on the inside for the order of service, eulogy, and anything else you want to add.
2. Soaring Seagull Free Funeral Program Template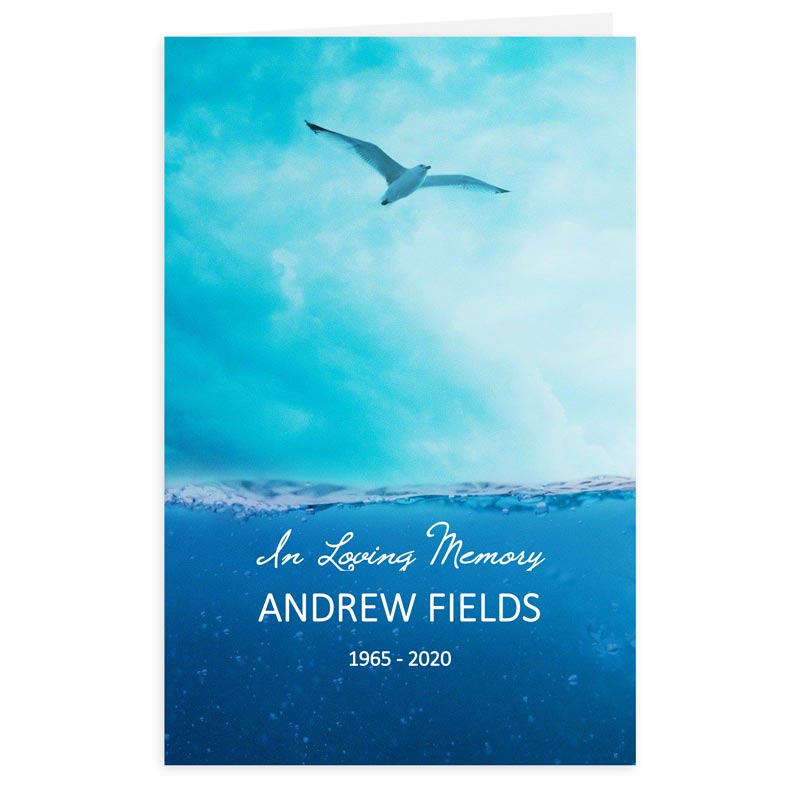 This is a four page bifold Word document that you can get for free, edit, and print on a single 8.5″ x 11″ standard sheet of paper. You'll need to print it front and back, then fold it in half.
Memorialize Your Loved One with a Free Website

Did you know that you can create a website to honor your loved one's life for free? We've curated a list of the 10 best platforms that allow you to share obituaries and photos, announce funeral details, accept funeral donations, and where friends and family can post condolences and memories. Find the perfect memorial website here.
3. Red Flowers Free Funeral Program Template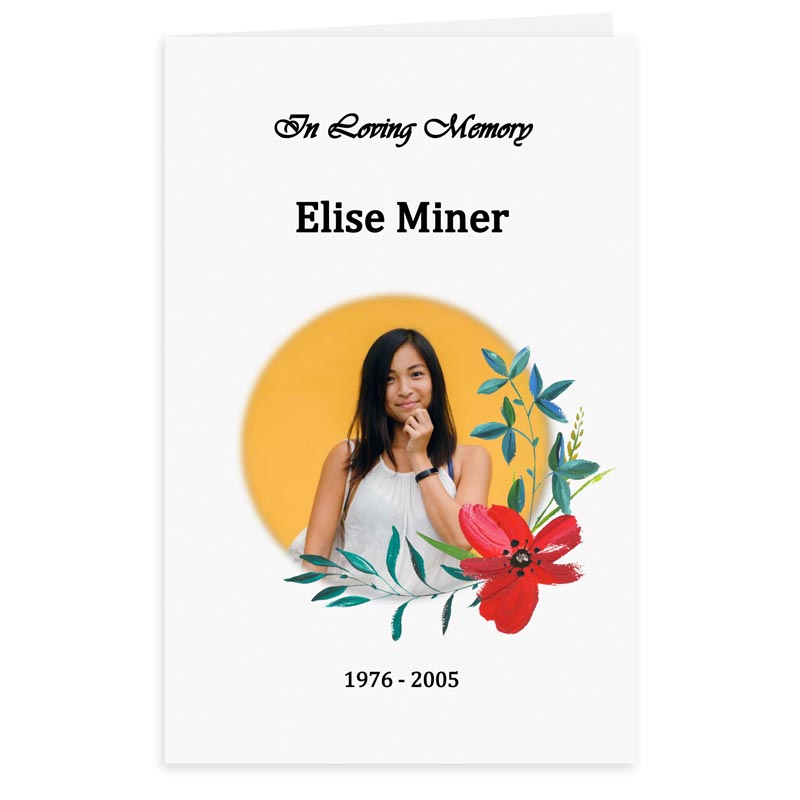 This elegant funeral flyer template has a bright modern look and is easy to use. The red flower adds a bold stroke, yet the watercolor style of painting softens the effect.
Like the others on this list, this template is designed for you to print on the front and back of a standard sheet of printer paper, though you might want to get some smooth, pretty card stock for these programs.
If you have basic knowledge of Microsoft Word, you'll be able to create your own funeral programs quickly and easily, then print at home.
4. Sunset Memorial Service Program Template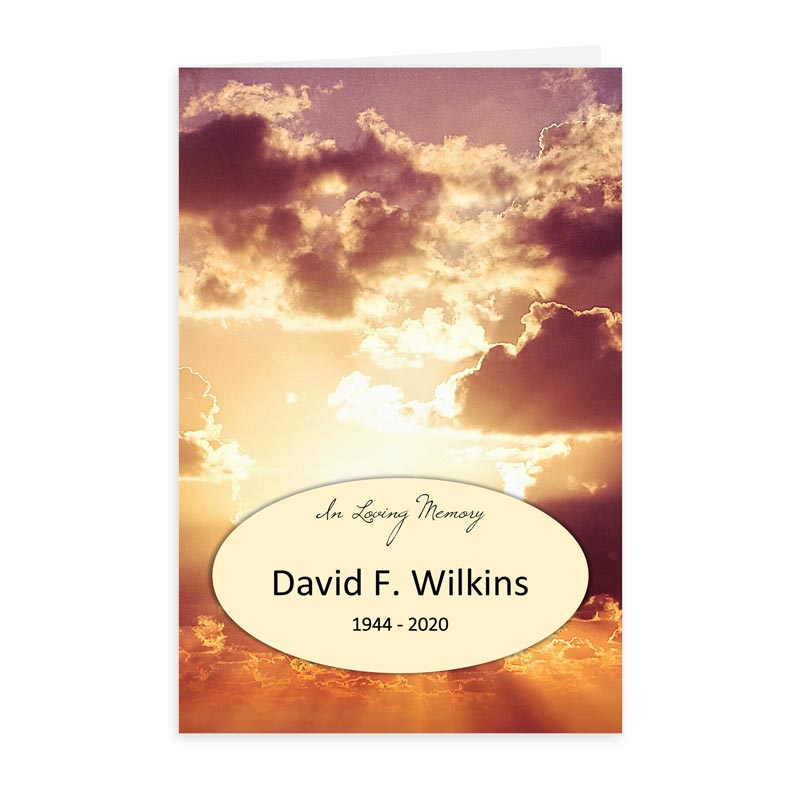 This is one design that can work for anyone, young or old, male or female. The warm sunbeams draw your thoughts to the heavens in memory of your loved one. The text is easy to edit — just click, replace with your loved one's details, and move on to the next page.
This is a four-page, bifold template that prints on a single 8.5″ x 11″ sheet of printer paper. Printed on both sides then folded in half, you create a funeral program that is 8.5″ tall and 5.5″ wide, with front, two inside pages, and back.
5. Elegant Photo Funeral Service Program Template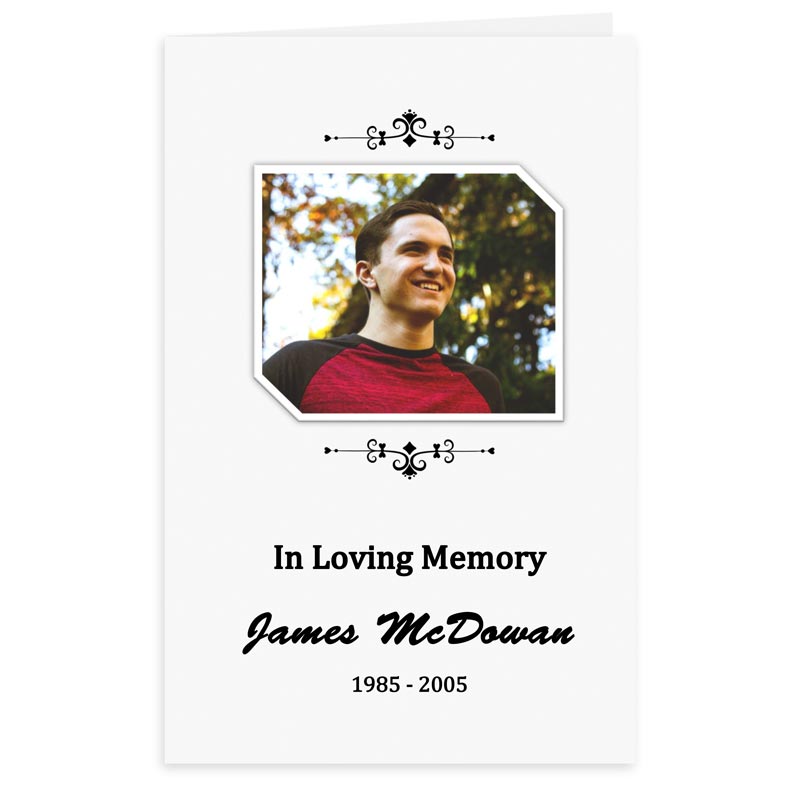 Sometimes the simple things are the best. This simple yet classy funeral program template is free to download and easy to edit in Microsoft Word.
6. Picture Frame Free Funeral Program Template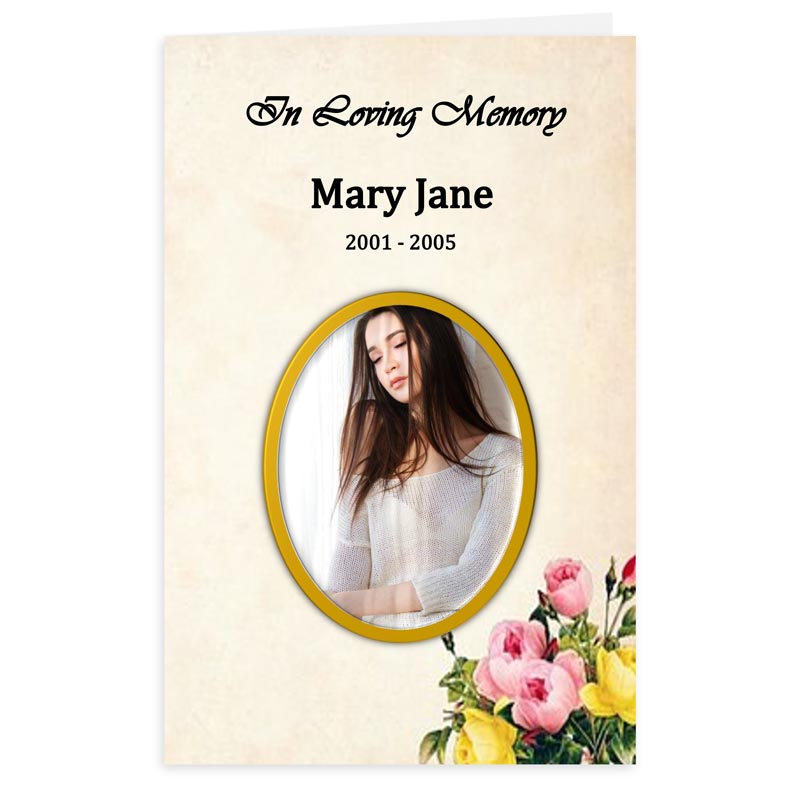 Here's one for the flower lovers. This lovely design features an oval-framed picture along with a bouquet of florals in bright colors.
For helpful tips on writing your funeral order of service details, check out our in-depth guide!
More Free Templates
Be sure to browse all the free funeral program designs we have available! There are many more designs from which to choose, all free and ready to download.
Here are a few more free templates from other websites. The availability is subject to change, since they're not ours but are from other sources.
Free Funeral Templates from Elegant Flyer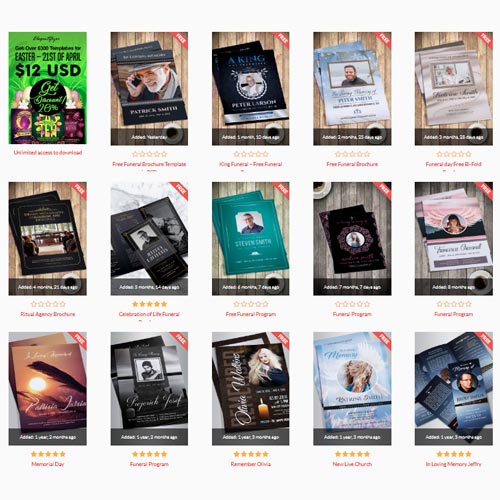 I have to be honest, these are nice but they are not my favorite. There are over 40 free templates to choose from — which is a nice selection — but their templates all require Adobe Photoshop, so unless you already own the software, you won't be able to access them.
And lastly, you're required to provide attribution to the template's author (meaning you have to write, "template by Elegant Flyer," on it somewhere.)
Still, the designs are modern and attractive. If you have Photoshop, the PSD files are easy to use. Overall, a good collection of freebies with some quirks.
Downloadable Programs from Greetings Island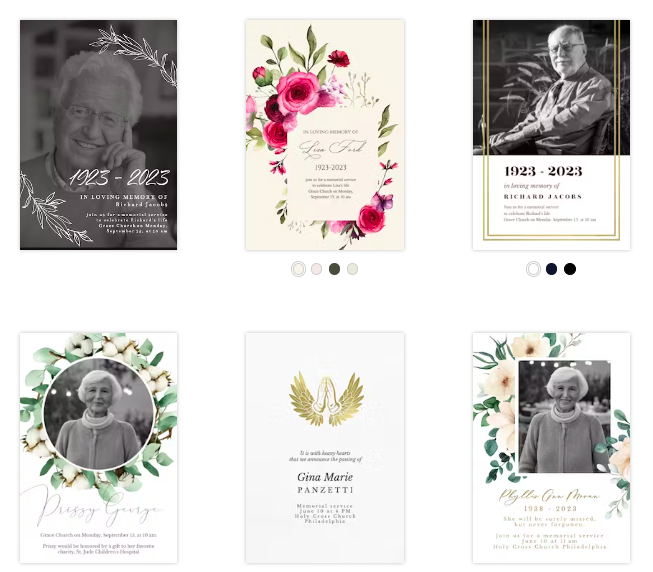 Greetings Island has a good handful of free, editable and downloadable funeral cards and programs with solid designs, but the catch is that in order to get it free you have to be okay with their company watermark being printed on it.
If you wish to remove the watermark, you have to upgrade to a premium membership.
If you're okay with having their logo printed on the front of the program, go for it. But it's a bit big and draws a lot of attention, so it's not a favorite of ours.
Tips for Making Your Own Funeral Programs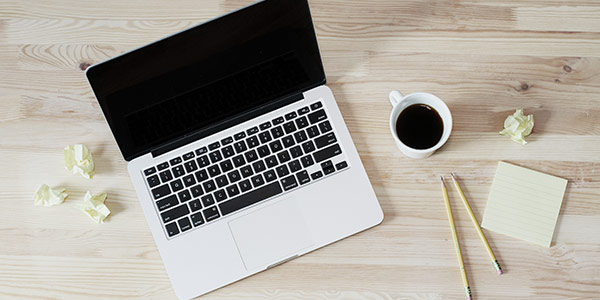 Are you still having a difficult time finding a free editable template you love, but buying one just isn't in the budget?
We have great news then! You really don't need a degree in graphic design to put together a beautiful program with text, simple design elements, and even a photograph or two.
All of these programs allow you to save your finished product as a PDF file, which can then be printed at home or sent to a print shop or service.
How Can I Make a Funeral Program for Free?
In order to create your own custom funeral programs, you will need at least one of the following software programs on your desktop or laptop computer.
Microsoft Word (free) — Great news for PC users, most computers that run on Windows operating systems have a free version of MS Word already installed. This program is best for basic designs, but if you have a good running knowledge of the program you can get a bit more creative.
Adobe Photoshop, InDesign, or Illustrator ($) — These programs are the literal backbone of the graphic design world and are capable of creating just about anything you can imagine. The only drawbacks? If you don't already own the software, you have to pay a subscription fee. They also have a more complex layout, but the internet is a wealth of knowledge if you have a few hours to study up on the basics.
Apple Pages (free) — Apple Pages is pretty much the Mac version of Microsoft Word. Create your own elegant template with text-centric minimalist designs, or add simple yet beautiful graphics with this user-friendly editor and word processor. 
Microsoft Publisher ($) — If you want to get a bit more involved with your designs but don't think you're quite ready for the Adobe Design Suite, then Microsoft Publisher might be just what you're looking for! Microsoft Publisher differs from Microsoft Word in that it's geared toward page layout and graphic design rather than text composition.
Google Docs (free) — The great thing about Google Docs (aside from being entirely free) is how straightforward and user-friendly it is. Design option might be a tad limited, but if simplistic design is what you're aiming for it's a great option.
Apache Openoffice (free) — Apache OpenOffice is an open-source office software suite for word processing, graphics, and more. It is available in many languages and works on all common computers.
What to Include in a Memorial Program
Here's a simple outline for how to put together your own printable funeral program:
Page 1: The first page usually starts with In loving memory of and is followed by a photo. Below this are the date of birth and date of death, followed by the date and location of the service.
Page 2: The second page features a biography of the deceased. This is where you provide highlights and important aspects of the deceased's life.
Page 3: The third page provides the service order.
Page 4: The final page of the program is the family's opportunity to thank those who came to pay their respects. You can also add a comforting Bible verse, a poem, or one of these 33 Inspiring Life Celebration Quotes.
Using these guidelines and one of the software programs above, you can easily create simple programs or elegant memorials, then print them out yourself.
Or get it done by a quality online printing source! We like Prints of Love. They have great quality, excellent service, and fast turnaround times.
Premium Funeral Templates
Ok, we know you're looking for something free, and the templates above are the best freebies out there. But sometimes it's worth it to pay a few bucks and have it done for you (and very well, at that).
Let's take a look at some premium (aka paid) templates that you may find surprisingly affordable, freeing you up to do more and with less stress.
Some of these premium funeral program templates are downloads for you to customize yourself. Others are print ready, so all you need to do is order, send over the details, and receive a file that is ready to take to the printers.
Our website is supported by our users. We sometimes earn a commission when you click through the affiliate links on our website. See our privacy policy & disclosures for more information.
1.Vintage Floral Frame Funeral Program Template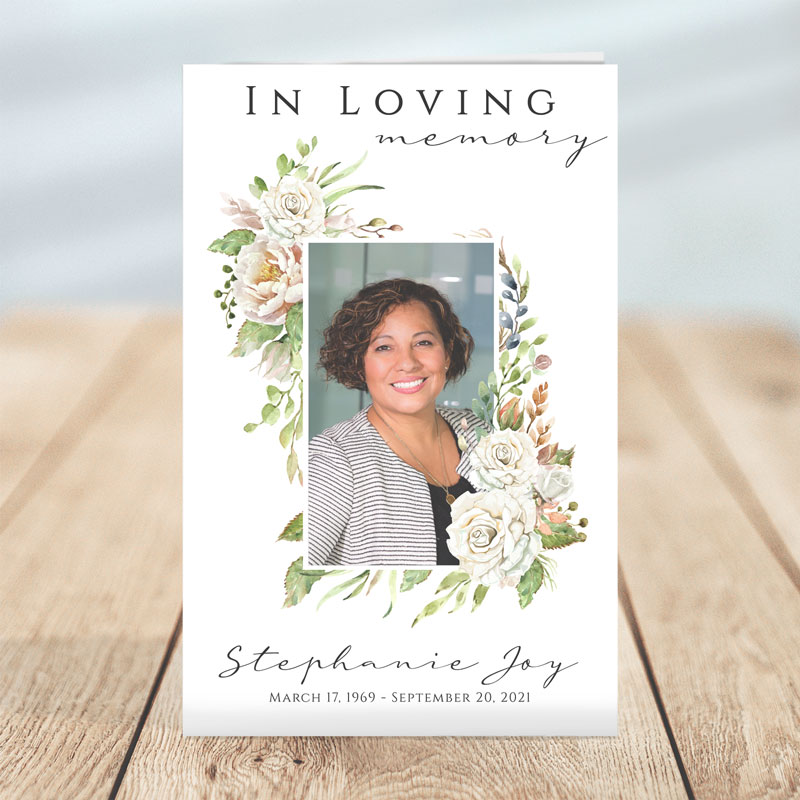 What you need: Just a bit of time and a printer! If you don't have a printer, you can use a print shop or send the final PDF to a company like Prints of Love.
This gorgeous funeral program design features vintage watercolor flowers wrapping a photo portrait of your loved one.
This is a digital product download. You can easily edit the details online using the Corjl program prior to finalizing. You can even try it before you buy it here.
2. Portrait Photo Funeral Program Template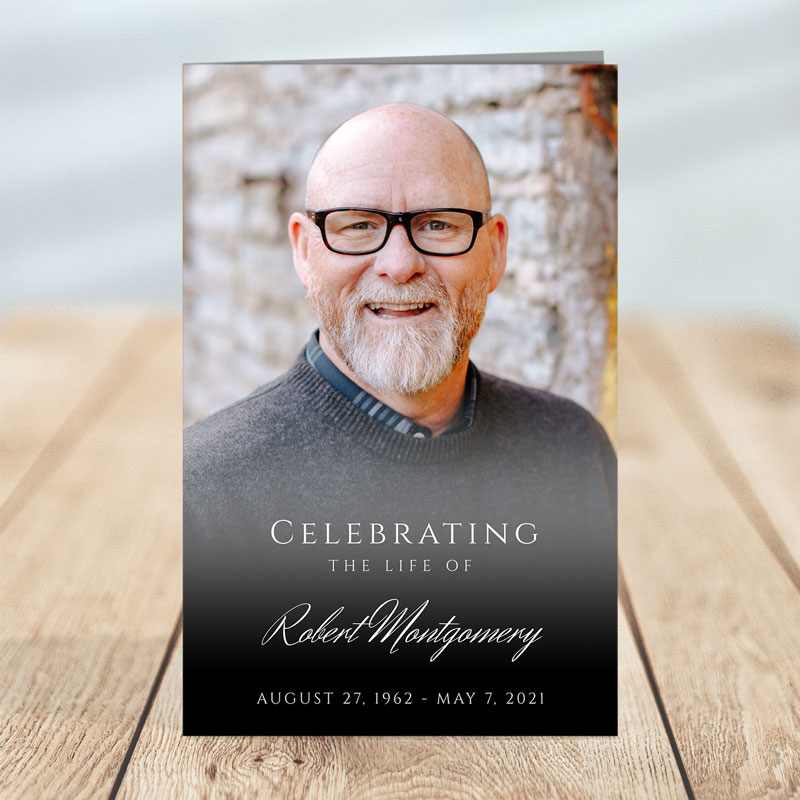 What you need: Again, just a bit of time and a printer! Just purchase, edit using the link sent to you by Corjl, finalize and print!
This stunning funeral program template celebrates your loved one's life with a smooth grayscale gradient. Includes space for a photo of your loved one, service order, obituary/life story, and more.
A bold, classy, and fully customizable funeral program template.
3. Gentle Florals Life Celebration Funeral Program Template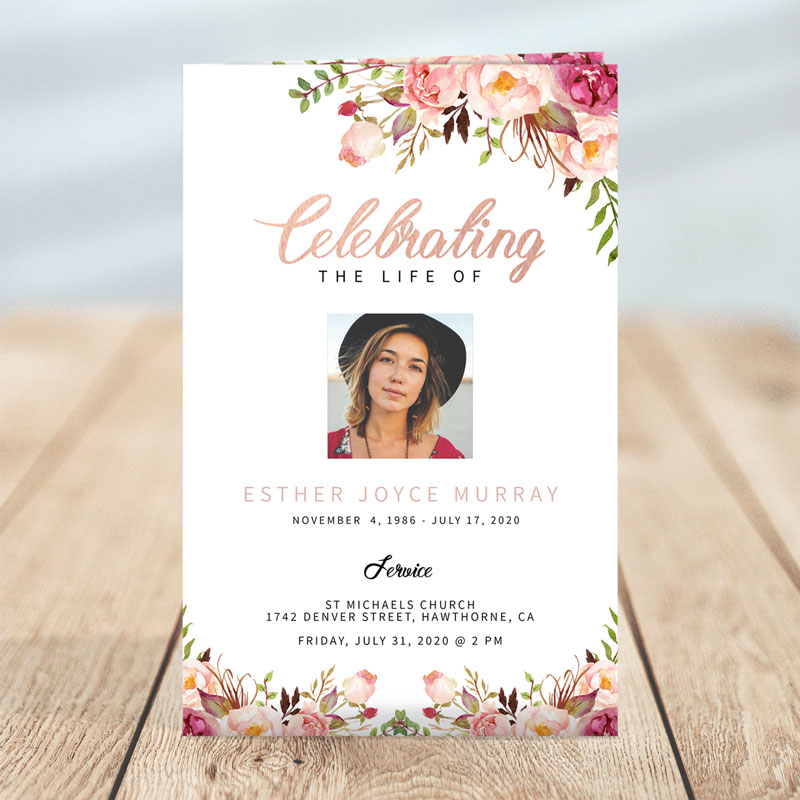 What you need:
What you need: Once your order is placed, you will receive an email from CORJL with a link to your template. Click the link, create an account, and start editing! Print at home, or use a print shop or online printing service like Prints of Love.
This lovely funeral program template celebrates your loved one's life with gentle, elegant floral themes. Includes space for a photo of your loved one, service order, obituary/life story, and more.
An elegant and fully editable funeral program template, you can easily personalize yours to make it just right.
4. Print Ready "The Story" Personalized Funeral Program for a Woman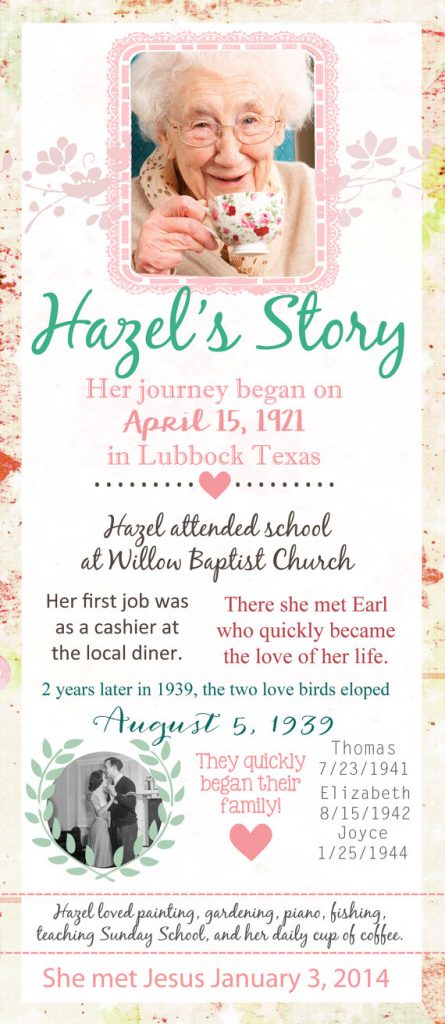 What you need: Order the item, send the personalized info, proof it, then take the file to the printers.
Easy, attractive, and modern, this program will be delivered to you as a print-ready digital download that you can email or upload to the printers and you're done. This is one of the most attractive and fun programs we've found, and it's surprisingly affordable.
5. Print Ready "The Story" Personalized Funeral Program for a Man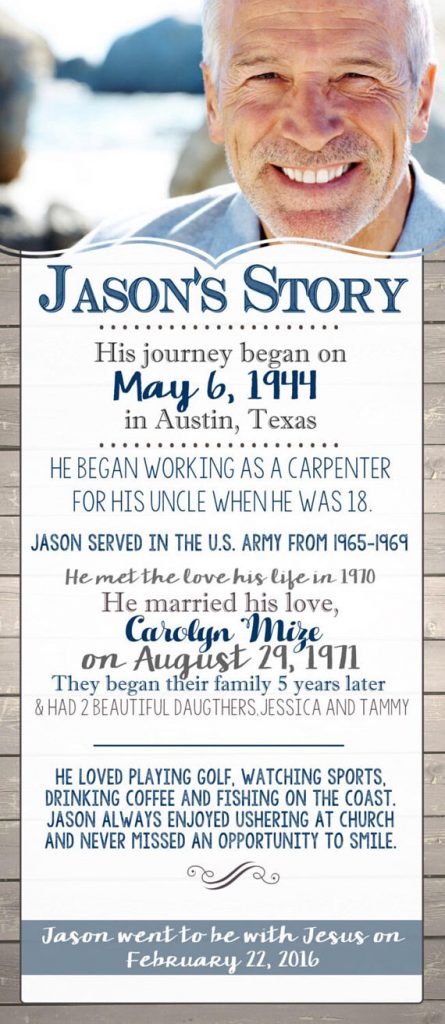 What you need: Order the item, send the personalized info, proof it, then take the file to the printers.
From the same graphic artist as the one above, this one is designed for a man with the colors and style to match. Just contact the artist with your details, and they will customize the funeral program for you and send you a print-ready download.
6. In Loving Memory Printable Program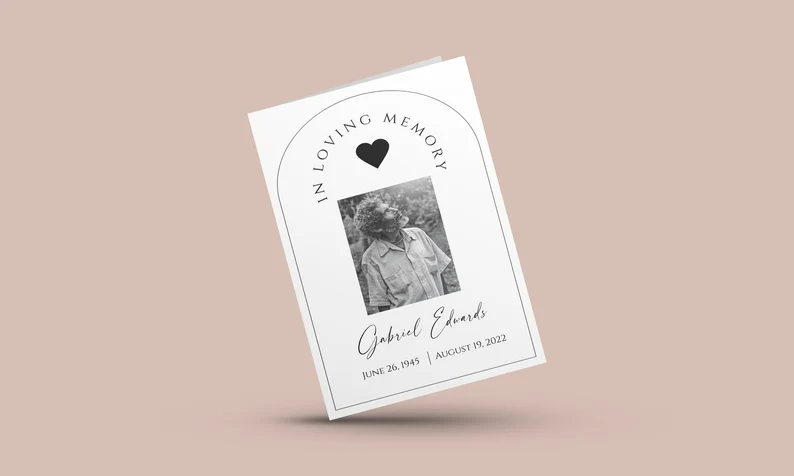 What you need: Order the item, edit using the provided link, proof it, then print at home or take the file to the printers.
This sweet and simple program can be purchased through Etsy, then you will receive a link in your email which allows you to edit and download the finished design.
An easy, affordable and clean looking design that would be suitable for just about anyone.
7. Modern & Elegant Mountain Funeral Program Template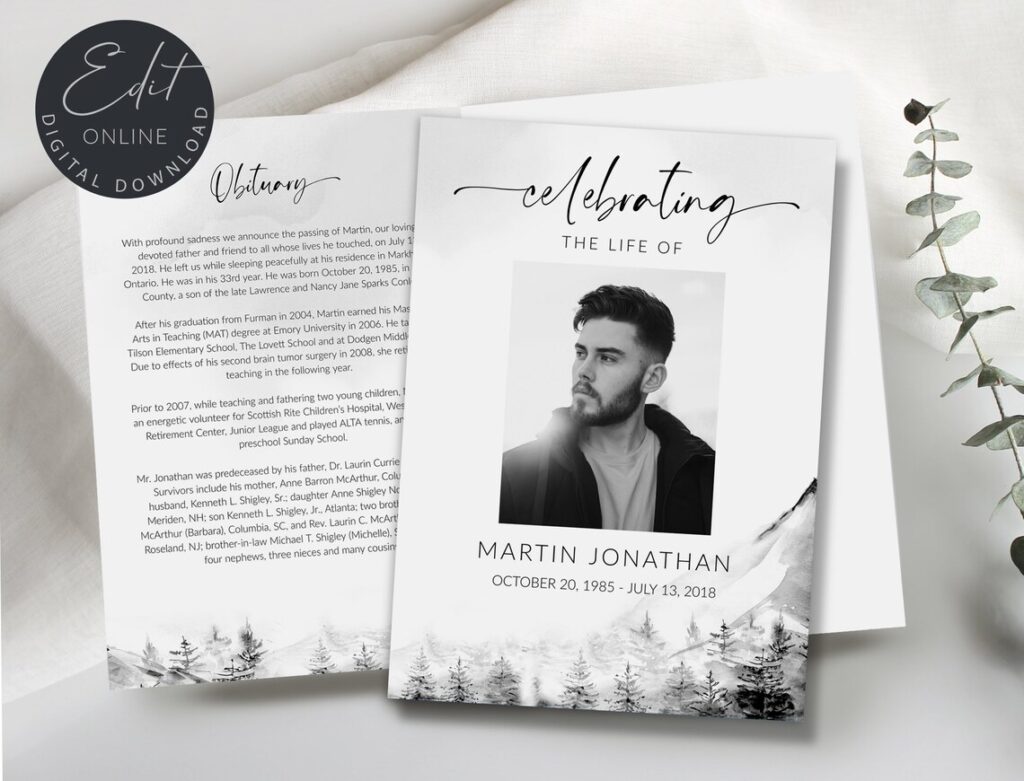 This lovely design features subtle black and white mountain artwork and an elegant font selection. This is another affordable and downloadable program that uses CORJL for editing and personalization.
Once you make your purchase, you will receive a link that will allow you to customize your program before you print it yourself or take the file to the print shop.
This seller also has bundle options available if you want to purchase matching funeral cards or posters as well as programs.
8. In Loving Memory Modern Template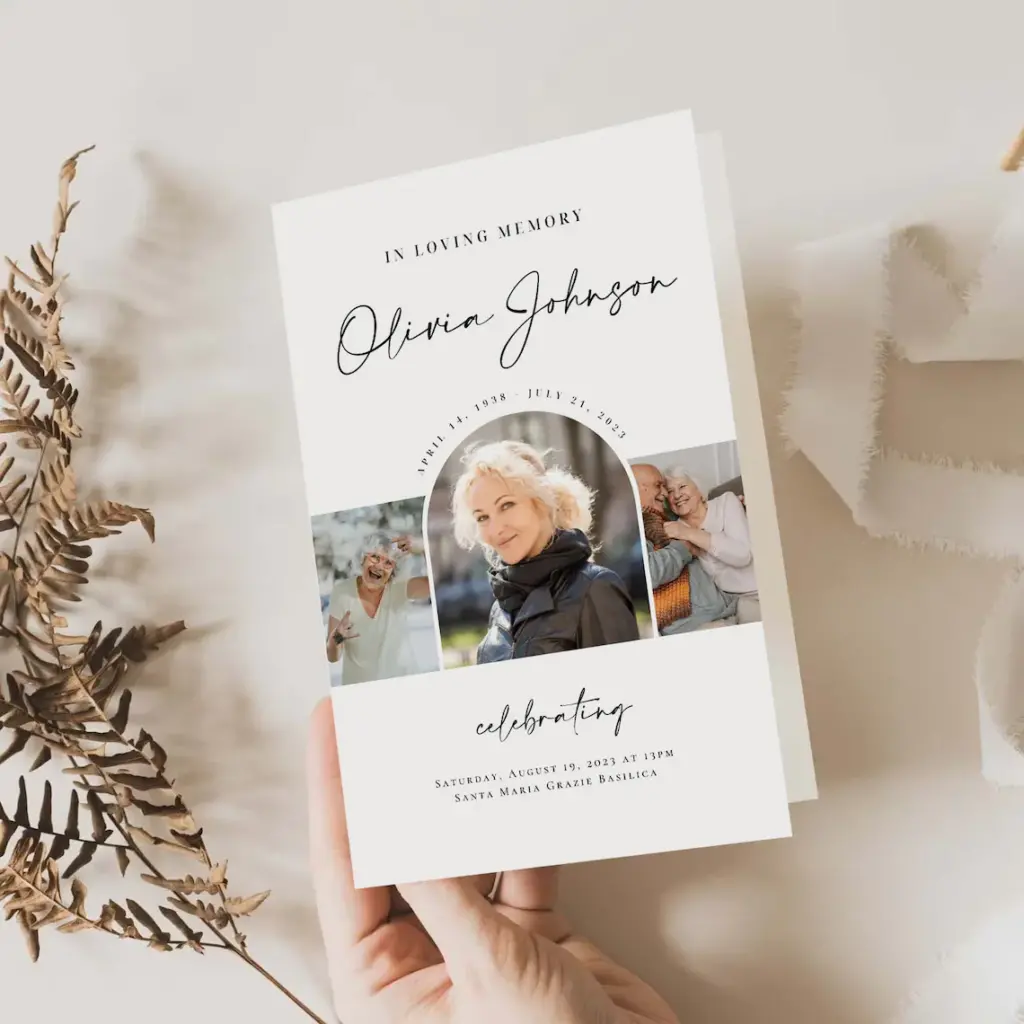 What you need: Once you purchase this program, you will receive a email with a link to make your edits and personalizations. You will then be able to download and print them at home, or use a printing service.
Here is another beautiful template from Etsy. This funeral brochure template is perfect for a celebration of life service or traditional funeral, and boasts plenty of room for multiple photos.
The 8.5 x 11 size (standard printer paper dimensions) means that you can easily print at home should you desire.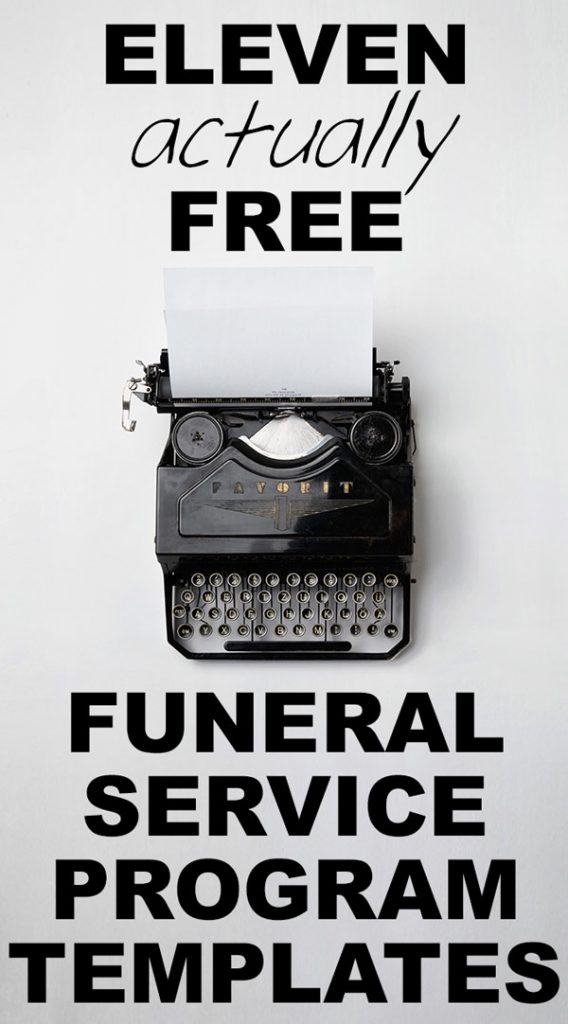 What are some of the free funeral resources you've found?
Daniel has been working in the funeral industry since 2010, speaking directly to grieving families as they made funeral arrangements.
He began researching and publishing funeral articles on this website as part of his role as product and marketing manager at Urns Northwest.
Having written hundreds of articles and growing the site to multiple millions of views per year, Daniel continues to write while providing editorial oversight for US Urns Online's content team.