If you've hunted around for free funeral program templates, you've likely discovered that most of the links you find are not free at all.
To ease your search, here are some of our favorite actually free funeral program templates.
Update: After years of constantly editing this post to keep up to date with the ever-changing landscape of "free" stuff, we've decided to create and offer own own free templates. Read on!
Some "Free" Funeral Program Templates are NOT Free!
If you do a web search for "free funeral program templates" you'll find quite a few results. But some of the top ones are not free!
Here are some culprits in this charade:
AVOID: Canva – Canva is actually a pretty great site that you can use to design things yourself for free. (From scratch.) But if you're not a designer, well…. when you search for free funeral templates, their site pops up and you can browse and even edit templates. But when you put in all the work and go to download, lo and behold there is a charge. Go figure.
AVOID: Quick Funeral – This site has a page called "Free Funeral Program Template – Self Editable and Printable" but unfortunately that is just a bald falsehood. They showcase their templates without listing any costs but by the time you choose one and go to edit they say you need to shell out about thirty bucks. They say "free" several times on the main page, like this: "Free Funeral Program Template is a good term to quick start your journey to create and print funeral programs." What they mean is that, while you start by looking for a freebie, you end up buying… from them. Here's the link to the historical page in the Internet Archive "wayback machine."
AVOID: Template.net – Here's another first-page search result that claims, "17+ Funeral Program Templates | Free & Premium Templates." (And they have another result that claims 25+ Free & Premium templates.) But where are the free ones? Each listing says "download" but only 5 of the 17 are free, and of course they are the…. well, least attractive.
AVOID: Word Templates Online – Their listing claims "25+ FREE Funeral Program Templates ( Word, Photoshop, Illustrator)" but again, something is off with that claim. I counted four funeral program templates plus two obituary templates and one mass template. The funeral program templates look terrible. How does 7 funeral-ish templates become 25? Who knows.
I'm sure you get the gist. You've probably already looked at some of those sites with your eyebrows raised. Avoid them.
Free Editable Funeral Program Templates
So we've created our own templates for you.
Below, we have a bunch of free funeral templates that are really and truly zero cost. Just go and download them. We've designed them to print on a standard 8.5×11 sheet of printer paper, which you'll fold in half to create a "four page" brochure.
After all our free templates, we feature some of the most amazing "premium" templates (in other words, paid or not-free) but for all of those you'll know the cost up front. If you are ok with paying a few bucks, you can really step up the game with some nice funeral program designs, some of which the seller will even personalize for you.
But first, let's look at the best **actually** free editable funeral program templates.
1. Blossoms Funeral Program Template for Microsoft Word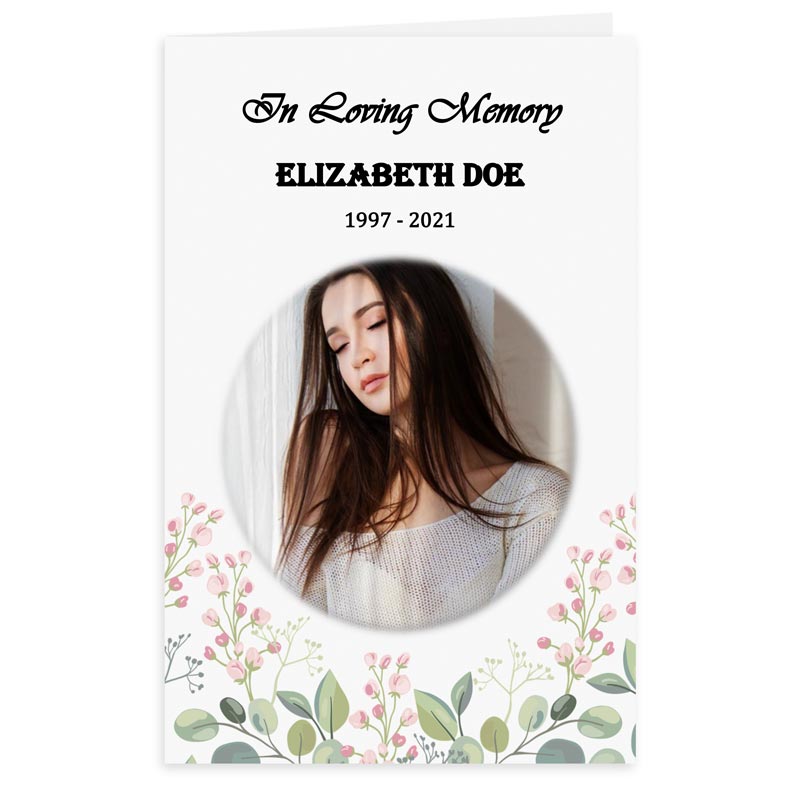 This lovely program has a soft feel and contemporary design. A beautiful way to celebrate the life of your loved one, the template includes setup for a photograph and plenty of space on the inside for the order of service, eulogy, and anything else you want to add.
2. Soaring Seagull Free Funeral Program Template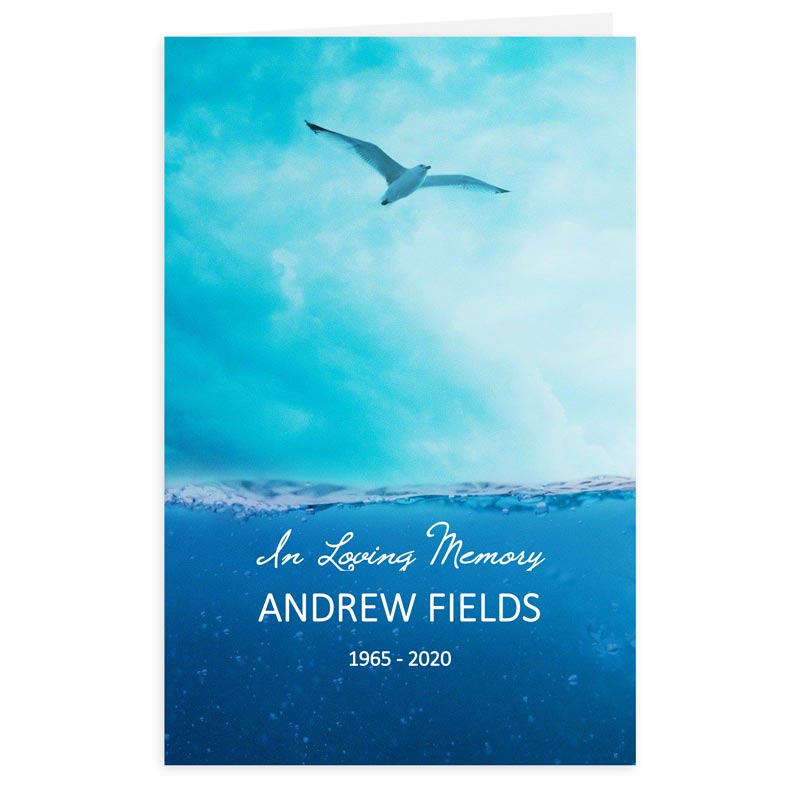 This is a four page bifold Word document that you can get for free, edit, and print on a single 8.5″ x 11″ standard sheet of paper. You'll need to print it front and back, then fold it in half.
Memorialize Your Loved One with a Free Website

Did you know that you can create a website to honor your loved one's life for free? We've curated a list of the 10 best platforms that allow you to share obituaries and photos, announce funeral details, accept funeral donations, and where friends and family can post condolences and memories. Find the perfect memorial website here.
3. Red Flowers Free Funeral Program Template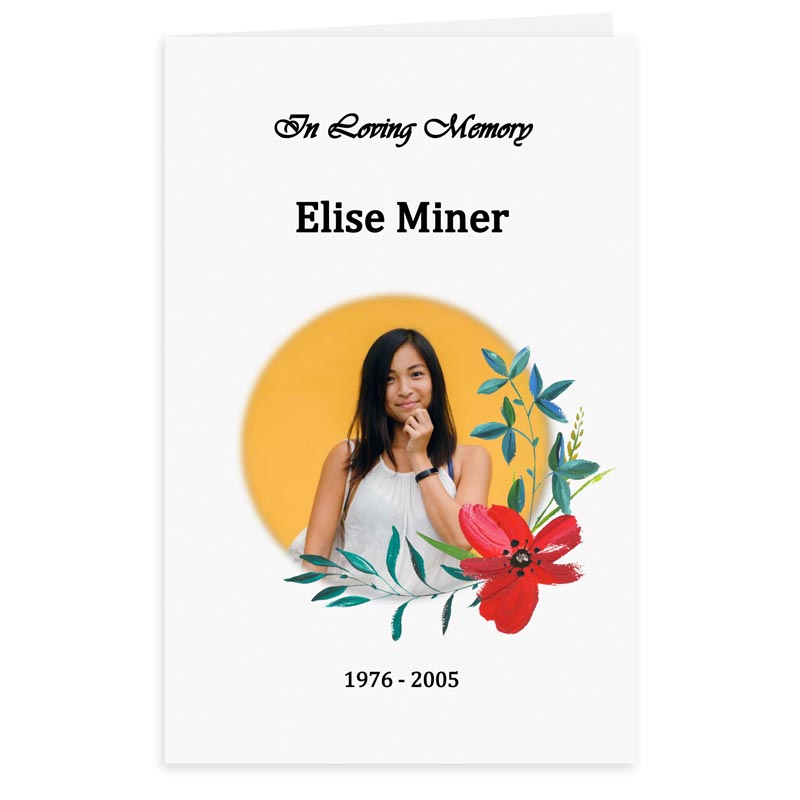 This elegant funeral flyer template has a cute modern look and is easy to use. The red flower adds a bold stroke, yet the watercolor style of painting softens the effect.
Like the others we've put together for this list, this template is designed for you to print on the front and back of a standard sheet of printer paper (though you'll want to get some nice, thick, glossy paper for these programs).
If you have basic knowledge of Word, you'll be able to create your own funeral program quickly and easily, then print at home.
4. Sunset Memorial Service Program Template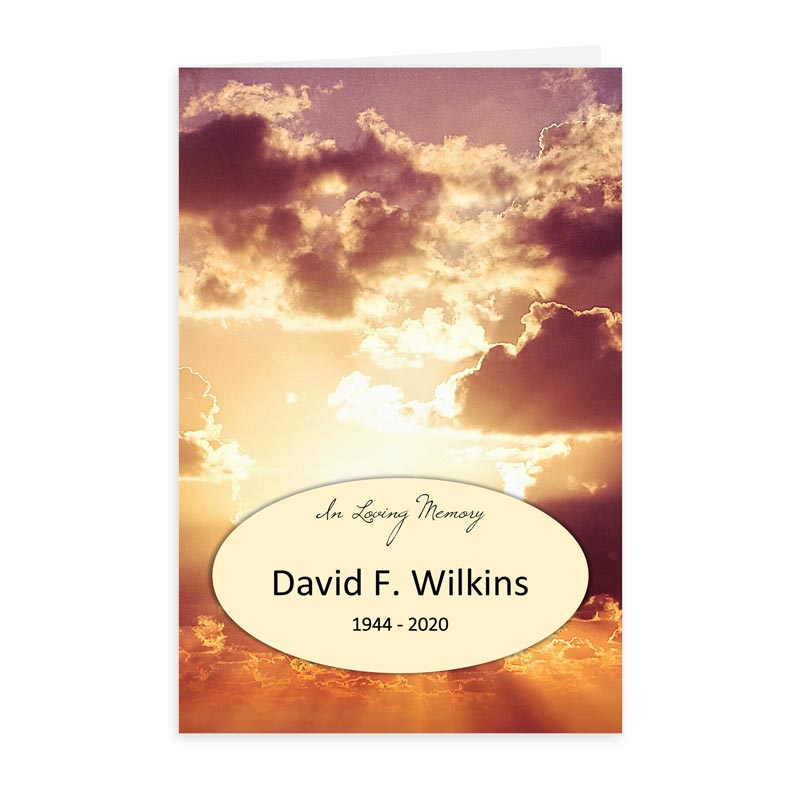 This is one design that can work for anyone, young or old, male or female. The sunbeams beckon your thoughts to the heavens in memory of your loved one. The text is easy to edit – just click, replace with your loved one's details, and move on to the next page.
This is a four-page bifold template that prints on a single 8.5″ x 11″ sheet of printer paper. Printed on both sides then folded in half, you create a funeral program that is 8.5″ tall and 5.5″ wide, with front, two inside pages, and back.
5. Elegant Photo Funeral Service Program Template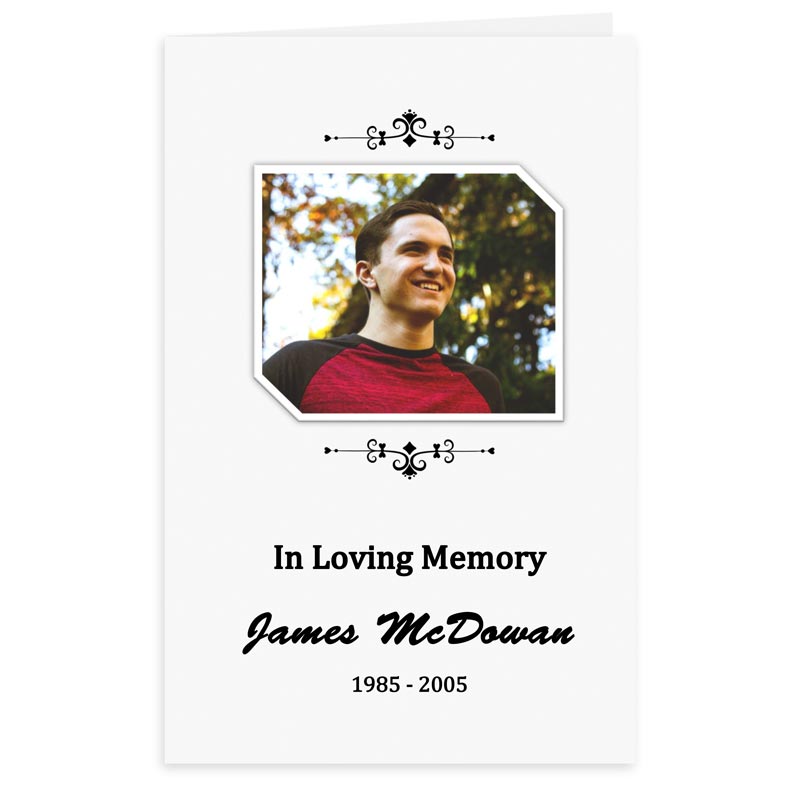 Sometimes the simple things are the best. This simple yet classy funeral program template is free to download and easy to edit in Microsoft Word.
6. Picture Frame Free Funeral Program Template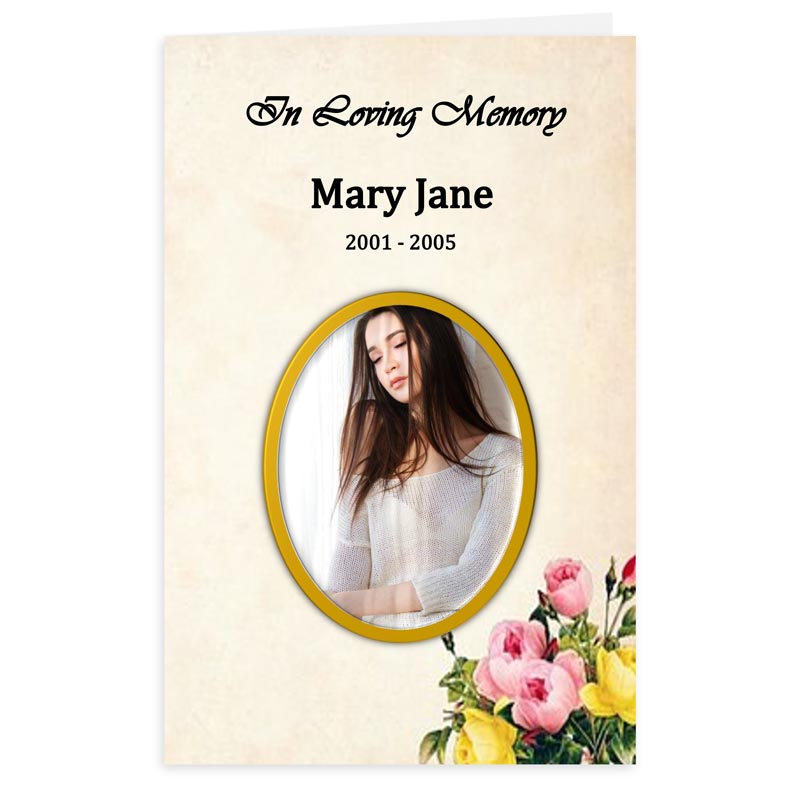 Here's one for the flower lovers. This lovely design features an oval-framed picture area along with a bouquet of florals in bright colors.
For helpful tips to write your funeral order of service details, check out our in-depth guide!
A Few More Free Templates
Be sure to browse all the free funeral program designs we have available! There are many more designs from which to choose, all free and ready to download.
Here are a few more free templates from other websites. The availability is subject to change, since they're not ours but are from other sources.
1. Twelve Two Free Funeral Program Templates from My Wonderful Life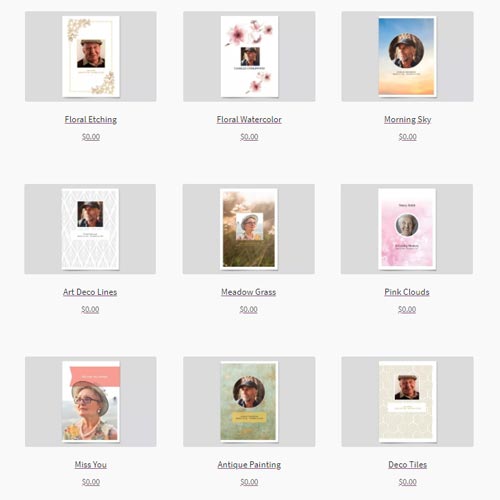 **UPDATE** My Wonderful Life is only offering TWO free templates, not twelve as they used to do.
Brought to you by My Wonderful Life, these simple and elegant funeral program templates are attractive, easy to download, and easy to use. You can see some of the basic design themes in the images above. Here is a brief description of the steps needed to make one of these memorial service templates a reality:
Instructions:
Choose your design.
Click on the design of your choice, it will take you to that "product" page
Add to cart, proceed to cart, go to checkout
Enter your information and complete checkout (there will be no charge, and no need to enter credit card information)
Download the free funeral program template(s) you chose
This will download a Microsoft Word file with the program template
Edit the document: Swap out photos, enter funeral information
Print. Refer to your printer manual for double sided printing instructions, or get the file to your local printer via USB drive or email for professional printing
2. Two Free Funeral Service Templates from Love to Know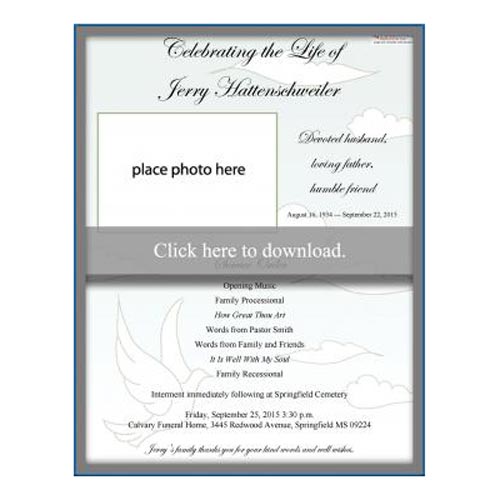 Love to Know offers these two free downloads, both of which are editable PDF documents. The first is a simple one-page program, and the second is a folded design that provides four 'pages' for you to use.
3. Eighteen Free Funeral Templates from Elegant Flyer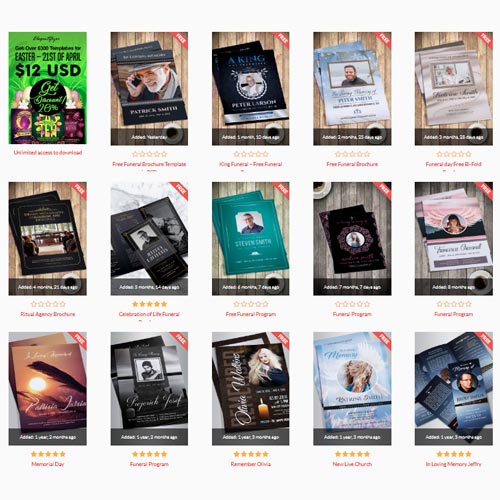 I'll have to be honest, these are nice but they are not my favorite. The Elegant Flyer site requires you to create an account, which took me an oddly long time to do.
Also, their templates all require Adobe Photoshop, so you might be limited there. And lastly you're supposed to provide attribution to the template's author (meaning, you have to say on it somewhere, "template by Elegant Flyer."
Still, the designs are modern and attractive. If you have Photoshop, the PSD files are easy to use. Overall, a good collection of freebies with some quirks.
Tips for Making Your Own Funeral Service Program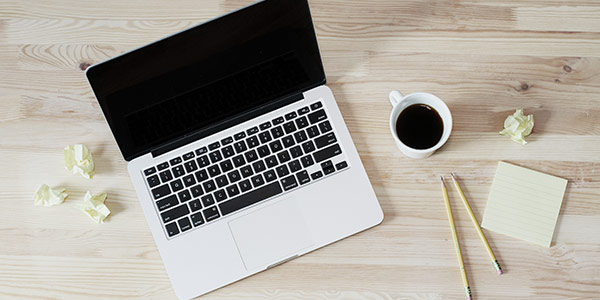 Here's a simple outline for how to put together your own funeral service program:
Page 1: The first page starts with In loving memory of and is followed by a photo. Below this are the birth and death dates followed by the date and location of the service.
Page 2: The second page features a biography of the deceased. This is where you provide highlights of the important aspects of the deceased's life. Use the example provided within the template as a guide.
Page 3: The third page provides the service order.
Page 4: The final page of the program is the family's opportunity to thank those who came to pay their respect. You can also add a comforting Bible verse, a favorite saying, or one of these 33 Inspiring Life Celebration Quotes.
Using these guidelines, you can easily create a simple program or bulletin in a Word document, then print it out yourself.
Or get it done by a quality online printing source – we like Prints of Love, they have great quality, excellent service, and fast turnaround times.
Premium Funeral Templates
Ok, we know you're looking for something free. And the templates above are the best freebies out there. But sometimes it's worth it to pay a few bucks and have it done – very well – for you.
Let's take a look at some premium (aka paid) templates that you may find surprisingly affordable, freeing you up to do more and with less stress.
Some of these premium funeral program templates are downloads for you to customize yourself, others are print ready so that all you need to do is order, send over the details, and receive a file that is ready to take to the printers.
Prices and availability are all at the time of this posting; please leave a comment to let us know if you see any changes. Several of these products are from our affiliates, which means that we get a small commission if you choose to purchase any of these templates.
1. Blue Sparkle Memorial Invitation & Order of Service Funeral Template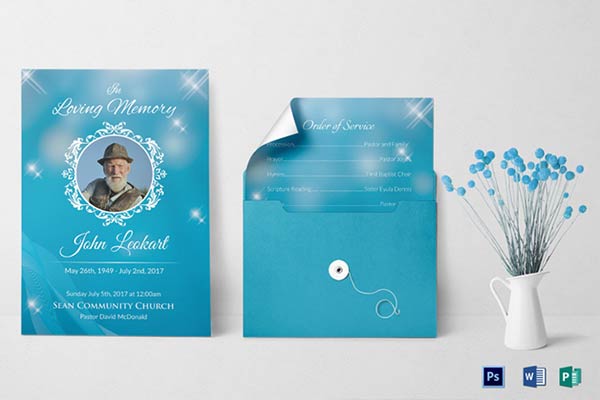 Cost: $15
What you need: MS Word, Photoshop, or Publisher. Also works with Google Docs. Immediate download includes instructions, simply fill out each element with your information then take it to the printers.
This featured product is sponsored by Best Templates. An attractive sky blue scheme that works for anyone, this front-and-back funeral card template is easily customizable and can be used as both the invitation and the order of service program. Your download will include suggestive text so you can see how it is best laid out and prompt you with ideas on how to fill it out yourself.
A bonus with all Best Templates products is that you get full support with technical issues plus an account that enables you to have lifetime access to your download. Of course we hope you would never need to use a funeral template again! But if you do, you have the peace of mind knowing that you can use this template should the need arise.
2. Pink Blossoms Memorial Invitation & Order of Service Funeral Template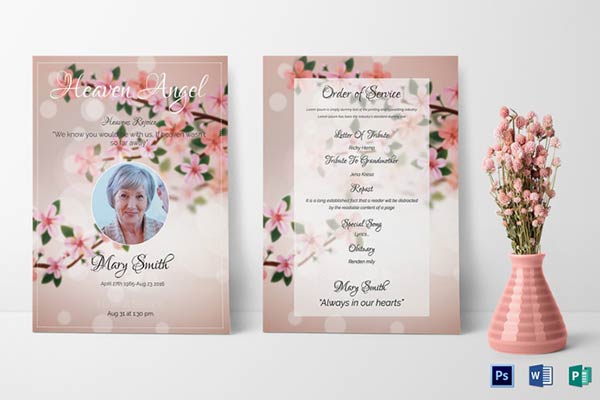 Cost: $15
What you need: MS Word, Photoshop, or Publisher. Also works with Google Docs. Immediate download includes instructions. Simply fill out each element with your information then take it to the printers.
Another gorgeous and easy-to-use option from Best Templates (sponsored). This one features a soft pink cherry blossom background with lovely fonts and can be used as both an invitation and the program for the funeral service itself.
3. Print Ready "The Story" Personalized Funeral Program for a Woman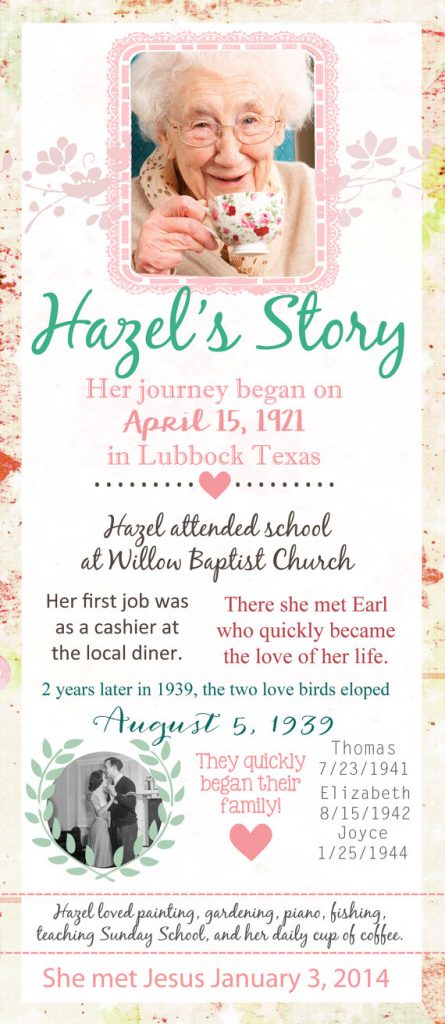 Cost: $29.99
What you need: Order the item, send the personalized info, proof it, then take the file to the printers.
Easy, attractive, and modern, this program will be delivered to you as a print-ready digital download that you can email or upload to the printers and you're done. This is one of the most attractive and fun programs we've found, and it's surprisingly affordable.
4. Print Ready "The Story" Personalized Funeral Program for a Man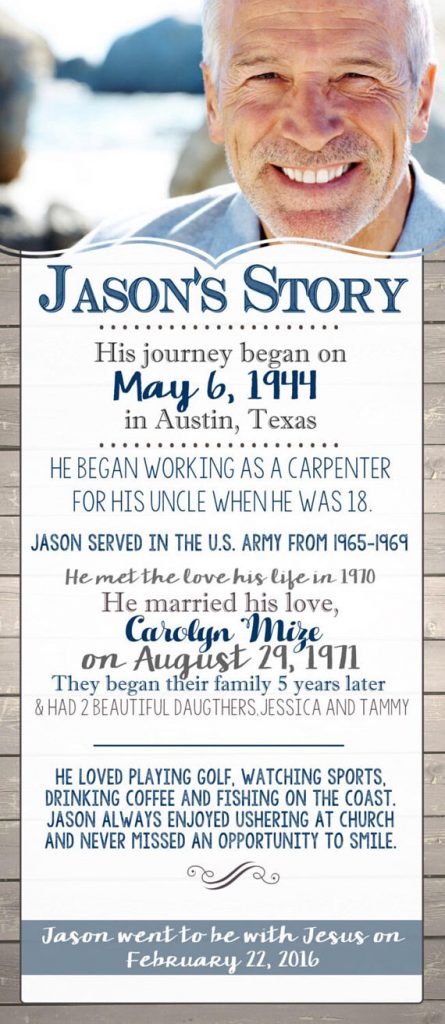 Cost: $29.99
What you need: Order the item, send the personalized info, proof it, then take the file to the printers.
From the same graphic artist as the one above, this one is designed for a man with the colors and style to match. Just contact the artist with your details, and they will customize the funeral program for you and send you a print-ready download.
5. Black & White Heart Funeral Program Template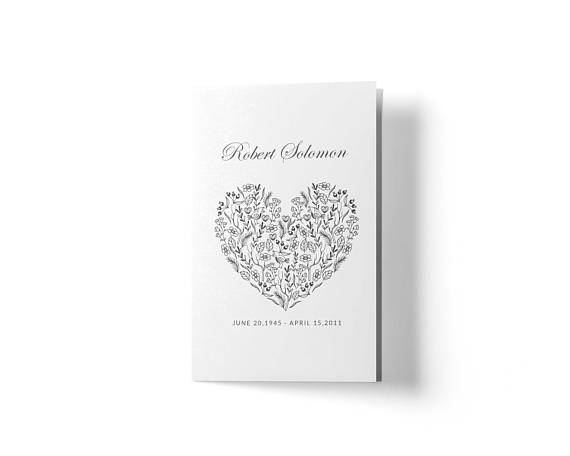 Cost: $13.60
What you need: Any program that can open and edit a Word document. Ability to edit the document to personalize it, and then take it to the printers or print at home.
This minimalist funeral program template is a digital download from Etsy which you can edit and personalize in Word. Since the program design is in black and white, this one is ideal for printing at home. You can, of course, change the colors, sizes, fonts, and text, but for just a couple bucks this has it all ready to go for you, and looks great. Features include a cute flowery heart, modern minimalist design, and elegant fonts.
6. Dark & Elegant 5×7 Funeral Program Card Template – PSD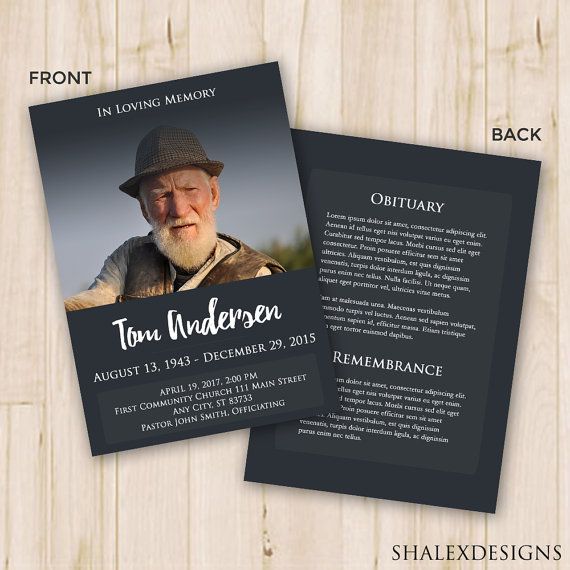 Cost: $6.50
Computer Program Needed: Photoshop, and you'll need a basic knowledge of how to use it
This affordable download is for PSD (Photoshop) files for the front and back of a printable 5×7 funeral program card. It uses free fonts and includes a list so you can easily download what you need. With a basic knowledge of Photoshop, you'll be able to customize this funeral program in minutes. To print, take the file to the printers and they will take care of the rest.
7. Tri-Fold Funeral Brochure Template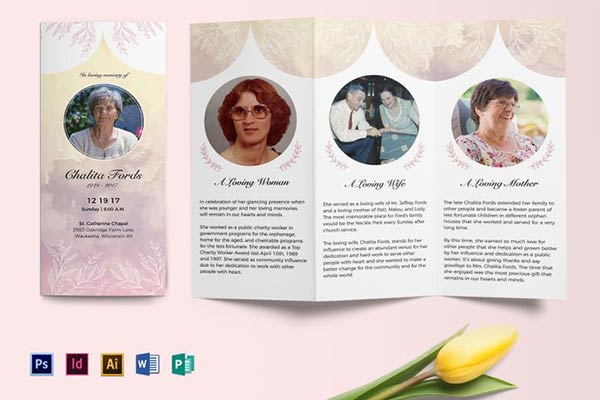 Cost: $18
What you need: Illustrator, InDesign, MS Word, Photoshop, or Publisher. Also works with Google Docs. Immediate download includes instructions and support. Simply fill out each element with your information then take it to the printers or print at home on quality paper with most standard color printers.
Here is a beautiful tri-fold template from our sponsor, Best Templates. This tri-fold funeral brochure template is perfect for telling a story at the funeral service, and boasts plenty of room for multiple photos. The 8.5 x 11 size (standard printer paper dimensions) means that you can easily print at home should you desire.
---
Check out all the beautiful premium funeral program templates available at Best Templates, all of which run in the $14-20 range and are very easy to use. They were kind enough to send me a few samples and I can confirm that (with basic knowledge of Word, Photoshop, or Illustrator) you can easily personalize a very attractive funeral program in minutes.
Remember to Pin it for later: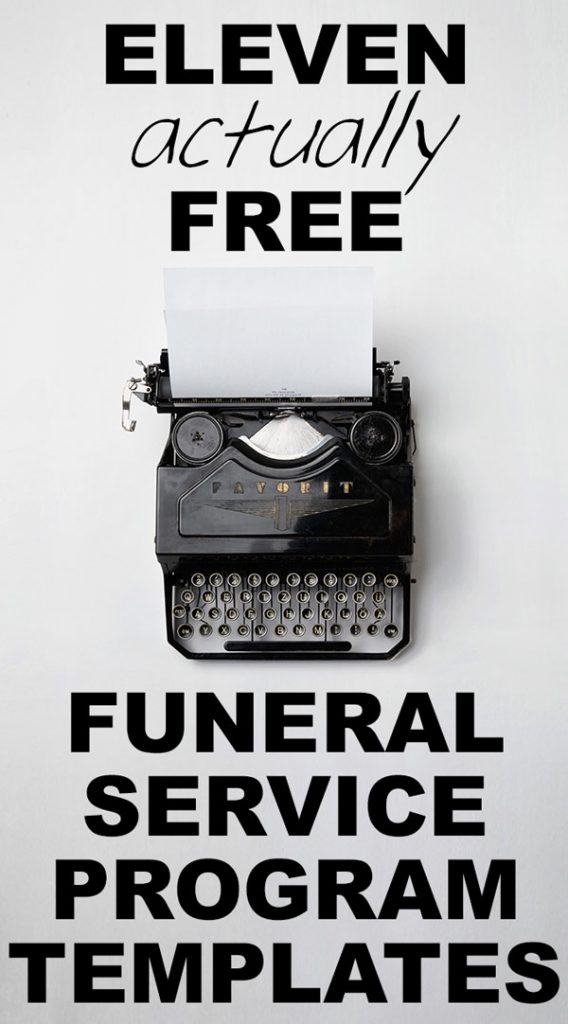 What are some of the free funeral resources you've found?