As you plan and finalize the funeral for your loved one, you'll find peace of mind once you decide on the order of service.
If you're planning your own funeral, you get to "do it your way." If you're planning a funeral for your loved one, it can be tough to know what to do, what's expected, what's appropriate, and what your loved one might have wanted.
Not to worry! Today we'll show you everything you need to know about the funeral order of service.
Get your thoughts down on paper (and out of your already-overcrowded mind!). Check off another box on your to-do list of funeral arrangements. Soon, you'll be ready to print the funeral programs and have that part done.
The Funeral Order of Service
The funeral order of service is also sometimes referred to as a memorial folder or funeral program.
No matter what you call it, it's all pretty much the same thing: The outline for what happens during the funeral service itself, typically printed on a flyer, card, or folded brochure.
If you create and print your own funeral order of service, this will not only allow you to personalize the service, but it will also save money on the final expenses. (Especially if you use one of our free or inexpensive templates.)
What elements should you include? Prayers, eulogies, songs, open mic, tributes, slideshows… the options are endless. Below we have put together some examples of numerous types of services along with helpful and printable templates.
What Should Be Included in a Funeral Order of Service?
First, let's talk about the actual service itself. Here are the most common elements; you do not need to include all, and you are welcome to adapt them to suit your loved one and the way you want to honor their memory.
We will also note what you should consider including in the printed program or funeral folder.
Welcoming Message/Opening Prayer. Name who will give the welcoming message and/or prayer.
Songs. List the titles of songs played or sung, and be sure to either print or project the lyrics (or include hymnal page numbers) so the congregation can sing along if applicable.
Instrumental Music. This can be done by live musicians or from recordings. Prelude, postlude, a time for reflection and silent prayer, or a slideshow can all be opportunities for music.
Scripture Readings. List the Scripture references and who will do the reading.
Sermon. If there will be a sermon, include the pastor's name and Scripture text.
Eulogy. Name (and sometimes relation) of person giving the eulogy.
Obituary. Sometimes the obituary is read in place of or in addition to the eulogy.
Tributes/Open Mic. Include a few brief tributes – from a family member, a coworker, a friend, etc. Keep each one brief and stick to one or two short stories or messages of appreciation. This can be preplanned or "open mic" style.
Slideshow. This can be photos and/or videos, typically set to a favorite song or two. If the service is too long, you may want to play this on a loop during the reception instead.
Viewing. If this is an open casket funeral, it is traditional to include a time for family and friends to view the body, say farewell, and pay their final respects.
Closing prayer/remarks. Name of person saying the closing prayer and closing remarks.
Thanks and acknowledgements. It is a good idea to publicly thank all those who volunteered to help with the service and who have extended their support to the family throughout this difficult time.
Benediction. This is a blessing spoken over the decedent and the mourners at the end of a funeral service.
Dismissal. Congregation will be dismissed to go to the cemetery for burial, or to a reception. Provide the details including addresses. If there is a procession, they will be given directions to line up in the procession.
Again, you don't need include every one of these elements. The funeral would be way too long! Instead, choose the events that you think will best honor your beloved, while trying to keep it simple.
Related: How to Write a Funeral Announcement
What Should Be Included in a Funeral Program?
Now let's talk about the printed document, the funeral program. Here's what most printed programs or flyers typically feature:
Name. Include first, middle, maiden, and last names, optionally nicknames as well.
Dates. Full birth and death dates are traditionally included, though you can keep it simply and just do birth and death years.
Photo. Many funeral program templates offer space for you to include your loved one's photo.
Service Date & Location. Where the funeral is held (the address) along with the date and time.
Obituary. It is common to include a brief biography of your loved one. This can be the full obituary, an abbreviated version, or something you write specifically for the funeral program.
Funeral Elements. This is the order of service, see above. Briefly list each element, optionally followed by the name(s) of those who are leading, serving, speaking, or participating in that event.
Officiant. Name of the person leading the service, often a pastor, father, rabbi, friend, family member, the funeral director, or a professional celebrant.
Pallbearers. List the first and last names of the pallbearers (who carry the casket) along with any honorary pallbearers.
Musicians & Vocalists. First and last names along with names of songs.
Speakers. This includes anyone who gives a reading, leads a prayer, offers a eulogy or tribute. This is typically included in the order of service, for instance "Eulogy – Dan Thompson (brother)".
Cemetery, Committal, and/or Procession. This notes where the burial (committal) will be, Include the address of the cemetery and procession information. Also specify whether the burial is private ("The family will join the reception after a brief, private committal service") or public ("All are invited to come in the procession, which will be at…").
Reception. Invite everyone to the reception. Include type (finger foods, dessert, potluck, lunch will be provided by [restaurant/caterer], etc) as well as the address and time.
Funeral Order of Service Outlines
Here are some examples of what your order of service might look like. Whether you are having a traditional funeral, a non-traditional "Celebration of Life" event, a graveside committal, a scattering ceremony, or any other type of memorial service, you'll find appropriate examples and creative ideas here.
Sample Funeral Service Order #1
Musical Prelude
Welcome
Opening Prayer
Scripture Reading: John 14:1-3
Hymn: Abide with Me
Reading of Obituary
Eulogy
Brief Tributes
Thank You and Acknowledgements
Viewing of Deceased
Closing/Benediction
Exit Music (Tip: Make this song a little more upbeat)
Dismissal
Sample Funeral Service Order #2
Welcome
Opening Reading: A Song of Living, by Amelia Burr
Music Selection: Dance with My Father by Luther Vandross
Formal Readings:

Scripture: Psalm 23
Obituary
A Favorite Poem

Moment of Silence for Prayer or Reflection
Eulogy
Informal Tributes
Thank You and Acknowledgements 
Viewing of the Deceased
Closing
Sample Celebration of Life Service Order #1
11:00-12:00: Brief Reception. Guests will arrive and mingle. Drinks are served. The musicians play soft instrumental versions of the decedent's favorite songs or hymns. Set up photo memory boards and keepsakes around the room.
12:00-1:00: Tributes. Guests will be allowed to share brief memories and stories with everyone. Say a final farewell to the deceased.
1:00-2:00: Reception. Guests will be invited for finger foods and beverages. Place cards at each table for attendees to write down their favorite memories.
2:00: Dismissal. Express thanks to all who attended, acknowledge those who contributed or helped the family, then dismiss the guests.
Sample Celebration of Life Service Order #2
1:00-1:30: Welcome.
Serve drinks or appetizers, or have a memorial activity (signature poster boards, write goodbyes to place in a bottle or memory jar, etc).
1:30-1:45: Seating.
Invite all guests to be seated in the chapel.
1:45-2:30: Service.
Opening remarks, Eulogy, Readings, Brief Sharing Time, Song, Prayer, and Dismissal.
Memorial Service Outline
Greetings and Eulogy. Open with a greeting and work the eulogy into it.
Hymn. Sing a favorite hymn. Provide the words.
Open Mic. Provide a microphone for friends and family to share memories, funny stories, and special tributes.
Scripture Reading. Read some favorite passages from the Bible. Try to pick something uplifting such as Romans 8:38-39, Psalm 23, or Matthew 11:28-30.
Music. The closing music can be uplifting such as Heavenly Day by Patty Griffin, Go Rest High On That Mountain by Vince Gill, or I Can Only Imagine by Mercy Me.
Closing. After a closing prayer, dismissal.
Graveside Order of Service Outline
Scripture
Prayer
Reading of Obituary
Brief Sermon
Benediction
Scattering Ceremony Service Outline
Opening Words
Prayer
Reading of Obituary
Short Remembrances
Scattering of Cremated Remains
Closing Remarks and Prayers
Families often get creative at a scattering ceremony, while still keeping the overall event brief and simple. Here are some ideas of what to say and do.
Funeral Order of Service Programs & Templates
Let's take a look at some predesigned funeral program templates. These are elegant, customizable brochures that you can easily design online and print at home, online, or at a local print shop.
A funeral program is a beautiful keepsake from any service. This may be the only remembrance that people have of their loved one. I have seen many people that collect these and pass them on to family members.
1. Timeless Green Funeral Program Template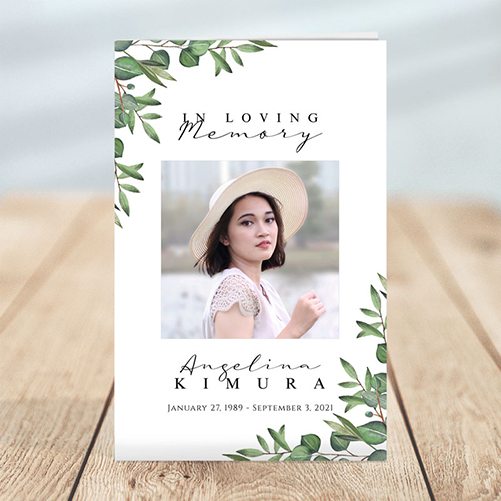 2. Sunflower Fields Simple One Page Funeral Program Template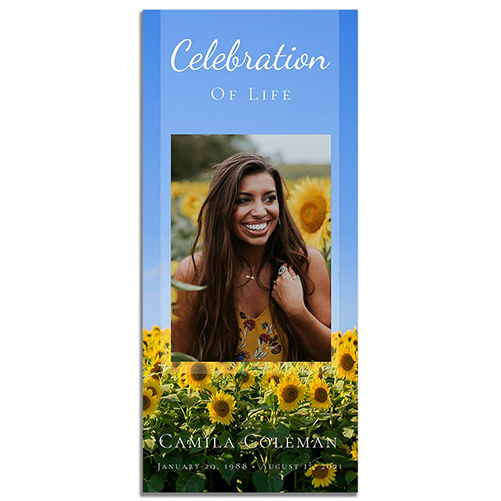 3. Vintage Rose Funeral Program Template (8 Pages)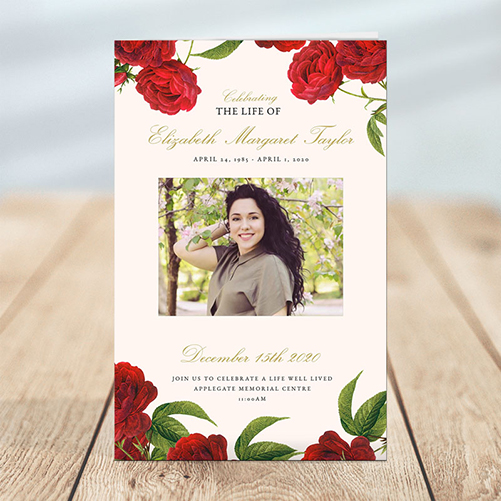 4. Serenity Funeral Program Template (8 Pages)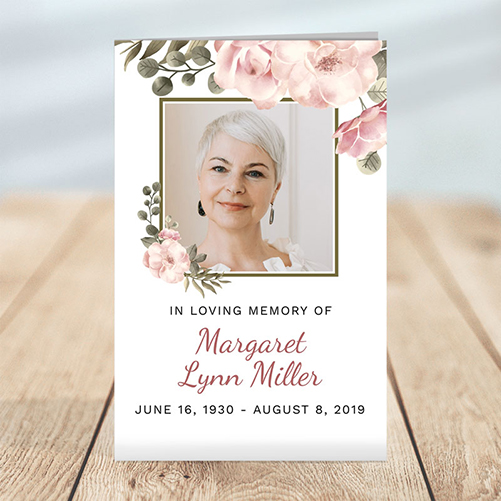 5. Leaves Funeral Program Template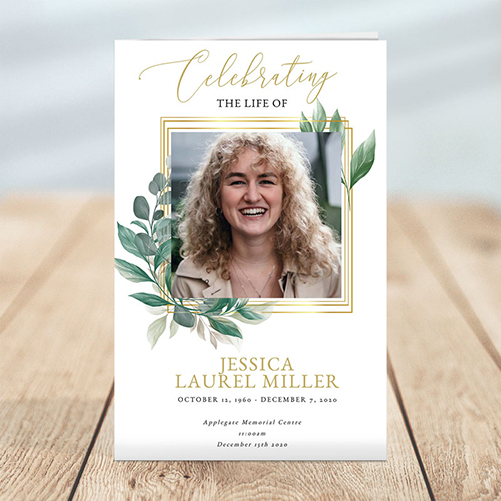 6. Military One Page Funeral Program Template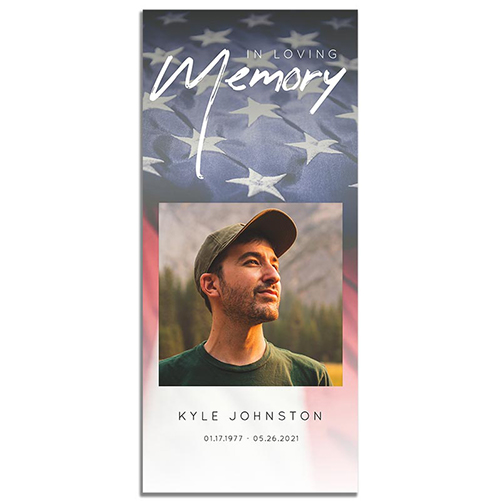 7. Blue Floral Funeral Program Template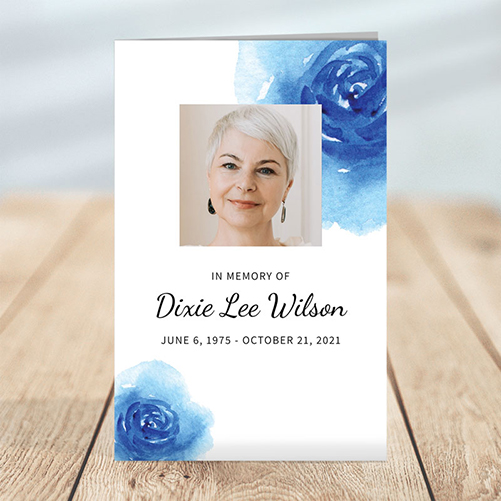 8. Soft Purple Floral Simple One Page Funeral Program Template
9. Cross & Leaves Funeral Program Template (8 Pages)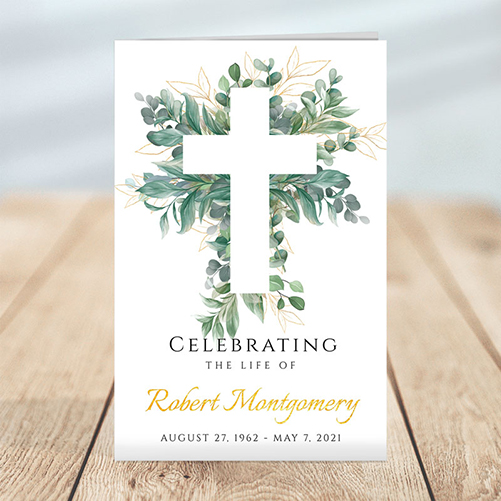 10. Portrait Photo Funeral Program Template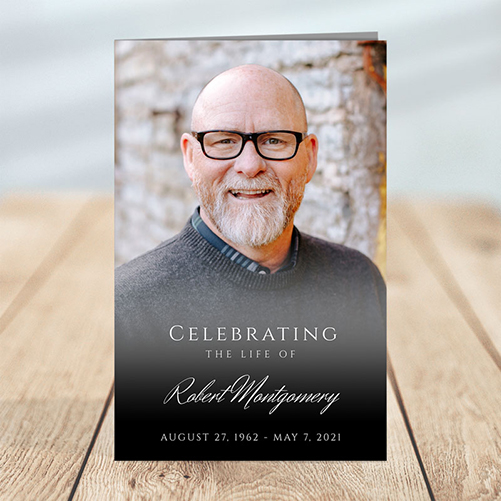 Go through our complete funeral program guide to decide on your order of service, songs, and readings you would like to include. Ask friends, family members, and clergy to help lead various elements. Then choose your funeral program template, personalize it, and print it.
You're ready to go with the perfect service to honor your loved one!
Read Next: The Funeral Process, Explained by a Funeral Director