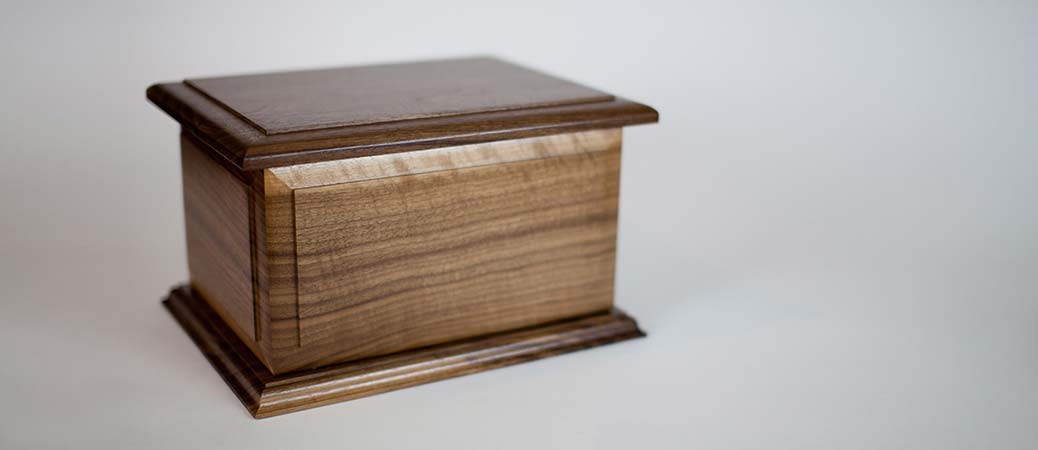 When you're searching through all the wood cremation urns for an heirloom quality memorial to honor your loved one, you'll find lots of stuff out there. But it might be difficult to tell which items are the enduring type that your family will treasure for generations.
We've been a trusted source for premium wood cremation urns online for the past 16 years. In that time we've seen many products and designs come and go, but there are many of our best that have truly stood the test of time.
Most of the classic wood cremation urns listed below have been bestsellers for over a decade. There is also one new design (the Cardinal, released in 2015) and two urns that are new to us from a talented woodturning artisan (the Pure and Tranquility urns, added to our collection in February of 2016).
These newer urns have the same enduringly classic qualities as our other longtime bestsellers, and we have every reason to expect them to be treasured by families for years to come. So without further ado, here are our top ten most popular classic wood cremation urn designs. All the urns below are made in the USA from solid premium wood.
10 Classic Wood Cremation Urns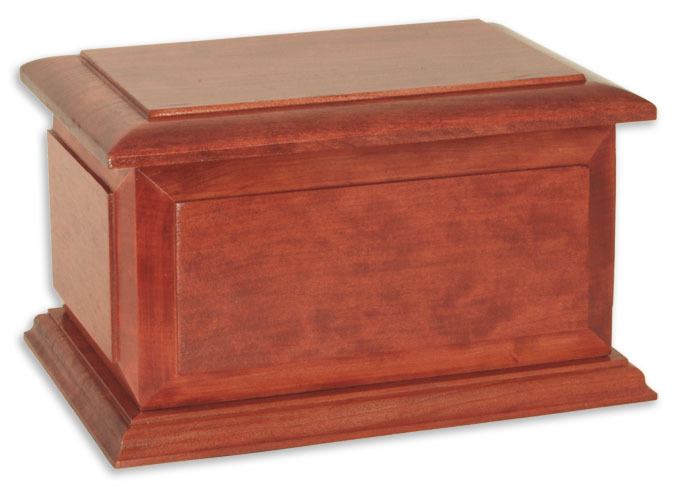 The Boston II Wood Cremation Urn is the epitome of a "classic" urn. The woodworked design is reminiscient of classical architecture from antiquity. The urn has proven history of approval with the many families who have selected this urn over the years. It is a top seller in both standard adult and companion urn sizes.
Wood options include Cherry, Walnut, Oak, Cedar, and Mahogany.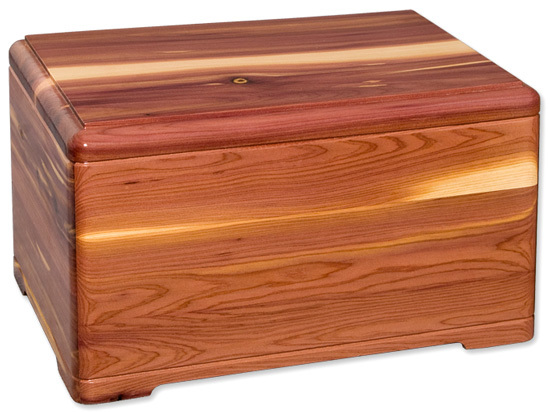 The Cedar Wood Cremation Urn is made in the USA with aromatic Eastern Tennessee cedar. The rich textures and patterns of the wood grain, the elegance and classic simplicity of the box shape, and the subtle yet enduring aroma of cedar wood make this memorial urn a premium choice.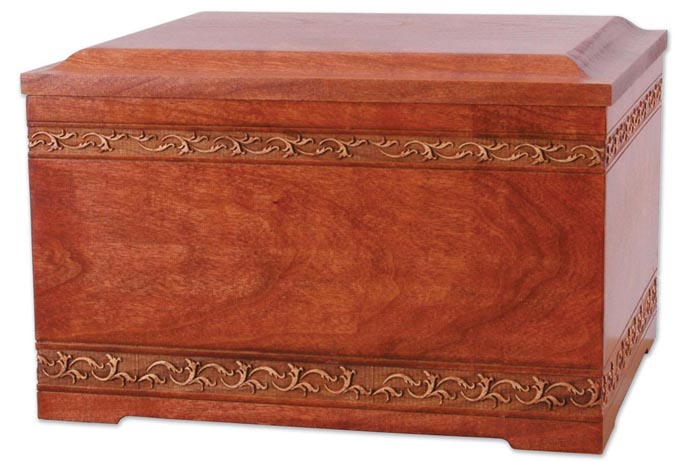 The Cherry Wood Urn with Sculpture Art Carving presents refined simplicity and premium woodworking. A beautifully crafted cherry wood box with a rich cherry stain, this urn is accented with a gorgeous laser carved design which wraps the entire piece.
This design is available four ways (read here for more info on each style):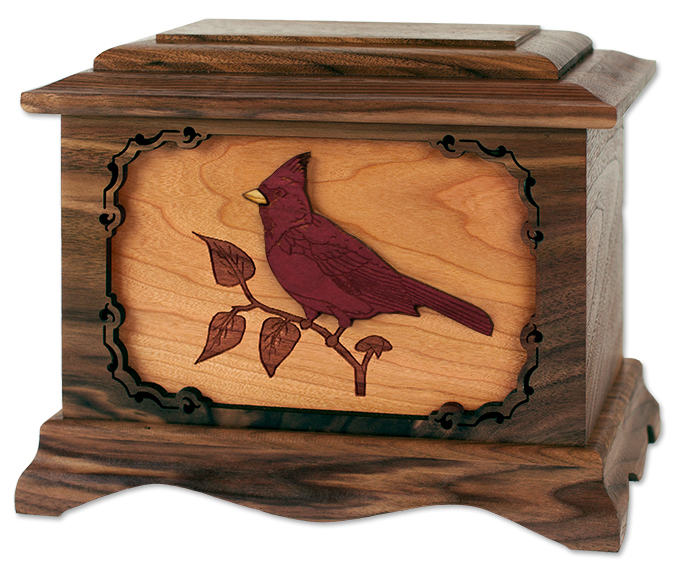 The Rosewood cardinal bird rests on a laser etched leafy branch, standing out from the background of natural cherry wood. Shown in Walnut, but also available in Oak, Maple, or Mahogany, the Cardinal Dimensional Inlay Art Urn is a newer addition to our longstanding line of 3-dimensional inlay art urns.
Also available in a simpler maple wood box with a traditional inlay. This second style (available here) is also very popular, narrowly missing this list.
If overall popularity were the measurement, this seacoast memorial urn would top the list. Since we began offering these urns in the early 2000s, the Lighthouse Cremation Urn has consistently proven itself with an enduringly classic design, detailed carvings of rocky ocean shoreline and lighthouse, and perfect composition.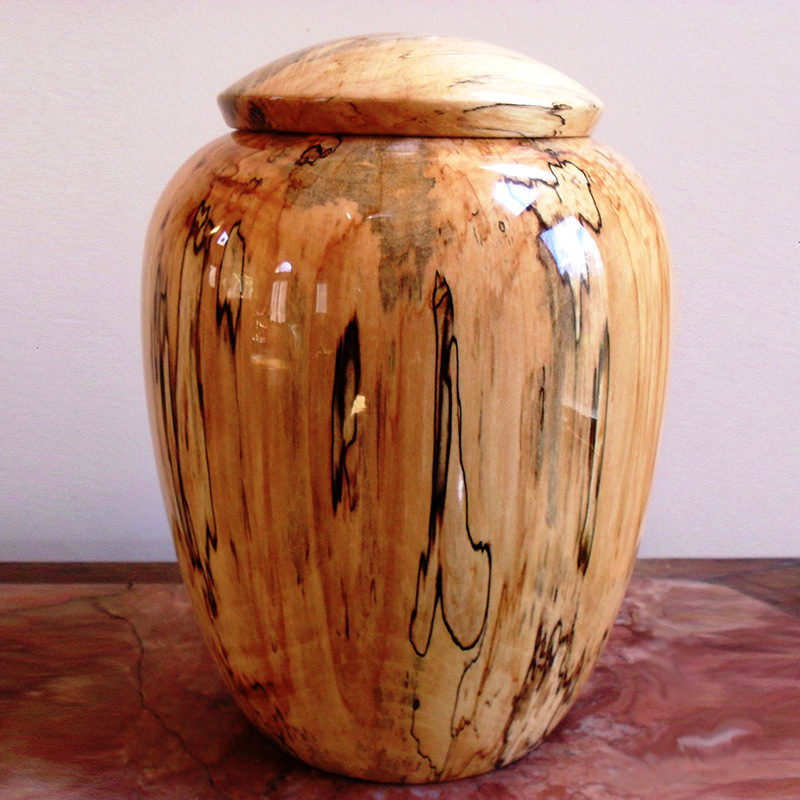 Individually crafted and hand turned by an artisan in the Carolinas, our Hand Turned Cremation Urns are a traditional design new to our collection. Proving to be very popular in the maple (as pictured above, also available in cherry wood), the Pure Hand Turned Wood Cremation Urn is the ideal combination showcasing the beauty of nature alongside skilled woodcraft.
This item is also made in Companion Urn size in both maple and cherry.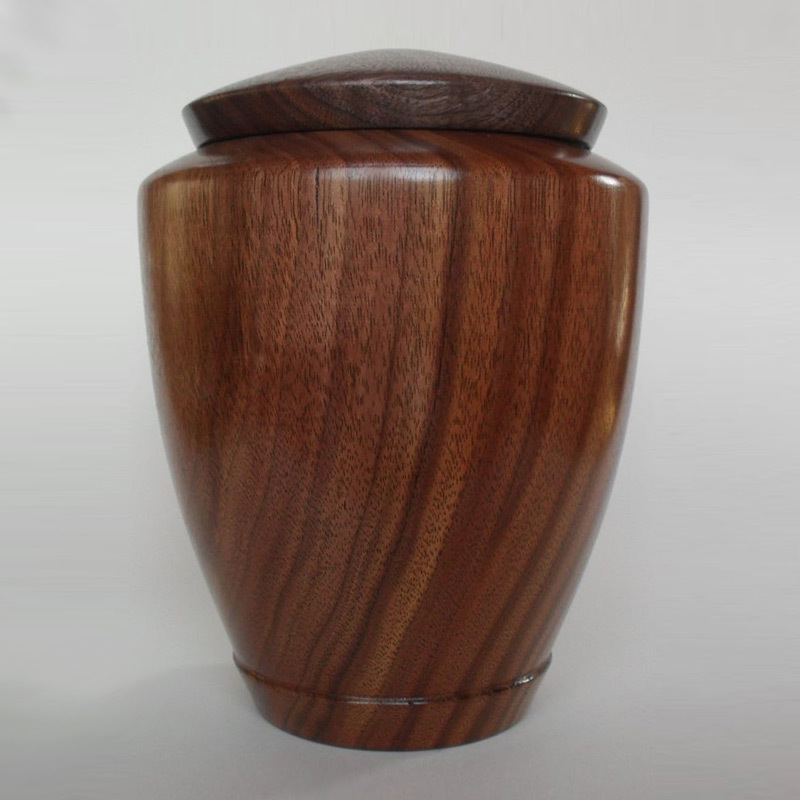 Same comments for this one as the previous hand turned urn – the Tranquility Hand Turned Wood Urn presents a slightly different shape, available in Walnut and Maple with options for standard, companion, and small 100 cubic inch sizes.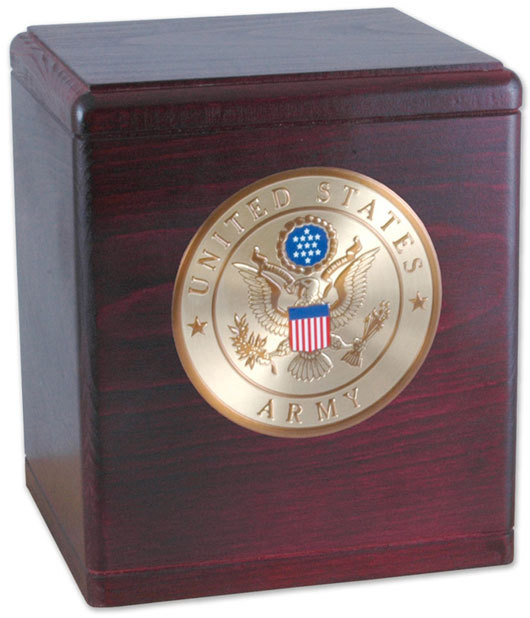 The Freedom Wood Military Urn is made with the same premium craftsmanship as all our American-made products. The simple design is accented with a military service emblem that honors your loved one's service in the Army, Air Force, Navy, Marine Corps, or Fire Department. Affordable yet elegant, this is a true classic wood cremation urn.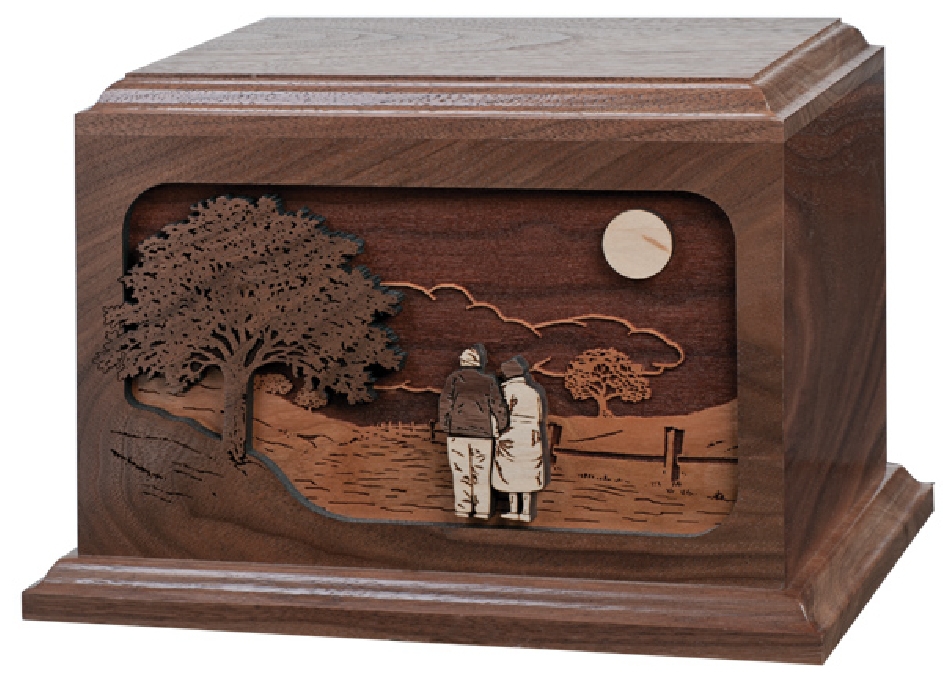 The Together Again Companion Urn is far and away our #1 companion urn. Made in the USA in your choice of Walnut (as pictured above) or lighter Oak wood, the inlay art scene is composed in 3 dimensions with a classic "Road Home" scene featuring a loving couple walking arm in arm on their final journey home.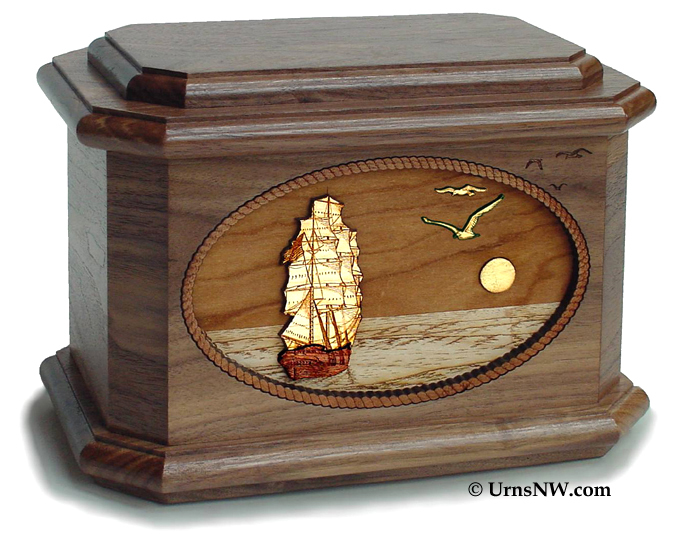 Sailing off into the sunset on an old-fashion masted ship, this is the perfect image to close out our list of enduringly classic wood cremation urns. The Sailing Ship Dimensional Inlay Art Urn is available in this elegant "Octagon" shape. As with most of our 3D urns, this one can be made in Walnut wood (as shown), Oak, Mahogany, or Maple.
We also offer a variation in "portrait" style orientation, a taller wooden urn which features a larger sailing ship inlay. Available here.
More Wood Cremation Urns
So there you have it! 10 enduringly classic wood cremation urns, proven bestsellers that showcase premium craftsmanship and gorgeous solid wood.
If none of these seem like the right fit, we have an extensive collection of wood urns so you can browse until you find the perfect wood urn for your loved one. Check out the links above for some of the popular categories, or see the link below for our entire selection.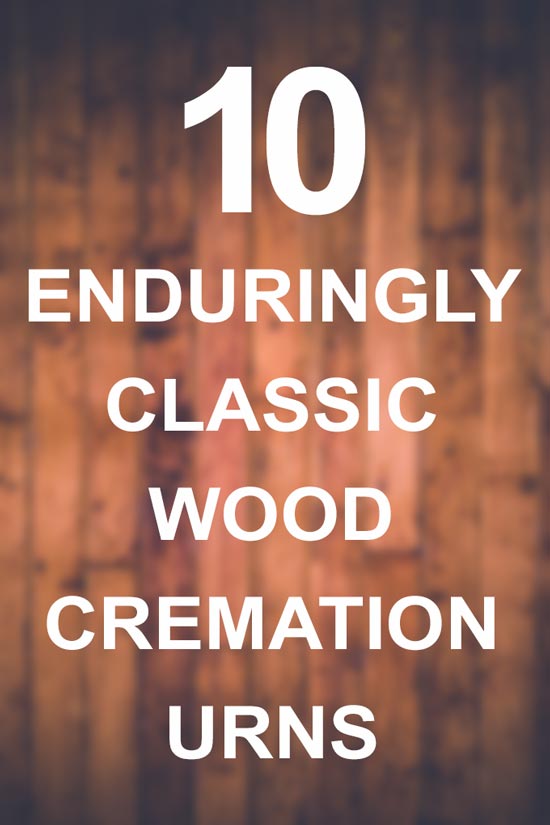 (Visited 1,107 times, 1 visits today)