Tealight cremation urns provide a way to subtly display your loved one's remains in a way that truly honors their memory. Each time you light the candle, you can visualize the way they brought so much beautiful light into your life.
Each of these tealight urns hold at least a small amount of cremated remains, or "ashes," typically in the lower section of the urn. You will need to provide your own tealight candle, but each of these memorials includes a candle holder to properly display and light the tealight of your choice.
Oh, and if you want to see more memorial candle ideas that aren't urns, read 21 Ways to Light a Candle for Someone.
Our website is supported by our users. We sometimes earn a commission when you click through the affiliate links on our website. See our privacy policy & disclosures for more information.
Tealight Cremation Urns to Light a Candle in Memory of a Loved One
We will list these beautiful memorial candle urns in order of size. Full or standard sized urns will hold all the remains of an average adult, while the smaller urns are ideal for pet remains or for use when dividing the ashes. The "keepsake" size is typically used for a very small amount of remains, often kept when the remains are buried, scattered, or kept by another family member.
Standard size (~ 200 cubic inches)
Small or Pet size (~ 20-100 cubic inches)
Keepsake size (~ 1-40 cubic inches)
STANDARD-SIZED TEALIGHT CREMATION URNS
Standard adult sized cremation urns with a capacity of roughly ~ 200 cubic inches, able to hold the cremated remains of an individual who weighed about 200 lbs. There are very few full-sized tealight urns on the market; most are smaller sizes of pet or keepsake urns. Three of the four are the only 200 cubic inch urns we could find, and the fourth is just 125 cubic inches so almost more in the "small" size category.
1. Swirling Ceramic Sculpture Art Tealight Cremation Urn
195 cubic inches
A full-size adult urn (195 cubic inches) in a beautiful ceramic sculpture form. A tealight candle is placed in the designated area inside the oval, brightening the piece and accenting the unique swirls with lifelike movement.
Above, we show the stunning "Craquelure" finish, with seemingly ancient crackles throughout the piece. Other finishes and colors include Dark Sand, Black Gloss, Beige Gray, and more.
Optional smaller keepsake urns are available to match, these do not include a space for a tealight but perfectly compliment the full-size original. Made in Belgium but can ship very quickly to the USA and other parts of the world, typically within just a few days.
2. White and Gold Brass Tealight Cremation Urn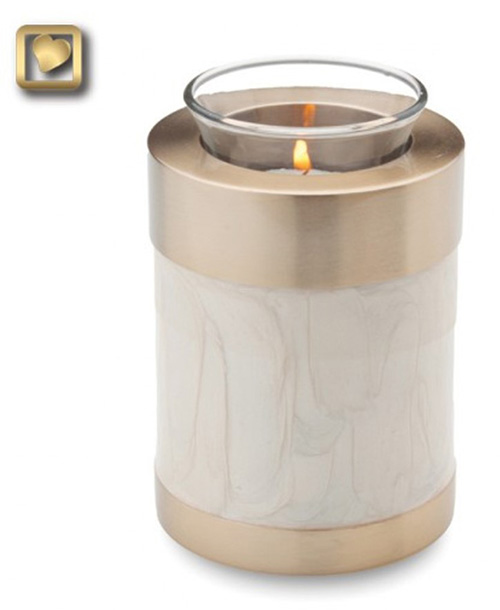 20 cubic inches
This lovely little tealight urn would make an excellent choice as a keepsake to be kept by you alone, or shared among family members. People choose keepsake urns for a multitude of reasons. Some wish to keep back a small portion of ashes and scatter the rest.
Others choose to split the cremains in multiple, small keepsake urns for the siblings or children. Whatever the reason, tealight urns are a popular choice. This beautiful example has a brushed brass and pearlescent exterior and holds just a small amount of ashes.
3. Crystal Tealight Urn
3.5 cubic inches
Add a favorite photo of your loved one to this pretty crystal urn, or leave it as-is with the hand engraved scene of a stairway to the moon and stars. This thoughtful, small urn is fixed with the tealight holder in the top portion of the lid. The black cylinder which holds the ashes (up to 3.5 cubic inches) is contained in the center of of the crystal casing.
4. Handcrafted Ceramic Tealight Cremation Urn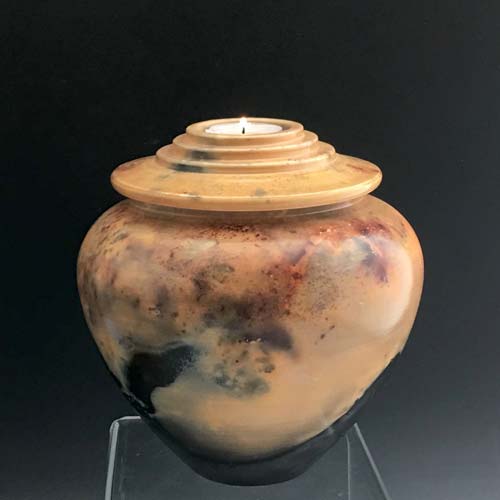 125 cubic inches
Handcrafted in Boulder, Colorado, this stunning pottery urn features one of the most attractive tealight candle lids we have found. Each urn is thrown by hand, pit fired, hand glazed, and completely one of a kind.
SMALL & PET SIZED TEALIGHT CREMATION URNS
Small and pet sized urns are designed to hold a portion of the ashes for an adult, or all the remains for a smaller individual. Also used for household pets such as dogs and cats. Again, figure that 1 lbs of the person's or pet's body weight will equal approximately 1 cubic inch of remains.
5. Tealight Brass Cremation Urn with Doves
20 cubic inches
The Tealight Brass Cremation Urn with Doves is our best-selling decorative tealight. Includes space underneath that holds a tiny amount of cremated ashes. This urn is ideal for storing a small amount when the "ashes" are divided up among relatives. For the matching full-size version, which does not include a tealight, see here.
Crafted from solid brass and finished with protective GlossCoat technology to preserve the lustre of its shine. The doves design is laser etched over a hand-engraved blue enamel inlay, representing your loved one's journey homewards.
6. Tealight Brass Cremation Urn with Tulips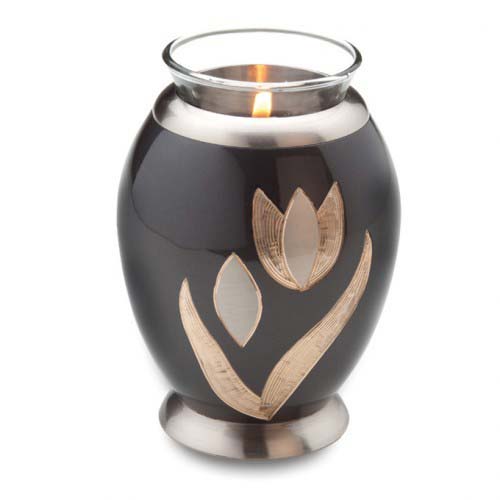 20 cubic inches
A tulip blooms with a modern flair from the surface of the brass tealight urn, drawing the eye towards the memorial flame which glows in memory of your loved one. Handcrafted with care, the breathtaking range of tones is attained by a artful combination of electroplated antique pewter, paint, and hand engraving. You can get this to go alongside the matching full-size adult urn.
Also available with lilies design.
7. Luminous Ceramic Tealight Cremation Urn
29 cubic inches
A true art piece, this ceramic vessel holds a small amount of remains and looks stunning anywhere in your home. Cast in ceramic from a handmade original and available in many different colors.
8. Radiance Ceramic Tealight Cremation Urn
24 cubic inches
Another design in ceramic, the Radiance also comes in your choice of six beautifully earthy colors. See all six finishes here.
9. Engraved Wooden Tealight Urn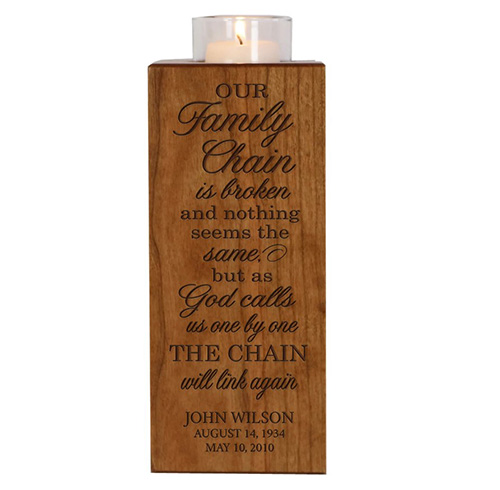 70 cubic inches
Such a beautiful piece will serve as a loving reminder in your home of the one you've lost. This lovely tealight urn is crafted from natural cherry wood and inscribed with the sentiment, "Our family chain is broken and nothing seems the same, but as God calls us one by one, the chain will link again."
You can have it engraved with your loved one's name and dates, too. The internal chamber holds up to 70 cubic inches of ashes.
10. Small Tealight Urn for Pets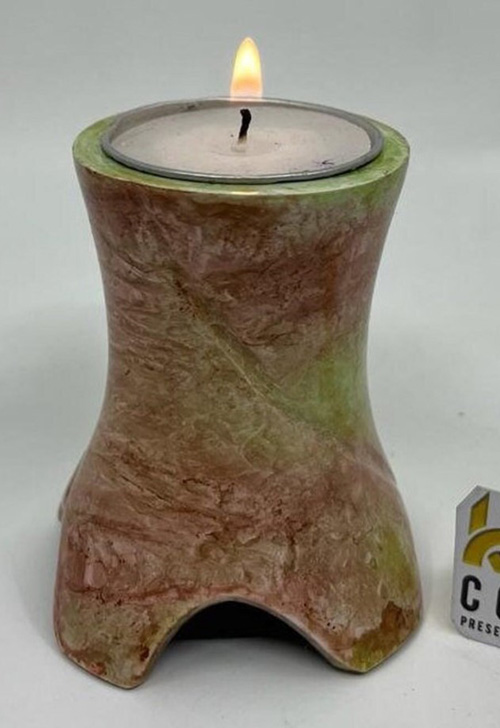 4 cubic inches
A beautiful, small tealight urn made from lasting aluminum and finished with a marble-look exterior. This would look so lovely in your home, and while it would make a wonderful reminder of your loved one, it doesn't scream urn when you see it. This tealight memorial holds a very small amount of ashes, and has a threaded closure under the base.
11. Miniature Rose Gold Keepsake Tealight Urn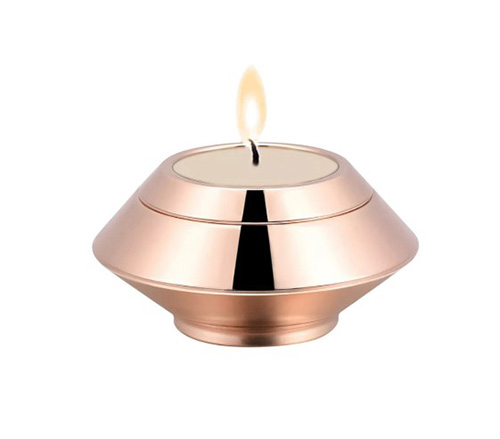 1 cubic inches
These simple, delicate memorial urns are meant to hold a small amount of ashes, and can be distributed to family members as keepsakes. Or, they can be used to keep a small piece of your loved one near while their main urn remains in a columbarium.
Made from high polished stainless finished in a beautiful rose gold, each urn holds a tealight and one cubic inch of ashes.
12. Abstract Tealight Cremation Urn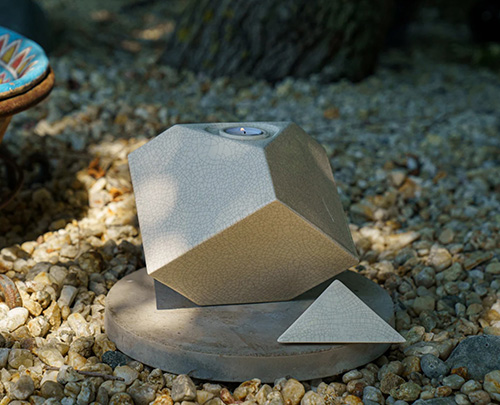 225 cubic inches
This full sized ceramic urn is so stunning. The soft sand color will blend easily with most interiors, and its unique, abstract exterior makes a beautiful statement. Each piece is fitted with a tealight candle holder to be lit for times of remembrance. Since it is a full sized urn, it is suitable for adults up to 225lbs.
13. Modern Jesmonite Tealight Urn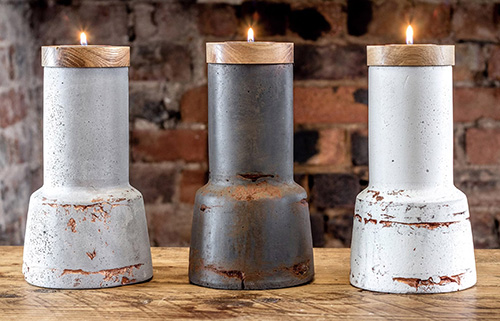 25 cubic inches
If you're looking for a beautiful, modern alternative to a traditional urn, then these stunning vessels may be just you've been hoping to find. Crafted by hand of Jesmonite (a durable material similar to resin), these urns are nothing short of fine art.
The cylindrical shape is both appealing and functional, and each piece is fixed at the top with an oak wood cap fitted with a tealight. Available in three neutral finishes, these lovely urns will make appealing reminders that your loved one is still near.
KEEPSAKE SIZED TEALIGHT CREMATION URNS
This, the smallest category, holds a very small amount of cremation remains. "Keepsake" urns can sometimes hold just a pinch or a spoonful of ashes, but can also be a little larger, holding up to a few measuring cups. Keepsake urns are most often used for very small pets or for just a portion of the remains, held as a keepsake memorial.
14. Rustic Log Mini Keepsake Tealight Cremation Urn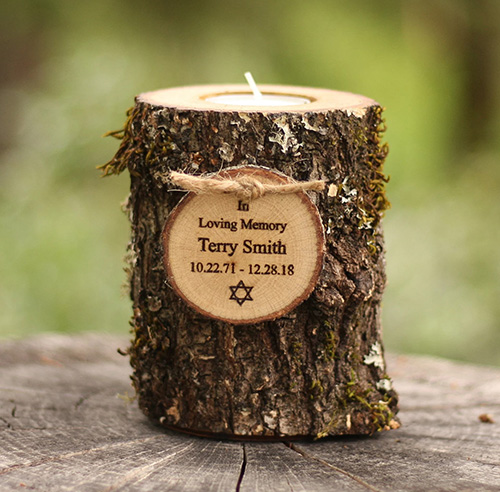 This little rustic beauty is crafted in Grants Pass, Oregon, and holds a tiny 6 cubic inches of ashes. This is roughly 6 tablespoons, so a very small amount.
Green cut from local white oak branches then immediately sealed to protect the look, this is a lovely memorial to someone very special. Can include optional personalized engraving.
15. Embrace Pearl Simple Cross Tealight Urn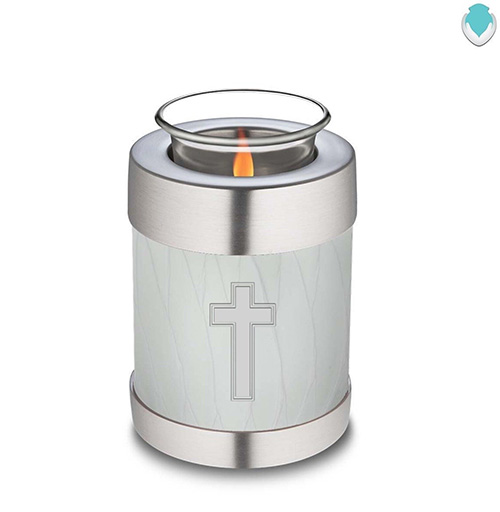 18 cubic inches
This lovely cross tealight urn is simple but reverent and sweet. It holds a small amount of ashes, so it makes a wonderful choice for sharing with family members. Perfect for someone who showed unwavering faith and devotion in their life, it is a small but loving tribute.
16. Sparkling Tealight Cremation Urn
28 cubic inch
As unique as life it represents, this sparkly votive urn is a wonderful choice for a keepsake urn. The glaze — available in atlantic, cosmic, and prismatic — shines brilliantly, while the polished metals bring the piece to a clean finish. Place a tealight in the glass votive in the top portion of the urn, and light it whenever you think of your loved one.
17. Blue & Black Tealight Cremation Urn
210 cubic inch
This unique urn is a wonderful, full sized alternative to the many smaller tealight urns. Made of long lasting fiberglass material and glazed with a shimmery pearl finish, it will look lovely in your home or in the columbarium.
It also comes with a bag for your loved ones ashes, as well as a velvet bag for transport.
18. Beige Marble Tealight Candle Cremation Urn
8 cubic inches
This stately marble tealight urn discreetly holds a small amount of ashes, a dignified and beautifully lasting memorial keepsake urn to light a candle for your loved one.
19. King Gold Marble Tealight Candle Cremation Urn
1 cubic inch
The "King Gold" marble pattern is an eye-catching addition to your home decor. When the candle is lit, this centerpiece keepsake stirs up treasured memories of a beloved soul.
Read next: Best-Selling Urns for Ashes
PIN IT FOR LATER