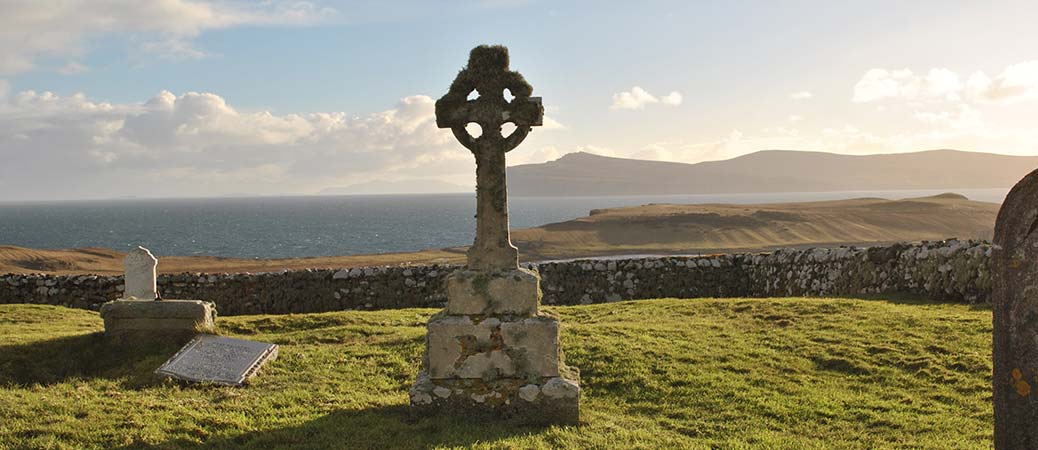 Last Updated on April 4, 2017
These Celtic Cross Cremation Urns feature the ancient Christian emblem found in the Irish heritage. The classic depiction of this timeless symbol is a cross with a halo (or nimbus) surrounding the intersection. Typically the cross features a rich tapestry of woven Celtic designs depicting or evoking the equally ancient Celtic knot.
The Celtic Cross is beautiful when done well. Combined with the Irish and Christian heritage, it is a fitting, symbolic, and popular symbol for a memorial, and we offer several Celtic Cross cremation urns and memorials for precisely this purpose. Here are our favorites from our collection and around the web.
Celtic Cross Walnut Wood Cremation Urn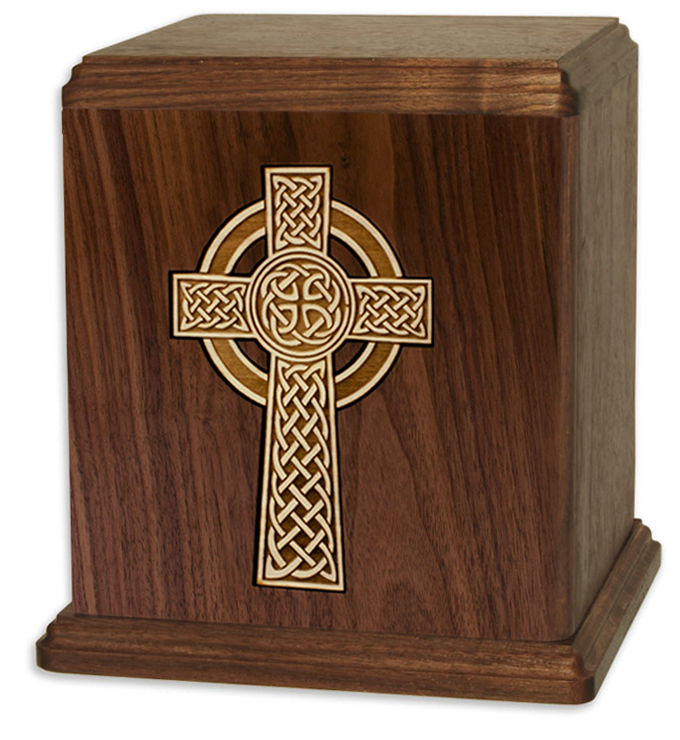 This Celtic cross urn is a new design in our classic series of walnut urns with maple inlays. (Other designs include classic cross, doves, menorah, and Star of David.) The wooden urn box is crafted in the USA from premium walnut, and the cross is maple laser etched in fine detail then set into the face of the memorial.
Celtic Cross Bible Wood Urn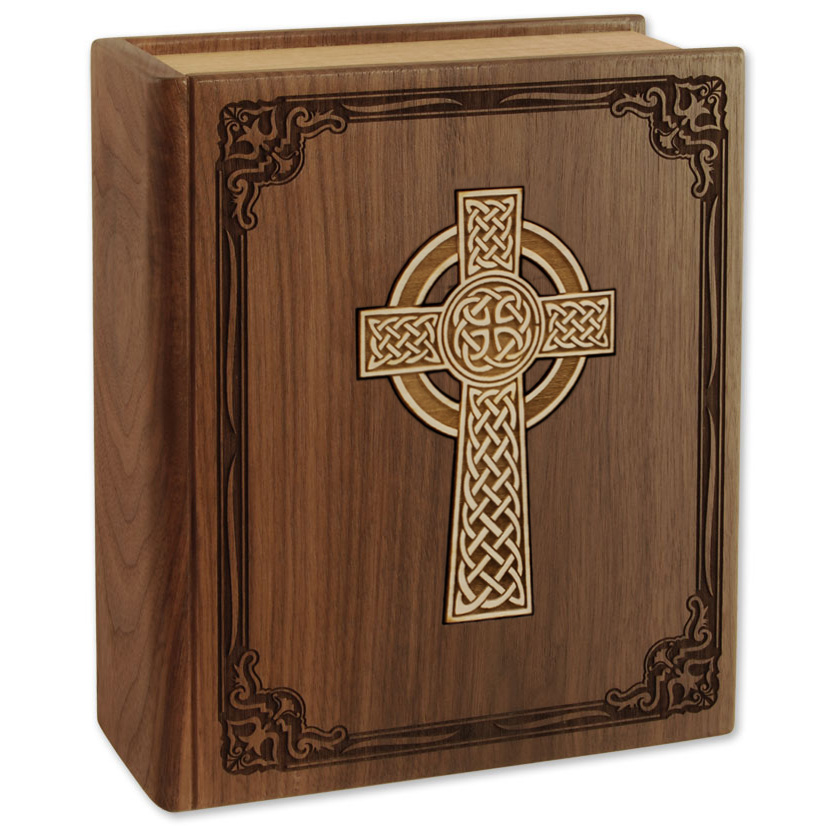 This lovely work of art is crafted in the shape of the classic heirloom family Bible, with our gorgeous Celtic Cross maple wood engraved inlay. Also available in Companion Urn size.
Hand Turned Wood Cremation Urn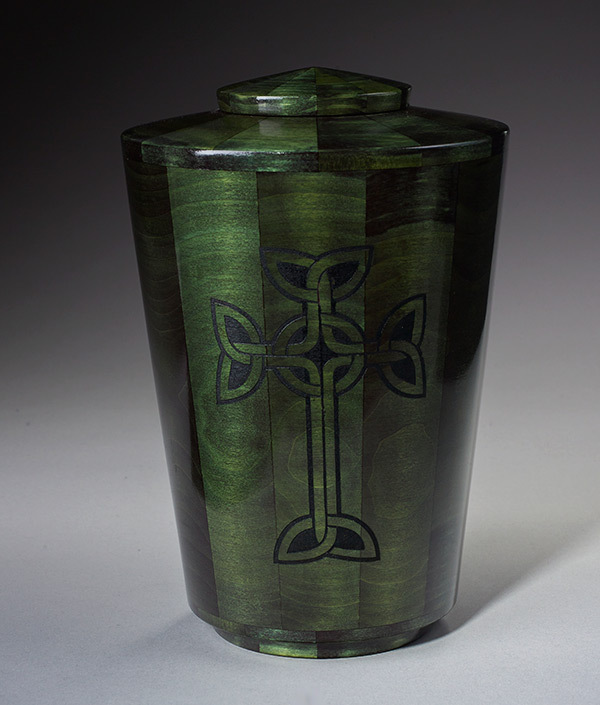 The Hand Turned Celtic Cross Wood Cremation Urn is a work of memorial art composed using carefully selected segments of poplar wood. The artist creates a one-of-a-kind piece with complimenting grain patterns, shapes it by hand on a lathe, engraves it with the stunning interwoven cross emblem, and completes the urn by dying it Irish green and giving it a protective finish.
Celtic Cross Ceramic Cremation Urn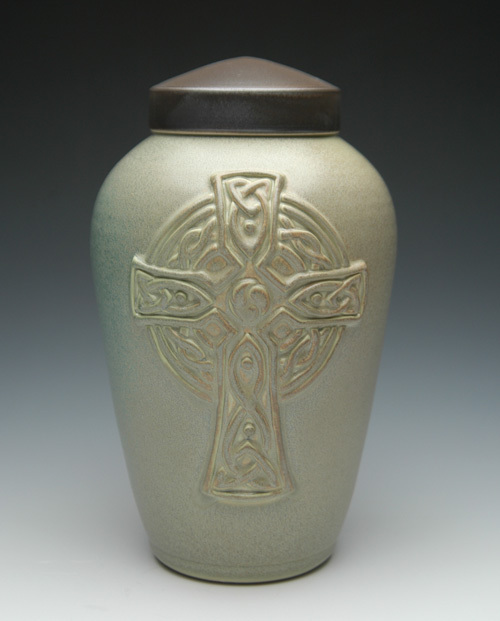 Handcrafted by a Washington State ceramic pottery artist, the memorial features a traditional gaelic cross with intertwined pattern on the front. With jade green coloration and a contrasting threaded lid of black bronze, this Celtic Cross Ceramic Cremation Urn will honor your loved one while providing an elegant, earthy, and Christ-centered accent to your decor.
Celtic Cross Urn in Rosewood with Silver Inlay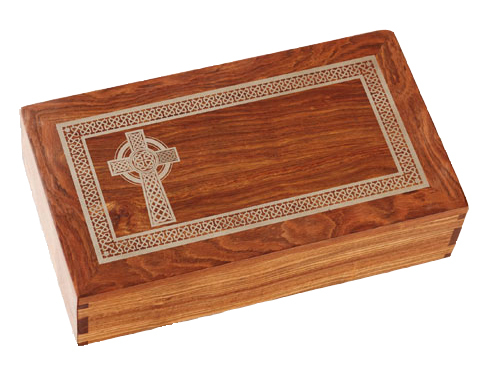 This wooden cremation urn is crafted by a master woodworker from Carribean Rosewood. The urn box boasts perfectly flush joints and a top inlay of silver, with a Celtic Cross and matching Celtic Knot border design, with ample room to add personalized name and dates. Available as a standard bottom-opening cremation urn, or hinged lid memory chest.
Celtic Cross Cremation Urn Necklace – Stainless Steel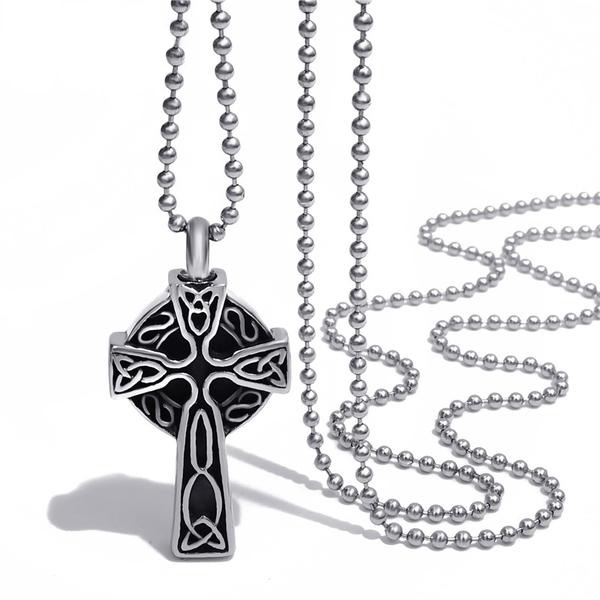 This elegant jewelry memorial is crafted in premium stainless steel, and holds a small amount of cremated remains as a keepsake inside the cross pendant. The Celtic Cross Cremation Necklace is affordably priced for any budget.
For more premium cremation jewelry items, such as sterling silver necklaces and rings, see the options available here.
Celtic Cross Cremation Urn – Irish Stone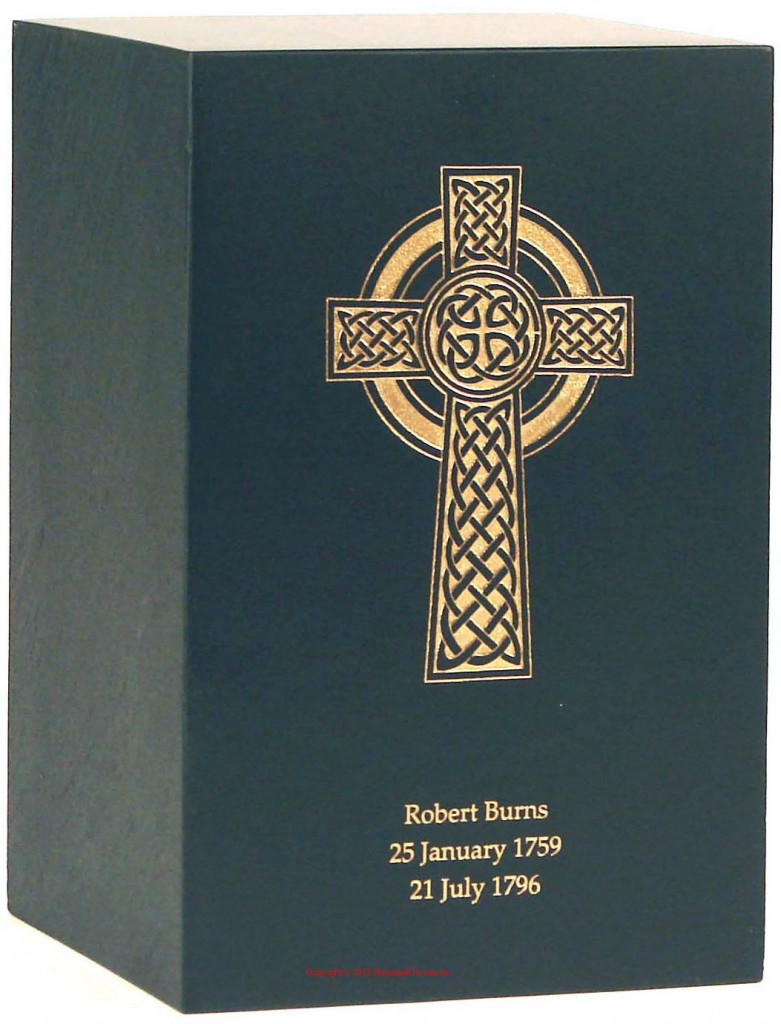 Made in the USA from premium stone slate, this stately cremation urn comes in elegant Irish Green with a classic cross image and personalized inscription laser etched with gold color fill. A sturdy, durable, and attractive memorial, the Green Stone Celtic Cross Cremation Urn is a lasting tribute to your loved one.
Celtic Cross Memorial Gift Bird Feeder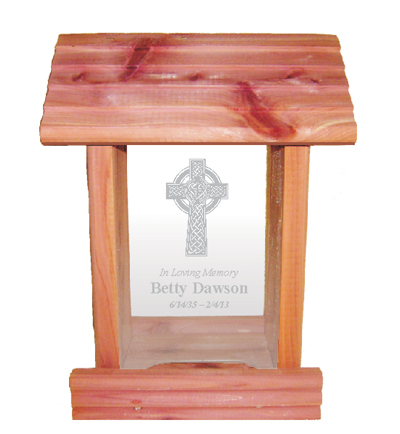 This one is not a cremation urn, but it is one of our most popular memorial gift items. The Celtic Cross Memorial Bird Feeder is made in the USA from aromatic cedar wood, and includes the laser etched Irish Cross emblem along with "In Loving Memory" inscription of name and dates. Optional further personalization is available on the back side acrylic panel. Just one of our many, many cedar bird feeder memorials.
Hand Painted Celtic Cross Cremation Urn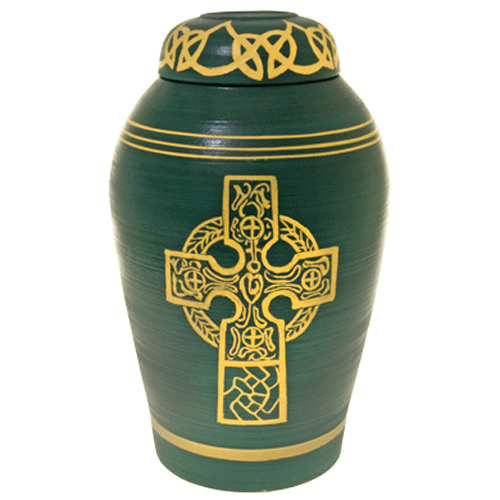 This colorful memorial comes in "companion" size, which is a cremation urn designed to hold the remains of two people. The intricate design is painted by hand in a cheerful, vibrant combination of yellow and green.
Wilmington Urn in Cherry with Cross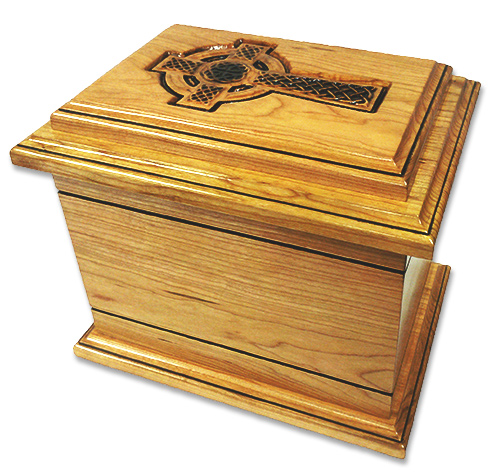 The Wilmington Wood Cremation Urn, shown here in solid premium Cherry wood, is a gorgeous wooden memorial. The top is carved with your choice of cross etching, shown above with the Celtic version but also made with other traditional representations. Also available in Walnut and Maple woods.