Everyone wants a beautiful and unique way to honor their loved one.
You want to keep your loved one close to your heart, but you don't want to be weird about it. You want to celebrate their memory, yet at the same time you may not necessarily want to create some huge monument.
Cremation jewelry is one great way to do these things. Come along and learn about the types and options available, how to use and fill them, plus discover some beautiful jewelry memorials that you'll be proud to wear.
Cremation Jewelry: What You Should Know
Our website is supported by our users. We sometimes earn a commission when you click through the affiliate links on our website. See our privacy policy & disclosures for more information.
What do you call jewelry that holds ashes?
Jewelry items that hold ashes are called cremation jewelry (in general) or by the name of the specific type of jewelry (cremation necklace, cremation ring, etc). They can also be referred to as keepsakes.
How do the ashes get inside the jewelry?
There are basically two types.
Jewelry with an empty chamber. Most of the items you order online or find at the funeral home will be this type. These items come with a little "fill kit" which includes a tiny hex key and a little funnel so that you can put a small pinch of remains into the jewelry yourself.
Jewelry that is actually made with the cremated remains. This can include glass or resin pieces, or cremation diamonds. For custom-made memorial jewelry of this type, the family would have to send in their loved one's remains so that the artist or manufacturer can create a one-of-a-kind keepsake made from the ashes.
Do I need to send my loved one's remains to the jewelry company?
Some jewelry has cremated remains mixed into it. If this is the piece you have decided to get, you will have to send the recommended amount to the company. They will return any unused portion to you.
For most cremation jewelry, however, it will arrive with an empty chamber and a "fill kit" to help you funnel the remains in yourself.
What amount of remains do I need?
Most cremation jewelry only holds a small pinch of remains, up to at most about 1 cubic inch (but typically less than that).
What kinds of cremation jewelry are available?
Every kind, basically. From high end to DIY stuff, fine materials to budget-friendly, for men and women, personalized and non-personalized, necklaces, bracelets, rings, anklets, etc. The list goes on – anything you can imagine!
50 Best Cremation Jewelry Memorials
1. Cremation Diamonds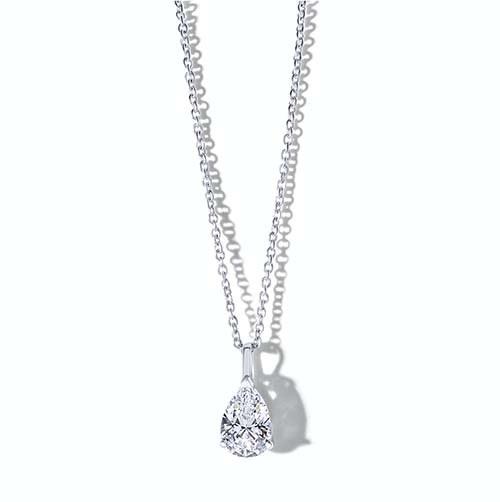 A cremation diamond will last forever. Your diamond is something that can be passed down from one generation to another. You will keep your loved one's memory alive for eternity with a one-of-a-kind Eternava diamond.
You can have your stone made from two tablespoons to a half cup of cremated remains. It takes up to twelve months to have your diamond created, but the wait will be worth it!
2. Fingerprint Heart Cremation Ring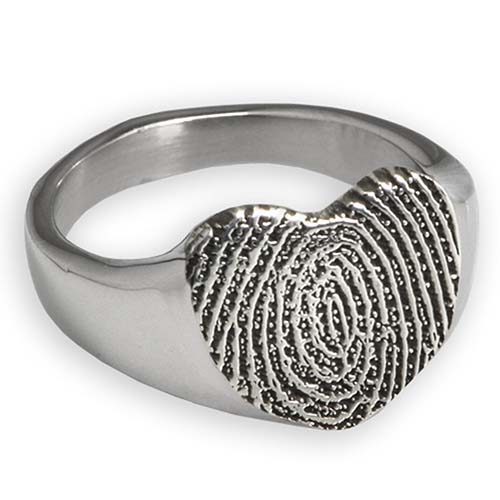 Our fingerprint memorial ring features your loved one's actual fingerprint. The fingerprint is laser etched onto the heart ring itself.
Made from the finest quality stainless steel or sterling silver, your jewelry will last for years and years to come.
3. Personalized Butterfly Locket Urn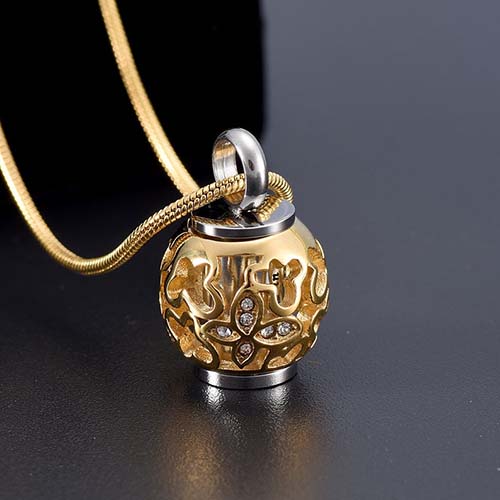 The beautiful, personalized butterfly pendant can be used for human or pet cremated remains. Made from stainless steel in gold, silver, or rose gold-toned, you can choose your favorite.
This is a gorgeous way to keep your loved one or your sweet fur baby with you always.
Related: Beautiful Butterfly Urns
4. Premium Damascus Cremation Pendant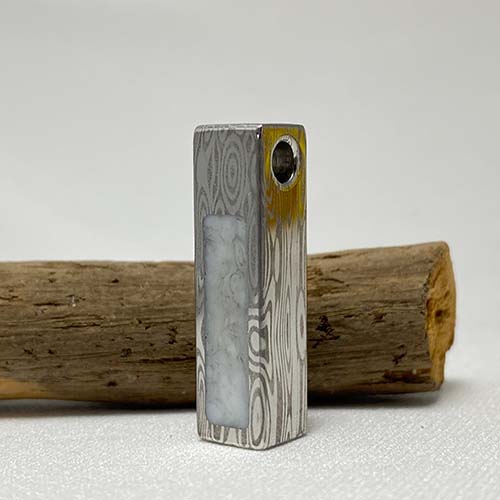 Hand-made from stainless steel and one of a kind. No two pendants are alike.
The cremated remains are guarded safely in a channel cut deeply into the steel. The cremains are set in place and undergo a process that bonds them to the pendant. This is a piece of jewelry you are sure to wear for years.
5. Fishing in Heaven Cremation Necklace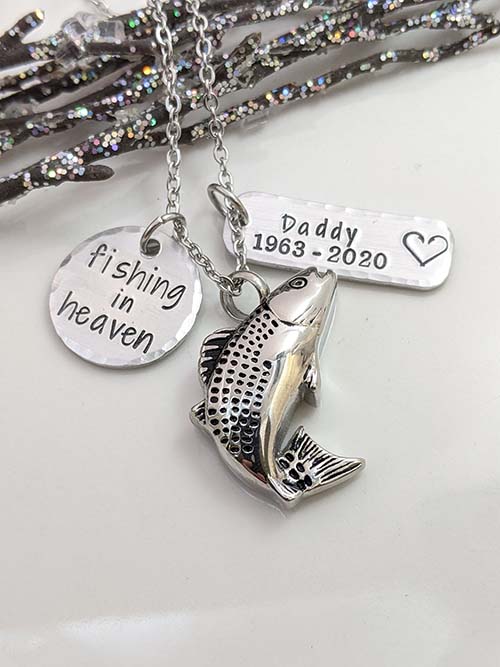 Fishing in heaven is a wonderful tribute to the fisherman in your life. Hand-made from aluminum means that no two will ever be the same.
The hand-stamped cremation urn necklace will be a much-treasured gift for the loss of that favorite fisherman.
6. Cross Cremation Necklace with Aromatherapy Bead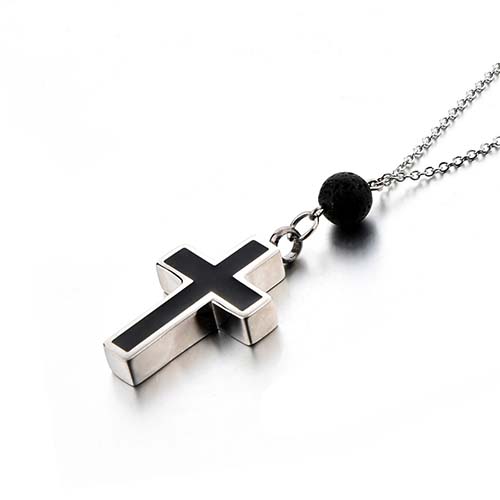 Our stylish cremation piece features a Christian Cross with a chamber for cremated remains. The pendant also has a natural lava rock which doubles as an essential oil diffuser bead.
The elegant and charming pendant holds a small amount of cremated remains. This pendant is a sweet way to keep your beloved close to your heart.
7. Engraved Heart & Wing Charm Urn Necklace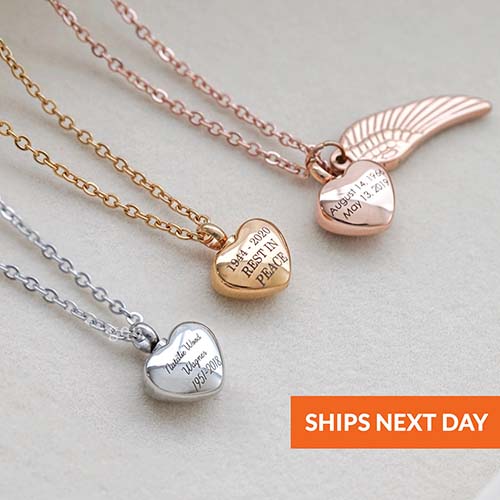 A custom-engraved urn necklace is a wonderful way to keep cremated remains secure and close to you at all times.
You can personalize the heart with your own meaningful message. This is a timeless piece you will never want to take off.
8. Lotus Locket Cremation Urn Necklace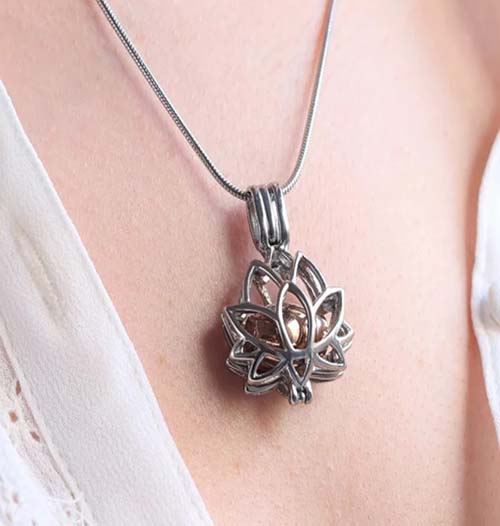 Your new personalized lotus necklace is the perfect way to keep your loved one with you. It's beautifully made from stainless steel and can be worn every day.
Every piece is custom-made upon order, so no two will be the same.
9. Eternity Heart 18k Gold Cremation Necklace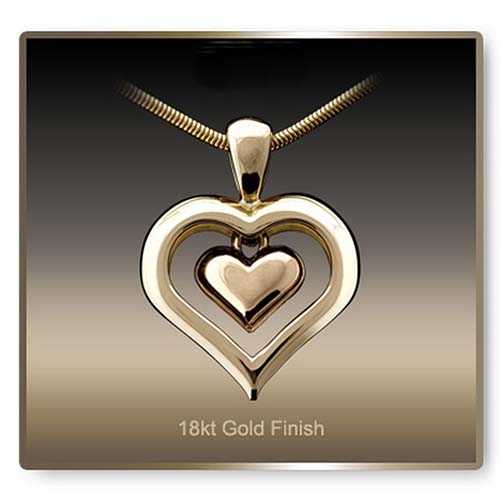 An 18k gold finish highlights our heart-shaped pendant. This piece of jewelry is unique and made with the highest craftsmanship; a modern piece of jewelry that you will wear for a lifetime.
To learn more about these beautiful pieces of jewelry, click here.
10. Photo Cremation Necklace
Customize this stylish necklace with a photo and a special text.
Made from the finest titanium steel with a durable chain so you can wear this piece on a daily basis. It will never tarnish so there is no need to worry that it or your skin will turn colors
11. Cocobolo Inlay Cremation Ring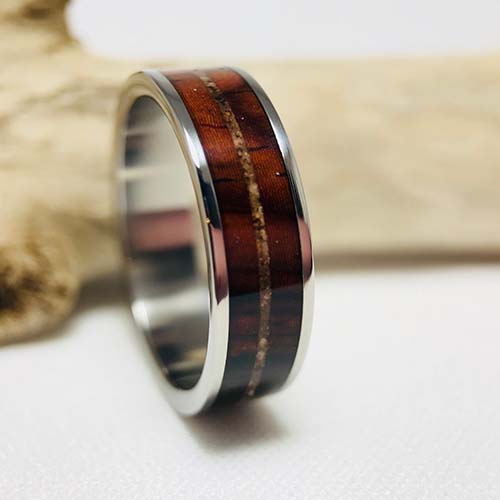 A beautifully hand-made titanium ring with cocobolo inlay is a meaningful memorial that will keep your loved one's cremated remains close to you.
The cocobolo pinstripe holds a small portion of cremated remains. The wood and the cremains are sealed with a waterproof resin and polished to a shine,
12. Men's Cross Cremation Ring for Ashes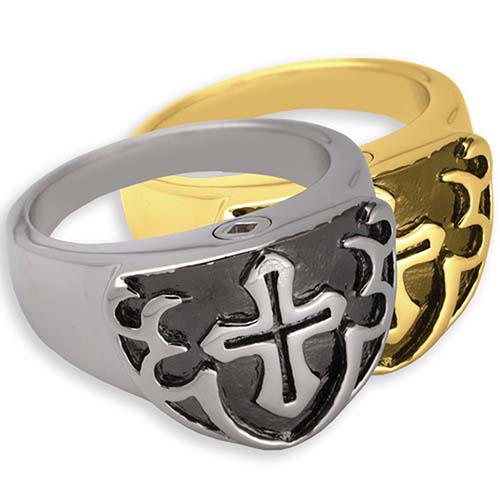 Our beautifully detailed cross ring for men is designed to hold a portion of cremated remains. This ring is available in premium sterling silver or 14k gold-plated sterling silver and is made to last a lifetime.
This ring is unique and will surely be a conversation starter.
13. Teardrop Opal Cremation Earrings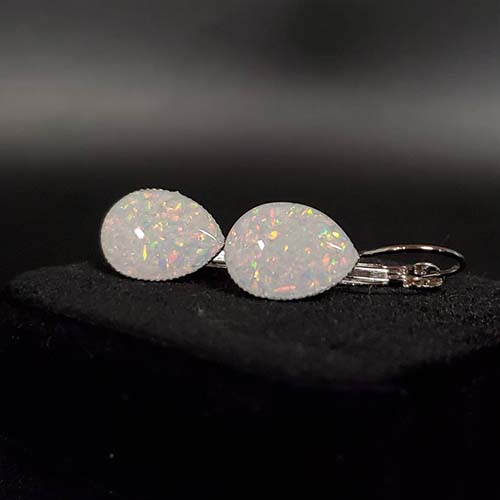 The opal has always symbolized faithfulness and confidence. You can wear these handcrafted cremation-infused opal earrings with the assuredness of keeping your loved one near.
With the small gesture of touching an earring, you will be reminding yourself of the faithfulness and confidence you felt for each other.
14. Glass Ball Keepsake Urn Necklace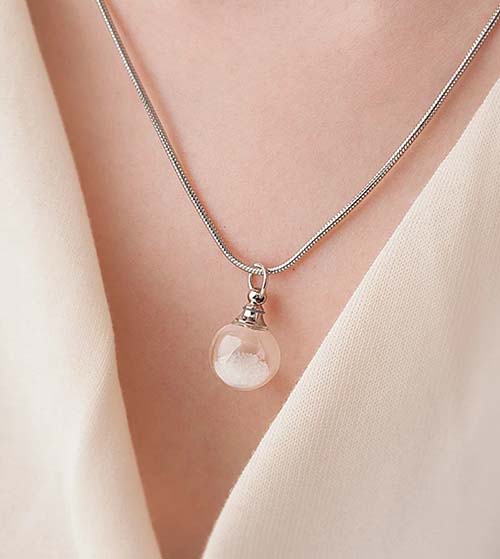 You can carry your loved one's cremated remains in this simple yet elegant glass ball. Each urn comes with your choice of a cross or snake chain. Both selections are made from stainless steel, so they will not tarnish.
You can easily fill your tiny urn with the included funnel kit.
15. Custom "I Love You Forever" Heart Urn Necklace
A stunning keepsake urn designed to hold a portion of cremated remains. This urn pendant has two crisscross wavering with a dangling heart in the middle. The double rings are engraved with "You are always in my heart, I love you forever".
16. 14K Solid Gold Heart Urn Pendants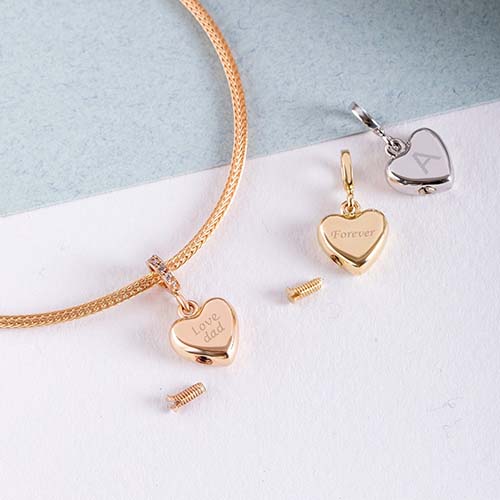 You will love this solid gold heart urn charm that you can attach to a bracelet or a necklace. You can add a customized bar at the clasp. Made from gold, rose gold, or white gold, it is the perfect piece of jewelry to keep your loved one with you.
Engrave your heart with that special someone's name, initials, or dates.
17. Custom Crystal Stone Urn Necklace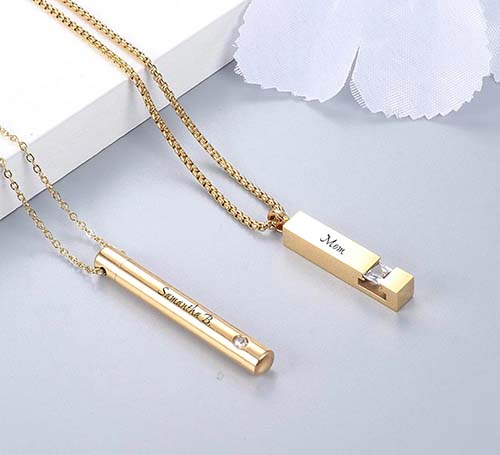 A memorial pendant made from stainless steel – made to last a lifetime.
Keep your loved one close with this finely crafted, personalized cremation urn necklace. Choose from a round or rectangular shaped cylinder, with or without engraving.
18. Tree of Life Crystal Urn Necklace
A gorgeous tree of life is the central piece of your new cremation keepsake urn. The tree of life represents positive energy, growth, strength, rebirth, a bright future, longevity, good health, and a fresh start in life.
A tiny screw from the back of the urn, allows you to place a small amount of cremated remains in it.
19. Hummingbird Urn Bracelet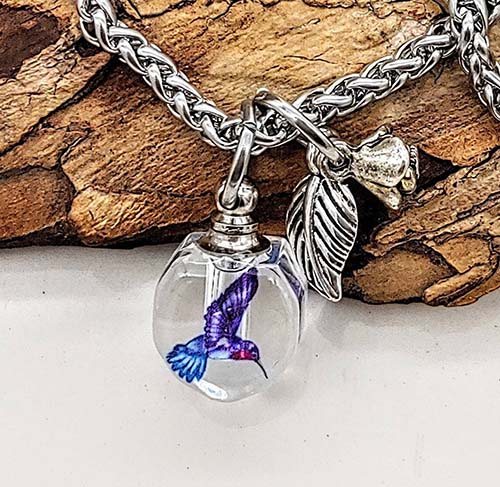 Cute and stylish, your new urn bracelet (or necklace) makes a fashion statement.
This pretty hummingbird sits on a fillable glass drop. The cremated remains can be viewed in the glass drop.
Related: Hummingbird Memorial Gift Ideas
20. Memorial Necklace with Loved One's Hair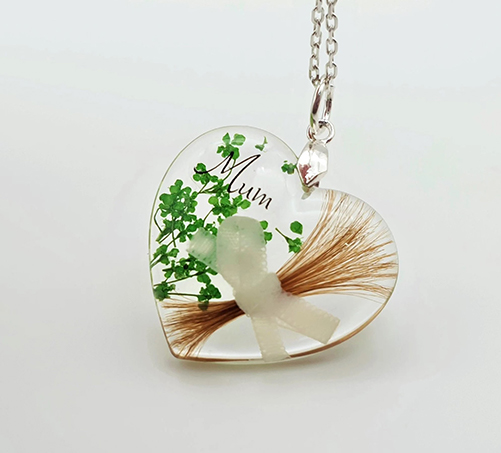 This unique necklace is designed to hold a lock of your loved one's hair. Perfect for a lock of human hair or even a tuft of your pet's fur.
21. 14K Gold Custom Cross Cremation Urn Necklace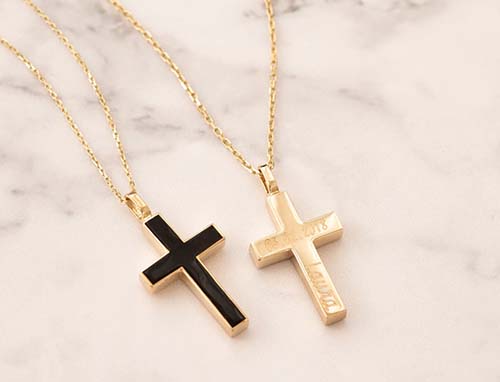 Choose from 14K or 18K gold for your new cross urn necklace. Engrave your loved one's name, initials, or dates on your cross.
This keepsake is easy to fill. By using a non-water soluble adhesive you can permanently seal your pendant.
22. Wolf Pack Urn Necklace
The perfect choice for the man or woman that loved the outdoors and wolves. Losing your loved one was hard, now you can keep them close to you.
Because you will have your piece of keepsake jewelry with you, it will help you keep the memories of the good times you shared.
23. 14K Elegant Genuine Diamond & Pearl Urn Necklace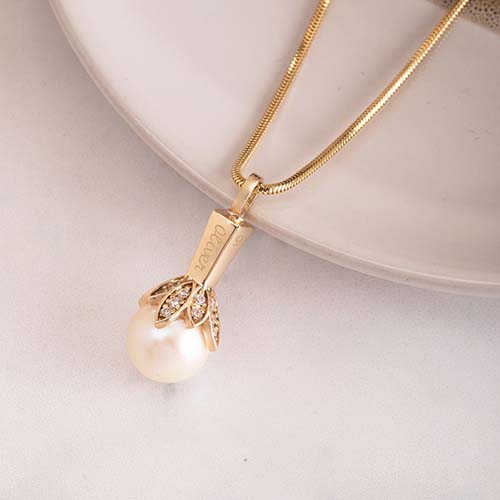 This elegant pearl and diamond pendant is a beautiful way to display your loved one's cremated remains. Your necklace opens and fills easily.
Personalize this keepsake with a name, dates, or initials.
24. Wings of Hope Butterfly Cremation Bead Bracelet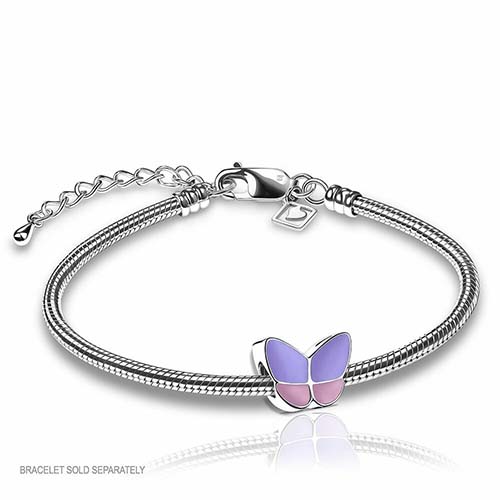 The Wings of Hope Butterfly in lavender is a symbol of beauty in this life and hope for the next. Bright silver tones enhance the lavender and pink colors of this butterfly. There are additional options for matching jewelry and even a full-size cremation urn available on our website.
25. Vine Urn Locket Necklace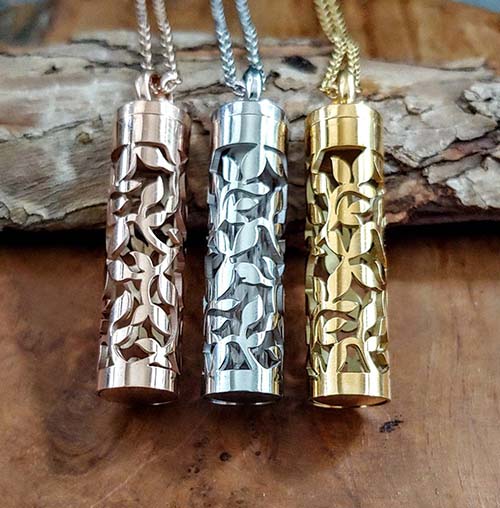 A beautiful cylinder urn made in white, gold, or rose gold is a wonderful way to display your loved one's cremains. This classic vine design is nice for men or women.
Made with the best grade of stainless steel, this pendant will be passed down to the next generation.
26. Personalized Cremation Urn Choker Necklace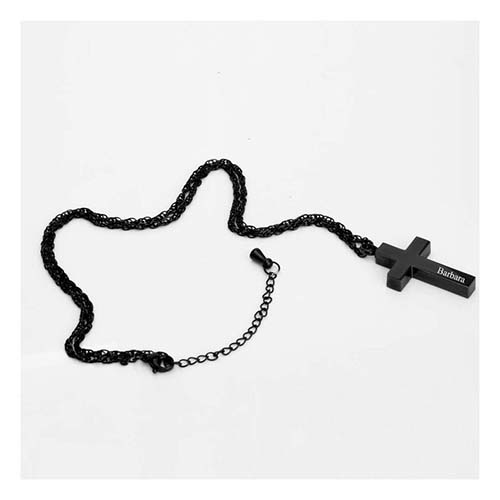 You can choose from white gold, black, or yellow gold to have your necklace urn made from. You also have the choice of engraving one side or all four sides. This is a minimalist necklace providing a meaningful demonstration of your feelings for your deceased loved one.
27. Double Heart Companion Cremation Ring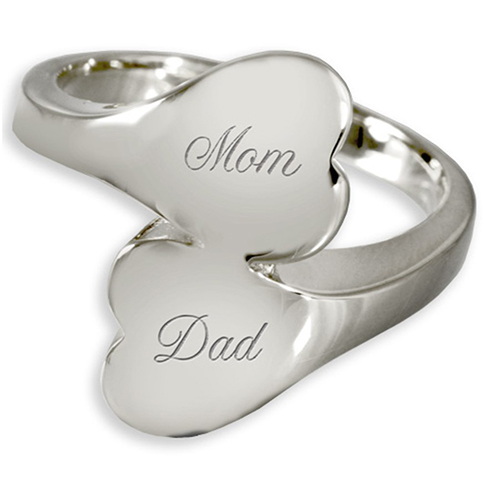 Memorial jewelry has a long and beautiful history, and we are so glad to see it making a comeback. This gorgeous, double heart ring has two separate compartments to hold a small amount of ashes, and you can choose from sterling silver or gold-plated sterling finishes.
You can have these pretty hearts engraved, as well, making them even more special.
28. Dragonfly Urn Pendant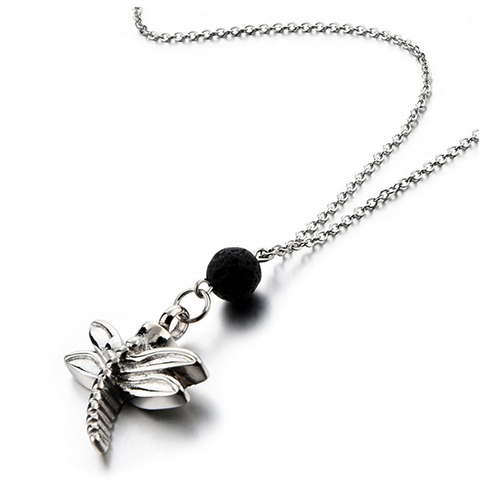 This unique necklace is so beautiful and carries a secret with it. It is actually a tiny urn! This petite and delicate dragonfly is hollowed, allowing you to place a small amount of your loved one's cremains inside.
The jet lava rock also functions as an essential oils' diffuser. Simply place a drop or two of your favorite calming oils into the porous rock, and it will last throughout the day.
29. Zenith Cremation Ring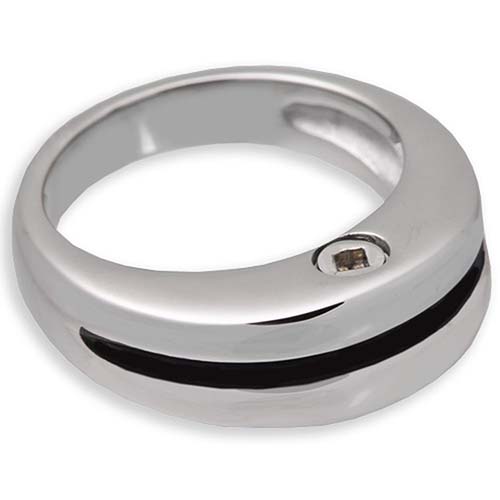 The Zenith cremation ring is an exquisite piece of jewelry. This memorial holds a tiny amount of your loved one's cremains safely.
Your new Zenith Cremation Ring features an easily accessible yet completely secure inner chamber. It has a sophisticated yet modern style that any gentleman would be happy to wear.
30. Hummingbird Sunflower Urn Necklace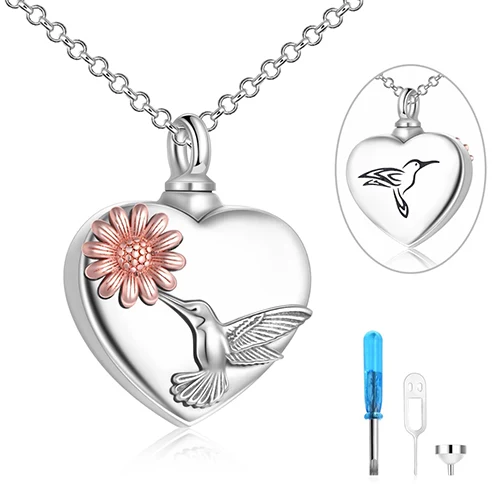 "Forever in my heart" is the perfect sentiment to apply to your loved one.
It screws from the top of the urn and allows you to place a small amount of cremains into it. Now you can hold the memories of your loved one closer.
31. Victorian Styled Cremation Necklace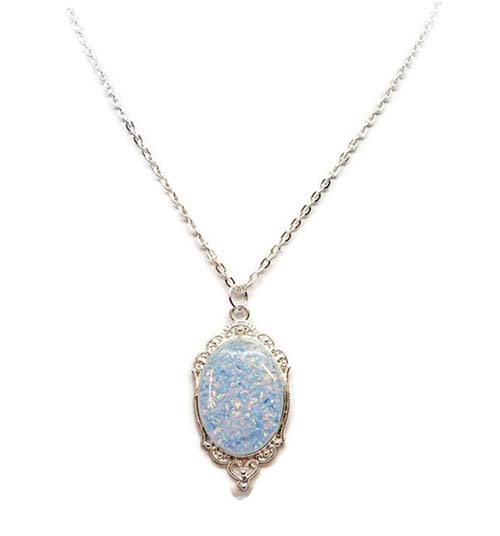 A Victorian-style pendant is inlaid with a generous amount of crushed opal of your choice. The pendant has a back window to see cremated remains.
Choose from silver-toned or rose gold, personalized or not, this is a piece of jewelry that can be enjoyed for years and years.
Related: What Is Mourning Jewelry?
32. Custom Crystal Urn Necklace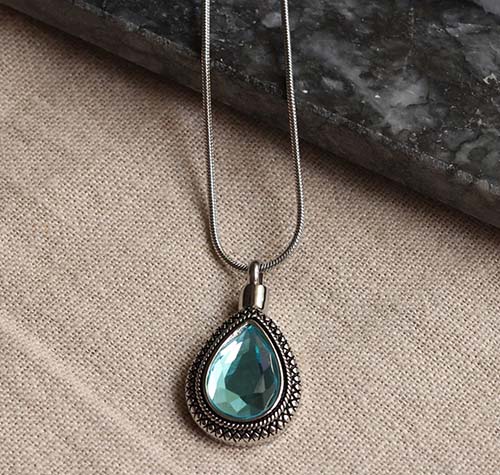 A lovely crystal pendant will hold a small amount of cremated remains safely. Crafted from stainless steel, this beautiful pendant can be personalized on the back of it.
Any woman would be proud to wear this keepsake urn, and it's all the more meaningful because they can keep their loved one close to their heart.
33. Personalized Flower Urn Necklace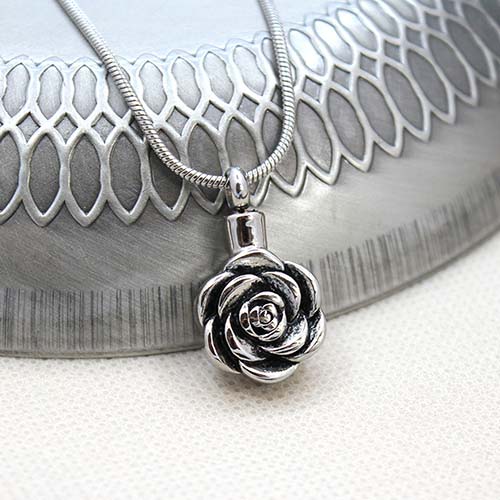 Your stainless steel charm necklace will hold your loved one's cremains safely. A custom-made, one-of-a-kind urn, that you will cherish always.
Engrave the back of this rose with a name, a year, or even initials. Fill the urn yourself with the funnel kit that is included with your purchase.
34. Forever in My Heart Infinity Cremation Ring
A unique gift for anyone. An infinity ring that declares "Forever in My Heart" is a special way to hold your loved one close.
Things can end, but memories will last forever.
35. Sunflower Cremation Urn Necklace
A sweet way to keep cremated remains with you – a sunflower signifies loyalty and admiration.
The urn unscrews from the top, allowing you to place a small measure of cremains inside. The cremation set is made from 100% pure sterling silver.
36. Silver Braided Cremation Urn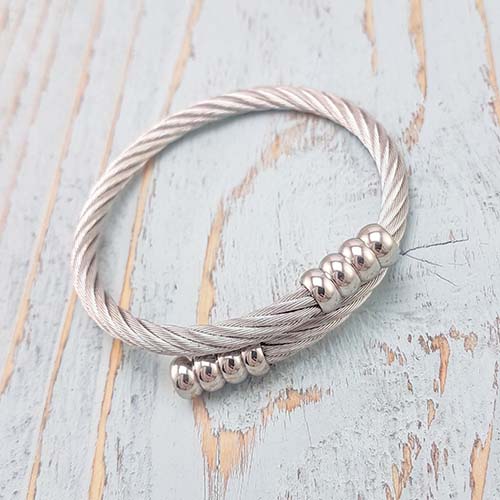 Your hand-crafted stainless-steel bracelet is a stylish way to hold cremated ashes. The bracelet is strong and sturdy yet comfortable enough to be worn every day.
Your bracelet is easy to fill and it can have up to eight letters engraved into it.
37. 14K Solid Gold Custom Engraved Letter Urn Charm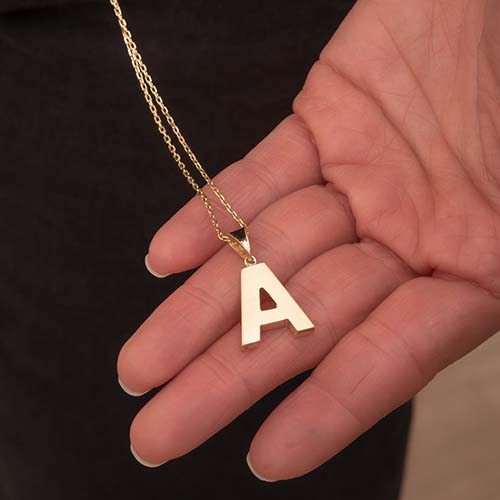 A solid gold initial urn is a gift that will honor your loved one. Choose the initial you want, add a name, date, or initials and your loved one will be kept near you always.
You can select your keepsake to be made from gold, white gold, or even rose gold.
38. Vintage Teardrop Cremation Urn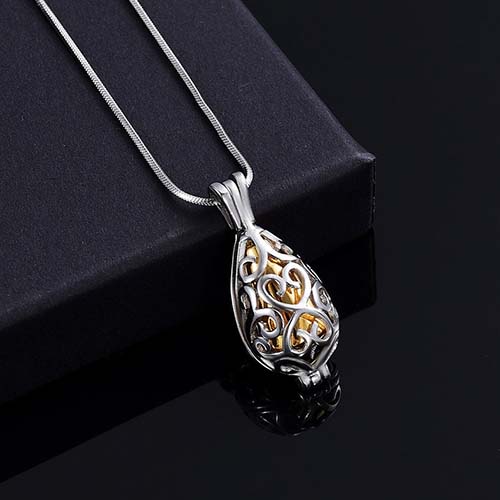 A vintage teardrop that holds your loved one safely and securely. Have a name, date, or initials engraved on the tiny urn and make it extra special. The necklace is made from high-quality stainless steel that will never tarnish.
39. Hourglass Urn Necklace
The hour-glass designed urn necklace is designed to hold a small remembrance of a loved one. This keepsake is made of high-quality stainless steel and glass.
Keep your loved one's memory close to your heart always. The jewelry will never tarnish or discolor.
40. Bespoke Cremation Earrings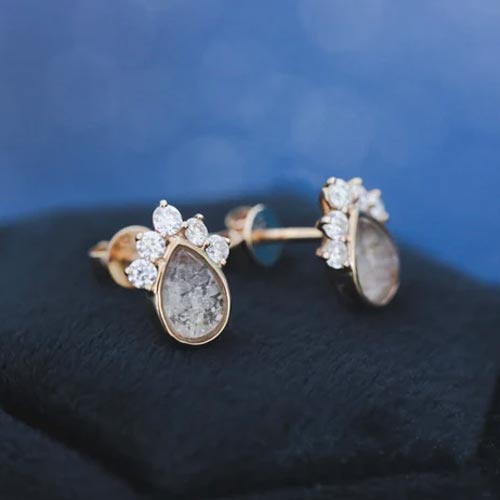 A stunning set of cremation earrings made from your loved one's cremains in your choice of sterling silver, white gold, rose gold, and more. Since your earring set is handmade, each item will vary slightly in appearance.
Using a creative encapsulation process that produces a smooth finish, this is a beautiful and meaningful way to honor your beloved.
41. Custom Handwriting Heart Urn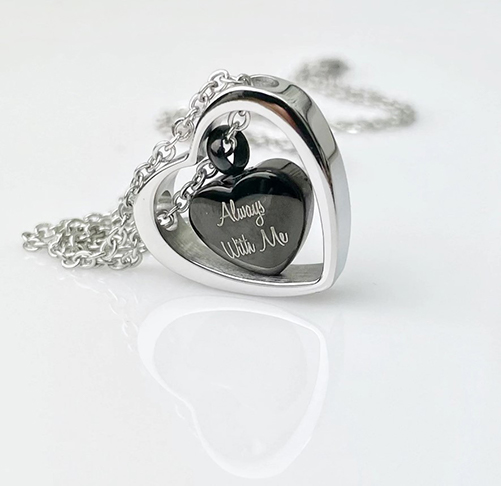 There is something so beautiful and unique about a loved one's handwriting. These gorgeous, double heart pendants can be engraved with their name, handwriting, or even their fingerprint.
Available in several different colors and finishes, there is a custom option for just about anyone. The inner heart also holds a small amount of cremains, as well, so you can carry your loved one with you. So pretty!
42. Anchor Cremation Necklace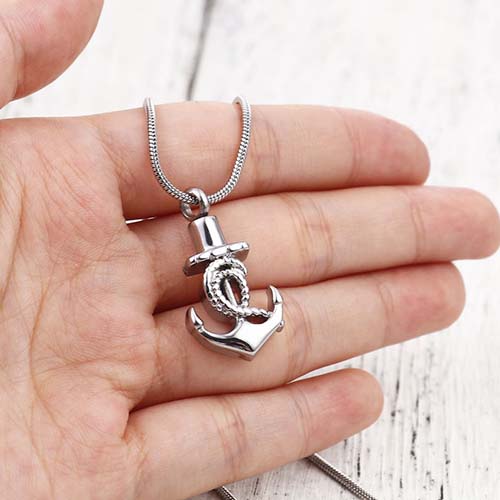 A perfect tribute to the one that loves boating, the ocean, or has been in the navy. Perfect for an engraving of your loved one's name too.
The pendant is made from stainless steel and silver – it is sure to last a very long time.
Related: Guide to a Burial at Sea
43. Engraved Four Sided 14K Urn Bar Necklace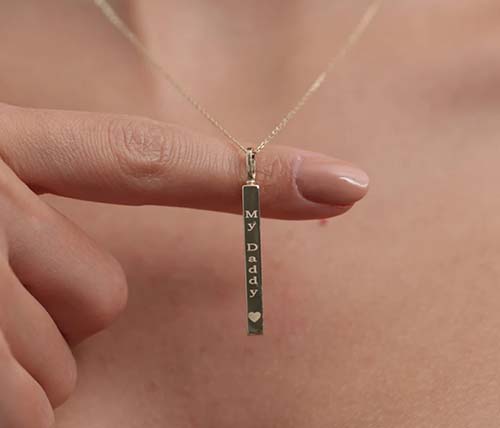 Add an engraving to your pendant urn to make it truly special. The four-sided cremation tube has room for more than one message. Safe and secure, you will keep your loved one with you always.
44. Guardian Angels Urn Necklace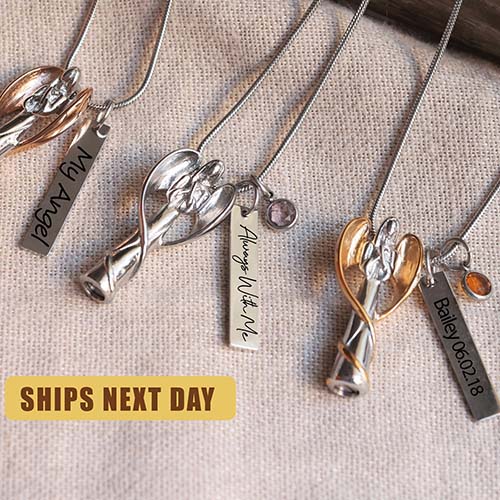 Personalized and hand-made from stainless steel, this urn necklace is a very safe and secure way to keep your loved one with you.
These angel urns are precious because they are holding a precious cargo: your loved one's cremated remains.
45. Lava Bead Urn Bracelet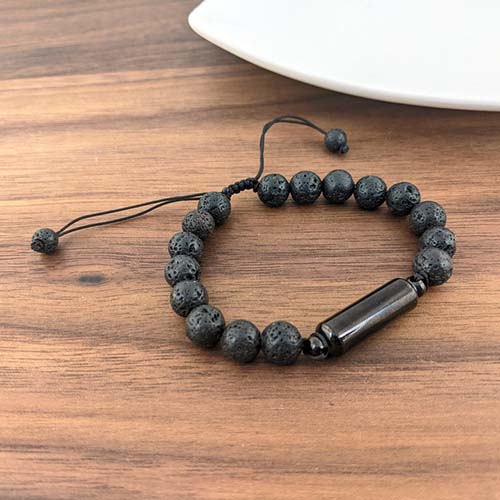 Choose a special memorial bracelet just for him. Made from lava stone with a solid stainless-steel urn to securely hold cremated remains. This is a bracelet he can proudly wear to keep his loved one close.
46. Engraved Bullet Urn Necklaces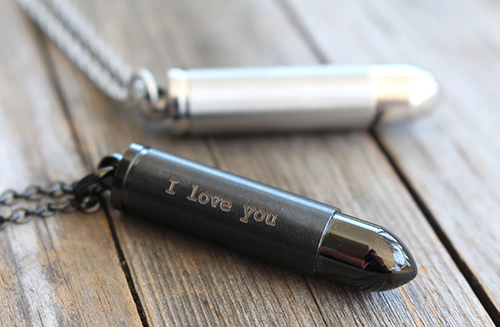 Many men (or women) would love to carry their loved one with them, but traditional shapes of urn necklaces like hearts, butterflies, or dragonflies may not appeal to them. These modern, bullet urns may be a fitting solution.
Beautifully crafted from durable stainless steel, these necklaces are made to last and stand up to frequent wear. You can have up to four lines of engraving added, as well.
47. Oyster Shell Damascus Cremation Ring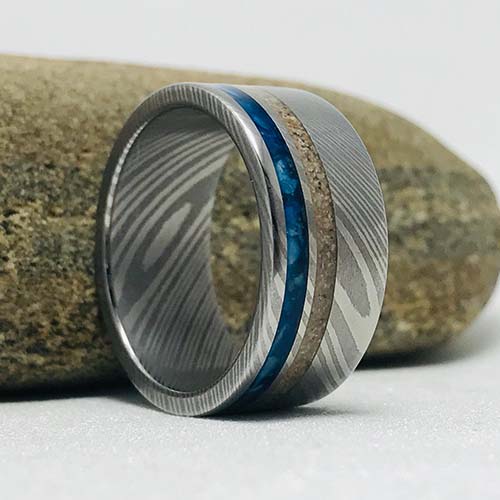 Made by hand, this Damascus Steel ring will keep your loved one's cremains safe and close to you. Your memorial ring will also contain seashells from Wellfleet, Cape Cod.
A truly unique piece of jewelry that you will be proud to wear.
48. Infinity Silver & Rose Gold Teardrop Necklace
A teardrop-shaped infinity urn necklace represents things end, but memories last forever. Lovingly crafted from sterling silver, this necklace will never tarnish.
A beautiful way to display the love you shared.
49. 14K Gold & Birthstone Diamond Memorial Urn Ring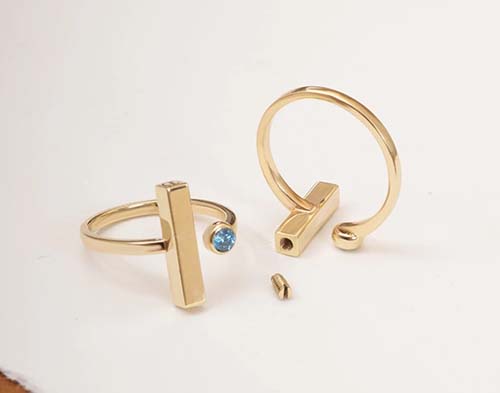 You can custom engrave this beautiful birthstone ring. Made from the finest gold, this is a gift that will last and last.
Your ring will be hand-made to order – special, just like your loved one.
50. Rose Quartz Urn Pendant Necklace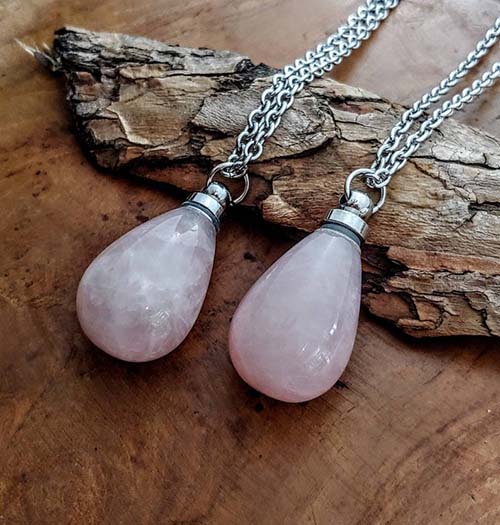 Made from genuine rose quartz, this urn pendant is simply stunning. Because it is made from a natural stone, each piece of jewelry is unique.
The pendant has a tiny chamber ready to be filled with your loved one's cremated remains.
Now that you have seen so many cremation offerings, you can find one or more that will suit your or your family's needs. Any of these keepsakes will keep your loved one close to you.
Read Next: 50+ Meaningful Ways to Memorialize Your Loved One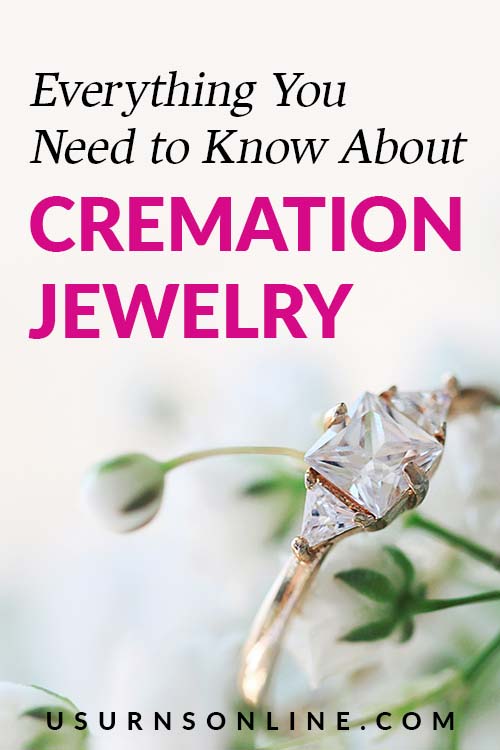 Karen Roldan has been in the funeral industry since 2006, and a licensed funeral director and embalmer since 2008. She is currently licensed in the states of Indiana and Pennsylvania.
She attended Worsham College of Mortuary Science in Wheeling, IL, and graduated with an associate degree in Mortuary Science.
Karen enjoys wring about the funeral industry because her passion is helping families in their deepest time of need. She feels being a funeral director is a calling and she is proud to fulfill this role.
Karen is a wife and the mother of four sons. She, her husband and their youngest son call Pennsylvania home.