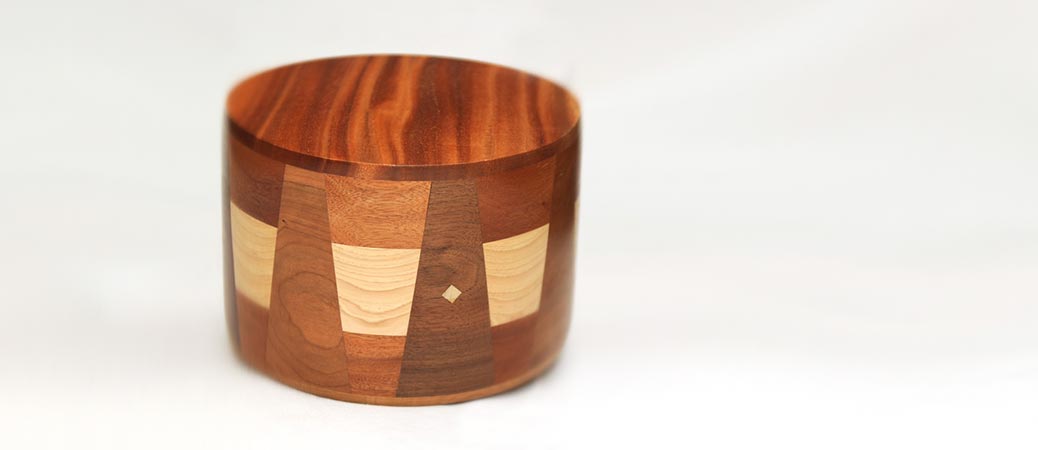 Last Updated on July 28, 2020
Update 7/28/20. For the first 3+ years of offering these round wood cremation urns starting in late 2016, we had very positive reviews from our satisfied and appreciative customers. However, for an alarming amount of recent orders we have found that this artist's quality control has gone seriously downhill, and we are no longer offering these products.
We're leaving up this post so that you can be aware of this development if you find these urns on other websites. Please just know that the quality and craftsmanship used to be excellent, so this should not reflect badly on urn stores that have not experienced issues (yet) and are thus still offering these products.
We're leaving the full text below unchanged (aside from removing the links to the products), so you'll have an idea of how the product used to be. It is disappointing, but manufacturers and shops change their capabilities, production values, and/or experience other issues all the time. We try to stay on top of these sorts of things so that you will always receive the finest cremation urns from Urns Northwest to honor your loved one.
If you ever receive anything that is less than 100% satisfactory from us, please let us know and we will take care of it.
If you like the look of the urns you see below, you can still browse our best-selling wood urns. While these products are pretty unique, we're sure you'll find something perfect for your loved one in our store.
Original Introduction
Come and see our new selection of round wood cremation urns. These are individually made by hand in the USA, featuring handcrafted wood inlays.
Each inlays boasts a variety of wood types and elegant designs. You'll find the perfect round wood cremation urn for your loved one in this simple, artful, and timeless collection of inlay art memorials.
Each of these designs feature an expansive selection of domestic and exotic hardwoods. Every piece is hand crafted and intricately set into the circular urns in choice patterns. Intentionally highlighting the unique grain patterns and textures of each piece of wood, the USA-based artisan showcases his craft with elegance and ingenuity in every memorial urn.
There are four styles of circular wood cremation urns with handcrafted inlays. Additionally, we also offer two additional pieces from the same artist in a more traditional box shape. The rectangular urns are available in standard and a very spacious companion urn size, while the round wood urns are made in the standard adult urn size with a capacity of 200 cubic inches.
Round Wood Cremation Urns
Round Cremation Urn in Oak with Hickory & Padauk Wood Inlays
This circle-shaped urn uses oak as the starting point, and intertwines hickory and padauk woods. The result is an alternating triangular pattern with striped and diamond-shaped accents.
Round Cremation Urn in African Mahogany with Walnut & Maple Inlays
This handcrafted circular wood cremation urn starts with the darker African mahogany. The design then moves on to feature rich and aphotic walnut, which is spiced with sprightly maple to accent the vacillating wedge patterns.
Circular Wood Cremation Urn in Maple & Zebrawood with Inlays
The urn celebrates the lighter woods, such as maple, zebrawood, and oak. The diamond inlays in each oak wedge provide a nice complement to the rich, dark tones flowing in and out of the zebrawood.
Round Cremation Urn in Oak & Goncalo Alves with Inlays
The focal point of this piece is the goncalo alves square on the urn's top surface. A sequence of alternating cedar and poplar surrounds the circular urn in lovely colors. Oak and poplar finishes the top.
Additional details
Each urn is handmade in the USA
Ships out within 1-3 business days
Urn dimensions: 5.25″ tall, 7″ diameter
Finished with a simple lacquer
Interior capacity: 200 cubic inches
Bottom opening panel attached with screws
More Handcrafted Inlay Urns
As mentioned previously, this artist also makes two gorgeous rectangular boxed urns. Each is available in a spacious standard size of 262 cubic inches. This is well above the industry standard of 200 cubic inches. Also, these can be made in an extra large companion urn size that holds 612 cubic inches.
Handmade Wooden Cremation Urn in Walnut with Maple & Bubinga Inlays
Woods include Walnut, Maple, Bubinga, Mahogany, Cherry, Goncalo Alves.
Handmade Wood Companion Urn in Oak with Cedar & Mahogany Inlays
Crafted with Oak, Cedar, Mahogany, and Walnut woods. This one is a companion size, designed to hold the remains of two people.
Looking for other varieties of round or circular wood cremation urns? Check out our Hand Turned Wood Urns collection.
(Visited 774 times, 1 visits today)