What are companion urns, and how do you choose the right one?
Companion urns are extra large cremation urns that hold the remains (a.k.a. "ashes") of two people. Often intended for a husband and wife, these urns can have two separate compartments or one open area large enough for both sets of cremains.
I'm sure you have questions, so let's dive in and talk about everything, including designs, materials, personalization, and more.
11 Things You Should Know About Companion Urns
Our website is supported by our users. We sometimes earn a commission when you click through the affiliate links on our website. Learn more here.
1. You get what you pay for.
It's the same thing with most products. For every perfectly crafted urn, there's a cheap knockoff manufactured overseas. Nothing wrong with that, if you intend to get something that looks nice but doesn't cost too much. But the artistry and craftsmanship of the memorial will largely depend on your budget.
For example, there are some cheaper wood urns made from veneers. These are often imports and they are easily found on marketplace sites for around a hundred dollars.
We prefer companion urns made from real wood, crafted in the USA. These will hold up for years, much like classical antique wood furniture. Age will actually improve the look of authentic wood memorial urns, ensuring that the memorial becomes a truly treasured heirloom.
It's the same story with other styles and types of urns – the cheap knockoffs can serve well in a pinch, but the better products will be worth paying a little more.
2. A companion urn has double the capacity of a standard adult cremation urn.
Most companion urns have a capacity of about 350-400 cubic inches. This is generally the right size for the cremated remains of two people.
Standard adult urns typically have a capacity of 200 cubic inches. A simple rule of thumb to determine the size you need is to figure that 1 lbs of the person's body weight will result in 1 cubic inch of cremated remains.
So a 200 lbs person will require a 200 cubic inch urn, and a 150 lbs person will require a 150 cubic inch urn. A companion urn for those two people will need a capacity of about 350 cubic inches.
Read our urn size calculator page for more information.
3. Companion urns can be personalized, even with one or both spouses still living.
It's always a good idea to personalize the urn. First, it helps keep the remains identified. Second, and perhaps most importantly, it is a meaningful and attractive way to pay tribute to the beloved couple.
Most often the inscription involves a sentiment like "In Loving Memory," along with the couple's names and dates. You may also include a wedding date, or the number of years living.
Here's a guide for how to personalize an urn, and here is another guide specifically on how to personalize a companion urn with one or both persons still living.
4. There are many options for materials.
Metal, granite, glass, wood, marble, ceramic – the options go on and on. Which is best? The answer will depend on your goal or intention for the urn.
If you want something that can be buried and last for ages, go with a stone urn made from marble, granite, or onyx. Others might prefer an urn that naturally "returns to the earth," so for some, a biodegradable urn might be the way to go.
For display, few things rival the rustic, earthy sensibility of wood, or the exquisite beauty of glass. Ceramic exudes artistry, and metal conveys honor and dignity. Each will endure for a lifetime, so in the end it will depend on the look you want as well as whether the urn will be kept at home, placed in a niche, or buried.
Related: Full List of Every Type of Urn You Can Get
5. There are two standard shapes: Vase-style rounded urns, or box-shaped rectangular urns.
Metal and stone urns typically come in two styles: square or rectangular designs with flat surfaces, or vase-shaped rounded vessels that often include ornate embellishments.
Ceramic urns typically are round, because they are spun on the potter's wheel. Wooden urns are most often box-shaped due to their construction from wood boards. However, we do offer several vase-style wood companion urns that are turned on a lathe.
With that said, there are many other designs and shapes you can find. The vase and box shapes are simply the most typical. The companion sizes are generally extra large urns in the same style and shape as the standard urn.
6. Stone companion urns are ideal for burial.
Most stone-based companion urns are made from "cultured" (i.e., man-made) materials. Cultured granite, cultured marble, and cultured onyx are some of the most popular varieties. Far less expensive than natural stone, these urns are crafted in a mold in both rectangular and rounded vessel shapes.
The advantage of stone urns (whether natural or cultured) is that they can be buried without the need for an additional outer vault.
Since the material won't decompose or biodegrade, most cemeteries allow the direct burial of cultured marble, granite, etc. urns. You'll even find that these types of urns are called "vaults", which is an allusion to the burial vaults needed to protect the cemetery grounds.
7. Three-dimensional inlay art companion urns are simply stunning.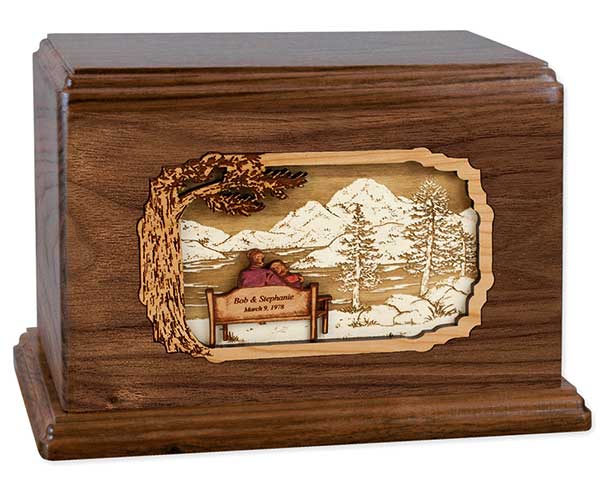 This is the companion urn size of our best-selling flagship collection of premium wood cremation urns. Each piece is a work of art, made to order in the USA in an Oregon woodshop.
The calming rustic feel of each art design is creating using layers of genuine solid hardwoods in their natural colors, set in three dimensions to create a scene of depth and beauty. It's the ideal resting place for a devoted and loving couple.
Above you see our "Soulmates" design, a wooden companion cremation urn featuring inlay art of two people sitting on a bench by the side of a scenic mountain lake. The piece includes personalized laser etching of the couple's names and wedding date on the back of the bench.
The "Soulmates" is just one of many inlay wood art designs. The companion urns themselves come in your choice of solid wood: Walnut, Mahogany, Maple, and Oak. With more than 50 scenes available, including lighthouses, butterflies, golfers, farms, truck drivers, old country lanes, rustic cabins, and more, you will surely find something that represents the love of your life and a snapshot of your journey together.
Please note that, if you do not see the wooden inlay art scene you like in the companion urn size, contact us and we will make it for you. All of the inlay art scenes are available in companion size.
8. Companion urns can display a photograph of the beloved couple.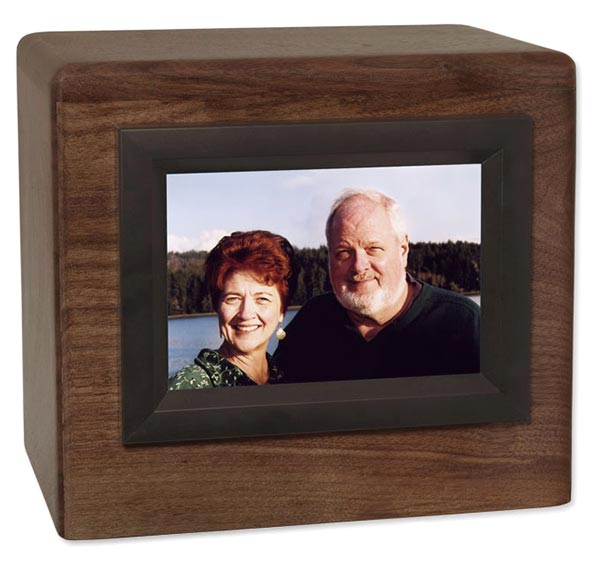 A photograph is the perfect way to personalize a companion urn. We offer some beautiful photo-etched wooden and granite urns, which are truly stunning memorials.
Another option is a photo frame urn, as you can see above. This is a great choice because it allows you the ability to change out the photograph if you wish.
9. Biodegradable companion urns can be set free into the ocean.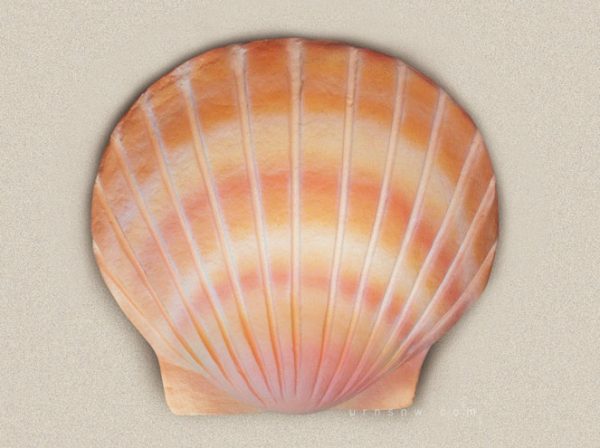 Biodegradable companion urns are eco-friendly vessels that allow you to bury or scatter the remains out in nature. They are made from natural materials that will decompose over time, returning your loved ones' remains to the earth. There are companion urns for ground burial, scattering, and burial at sea.
Related: Everything You Should Know About Scattering
10. Companions urns can fit into a niche.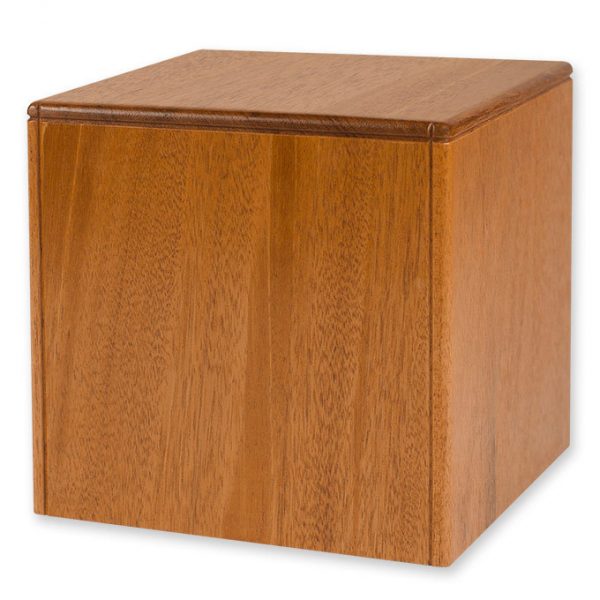 A columbarium niche is an enclosed wall space the holds an urn. This by definition limits the size that the companion urn can be.
Not to worry, though. We can make several types of urns to order for many niches, including wood, ceramic, and glass companion urns. For smaller niches, you will want the most economical use of space. We have urns for that situation, too.
The companion urn pictured above is solid wood, shown in Mahogany but also available in Natural Cherry and Oak woods, made in the USA. Designed specifically for the strict niche sizes at Arlington National Cemetery, it is a common size that will work for many standard niches.
11. You can purchase two matching cremation urns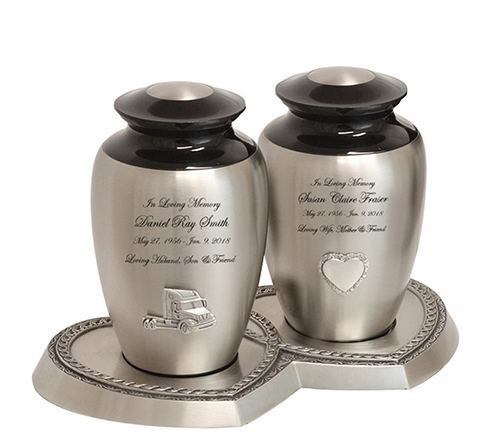 A final option for a companion urn is to get a matching set of two identical or complementary standard-sized cremation urns.
Technically, this wouldn't be a companion urn, but many people find that the matching set of urns allows them to express their individuality and unique life while still affirming the love and commitment shared with the most special person in their life.
Read more: The Complete Guide to Cremation
A Companion Urn for Every Couple
As you can see, there is a wide variety of types, styles, and designs for companion urns. We hope this article helps you find the perfect one for the two of you to rest – together forever – side by side in a way that is meaningful and special to your family.
We'll close with some of our all-time most popular companion urns.
Together Again Companion Urn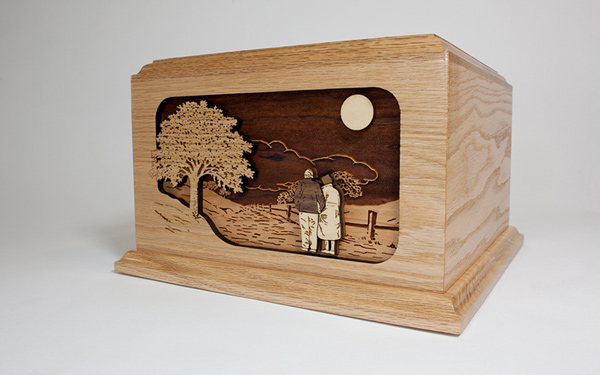 This timeless wooden inlay art scene is simply known as, "Together Again." Made in the USA in your choice of Oak (pictured) or Walnut.
Hand-Turned Walnut Wood Companion Urn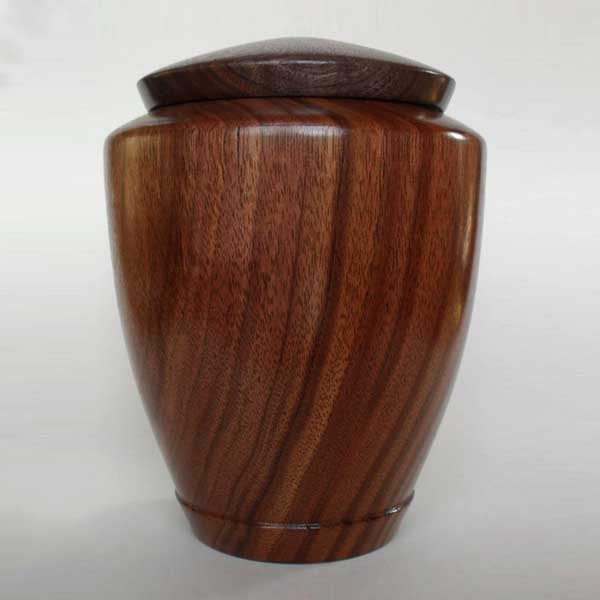 This is one of the most beloved companion urns we offer. Crafted individually by hand from a single block of wood and hand-turned on a lathe, each urn is a one-of-a-kind work of art. Above we show the "Tranquility" urn. You can browse all of our hand-turned companion urns here.
Mahogany Companion Urn w/ Sculpture Art Carving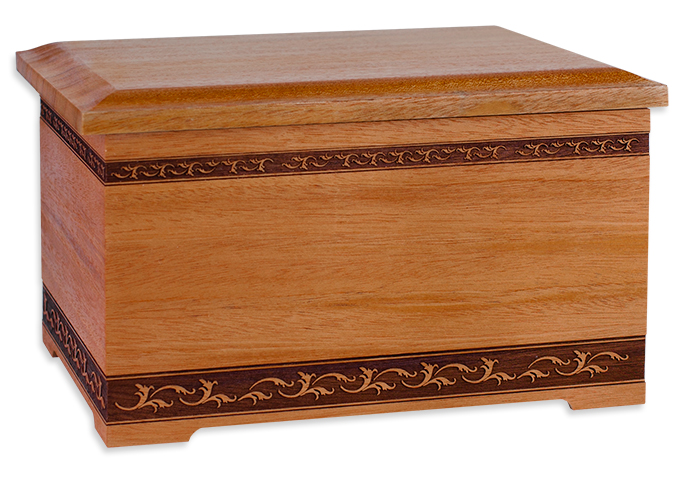 Also available in Cherry
Boston II Companion Urn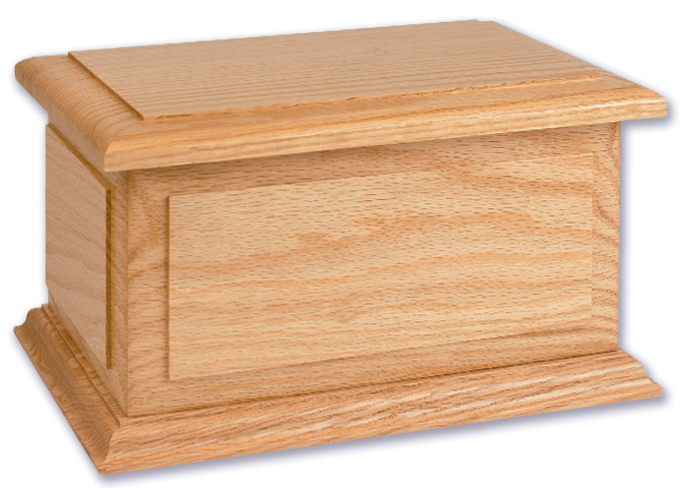 Walnut Wood Companion Urn with Cross Inlay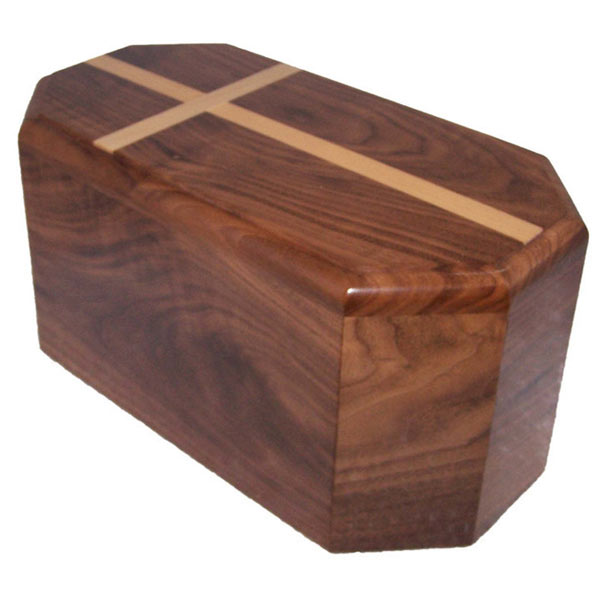 Book Companion Cremation Urn with Lovebirds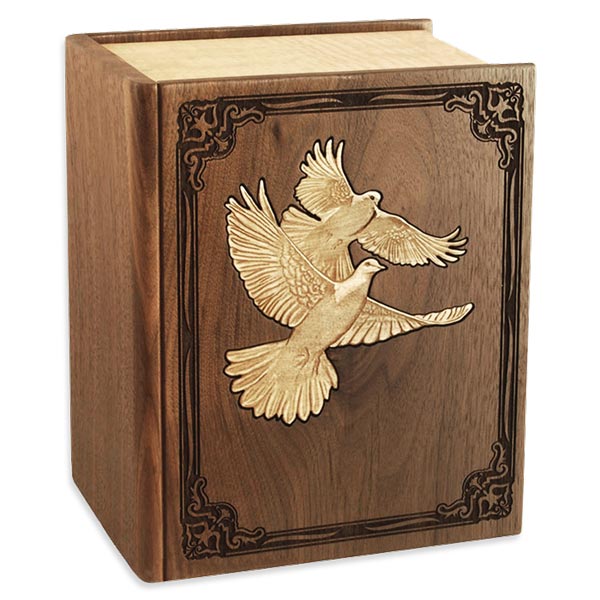 This is a wooden sculpture crafted from walnut and maple wood into the shape of a book. The book cover is genuine dark walnut wood, and the "pages" are laser etched with realistic effect and made from maple. Maple wood lovebirds are also featured on the cover as an inlay, representing the love you shared together.
Raku Ceramic Companion Urn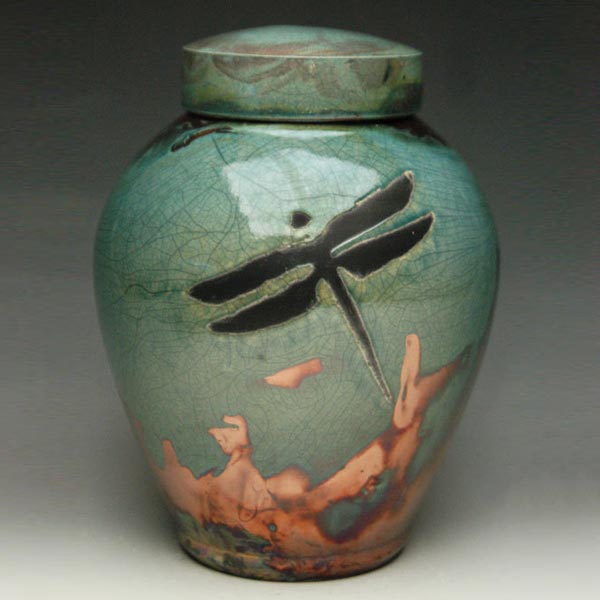 This handcrafted pottery vessel boasts enough capacity for the remains of two people. Elegant in shape, unique in finish, and available in an array of styles and themes, ceramic is a most beautiful choice for a memorial urn for two.
The above design, a Dragonfly in Raku style, is one of many options available. Browse more ceramic cremation urns here, most of which are available in companion sizes.
Pewter Feather Art Companion Urn
Here we see a traditional vase shaped metal urn that is large enough to hold the remains of two adults. An elegant carving surrounds the top and bottom rims of the urn, and matches the lid.
Granite Photo Companion Urn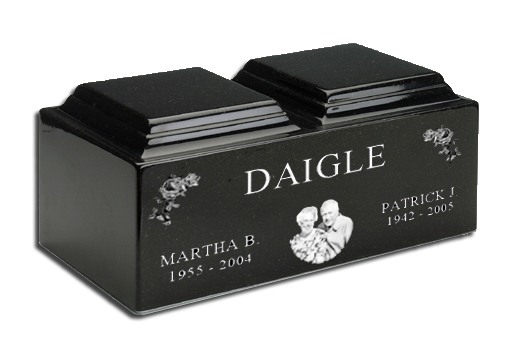 Made in the USA from cultured granite, this companion urn has two compartments to hold the remains of a devoted couple together in life and together in death. Includes custom etching of a photograph along with names and dates.
Cultured Marble Companion Urn
Cultured marble urns are available in a wide variety of colors. The size, shape, and swirls of marble exude stateliness, security, and durability.
Soulmates Urn
We mentioned the Soulmates Cremation Urn above. Here are some more details for this popular companion urn. In the video, you'll see it in standard adult size in dark Walnut wood, and also in companion size made with lovely Oak wood.
Here are some more angles of this urn and the detailed art scene.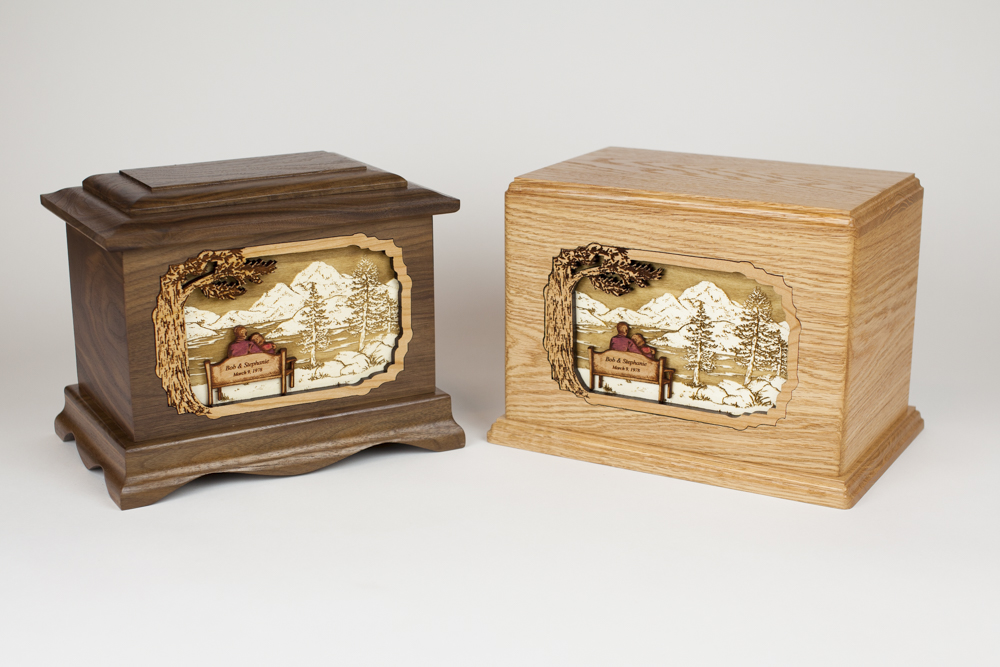 Soulmate Companion Size (for Two People)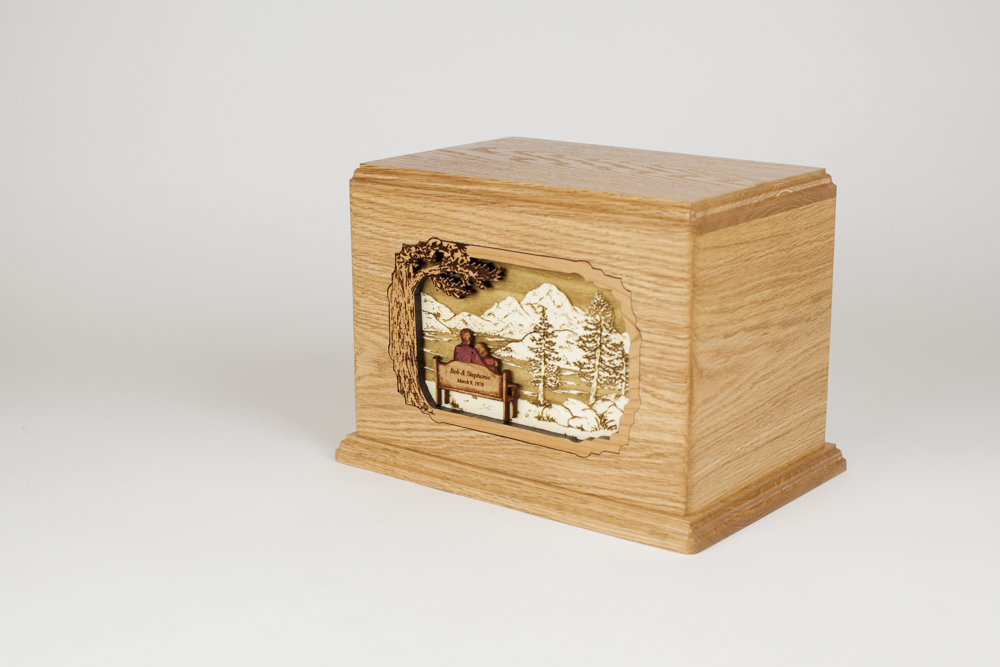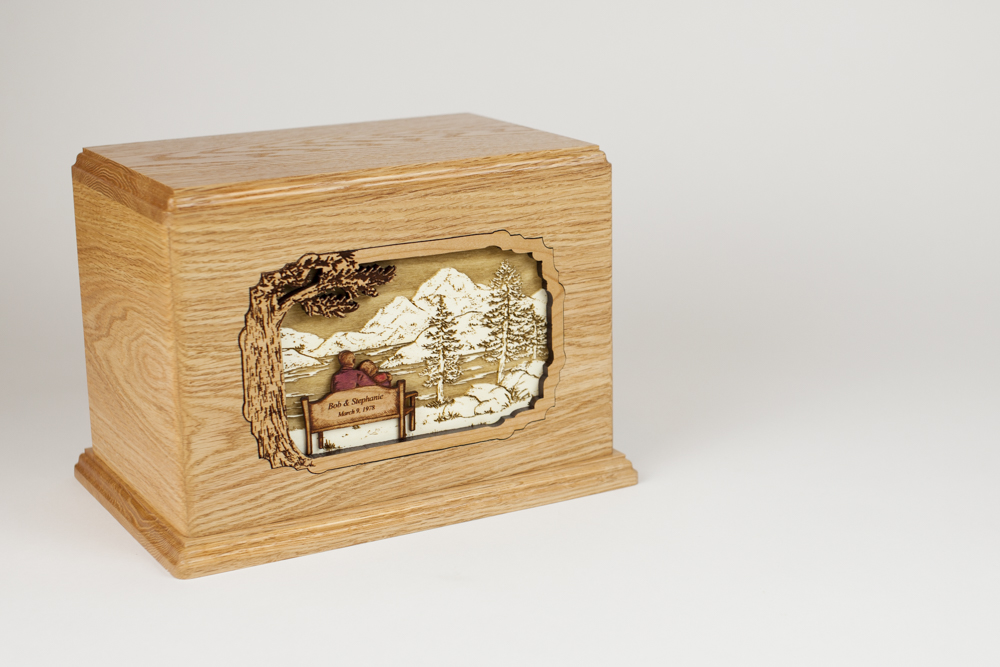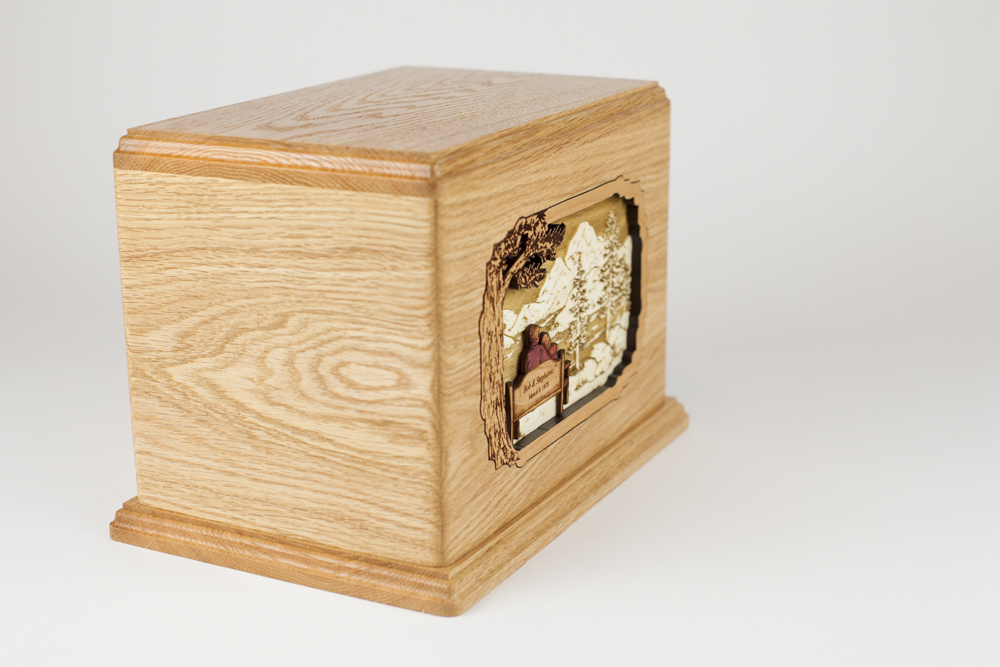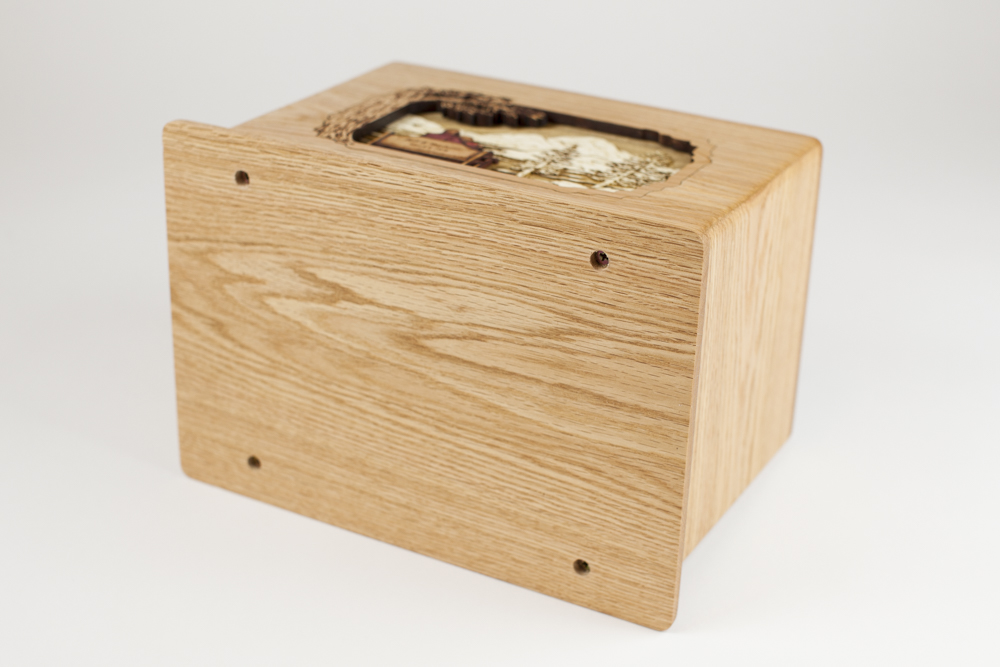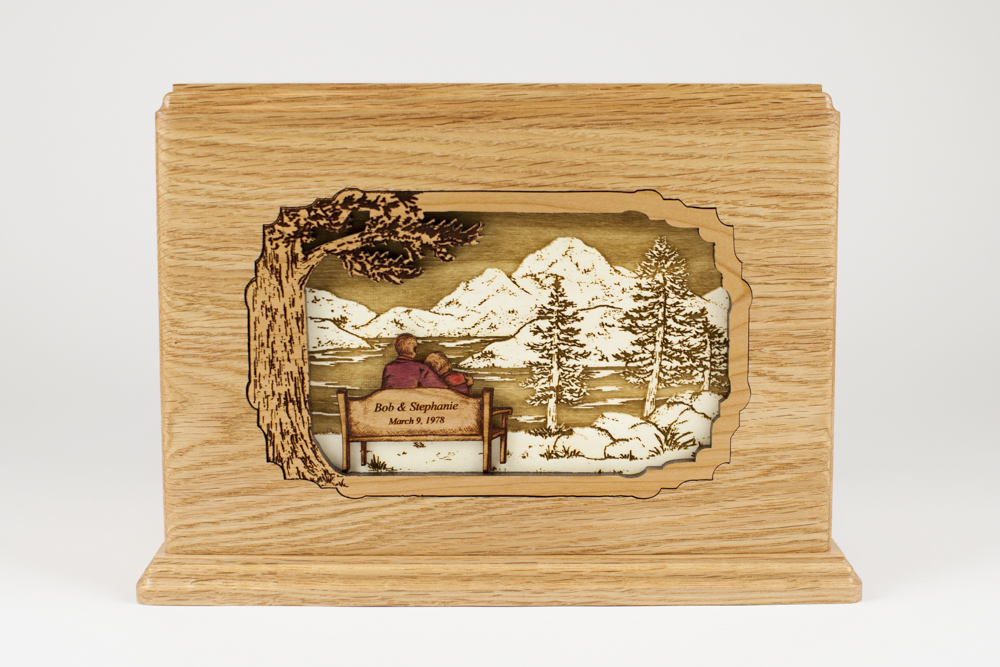 That was the larger companion urn size, which holds the remains of two adults.
Soulmates Urn in Standard Size (for One Person)
Now let's take a look at the same "Soulmates" scene in the standard adult urn size.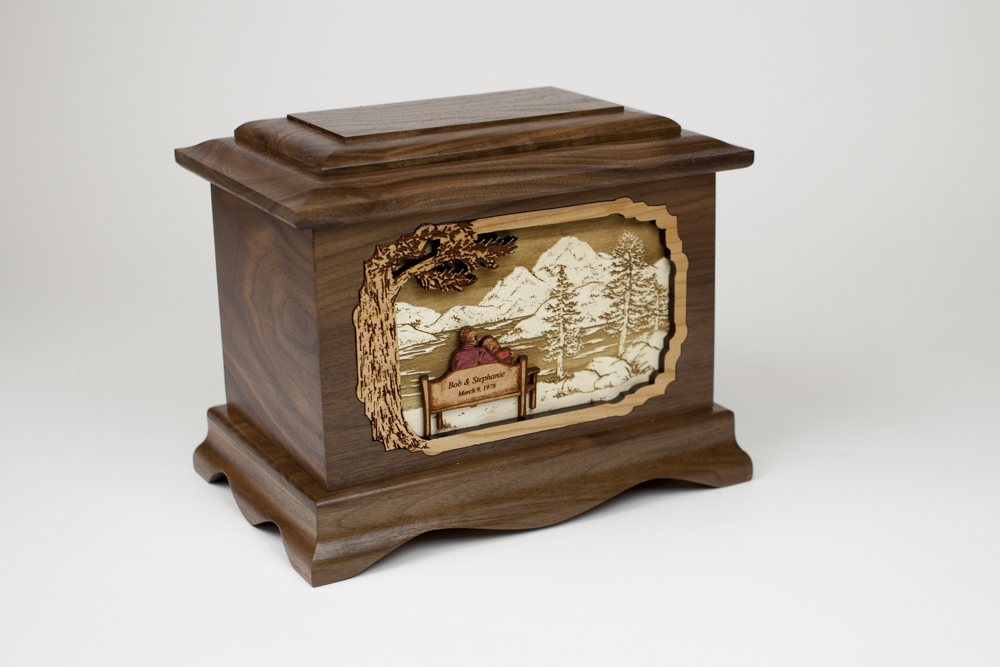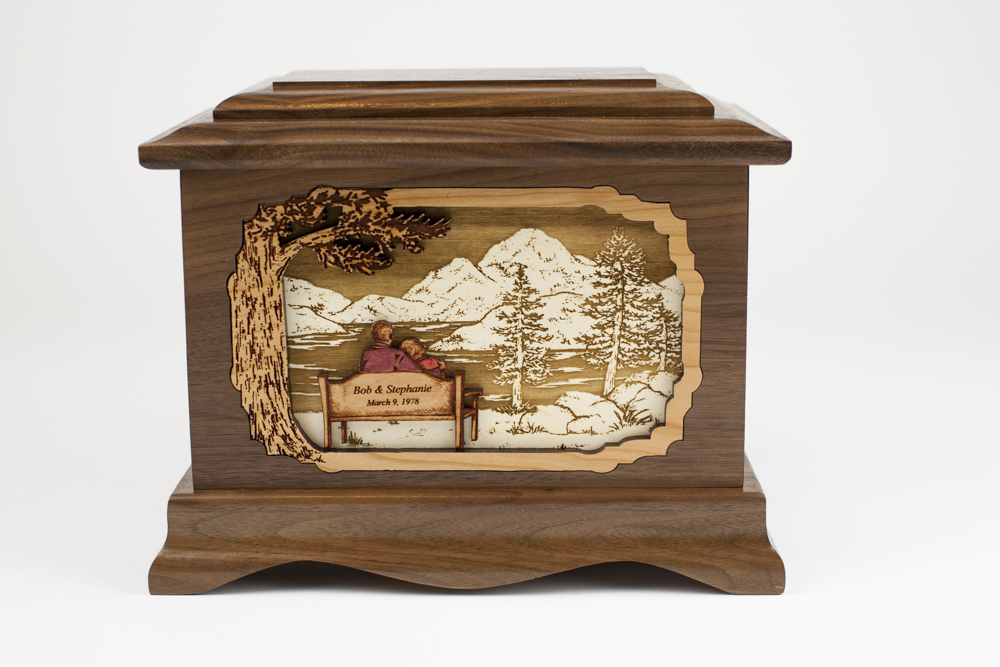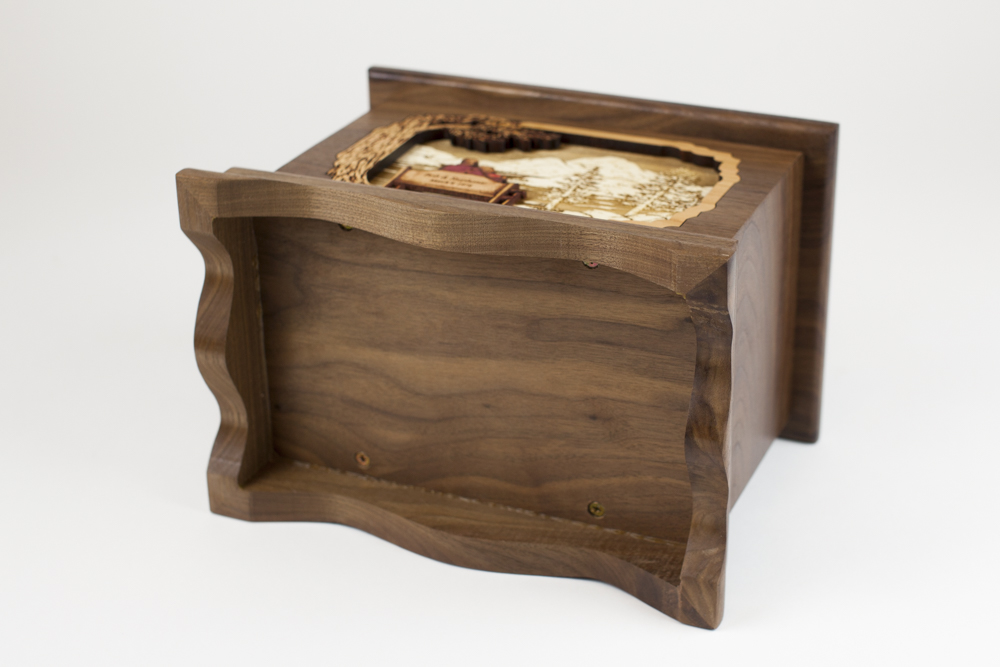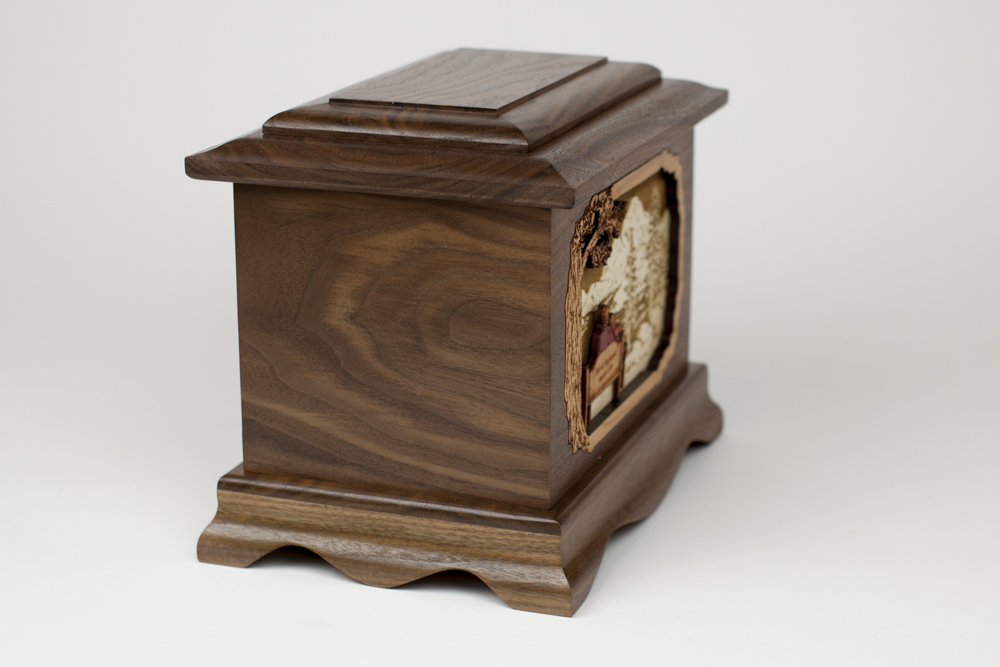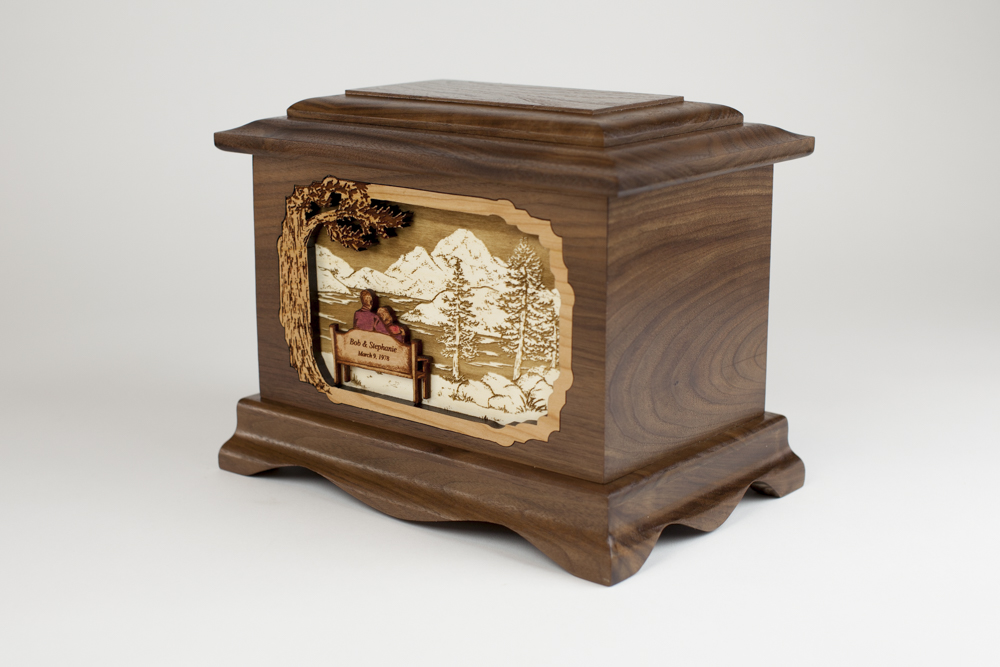 As you can see, because the urn has a smaller capacity (200 cubic inches, enough space for the ashes of one person) there is more room for ornamentation. As with nearly all wooden urns, it opens from the bottom with a detachable panel held in place by screws.
Now that you've had a detailed look at this lovely couples urn, here is a rundown of the most important details.
OPTIONS
Standard or Companion size
Standard urn comes in four shapes, available upon request
Companion size is idea for use as a couples urn for two people
Includes personalization of bench with names and wedding date
Optional additional engraved inscription on top or back of urn
Your choice of Oak, Maple, Mahogany, or Walnut wood
FEATURES
Made in the USA to order
Crafted with 100% premium hardwood – no veneers
Inlay art scene comprised of various hardwoods in their natural colors
3-dimensional inlay scene gives vibrant, lifelike effect
Built to order within 1-3 business days
Rush shipping & production can be arranged
Free standard ground shipping is included
These two urns are available here; you can also browse our extensive collection of inlay art designs here.
Read Next: Sympathy Gifts for Someone that Lost a Parent