Today we have put together a list of the 30 best hummingbird urns and hummingbird memorial items on the internet.
Within mourning culture, hummingbirds have long been seen as a sign from heaven to those who are in grief. They are messengers of sorts, to let those left behind know that their loved one is happy and wants them to be comforted and happy, too.
Because of this, hummingbirds have become a popular choice for the adornment of urns and memorial keepsakes. Their beauty and deep symbolism make them perfectly suited not only for urns, but also jewelry, paintings, ornaments and many other tokens which are kept for remembrance items.
Whether you wish to commemorate using hummingbirds for their symbolic meaning, or you or your loved one just adored the tiny, majestic little creatures, our beautiful collection of hummingbird urns and memorials is sure to provide you with just the right option to suit your tastes.
20 Best Hummingbird Cremation Urns
Our website is supported by our users. We sometimes earn a commission when you click through the affiliate links on our website. Learn more here.
1. Ambassador Hummingbird Urn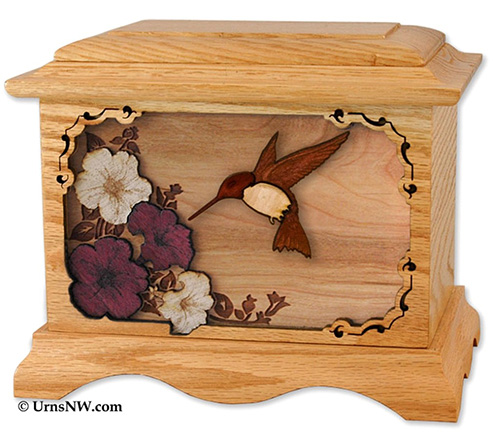 Brilliant workmanship results in a stunning, 3-dimensional hummingbird scene which will serve as a gorgeous addition to your home decor while providing an elegant resting place for your loved one.
2. Cremation Glass Hummingbird Keepsake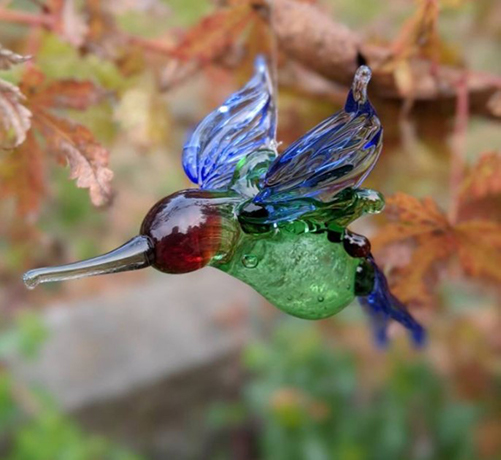 You will enjoy seeing the beautiful colors that will reflect off of your hummingbird keepsake. A small portion of your loved one's cremated remains will be artfully infused into Borosilicate Glass.
No two ornaments are alike due to the fact that each one is handmade.
3. Companion Urn with 3-Dimensional Scene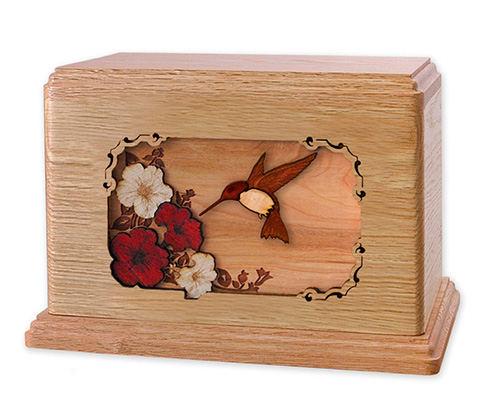 Our "companion" sized urn with the 3-dimensional wood art scene. Choose "Hummingbird" option, and we will produce this urn in companion size for two individuals with the same hummingbird and flower design you see above.
4. Roses & Hummingbird White Cremation Urn
Perfectly designed to serve as a memorial for that special someone who loved hummingbirds. This is a thoughtful resting place for your loved one's cremated remains.
This elegant urn is perfect to display in your home or place in a niche at a mausoleum.
5. Hummingbird Cherry Wood Urn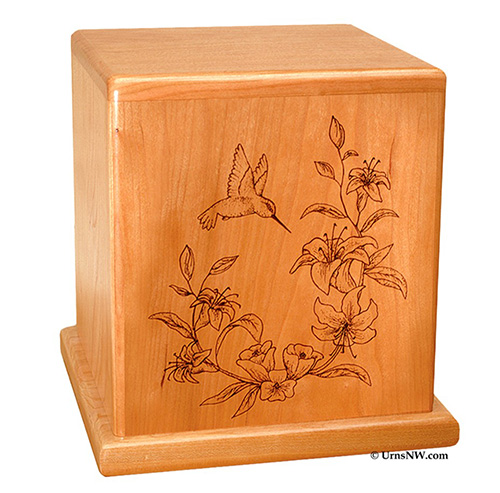 A simple cherry wood urn, built in the USA from solid cherry, laser etched with the nature scene of a hummingbird flitting down upon a natural wreath of flowers. A classic design which we have offered for years.
6. Biodegradable Hummingbird Scattering Urn
Used for scattering or burial, these all-natural urn tubes provide the perfect temporary or permanent resting place for your loved one.
These biodegradable urns will dissolve in water or earth; or you can use the urn as a simple scattering tube.
Related: Every Type of Urn You Can Use
7. Hummingbird Urn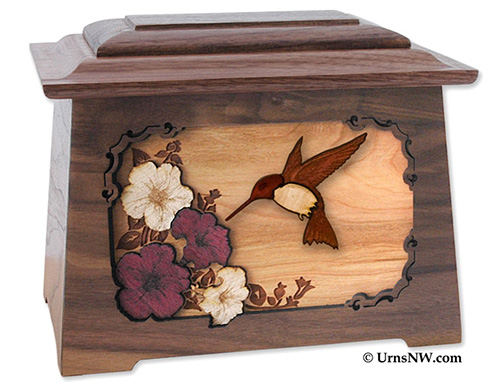 Our 3-dimensional wood art scene in the lovely "Astoria" shape. Available in Walnut (as pictured), Oak, or Maple wood. As you can see, the Walnut provides a stunning contrast to the cherry wood background and helps the maple and rosewood of the flowers and bird to stand out with picturesque beauty.
8. Suncatcher Hummingbird Cremation Urn Keepsake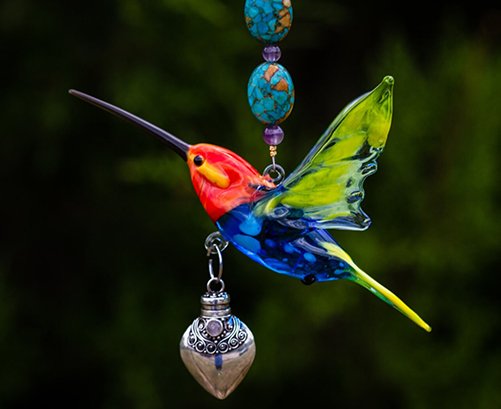 An amazing keepsake urn to keep a small portion of cremated remains in. You can hang this hummingbird ornament in your garden, next to a sunny window, or even off of a birdhouse or feeder.
This heirloom quality piece of art can be passed down from generation to generation.
9. Astoria Clock Urn – Hummingbird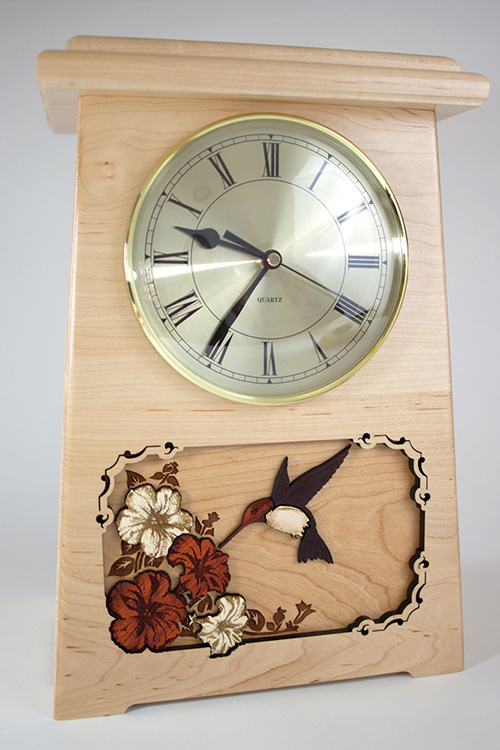 Our 3-dimensional art scenes come in a wide selection of styles, including different shapes and sizes. This one includes a gorgeous working clock.
Related: Best Wooden Cremation Urns
10. Pink Hummingbird Cremation Urn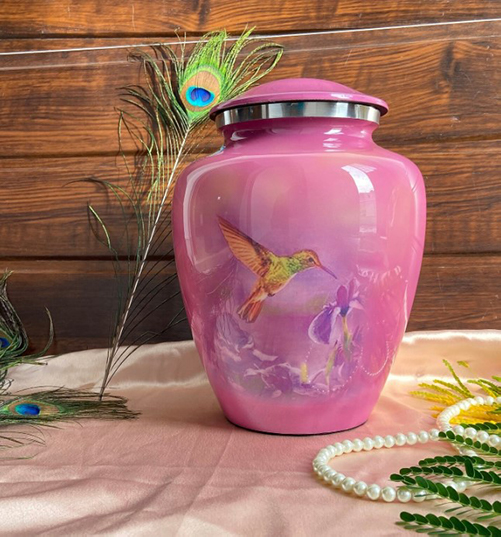 This aluminum urn is a vibrant pink with a jeweled colored hummingbird hovering in place. A beautiful tribute to your loved one's memory.
This urn is designed as a beautiful work of art that you can proudly display in your home or office. Place on a shelf, desk, or tabletop.
11. Dimensional Keepsake Urn Hummingbird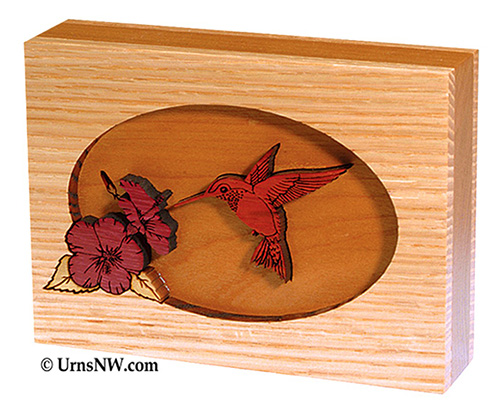 "Keepsake" is sort of a code word withing the urn industry, it means that the urn holds a small amount of remains so that a family member can retain a small amount of ashes as a token "keepsake".
This keepsake urn holds one cubic inch of ashes in a tiny compartment in the back of the urn.
12. Set of 4 Keepsake Hummingbird Urns
These handcrafted keepsake urns are the perfect size to keep a portion of your loved one with you always. Also the perfect size urn to keep a portion of a beloved pet.
The lid will securely seal and keep your loved one's cremated remains safe, a reminder that your love keeps their memories safe and secure.
13. Garden Stone Granite Urn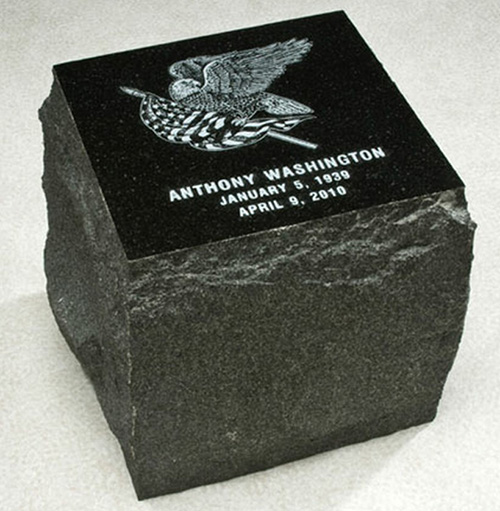 This heavy stone urn can be displayed outdoors in your garden, and can be engraved on top with a selection of artwork including the patriotic Eagle & Flag scene pictured above, as well as Praying Hands, Roses, and many more, including an enchanting hummingbird design.
14. Bright Blue Hovering Hummingbird Urn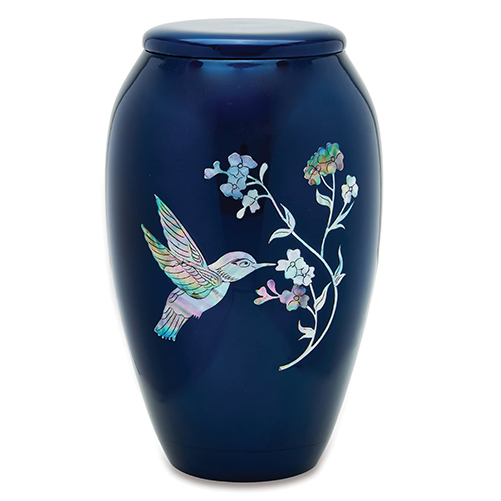 This sturdy aluminum, handmade urn is a suitable size for an adult's cremated remains.
It comes in a deep navy blue, with a sweet hummingbird and flowers painted in an iridescent color. Beautiful to display in your home.
15. Hummingbird Ceramic Cremation Urn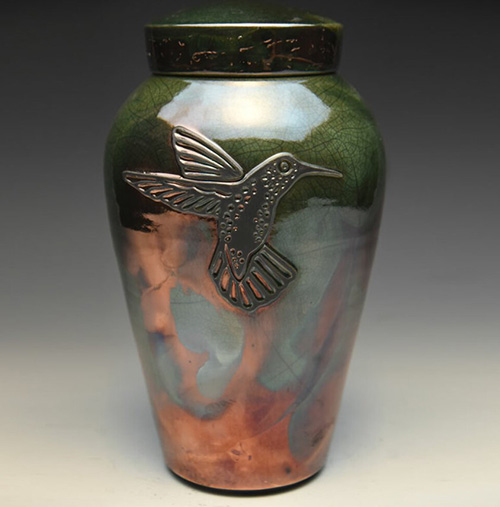 Our original hummingbird ceramic urn, handmade in the USA by a talented ceramic artist. The hummingbird design is fired on using a unique creative process which results in the sepia-toned image, giving the urn a vintage or antique look.
16. Nature's Peace Purple Hummingbird Urn
The beautiful, jewel toned hummingbird almost looks like it could fly away once it has finished its meal of nectar.
Made from aluminum, this purple colored urn is just right for display, burial, or internment. Your loved one will be safe and secure once they are placed inside.
17. Hummingbird Cremation Urn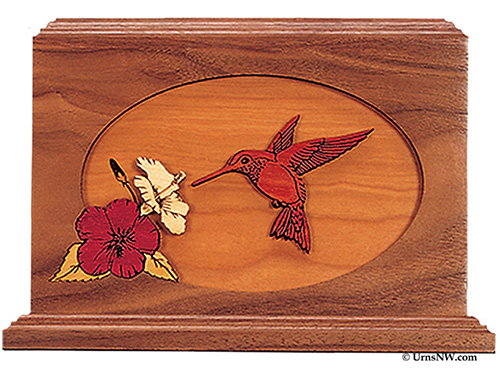 Another take of the 3-dimensional wood art, with a very detailed hummingbird feasting on the nectar of the beautiful summer flowers.
18. Crystal Hummingbird Candle Urn
A unique pattern decorates this crystal candle holder that is actually an urn. The hummingbird is laser engraved into the crystal, so it is guaranteed to never fade.
The urn itself is made from aluminum alloy and is the perfect resting place for a small amount of cremated remains or even a small pet.
19. Hummingbird & Heritage Cherry Wood Cremation Urn Box
An elegant brass plate with laser engraved custom text decorates the front of this urn. Your loved one's cremated remains will be kept secure for years to come.
Your customizable urn comes in four beautiful finishes; espresso, burl, cherry, and walnut. Choose from numerous fonts and phrases to make your tribute truly unique.
20. Hummingbird Bird Feeder Memorial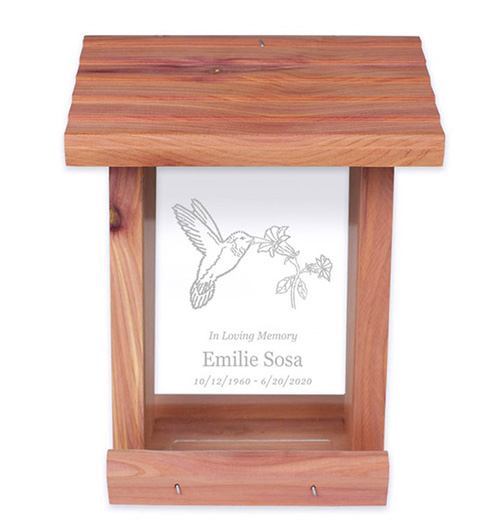 This cedar bird feeder is not an urn, but one of our most popular memorial gifts. We engrave the front acrylic panel with a hummingbird design along with the name and dates of your loved one.
10 Best Hummingbird Cremation Jewelry
21. Hummingbird Engraved Heart Urn Necklace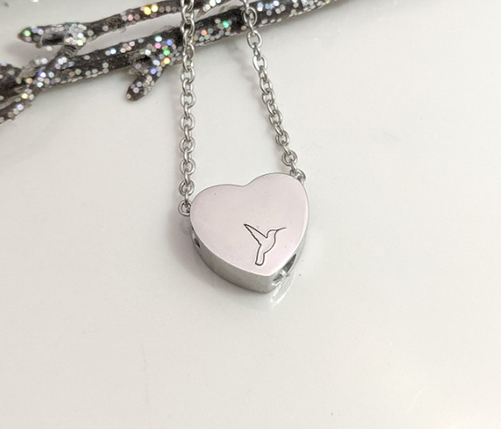 This simple yet stunning piece of jewelry is crafted from stainless steel. You can choose from silver, gold, or rose gold finish for your tiny urn.
You can have the back of the heart engraved as well, to make it exclusively yours.
22. Sterling Silver Hummingbird & Sunflower Urn Necklace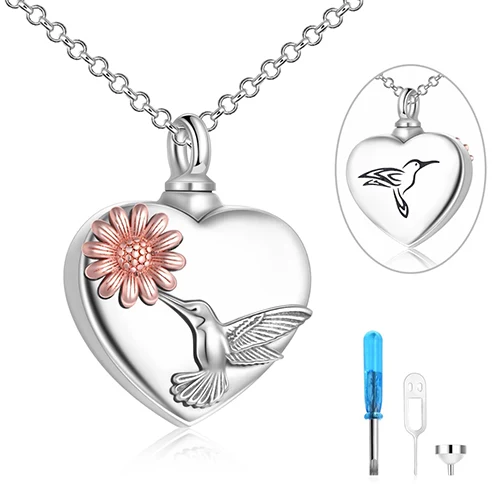 'Forever in My Heart' says it all for this beautiful heart-shaped sterling silver hummingbird pendant. 
Keep your dear one with you at all times when you place this pendant urn around your neck.
23. Silver Hummingbird Charm Bracelet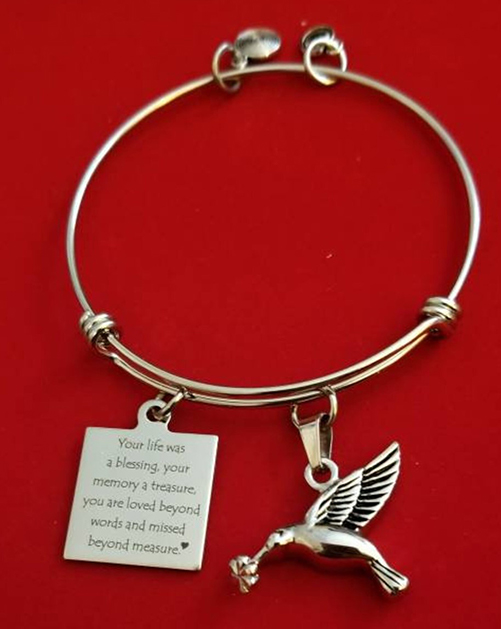 A sweet and different idea is to place cremated remains in a charm for a bracelet. An additional charm states your sentiments, "Your life was a blessing, your memory a treasure. You are loved beyond words and missed beyond measure."
A fitting memorial to the one you loved.
24. Gold and Silver Hummingbird Urn Necklace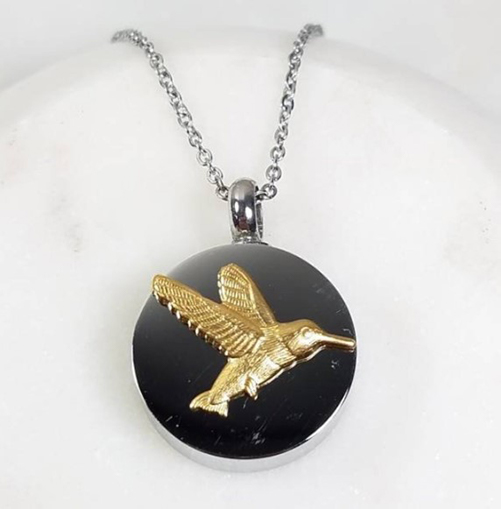 A handmade memorial to your loved one, created from quality stainless steel. A beautiful way to keep your loved one with you and close to your heart at all times.
You can personalize the back of your pendant, too, with a name or dates.
25. Memorial Sterling Silver Hummingbird Urn Necklace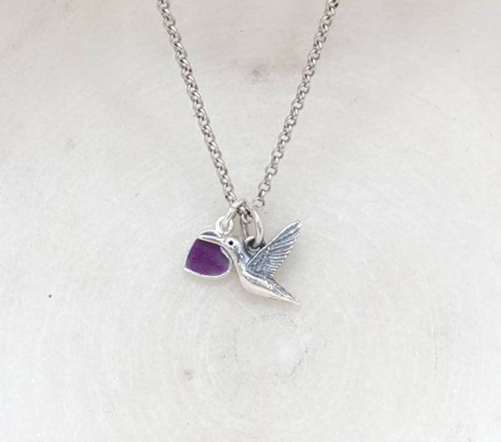 A cute hummingbird is the center of this memorial pendant. By adding a heart, it completes the love you feel for the precious one you have lost.
Wear this pendant as a symbol for the world to see the love you still carry in your heart.
26. Silver Double Hummingbird Cremation Urn Bracelet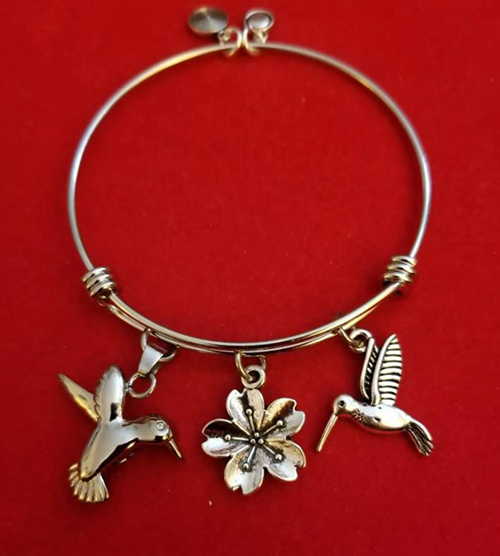 This silver hummingbird keepsake bracelet will honor your loved one every time you put it on.
Your bracelet comes with the hummingbird, a heart, and a flower charm. Make it personal by adding a charm that says: "Mom, Grandma, Brother, Husband, etc." Made by hand, you are sure to cherish this bracelet for years to come.
27. Now She Flies with Hummingbirds Cremation Urn Necklace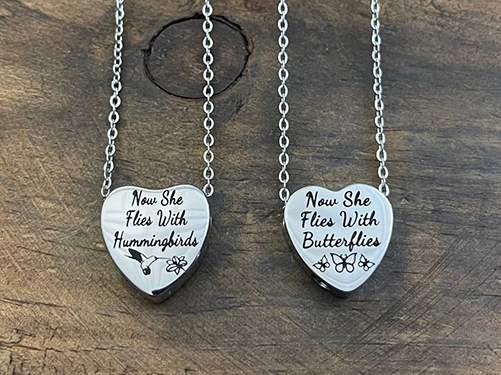 This stainless steel hummingbird/heart urn is simply so precious. You can place cremated remains of a lost loved one or even a pet in your pendant.
A small funnel kit is included to help you place the remains easily into your tiny urn.
28. Glass Hummingbird Bottle Urn Bracelet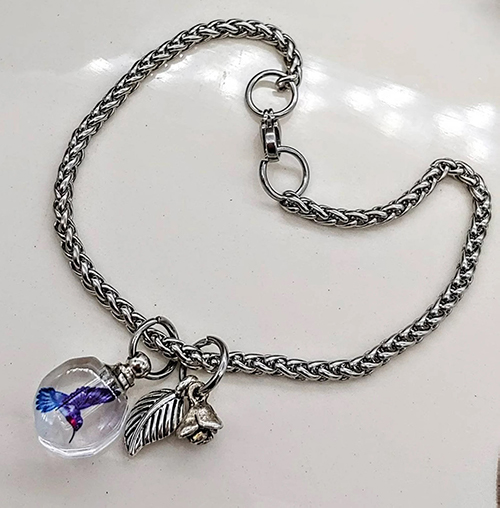 Now you can wear a gorgeous handmade tribute to your loved one, keeping them close to you at all times. This sweet little hummingbird is painted on a fillable glass drop, then fixed to a beautiful bracelet.
You can choose from several bracelet styles as well, to best suit your tastes.
Related: Best Cremation Jewelry
29. Colorful Hummingbird Flower Urn Necklace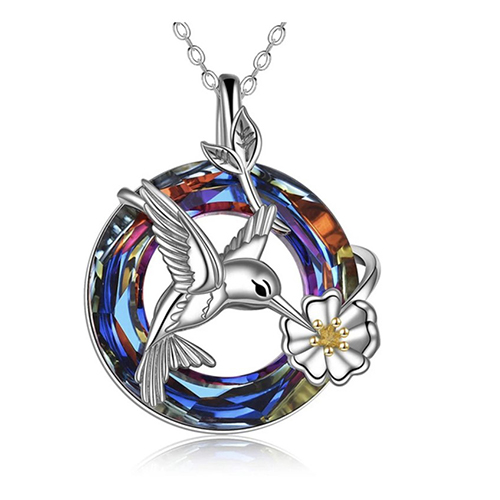 This precious little hummingbird is sipping nectar from a flower on your new memorial jewelry. Bright and colorful, your pendant will hang from the sterling silver chain that is included with your purchase.
30. Hummingbird Urn Pendant Necklace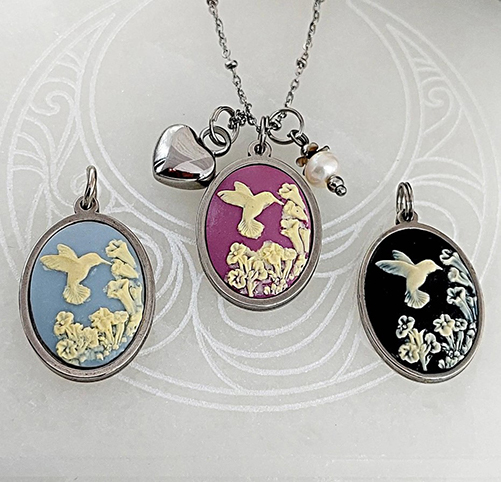 A dainty hummingbird hovers and drinks from a flower on this beautiful, cameo style pendant. With three colors to choose from — black, lavender, or blue — you are sure to love this elegant necklace. Attached is a tiny heart urn and a pearl to complete the feminine look.
Read Next: Hummingbird Memorial Gifts