You need answers to some important questions: How much do cremation urns cost? How can I save money when buying an urn for ashes?
In this article, we're going to provide simple and helpful answers. We'll also cover some crucial info about cremation urns that you will be glad to learn.
Lastly, we'll share some tried-and-true tips to help you save big when shopping for quality cremation urns.
Our website is supported by our users. We sometimes earn a commission when you click through the affiliate links on our website. See our privacy policy & disclosures for more information.
How Much Do Cremation Urns Cost?
So, how much do cremation urns cost? In general, regular, adult-sized urns of acceptable quality cost anywhere from about $80 up to $600.
Of course, the full answer to your question is actually a bit more involved than it may seem. But we're trying to keep the answer as simple as possible for you.
Prices depend on the material of the urn and quality of craftsmanship. Imported wood urns are usually less expensive than say, an artisan-crafted blown glass urn. Other factors include the size, design, and personalization options.
Here are some prices you can expect for decent-to-premium urns.
Funeral home: $200 up to $1,000, average cost of about $400. Typically good quality.
Online: $50-200 for imports; $200-600 for American-made. Average of about $100 for low-end items, $300 average for high-end.
Local artisans: $100-300 for those starting out; $300-1,000 for accomplished high-end artists. Prices vary but expect to pay more for something handcrafted.
If you're looking for something less expensive, there are ways that you can avoid the high costs often seen in many funeral homes. You can make your own (here are some great DIY ideas). With a little creative thinking, you can choose an unconventional container that serves its purpose just as well.
However, most families prefer a thoughtfully designed and well-crafted urn designed to hold the ashes of their loved one in a beautiful, respectful way. If you want a high-quality urn from a vendor, we've got some tips below to help you find the perfect one without breaking the bank.
Read on!
Where to Buy Cremation Urns
When you begin shopping for memorial urns, you'll soon realize that your buying options are virtually limitless.
Online
You've got all your online options, of course. A quick web search for "cremation urns" or "urns for ashes" will return dozens of ecommerce stores. Our parent company, Urns Northwest, is among the best (in our humble opinion).
Walmart.com and Amazon.com have even jumped onto the bandwagon. You'll find a lot of bargain-priced imports there, mostly metal and inexpensive wood. But with some thorough searching, you can find some excellent premium choices. For instance, here's what we offer on Amazon.com (good quality, American-made items).
Etsy.com is a great resource for niche and handcrafted urns. It's a huge marketplace for handmade items with thousands of sellers, so you can find quite a few talented artists who make unique memorials. You can also check your local online and social media sales groups (think Craigslist and Facebook Marketplace, etc.) for local artisans.
Funeral Homes
The funeral home in charge of your loved one's service will surely have several for you to choose from as well. They may even offer one or more as part of a cremation package.
Most funeral homes have a small selection of items that they carry or display in their showroom. They'll also typically have a catalog filled with thousands of options for you to browse through, which they will order from their distributor once you make a selection.
Local Artists
You'll have to poke around a bit, but inquiries should reveal a wealth of talented artists in your area. Check on social media, among friends and family members, at galleries and Saturday markets, or among artist collectives for who or what is available near you.
You might find glassblowers, woodworkers, ceramic artists, sculptors, and others who might craft an urn for your loved one. Expect to pay more, as these types of art pieces are often handcrafted individually.
Tips to Save on Cremation Urns
When it's all said and done, quality is still of the utmost importance when choosing an urn. When you can get that with a good price, you're golden.
But first things first – you've got to choose the type of cremation urn that best suits your family's needs. To help you do that, we've put together a short step-by-step guide for choosing the best one. It won't take more than five minutes for you to read.
Got your type of urn picked out? Good, now we can get to the good stuff – solid advice for saving money when buying your urn.
Our number one tip for saving on cremation urns may be the easiest, and most obvious:
Tip #1: Shop Online
When you shop online, you don't have to leave the comfort of your home. And it's also more convenient for your budget, helping you save money on this part of your funeral expenses.
You save because many online stores offer the same or similar products that the funeral homes have, just at a lower price. They may keep their prices low, or offer continuous discounts on selected products. Or they may have a page of their online shop dedicated to on-sale or clearance items.
You can also sometimes find coupon codes for certain stores, or limited time deals that you just can't beat elsewhere. Marketplaces like Etsy, for example, will even alert you when an item you "favorited" goes on sale. And you can always hit that "Sort By" button to view items priced from low to high, and not the other way around.
At the funeral home, crematorium, or cemetery, you may be feel like you need to buy an urn that is more expensive than you'd like. But online, you'll know exactly what you're getting and exactly how much it's going to cost, taxes and all, before you buy.
Tip #2: Buy in Advance
Is the death of a loved one imminent? Even if you're pre-planning your own funeral, it's possible to get a good deal on your urn ahead of time.
Part of this is due to the simple fact that when a death has already occurred, you – the buyer – are understandably emotional. You may not be thinking clearly, overwhelmed by grief or numb from having to make so many unaccustomed decisions.
But if you buy the urn ahead of time, when you're not yet "in the thick of it," so to speak, it can save you from making a last minute emotional decision. You're much more likely to find the urn you really want, and at a price that works for you as well.
Practically speaking, buying the urn in advance may save you money on things like rush shipping, too.
Tip #3: Get a Second Opinion
It can always help to get a second opinion, especially when buying something of high sentimental value. In this case, it's an urn, and it can cost you hundreds or even thousands of dollars.
Bringing a friend along on your shopping venture, even if it's online, can really help you . Especially if they're the practical type, they can help you steer clear of distractions (like unnecessary add-ons). They can help you focus on your goal- to find a cremation urn that is first-rate and a good value.
After reading this article, you should feel better equipped to begin your search for a quality cremation urn.
It's not improbable to achieve both quality and a good price when purchasing an urn… you just have to know where to look.
If you have any other questions or concerns, the experts at Urns Northwest will be more than willing to assist you, so feel free to contact us any time.
Read next: 8 Things You Need to Know About Cremation Urns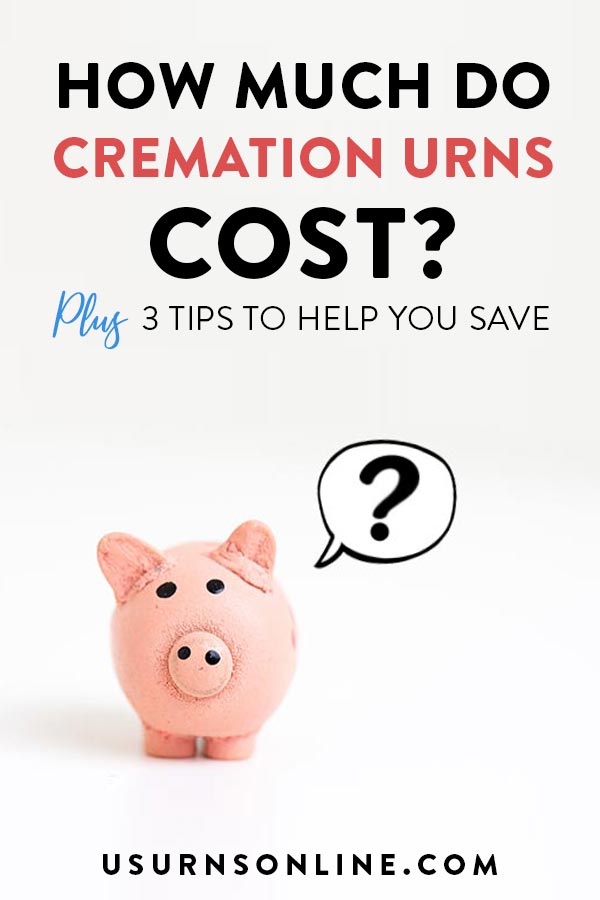 Aubrey is a lifelong writer who has served in the funeral industry since 2016. After graduating from Dallas Institute of Funeral Service, she knew she wanted to continue to serve families through her writing, but didn't know how.
Soon after, Aubrey experienced a "lightbulb" moment and started her eulogy writing business, Eulogies by Aubrey, in 2019.
Aubrey has written professionally since 2012, covering not only funeral-related topics and gift trends, but also for TV guide listings, as well as legal topics. She began writing for US Urns Online in 2019.
Aubrey's work has been featured in Huffpost, Coming of Age Magazine, and 1800Flowers.com. Increasingly interested in prenatal and postpartum mental health, as of 2023 Aubrey is a trained and certified birth and bereavement doula (SBD), and is currently studying toward her degree in Health Science. She also holds additional certifications in Cremation Arrangement (ICCFA) and Burial at Sea (NEBAS).