For some, there is no allure to a $12,000 felt-lined mahogany casket with matching hand-stitched pillow. Your loved one, perhaps, always said to bury them in a simple pine box and use the savings to do something good, like send a grandchild to college.
You're looking for cheap caskets, and not just as a way to save money (though that is a consideration). Most people choose an inexpensive casket as a way to carry out your loved one's wishes with simplicity and financial wisdom.
So, how do you find an inexpensive casket? Here are five tips for finding cheap caskets followed by five ways to find, make, or purchase cheap caskets.
Our website is supported by our users. We sometimes earn a commission when you click through the affiliate links on our website. See our privacy policy & disclosures for more information.
5 Tips for Finding Affordable Caskets
Here are some tips to help you find and select an affordable casket.
1. Make up your mind ahead of time
You have the right to choose the casket you want. Did you know that you are not required to purchase one offered by the funeral home? You're free to shop around.
This means that you can decide on your needs and budget ahead of time, and stick to it. This is perhaps the single best way to save money when purchasing a casket.
2. Shop around and price-check
Ask the funeral home for low-end, outdated, scratch & dent, or floor models for sale. Contact other local funeral homes and cemeteries and ask for their casket prices.
Check online for options from niche suppliers like Trusted Caskets, large marketplaces like Amazon and WalMart, and consider smaller artisans selling on Etsy.
3. Consider making a casket
You can make your own from scratch, hire someone to do it for you (a friend or a local craftsman), or get a Build-Your-Own Casket Kit.
Expect about $300 for materials plus the time of producing it. The Build-Your-Own Kit is a little more (see link for price) but can be done in under 3 hours and requires no cutting or clamping.
Related: How to Avoid Exploding Casket Syndrome
4. Factor in transportation
If you don't purchase a casket from the funeral home you're using, you will need to have the casket delivered.
This can mean picking it up in your own truck (you'll need a minimum of 4 strong helpers), paying for freight shipping, or negotiating delivery costs with a local vendor.
5. Make sure the casket meets the cemetery's conditions
This should go without saying, but it still does need to be mentioned.
Some cemeteries require a protective vault that prevents the ground from caving in over time. Some are "green cemeteries" that only allow eco-friendly burial caskets or shrouds. Other cemeteries have basic restrictions on sizes or materials.
Most caskets you purchase online or through a funeral home will meet the guidelines for most cemeteries, but it is wise to check and make sure.
5 Ways to Find Cheap Caskets
1. Purchase a cheap casket online
Expect to pay: $700-1,200 (prices vary)
You can purchase a casket anywhere you like (or make one) and the funeral home is required by law to accept it. The cemetery, of course, may have some regulations and standards regarding what they allow, so definitely check with them first. But you are certainly not required to purchase a casket from the funeral home. It's a wise idea to shop around a little and get to know your options for an affordable casket.
Here are some of the top places to find inexpensive caskets online:
There are some things to consider when purchasing a casket online. Many online caskets look just like the ones in the funeral home, but are often made with much cheaper (i.e., inferior) components.
Note that you will need to be present at the funeral home to sign for the delivery. The funeral home won't be held responsible for any damage, so you will want to inspect the casket to ensure it has arrived in good condition.
Also, you will need to dispose of the large amount of cardboard, plastic wrap, and Styrofoam packaging; possibly even wood or pallet material as well.
2. Call around and price check locally
Expect to pay: $800-2,000 (same as #1) prices vary
Because you are not required to purchase a casket from the funeral, you are free to shop around and price check. This is wise, as you just might find a great bargain, and it also helps maintain competitive pricing among funeral homes.
Simply call up a few local funeral homes (or even cemeteries) and ask what they have available in your price range. Again, ask for scratch and dent caskets, discontinued lines, or old floor models to find the best deals.
3. Get a DIY casket kit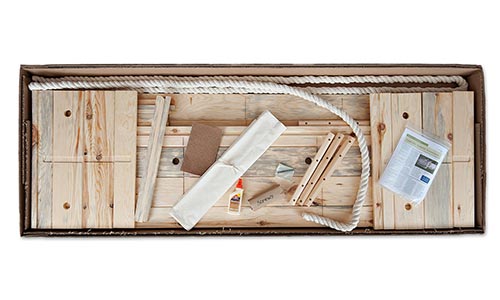 Expect to pay: $500-600 price may vary
There are a few pre-fabricated casket kits that you can purchase online, have delivered, and assemble yourself in a matter of hours. These do not require much, if anything, beyond basic tools like a hammer and screwdriver.
The one I like best is the Build-Your-Own Casket Kit from Northwoods Casket Co., pictured above. The kit arrives with all the necessary components: cotton rope, cotton muslin, blue stained pine, wood glue, wood screws, assembly instructions, a piece of sandpaper for light finishing touches. In 2-3 hours you can have a completed pine casket for under $600. You can leave the pine wood raw or finish with wood oils, stain, or paint. There are three cotton muslin cushion shams to line the interior along with a matching pillow sham you can fill to use as a casket pillow.
It's a beautiful example of all-American craftsmanship and ingenuity, and provides you with a relatively easy way to work towards putting your loved one to rest.
As an aside, I believe that we lose something when we outsource so much of the care for our dead loved ones. Of course all the funeral professionals provide wonderful help, but there is something valuable to physically participating in the preparations for saying goodbye to your loved ones. So you may find something therapeutic in building your own casket. Something to consider, at least.
4. Ask the funeral home for scratch and dent caskets
Expect to pay: $800-2,000 (prices vary)
There are many reasons a funeral home might have affordable casket inventory. But first, let's be clear that while, yes, funeral homes do make money off of every purchase, so does every other business. That's simply the way it works. Caskets are big, well-crafted, and cost a lot to produce, ship, store, and use. You can shop around for that $12,000 casket, but you might only find it for $11,000 in the next town over and have to pay $500 to transport it to you.
I say all this to point out that funeral homes aren't trying to rip you off with an expensive casket, they are selling a product that people need and they have a variety of price points. Of course they would love if you purchased the nice one. But they are people too, they care about your needs and situation, and they will help you find what you need. So if you need a cheap casket, tell them. Most of the time they will gladly help you work within your budget.
So you can ask the funeral home if they have low-end models, scratch & dent caskets, discontinued styles, or old display models that they will sell at a discount. If they do, they will be happy to offer you a fair price so that you can take it off their hands.
This is probably the ideal combination of ease and affordability. Easy because you are still using the funeral home's casket, and don't have to arrange third-party purchase and delivery. Affordable because you just received a discounted casket simply by asking.
To be sure, most funeral homes don't have some huge inventory of discounted caskets. "Scratch & dent" items are extremely rare, and any "discounted" items may be very high-end and still have a high-end price tag. So while it's possible to find the right fit this way, don't set your hopes entirely on it. Realistically, you will probably be best served with the funeral home's standard "budget" model.
Asking the funeral home for their cheap casket options would be my first step towards actually purchasing a casket. I would do this only after researching a little into the local and online options, which would give me a general idea of the price I can expect. If the funeral home option is comparable to or cheaper than the other options, it's an easy choice.
5. Make your own casket (or have it made)
Expect to pay: $200-400 for materials, plus labor price may vary
If you have even minimal experience with woodworking, you can build your own casket from scratch. It's not nearly as easy as the kit mentioned above, but it is definitely doable. If you know what you're doing with wood, you don't need further tips from me. Just go do it.
Also, as mentioned above, there is plenty of emotional value in making your own casket. Some families may have several individuals who would be more than willing to make a casket, and would actually appreciate having something worthwhile to do in contributing with their skill set. So at the very least, consider throwing the option out there – is there anyone who would like to make the casket? You just might be surprised.
A word of warning – check with the cemetery first regarding the dimensions. The biggest issue with families who make their own caskets is a tendency to "overbuild" and make the casket way too large. There's a careful balance between making sure the casket adequately accommodates your loved one without it becoming ungainly.
Conclusion
As you can see, there are several options to pursue when looking for cheap caskets. Saving money on funeral costs is important, and can actually be a way to honor your loved one's wishes. I hope this information helps you find the right casket at the right price with minimal hassle.
For further tips on saving on funeral costs, here are some more helpful guides:
Read Next: Everything You Need to Know About Caskets
Pin It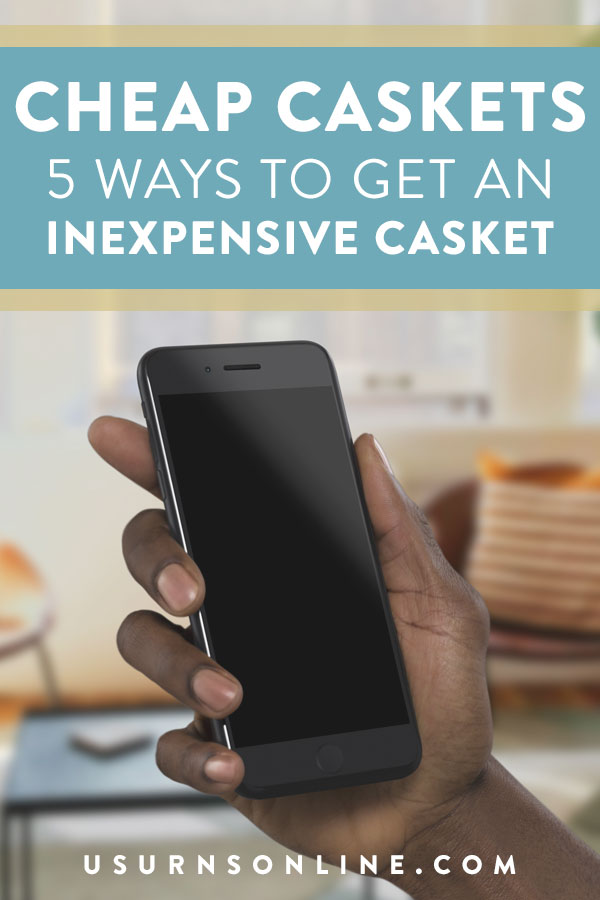 Daniel has been working in the funeral industry since 2010, speaking directly to grieving families as they made funeral arrangements.
He began researching and publishing funeral articles on this website as part of his role as product and marketing manager at Urns Northwest.
Having written hundreds of articles and growing the site to multiple millions of views per year, Daniel continues to write while providing editorial oversight for US Urns Online's content team.