What's the difference between a casket and a coffin? After all, these special boxes will often be the most expensive item on your funeral planning checklist.
You're going to want to know things like:
How much should you spend on a casket?
Is a sealed casket the best way to go?
Should you get wood or metal?
What gauge of metal or type of wood is best?
We'll answer all these questions and more to help you find the casket that best suits your needs.
But first: Casket vs coffin… What's the difference?
Casket vs Coffin
Our website is supported by our users. We sometimes earn a commission when you click through the affiliate links on our website. See our privacy policy & disclosures for more information.
What is a casket?
A casket is a rectangular container used to store, view, or dispose of a body, either for burial or cremation.
Typically made from wood or metal, a casket will have hinged lids to allow for viewing. Outer handles or rails assist the pallbearers while carrying the casket. A cloth-lined interior and outer decorations give the casket a gentle, attractive, and dignified appearance.
What is a coffin?
Coffins are also used to store, view, and dispose of the deceased person's body. The main difference is in the shape: coffins are built with six sides instead of four, tapered down at the feet to more closely reflect the contours of the human body.
What is the difference between a coffin and a casket?
A coffin is designed with six or eight sides where a casket is a rectangle in shape. Coffins are designed with a tapered shape that is wider at the top to fit the shoulders and narrower at the bottom. This distinctive shape is iconic from the "toe-pincher" pine boxes often seen in old Western films.
A second difference regards the lid. With caskets, the top is generally attached and opens with hinges. Coffins typically have a fully removeable lid.
Coffins are often less expensive than caskets because their design uses less material to build. The narrowed shape means less wood, and by omitting hinges the overall cost is further reduced.
When do you need a casket?
Each cemetery can make its own rules, but no state or federal law says you must use a casket. Most cemeteries require a casket for burial.
Does the casket have to be sealed?
The casket does not have to be sealed. You will pay much less for a casket that doesn't seal.
Some caskets have a rubber gasket or some kind of sealer. These gaskets provide an air-tight seal between the lid and body of the casket.
The Federal Trade Commission's Funeral Rule says these features are never required by law.
Related: How to Avoid Exploding Casket Syndrome
Will I also need a burial vault or grave liner?
Many cemeteries that require burial with a casket also require a burial vault or grave liner. You can purchase these through your funeral home or at the cemetery.
Do you have to purchase a casket from the funeral home?
No, federal law requires funeral homes to accept caskets that consumers have purchased from another source, such as a online supplier like Trusted Caskets or a marketplace like Amazon.
Where can I buy a casket?
The most common place to buy a casket is from the funeral home. They source reliable, beautiful, and high-quality caskets in a range of styles and prices.
You can buy from an online retailer, or you can build your own casket if you prefer. The funeral home has to accept the casket. They will make you sign a waiver because the funeral home won't guarantee a casket that you didn't purchase through them.
You can find less expensive caskets online, but those come with their own headaches. You'll need to arrange delivery, make sure it shows up on time, and take care of the packaging. However, you can save quite a bit by doing so.
Many families decide it is worthwhile to pay more for the simplicity and peace of mind of getting a casket at the funeral home.
Learn more: What do I need to buy from the funeral home?
What type of casket do you need for a viewing or open casket funeral?
You can use any type of casket for a viewing or open-casket funeral.
Read more: Why & How to Plan an Open Casket Funeral
Do you need a casket for cremation?
No law requires a casket for cremation. Federal law requires a funeral home or crematory to tell you that you may use an "alternative container."
This alternative container is an enclosed cardboard receptacle that the decedent is placed in for the cremation process. Essentially, it's a cardboard casket that the funeral home or crematory will provide to you as part of the cremation package.
Read more: The Cremation Process
Casket Features & Options
Below are some things you will need to know before buying a casket.
Types of Caskets
Cremation Caskets. These a simple containers, made from cardboard or wood, designed to be cremated along with your loved one at the time of cremation. Read more about the cremation process here.
Wood Veneer Caskets. These are affordable caskets that are made from less expensive manufactured wood. They still look very nice, just without the price tag of the more durable hardwood caskets.
Copper and Bronze Caskets. Metal caskets are a popular choice because of their stately elegance. The high-quality material translates to a beautiful (and more expensive) option for burial.
Hardwood Caskets. This is the classic option for burial caskets. Genuine wood all the way through. You'll find a wide range of options for hardwood caskets, from affordable unfinished styles to the most high-end, premium options.
Stainless Steel Caskets. Stainless steel is a more affordable material than copper and bronze. So if you like the look of a metal casket but don't want the premium price tag, this is your go-to choice.
Biodegradable or Green Caskets. Suitable for burial at a green cemetery, these caskets are made from natural materials such as bamboo, willow, or seagrass. They are designed to be elegant and fitting for a funeral service, yet they will break down naturally over time as your loved one is returned to the earth.
What is the best type of casket?
The best type of casket is the one that you can afford. Don't overspend on a casket; just choose the one that will honor your loved one.
Casket Materials
You can place caskets into two basic categories. The first is metal. These metals include stainless steel, bronze, copper, and standard steel.
The second material is wood. These include oak, mahogany, cherry, maple, pine, walnut, poplar, and veneer.
What is the best material for a casket?
Wood is a timeless choice, which will last for many years yet will still help your loved one "return to the earth." There is a wide range of options for wood casket types, styles, and price.
Bronze is the strongest and longest-lasting of any casket construction material.
Copper is known for its longevity, beauty, and resistance to corrosion.
Stainless steel provides strength and resistance to corrosion at an economical price.
Steel is affordable and long-lasting. It is the most popular of all casket materials. The highest quality is 16-gauge, and the minimum quality is 20-gauge. The thickness determines the general quality and price:
20 gauge steel – this is the weakest gauge. It takes 20 sheets of 20 gauge steel to make an inch.
18 gauge steel – this is mid-grade, and most popular. It takes 18 sheets to make an inch.
16 gauge steel – this is the thickest and heaviest gauge. It takes 16 sheets to make an inch.
Casket Sizes
Standard. The standard casket fits anyone who is up to 6'10" in height and weighs up to 350 lbs.
Oversized. The oversized casket fits anyone who is up to 7'5″ in height and weighs up to 450 lbs.
Children or infant caskets. Child or infant-sized caskets come in various sizes to accommodate children of different ages. The smallest casket is a "mini" casket, or a "shoe box" casket. It is designed for infants and newborns. From there, you'll find small, medium, and large caskets to accommodate different sized children.
How do you choose the right size casket?
Your funeral director will help you make the right choice for the size of casket you need. Trust the director, they have worked with many bodies, and they know which size casket will work best.
Casket Options
Caskets come with certain options and features. Your funeral director will point out the differences and let you know which options are available.
Let's take a look at some common features.
Half Couch or Full Couch. These phrases refer to whether the lid lifts up in two pieces (half couch) or one-piece (full couch). A full couch casket will open to reveal the entire body. A half couch allows one half to open, revealing the head, shoulders, and torso.
Seal or No Seal. You do not need a seal on the casket. Learn more here.
Liners. They make casket lining from polyester, velvet, satin, or other materials. Most caskets are lined with cloth interiors.
Commemorative Panels. You can personalize a casket with embroidery on the head panel.
Handles. Casket handles can be as decorative and ornamental as you wish. The handles and other accents are sometimes referred to as "coffin furniture" because they are used as a way to display the decedent's wealth.
Corners. Some caskets have decorative corners that add extra flair. You can often remove and hold onto them as keepsakes.
Average Casket Prices
The average casket costs between $2,000-$5,000, but some caskets can sell for as much as $10,000 or more. You may be able to find inexpensive caskets online for a little less.
How do you find an affordable casket?
They have designed casket showrooms to display the more expensive caskets. The director won't show you the least expensive options unless you ask.
You can ask the funeral director to show you their least expensive casket. I have seen cloth-covered caskets sell for less than $600.00. Ask for a price list, and be sure to see every item on the list.
Casket FAQ
We've already addressed the most common questions people have about caskets. But those aren't the only questions – here are more casket FAQs that are often asked.
Are there laws about caskets?
There are no state or federal laws about "requiring" a casket. Each cemetery has their own guidelines regarding the use of caskets.
For instance, most cemeteries require a burial vault or some sort of protective liner. On the other hand, natural burial cemeteries will require no casket or vault (or, at most, they might permit a biodegradable casket).
Which is cheaper, a coffin or casket?
Coffins are simpler, use less materials, and have less features. Therefore coffins are generally the less expensive choice. Caskets tend to be larger, have more ornamentation, and offer more high-end features and functionality. The result is a big difference in price.
Why do they cover the legs in a casket?
The purpose of an open casket viewing is to see the decedent's face. That is why the upper portion of a half-couch casket is open. The lower part remains closed because it is more decorous to keep the legs and hip area covered.
No one should have any particular interest in the decedent's shoes, pants, or legs. The focus is on their face, and having the upper half of the casket open is a befitting way to do that.
Why are caskets so expensive?
The materials determine the price of a casket. Pricing a casket is similar to that of pricing fine furniture. Caskets made of hardwoods like mahogany will be more costly than those made of more common woods such as pine.
What is the cheapest casket you can get?
You can buy a cheap casket made out of heavy-duty cardboard. It is also eco-friendly and costs around $150.
More info: 5 Ways to Find an Inexpensive Casket
Does Costco really sell caskets?
Yes, Costco does sell caskets.
And remember, federal law prohibits the funeral home from charging "casket-handling" or other fees for people who purchase their caskets online.
How long does a body last after embalming?
An embalmed body buried in a casket can last for many years.
Read more: What Happens to a Body After Death?
How long does the casket last after burial?
By placing a casket in a sealed vault, it will last longer. A grave liner lets in water; a sealed vault will not.
Wood will rot, and metal will rust over time. It could be as little as 5 to 20 years or even as long as 75 to 125 years.
Do bugs get into caskets?
If you bury the body in an unsealed casket, yes, bugs can get in. If you have a sealed casket, no, bugs cannot get in.
Can you be buried without a casket?
Yes. You can be buried without a casket. Burying without a casket is called a natural burial. A natural burial is the interment of the body in the soil in a manner that does not prevent decomposition but allows the body to be naturally recycled.
Remember to set a budget, keep your loved one's wishes in mind, and take along someone to offer moral support. Your director will guide you through the process of buying a casket. Please don't be shy about asking questions; we are here to help you.
Read more: Natural Burial & How to Celebrate Life with a Green Burial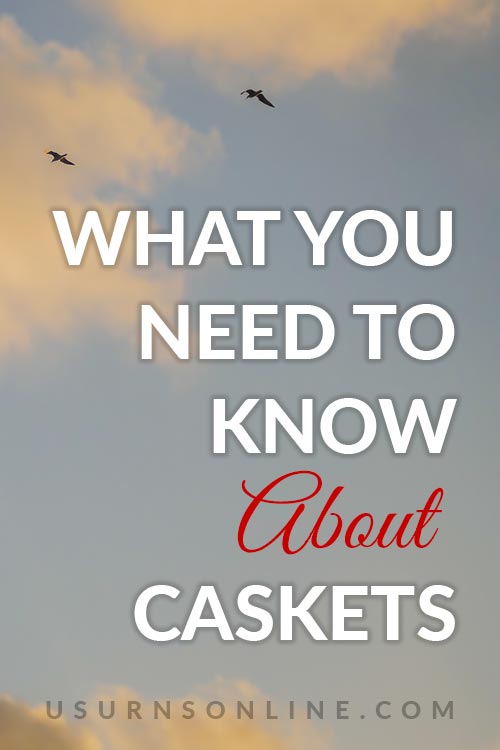 Karen Roldan has been in the funeral industry since 2006, and a licensed funeral director and embalmer since 2008. She is currently licensed in the states of Indiana and Pennsylvania.
She attended Worsham College of Mortuary Science in Wheeling, IL, and graduated with an associate degree in Mortuary Science.
Karen enjoys wring about the funeral industry because her passion is helping families in their deepest time of need. She feels being a funeral director is a calling and she is proud to fulfill this role.
Karen is a wife and the mother of four sons. She, her husband and their youngest son call Pennsylvania home.