Planning a beautiful memorial service on a budget is a goal anyone can obtain. There are definitely many costs to a funeral for a loved one, but there are also many steps you can take to ensure that you get competitive prices, find affordable alternatives, and make informed choices that make sense with your funeral budget.
Here are our 15 affordable ideas to consider for a beautiful memorial service on a budget.
A Beautiful Memorial Service on a Budget
Our website is supported by our users. We sometimes earn a commission when you click through the affiliate links on our website. See our privacy policy & disclosures for more information.
1. Set a budget and stick to it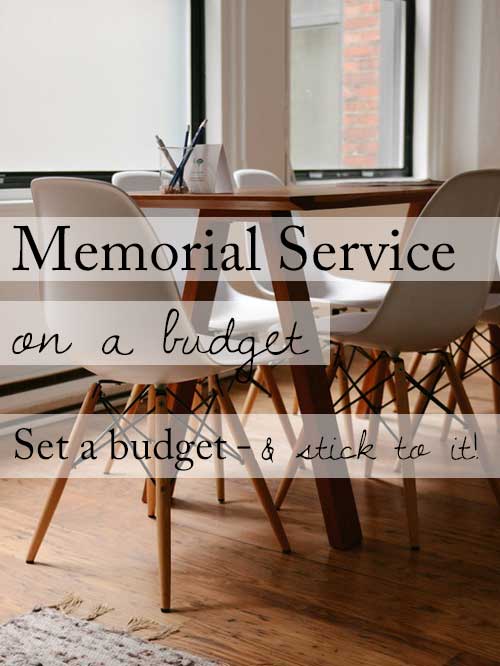 Creating a budget for your funeral costs is the number one way to stay on track with memorial service spending. Do a little bit of online pricing in your area, then set a budget and stick to it.
Don't let the funeral home pressure you into purchasing add-on services; you can often honor the memory of your loved one better by not overspending. If you feel overwhelmed by this or simply don't like the financial aspect, ask a friend to help you.
Related: 10 Things the Funeral Home Might Not Tell You
2. Consider cremation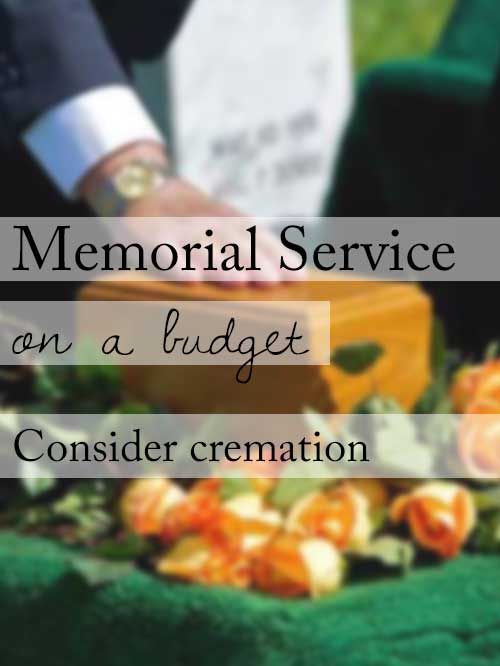 Cremation vs. burial is an important subject, and if you or the deceased have religious or other personal convictions about the matter, stay true to your convictions. But cremation can be as much as 50% more affordable than traditional burial, so from a budget standpoint it is a worthwhile option to consider. If you think you may pursue this option, here are 14 questions to ask when considering cremation.
3. Research funeral homes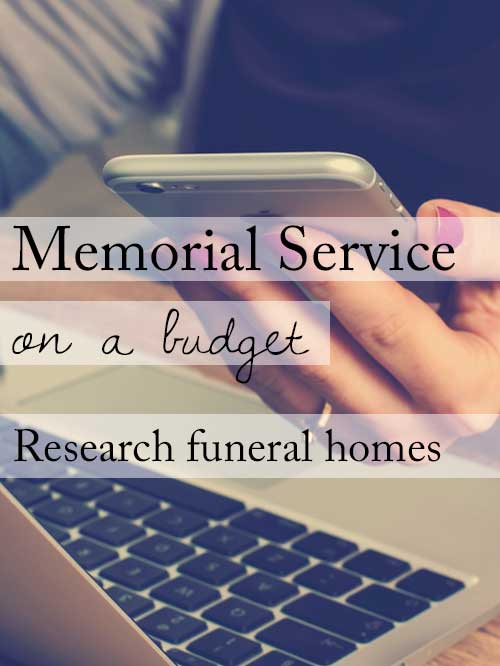 Costs vary considerably among funeral homes, so taking a few minutes to call around and price shop could save you thousands. You can ask for a price list for all services, and the funeral home is required by consumer protection laws to give full and accurate information, even over the phone.
4. Rent a casket (or cremation urn)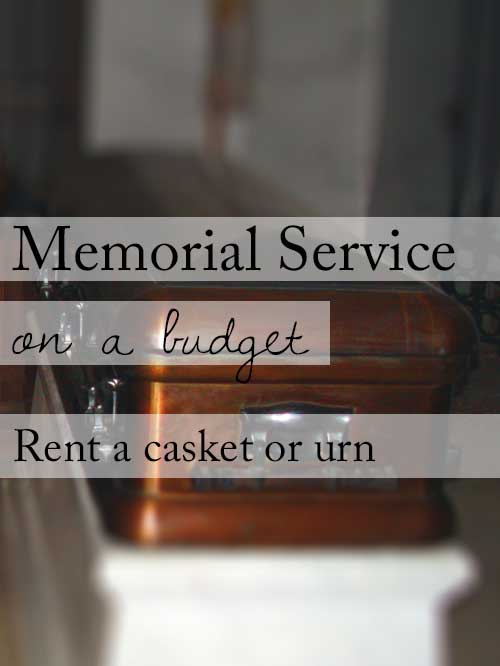 Most funeral homes will have caskets or urns to rent for use during the memorial service. This is substantially less expensive than purchasing, especially when opting for cremation. You can rent a gorgeous casket for the service, then have your loved one buried or cremated in a much more affordable casket.
5. Consider alternative venues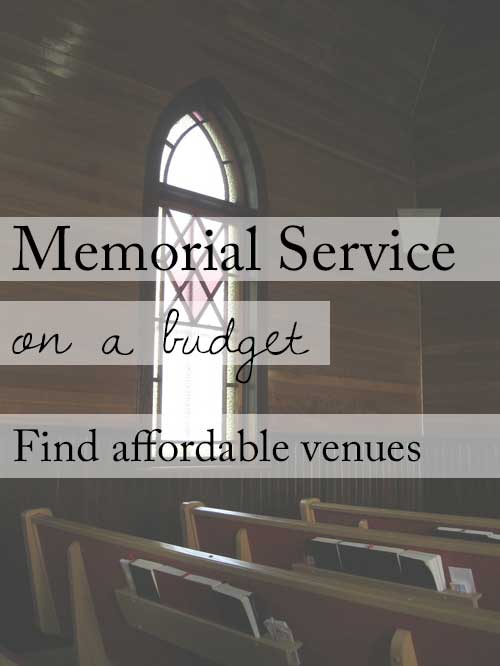 Comparing venues and considering alternative options for a service and/or reception will also help keep your memorial service on a budget. For instance, churches, chapels, and community centers will often have very affordable venue rental fees. If you are a member of a church or association, you can often use the venue for a very nominal fee or even free.
Other alternative venue ideas include:
Public park or beach area (contact park manager to see if you need a permit)
Family member with a large home or yard
A favorite hunting, fishing, or other outdoor location
Banquet hall
Wedding venues during off-season
Any location that was particularly important to the decedent
6. Choose a venue with tables & chairs included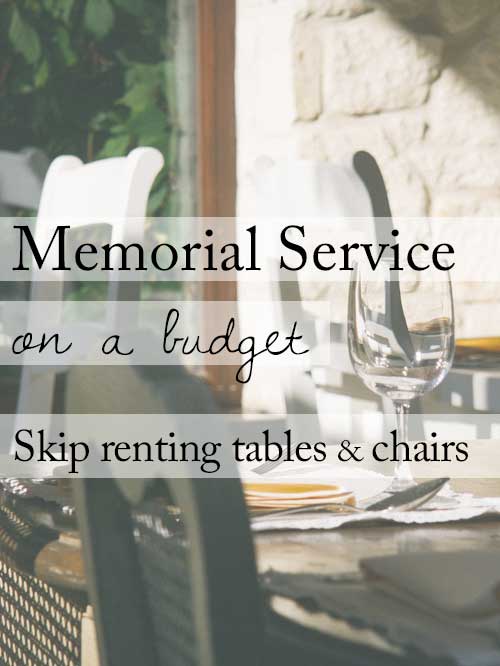 Reception seating is often overlooked until the rest of the plans are already set, but you could save quite a bit in your memorial service budget by choosing a reception venue which already has tables and chairs free of charge.
However, sometimes you may find a low-cost or free venue that doesn't have all the tables and chairs you need. In this situation it may be cost-effective to rent or borrow what you need in order to stay within budget on your overall venue costs.
7. Skip the caterer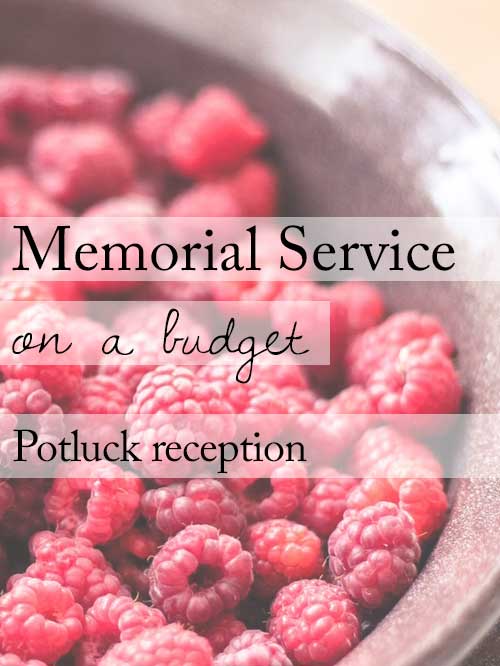 There are many alternatives to paying an expensive caterer's bill. Make the reception a potluck, and it will often have a family-gathering feel while saving hundreds if not thousands on your memorial service budget.
Family and friends will gladly contribute, primarily because they love you and your loved one, but also because the act of giving actually makes them feel better. Or, depending on the time and circumstances, you can make it a dessert potluck, or have simple snacks made by select family members.
8. Skip the invitations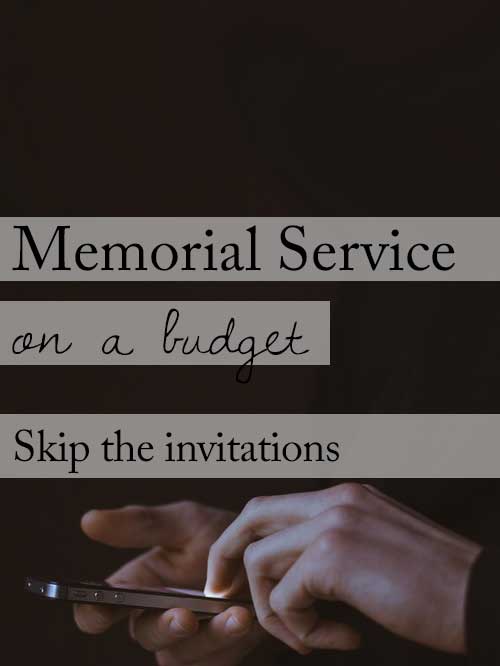 With almost everybody online and on social media, skip the cost (and time, and energy) of setting up, printing, and mailing memorial service invitations.
It's very easy to set up an "Event" on Facebook, or you could send an email using a very easy-to-use template from MailChimp. There are also many free memorial websites you can set up which include event planning and notification options. And of course, for anyone who is not online, you can give them an old-fashioned phone call.
9. Make your own funeral memorial gifts
There are many options for simple and beautiful memorial gifts to give out at the funeral, but the best will be something that is meaningful. Often this can be done at a surprisingly affordable cost by making your own. For example, we offer gorgeous blooming remembrance bookmarks which include a plantable keepsake. If you have the time and enjoy the DIY model, you can make your own blooming seed paper, which is a lovely way to do funeral invitations or as a memorial gift at the service: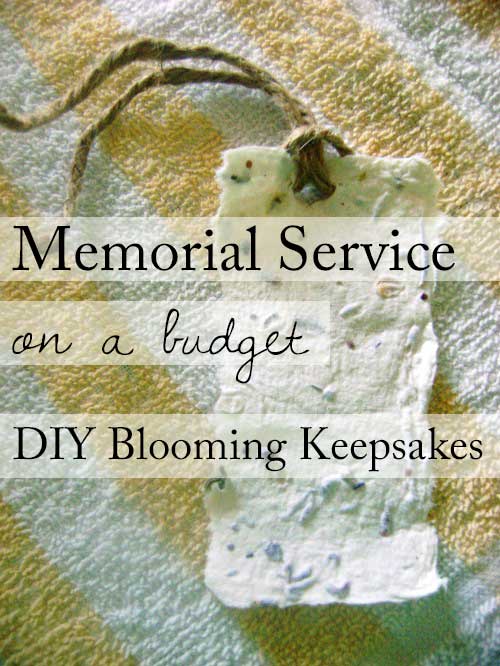 A great tutorial is available from Gracious Rain. All you need is:
6-12 wide craft sticks–think tongue depressors
Craft glue
1 or 2 pieces of mesh or screen about 6″x6″
Electrical tape
Used paper
Small flower seeds
Optional, for decoration: Hemp twine, flower petals, etc
Additional ideas for memorial service keepsakes are nearly endless, many of which you can find some DIY tutorials to help you keep the costs down. Start with your loved one's favorite hobbies, quotes, movies, or food and you'll find the perfect keepsake in no time.
Related: DIY Funeral & Memorial Service Favors
10. Make your own funeral programs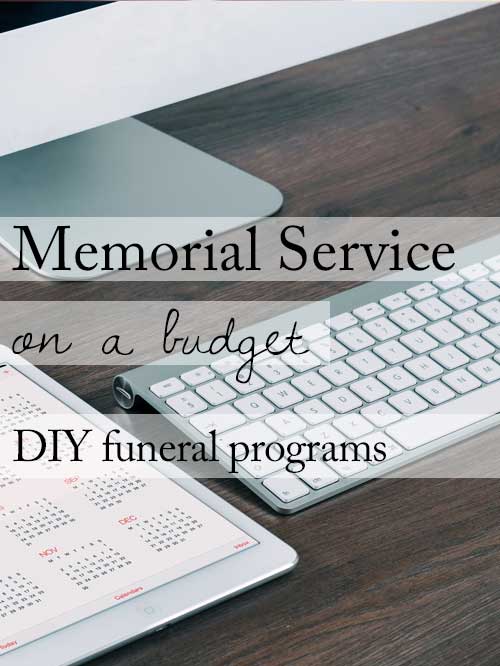 If you're not particularly design or computer savvy, you probably have a relative who is. Ask a friend or family member with design skills to lay out and print the program at home. The cost of your own printer ink and a box of nice paper will be much more affordable than paying a print shop. We have many free and premium, easy-to-use templates available.
Related: Our Favorite *Actually* Free Funeral Program Templates
11. Make your own funeral flower arrangements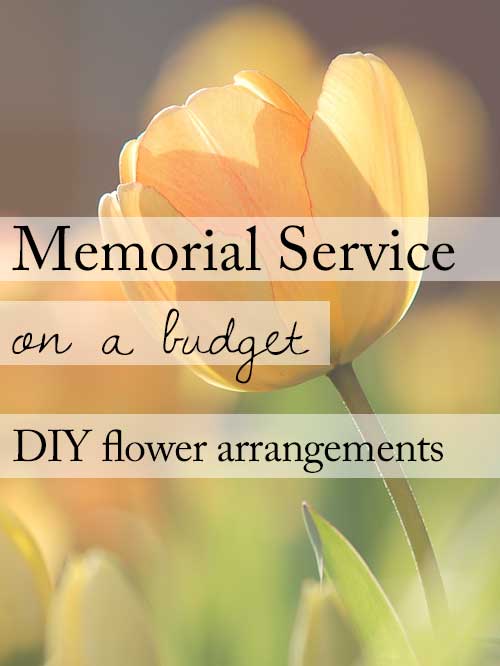 The price difference between paying a florist to create funeral service flowers and the DIY-model can be huge. Here are some ideas for do-it-yourself funeral flower arrangements:
12. Make your own reception centerpieces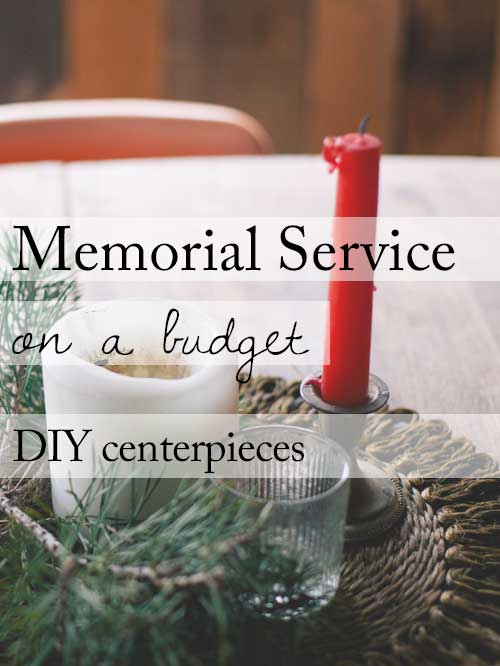 Attractive table centerpieces can do wonders in adding a sense of grace and beauty to the reception, and they can be done without breaking the bank. Here are some ideas and tutorials for simple, affordable, and beautiful memorial service reception table centerpieces:
13. Ask for donations in lieu of funeral flowers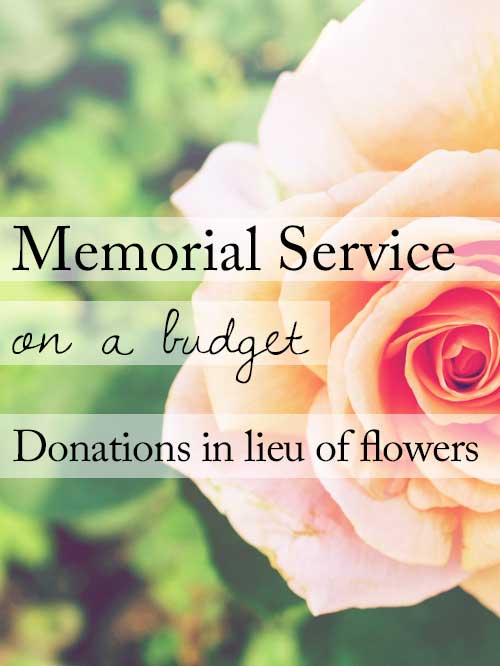 Family and friends will understand that paying funeral costs can be difficult, and will generally be happy to donate cash instead of purchasing flowers. This is often done, especially after an unexpected death. Simply state in the memorial service invitation that the family will accept contributions to help cover funeral expenses instead of flowers.
14. Ask for discounts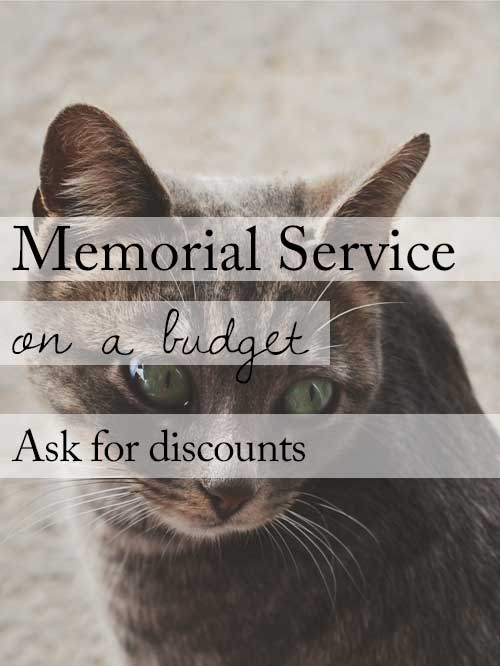 Many fees, prices, and rates are negotiable. Funeral homes, venues, and other vendors will sometimes give discounts just for the asking, or they may have special programs for low income assistance, military veteran discounts, clearance items, optional services which you can decline, or free service options. Don't be afraid to ask, and you won't know until you do!
15. Make it your own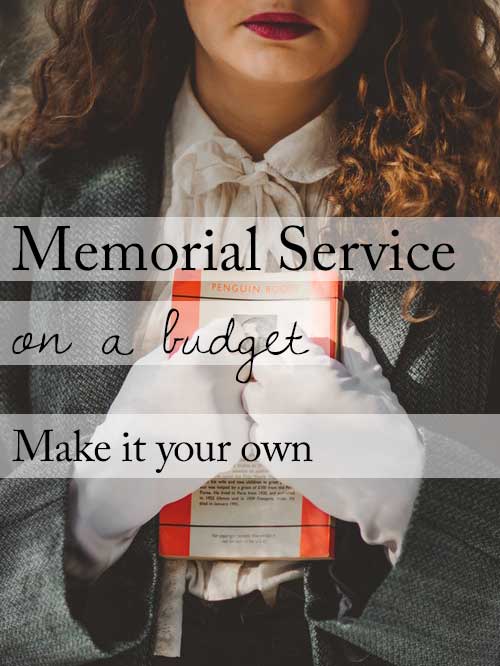 You and your family knew and loved the deceased best. So feel free to incorporate your own simple, unique, crazy, fun, and personalized ideas into the service. This is what will make the memorial most beautiful in your memories, and will usually cost very little. Celebtrate with a tailgate party, create a treasure hunt, display nerdy collectibles, make beads from the funeral flowers, having a Viking-style sendoff. Make it your own, do it yourself, and the memories will be treasured forever.
Related: Funeral Planning Checklist
Need more budget-friendly funeral ideas?
Check out our in-depth article, Frugal Funeral Planning: 50 Tips for a Funeral on a Budget.
If your loved one is being cremated, learn about how much cremation urns cost & how to save when purchasing one.
Curious what the least expensive burial option is? Check out our guide to Direct Burial.
Bookmark, save, and share: