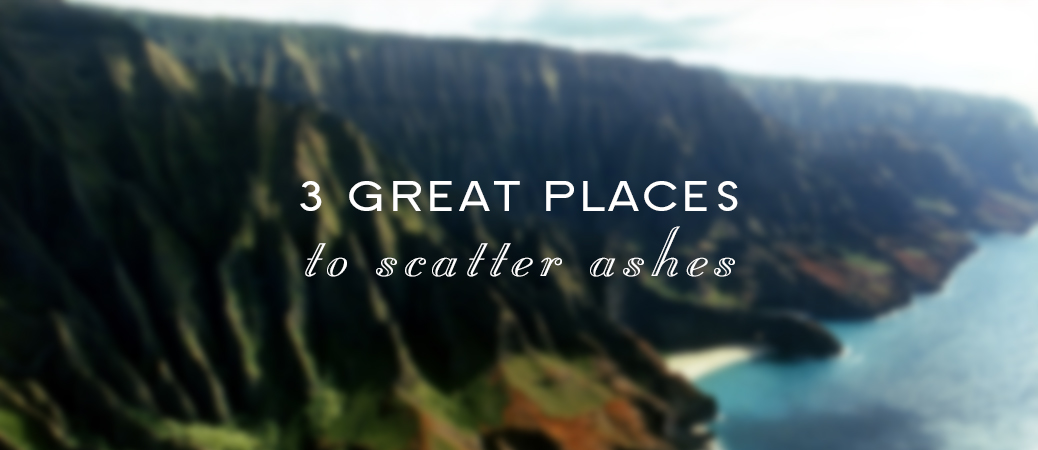 Last Updated on October 24, 2016
This is a guest post by Jenny Wadlow.
If a loved one wanted to be cremated upon his or her passing, it's your responsibility to follow through with his or her wishes and do what he or she would have wanted with the ashes that will remain. In some cases, the deceased will have left detailed instructions regarding what should be done with the ashes, but other times, it will be entirely up to the family to determine what to do with them. Some people choose to bury them, while others place them in a mausoleum for remembrance, and still others choose to keep the ashes at home.
One of the most popular options for those who are cremated involves scattering the ashes in the individual's favourite places that he or she frequented throughout his or her life. Continue reading for three great places to consider scattering the ashes of a loved one if he or she didn't specify any particular locations.
Over the Ocean

One of the most popular places to scatter a deceased person's ashes is over the ocean. Many people take a boat, on which a short memorial or prayer service can be hosted with the person's closest family members and friends, so that they can scatter the ashes in to the open sea. This is especially appropriate for individuals who loved going to the beach, participating in water sports, or getting out on a boat every chance they had. Being laid to rest on the waves of the sea is a great way to return to nature as well.
Off a Mountaintop

Another great way to return a person's remains to nature is by scattering the ashes off of a mountaintop. Whether the deceased individual loved hiking, mountain climbing, mountain biking, or camping in the wilderness where he or she could become one with the natural surroundings, you can certainly find the ideal spot where his or her ashes could be put to rest. This is also a perfect location for individuals who built their homes on mountains that provided them with peace and a beautiful view every day.
Great Idea: For easy transportation & simple scattering, try a biodegradable scattering urn tube, available in several beautiful designs and sizes to suit an array of scattering options, individual personalities.
At a Few of the Deceased's Favourite Places

If the deceased had a few favorite places that he or she loved to visit on a regular basis, you can also consider scattering his or her ashes at those particular locations. For example, were there any places that he or she loved to spend time at, such as a specific landmark or a park? Or were there places where the deceased worked that were very special to him or her? For a touring musician or artist, you may be able to come up with a list of his or her favorite spots in the country where you can scatter the ashes in remembrance of the individual.
When it comes to figuring out places to scatter a loved one's ashes, there are plenty of options to choose from. Even if your loved one didn't specify where he or she would like the ashes to be scattered, you can try to imagine what he or she would have wanted and what represents the person best.
Author Bio:
Jenny Wadlow, the author of this post, is a freelance blogger, who often writes for All State Cremation & Funeral Care, leading providers of trusted cremation services in Cheshire, CT. She is very good with pottery and often organises workshops to train those interested in this art.
(Visited 3,070 times, 3 visits today)