If you're planning your own DIY scattering ashes service, you'll need some sort of method or container for the actual scattering.
Here we've gathered together all your options for scattering ashes, ranging from budget-friendly DIY ideas that cost you pennies all the way up to pre-made scattering urn containers specifically designed for ease of use in scattering ashes.
16 DIY Options for Scattering Ashes
Our website is supported by our users. We sometimes earn a commission when you click through the affiliate links on our website. Learn more here.
1. Ziploc Bag
If you choose to scatter straight out of a simple plastic bag, in most situations, you probably won't even need to transfer the remains into a separate vessel, since the cremated remains (or "ashes") will come from the crematorium already in a plastic bag inside of some sort of temporary container. You can scatter the remains directly from that container, and there will be no need to transfer the ashes or purchase any additional items.
The Ziploc bag is a good solution if you decide to scatter the remains after already using a traditional urn such as a ceramic cremation urn. Since you may not want to carry an expensive and breakable heirloom memorial on a hike up a mountain or out in the ocean on a boat, it's a good idea to put the ashes into something a little more easily transported.
A one-gallon plastic bag will hold roughly 231 cubic inches of remains, which is generally more than enough room for the cremated remains of most adults. Figure on cubic inch of remains per pound of the individual's normal body weight: for example, a 175 lbs person will generally require a cremation urn with a capacity of roughly 175 cubic inches. If you have any doubts, go with the 2 gallon size.
Ziploc Bag for Scattering Ashes

Pros: Easy to obtain, affordable, disposable.

Cons: Not very elegant, easily punctured.

Tip: You may want to place the plastic bag inside another layer of protection to help ensure that the bag isn't punctured while traveling to the scattering location.
2. Coffee Can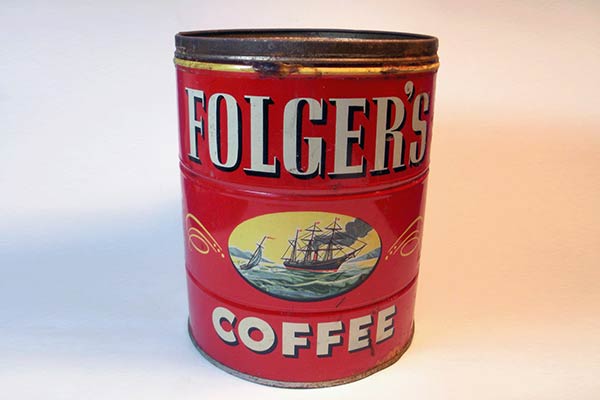 The ol' classic standby, the Folger's Coffee Can. There are good reasons why the coffee tin is used as a cliche for holding ashes.
Since this container was designed to hold dry goods, it's perfectly suited to safely and securely hold remains, easily transportable, cheap, easy to use for pouring, and easy to obtain.
If you already have one around the house it's free, or you can pick one up at just about any grocery store. If you want to fully embrace the stereotypical 'coffee can for ashes' meme, check out Etsy for a nifty vintage Folgers Coffee Can.
Coffee Can for Scattering Ashes

Pros: Easy to obtain, easy to use, affordable, recyclable, secure, adds a touch of humor or personality.

Cons: Not very elegant, not suited to everyone's sensibilities.

Tip: If you decide to use a vintage coffee can, you can keep it as vintage-style keepsake memorial.
3. Mason Jar
Canning jars are readily available at most department stores from well-known brands such as Ball and Kerr. The largest size is generally a half gallon, so for the remains of most adults you'll probably require two of the half-gallon mason jars.
With the screw-on lids that come with these canning jars the remains will be secure, and the glass construction ensures that the scattering via pouring goes smoothly.
Mason Jars for Scattering Ashes

Pros: Easy to use, lids seal to keep remains secure, designed for pouring, looks nice, recyclable.

Cons: Possibility of breaking, requires two jars, some people may be uncomfortable seeing the remains through the glass.

Tip: Plan on what to do with the jar afterwards – either recycle as glass, or use as a keepsake jar for letters, photos, and memorabilia.
4. Biodegradable Brown Paper Bags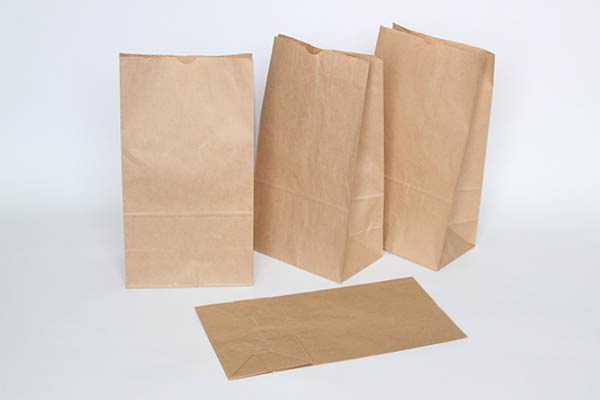 These are a great idea to include multiple family members in the scattering process, and at the same time respect some people's squeamishness about handling human remains.
Get some biodegradable brown paper bags. Each person who would like to scatter the remains can have a portion of the ashes. You can easily pour out the remains to scatter them, then bury the biodegradable bag nearby to avoid any conscience issues regarding the inevitable small amount of dust remaining in the bag.
For those who would like to participate in the scattering but don't want to open up the bag, they can dig a small hole in the earth and bury their eco-friendly bag without having to access the remains.
Paper Bag for Scattering Ashes

Pros: Easy to obtain, easy to use, affordable, biodegradable/compostable, allows for multiple family members to participate, allows for scattering or burial of remains.

Cons: Not very elegant, paper can tear easily.

Tip: Your family can add a bit of personalization by having each family member write a goodbye message, drawing, special memory, or favorite quote onto the bag prior to filling or scattering. This can be a good way to involve the kids in the process.
5. Keepsake Memory Box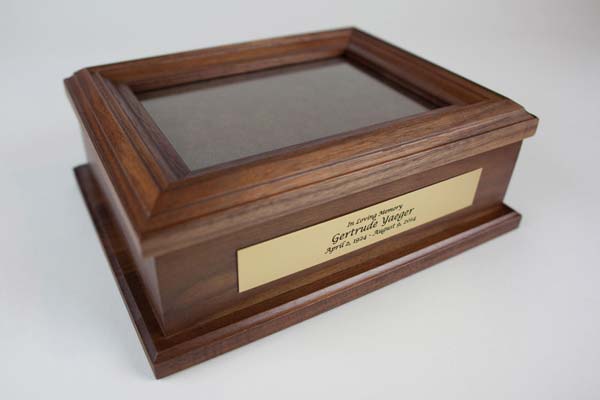 Use a keepsake memory box to scatter the ashes, then save the box to hold mementos, letters, photos, and memorabilia. Check out these 10 ways to create your own unique memory box, which you can use to store, transport, and then scatter the remains prior to its permanent function as a keepsake box.
If you use this idea to hold all the remains, just be sure that the box is large enough (generally about 200 cubic inches, or a little less than 1 gallon capacity).
Here are some premium keepsake boxes and memory chests that we offer in all different sizes and styles, many of which have sufficient capacity for the full amount of ashes.
Keepsake boxes and memory chests are widely available in all manner of styles and quality. You can purchase simple and affordable boxes at craft stores, online, or hunt around at an antique store or even sometimes a thrift store. Premium versions can be made to order by a local woodworker, ordered online, or perhaps obtained through family as an heirloom.
Keepsake Memory Box for Scattering Ashes

Pros: Multi function, opens easily (usually some sort of hinged lid), many styles available, as elegant or antique as you like.

Cons: Can be expensive for a quality box, can be difficult to find locally, generally not sealable.

Tip: Use the aforementioned Ziploc bag to hold the remains inside the keepsake box. This will ensure there is no spillage or leakage while transporting the remains to the scattering location.
6. Biodegradable Scattering Urns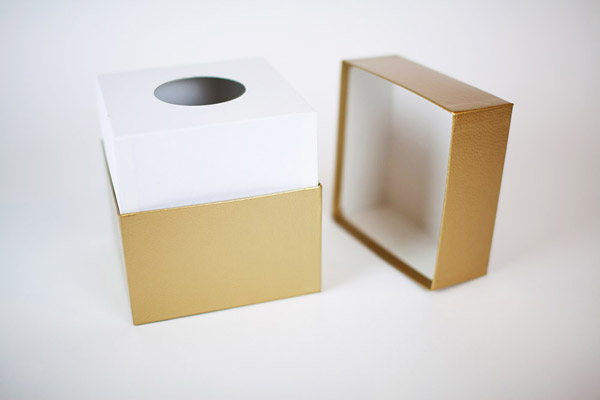 There are many cremation urn products designed for use as a scattering urn. Biodegradable scattering urns like the one pictured above can be used to scatter ashes by pouring, via ground burial, or by sea scattering/burial.
Made in various styles using a wide range of eco-friendly materials including paper mache, salt, cardboard, cornstarch, and more, these urns are made to look beautiful and provide you with ideal functionality for scattering remains.
Biodegradable Urns for Scattering Ashes

Pros: Engineered specifically for scattering, professionally made, many attractive designs and styles.

Cons: More expensive than a 'true' homemade DIY container.

Tip: Once you decide on the way you want to scatter (pouring, sea burial, ground burial), check out the biodegradable scattering urns available. You'll find these urns either 1) give you DIY inspiration, or 2) are reasonably priced so as to fit within your budget and give you peace of mind having a professional product.
7. Wooden Scattering Urn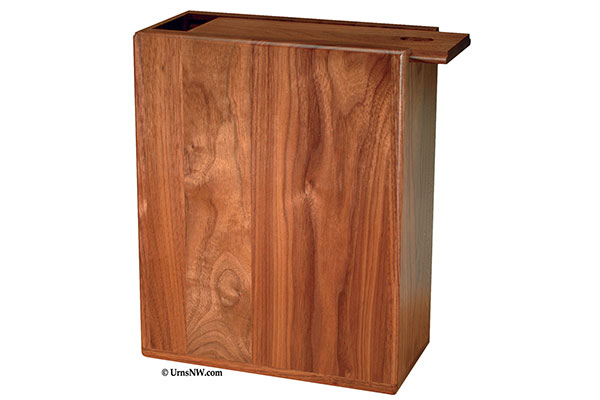 This particular scattering urn has been a favorite among families that choose to scatter remains. Using premium walnut wood and all-American craftsmanship, the Walnut Wood Scattering Urn is reasonably priced, fully functional as a scattering urn for pouring out the remains, and will endure as a gorgeous keepsake which can be personalized with a custom laser etched inscription.
The slide-top lid has a magnetic closure which keeps the remains secure during transportation or storage. A simple thumb tab allows you to easily slide the lid back, pour, and close once again. This sturdy wood urn is a great option if you plan on storing the ashes for any period of time (whether it is weeks or decades) prior to the scattering.
Walnut Wood Urn for Scattering Ashes

Pros: Engineered specifically for scattering, gorgeous walnut wood, made in USA, can be personalized, can be used to store remains indefinitely, can be saved as a keepsake memorial.

Cons: More expensive than a 'true' homemade DIY container, not easily disposable.

Tip: This urn is the perfect solution for scattering plans that involve waiting and/or transporting the remains. Wood can be scanned by airport security, so you will be able to fly with the urn, and the sturdy construction ensures that it will last as long as you need it to if you're waiting for the passing of a spouse, or for the death anniversary, or for any other situation.
8. Birdhouse Scattering Urns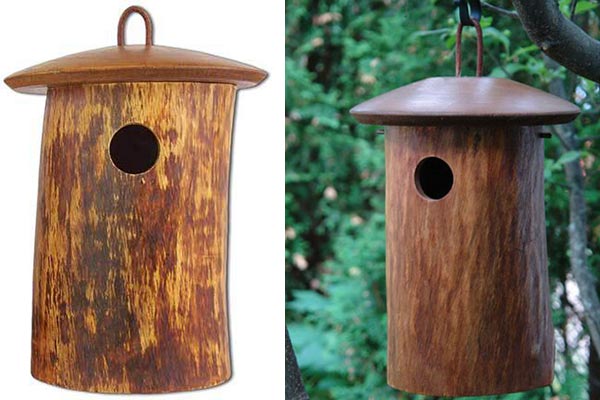 These Birdhouse Scattering Urns are a fun, unique, and multi-purpose memorial vessel for scattering ashes. Use these gorgeous wood urns for the scattering, then upcycle it as a birdhouse so that every spring as you see a new generation of birds nesting in their snug home, you'll remember and honor again the memory of your loved one.
Birdhouse Urn for Scattering Ashes

Pros: Use for easy scattering, reusable as a home for birds, unique keepsake memorial.

Cons: At about $200, on the more expensive side.

Tip: Hang the upcycled birdhouse near a window or somewhere you will see regularly to 'keep alive' those treasured memories of your loved one.
Obscure, Niche, and Unique Ideas for Scattering Ashes
Most of the items listed below will be best for only scattering a small amount of remains. If you're only scattering a portion, or if your relatives chose to share the remains among family members, these ideas may work for your situation when scattering a small amount of ashes.
Remember, just about any container can be used to hold and scatter ashes, so feel free to consider your loved one's life, hobbies, and interests, then have a think-outside-the-urn-box brainstorming session with your family to come up with the perfect scattering urn tribute.
9. Flask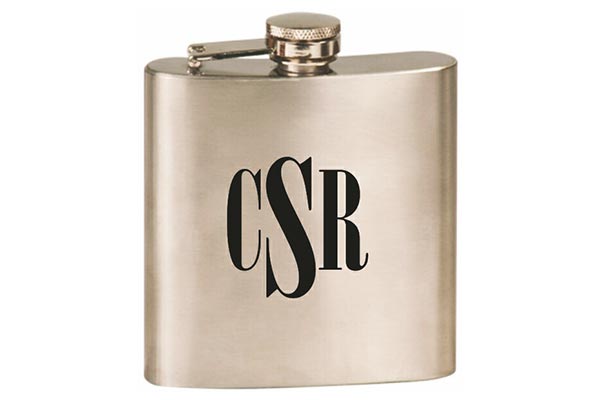 A customized flask will hold a small amount of remains until you're ready for one final pour. Be sure to get a funnel, and you may also want to get another flask to bring along a drink for yourself.
10. Wine Bottle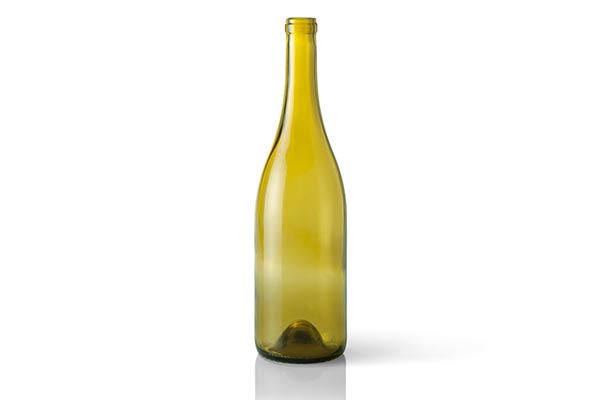 Share a glass with family and friends the night before, and then use the bottle to pour out and scatter the remains. A nice symbol for the wine enthusiast.
11. To-Go Cup from Favorite Coffee Stand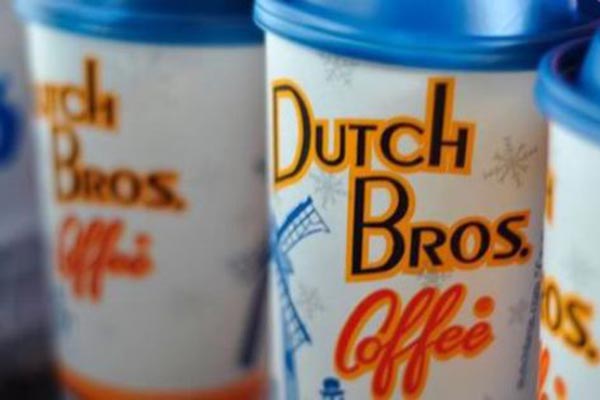 People love their specialty coffee. Use a to-go cup from their favorite coffee stand to provide a symbol for this aspect of their personality.
Here in the Pacific Northwest, Dutch Bros has a passionate following, while in your area it may be Blue Bottle Coffee, Stumptown, Intelligentsia, Ultimo, a one-off local gems like Limestone or Stim, or a major chain such as Starbucks or Tim Hortons.
12. Mini Wood Scattering Tube
These Mini Wood Scattering Tubes hold a tiny amount of remains in an attractive wooden urn tube with optional personalized engraving.
13. Cremation Necklaces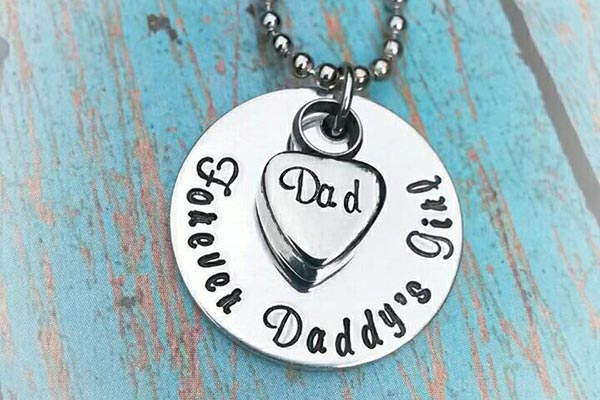 Cremation necklaces and other jewelry hold a tiny portion of remains. This allows you to 'keep a part of them' close to your heart, and you can scatter the ashes when and where suits best.
Related: Best Cremation Jewelry
14. Tackle Box for Fishing Enthusiasts
If our Fishing Cremation Urns don't do the trick, try using your loved one's old tackle box. Most medium-large tackle boxes will have plenty of room for the remains, but it's probably not the easiest container to use due to all the nooks and crannies. But it could be the right choice for your beloved fisherman.
You can also find new tackle boxes here to use as a creative way to scatter the ashes.
15. Sport Water Bottle for Hikers/Athletes
Was he a hiker? Did she love to run marathons? Did you always see them in gym clothes toting a water bottle? Honor that part of their lives by using one or more sturdy sports bottles to scatter their remains.
Roughly three large 32oz bottles or six standard 16oz water bottles will hold the average amount of adult remains for scattering, so more than one person can be involved in the scattering if they choose to do so.
16. Watering Can for Gardeners
Some people have a green thumb, growing flowers year round, keeping an herb or salad garden in steady production, and making the yard and garden look lovely. Symbolize this love of taming the soil by using a watering can for scattering the remains of an avid gardener.
Note: For most watering cans, like the one pictured above, you'll need to saw off the spout in order to allow remains to be scattered through the watering can.
Read next: