Let's talk about how to create a memorial wall in honor of your departed loved one.
This wall could be indoors, outdoors, an entire room, a small space on a wall-mounted shelf, the exterior wall of your garage or shed, the entire back fence, or any other wall surface area.
Here are some creative memorial wall ideas and tips to pay tribute to your beloved.
Our website is supported by our users. We sometimes earn a commission when you click through the affiliate links on our website. See our privacy policy & disclosures for more information.
1. Keep it simple.
All you need is a small shelf with a picture frame, a candle, and maybe a decorative plant or some special knickknacks that remind you of your loved one.
Your memorial wall could easily be an entire room, and that can be great as well. Create a special area – large or small, in the living room or in a corner of the basement – that is devoted to your loved one, filled with their pictures, keepsakes, aromas, and anything else that is meaningful.
Ultimately, we do think it's a good idea to keep it simple. That way, you can always focus on what matters most.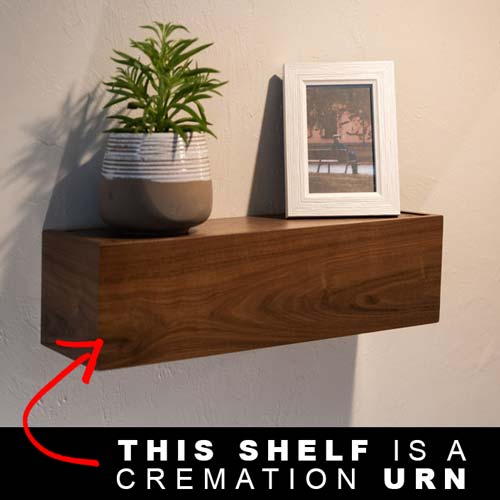 This wall-mounted shelf will hold a few such keepsakes, and it's also an urn that holds cremated remains. It's a great way to keep the ashes close, without emphasizing that their remains are inside.
2. Hang their portrait.
Maybe this is a large commissioned painting, a printed canvas of the family photo, or an 8×10 of your favorite picture of them.
Whatever photo and medium you choose, the important thing is seeing their face and treasuring their smile.
3. Paint the whole wall.
If you're on the artsy side, go to town and create a mural.
Include your loved one's likeness, along with things that represent what they loved – their favorite color, sports, hobbies, their favorite vacation spot, food, and anything else that stirs your memory.
4. Display the cremation urn.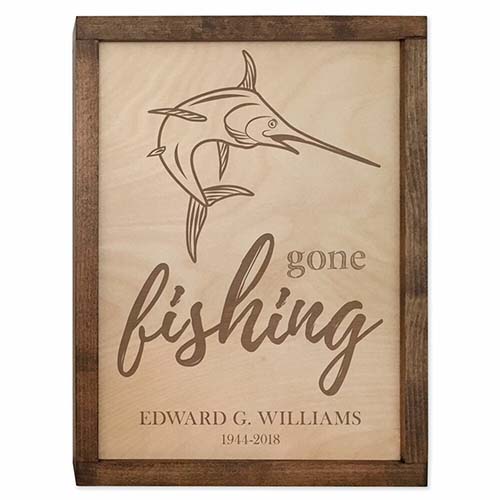 If your loved one was cremated, display the urn on a wall-mounted shelf, or on a table with a plaque or portrait above it.
For something more discreet, our series of Wall-Mounted Cremation Urn Plaques are just the ticket.
Pictured above, you see one of our most popular plaque urns with a "Gone Fishing" theme. These are designed to look like a memorial plaque, yet actually store and conceal the cremated ashes between the front and back panels.
5. Create a collage.
Gather all the important photos, letters, art scraps, ticket stubs, and keepsakes, along with magazine cutouts that represent things they loved.
Put it all together on a cork board or by simply pasting onto the wall.
6. Draw out the family tree.
Paint a tree on the wall, and name each branch or leaf so that you can picture your family tree.
7. Do an outdoor memorial wall.
Set up a hanging herb garden wall. Add a bronze plaque to a special place outside, perhaps on the wall of his workshop. Turn the garage wall into a memorial graffiti art place. Hang personalized memorial flags. Paint the entire back fence.
You get the idea.
8. Set up a wall-mounted bird feeder memorial.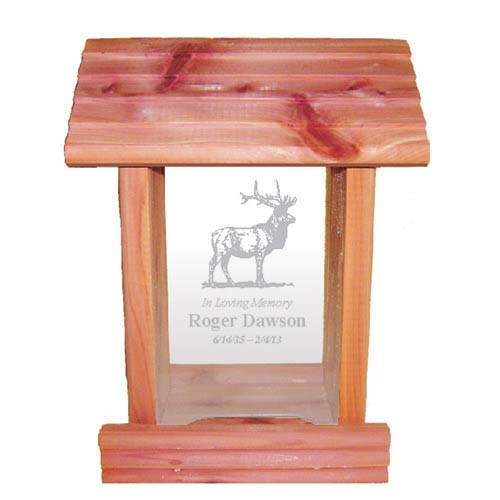 These bird feeders are handcrafted in the USA from cedar, personalized with your loved one's inscription, and will draw the birds close by in remembrance of your loved one.
Simply mount a wall bracket or long hook screw and hang the bird feeder from the outdoor memorial wall.
9. Hang a cross.
Honor their faith in Christ with a cross. This can be a subtle tribute, or part of an entire wall décor scheme.
10. Create a wall mosaic.
If you can't paint or draw, this can be a great way to create an artistic tribute to your beloved.
Decorate the wall with tiles shaped in such a way as to represent something meaningful. Consider flowers, a football, a favorite quote, or anything in between.
More Memorial Wall Plaques & Displays
Any wall that you dedicate for a memorial space provides the perfect opportunity for plaques, photos, and other displays. Here are some of our favorites.
1. Someone We Love is in Heaven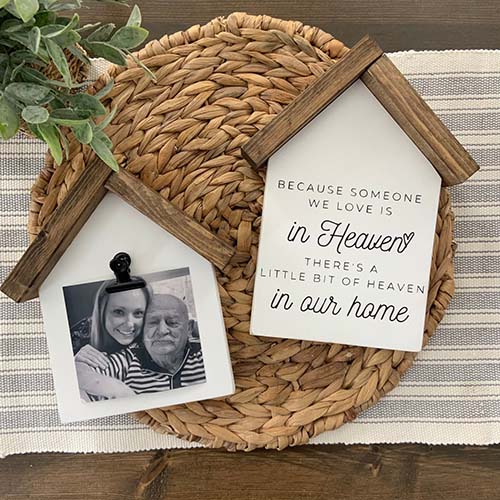 These adorable house-shaped memorial displays can be mounted on the wall or set upright on a shelf. The set of two includes one with a photo clip and another with a sweet, sentimental quote:
Because someone we love is in heaven
There's a little bit of heaven in our home
2. Memorial Star Map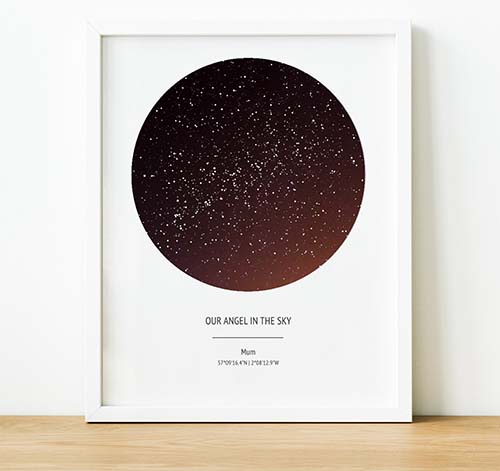 This elegant personalized star map print shows what the sky looked like the night of a special memory.
Select the important date, customize it with your loved one's name, and add a sweet sentiment. The artist will create a one-of-a-kind print just for you, showing the night sky (with or without constellations traced) on that meaningful day.
Here's one creative option: Get one of these for the birth date, one for the day of passing, and tell their life story in between on your memorial wall.
3. Forever in Our Hearts – String Art Sign
This rustic wooden memorial plaque displays the love you have for your loved one. They are now and always, "Forever in our hearts."
4. Brass 3D Remembrance Plaque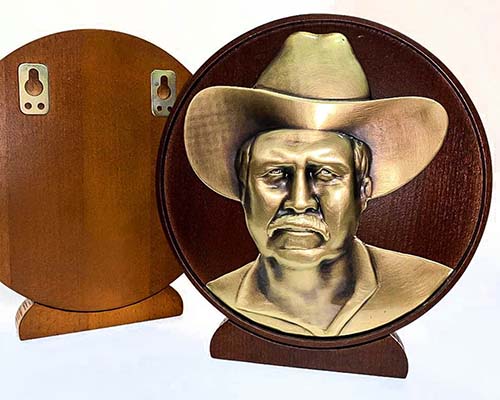 For a lasting heirloom tribute, nothing will surpass this unique and beautiful 3-dimensional brass memorial portrait.
Your loved one's likeness will be recreated in brass, handcrafted onto a circular wooden frame that can be set up anywhere in your home or displayed on the memorial wall.
5. Memorial Plaque for Fisherman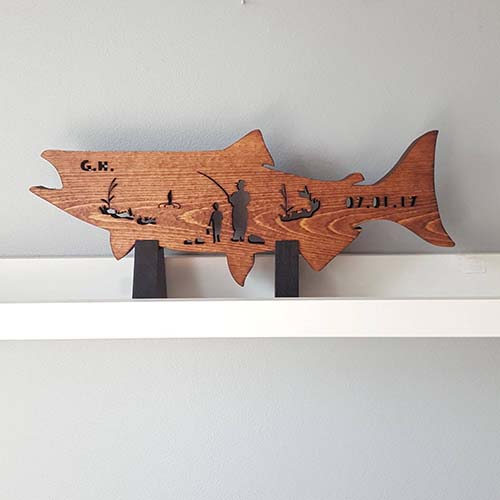 Here's a memorial display that will look just right in the home of any lifelong fishing enthusiast. The wooden fish is carved out and decorated with a fisherman scene in your choice of finish along with carved-out initials and date.
6. If Love Could Have Saved You Memorial Plaque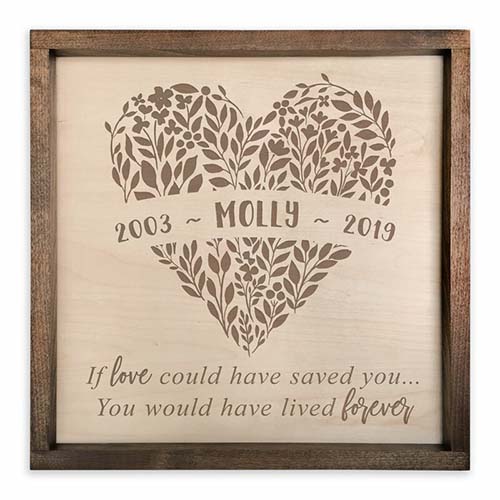 This gorgeous handcrafted wooden memorial sign features a leafy floral heart shape, your loved one's name and dates, and a sweet quote.
7. Gold Forever Artful Cross Sculpture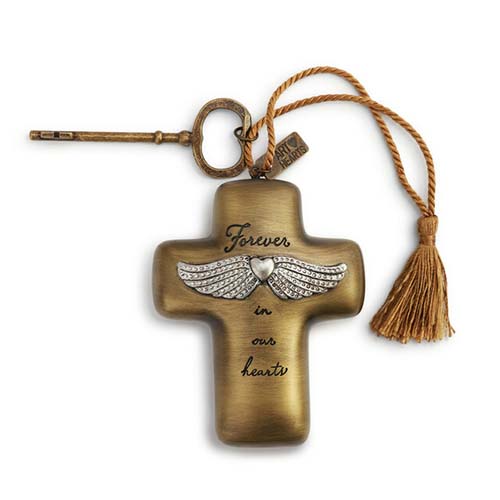 Your beloved holds the key to your heart, and you know you will see them again in heaven because of the Cross.
Honor their memory and faith while holding them "forever in our hearts" with the Forever Artful Cross Sculpture. This tribute can be mounted on the wall or displayed using the key-shaped easel.
8. In Loving Memory Photo Canvas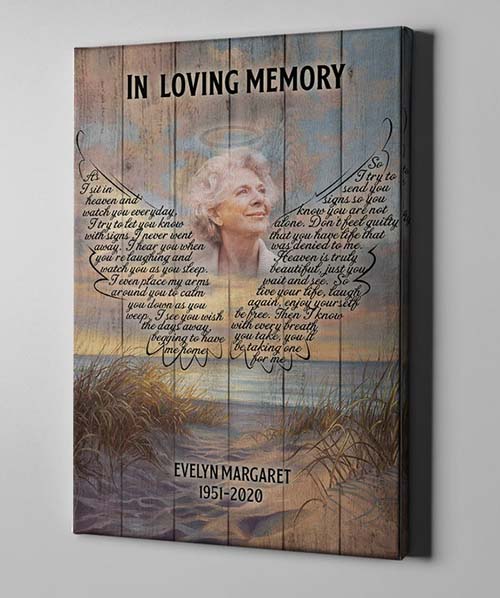 This photo canvas print is designed to look like painted wood slats depicting a serene sandy beach with still waters and sunlit clouds.
The memorial includes a lovely quote shaped like angel wings surrounding your loved one's portrait along with an inscription of their name and dates.
9. Raise a Glass Wall Mounted Bottle Opener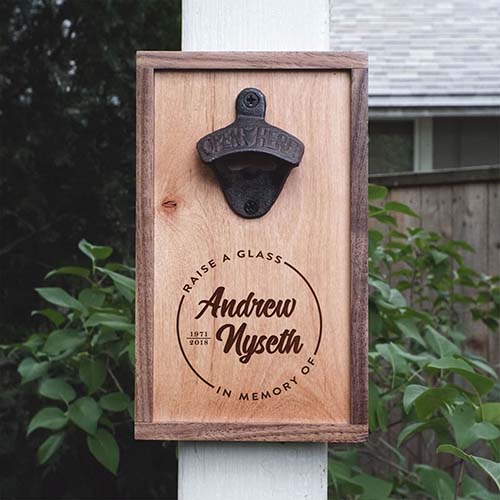 Raise a glass in memory of your departed loved one. This personalized memorial bottle opener is the perfect way to pay tribute to someone special every time you open a bottle or raise a glass.
Create a memorial wall on your porch, in the home bar, or in the garage with a handcrafted opener which is made in the USA from solid wood.
10. Personalized Heart Slates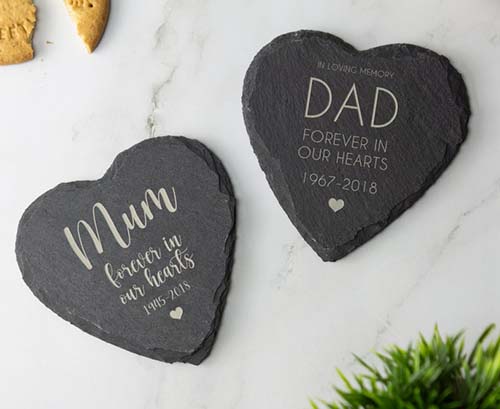 These slate hearts are a gorgeous and lasting way to pay tribute to someone you love. The large size includes a rustic rope for wall mounting, and you can personalize it with any custom text or tribute.
Pin It