Funeral posters are a beautiful way to honor your loved one's life and display their photo at the funeral or celebration of life event.
Let's talk about how to get these made, how to find a gorgeous template to use, where and how to print, what details to include, and more.
How do you display pictures at a funeral?
There are many ways you can display pictures and photographs at a funeral.
Framed photos on a table
Framed or canvas photos on the walls
Printed memorial banner
Photo collage
Funeral poster on easel
Today, we're going to talk about the last one: Funeral posters.
Funeral Posters
Here are some of our favorite funeral poster templates for display at the celebration of life, funeral, reception, committal, viewing, or any other type of memorial event.
1. Timeless Green Funeral Poster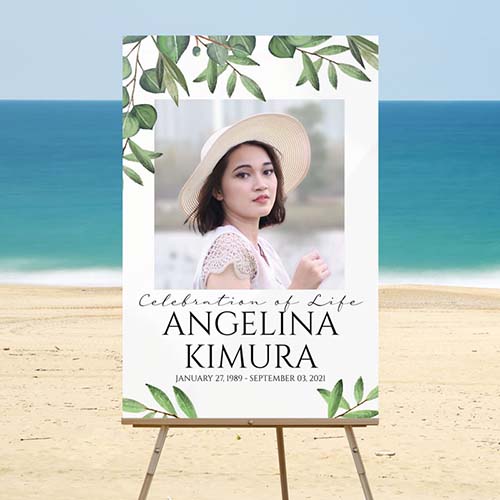 Like the name says, this design is timeless. The green leaves accent your loved one's photo with pristine simplicity, accentuated by decidedly elegant fonts.
2. Sunflower Fields Life Celebration Memory Board
The sunflower theme breathes out joy and sunshine – just like your loved one! Celebrate their life and vitality with this memorial collage poster.
3. Portrait Photo Funeral Welcome Sign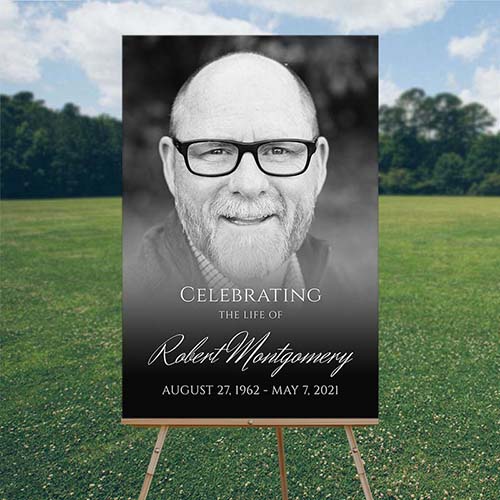 This poster emphasizes your loved one's portrait, with a text overlay featuring their name and dates. One of our most popular designs.
4. Vintage Floral Frame Funeral Poster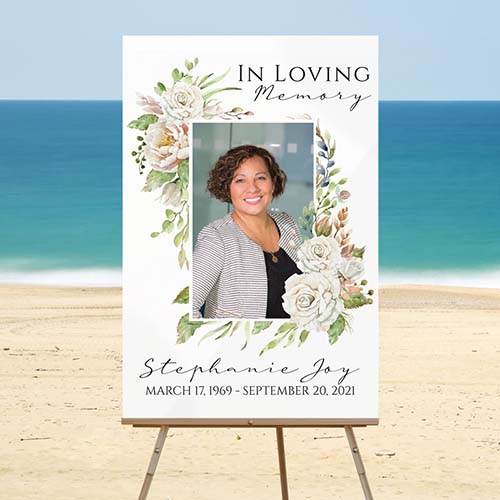 Here's a design that strikes all the right balances. It's modern, but uses vintage-style floral artwork. The flowers are bright, but not too cheerful, yet still a far cry from being somber. Most importantly, it highlights your loved one's picture in a beautiful way.
5. Navy + Gold Funeral Welcome Sign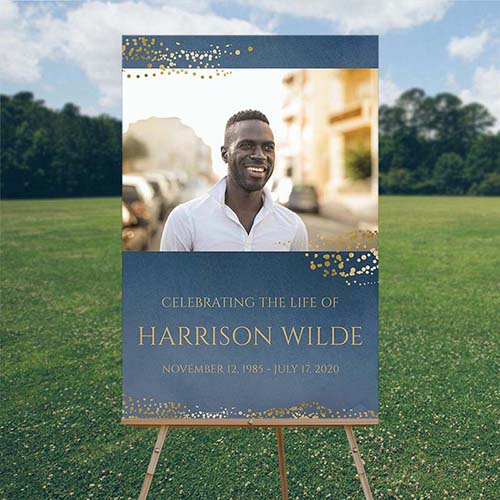 The navy blue background dusted with golden accents gives this funeral poster a masculine feel. No flowers here, just your loved one's photo and a life celebration tribute.
6. In Our Hearts Funeral Memory Board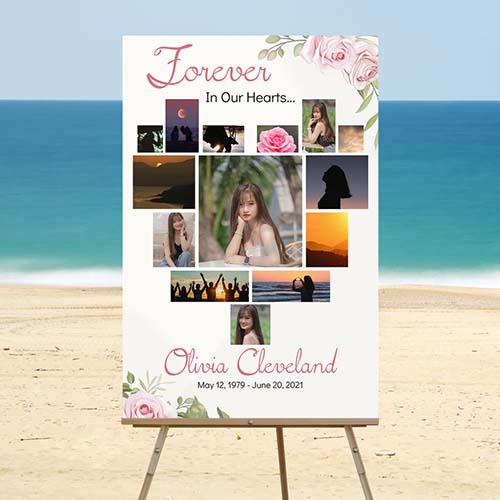 Show your love with this heart-shaped photo collage and memory board poster.
7. Vintage Rose Funeral Welcome Sign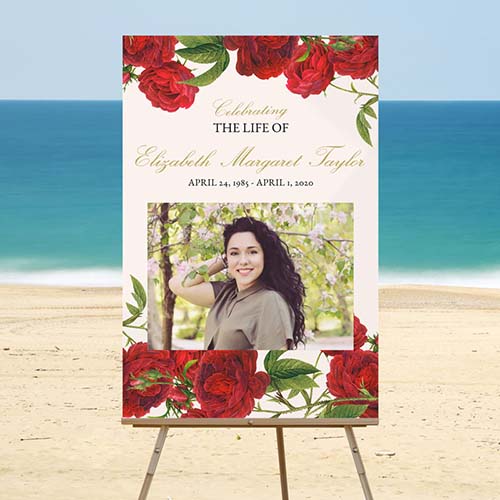 The elegance of red roses surrounds your loved one's portrait, leaving plenty of space for her name and dates.
8. Military Funeral Memory Board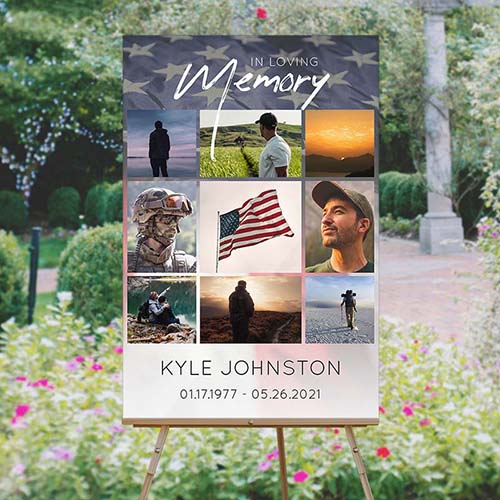 This funeral poster features an American flag background along with a contemporary style. Proudly honor your loved one, whether a patriot or a military service member, with a photo collage befitting their memory.
9. Cross & Leaves Funeral Welcome Sign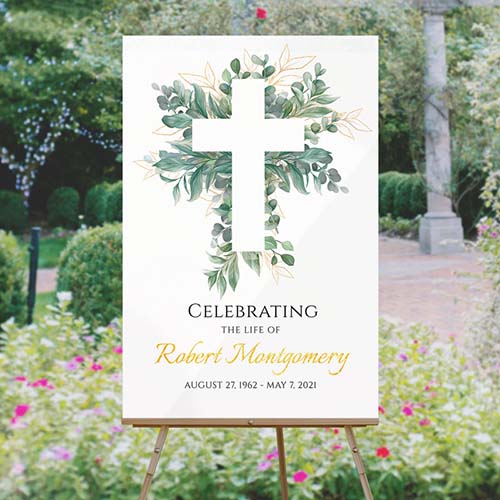 Here's a funeral poster with a Cross as the centerpiece. Framed in relief by the green and gold leaves, this poster will look incredible at the front of the chapel or sanctuary as you celebrate and memorialize your beloved.
10. Deer Creek Funeral Memory Board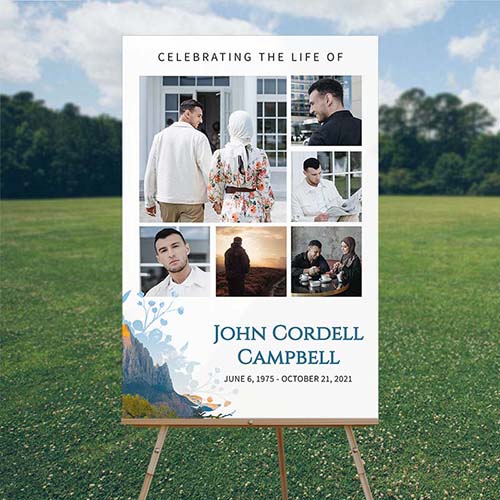 The modern design of this tribute poster appeals to everyone, and especially those who love the outdoors. This design is accented with artistically rendered mountains and flowers, and is part of the Deer Creek Collection (if you are looking for matching funeral programs, memorial bookmarks, invitations, and more).
11. Dusty Fleur Funeral Welcome Sign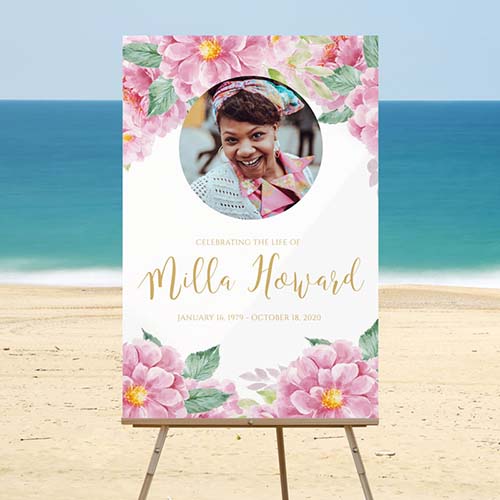 Pink blossoms surround a circular portrait frame with elegant contemporary fonts.
12. Leaves Life Celebration Memory Board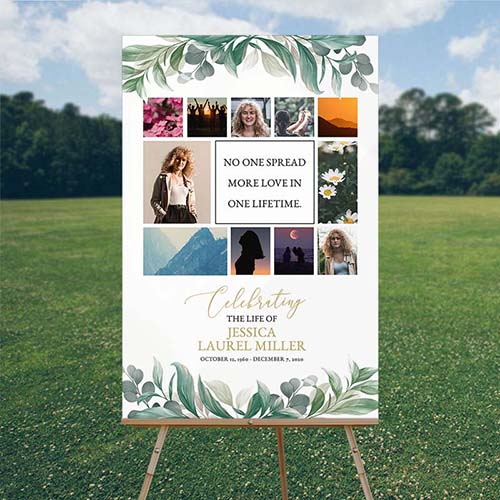 This Life Celebration Memory Board comes in our ever-popular "Leaves" design. You can find matching funeral programs and prayer cards for this and other designs by browsing our template store.
What do you put on a funeral poster?
The main point of a funeral poster is to honor your loved one. Most display your loved one's photograph. As you see with the templates above, you can also add their name and dates, additional photos, and quotes.
You can also add decorative accents that they would appreciate – perhaps a cross, flowers, sports, birds, cars, or outdoor themes. Choose the template with the decorations that best fit your beloved's personality.
What size should a funeral poster be?
The size will depend on where and how you display it.
For most funerals, you'll want it to be on the larger side. 20×30 should be about the minimum if displayed in a small chapel. For outdoors and most other uses, consider 24×36.
If you are looking for something for a smaller tabletop display, you could go as small as 8×10, but that might be pushing it.
The best way to determine the size is to bring a measuring tape to the place it will be on display and measure out a visual.
What material should a funeral poster be?
A typical poster is thin paper, which we recommend mounting on cardboard or foam core to provide sturdy backing.
Ideally (though a little more expensive), we think you should spring for a canvas print. This will result in a long-lasting memorial poster that you can display at home as a keepsake long after the funeral is over.
Where can you get funeral posters printed?
Most local print shops will help you create your print at just about any size.
To order high-quality posters and canvas prints online, we recommend Prints of Love. We've formatted our memorial poster templates specifically for their sizes, and they have top-notch service and turnaround times.
Read Next: 30 Best Funeral Welcome Signs & Memory Boards
Pin It