New Year's Eve, often synonymous with a fresh start and togetherness, can be incredibly challenging for grieving family members.
As the whole world anticipates the New Year, you or your loved one may find themselves grappling with the pain of grief, the memories of past celebrations, and the absence of loved ones who once filled these cherished moments.
In recognizing the unique challenges faced by those on a journey of grief during this holiday season, we begin a journey of our own — the journey of offering words of comfort and solace.
We've found that one or two well-chosen quotes can be a source of comfort and hope for those who are suffering after a significant loss.
Especially during the holiday season, a thoughtful New Years message that includes quotes like these from some of history's finest minds can help us express sympathy for a loved one experiencing the deep pain of loss.
It's a way to remind someone you care about that they're not alone.
Whether you are grieving the loss of a loved one, or you know someone who is, these grief New Year quotes can be a valuable resource during a time of great sorrow.
Understanding Grief During the New Year
In such difficult times, it is key to understand that everyone's grief process is different.
It's common to reflect on the past when a whole new year rolls around, and this reflection process may be especially hard for you or your grieving loved one as you remember the great soul who has passed on.
Loved ones can serve as a lifeline as the new year brings in new beginnings as well as sharp reminders of loss.
Another good idea to help support grieving loved ones would be to provide them with helpful sympathy gifts to help them process this flood of emotions.
Before we get into the section on quotes, we wanted to present you with a couple of resource options for literature on grief so they can find solace in the experiences of others.
The Year of Magical Thinking
In The Year of Magical Thinking by Joan Didion, the author tells the story of her grappling with the deaths of her husband and daughter which occurred just months apart from each other.
Through Didion's powerful words and understanding of life, your loved one may be able to find new strength to weather through the new year as they mourn.
The Grief Recovery Handbook
From trusted authors and founders of The Grief Recovery Institute, The Grief Recovery Handbook has helped readers in their time of loss for decades.
With the Handbook, they'll find concrete ways to deal with the onslaught of the grief symptoms involved when mourning a loved one.
The Best Grief New Year Quotes
In addition to sending them books, encouraging them to reflect on meaningful quotes can help positive or calming messages come to mind when they may feel especially down.
The right words at the right time can do wonders in soothing their hurts.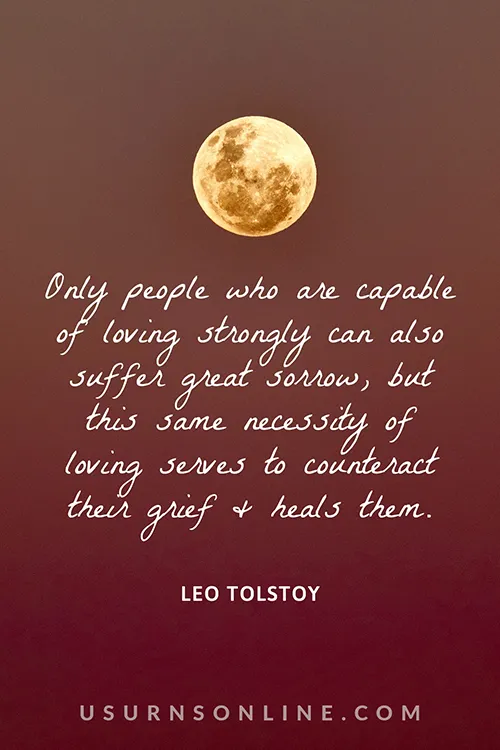 Only people who are capable of loving strongly can also suffer great sorrow, but this same necessity of loving serves to counteract their grief and heals them. — Leo Tolstoy
Memory nourishes the heart, and grief abates. — Marcel Proust
There is a sacredness in tears. They are not the mark of weakness, but of power. They speak more eloquently than ten thousand tongues. They are the messengers of overwhelming grief, of deep contrition, and of unspeakable love. — Washington Irving
Her absence is like the sky, spread over everything. — C.S. Lewis
There is no grief like the grief that does not speak. — Henry Wadsworth Longfellow
Your grief path is yours alone, no one else can walk it, and no one else can understand it. — Terri Irwin
There are no good-byes for us. Wherever you are, you will always be in my heart. — Ghandi
We know you'd be with us today If heaven wasn't so far away
Grief is the price we pay for love. — Queen Elizabeth II
There is no pain so great as the memory of joy in present grief. — Aeschylus
Inspirational Quotes for Those Who Grieve
For a touch of inspiration and hope, these quotes would be wonderful just to read, jot down in a journal, to stick to the mirror…
Anywhere they can be easily read and taken to heart.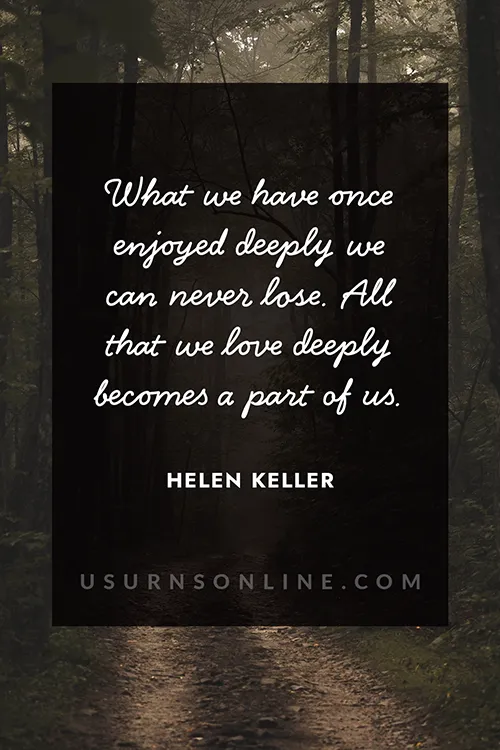 What we have once enjoyed deeply we can never lose. All that we love deeply becomes a part of us. — Helen Keller
When you are sorrowful look again in your heart, and you shall see that in truth you are weeping for that which has been your delight. — Khalil Gibran
Give sorrow words; the grief that does not speak knits up the o'er wrought heart and bids it break. — William Shakespeare
Change is never easy. We fight to hold on, and we fight to let go. — Unknown
The comfort of having a friend may be taken away, but not that of having had one. — Seneca
Grief can be the garden of compassion. If you keep your heart open through everything, your pain can become your greatest ally in your life's search for love and wisdom. — Rumi
Every one of us is losing something precious to us. Lost opportunities, lost possibilities, feelings we can never get back again. That's part of what it means to be alive. — Haruki Murakami
The highest tribute to the dead is not grief but gratitude. — Thornton Wilder
Grief is like the ocean. It comes on waves ebbing and flowing. Sometimes the water is calm, and sometimes it is overwhelming. All we can do is learn to swim. — Vicki Harrison
Our dead are never dead to us until we have forgotten them. — George Eliot
Comforting Grief Quotes for the New Year
These quotes are especially suitable for the season around New Year's. Touching on the beauty of memories, new dawns, and hope, any one of these would be a fitting choice.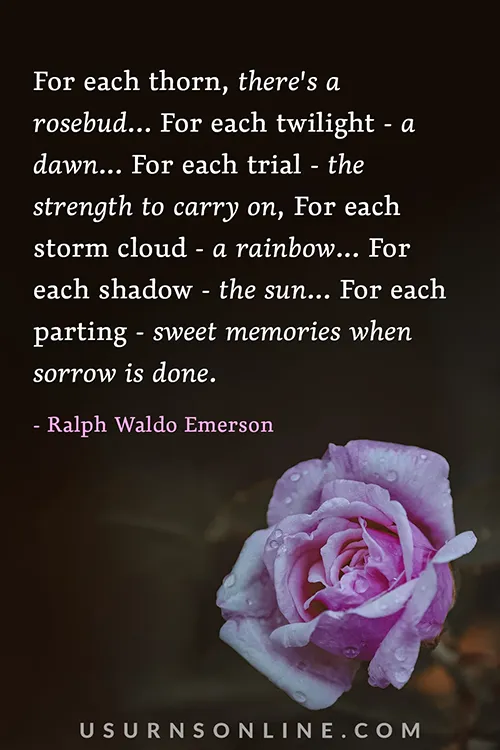 For each thorn, there's a rosebud… 
For each twilight — a dawn… 
For each trial — the strength to carry on, 
For each storm cloud — a rainbow… 
For each shadow — the sun… 
For each parting — sweet memories when sorrow is done.
— Ralph Waldo Emerson
Wherever a beautiful soul has been there is a trail of beautiful memories.
— Ronald Reagan
Everyone can master grief but he that has it. — William Shakespeare
To lose someone you love is to alter your life forever. You don't get over it because 'it' is the person you loved. The pain stops, there are new people, but the gap never closes. — Jeanette Winterson
God is our refuge and strength, an ever-present help in trouble. — Psalm 46:1
Life is the only thing which can never be replaced when lost. — Lailah Gifty Akita
The pain passes, but the beauty remains. — Renoir
It is not length of life, but depth of life. — Ralph Waldo Emerson
A good life is a collection of happy moments. — Denis Waitley
One who has loved and lost is a better person, for they have tasted life's greatest joy and its deepest sorrow. — Hebrew Proverb
Comforting New Year Sympathy Messages 
If you'll be writing them a note or a card to send, but are unsure of how to start or what to write, one of these prompts may be just what you're looking for:
I am here for you during the New Year. You can reach out anytime you need a listening ear.
This time of year can be especially difficult after a loss. Know that you have my prayers in this time of grief.
As your friend, it breaks my heart to see that you've lost [loved one's name]. The pain must be so immense, but I want to let you know that you will weather this storm. 
Our family is keeping you in our prayers as you grieve this loss.
I thought of you as we're approaching the new year, and I wanted to give you this sympathy gift. You are in our hearts during this season.
I can't imagine what you're going through, and I want to support you in this time of mourning in any way I can. Please let me know if there are ways I can be there for you.
I know it's been tough without [loved one's name], and I want you to know that we love you and that you're welcome in our home anytime since we're family.
I'm thinking of you this new year. Blessings to you in this difficult time.
I'm always here for you, no matter what.
We're devastated by the loss of [loved one's name]. Know that you're not alone as you mourn.
This new year may be hard with the loss of [loved one's name], but we care for you greatly and we'll get through this together.
I'm so sorry to hear about [loved one's name] passing. They were such a light, and you carry on their legacy well. Please accept this [gift/food/other] as a sign of our deepest condolences.
[Loved one] was such a wonderful [parent/friend/coworker],and I grieve now that they've passed on. Know that I'm here for you..
I hope the new year will bring you a sense of peace.
I grieve for [loved one] along with you. Please take care of yourself even though life has been so hard on you. Call me anytime, I want to help.
I pray that the Lord will comfort you and your family.
[Loved one] will be deeply missed. They were such a lovely person.
Words can't describe how [loved one] changed my life for the better.
I think of you all the time nowadays. I hope that the new year can be a time of comfort for you.
If you ever need to talk, I'm here.
I'm heartbroken to hear about [loved one's] passing. Please know that we are here for you in whatever way we can be. Meals, conversation, a shoulder to cry on… Whatever you need.
Related: Thoughtful Condolence Messages to Express Your Sympathy
Additional Ways to Support Grieving Loved Ones
If you're looking for more ways to support your grieving loved one, there are plenty of options.
Being available for a phone call is a great way to give them a chance to vent and to comfort them in this season.
Also, you may want to encourage them to phone more of their loved ones or even join a grief support group.
The company of others who share their experiences can be a healing balm in the holiday season when they may be having their first Christmas or New Year's celebrations without their deceased loved one. 
Gifts are another good idea to show them you care as a well-chosen gift can speak louder than words.
How to use these grief New Year quotes and sympathy messages:
Choose quotes that are meaningful to the person who is grieving. Some people may prefer inspirational quotes, while others may find comfort in humorous quotes. It is also important to choose quotes that are relevant to the person's loss.
Be genuine and sincere. Most people can sense if someone is being fake, so it is important to be honest and heartfelt in your words. Say what you mean, and say it with love.
Be specific. When you use grief New Year quotes, it is important to be specific. Don't just say something generic like "I'm sorry for your loss." Instead, try to find quotes that specifically address the person's loss or provide a fresh insight on life.
Be patient. It may take some time for the person who is grieving to respond to your words. Don't expect them to feel better overnight. Just be patient and understanding, and let them know that you are there for them.
Our Favorite Sympathy Gift Ideas
Sympathy gifts can remind your grieving loved one that you care for them, and can make dealing with life a little less stressful.
They'll appreciate your company and the simple things in life, so you may want to send them some food or another useful present to help them mourn well.
Attaching a heartfelt note to your gift is another good idea to communicate your support and make them feel loved.
1. Personalized Memory Of You Journal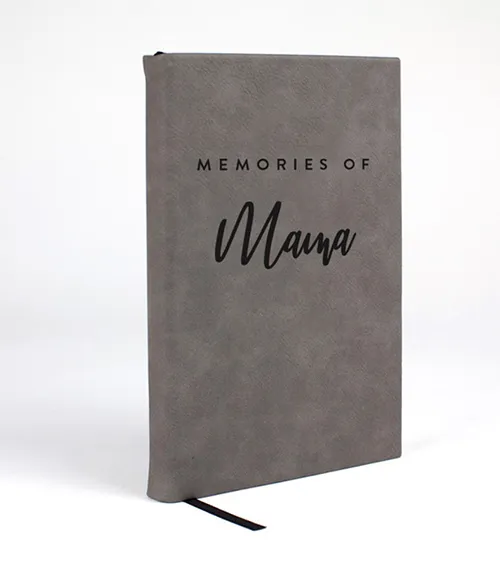 Consider sending them a grief journal so that they can write their feelings down.
This one comes with a beautiful leatherette cover and can be personalized with two lines of text on the front.
Seeing their thoughts on paper can do worlds of good to help them process their emotions and fond memories of their deceased loved one.
2. Grief Affirmation Sympathy Box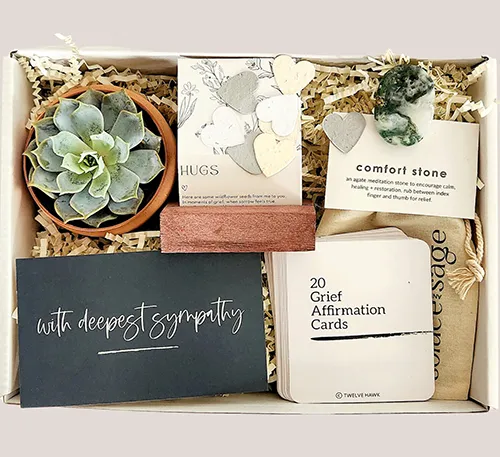 In the hardest hours of grief, a sympathy box filled with various soothing items and grief affirmation cards could be just the thing to pick up their spirits.
In addition to several grief affirmation cards, this sympathy box features a succulent plant, wildflower seed packets, and a comfort stone. With these items, they can enjoy a pop of color in their life.
The box also comes with a sympathy card to fill out so you can add a personal message to go along with this thoughtful gift.
3. Deliver Comforting Meals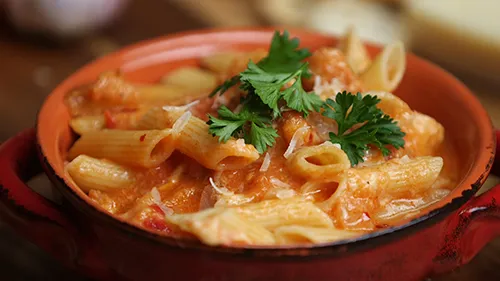 Everyday life can be overwhelming while mourning, so making some delicious food for the grieving person in your life can relieve the stress of having to put food on the table every day.
We put together a list of comfort recipes so you can find several hearty, filling options to cook for them. Few things show that you care that you care for them more than providing for their needs.
Related: How to Deliver a Sympathy Meal
4. Sympathy Flower Bouquet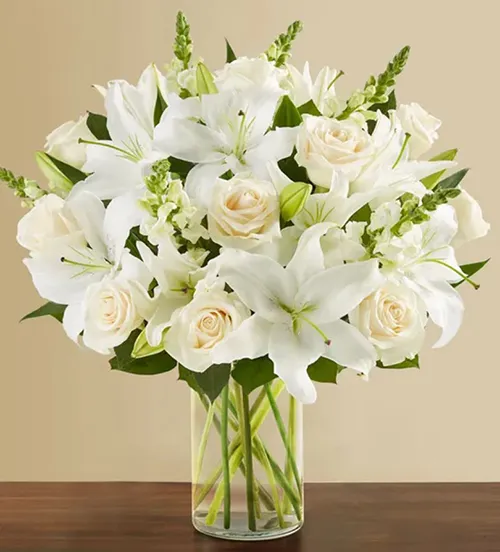 Sympathy flowers are a classic gift option to beautify someone's home or their loved one's funeral. Looking at these flowers can give them a moment to pause and appreciate beautiful things when life may seem grim.
This arrangement of white flowers featuring roses, lilies, and snapdragons is long-lasting, and it can be a perfect pick-me-up or a lovely token to say farewell to the deceased.
5. Help Them Set Up A Memorial Website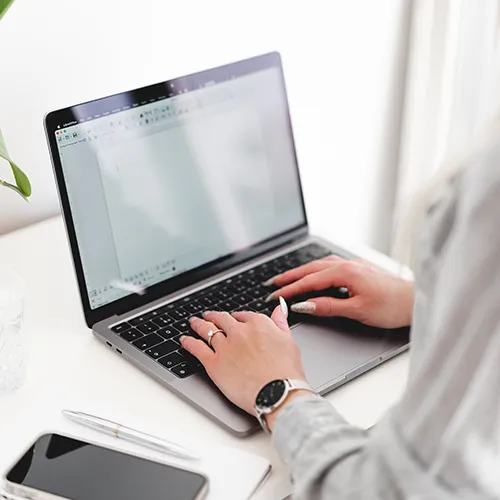 Funeral arrangements can be stressful, and you can assist them with the process of making a memorial website with Ever Loved.
With this memorial website, well-wishers can remember the loved one who has passed away and make funeral donations to ease the financial burden of the bereaved.
This could be a great opportunity for you to lend a listening ear as well as a helping hand as you assemble the website together.
Read Next: Best Sympathy Gifts for Someone Grieving a Loss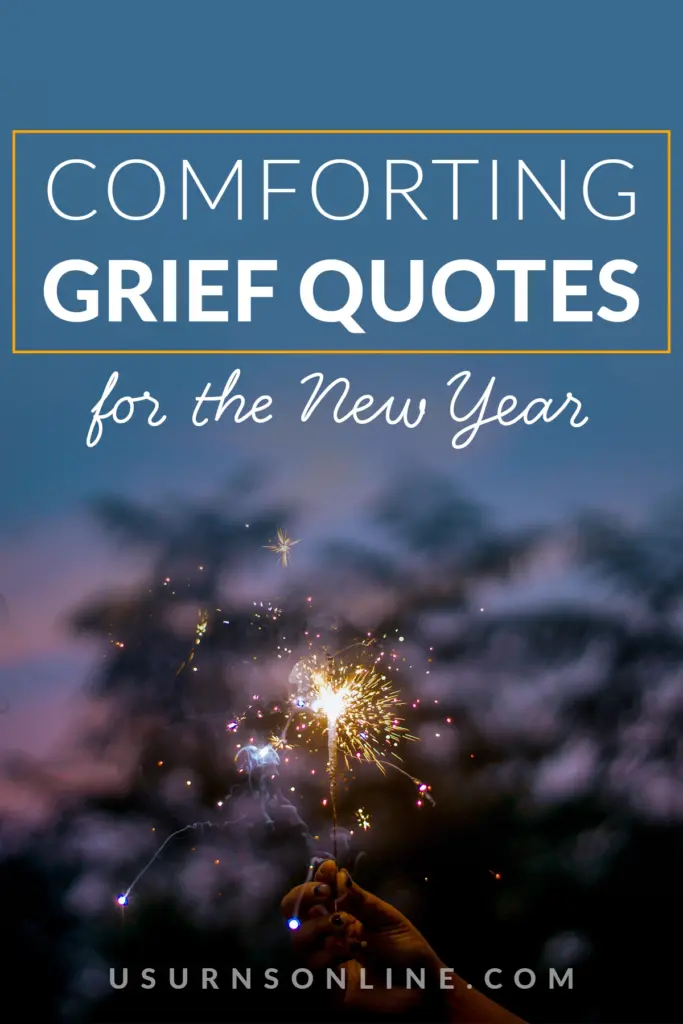 Sarah Faith is an English major who has been writing online content since 2021. Outside of freelance writing, she works as a writing tutor at her college.
Sarah Faith is dedicated to producing quality work and to helping readers reduce their stress in the funeral planning process.