Sympathy gifts provide you with a great way to send a tangible expression of your love to someone who is grieving. Today, we're going to show you some wonderfully memorable gifts for someone who passed away.
While there is something special about sending a note, a card, or a text, you may also feel the desire to give a tribute, something meaningful that can be touched and seen.
And really, there is no reason you shouldn't do both. You can send sympathy cards along with your gift, or send a gift and follow it up with a handwritten note or text a week later.
When you reach out with tangible expressions of your condolences, it sends a message to the grieving person that their grief matters.
So here are some of the best sympathy gifts for someone who lost a loved one. As always with our lists of memorial ideas, we try to showcase the best of everything from around the web.
This way you may be inspired to get one of these condolence gifts, search out something similar but just a little bit different, or create your own memorial gift idea.
50 Sympathy Gifts for Someone Who Is Grieving
Our website is supported by our users. We sometimes earn a commission when you click through the affiliate links on our website. See our privacy policy & disclosures for more information.
Personalized Sympathy Gifts
There's something so special about having a memorial with your loved one's name or photo inscribed on it.
These are our very top picks of sentimental gifts for someone who lost a loved one, that can also be personalized with the decedent's name, dates, or photograph.
1. "Peace" Personalized Floral Sympathy Sign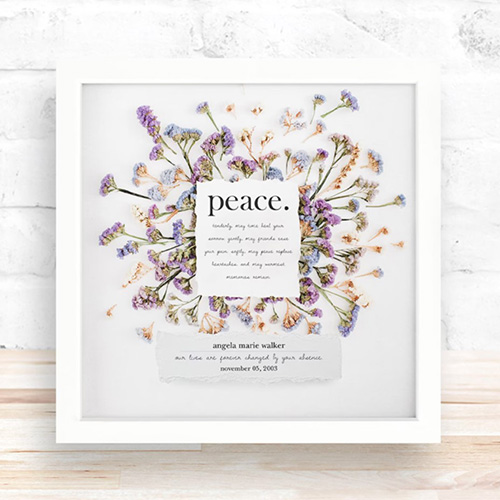 Send the gift of peace and a healing blessing with this floral print sympathy plaque. The stunningly printed satin photo comes in a wooden frame with a message of peace to encourage healing in the midst of sorrow.
It also comes with additional space for a name and other personal message to add to the comfort that the message conveys.
2. Forever In Our Hearts Personalized Afghan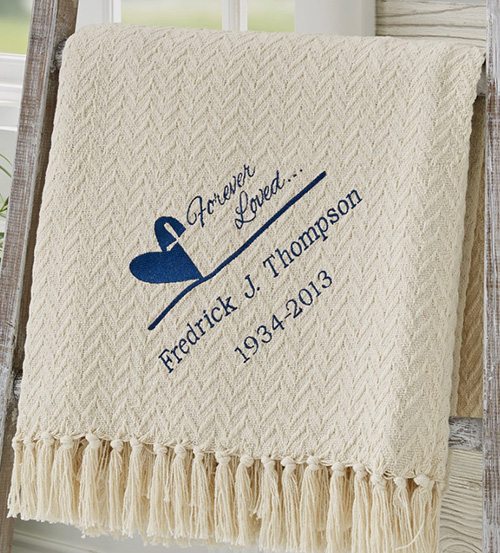 The Forever Loved Personalized Afghan is a cotton blanket embroidered with a message of "forever loved" along with the name of a loved one.
A perfect gift to help warm and comfort ailing hearts with a high quality, thick and natural colored cover for any occasion. Makes a great shawl that's soft to the touch and covers a loved one's favorite seat so they can always feel close by.
3. Custom Engraved Memorial Candle Holder
This custom laser etched sympathy gift holds three candles and includes a condolence message along with personalization of name and dates.
Choose one of six classic sympathy quotes to go above the memorial inscription.
4. Goodbyes Photo Block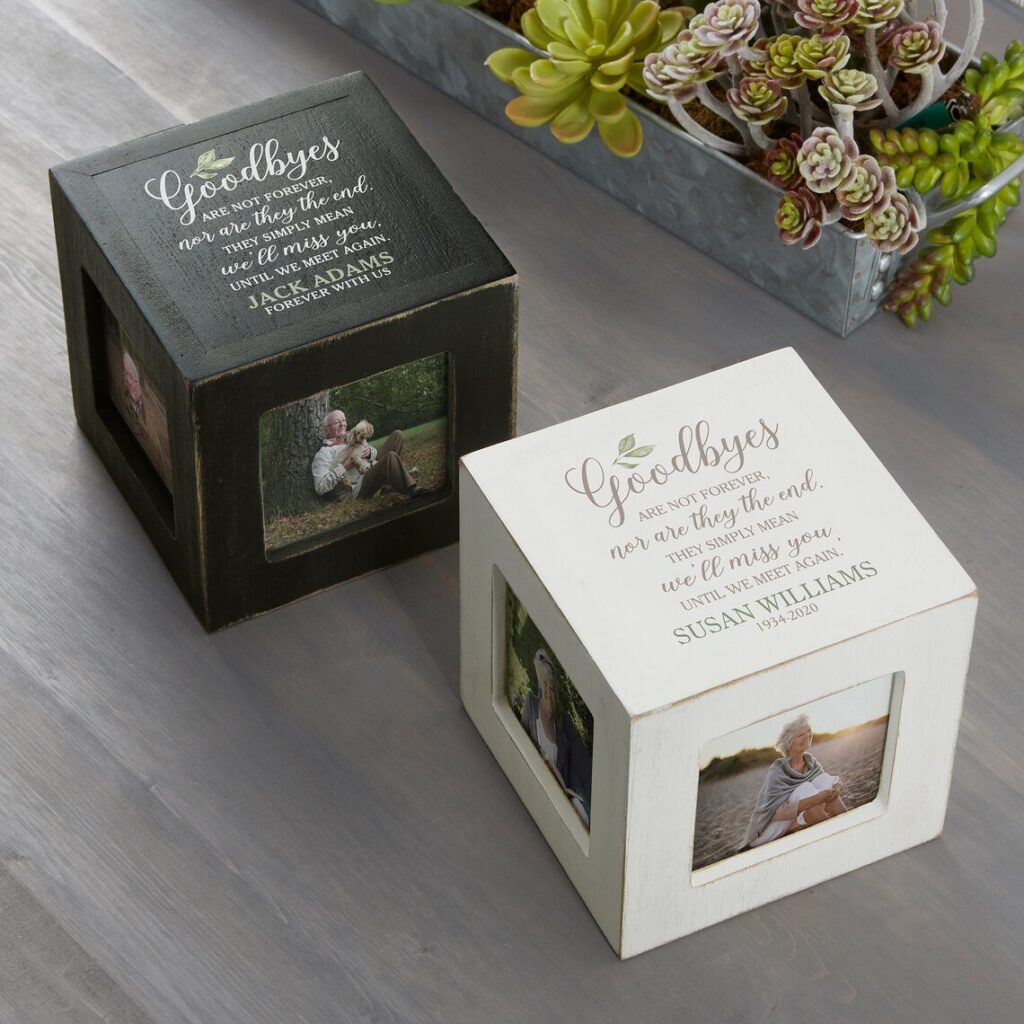 Here is a nice gift idea that combines traditional memorial photo frames with a contemporary look and meaningful quotes.
The quote reads, "Goodbyes are not forever, not are they the end. They simply mean we'll miss you until we meet again."
Includes customization of name and dates across the bottom.
5. In Loving Memory Memorial Bird Feeder
These cedar wood bird feeders are made in the USA and custom laser etched in your choice of design. Includes "In Loving Memory" inscription of name and dates, plus more than two dozen themes. This is a wonderful sympathy gift that will last long after the funeral flowers have wilted.
You can also get these bird feeder sympathy gifts completely customized. Write a special message, a Scripture verse, a poem, an image or other personal artwork.
Lastly, any bird feeder can be customized on the back side for a more complete and personalized sympathy gift idea.
6. Memorial Wind Chimes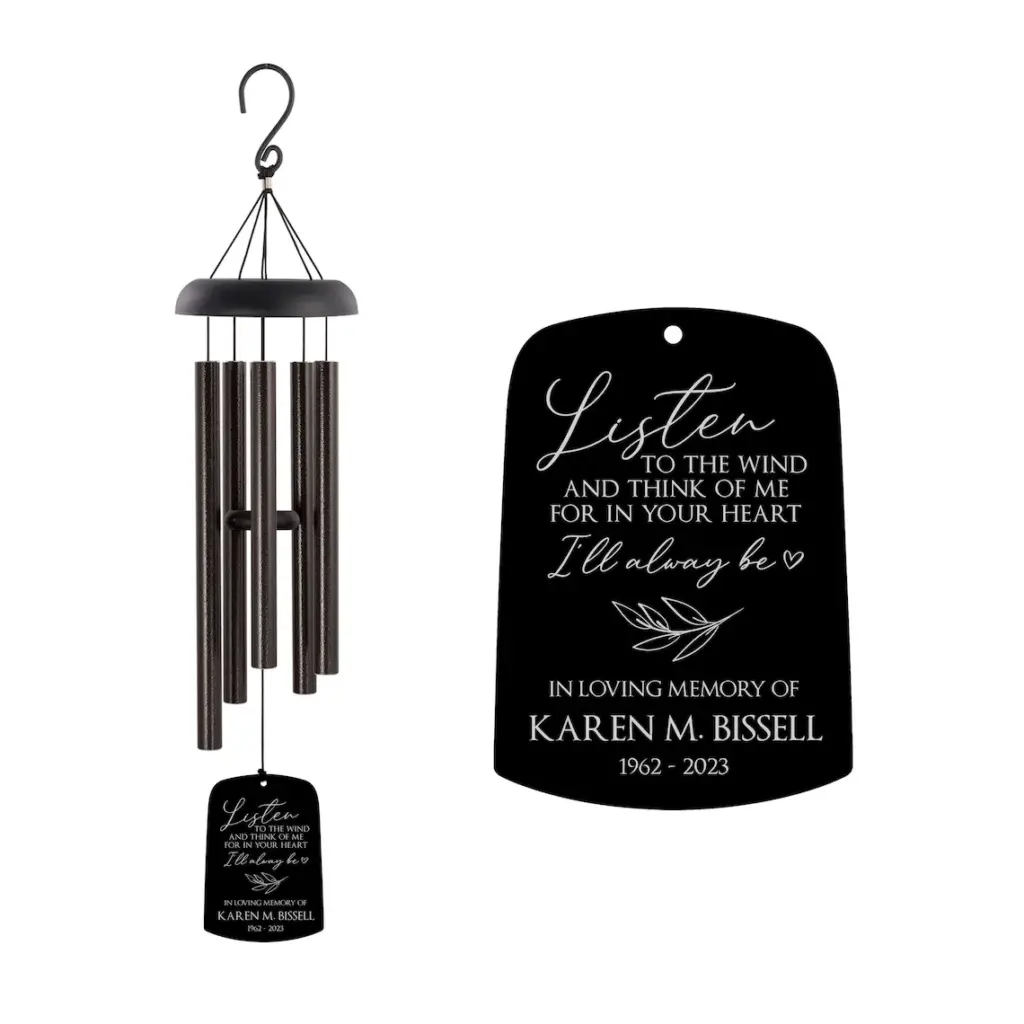 A personalized wind chime can sing out with the tune of "Amazing Grace" or other popular melodies.
Find a wind chime that includes customization of name and dates to create a treasured sympathy gift. Shop custom memorial wind chimes here.
7. Personalized Standing Memorial Stone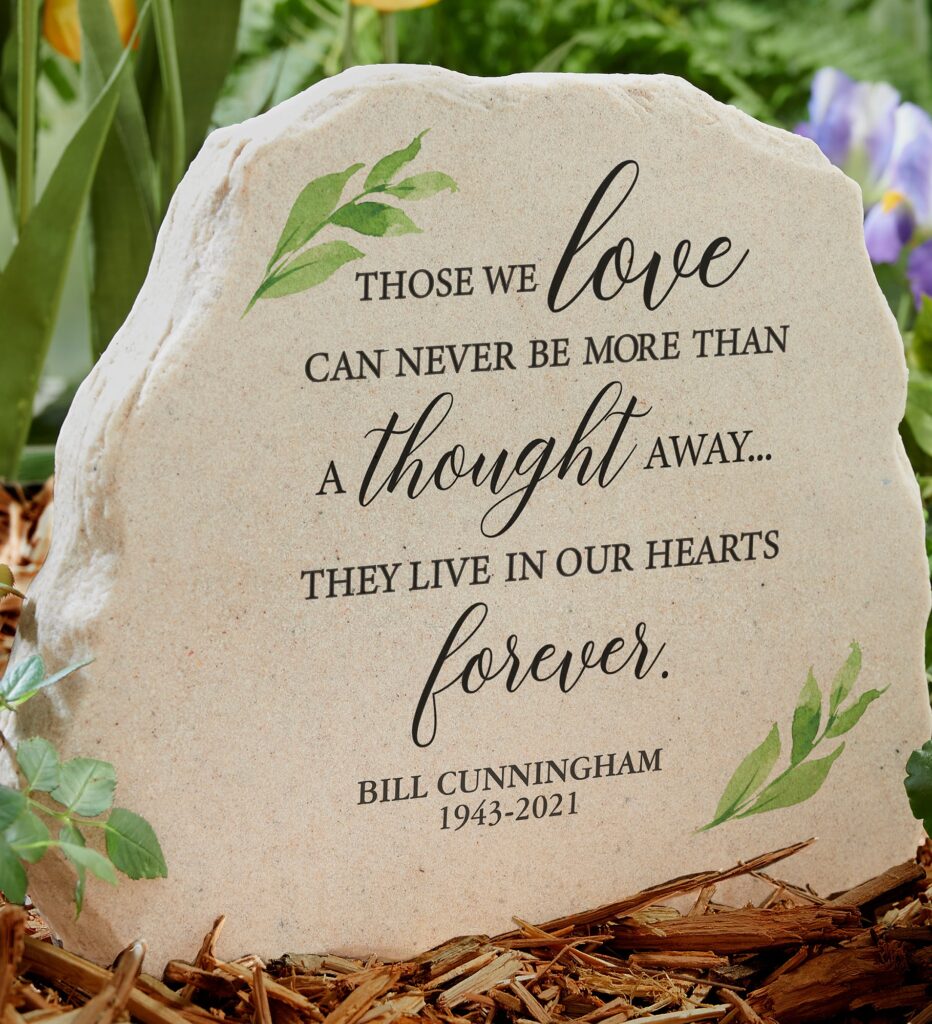 "Those we love can never be more than a thought away… They live in our hearts forever."
This loving sympathy quote is etched into a lovely garden stone to place in memory of a loved one. If you're looking for classic grief gift ideas, you can't go wrong with personalized garden stones.
8. 3D Crystal Photo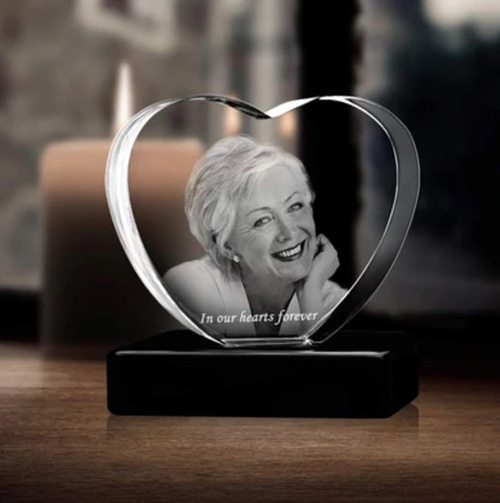 Preserve a photo of your loved one behind a prism of clear, crystal protection. These crystal works of art come in a variety of many shapes, including hearts, arcs, portraits and diamonds.
A photo is professionally printed in 3 dimensions within the piece, so that a favorite picture of their loved one can be preserved with crystal clarity for ages to come.
9. Raise a Glass Bottle Opener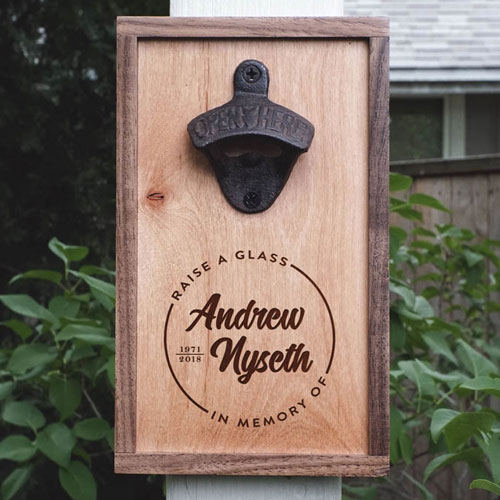 This wall mounted bottle opener is handcrafted in the USA and custom engraved with your loved one's name and dates. Includes an encouragement to "raise a glass in memory of" the departed loved one.
10. Feather Ornament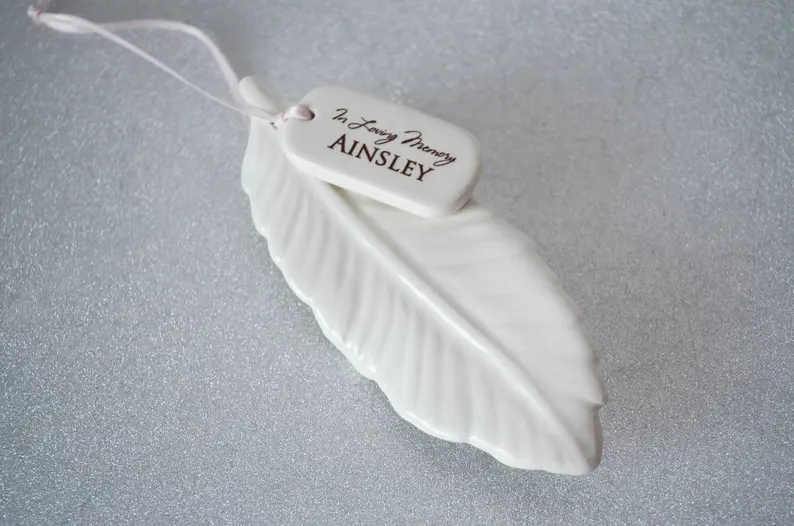 Here's a sympathy gift for the holidays when a loved one is no longer there to celebrate. This ornament comes with a beautiful, personalized tag that reads "In Loving Memory" with their loved one's name.
This special angel's feather will enhance the Christmas Tree or any other celebration where ornaments are hung with care.
Related: 35 Best Christmas Memorial Ornaments
11. Hands of Time Clock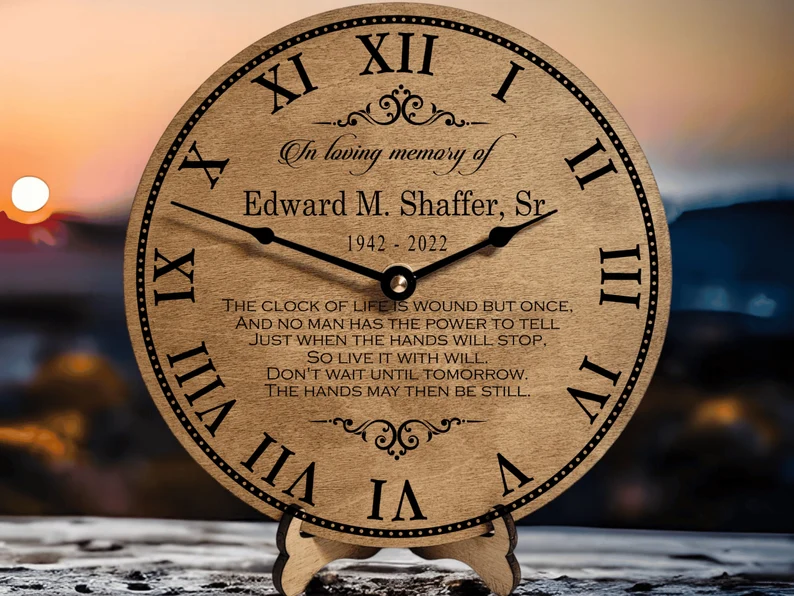 A clock on the wall helps remind us of time. The time we spent and the time that's still ticking down.
This clock has a wooden face with laser engraved numbers and message. In the middle is a beautiful excerpt from the poem "The Clock of Life" by Richard Smith.
It's also a silent running clock, with a key slot hole to hang on any wall so it can be seen from anywhere.
Memorial Sympathy Gifts
Each of these special gifts is geared towards creating a lasting memorial of the one that's been lost.
Memorials can be anything from a dedicated tree, to a piece of jewelry, to an object that you feel represents their personality.
12. Memory Tree Sapling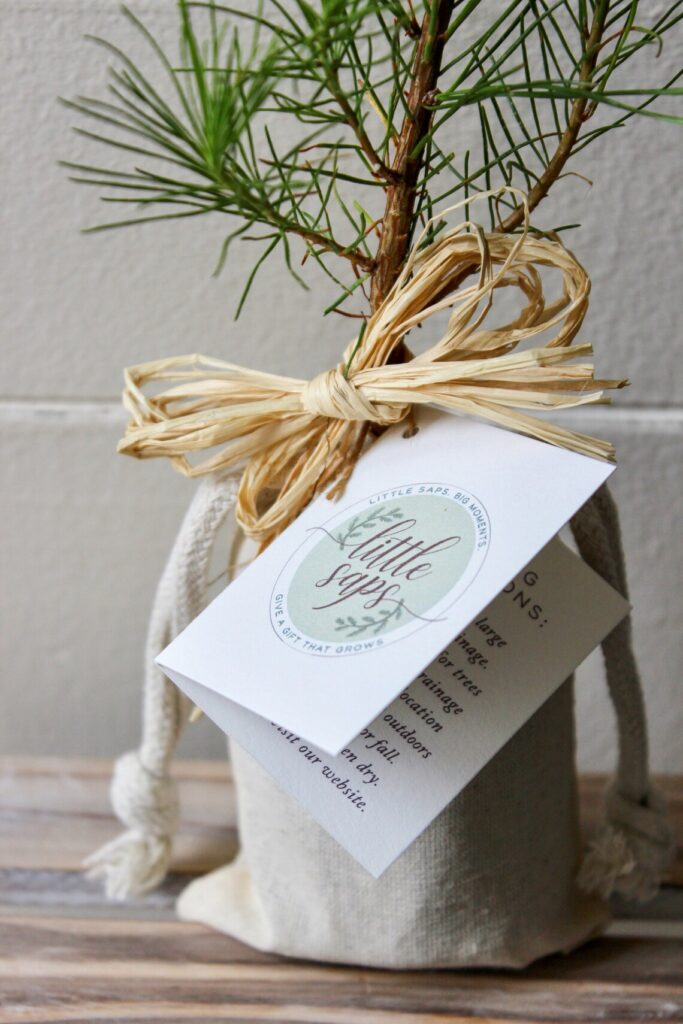 Give the gift of life to help honor and respect the passing of a loved one.
Not everyone has the green thumb to foster and care for plants, but that's not the kind of sympathy gift this is. It's a memorial tree, which they can plant in the name and memory of someone they cared for deeply.
Over the years the tree will grow in strength, stature, and beauty, just like the memories you treasure.
Related: 5 Ways You Can Plant a Tree in Memory of a Loved One
13. Hummingbird Memorial Ornament Wind Chime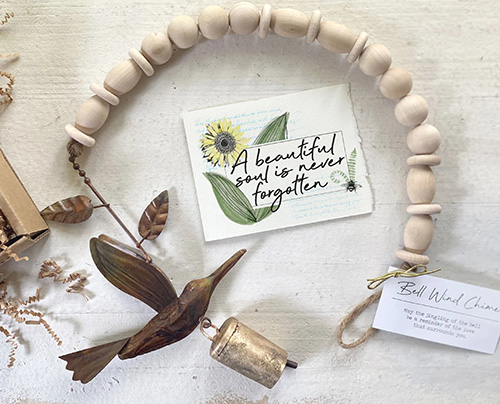 If you wish to remember your loved one every time the wind blows, a memorial wind chime gift is perfect.
This rustic wooden wind chime has a hummingbird figure on it holding a bell which gives a soulful sound whenever the wind moves it. It also comes on a card with watercolor painting and a meaningful sympathy message.
Each one is handmade and unique, just like the life it is intended to commemorate, and crafted from sustainable materials.
Related: Hummingbird Memorial Gift Ideas
14. Cremation Necklace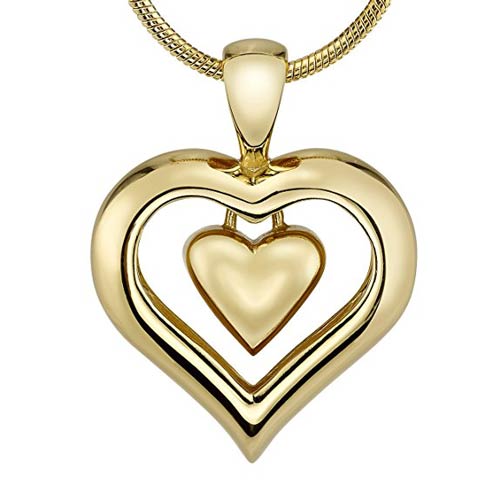 Cremation jewelry is becoming more popular along with the rise in cremation as the final disposition method of choice.
When so many families bury or scatter the remains after cremation, it makes sense that they may appreciate a sympathy gift of cremation jewelry.
These sympathy jewelry pieces hold a tiny amount of cremated ashes as a keepsake, and are available as necklaces, bracelets, or rings.
Read here to learn everything you need to know about cremation jewelry.
15. Beautiful Sympathy Flowers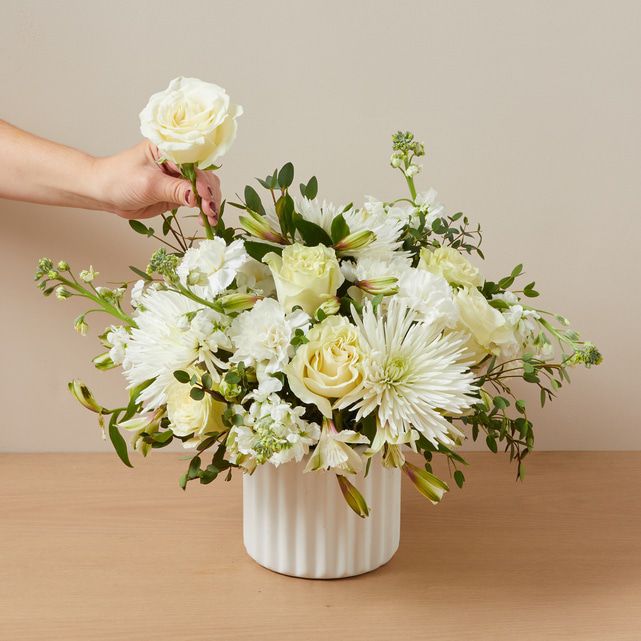 Flowers are still one of the best sympathy gifts. People can say what they will about how the flowers die and how that is such a sad reminder, etc., but the reality is that you won't go wrong by sending a beautiful bouquet of sympathy flowers.
Include a heartfelt condolence message and choose your flowers from the very best in the business and your gift will be much appreciated and remembered.
We recommend The Bouqs, an organization that works with local farmers in your area who engage in sustainable, eco-friendly farming practices. These flowers are grown locally and cut the day you order them.
16. Cardinal Memorial Garden Bench
If their loved one enjoyed the outdoors, then perhaps this beautiful memorial bench would be a good way to honor them and make a meaningful sympathy gift.
The pretty yet simple design with red cardinals reminds us of the quote "Cardinals appear when loved ones are near."
17. Stained Glass Heart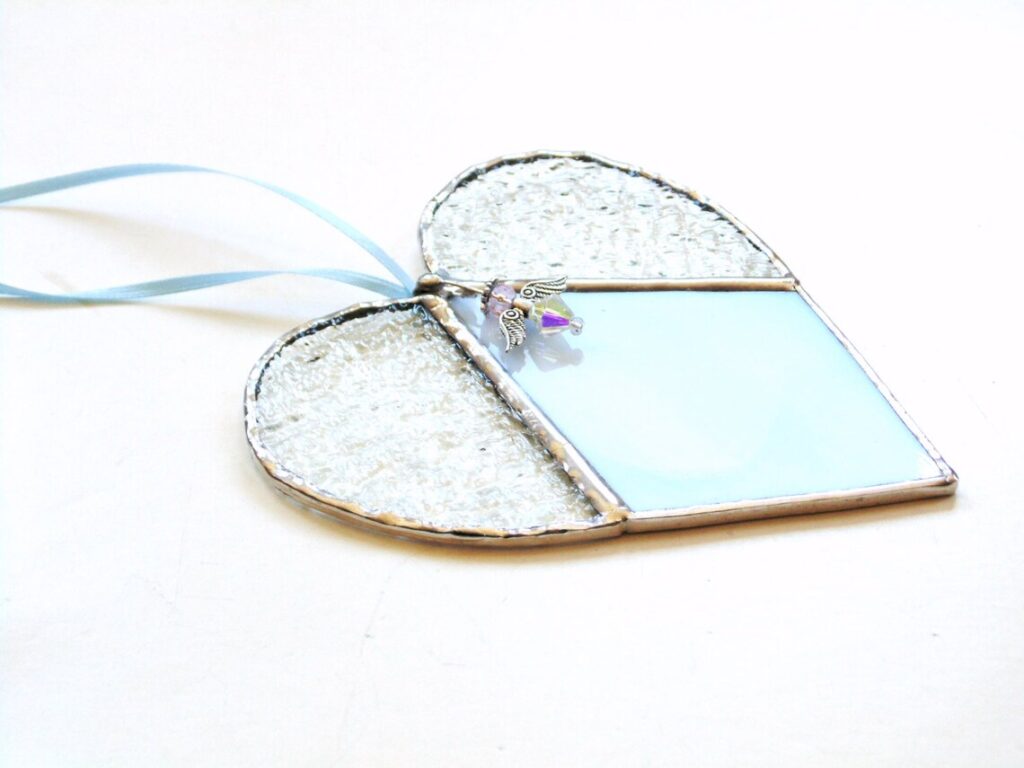 One of these gorgeous stained glass hearts would make the perfect sympathy gift.
In this time of need, visual reminders of love and sweet memories are always comforting, and we think this gift would be a wonderful way to spark those beautiful memories.
18. Butterflies Appear When Angels Are Near
Vintage style distressed wood plaque that reads, "Butterflies appear when angels are near." A lovely and affordable sympathy gift sign, available with choice of background color and plaque size.
19. Cardinals Memorial Photo Frame
Here is an elegant photo frame sympathy gift for the bird watcher and nature lover. The 8×7 frame holds a 4×6 photograph and comes with the thoughtful quote, "Cardinals appear when angels are near."
Also, check out some more inspiration for the similar quote, "When a cardinal appears in your yard, it's a visitor from heaven."
20. Willow Tree Sympathy Figurine
This figurine, from the popular Willow Tree Collection, is perfectly titled, "Surrounded by Love." Send one to a grieving friend to show your love.
These beautiful figurines are highly collectible, so we've shortlisted ten more designs for use as bereavement or sympathy gifts here.
21. "A Piece of My Heart is in Heaven" Sympathy Gift Keychain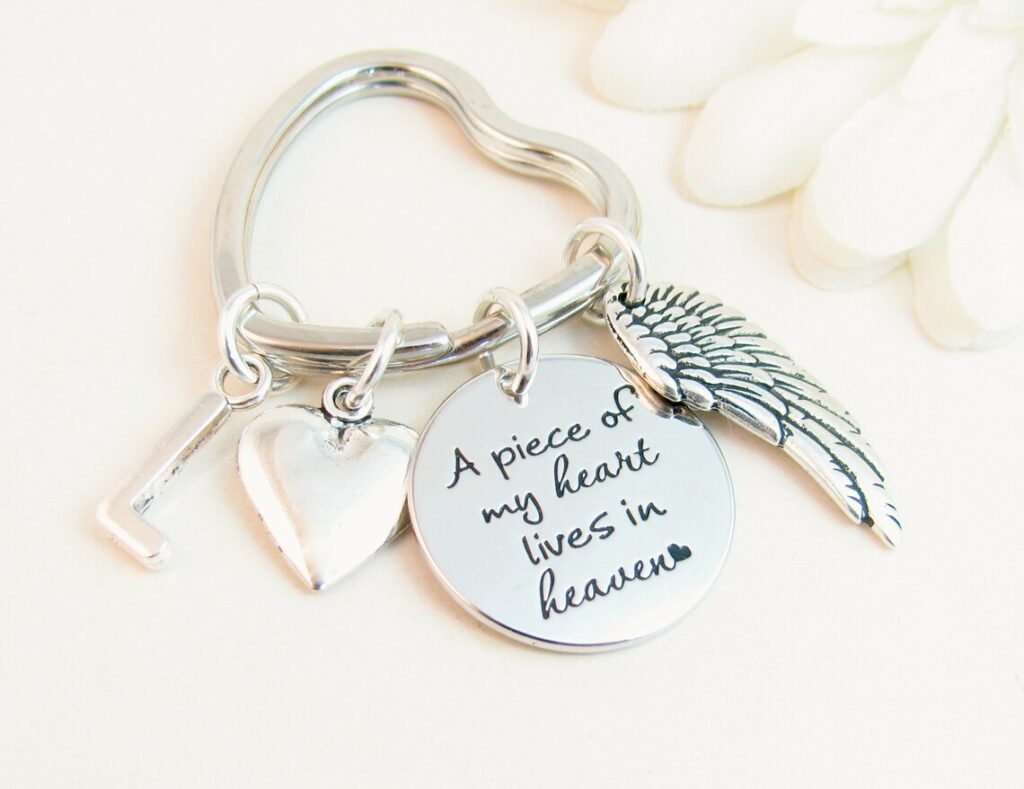 Sympathy gifts don't have to be large to be meaningful. Sometimes a small token like this sympathy keychain is the perfect thing. The recipient will be able to take it with them wherever they go.
The small charm has a custom initial on it, while the larger heart shape says, "A piece of my heart is in heaven."
22. Forget-Me-Not Memorial Necklace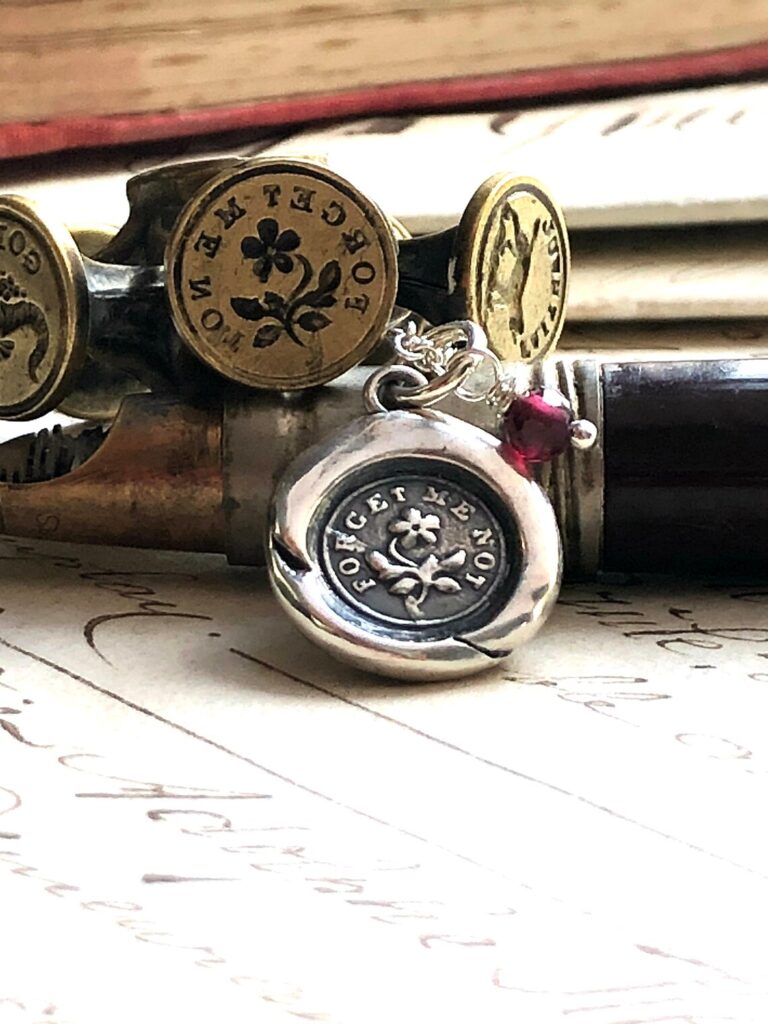 This gorgeous Forget-Me-Not pendant is hand stamped and can be customized with your loved one's birthstone gem color.
It crafted from beautiful sterling silver and will last a lifetime.
23. Dedicated Memorial Tree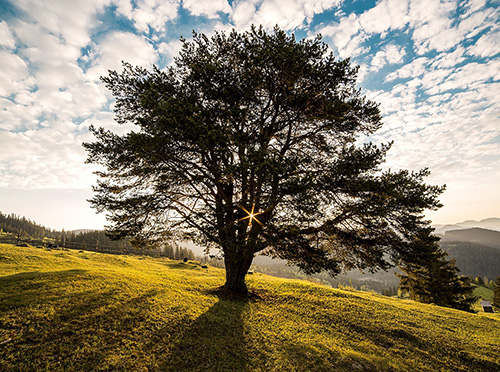 Give a gift that keeps on giving: a living, growing tree. Memorializing a tree for a loved one guarantees that their name will be attached to something that continues to grow and provide life for others in protected forest land.
This gift will connect a loved one's legacy with nature, and the tree planted and protected in their name will become a living monument, to be honored and respected for many decades to come.
More info: How to Plant a Tree in Memory of a Loved One
24. Cardinal Musical Keepsake
This pretty cardinal musical keepsake would make a wonderfully unique gift.
You can choose from over 100 beautiful songs like Amazing Grace, Pennies from Heaven, Missing You, and many, many more.
25. Those We Love Photo Lantern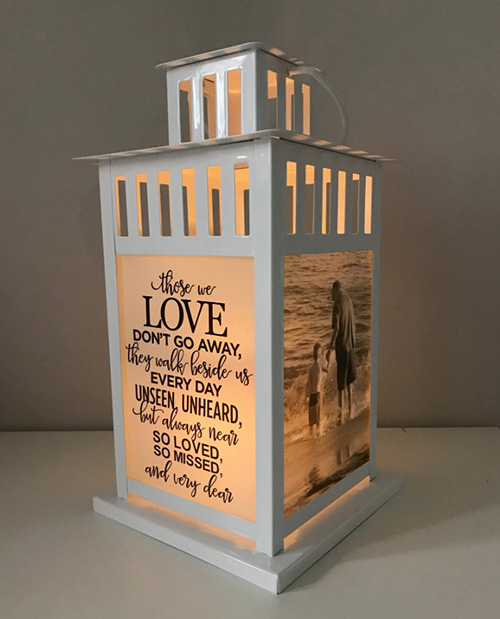 Bring light into a dark world to remind others that the light of life lives on even after death. This photo lantern is a four-sided metal and glass electric lantern with LED bulbs and can even come with waterproofing so it can light the night outside.
One side has a full photo frame stand to show your loved one and another side has space for a custom embossed and uniquely lettered message to that loved one, and those who will read it after.
These inserts can be swapped out and changed at will, with the remaining two sides being blank slates that allow the light to shine through.
Helpful & Practical Sympathy Gifts
Sometimes what they need most isn't something pretty to look at or hold, but practical items that encourage them to take care of their physical and mental health.
A hot meal, healthy snacks, everyday necessities, etc. can go a long way to show someone how much you care. On top of that you no longer have to juggle the question of what to get someone who lost a loved one.
26. Make Them a Comforting Meal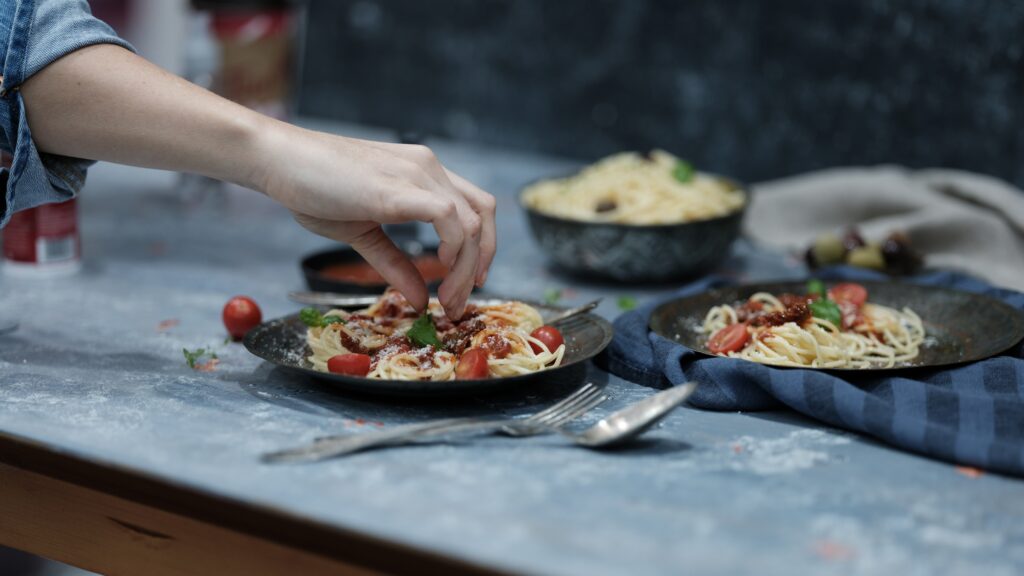 Sometimes the best thing you can do for them during this hard time is to provide for basic needs like hot meals, running errands, watching the kids, etc.
Giving the thoughtful gift of a home cooked meal or staple food items is a beautiful way to show your love and support for them in this time of grief.
27. "Here for You" Compassion Package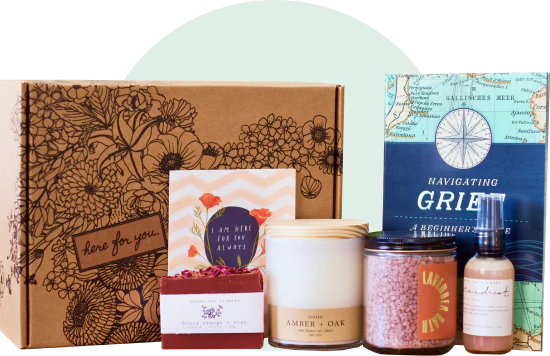 One of our newest favorites in sympathy gifts, these care packages communicate pure thoughtfulness to your grieving friend.
The recipient will get a box filled with household essentials to help them through the tough times, but with a personal touch.
You can choose various items to include along with a personalized message in a lovely sympathy card. A wonderful and compassionate gift idea.
28. Grief Affirmation Cards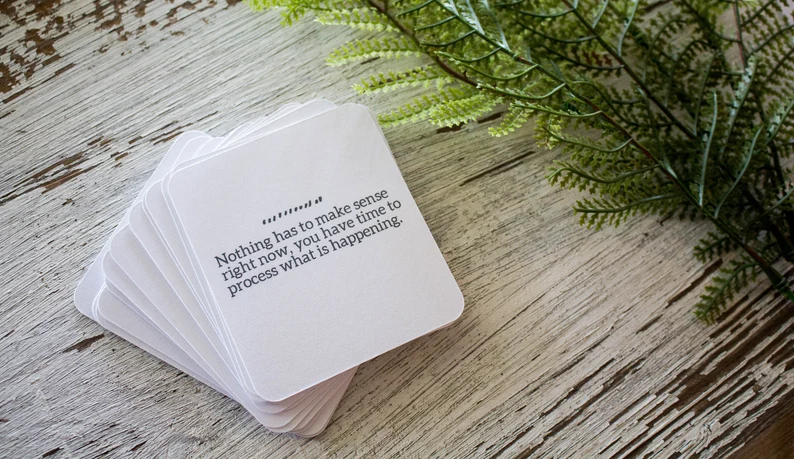 These grief affirmation cards are such a good idea and an appropriate gift for someone who is grieving.
Printed with short, thoughtful, and helpful messages, they are meant to aid the grief process on a day to day basis. Great as a stand-alone gift, or as an addition to bereavement gift baskets.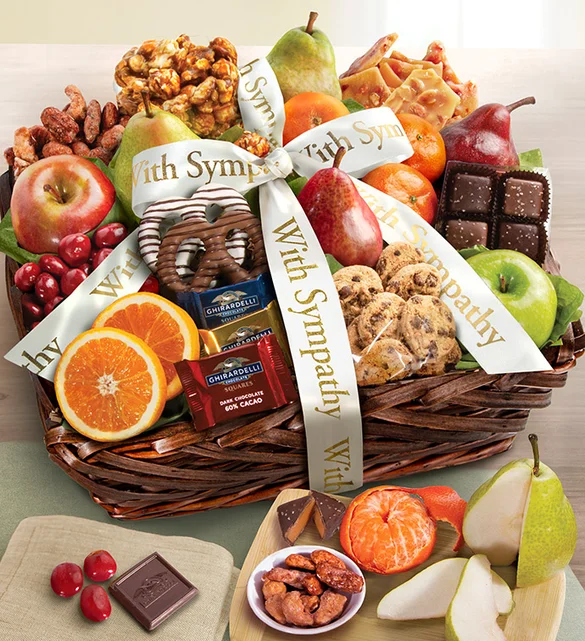 This wonderful sympathy basket full of fresh fruit and gourmet snacks might be just what they need.
The time after the loss of a loved one can be extremely busy and stressful, and they may not always be able to make time for full meals.
In that case, it would be extremely helpful to have tasty and healthy snacks on hand like those included in this great gift.
30. Tea for All Your Needs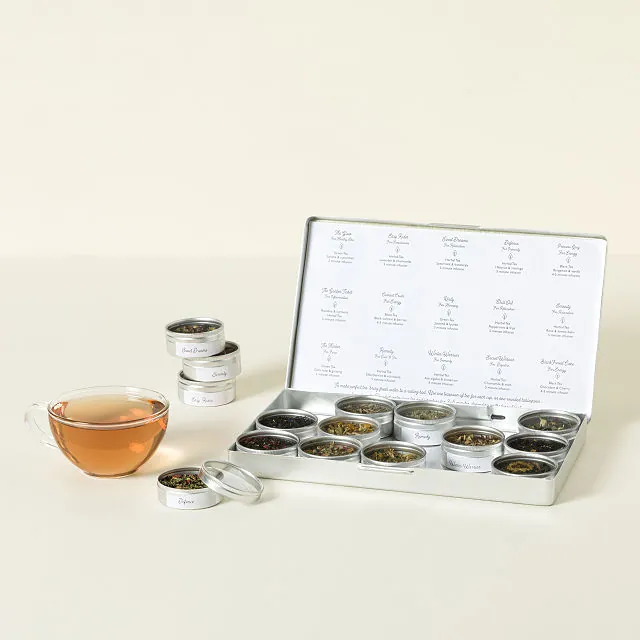 Tea can be such a source of comfort. The feeling of a warm mug in your hands, the aroma therapy of fragrantly dried leaves and buds, the calming affects of various herbs…
This beautiful assortment of loose leaf teas would be a great way to show your support during this difficult time.
31. Remembrance Comfort Box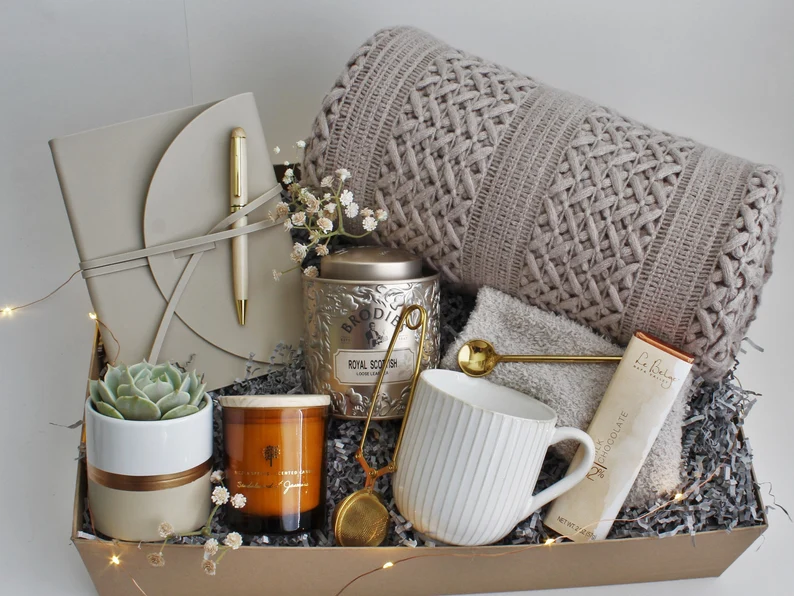 This Remembrance Comfort Box contains only the things that best comfort someone who is going through a tough time with loss.
It comes with a soft, comforting shawl that can "hug" your grieving friend in the absence of their loved one, a soothing candle, tea, a journal, and much more.
32. "Memories of You" Journal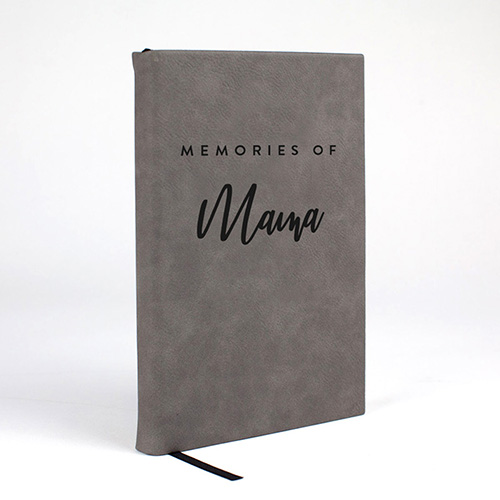 Keep a writing of all your loved one's best memories so they will always be with you. This journal comes with 112 lined pages for journaling and has accustomed engraving on the front.
It's made of water resistant faux leather, and comes in teal, gray, or brown giving it that nice natural look.
This is an excellent gift for someone who does journaling, or who may need an outlet to work through the feelings associated with dealing with a loss.
It's a place to write down all their thoughts around the event without spilling over into other writing.
Related: Grief Journaling Benefits & Writing Prompts
33. Forget-Me-Not Garden Seeds
Sometimes doing something physical, like gardening, is an excellent way to process grief. These beautiful Forget-Me-Not seed packets will grow into the most lovely memorial garden.
And what makes them extra special is that they are perennials, so they will come back year after year. A choice pick of unique sympathy gifts that will last for generations.
You can also hand these out at the memorial service as gifts for the attendees.
34. A Journal for Grief "How to Carry What Can't be Fixed"
This book by Megan Devine highlights the journey of a woman in her path through grief, how she moved on with it, and how other people can learn to embrace their grief and deal with it their own way, in whatever manner is healthy and honorable to the one they've lost.
For those who need some extra help moving on, or are looking for advice but don't know who to ask or where to get it, sometimes they need the voice of someone who's gone through it all.
They may find comfort knowing there are still questions they will be left with.
Learn more: The 12 Stages of the Grieving Process – Yes, There's More Than 5
DIY Sympathy Gifts
If you wish to handcraft some sentimental gifts for someone who lost a loved one, either to show them how deeply you care, or simply due to monetary constraints, we have some wonderful ideas listed below.
35. DIY a Knit Weighted Comfort Blanket
These chunky and trendy knitted blankets are way easier to make than they look, and would make a super comforting gift.
Because of the nature of the bulky yarn, these blankets have a natural, weighted quality. Weighted blankets are proven to promote relaxation and deep, healthy sleep.
36. A Batch of Homemade Bread, Cookies, or Cakes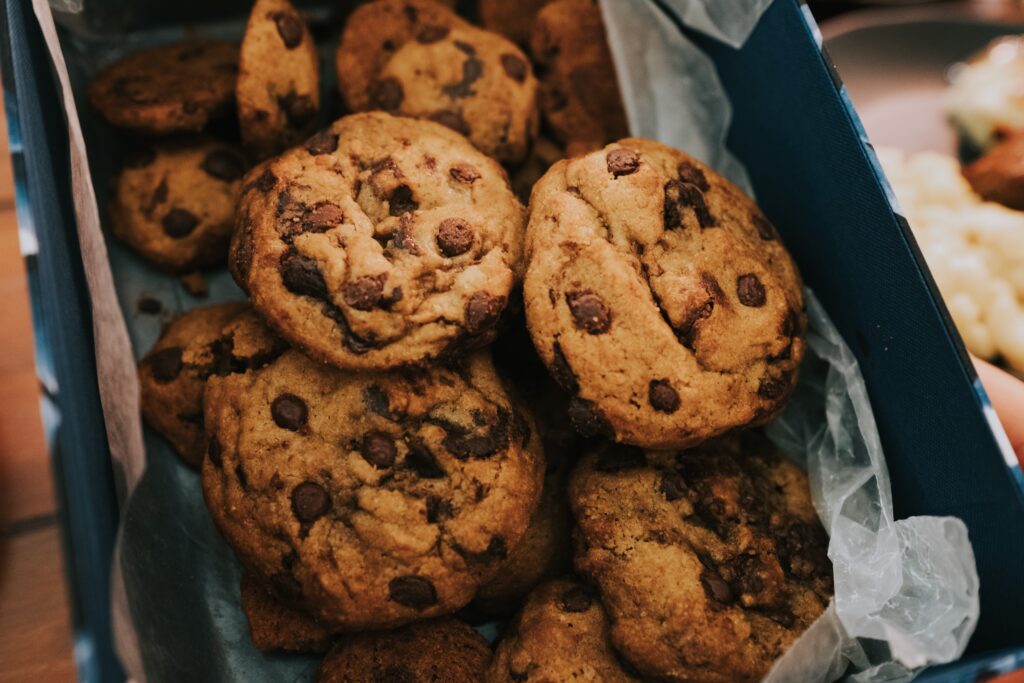 Give them the gift of some tasty homemade treats. This could mean cookies, cobblers, jello salads, pies…
What ever you think they would enjoy most, and would bring them the most comfort. Pair your confections with a pint of ice cream or an extra spoonful of comfort.
37. Make Soothing Lavender Soaps
These beautiful, handmade soaps make such wonderful and useful gifts. The natural lavender scent will soothe their senses and help them to relax and unwind after stressful days.
Though soaps aren't traditional condolence gifts, they certainly are a thoughtful way to show a close friend how much you care.
38. DIY Memorial Keepsake Box
For those who already have a collection of things to remember their loved one by, they ought to have a safe place worth keeping them.
If you are handy in the shop or enjoy working with your hands, building them a memorial keepsake box like this one would be a great way to give a helpful gift they can use in everyday real life.
How they choose to use it is up to them, but we think it'd be perfect for stowing away special tokens, mementos, memorial jewelry, or even sympathy cards.
39. Memorial Shirt Pillow
Sometimes the best gift is one that incorporates a bit of the person they loved. These sweet and easy to make pillow covers make such thoughtful sympathy gifts that will touch their heart in the best way.
Sympathy Gifts for Children
We hate to even think about it, but the truth is that children have to endure times of loss as well. But finding gifts for someone who lost a loved one, especially when that person is a child, can be a challenge.
These gifts below are specially prepared to help little ones cope with the reality of loss and grieving, and promote a healthy understanding of death.
40. Slumberkins Grief & Loss Aid & Board Book
The Slumberkins set is specially designed to help little ones realize the emotions they are feeling after losing someone are okay and shouldn't be feared or locked away.
One of the hardest things for children to grasp is how to process those emotions, but this helpful book specifically targets that.
41. Popup Sympathy Card Keepsake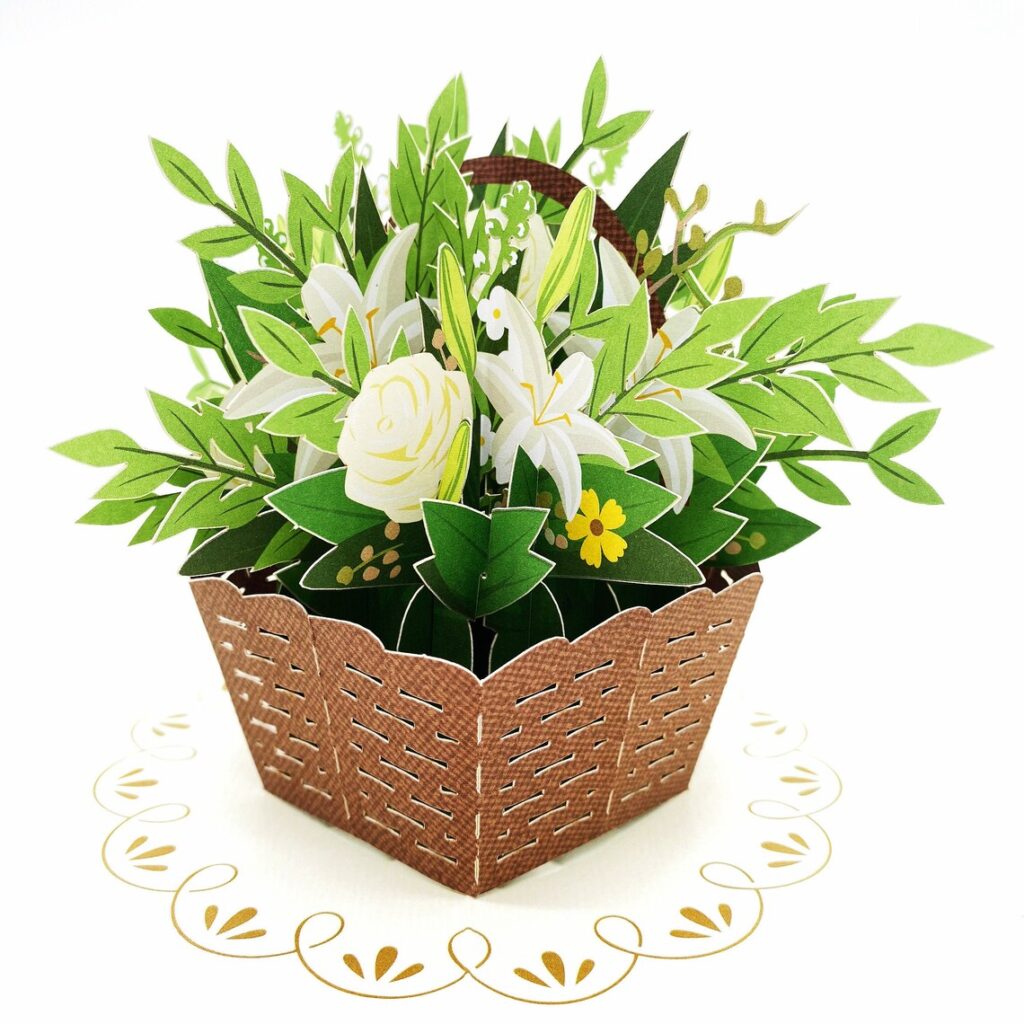 While flowers are a traditional sympathy gift, sending a child a bouquet of lilies may not be your best bet. Instead, maybe consider one of these beautiful, pop-up sympathy cards.
The beautiful colors and shapes will delight them, and they make wonderful keepsakes that can be kept in a memory box.
42. The Memory Book: A Grief Journal for Children and Families
The Memory Book was written by Joanna Rowland, and has The Memory Book has a unique write-in format that encourages children and families to process loss together.
Its approach is through gentle prompts and ideas for journaling, drawing, and talking through grief together in a way children can understand.
43. Giving Bear from Demdaco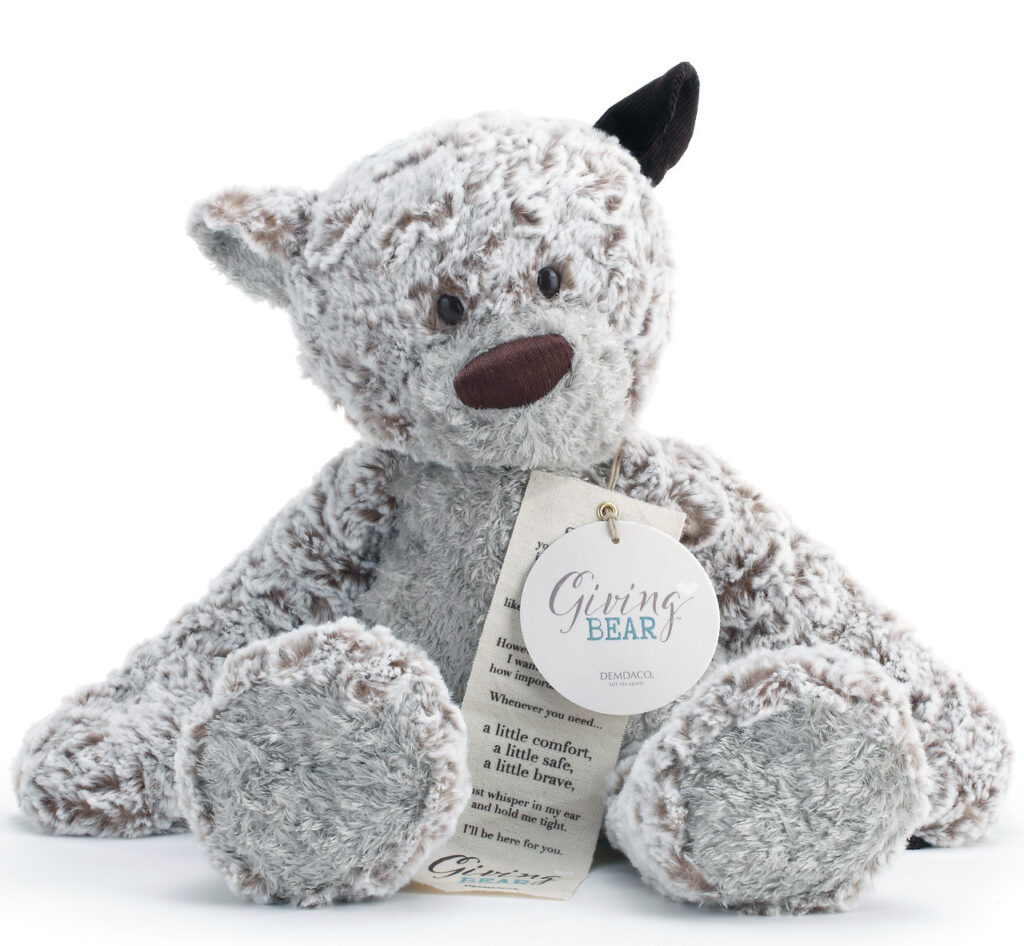 Soft, cuddly stuffies like this sweet Giving Bear make the most appropriate sympathy gifts for children.
Often the first item children will reach for when they are confused or struggling emotionally is something warm and comforting like this little guy.
As a bonus, a portion of the proceeds of these bears goes the The Children's Mercy Hospital in Kansas City.
44. Something Very Sad Happened: A Toddler's Guide to Understanding Death
Something Very Sad Happened is a book specifically designed to help toddlers understand death.
Written by Dr. Bonnie Zucker, who specializes in treating children's anxiety disorders, the book is laid out in a way that allows the reader to substitute the name or title in the book with the name or title of the person the toddler has lost.
A wonderful tool in grief recovery for children.
More Sympathy Gifts
If you're still struggling with what to get someone who lost a loved one, here are some more great gifts.
Just as beautiful and touching, one of these special memorial gifts may be just what you are looking for to comfort your grieving friend.
45. Round Memorial Tea Light Holder
This round tea light holder sympathy gift reads, "Because someone we love is in Heaven, there is a little bit of Heaven in our home."
46. "Those We Love" Heart Bowl
This hand-crafted bowl is shaped like a heart, and reads, "Those we love don't go away, they walk beside us every day."
A lovely little decor accent to go on the bedside table, on the kitchen counter, or on an end table in the living room.
47. Personalized Memorial Coasters
Coasters are wonderful little sympathy gifts that are attractive yet unobtrusive and will be used often. Laser engraved a loved one's name, "In Loving Memory" message, dates, and more on a set of customized coasters and you will have the perfect memorial gift.
Each set includes four spacious wooden coasters, free inscription, and a matching coaster holder.
48. Gone Yet Not Forgotten Remembrance Candle
This thoughtful ceramic vessel has the thoughtful quote "Gone yet not forgotten, although we are apart, your spirit lives within me, forever in my heart." along the front. They will remember their beloved every time they light this candle.
49. Forever in Our Hearts Woven Heart Sign
This light wood sign stands out with the woven heart, which symbolizes the message that the loved one will live on, "Forever in our Hearts."
50. Custom Fingerprint Necklace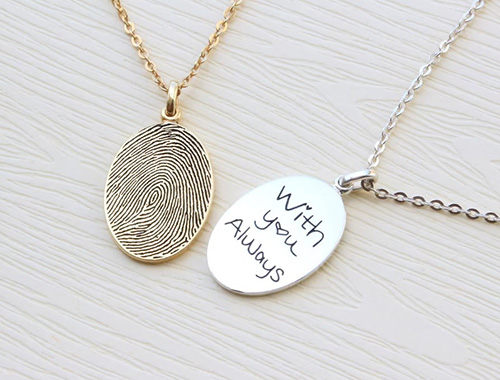 There are a few things in life that can be used to prove who we are. Every person's fingerprint is unique. They are as irreplaceable as the life attached to them.
Another thing that is very personal and self-identifying is our handwriting. The way we write, naturally, without focusing on being neat and readable, is just as unique to each of us.
Combine the two on a piece of sterling silver with a fingerprint pendant, using the print of your loved one, as unique and irreplaceable as them, with a short message written in the closest approximation of their own handwriting engraved by experts. 
When Should I Send a Sympathy Gift?
Knowing the right time to give your gift isn't the easiest thing to figure out. Too early and it can seem like an empty gesture. Too late and it may seem like you forgot.
The best time may be on or around the date of the service. Funeral services often come a few days or even weeks after the date of death.
The service takes time to prepare, time is needed for everyone related to gather together. And of course, it takes time to prepare and dress the body.
All this gives you plenty of time to get the right gift, or at the very least arrange for it to be delivered soon thereafter. Showing up is the most important thing.
Ask those directly involved whether they are receiving gifts, and if not, save the gift for a later date.
Who Do I Send a Sympathy Gift to?
Send the gift to the grieving family member you knew best.
But what if I don't know the family, only the deceased? Well, you can get to know them. It's awkward, yes, to say you were a friend, but uniting in the memory of someone who has passed on is a good reason to engage with their family.
You can use the sympathy gift as an opportunity to open up conversation about the person you, too, are grieving. Discuss what services will be held and if you can attend.
If it's a closed ceremony only for immediate family, you can ask for an address of the funeral home to send your gift, or meet up after the wake and give it over with your sympathies in person.
What Sympathy Gift Can I Give at the Funeral?
Consider the person who you're mourning. And consider the family or loved ones they left behind.
Who will be receiving the gift is just as important to answering what that gift is. It should be something they like, but can also easily symbolize the memory of the person who has passed on.
How Much Money Should I Give for Condolences?
Some may interpret this question as "what value do you place on a human life?" Giving cash money can be seen as a cold gesture, but the fact is everyone needs money. Funerals and other burial expenses can add up.
As with any act of charity and sympathy, give only what you can afford. Remember you are giving it in hope, not of calming the wound of losing a loved one but, to help cover the costs of the procedures which can put them to rest.
The real gift you should give is your time to those in mourning.
Learn more about funeral donations here.
Is a Gift Card Appropriate for a Grieving Family?
A gift card is often seen as a last-minute sort of gift, something only usable in a specific scenario or place. However, it's not necessarily a callous thing.
Suppose the one you are remembering had a favorite place. One where you and them, and their loved ones, made and shared many memories. It could be a restaurant or some other place that is meaningful to their life story.
Giving a gift card for a loved one's favorite restaurant or venue helps honor their memory and the things they enjoyed. I also allows their surviving family to enjoy those same things in remembrance.
General gift cards, for super stores or online places like Amazon, should be avoided. Make sure it's personal.
What Do I Say When Giving a Sympathy Gift?
A gift given to share sympathies with someone should not carry a reminder or a repetition over the loss you are both dealing with. Don't apologize or show guilt. Focus on the positives.
Let them know what this gift reminds you of — a special time or event that it's meant to encapsulate, a good time that you will both remember well.
Say you hope their memory will be honored with this gift, that you picked it out while thinking of one who has passed and, even then, it made you happy to remember them.
Here are some more ideas on what you can say when someone dies.
Read Next: Words of Comfort After Loss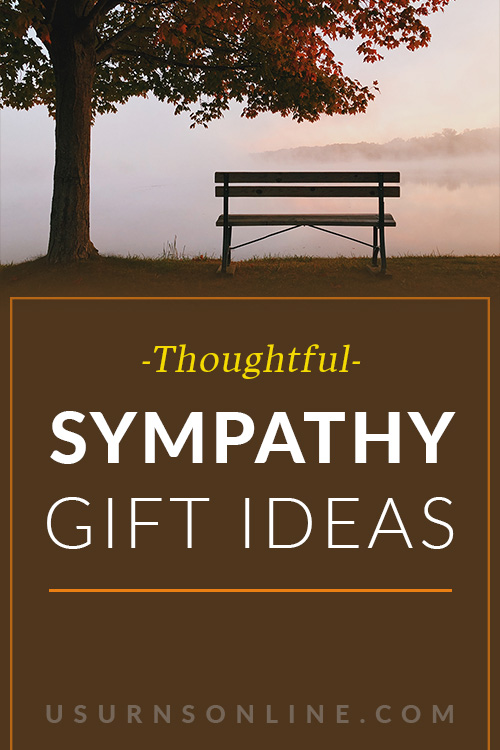 Daniel has been working in the funeral industry since 2010, speaking directly to grieving families as they made funeral arrangements.
He began researching and publishing funeral articles on this website as part of his role as product and marketing manager at Urns Northwest.
Having written hundreds of articles and growing the site to multiple millions of views per year, Daniel continues to write while providing editorial oversight for US Urns Online's content team.