You want your loved one's urn to be the center of attention at the service. You want it to be shown in a place of honor at home. What's the best way to display an urn at home, and at the funeral?
You could display the urn with pictures, or perhaps flowers. Some prefer to leave the urn by itself, a minimalist display free from any distractive elements. There there are also stands and cases and frames. Then you ask yourself, what about their hobbies and interests, faith and military service?
How do you honor your loved one in the way you display the cremation urn?
Continue to read, we will be discussing these questions and more below.
Best Urn Display Ideas
How to display your loved one's urn can be a very personal decision. After all, a good display is personal, it represents your loved one. Do you want to represent their personality, their style, or take a minimalist approach? What is the best for your loved one?
(If you're new to the idea of cremation, read what you need to know about cremation urns and about the cremation process.)
For the most attractive and meaningful display, think about colors, the urn style, and which room you will be displaying the urn in.
Below are some ideas to help you out. We'll start with the urn at home, then move to the urn display at the service.
Urn Displays at Home
Here are some creative ways to display a cremation urn at home.
Floating Shelf Urn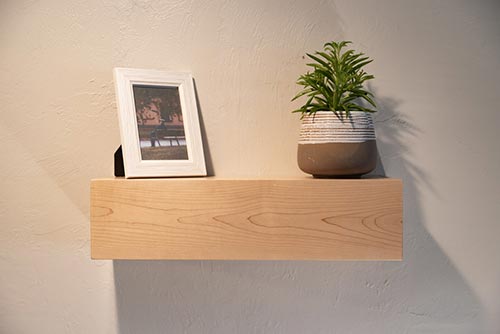 Our floating urn shelf is a great way to keep cremated remains safe and secure – and no one even knows they are there. You can display a photo of your loved one along with a memento in honor of them.
We make the floating shelf urn from solid wood, with several wood types available, so it will blend perfectly into any décor.
Urn Display Shelf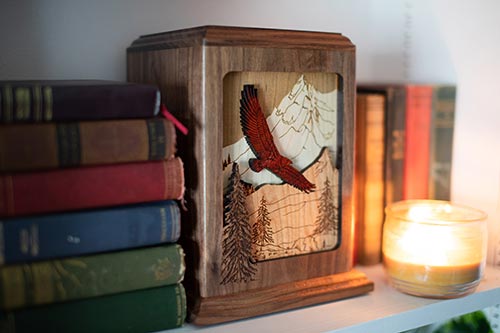 Set aside a special place for an urn. A single shelf in your bookshelf, a shelf in your china cabinet, or even the fireplace mantle.
You can place their favorite books or authors around their urn. Place meaningful photos, keepsakes, or flowers and plants around the urn.
Make your display elegant or minimal, the choice is yours.
Memorial Table
Use a hallway table, bedside table, or an end table to display your tribute.
Place the urn on the table as the centerpiece. Have some silk flowers made to surround the urn. Place mementos, photos, or keepsakes around the urn. Flameless candles add beauty and class to any display.
Add some contrasting colors in the flowers, make things pop!
Memorial Wall or Room
When a loved one passes away, their memory remains with us. There are many creative ways to honor them.
A picture wall is a fantastic tribute to your loved one. Choose as many pictures as you want. Create a montage of frames. Fit them together like a puzzle pieces. You might even include a description below each picture.
Create a special space or room to honor your loved one. A quiet space where you can sit and read. Relax with a good book and some sweet memories.
You can honor your loved one with some simple decor or keepsakes in their honor.
Wall-Mounted Cremation Urns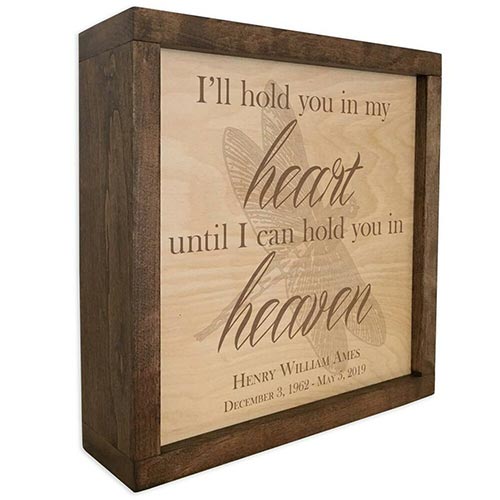 Memorial Plaque Urns are a marvelous way to keep your loved one's cremated remains at home.
These beautifully handcrafted plaques double as an urn to hold cremated remains securely and discreetly. You can choose from several designs, all of which include personalized laser engraving. They arrive ready to hang.
There are no other urns on the market quite like these.
Urn Displays at the Service
How do you want your loved one's urn displayed at the service? Here are some ideas to inspire.
Memorial Table
Have your florist make an arrangement to surround the urn. Place memorabilia, photos, candles, and any important items along with the urn.
Place sports items from his favorite teams or knitting paraphernalia in honor of her. Fishing rods, tackles, and fishing nets. Baking pans and favorite recipes. The list of ideas is never-ending.
Check with your funeral director, and he or she will help you set it up and give you some great ideas.
Urn Flower Arrangements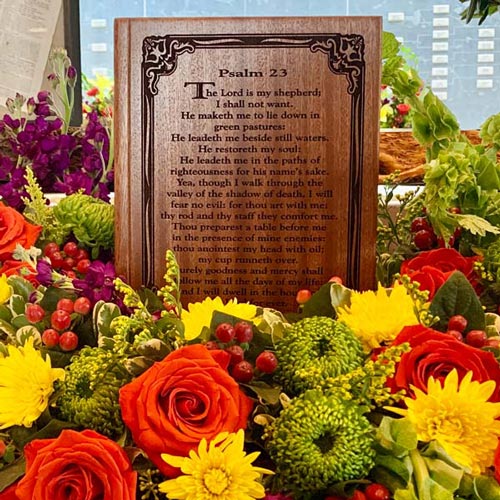 Let your florist make a custom arrangement for your loved one's urn. The florist will need the dimensions of the urn to make it fit perfectly.
Choose your colors and flowers and overall design. Make it as ostentatious or as simple as you want. Flowers add beauty, hope, and charm to the occasion.
You don't have to limit the flowers to sitting around the urn. Add more flowers with standing easels, baskets, and cut flowers. Or go minimalist with a clean table, the urn, and a single flower in a narrow vase.
Photo Displays
Frame a favorite photo and place it next to the urn. Or have the photo enlarged and printed on a funeral memorial sign, displayed on an easel by the urn table. You can even have many urns (like these) engraved with a portrait of your loved one.
Here are some other photo displays:
Photo board. Display all of your family favorites in a photo collage. This is a classic way to show a peek into your loved one's life.
T-shirts or hats. A printed picture of your loved one displayed for all to see. Include name, dates, and a short quote. Everyone can wear the memorial merch, and be sure to showcase one next to the urn.
Slide show. Use your favorite portraits and selfies of your loved one, and complete it with family pictures of special times together. This can be displayed on a digital picture frame, a laptop, or projected on a screen.
Memorial tree. Bring in a potted tree and decorate it with photos by gently clipping them onto the leaves or branches.
No matter how you choose to arrange and display photos at the service, know that your efforts will be greatly appreciated.
People love to reminisce over pictures. The photos will bring back special memories and spark other remembrances. Some of those memories have been long forgotten and will make for happy times to talk about again.
Other Items to Display
Bible. Your loved one's personal Bible is a symbol of their faith in God. Many families choose to put important items such as their well-worn copy of the Scriptures on the display table near the cremation urn.
Military service keepsakes. Honor your loved one by displaying their medals, uniform, and other military service keepsakes.
Collectibles. Display their collections of trading cards, toys, coins, stamps, comic books, and more.
Scrapbooks. Place scrapbooks out on tables. Let people casually look through them and enjoy the memories. The pages may include pictures, articles clippings, and fun facts.
Collages. Ask friends and family to provide copies of their pictures. You can make a collage or two and share the good times. If pictures are worth a thousand words, then a collage will speak volumes. Here are some photo memory board templates designed for this.
Hobbies. Memory displays would include things like quilting, music, arts, and animals. Anything that your loved one enjoyed doing is perfect to display.
Flowers. If your loved one was into gardening or simply loved flowers, incorporate these into the display. You can preserve the funeral flowers, get artificial ones that will last for a long time, or keep fresh flowers in their memory.
I hope reading this article gave you some great ideas to honor your loved one. Ask your funeral director for some advice too. They have done this hundreds of times and are full of ideas.
Read next: 68 Interesting Things to Do with Cremated Remains