Memorial candles are often used in funerals, "life celebration" services, and memorial spaces at home. Something is comforting and hopeful about lighting a candle in memory of a loved one.
But what does this ritual mean? Why do people do it, and how can you incorporate candle lighting into your memorials?
In this article, we'll explore these questions and show you some of the most meaningful and creative ways to light a candle for someone.
What does it mean to light a candle for someone?
Lighting a candle in memory of a departed loved one is a way to pay tribute to their life and legacy.
The candle's flame is a symbol meaning that their legacy shines brightly.
The aroma lingers, sweetening your home in the same way that their memory lives on in your hearts.
Candles are often lit when surrounded by darkness. As you grieve, the loss of a loved one can feel like an overwhelming gloom settling over your life. But when you light a candle, the darkness is dispelled. You can see clearly. Your eye is drawn to the light, and your surroundings are illuminated once again.
A memorial candle engages your senses. Not just sight, but your sense of smell too. Many candles have soothing, natural, essential oil-based aromas. Aromatherapy can help with grief, as many scents are thought to contain calming and healing properties.
Lastly, the way that both flame and aroma rise from the candle turns our thoughts heavenward. As the candle's incense goes up, so do our hearts in yearning for our departed loved ones. A memorial candle can help focus your thoughts as you remember and pay tribute to your loved one's life.
Memorial Candle Ideas
Let's take a look at some of the best ways you can use memorial candles to light a candle in memory.
Our website is supported by our users. We sometimes earn a commission when you click through the affiliate links on our website. See our privacy policy & disclosures for more information.
1. Light a candle at the funeral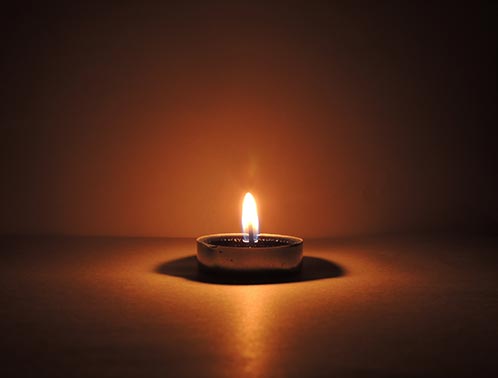 The ceremony of lighting a candle to honor a life "lost" has long been a part of our society. By keeping a light burning in remembrance, it signifies that the memory lives on and is still burning brightly.
Funeral candles are commonly white; white symbolizes purity and represents the soul of the person who has died.
2. Send a sympathy candle gift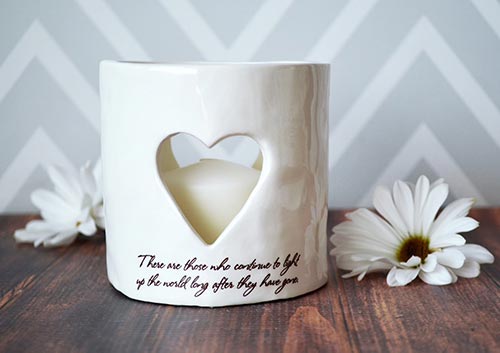 A hand-made ceramic candle is a stunning sympathy gift for a friend who has lost a loved one. Add the deceased's name and dates. You can add a short message as well.
Keep it lit continuously with a flameless tea lite, or place a "real" candle into the holder.
3. Get a personalized memorial candle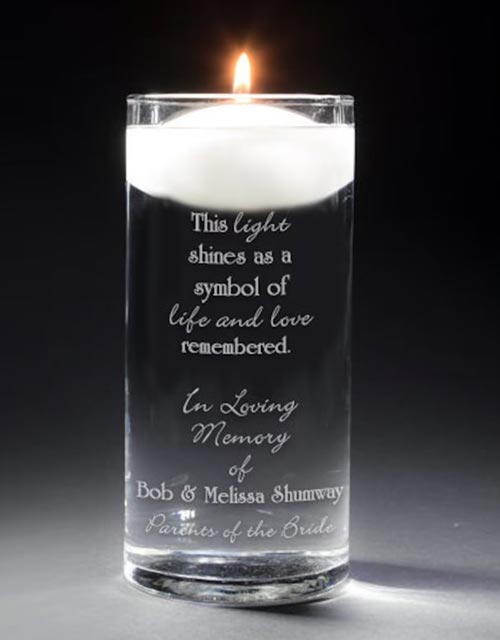 Here is an exceptional way to commemorate your loved one's life.
The inscription reads: This light shines as a symbol of life and love remembered.
Just add your loved one's name, and this personalized memorial candle will be the perfect way to keep their light shining.
4. Light a candle in memory and pray
Many religious practices include prayer for those who have passed away. Candles symbolize a sweet scent (a meaningful prayer) ascending to heaven.
Religions that practice prayer for the dead includes Buddhism, Roman Catholic, Eastern Orthodox Christians, Hinduism, Islam, Judaism, and others.
Protestant Christians do not believe in prayer for the dead. This is because, as Hebrews 9:27 tells us, "it is appointed for man to die once, and after that comes judgment." A person is either judged on the basis of their deeds (which are not able to save) or on their faith in the work of Christ (which is able to save!). Therefore prayers for the dead have no effect.
However, Christians can take time to honor loved ones, meditate on the lives of those who have gone before (that's what Hebrews 11 is about), and can pray for the family of the deceased and all who mourn. And it's perfectly fine to light a candle while doing so.
So light a candle in memory of your loved one, pray for those who grieve, and pray that their faith would inspire yours as you seek to honor God and pay tribute to the memory of the departed.
5. Make your own memorial candles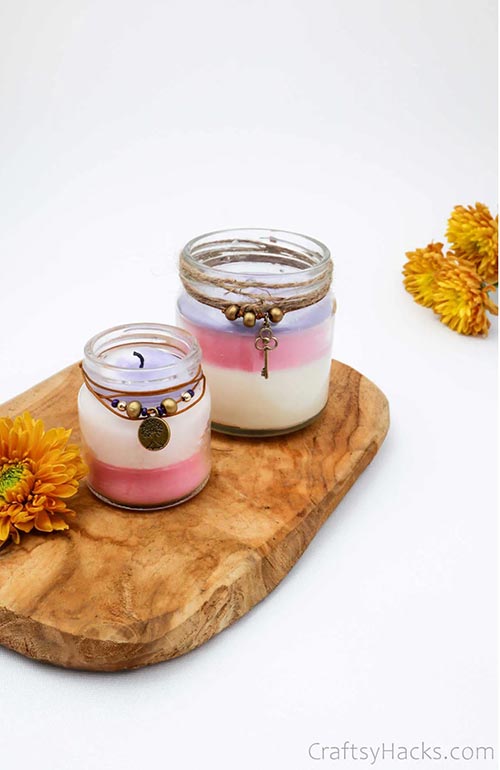 Making your own memorial candles can be time-consuming and maybe a bit daunting. But it is so worth the effort! Follow the instructions in the provided link. You might already have most of the ingredients you will need.
You can repurpose jam jars and other jars or glass containers. Making candles is much less expensive than buying them, and more meaningful, too.
For a unique idea, you can preserve your funeral flowers within in the candle's wax! For more ideas on how to preserve your funeral flowers, check out our in-depth article.
6. Create a photo memorial candle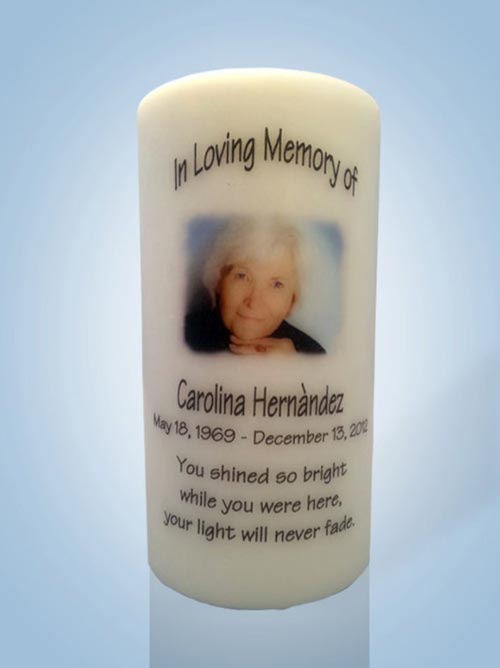 The memory and spirit of your loved one will live on and shine brightly with this photo memorial candle.
Light this personalized memorial candle in their honor as an exceptional memento for those who could not be with you on any special occasion.
This memorial candle is an appropriate way to keep the ones who are no longer with you relevant in your life.
7. Set up a memorial shelf with candles
Set a shelf aside on your bookcase for a special memorial. Place special memorabilia such as photos, keepsakes, service medals, and more on a shelf. Light some candles to honor the memory of your loved one- numerous candles, either "real" ones or flameless ones.
Sit back and enjoy the memories.
8. Light a candle in memory and journal
Journaling is a great way to work your way through your grief. Light a candle and let the memories engulf you. Pick up your favorite pen and your journal – begin to write.
Let your thoughts and emotions flow through your pen. Begin the healing process and continue to work on it. You will get through it; time is on your side.
Read more: How to Start a Grief Journal (+40 Memorial Prompts)
9. Give out candles at the funeral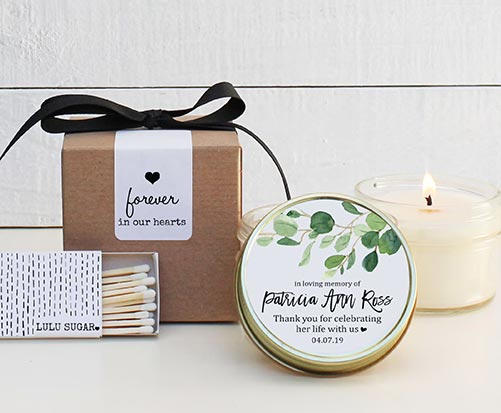 Pass candles out to everyone that comes into the service. Light one candle and pass the flame down. Soon, all candles will be lit in your loved one's honor.
At this point, you can sing a song, say a prayer, or read a Scripture. You can even take a moment of silence.
Related: 25 Best Funeral Favors to Give Out As Keepsakes
10. Create a memorial lantern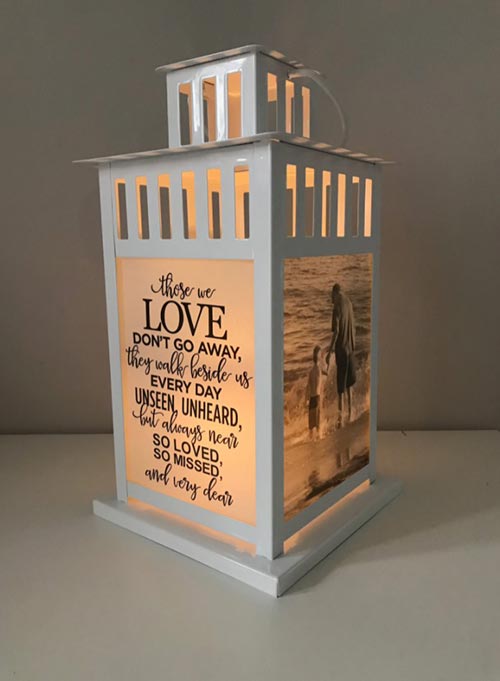 Those we love don't go away,
They walk beside us every day.
Unseen, Unheard, but always near,
So loved, So missed and very dear.
Choose from two sizes and colors. This gorgeous metal and glass lantern is a beautiful way to celebrate your loved one.
11. Tell stories of your loved one by candlelight
Storytelling. Who doesn't like to reminisce? Light some candles and gather the family around to tell stories of the "olden" days.
Maybe you remember Grandma telling you about her family's escape from Poland how they had to only travel at night because of the guards looking for them. Or maybe Grandpa talking about how he was expected to marry the neighbor's daughter but loved your grandmother.
These and more stories are handed down through the years. And should be told and enjoyed again and again.
Tip: Write down these stories and save them in a memorial jar or scrapbook, or create a free memorial website such as Murial to store them virtually & permanently
12. Send a sympathy care package with candles & more goodies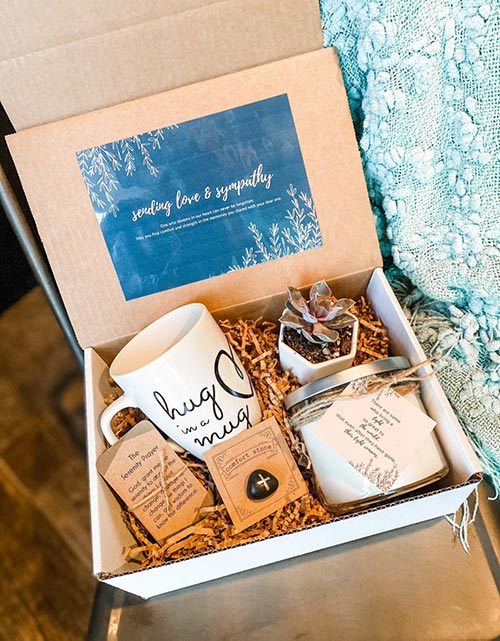 Showing your love and support is as easy as ordering this sympathy box of specialties. Include a personalized card to let them know how you feel.
Inside the lid, it reads, "One who blooms in our heart can never be forgotten. May you find comfort and strength in the memories you shared with your dear one."
Numerous options are provided to meet your needs.
Related: Words of Comfort After Loss
13. Create a memorial candle space in your home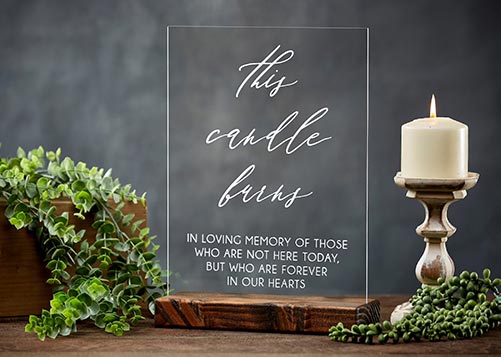 Set up this elegant display to commemorate those that are no longer with us. The plaque can be set on a shelf, mantle, or table.
A lovely piece that can be shown in any room. Add special mementos, photos, and candles to your display. Let everyone know that your loved one might be gone but will never be forgotten.
14. Set up floating candle centerpieces at the reception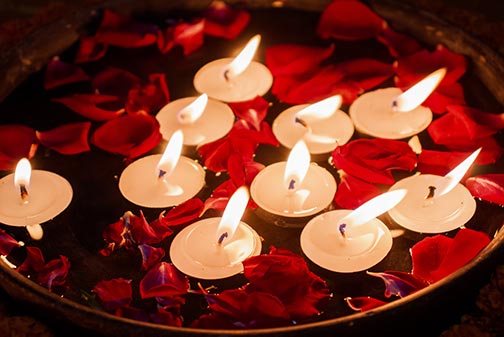 Fill your container with distilled water, flower petals, and add your tea candles. You can use real flowers or silk flower petals to create a beautiful centerpiece. You can use a larger bowl/container or use individual vases to accomplish your idea.
The best floating flowers are camellias, hollyhocks, gardenias, open roses, gerbera daisies, or orchids.
This is such a stunning and elegant arrangement. Suitable for a funeral reception in honor of your loved one.
Related: Funeral Reception Planning Guide
15. Choose a candle urn for your loved one's cremated remains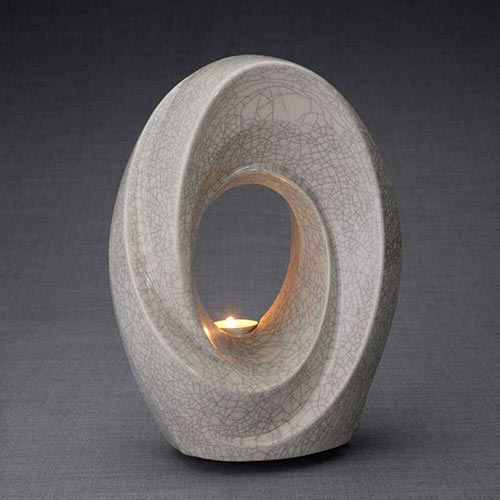 Gentle lines shape the Passage Memorial Candle Ceramic Urn into a work of sculpture art. The "crackle" finish has tiny lines throughout the piece. The lines give the appearance of antique pottery while maintaining a contemporary style.
This piece of art will fit into any décor, at the office or at home. You can choose from a standard or a keepsake urn.
More: 19 Tealight Cremation Urns to Light a Candle in Memory
16. Light a Yahrzeit or death anniversary candle
Perfect for use on Yom Tov, to mark the anniversary of a loved one's passing on a yahrzeit, or for memorials.
A Yahrzeit Candle is lit traditionally on the following days: Each day during the week of Shiva (mourning) immediately following a death. Every year at sundown on the eve of the Yahrzeit (anniversary of the death).
The Hebrew-language term Yom Tov sometimes referred to as "festival day," usually refers to the six biblically-mandated festival dates on which all activities prohibited on Shabbat are prohibited, except for some related to food preparation.
Even if you aren't Jewish, you can still commemorate your loved one's "death day." On the anniversary of a loved one's death, it is good to acknowledge the loss. They deserve to be remembered, honored and, cherished.
These Yahrzeit candles are hand-crafted in Europe by expert candle makers. Non-scented and smokeless, they are designed to burn slowly and emit a warm, soft glow.
Related: How to Remember & Celebrate Your Loved One's Death Anniversary
17. DIY paper lanterns
Paper lanterns provide a personal yet otherworldly effect. Here is the guide to make your own.
Difficulty level: Medium
Supplies needed:
Glass with straight sides (cylinders or cubes)
Heavy paper (card stock, index stock)
X-acto knife or Cricut machine
Double sided tape
Candles
See the complete tutorial here.
18. Easy coffee bean candle holders
These wonderful-smelling candles are incredibly easy and will bring to mind your loved one who was a coffee connoisseur.
Difficulty level: Super-easy
Supplies needed:
Cup/bowl/candleholder
Coffee beans
Tealight candles
Instructions:
Place coffee beans in candleholder
Nestle tealight candle in coffee beans
For a coffee-scented candle-making tutorial (which you can make in a coffee cup, perfect as a memorial for a coffee lover!), check out this excellent tutorial.
19. Take a long, hot bath by candlelight
Light candles around the bathroom in honor of your loved one. Allow yourself to sink into a hot bath for a long soak. Meditate on your loved one, read some favorite bible passages, or simply do nothing but allow the day to be soaked away.
You might even enjoy a glass of wine in the tub.
Taking care of yourself is a good way to work through your grief. Don't forget about "you" and the healing you need to go through. It's important to find your peace of mind throughout the grieving process.
Related: Grief & Self Care: 44 Tips for Healing, Comfort, and Peace
20. Light a candle in memory at weddings or other meaningful events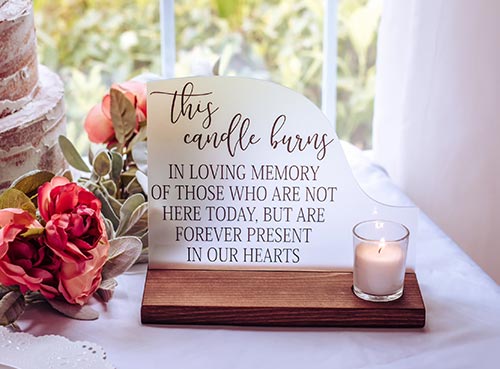 Whether you decide on a "real" candle or a "flameless" one, this memorial will honor all of your departed friends and family. They are carried in your heart and present with you in all ways.
This remembrance is a way of reminding everybody in attendance of the people that you love and miss. It is a wonderful way to respect and keep their memory alive.
More: 50 Wedding Memorial Table Ideas to Honor a Loved One
21. Light a virtual candle on social media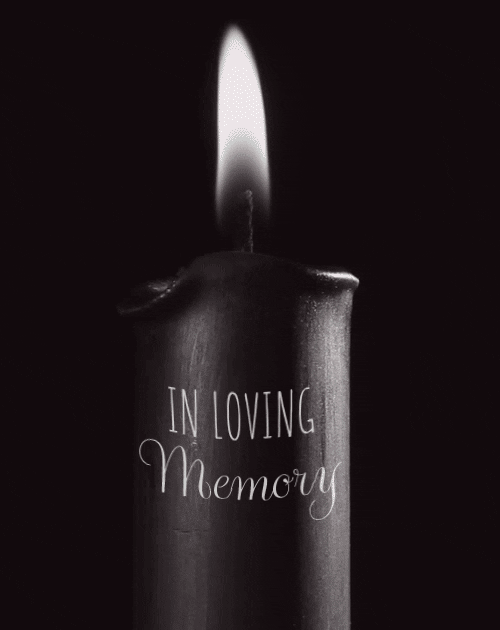 You can ignite a virtual memorial candle to symbolize honor and respect for someone you are mourning. For some religions, a virtual memorial candle can represent a prayer. For others, it is a way to show that someone's spirit lives on in the hearts they have left behind.
More "Light a Candle" images to share: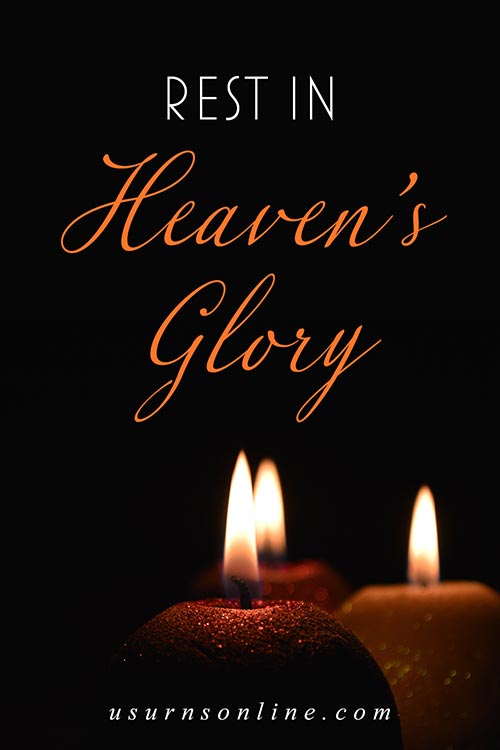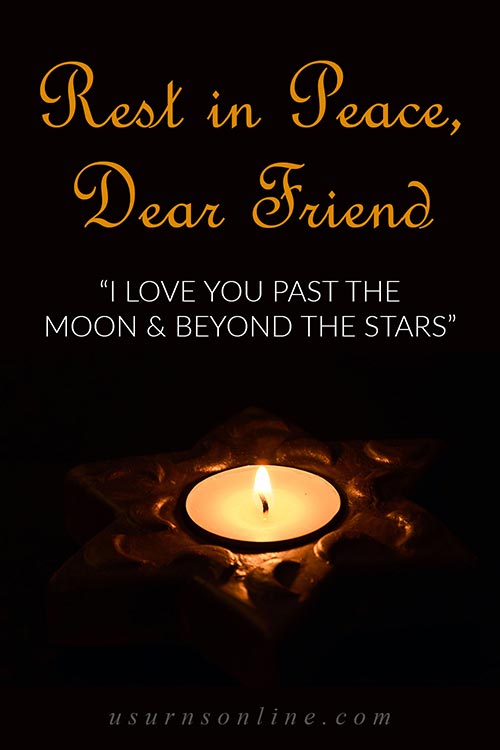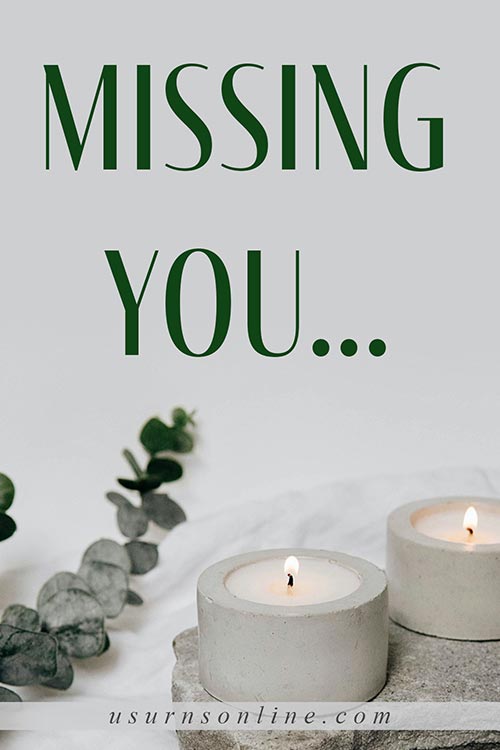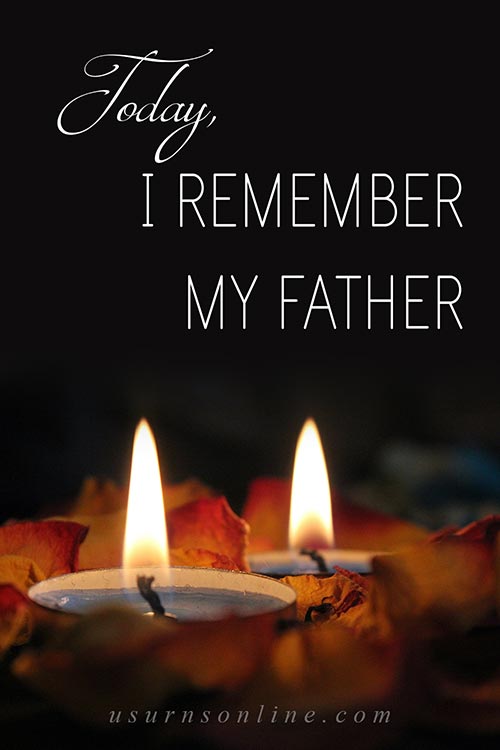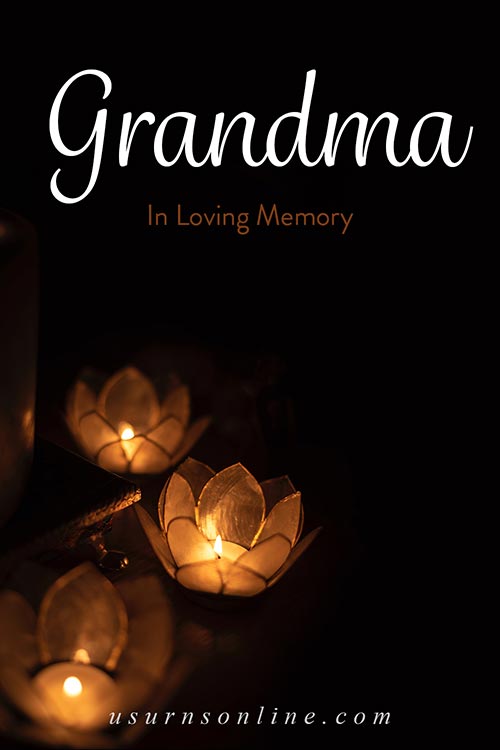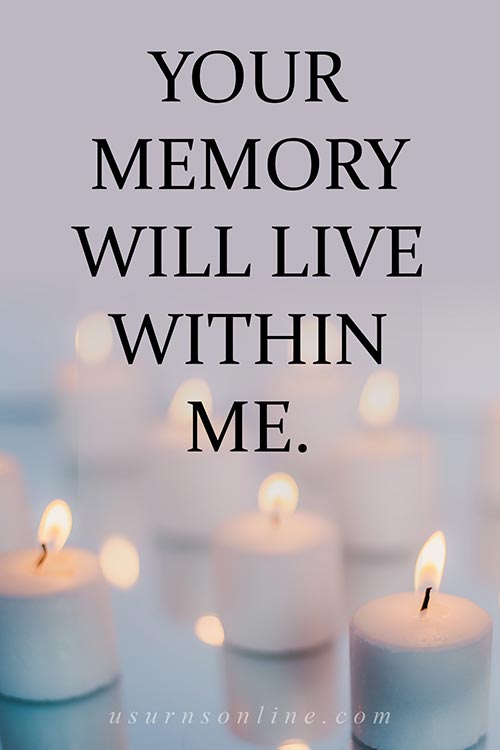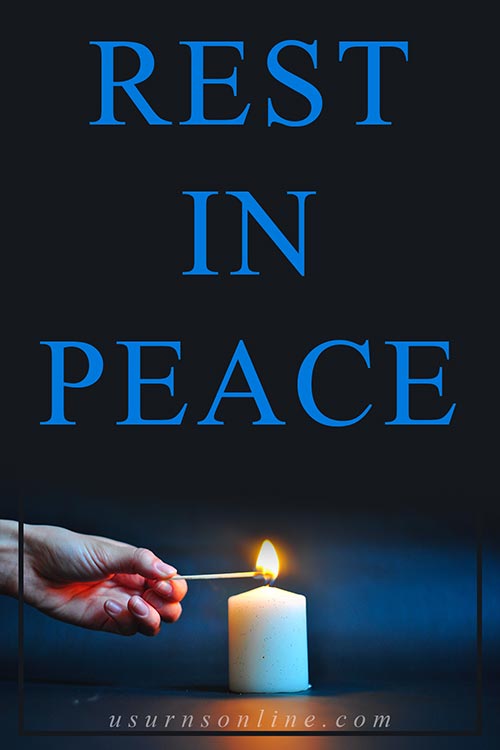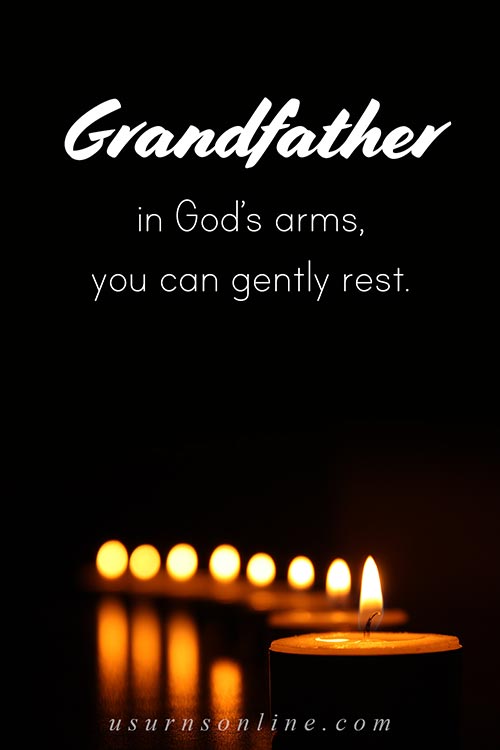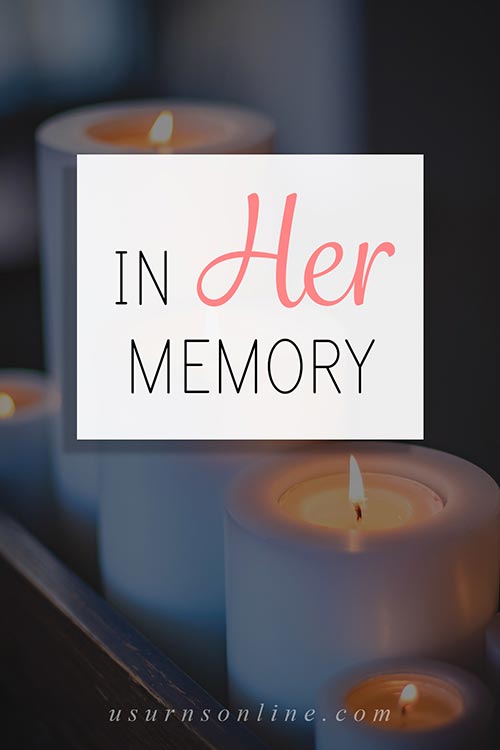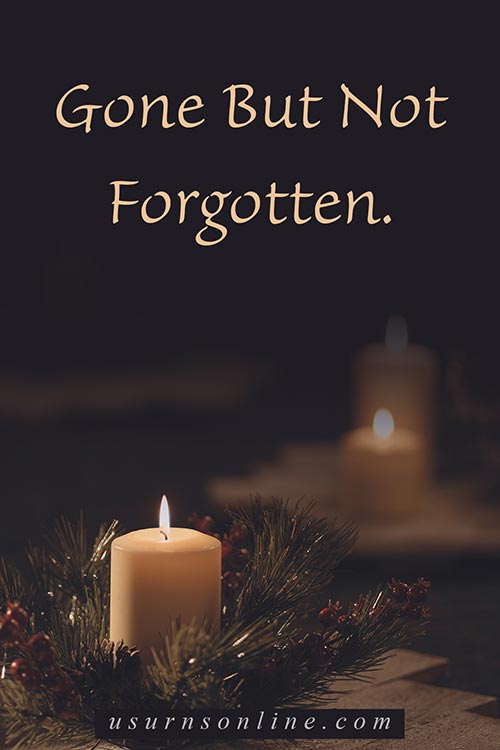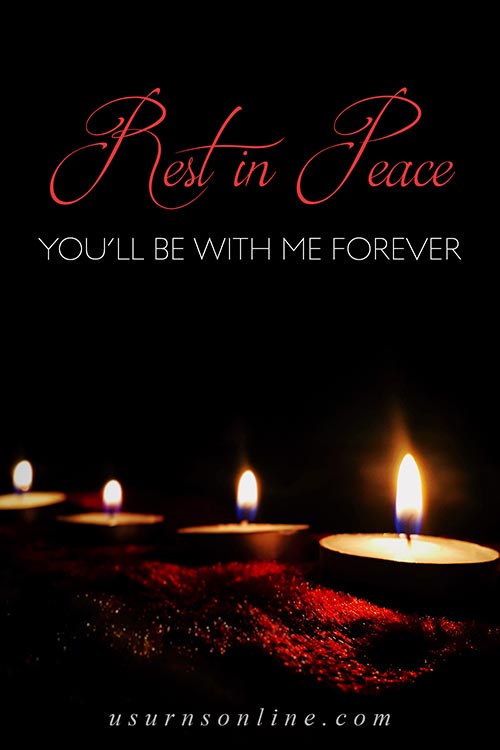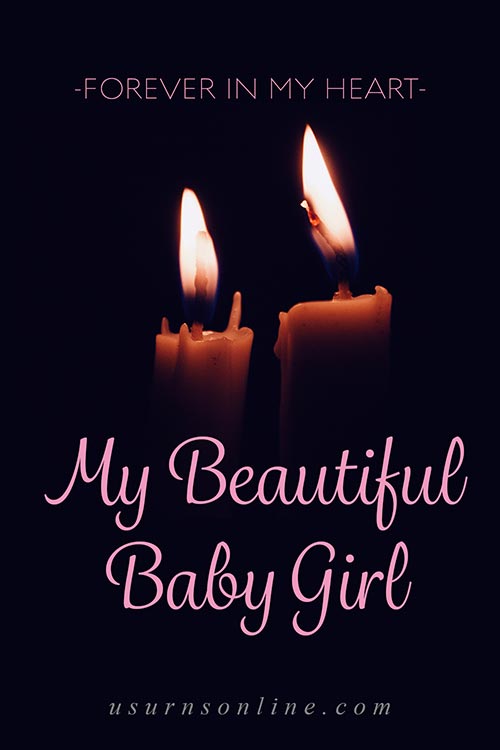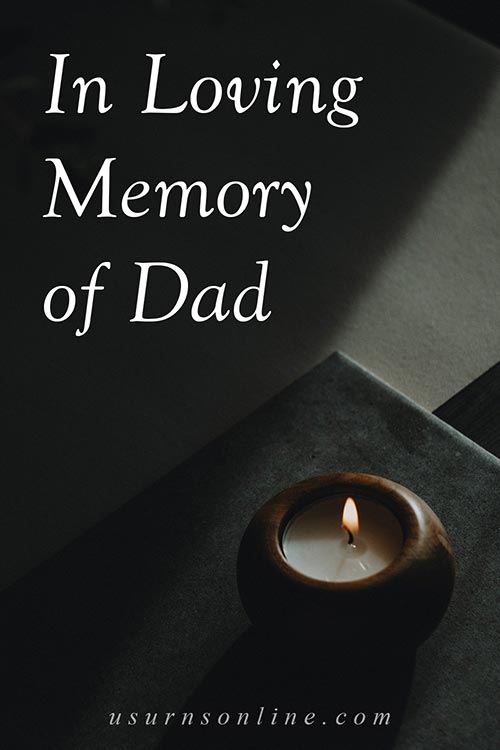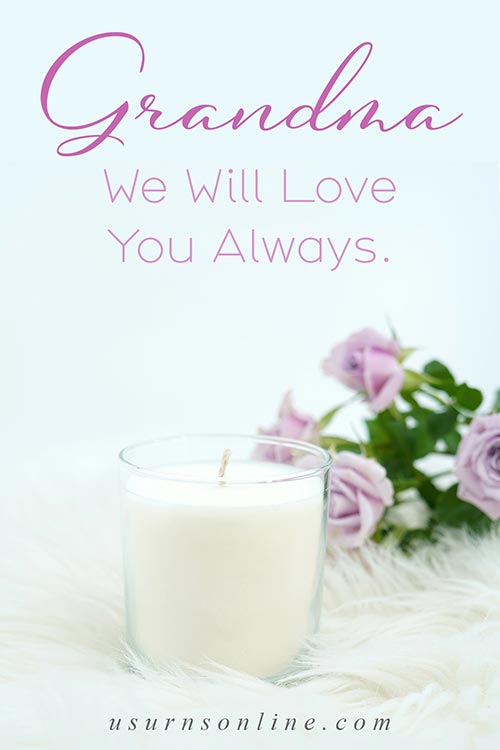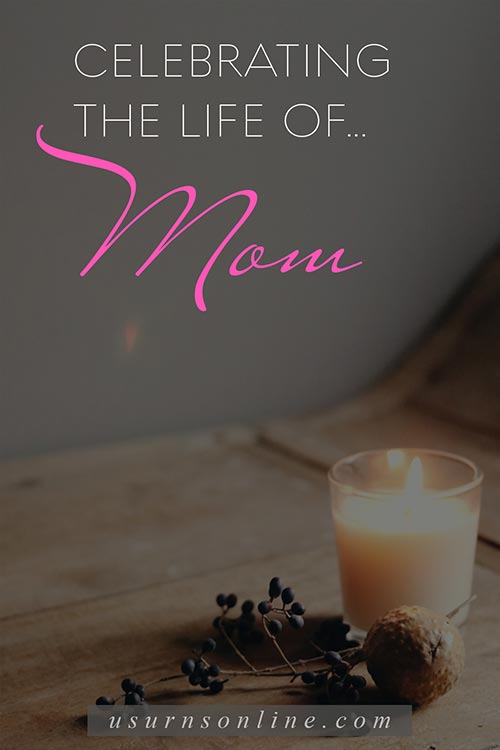 Lit in times of death, candles signify hope, and they represent Christ as the light. To "light a candle for someone" notes a person's plan to say a prayer for the deceased. The candle symbolizes that prayer.
If you are grieving your loved one, we offer you our sincere condolences.
Read Next: List of Funeral Readings
Pin It