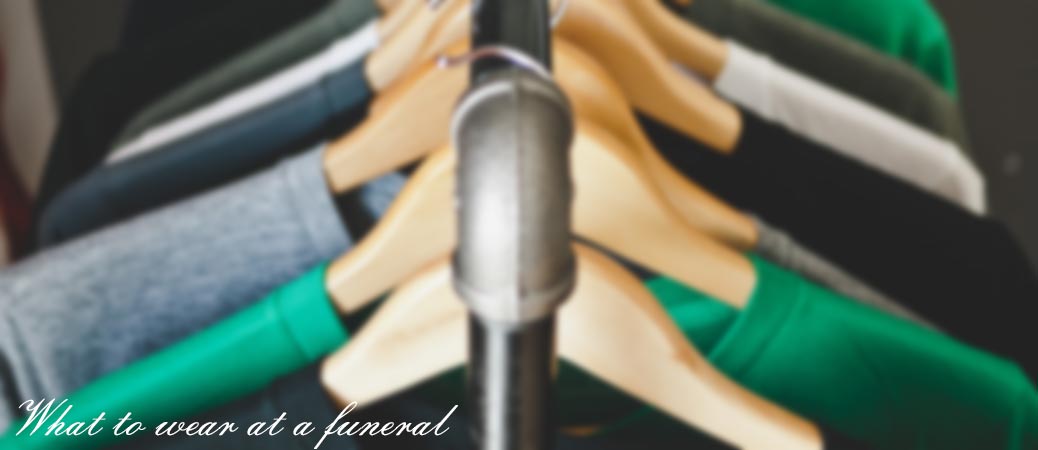 This guide for what to wear at a funeral is geared for contemporary Western culture; other cultures may differ and vary considerably. Even within modern Western culture, there is quite a bit of variation and leeway.
At a more formal, traditional funeral, you may be expected to wear black dress clothes (buttoned suit for men, dress for women). At most funerals all that is expected is something nice in darker colors. For others, there is may be no expectation of dress at all, and for some non-traditional funerals (perhaps a "celebration of life" or a funeral for a cosplay enthusiast) you may be expected to dress in bright, celebratory colors or even in a superhero outfit.
However, most people at most funerals want to pay their respects to the deceased and the family by dressing in a way that communicates sympathy and mouring, so here is our collection of tips, guidelines, and ideas for what to wear at a funeral.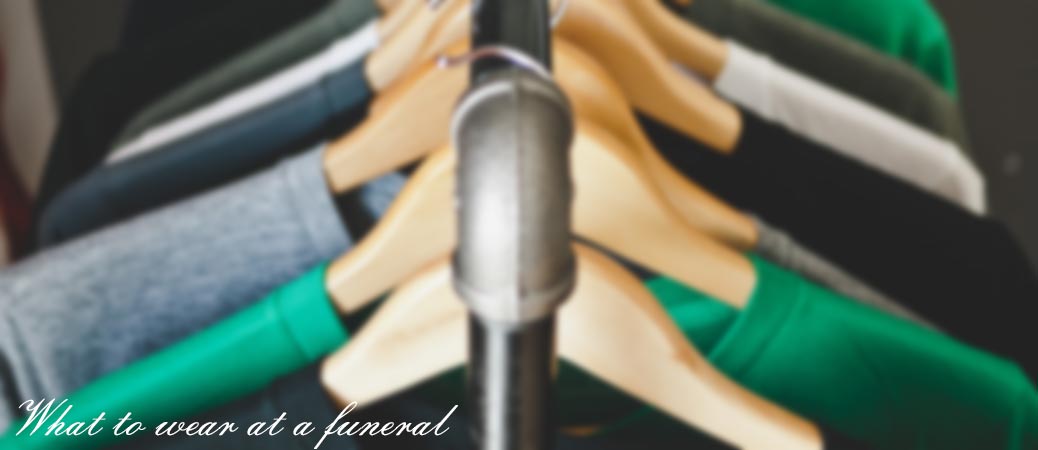 Guidelines for what to wear at a funeral
General tips on clothing:
Black is a traditional color, always appropriate
Non-black clothing is generally acceptable, as long as it isn't brightly colored
Shirts/dresses should cover up to the neck; no open collars
Pants/dresses should cover the knees; no shorts or miniskirts
No flip-flops or athletic shoes
In a casual setting, t-shirts may be appropriate – but avoid wild prints, logos, etc
Keep a formal jacket on hand; this basic addition can help make many outfits passable!
General tips on style:
Subdued style and colors; you do not want to attract attention away from the deceased
Style should be characterized as tasteful and conservative
Dress as you would for church or a job interview
Revealing attire is generally not appropriate; many traditions require shoulders and knees covered
Be considerate of any religious setting; i.e., some require hats for women and/or men
For information on funeral traditions of different religions, see here
Tips for men:
Dark suits or buttoned shirts are always appropriate
Wear long-sleeved shirts, something with a collar
Wear a belt and tuck in shirt
Wear dress shoes or loafers
Avoid sneakers, athletic shoes, flip flops
Avoid jeans (though in many settings, dark jeans with tucked in shirt is acceptable)
Avoid shorts
Avoid baseball caps
Basic funeral oufit ideas:

Dress suit with tie
Slacks, polo shirt, belt
Slacks, button down shirt, tie
Slacks, button down shirt, vest
Slacks, button down shirt, blazer
Traditionally, appropriate attire for men attending a funeral has been a black, gray or dark blue suit with a collared shirt and tie. These days, however, it is quite acceptable to wear slacks and a blazer or sport coat instead of a suit, to omit the tie, or to opt for a collared golf shirt in place of a dress shirt or button-down. Colors are still usually subdued, but are no longer limited to black, gray and navy. When in doubt, it's probably safe to choose more conservative options if you are concerned about being underdressed.
Tips for women:
Dark dresses or suits are always appropriate
Keep shoulders covered
Skirts/dresses should reach the knees
Tasteful color accents can be acceptable
Avoid bright sun dresses
Avoid anything overly revealing
Basic funeral outfit ideas:

Skirt suit
Pant suit
Dress
Skirt and blouse
Skirt and sweater
Pants and top with sleeves
Traditional attire for women called for a black suit, conservative dress or skirt and blouse. These days, appropriate options are much more varied. While the clothing should still be respectful and not distracting from the service, it is acceptable to wear bright or light colors, and business casual separates as opposed to a suit. Dresses are common, with color replacing the traditional solid black.
Funeral outfit ideas for women
Here we have a simple, modern black dress with black boots and warm hat, with appropriate splashes of color in the accessories: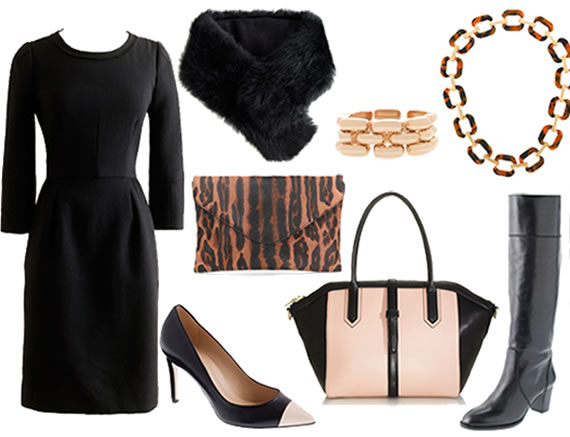 Three variations on the contemporary knee-length black dress, with complimenting shoes and bags. Note that the style of these funeral outfits is airy and attractive, yet the shoulders are covered and the necklines are appropriate for the occasion: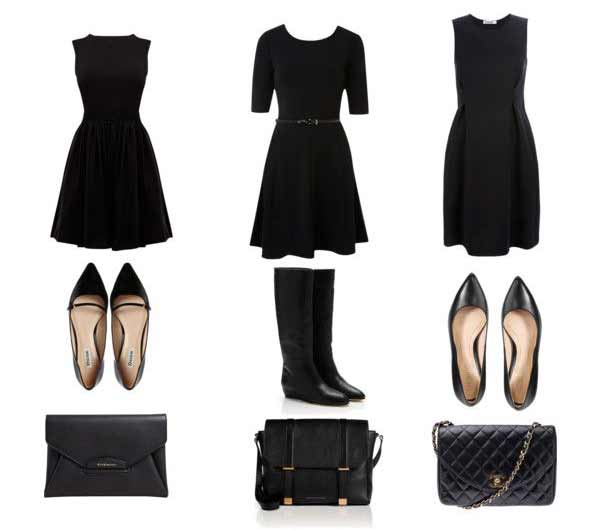 Here is an outfit designed for an outdoor funeral service. The hat and umbrella are a good idea for colder weather, the the light dress works perfectly with the pea coat. Add gloves to warm the hands, and the jewelry adds an antique sensibility appropriate for a traditional funeral.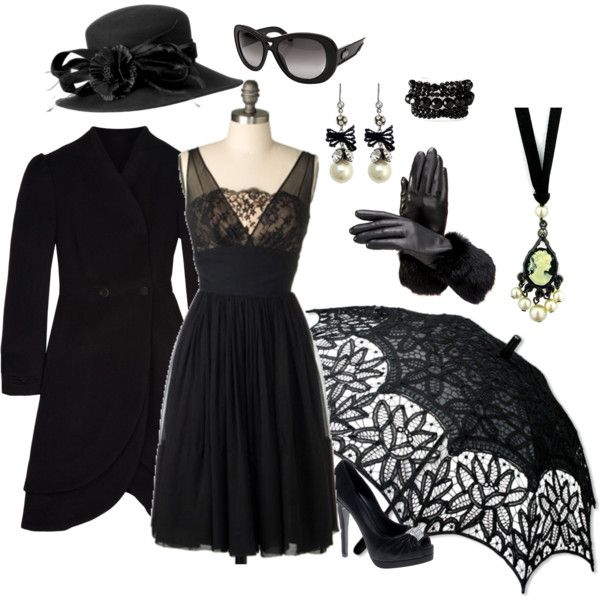 Here we have an example of appropriate yet stylish funeral attire in varied colors. The vintage style is a tribute to restraint rather than excess, with muted brown and navy blue tones.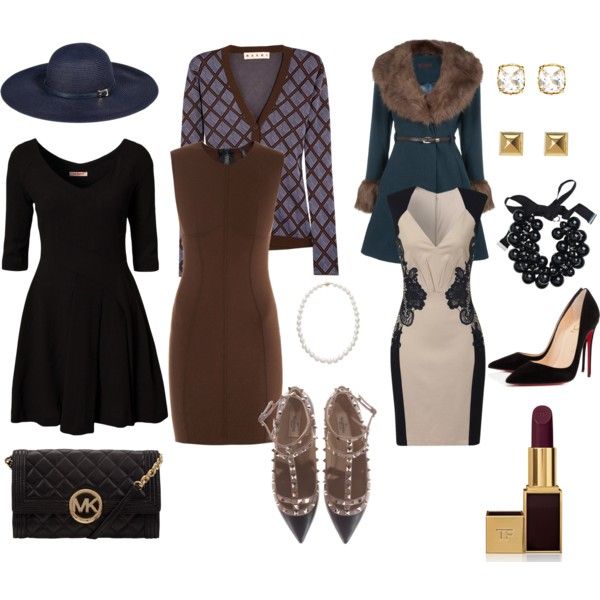 The "little black dress" is a funeral staple, for good reason. A classic look, always appropriate, perfectly accessorized with simple necklace and earrings.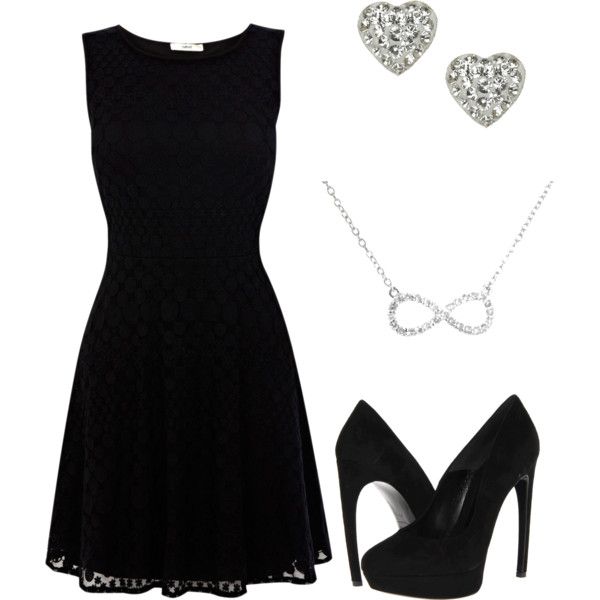 Here is a more contemporary professional look, an example of the ideal skirt and blouse combo: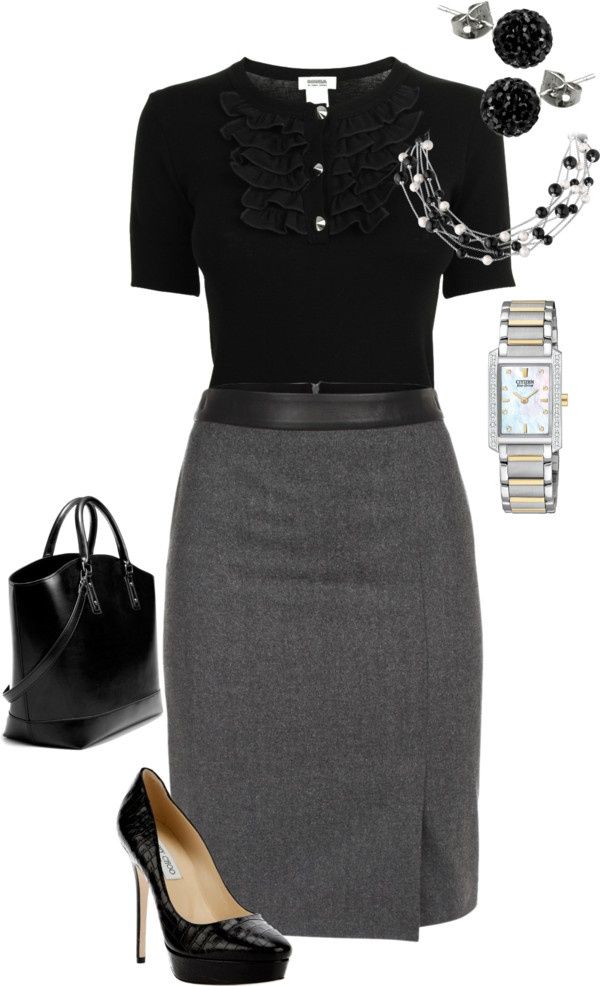 The simple black dress can always be accented with a bit of muted color, like the tan shawl and heels in this funeral outfit: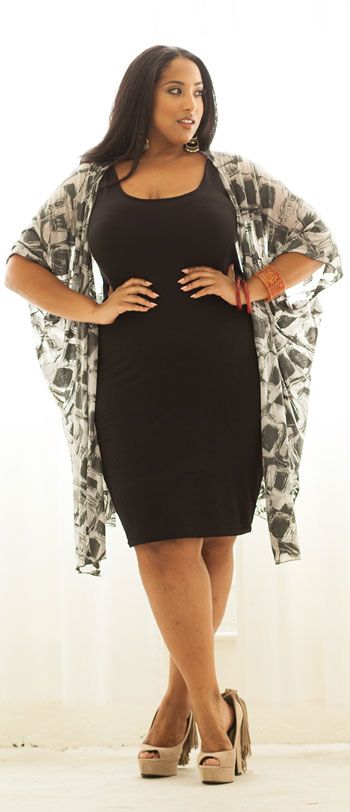 Little Miss Funeral is a blog run by a young funeral professional who loves fashion. Lots of great ideas for what to wear at a funeral, especially if you will be attending in a working/professional capacity. Here is the time-honored black coat with scarf, black dress and tights, with fur-lined heeled boots: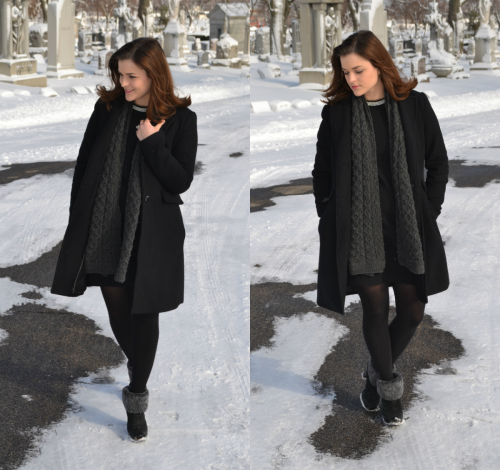 And here is a "casual dressy" look which utilizes a light gray cotton dress, black tights, and black shoes: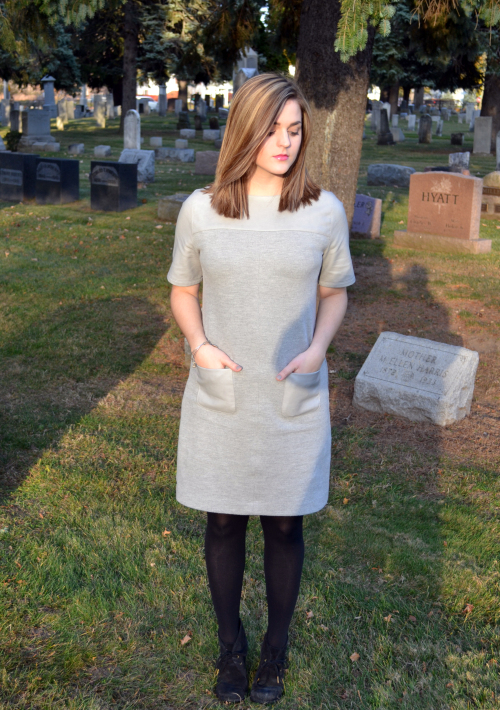 If you know the occasion will have something of  a contemporary-casual feel, here is a good look that bridges the gap between dressy and casual. The darker colors help retain a sense of solemnity, while the floral patterned dress and green sweater provide a comfortable yet conservative look.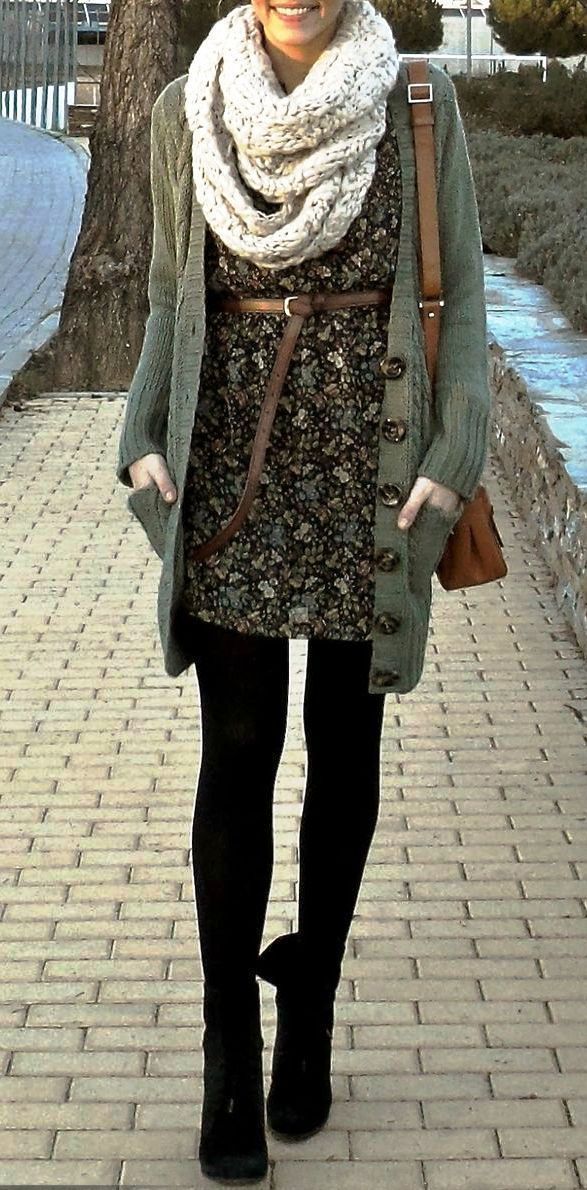 If you need to make jeans work, choose a darker pair and be sure to accent them with dressy neutral or earth tones, like the outfit here: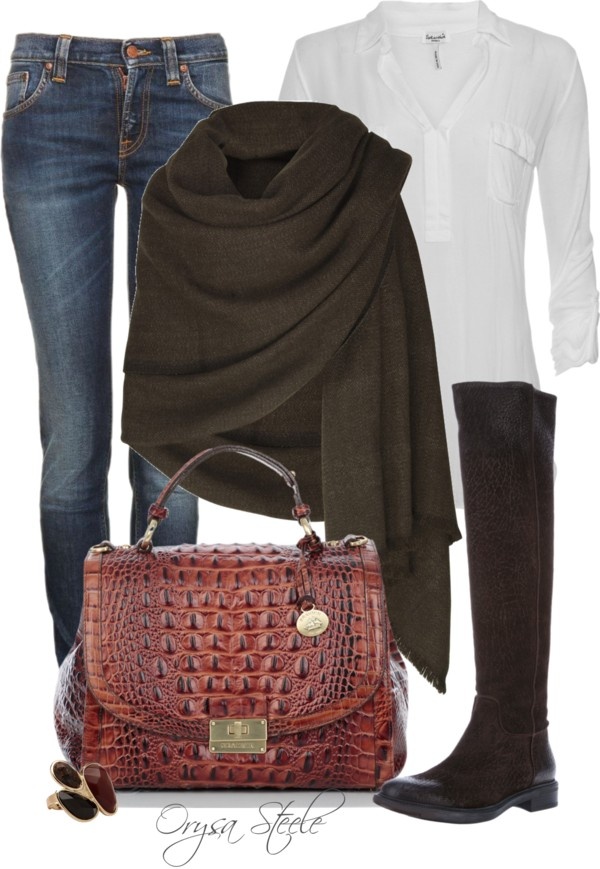 Shopping resources:
Funeral outfit ideas for men
Starting off with the classic look of the traditional black suit and tie: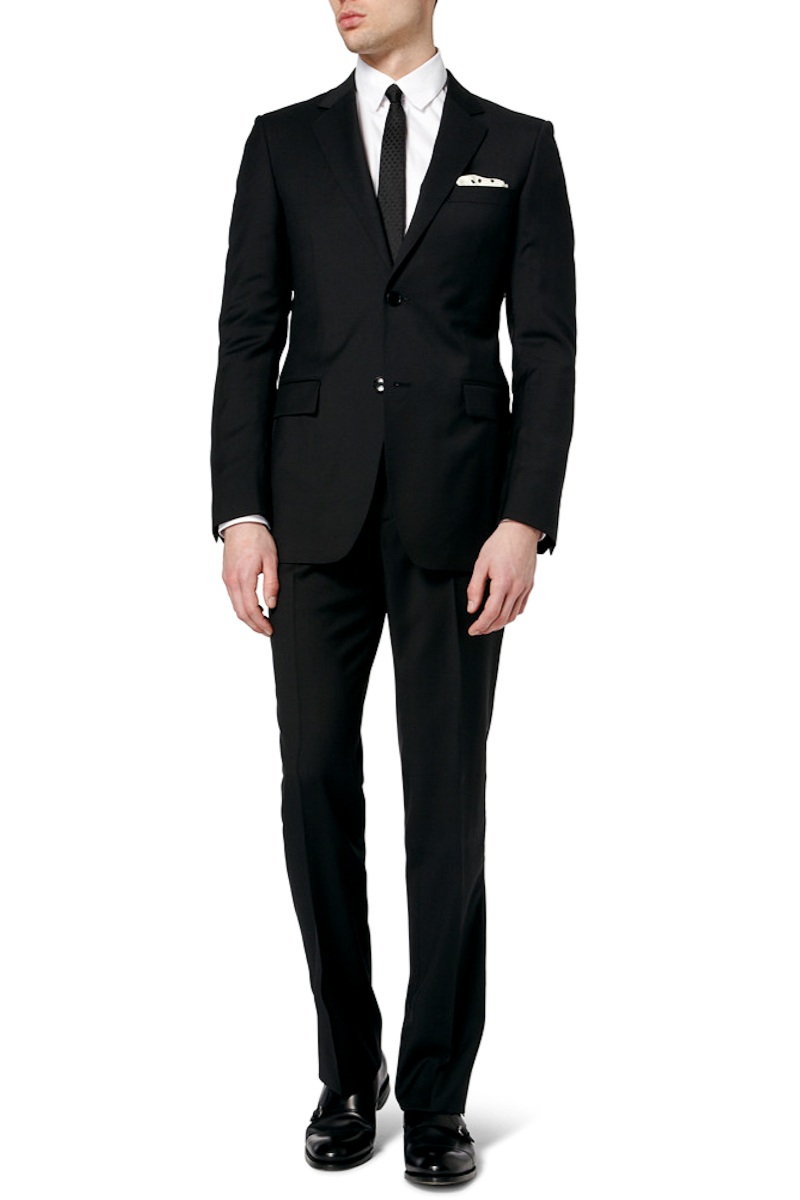 Here is the traditional look with a little modern flair thrown in by substituting a black shirt: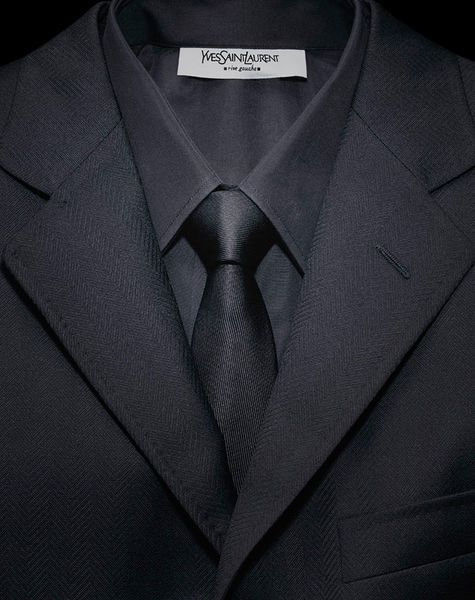 If you don't have a formal black suit available, the next best option is the suit you do have. Below is a classy charcoal suit with gray shirt and tie: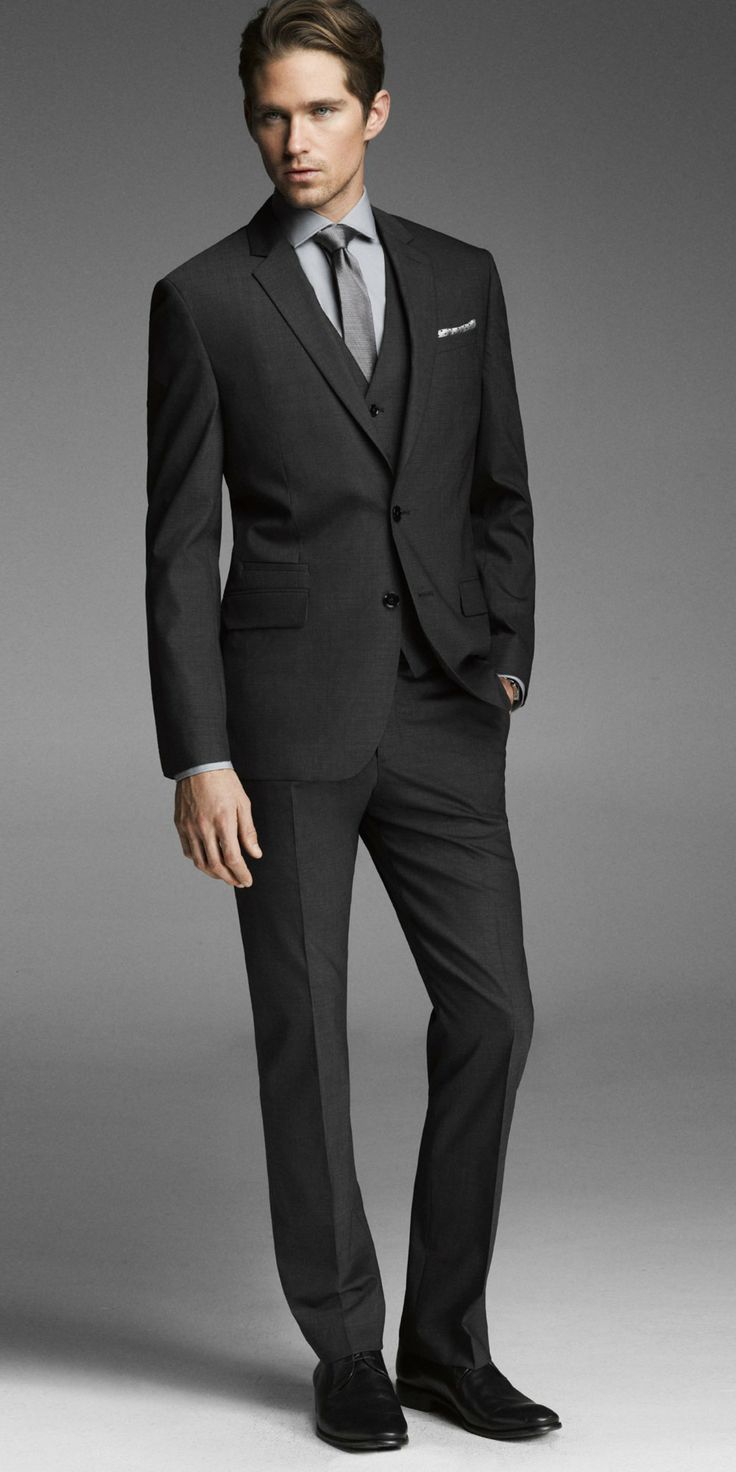 If you don't have a suit, go with the classic, time-honored dress shirt and tie. Again, stick with darker colors, black pants if at all possible: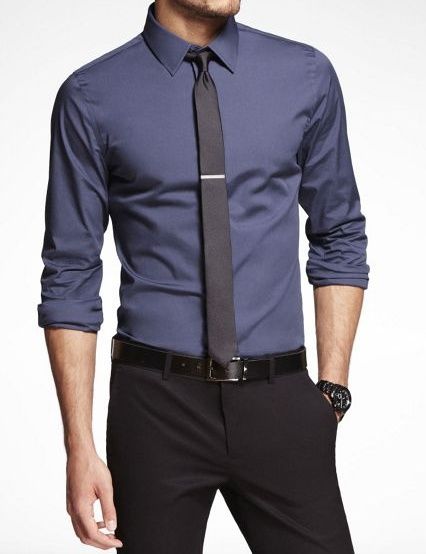 Now we'll get into some dressy casual looks which will be appropriate for most funerals. Here is a nice combination of black chinos, a charcoal blazer, and dress shirt: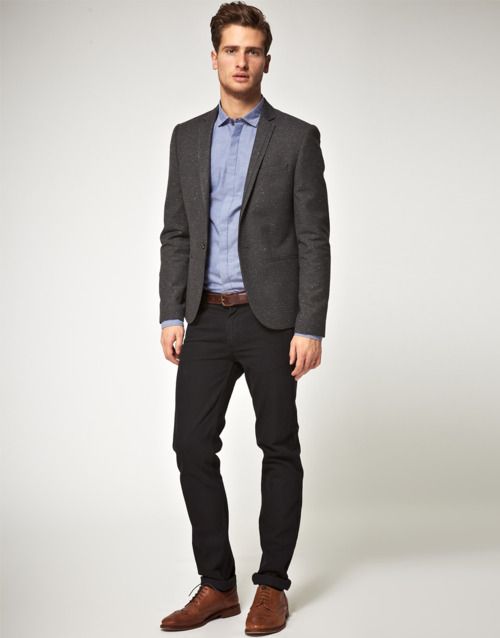 If you'd like to make jeans work for attending a funeral or memorial service, try to class it up as much as possible. Here the jeans are dark, and balanced nicely with a sweater and tie: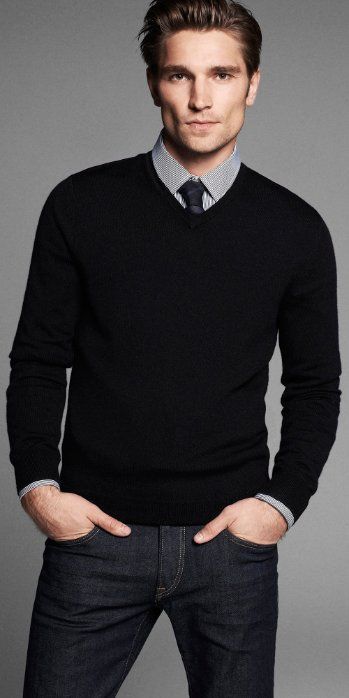 For most contemporary funerals here in the USA, a respectful casual look will not look out of place. Khakis or dress pants paired with a collared shirt and sweater is a good standard: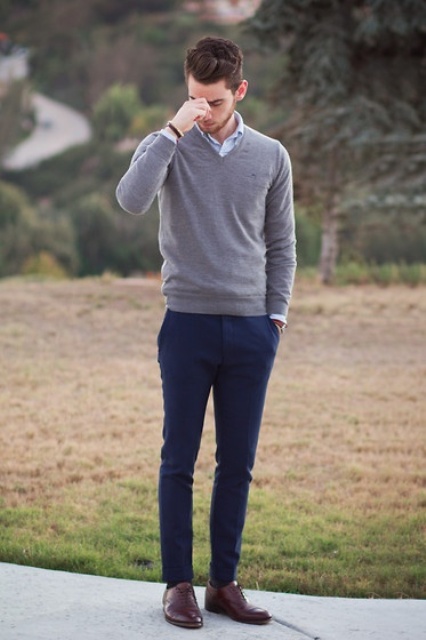 Or, for warmer climes, go with a vest instead of the sweater. You can go with or without the tie; but with is definitely the superior option: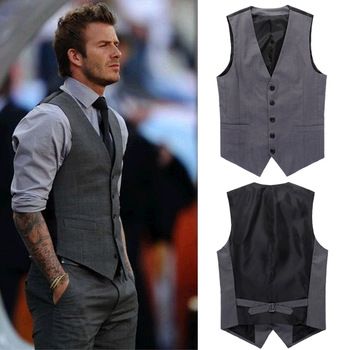 Additional Resources
(Visited 400,532 times, 112 visits today)