What is a visitation? What's the difference between a visitation and a viewing, or a wake for that matter?
Most importantly, what should you expect?
If you've recently suffered the loss of a friend, acquaintance or co-worker, you may get invited to a visitation. Of course you're planning to attend the funeral, but what about this other event – should you go? Would it be bad not to go?
Let's answer these questions and more.
What is a visitation?
A visitation is an informal gathering with close family and friends, usually held the evening before the funeral. Usually the body of the decedent is not present.
This special event provides time and space for loved ones of the deceased to come together – visit – in a relatively casual setting before the funeral. The funeral, on the other hand, is an organized gathering with the purpose of formally saying goodbye to someone who has died.
Both the visitation and the funeral may be held at either the funeral home or place of worship. Many families still hold the visitation at a home. Sometimes they use decedent's home or a more convenient home of a family member.
You may also sometimes hear it referred to as a wake or viewing. Traditionally, those are different memorial events that typically do have the body present in the casket.
Here's an easy way to remember:
At a visitation, the emphasis is placed on visiting friends and family.
At a viewing, the emphasis is placed on viewing the departed loved one.
Should I attend both the visitation and the funeral?
Yes, you can go to both the funeral and the visitation if you want to. It doesn't matter if you knew the deceased well or were just an acquaintance. The family will surely appreciate the support you show by being there.
What to say at a funeral visitation
If you've never met the family before, introduce yourself at some point during the evening. Feel free to share with them any fond memories you have of the person who has died. Hearing a new story or seeing a new photograph of a loved one can feel like getting an extra moment with them. Many mourners will treasure the stories they hear about their loved one at the visitation. This is one reason for the visitation in the first place. Just know that anything you have to share will be welcome.
However, do not feel like you have to make conversation with the family if the moment is more solemn, or if you are having trouble finding the right words to say. Simply expressing that you are sorry for their loss is just fine.
If you already know the family, it can still be difficult to know what to say. Here is our best advice: Be sensitive (think about what you say before you say it), but say something.
(This advice is from a fantastic book called What Grieving People Wish You Knew About What Really Helps (and What Really Hurts) by Nancy Guthrie. Highly recommended.)
One of the worst things that a grieving person faces is the void left by the death of someone they loved. Emptiness. Loneliness. When you see a person who has lost a loved one and you turn away, say nothing, or avoid talking about the huge gaping hole in their lives, you add your cold shoulder to that feeling of emptiness.
Instead, just say something. Say the decedent's name. Share a story or memory. Express your condolences and your own grief. It's even ok to say something as simple as, "I really don't know what to say. I'll miss Sharon too."
Read more: Funeral Etiquette: A Brief Guide for What to Say & Do
What happens at a visitation?
Think of the visitation as a memorial reception. As mentioned above, the visitation is usually just that – a visit. Friends and family gather together to remember the deceased in a casual setting. Sometimes there is coffee or cookies available, and also a guest book to sign.
Because it is a visitation and not a viewing, you should not encounter an open casket. When there is a casket present, it should be closed, but prepare yourself for the possibility that the visitation is incorrectly named. If so, you are under no obligation to view the remains if you are not comfortable doing so.
There are few formalities at a visitation. Be sure to greet the family and express condolences. A pastor or priest may say a few words or give a short sermon towards the end of the gathering, or say a prayer or the Rosary (if the family is Catholic). A family member may wish to thank everyone, raise a glass in memory, or share a story.
What is the difference between a visitation and a viewing or wake?
Visitations, wakes, and viewings are all informal gatherings before the funeral in which family and friends get together to socialize, mourn, and remember the life of a loved one.
But there are differences. Technically and traditionally, the main difference between a visitation and a wake or viewing is that the body is not present at a visitation.
Consider the words themselves. A visitation is a visit for family and friends… a special time set aside before the funeral to remember the deceased and visit with one another. The body or urn may or may not be present (people aren't always precise about what they call it), but traditionally it is not.
In contrast, at a viewing, the emphasis is placed on doing just that – viewing the casketed remains or urn, so you can expect for them to be present.
A wake, on the other hand, has its roots in Catholicism. It is similar in structure to a viewing, but more religious by nature. A priest may say the Rosary toward the end of the Catholic wake (to learn more about wakes, see here).
Ultimately, many people use visitation, viewing, and wake interchangeably. Expect the body (open casket) at a viewing. A wake may be open or closed casket, but the body will probably be present. And with the visitation, the body is typically not present, but sometimes the terms are not used precisely.
Related: 10 Types of Funeral Services & Events
How long are you supposed to stay at a visitation?
It is appropriate to spend at least 15 minutes at the visitation. This should give you enough time to sign the guest book, have a drink, and express your condolences to the family. You can stay longer as you feel is appropriate.
If you are part of the family or very close to the family, you will most likely want to stay longer. Ask if you can come early to help prepare or stay late to clean up. Catch up with family members and friends, partake in some refreshments, and share memories of your departed loved one.
Should I bring a sympathy gift ?
Absolutely, but keep in mind that no one is expecting you to. If you want to bring a gift, consider ordering an arrangement from a local florist.
Basketed plants and flowers are usually given to a grieving family at a visitation, displayed the next day at the funeral, and then finally delivered to the family's home after the service is over. So if you are planning on giving flowers, bring them to the visitation.
Here are 10 Heartwarming Sympathy Gifts that you can consider as alternatives to funeral flowers.
What should I wear to a funeral visitation?
It can depend on the region or culture, but generally speaking, the visitation will be a bit less formal than the funeral. Think "church clothes" or even "business casual," and whatever comes to mind will probably be just right. When in doubt, wear dark!
Our guide on What to Wear to a Funeral includes helpful tips for men and women, plus a section on what to wear to a visitation (spoiler: you should wear pretty much the same thing you do at a funeral).
Attending a visitation from a different culture or religion
It is probably just fine, but it really depends on the culture or religion in question to know what to expect. For further examination of this question, please see the section on cultures and religion in our article Should I Attend Both the Wake and the Funeral?
---
Thank you for reading! If you are thinking about attending a visitation in the near future, we hope this Q&A provides you with insight as to what you can expect at the service.
We welcome your questions, and our readers will benefit from hearing about your experiences with visitations. Please feel free to comment below.
Read next: Funeral Outfit Ideas: What to Wear at a Funeral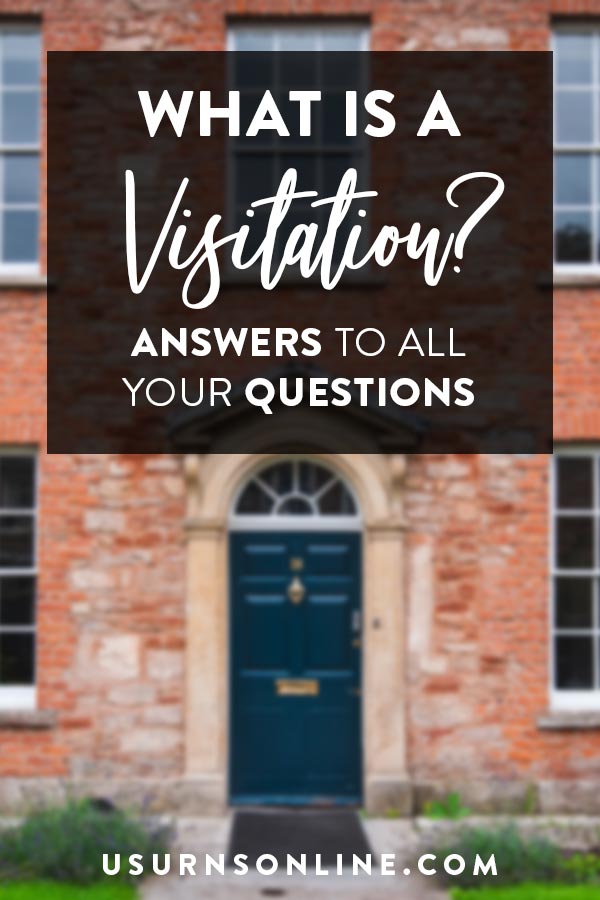 Daniel has been working in the funeral industry since 2010, speaking directly to grieving families as they made funeral arrangements.
He began researching and publishing funeral articles on this website as part of his role as product and marketing manager at Urns Northwest.
Having written hundreds of articles and growing the site to multiple millions of views per year, Daniel continues to write while providing editorial oversight for US Urns Online's content team.