Here are 100 creative celebration of life ideas to inspire you as you celebrate the life of an amazing person.
Even as you grieve, it is important to treasure and honor your loved one. These creative and meaningful memorial ideas are perfect for right now and on into the future.
We have suggestions for the funeral or celebration of life service that will be happening soon, unique memorials for the days and weeks following, and inspiring tributes to ensure that their memory is well-kept for years to come.
Our website is supported by our users. We sometimes earn a commission when you click through the affiliate links on our website. See our privacy policy & disclosures for more information.
What Is a Celebration of Life?
A celebration of life is a memorial event that honors a departed loved one by focusing on their life and legacy. Also known as life celebrations, the celebration of life can be held in place of or in conjunction with a more traditional funeral service.
Celebration of Life vs Funeral
Sometimes the family holds what is basically a funeral service, but instead of using the more traditional term it is called a celebration of life. Typically this kind of service has many of the same elements as a funeral, but the goal is to replace the somber, stilted atmosphere with a happier event that focuses on the keeping the memory of the loved one alive.
Celebration of Life AND Funeral
Other times, it's best to hold the traditional funeral and then have a separate event with more of a joyful party feel. Sometimes the family turns the funeral reception into a celebration of life, but often it's a completely separate event. This is where the crazy stuff happens, like fireworks, keggers, dancing, and more. Or you can keep it a little more low-key, yet still focus on having a happy, joyous time of story telling, good food, and great company.
100 Inspirational Celebration of Life Ideas
These creative ideas fall into ten broad categories:
Life celebration ideas for the service
Crowdsourced celebration of life ideas
Online celebration of life ideas
Home decor celebration of life ideas
Charitable celebration of life ideas
Christian life celebration ideas
Nature celebration of life ideas
Wearable celebration of life ideas
DIY life celebration projects
Crazy & creative memorial ideas
My prayer is that this list helps you broaden the possibilities of how you can honor someone you love so very much.
10 CREATIVE IDEAS FOR THE SERVICE
These memorial ideas are for the service itself, to personalize and make it a little bit unique – just like your loved one.
Take the time to write a beautiful eulogy
Get a beautiful cremation urn
Make your own casket with this DIY kit
Take steps to have an eco-friendly disposition
Hand out memorial favors to those who attend
Create a video or photo montage set to their favorite song
Livestream the service for those who cannot attend
Display a custom portrait in place of or in addition to the traditional photograph
Decorate with symbols of their favorite pastime; e.g., in the colors of their favorite sports team, or herbs and foliage for an avid gardener
Serve their favorite food or treat at the reception
10 CROWDSOURCED MEMORIAL IDEAS
Use the resources of funeral or celebration of life attendees to create a special memorial. Ask each person to bring a photo, write down a memory, etc and use these things to make your own scrapbook-style memorial.
Use "My special memory of you" cards to have people write down a favorite memory or story
Bring a recipe to create a memorial cookbook
Take pictures of projects the loved one helped with
Collect photos for a scrapbook
For artists, have people vote on their favorite song, poem, photo, painting, sculpture, etc and create a "best of" scrapbook
Ask for quotes that remind people of your loved one
Have stones, wood tags, quilt squares, or Jenga blocks available for people to sign and write a message, then use them to create a memorial
Set up a memory board for people to add their own photos, notes, memories, and condolences
Fill a time capsule with notes, photos, and memorabilia; the burial can be a part of the service or a separate event
Give out flower seed packets as funeral service favors, which crowdsources the spread of blossoms in memory of your loved one
10 ONLINE CELEBRATION OF LIFE IDEAS
Here are some creative memorial tributes you can create and share online.
Create a memorial website (for free)
Share an album or series of photos on social media and tell the back story
Write out and post one (funny, sad, heartwarming, interesting) story each day for a week
Ask friends and family to share stories and photos
Make a "meme-orial" social media memorial (free)
Create a playlist of their favorite songs and share it
Share images with comforting Scripture verses
Start a fundraising campaign to cover funeral expenses or help the family of the decedent (free)
Share your grief journey in a blog or in a dedicated Facebook page
Live tweet as you read their favorite books or watch their favorite movies. This is something you can do alone at home as part of your grieving process, but still get some community involvement by talking about it online
10 HOME DECOR MEMORIAL IDEAS
Celebrate your loved one's life and memory with something that will beautifully accent your home.
Get a memorial quilt made from their clothing
Choose a beautiful cremation urn like these 3-dimensional wood art memorials
Personalize a set of coasters with their initials
Have their portrait painted (send old photographs to the artist for inspiration)
Engrave your loved one's favorite quote onto a handcrafted wooden memorial plaque
Create a memory board with photos, letters, keepsakes, and more
Customize a wall-mounted bottle opener to raise a glass to their memory
Light up your home with a memorial tealight cremation urn
Personalize a memorial bench for the backyard or garden area
10 CHARITABLE IDEAS
If giving back to the community was important to your loved one, these will be ideal as you consider how to celebrate their legacy of generosity.
Start a scholarship fund in their memory; this can be for a wide range of things:

College, vocational training, ministry training
Music lessons, band camp
Volunteer expenses for camps and ministries
Paid internships
Relief aid
Tutors for disadvantaged kids

Donate to a cause in their name, one that was important to them
Give their clothing to charity
Donate their books to a public or school library; include an inscription or sticker saying the book was donated in their memory
Adopt a pet to honor your beloved animal lover's memory
Send Christmas gifts to children's hospitals in your loved one's memory
Donate the vegetables from your memorial garden to a food bank
Sponsor a youth sports team or program in your loved one's name
Knit hats, gloves, socks, or scarves for your local homeless shelter and sew in a tag that says "in memory of" your loved one
Give to your church in memory of your loved one
10 CHRISTIAN LIFE CELEBRATION IDEAS
Celebration of life ideas for Christian believers who are now living most fully.
Hold the funeral service in your local church
Have your pastor clearly preach the gospel at the funeral service
Sing their favorite hymn at the funeral and record it (here are some favorite funeral hymns)
Tell the deceased's testimony at the service, and/or write it out to share with friends and family
Get their favorite Bible verse etched onto a memorial plaque
Give out seed packets at the funeral with John 12:24, Revelation 14:13, or John 11:25 printed on them
Donate to their church and/or a cause that was important to them:

Hunger relief
Homeless shelters
Disability ministry (consider Joni & Friends)
Clean water projects
Your local pregnancy resource center

Volunteer at one of those ministries or charitable organizations
Pass on their personal Bible as a special heirloom to a child, grandchild, or someone they mentored
Many churches have a meal program to bring hot meals for the sick, parents of newborns, or the grieving. Consider setting up meal deliveries for the family of someone who has lost a loved one, or, if you are the bereaved, join the ministry when you are up to it in memory of your loved one (Read our sympathy meals guide here)
10 NATURE TRIBUTES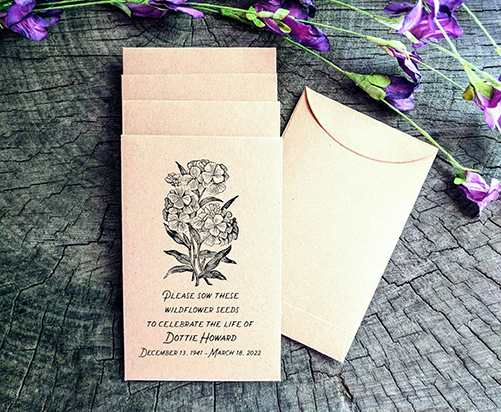 Nature-themed memorials that emphasize your loved one's passion for the outdoors, the environment, and all that is green and flowery.
Give out personalized seed packets at the funeral
Plant a tree in their memory
Plant a tree in a devastated forest area in their honor
Feed the birds from a personalized memorial bird feeder
Grow a memorial garden
Grow a memorial tree from their cremated ashes
Name a star in their memory
Create on of these 11 Living Memorial Ideas
Scatter their ashes at a favorite outdoor location – ocean, river, mountaintop, park, etc
Maintain or sponsor a park, hiking trail, or other local outdoor attraction in memory of your loved one
10 WEARABLE IDEAS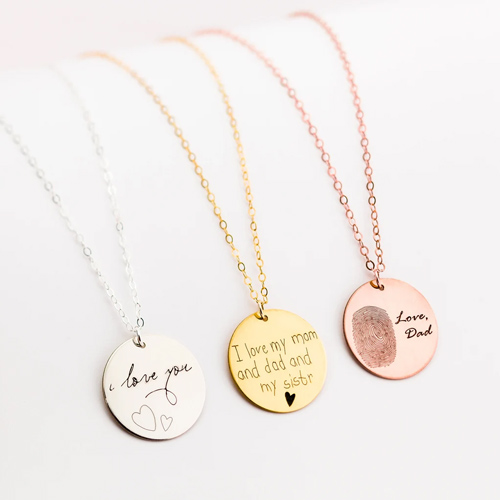 Consider wearing a memorial tribute to celebrate your loved one's life and honor their memory.
A personalized memorial t-shirt with "In Loving Memory"
Create jewelry with their signature or fingerprint engraved
Get a memorial necklace that holds a small portion of cremated ashes
These cremation necklaces are also aromatherapy diffusers for essential oils
Wear their wedding ring on a necklace chain
Turn the funeral flowers into jewelry beads
Wear one of their t-shirts as an infinity scarf (tutorial here)
Get a memorial tattoo
Make a custom memorial t-shirt
Create and wear a personalized memorial button
10 DIY LIFE CELEBRATION IDEAS
Here are some celebration of life projects you can make yourself.
Create a memorial scrapbook with photos, notes, newspaper clippings, funeral programs, and more
Make a quilt or pillow from their old clothing
Set a place at the dinner table for your loved one on special occasions
Use the funeral flowers to create jewelry (tutorial here or have it done professionally)
Replace the face of their watch with their photo and wear it or keep it by your bedside
Make a memorial teddy bear
Barrel-age your own spirits at home to raise a glass to your loved one's memory
Create a memorial space in your home, such as a wall, shelf, mantle, or entire room (see our guide here)
Make your own special and personalized candles to light in memory
Take a photograph and make your own photo necklace pendant
10 CRAZY & CREATIVE MEMORIAL IDEAS
Get their cremated ashes put into fireworks or bullets
Write notes to or about your loved one, include your contact information, put them into bottles, and let them go in the ocean. You may get a text or email someday from around the world!
Write their name in the sand and take a photo (or have it done for you)
Scatter their ashes at a favorite location – in the ocean, at the golf course, from a mountaintop
Make up a drink or a sandwich, name it after your loved one, and get it on the menu at their favorite bar, coffee shop, or restaurant
Share a bottle of wine or spirits with close family and friends in an annual remembrance
Get a park, building, or local landmark named after your loved one (usually this involves a large donation)
Give away your loved one's trinkets, games, toys, and keepsakes to younger family members. Do an Easter-egg-style treasure hunt to make it fun
Bring your loved one's favorite books, movies, music, or other trinkets to the memorial service and invite people to take one home as a memorial
Provide self-addressed stamped envelopes to everyone at the funeral service, and encourage them to write a note of encouragement to the family or a story/memory of the decedent, and send it in the mail in a month or six months. This will ensure that the family receives plenty of sympathy notes, stories, photographs, and more during the following months
Read Next: What is a Celebration of Life?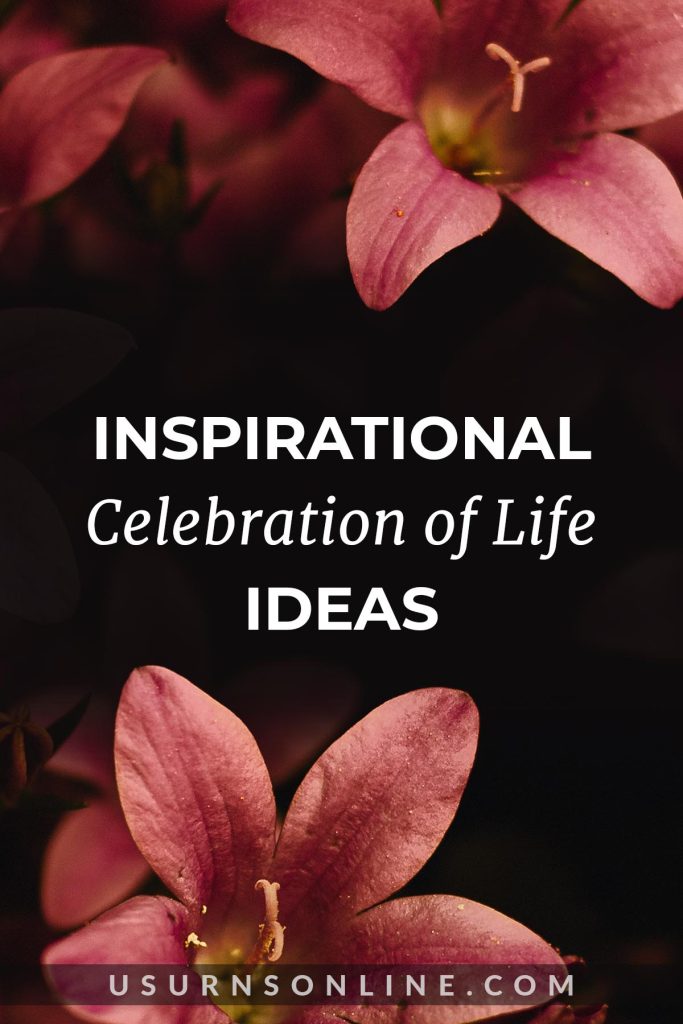 Daniel has been working in the funeral industry since 2010, speaking directly to grieving families as they made funeral arrangements.
He began researching and publishing funeral articles on this website as part of his role as product and marketing manager at Urns Northwest.
Having written hundreds of articles and growing the site to multiple millions of views per year, Daniel continues to write while providing editorial oversight for US Urns Online's content team.