A funeral viewing is an important ritual for the family members of the deceased. It's a time to say goodbye to a dear loved one while being surrounded and supported by family and friends.
There is etiquette to follow when attending a viewing. For example, how long should you stay? How should you dress? Should you bring the family a token of some sort?
Same thing goes when planning a viewing. There are many options (when to schedule, catered meal or simple apps) but the main thing to remember is that it is a time for the family to pay respects and support one another.
We have put together everything you need to know right here. Jump to:
Once you've finished reading, you will know the answers!
What Is a Funeral Viewing?
A funeral viewing is a gathering where visitors pay their last respects to the decedent.
The deceased person's body is there, embalmed and in an open casket for viewing (hence the name). Family and friends can say their final goodbyes to their loved one, and see them one last time.
But more than simply viewing the decedent, the viewing is primarily a way to show support and express condolences to the bereaved family. It's a less formal gathering than a funeral, often with food and drinks, and attendees are welcome to come and go, mill about, and catch up with old friends and distant relatives.
A viewing usually lasts for a few hours, though sometimes it can be spread out over a couple of days.
When Does a Viewing Take Place?
The viewing takes place before the funeral. Sometimes it is held the day before and sometimes the same day as the funeral.
The body of the deceased is always embalmed and prepared for presentation before a public viewing takes place.
Where Does a Viewing Take Place?
Typically the viewing takes place at a funeral home. The funeral director and staff will provide rooms set up for just this purpose. A viewing can also take place at the family home or another location such as a church, though that is less common.
Will the Body Be There, and Will the Casket Be Open?
Most often yes, the body will be there, and yes, the casket is often open. You will not be required to actually go and "view" the body if you do not want to.
With no body present, this type of gathering is often called a visitation. However, the terms can be used somewhat loosely. So you may be invited to a viewing and find a closed casket, a cremation urn, or no casket/urn at all.
What's the Difference Between a Funeral and a Viewing?
The viewing is an event where people come and go. You can stay for a few minutes or a few hours. It's a time to visit with the family and pay respects to the deceased.
A funeral is a formal event with its own set of guidelines to follow.
Read more: Funeral Planning Guide
What's the Difference Between a Wake and a Viewing?
A viewing is a relatively unstructured gathering that allows friends and family a private environment to pay their final respects.
In comparison, a wake is a traditional Catholic ceremony with Celtic Irish roots. The term wake was initially used to signify a prayer vigil. Asking mourners to keep watch or guard over their dead until they were buried – they were asked to stay "awake," hence the term wake.
Read more: What Is a Wake? Etiquette, Expectations, & More
What Happens at a Viewing?
A viewing has a set of rules and protocols to follow. Although not as strict or formal as a funeral, there are still standards to adhere to.
The viewing is a way to spend time with the body, as in "viewing" the body. Also, with the family of the decedent before the funeral service.
What to Wear to a Viewing
Darker colors reflect the mourning atmosphere of the visitation. Men will generally wear dress pants and dress shirts. Women typically wear pants or a skirt and blouse.
Dress respectfully. No ripped jeans, no cleavage, or short skirts. The point is to avoid calling attention to yourself through whatever clothing you choose.
Again, this is about showing respect to the family and close friends of the deceased. Don't try to make a fashion statement.
Read more: What to Wear to a Funeral or Memorial
What to Do at a Viewing
Offer condolences to the family.
View the body, or don't. You are under no obligation to "look."
If you view the body, don't linger at the casket. Say your farewells and move on.
Don't be loud. Talk in a respectful tone of voice.
How Long Should You Stay at a Viewing?
There is no requirement on how long you should stay.
You can arrive any time during the posted visiting hours. You only need to stay as long as it takes to offer your condolences to the deceased's family.
Most of the time, you can do this in 15 to 20 minutes. However, if you are close to the family, you may decide to stay longer.
Should You Bring Anything to a Viewing?
You can bring flowers, a plant, a sympathy gift, or even a donation. But none of those, as mentioned, is mandatory. The family will appreciate your presence and support more than anything else.
Planning a Viewing
Choose your venue.

If you are using the funeral home, the director will set everything up for you.
If you have chosen your church or place of worship, the director and the clergy will set it up.

Pick your date and time.

Typically the viewing is held the night before the funeral or memorial service. But you can also plan to have it an hour or two before the service.
Other options include 2-3 days prior to the funeral, or soon after the funeral. These are less common.
You can also have a "viewing" after the cremation with the urn present. This can be scheduled any time, and would more correctly be called a visitation.

It can be family only, invite only, or open to the public.
Decide if you want food or not.

Do you want it catered?
Should family supply the food?
Hors d'oeuvres, simple desserts only, or full-on potluck?
Does the funeral home have a refreshment area?

Will the body be there?

Most funeral homes will only open the casket if the body is embalmed. If you don't want to embalm, the casket will remain closed.
You can also decide not to have the body present. This is often called a funeral visitation rather than a viewing.

What type of background music do you prefer?

There is a wide variety of music to choose from. For example, you may want classical funeral music to the decedent's favorite music.
You will also want to decide if you are going to have anyone speak at the visitation. This can be a pastor with a brief message of hope and a prayer, or some good-old-fashioned "raise a glass" funeral toasts. But, again, this is totally up to you.
Can You Have a Viewing After a Cremation?
Typically it wouldn't be called a viewing because there is not a body to be viewed after cremation. However, if you plan to hold a gathering after the cremation has taken place, it would be called a visitation.
A visitation involves a combination of pictures, flowers, and the urn. All of these items are set up in place of the casket. In some cases, families choose not to have the cremated remains present.
Visitation etiquette would follow the same procedure as viewing etiquette.
Thank you for taking the time to read this information. Now you should be able to attend a wake, viewing, or visitation comfortably.
Read Next: How to Write a Funeral Announcement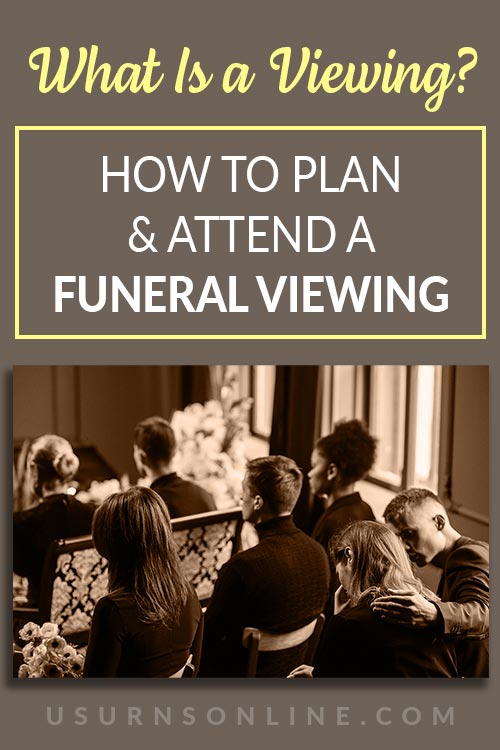 Karen Roldan has been in the funeral industry since 2006, and a licensed funeral director and embalmer since 2008. She is currently licensed in the states of Indiana and Pennsylvania.
She attended Worsham College of Mortuary Science in Wheeling, IL, and graduated with an associate degree in Mortuary Science.
Karen enjoys wring about the funeral industry because her passion is helping families in their deepest time of need. She feels being a funeral director is a calling and she is proud to fulfill this role.
Karen is a wife and the mother of four sons. She, her husband and their youngest son call Pennsylvania home.