Last Updated on January 8, 2021
Insightful Grief Quotes
The irony of grief is that the person you need to talk to about how you feel is the person who is no longer there.

Anonymous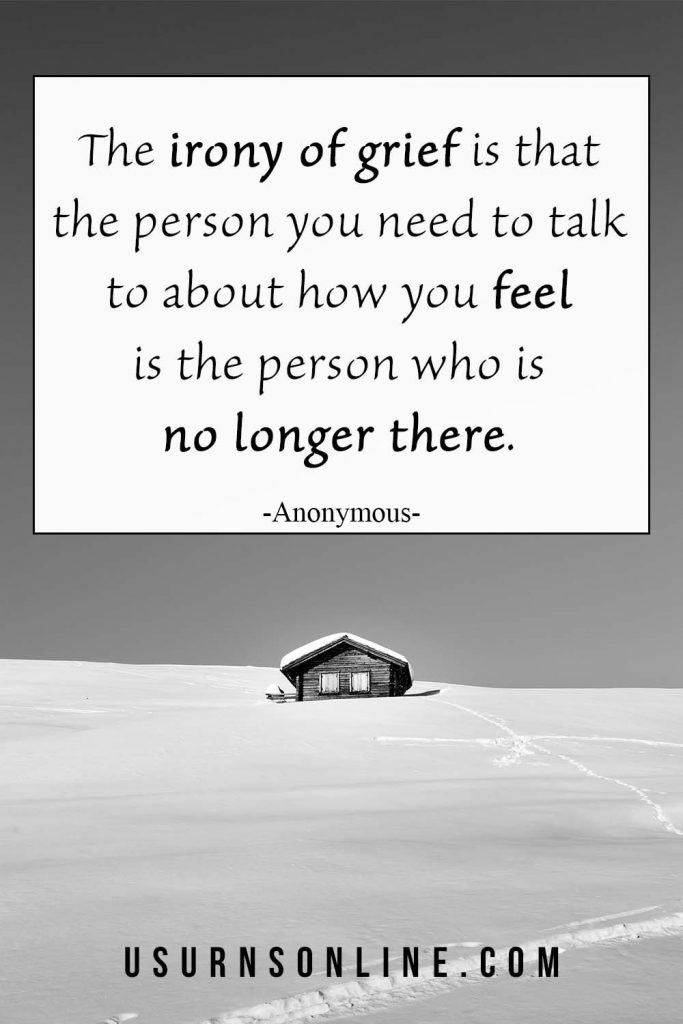 As is a tale, so is a life: Not how long it is, but how good it is, is what matters.

Seneca
Grief drives men into habits of serious reflection, sharpens the understanding, and softens the hearts.

John Adams, to his rival (but later in life, friend) Thomas Jefferson
Mostly it is loss which teaches us about the worth of things.

Arthur Schopenhauer
Wherever a beautiful soul has been there is a trail of beautiful memories.

Ronald Reagan
If your loved one left a "trail of beautiful memories, here's an idea: Create a "jar of memories" (here's how)
We make a living by what we get, but we make a life by what we give.

Winston Churchill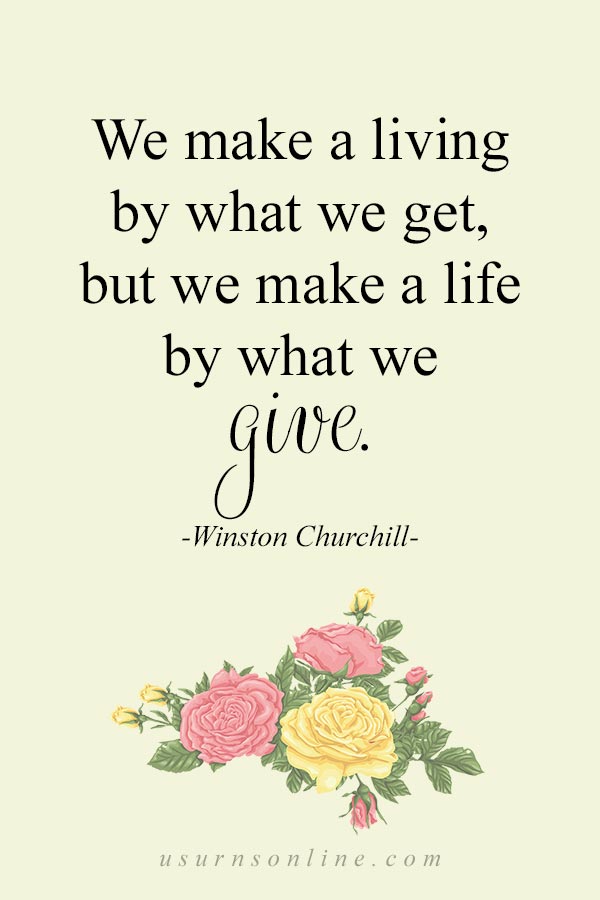 My grief lies onward and my joy behind.

Shakespeare, Sonnet I
Grief, I've learned, is really just love. It's all the love you want to give, but cannot. All of that unspent love gathers in the corners of your eyes, the lump in your throat, and in the hollow part of your chest. Grief is just love with no place to go.

Jamie Anderson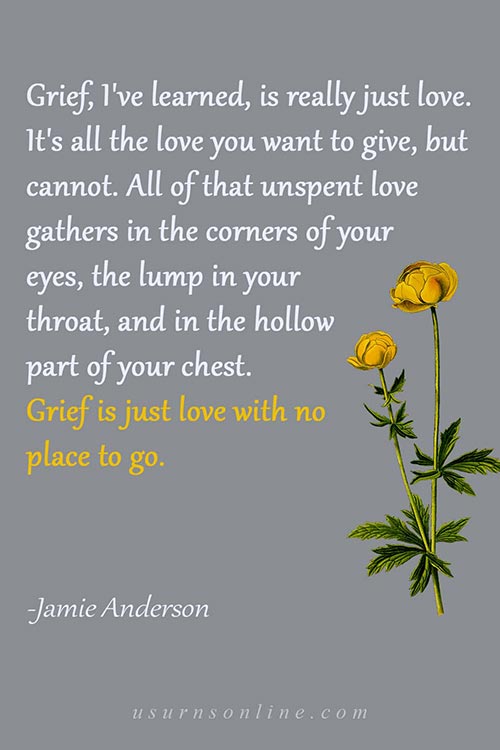 How lucky I am to have something that makes saying goodbye so hard.

A.A. Milne, The Complete Tales of Winnie-the-Pooh
He has achieved success who has lived well, laughed often, and loved much.

Bessie Anderson Stanley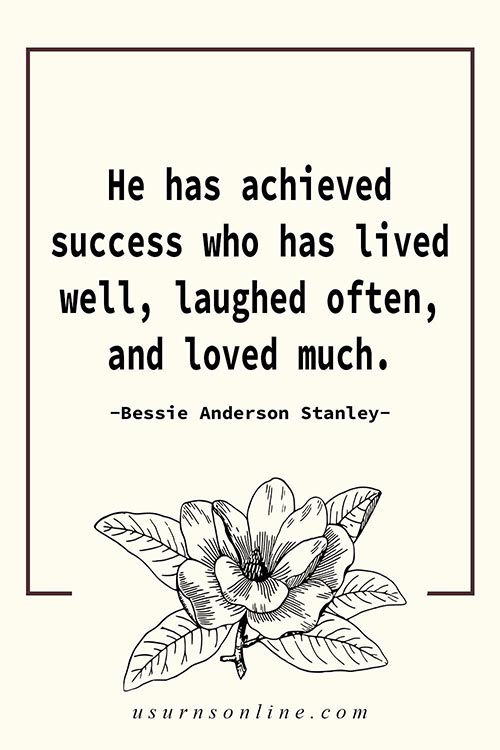 Every man has his secret sorrows which the world knows not; and oftentimes we call a man cold, when he is only sad.

Henry Wadsworth Longfellow, Hyperion
All I have I would have given gladly not to be standing here today.

Lyndon Baines Johnson, in his first speech to Congress after the death of JFK
It is foolish to mourn the men who died. Rather we should thank God that such men lived.

General George S. Patton
Grief is like glitter. You can throw a handful of glitter up in the air, but when you try to clean it up, you'll never get it all. Even long after the event, you will still find glitter tucked into corners… it will always be there. Somewhere.

Instagram user @Irish_Cuchalainn
Everyone can master a grief but he that has it.

Shakespeare, Much Ado About Nothing
What we once enjoyed and deeply loved we can never lose, for all that we love deeply becomes part of us.

Helen Keller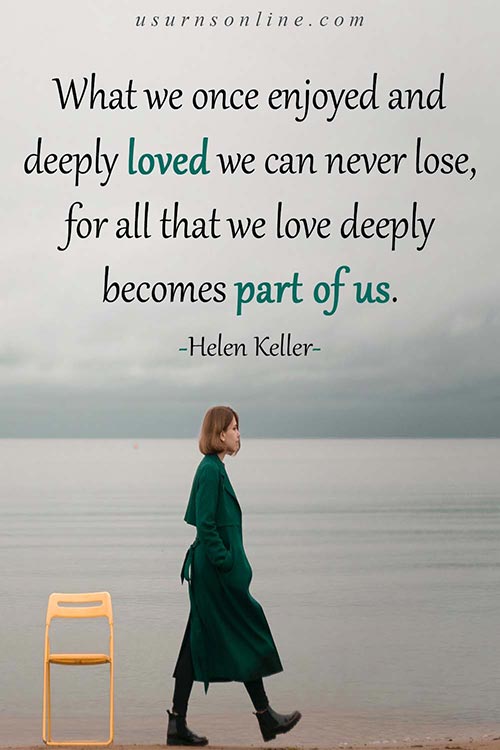 She made broken look beautiful and strong look invincible. She walked with the universe on her shoulders and made it look like a pair of wings.

Ariana Dancu
Like every great tradition, my family had to die before I could understand how much I missed them and what they meant to me. When they went into the flames at the crematorium, all my letters of introduction went with them.

Anatole Broyard, Growing Up Irrational
You are gone, but thank you for all these soft, sweet things you have left behind in my home, in my head, in my heart.

Nikita Gill
Bereavement is a universal and integral part of our experience of love. It follows marriage as normally as marriage follows courtship or as autumn follows summer.

C.S. Lewis, A Grief Observed
Give sorrow words: the grief that does not speak
Whispers the o'er-fraught heart and bids it break.

Shakespeare, Macbeth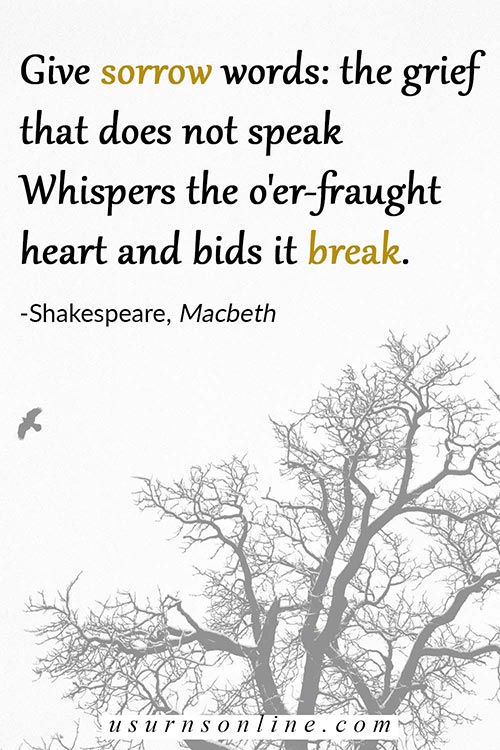 The comfort of having a friend may be taken away, but not that of having had one.

Seneca
What the caterpillar perceives is the end, to the butterfly is just the beginning.

Richard Bach, Illusions
Again and again, I play memory games
in the casino of the past.
Yes, half a chance,
I'd do it all the same.

Ai [Florence Anthony], Fate
Grieving is like having broken ribs. On the outside, you look fine, but with every breath, it hurts.

Anonymous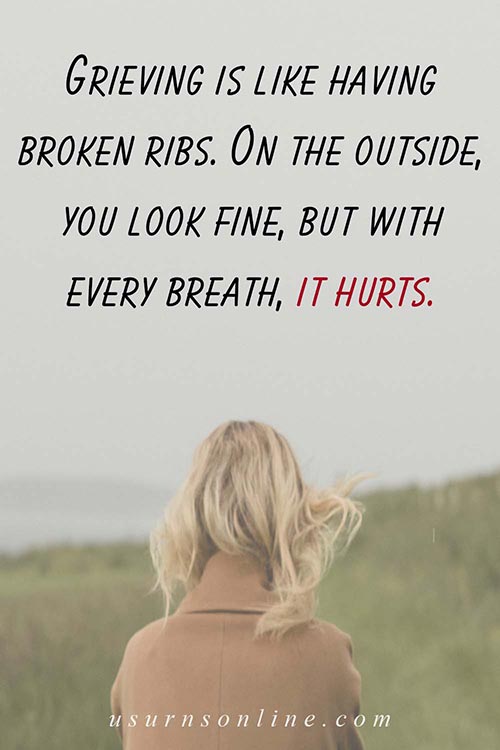 Between grief and nothing, I will take grief.

William Faulkner, The Wild Palms
Feel. Grieve. Just sit and let it all rip you apart. And then get up and keep breathing. One breath at a time. One day at a time. Wake up, and be shredded. Cry for a while. Then stop crying and go about your day. You're not okay but you're alive.

Jasinda Wilder, Falling Into You
There are no good-byes for us. Wherever you are, you will always be in my heart.

Mahatma Gandhi
Total grief is like a minefield. No knowing when one will touch the tripwire.

Sylvia Townsend Warner
I am lonesome so regular it's like a job I gotta report to every day.

Alice Childress, Rainbow Jordan
There is a sacredness in tears. They are not the mark of weakness, but of power. They speak more eloquently than ten thousand tongues. They are the messengers of overwhelming grief, of deep contrition, and of unspeakable love.

Washington Irving
Affliction may one day smile again; and till then, sit thee down, sorrow!

Shakespeare, Love's Labour's Lost
Tears are very close to my eyes… Not for pain… no… I do not cry because of pain. I cry only because of beautiful things.

Zakes Mda, The Heart of Redness
That it will never come again
Is what makes life so sweet.

Emily Dickinson, Poem no. 1741
There are only two ways to live your life. One is as though nothing is a miracle. The other is as though everything is a miracle.

Albert Einstein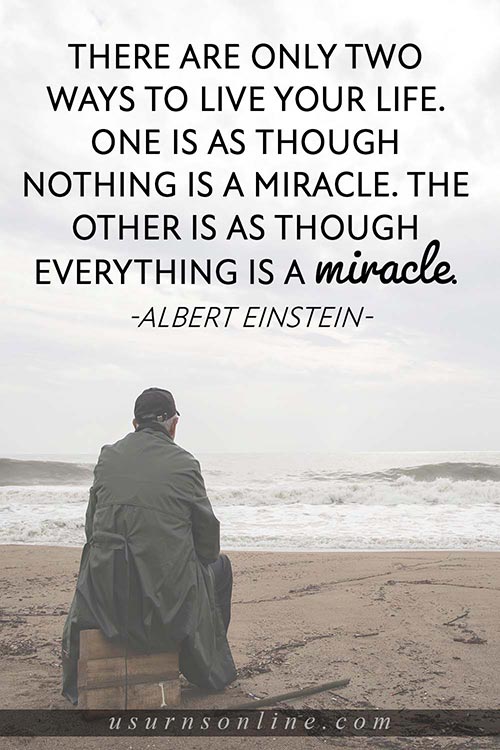 Thinking of You & Other Sentiments
You may be gone from my sight but you are never gone from my heart.
I wish I had done everything on earth with you.

F. Scott Fitzgerald
You'll be with me forever.
I just… miss you.
Sometimes, happy memories hurt the most.
I can no longer see you with my eyes touch you with my hands but I will feel you in my heart forever.
You are my todays and all of my tomorrows.
You will forever be my always.
Miss me but let me go.
Your wings were ready, but my heart was not.
She asked for so little, but gave so very much.
He asked for so little, but gave so very much.
I'd rather miss you forever than never have met you.
I miss you.
A little too much,
a little too often,
and a little bit more
every day.
No one spread more love in one lifetime.
I love you. Nothing, and nobody, not even time, will change that.
You may break, you may shatter the vase, if you will,
But the scent of the roses will hang round it still.

Thomas Moore
Related: Missing You (22 Honest Quotes About Grief)
Sweet & Rhyming Expressions
Your life was a blessing, your memory a treasure.
You are loved beyond words, and missed beyond measure.
May the winds of heaven blow softly and whisper in your ear
How much we love and miss you and wish that you were here
Goodbyes are not forever
Goodbyes are not the end
They simply mean I'll miss you
Until we meet again.
We know you'd be with us today
If heaven wasn't so far away.
Death leaves a heartache no one can heal
Love leaves a memory no one can steal.
Deep in our hearts you will always stay
Loved and remembered everyday.
For this is a journey we all must take,
and each must go alone.
It's all a part of the master's plan,
a step on the road to home.
In our hearts your memory lingers
Sweetly tender, fond and true…
There's not a day that goes by that we don't think of you.
Beautiful memories silently kept
Of one that we loved and will never forget.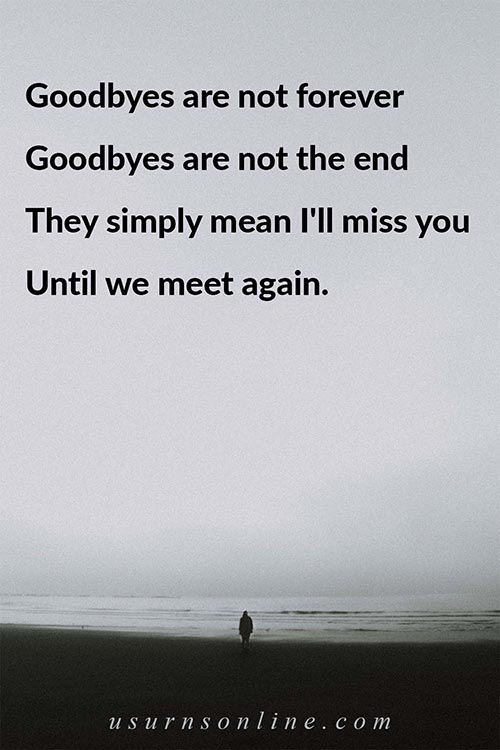 Grief Poetry
Music I heard with you was more than music,
And bread I broke with you was more than bread.
Now that I am without you, all is desolate;
And all that once was so beautiful is dead.

Conrad Aiken, Bread and Music
Night is the time to weep,
To wet with unseen tears
Those graves of memory where sleep
The joys of other years.

James Montgomery, Night
This is the end
the redemption from Wilderness
way for the Wonderer
House sought for All
black handkerchief washed clean by weeping.

Allen Ginsberg, Kaddish
Cease, gentle music! the solemn gloom of night
Now seals the fair creation from my sight.

Phillis Wheatley
If all the Music died,
And music-makers ceased,
I think you'd stand and sing
A hymn of Hope and Peace.

If nights of doubts and fears
Against the Light were hurled,
I think you'd light a candle
And stand against the world.

If winds of changing times
Up-rooted trees and sod,
I think instead of mocking,
You'd stand in praise of God.

The courage of your life
Is like a work of art
Inscribed by Memory's hand
Upon my grateful heart.

Perry Tanksley
Sorrow is my own yard
where the new grass
flames as it has flamed
often before but not
with the cold fire
that closes round me this year.

William Carlos Williams, The Widow's Lament in Springtime
Sorrow never comes too late,
And happiness too swiftly flies
Where ignorance of this is bliss,
O! 'tis folly to be wise.

Adapted from Thomas Gray, On a Distant Prospect of Eton College
All things come to pass
When they do, if they do
All things come, to their end
When they do, as they do.

Keorapetse Kgositsile, My Name Is Afrika
Tears then, tears too long repress'd,
Gush'd; – they fell like healing balm,
Till the whirlwind in my breast
Died into a dreary calm.

James Montgomery, The Wanderer of Switzerland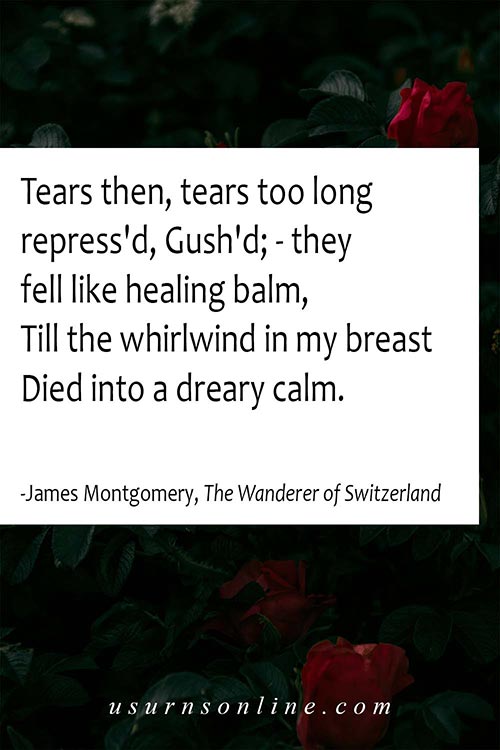 Do not stand at my grave and weep:
I am not there. I do not sleep.
I am a thousand winds that blow.
I am the diamond glints on snow…
Do not stand at my grave and cry;
I am not there, I did not die.

Anonymous
and if ever I touched a life I hope
that life knows that I know that touching was and still is and will always be the true
revolution

Nikki Giovanni, Jr., When I Die
Any man's death diminishes me,
because I am involved in Mankind:
and therefore never send to know
for whom the bell tolls;
It tolls for thee.

John Donne, Devotions, XVII
Biblical Quotes About Grief
My soul clings to the dust;
give me life according to your word!

Psalm 119:25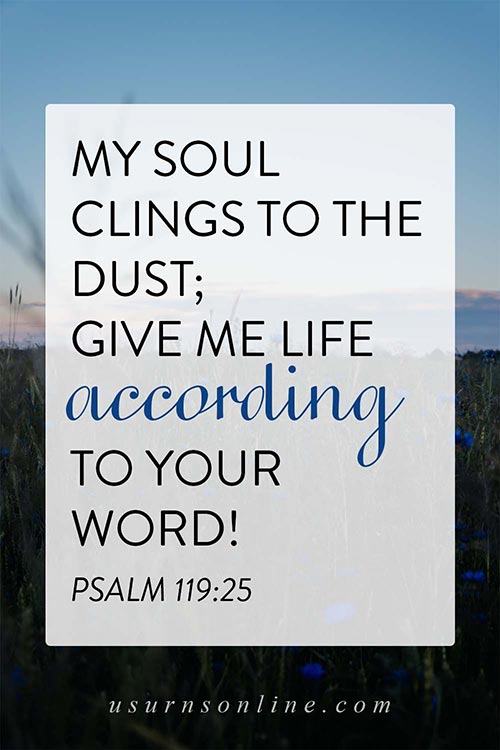 God will wipe away every tear from their eyes, and death shall be no more, neither shall there be mourning, nor crying, nor pain anymore, for the former things have passed away.

Revelation 21:4
Do not fear, for I am with you; do not be dismayed, for I am your God.
I will strengthen you and help you; I will uphold you with my righteous right hand.

Isaiah 41:10
There is a peace that passes understanding.

From Philippians 4:7
The peace of God, which passes all understanding, shall keep your hearts and minds through Christ Jesus.

Philippians 4:7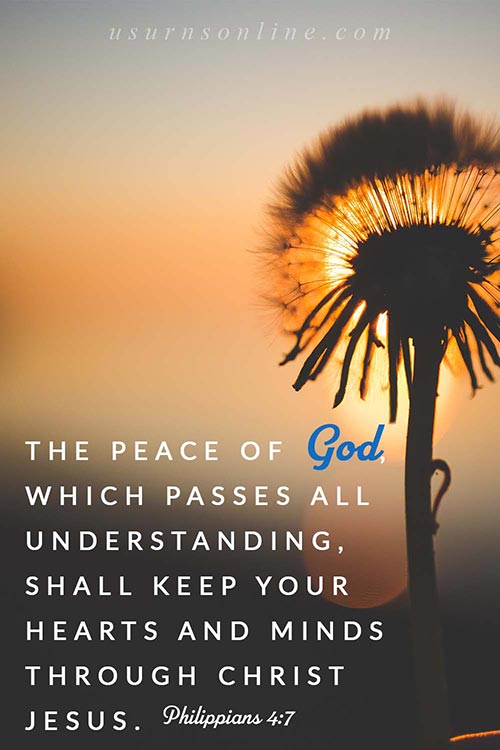 This is my comfort in my affliction, that your promise gives me life.

Psalm 119:50
Blessed are those who mourn, for they shall be comforted.

Matthew 5:4
I will not leave you comfortless: I will come to you.

John 14:18
Lord, you know the hopes of the helpless. Surely you will hear their cries and comfort them.

Psalm 10:17
Read: Mourning a Death: How to Grieve Well (Or Poorly, For That Matter)
Christian Grief Quotes
What is your only comfort in life and death? That I am not my own, but belong with body and soul, both in life and in death, to my faithful Saviour Jesus Christ.

Heidelberg Catechism
O, won't you come and go with me
I'm bound for the promised land.

Traditional African-American spiritual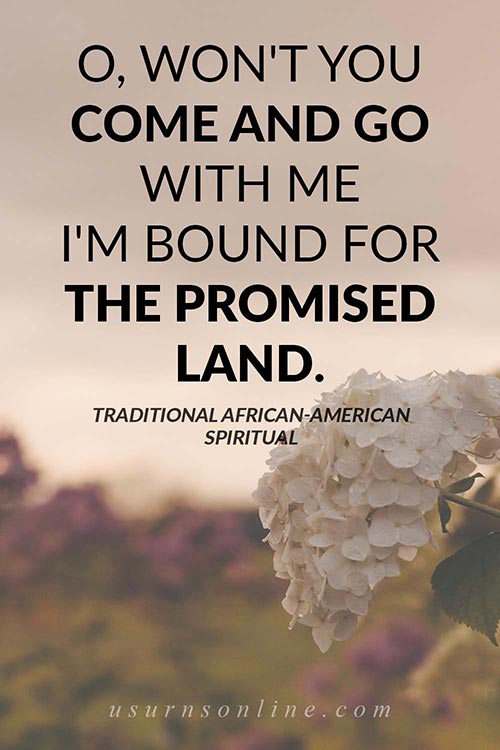 Come, you disconsolate, where'er you languish;
come to the mercy seat, fervently kneel.
Here bring your wounded hearts, here tell your anguish;
earth has no sorrows that heaven cannot heal.

Thomas Moore, Come Ye Disconsolate
Those lines, immediately above, are from a famous old hymn, which was updated and revised by David Crowder in his 2014 version called Come As You Are. In that version, the refrain is repeated, "Earth has no sorrow that heaven can't heal." It's a beautifully true quote for all those who cling to Christ in faith.
The path of sorrow, and that path alone,
Leads to the land where sorrow is unknown.

William Cowper, To an Afflicted Protestant Lady
Beyond this vale of tears
There is a life above,
Unmeasured by the flight of years;
And all that life is love.

James Montgomery, The Issues of Life and Death
Death is nothing at all. I have only slipped into the next room. I am I, and you are you, and the old life that we lived so fondly together is untouched, unchanged. Whatever we were to each other, that we are still. Call me by the old familiar name. Speak to me in the easy way which you always used. Put no difference in your tone. Wear no forced air of solemnity or sorrow. Laugh as we always laughed at the little jokes we enjoyed together. Play, smile, think of me, pray for me. Let my name be ever the household world that it always was. Let it be spoken without effect, without the ghost of shadow upon it. Life means all that it ever meant. It is the same as it ever was. There is absolute and unbroken continuity. Why should I be out of mind because I am out of sight? I am waiting for you, for an interval, somewhere very near, just around the corner. All is well. Nothing is hurt; nothing is lost. One brief moment and all will be as it was before. How we shall laugh at the trouble of parting when we meet again!

Henry Scottt Holland
This life is but a passing dream, we soon shall wake in heaven.

Anonymous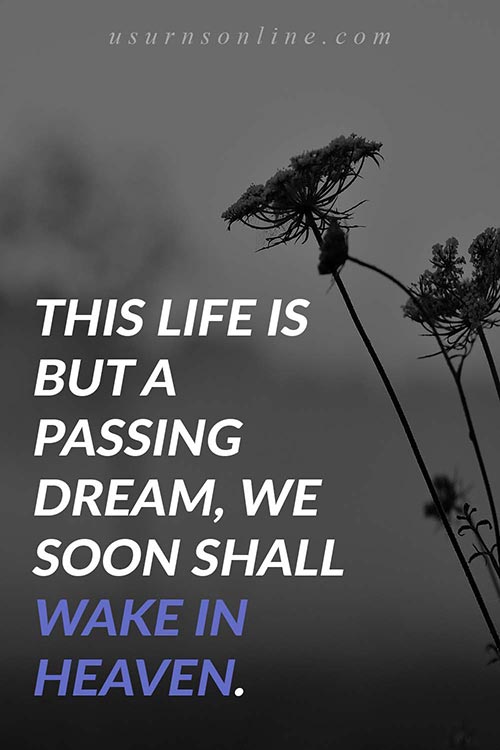 For though from out our bourne of time and place
The flood may bear me far,
I hope to see my pilot face to face
When I have crossed the bar.

Alfred, Lord Tennyson, Crossing the Bar
Some nights in the midst of this loneliness I swung among the scattered stars at the end of the thin thread of faith alone.

Wendell Berry
Our brief partings on Earth will appear one day as nothing beside the joy of eternity together.

Anonymous
When the good man yields his breath,
For the good man never dies,
Bright beyond the gulf of death,
Lo! the Land of Promise lies.

James Montgomery, The Wanderer of Switzerland
Celebration of Life Quotes
When we lose someone we love, we can either die with them or live on to celebrate their life. I'm tired of focusing on what we lost. I want to focus on what we had.

Barbara Delinsky, Before and Again
It is not length of life, but depth of life.

Ralph Waldo Emerson
A good life is a collection of happy moments.

Denis Waitley
Some people feel the rain; others just get wet.

Roger Miller
Life is a beautiful collage of priceless moments and memories, which when pieced all together creates a unique treasured masterpiece.

Melanie M. Koulouris
To live in your children's memories tomorrow, you have to be in their lives today.

Anonymous
We make a living by what we get, but we make a life by what we give.

Winston Churchill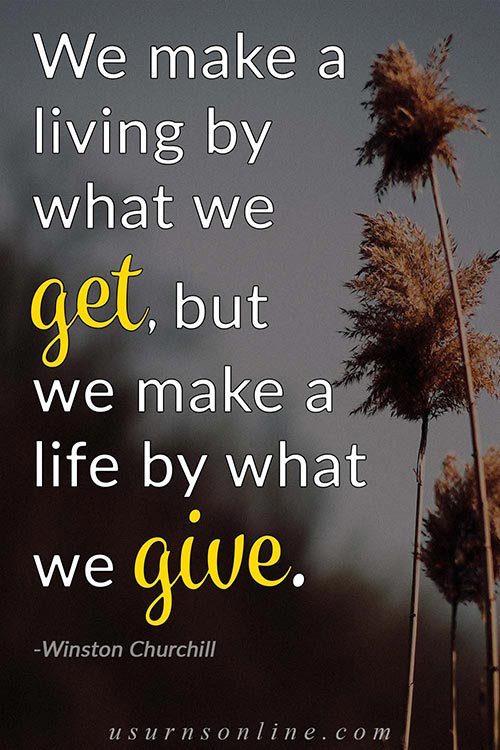 To live is the rarest thing in the world. Most people exist; that is all.

Oscar Wilde
There are some who bring a light so great to the world that even after they have gone, the light remains.

Anonymous
More: 33 Inspiring Life Celebration Quotes
Pin It