Looking for some genuinely helpful things to take to a grieving family?
Someone you know and care about has had a death in the family. You want to show your support by bringing them something that shows you are there for them. Something meaningful, or perhaps something constructive.
Here are 10 of the best things that will truly be welcome: 5 practical things, and 5 thoughtful gifts.
What to Bring to a Grieving Family
Our website is supported by our users. We sometimes earn a commission when you click through the affiliate links on our website. Learn more here.
5 Practical Things
Food. This can be a hot meal, something you pick up from a favorite local restaurant, groceries, or pre-made freezer/crockpot meals. Read our sympathy meal guide for more tips.
Household necessities. Saving the grieving family a draining trip to the store is an act of love. Fill a box with things like natural hand soap, paper towels, ziploc bags, dishwasher detergent, bottled water. Make sure to throw in something sweet, fun, or thoughtful, like a soft blanket or a couple bars of fine chocolate.
Toilet paper. Yes, TP. Don't be shy. This one gets its own listing because you probably thought of it when we said "household necessities," but then you said to yourself, "nah, that's weird." Well, no, it's not. Just do it.
Paper plates & other disposables. There's a balance between earth-conscious waste reduction and simply being able to function. So let's face it – if there's any time where paper plates are a good idea, it's after the death of a family member. The family will be busy, overwhelmed, grieving, running in and out, eating casseroles and take-out. The last thing they need is a constantly dirty kitchen with the task of doing dishes hanging over their shoulders.
Cash or gift cards. Get a sympathy card and slip in some cash or a gift card. The gift card could be to WalMart, Amazon, a local grocery store, or a restaurant – preferably one that delivers. While some consider it inappropriate to give cash, it's a little different when you say something like, "We figured you may be overwhelmed with food at the moment, so we wanted to get dinner for you one night when there's nothing in the fridge and you don't feel like going out. Please use this to have something delivered, or really for whatever you might need or want. We just want you to know we love you and are thinking of you."
Related: What to Say When Someone Dies (And What NOT to Say)
More practical ways to help…
Mow the lawn
Do the dishes
Vacuum
Water and weed the garden
Run errands (pick up dry cleaning, groceries, etc)
Help take back things from the funeral (rentals or borrowed items)
Pick up kids from school or take to karate/gymnastics/etc
Watch kids so parents can have alone time, naps, or get things done
5 Meaningful Gifts
Below you'll find five thoughtful memorial gift ideas for the family in mourning.
Personalized Memorial Bird Feeder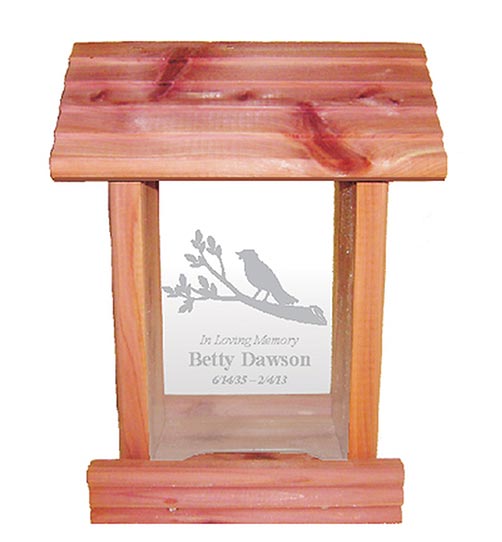 A bird feeder makes a wonderful sympathy gift, especially when it comes personalized like this one from Urns Northwest. Our cedar wood bird feeders are constructed to go against the elements, making any one of them a lasting, meaningful tribute to a beloved loved one.
Personalized engraving (name and dates) is included. Measures 7″ x 4.75″ x 10.5″. Made in the U.S.A.
Here for You Gift Basket Care Package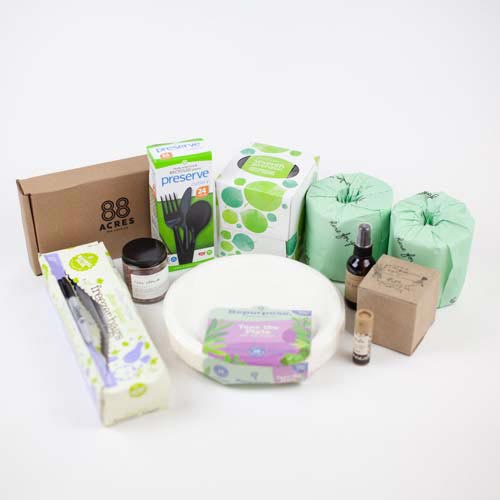 A care package like one of these seems simple, but the practical items found within really can go a long way in helping a mourning person "stay afloat" in the sea of their grief.
When you choose a Here for You package, you can personally curate the items, from protein bars to pillow mist and much more.
"Raise a Glass in Memory" Bottle Opener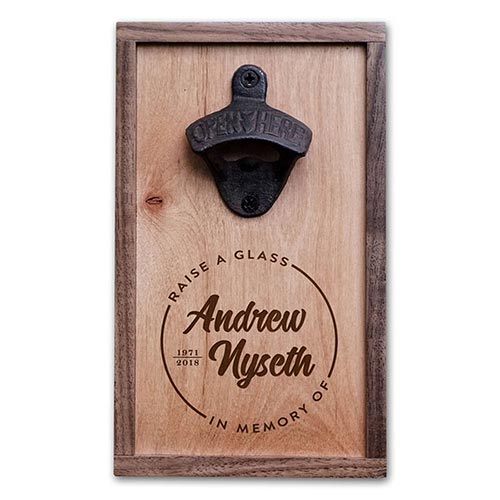 Another gorgeous sympathy gift idea from Urns Northwest. This wall-mounted bottle opener has a "Raise a Glass" theme, making it a perfectly thoughtful memorial gift for a family who has lost one of its members.
This bottle opener (which can also be used portably) is handcrafted in the U.S.A. of sturdy walnut and maple wood. Add a name and dates, as well as any other text that can reasonably fit in the space. Comes with a screw for wall mounting. Measures 8.75″ x 5.25″ x 1″.
Atlas Coffee Club Subscription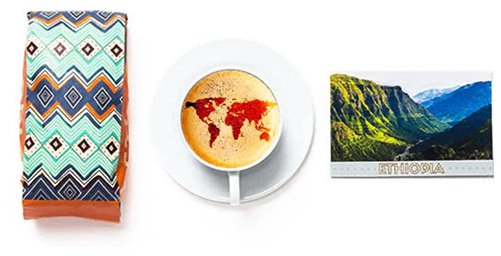 There's just something extremely comforting about a piping hot cup of coffee. Perhaps especially so when it's been gifted by a good friend.
The coffee of the month club sends you only the choicest of freshly roasted beans from small batches, a cute postcard from the country of origin, and brewing tips, too! Just a little something sweet to look forward to in the midst of their grief.
BTW, you can mix and match the subscription boxes from Amazing Clubs. They have a ton, and you can do coffee the first month, tea the second, and so on. So here are a few of their subscriptions that would be appropriate to gift a grieving friend:
Leather Journal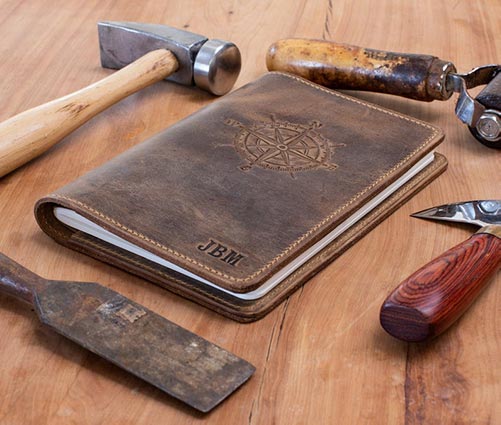 Studies have shown that the physical act of writing can help to alleviate jumbled thoughts inside one's head or heart.
So when you give the gift of a journal, you're really giving the exceptionally meaningful gift of encouragement. Encouragement and inspiration to write, which will lead to relief and in time, a little bit of peace.
A high-quality journal, like one of these beautiful leather ones, will serve to last your loved one a long time. Many of them are also customizable, making them that much more special.
---
Read Next: Sympathy Meals – How to Make (& Deliver) Meals for a Grieving Family