What does "R.I.P." mean? Do people still say it? What's the best way to express the wish that a loved one may rest in peace?
If you or someone you know has lost a loved one, it's appropriate to put words to your wish that they may be at peace, wherever they are now.
Here are 101 rest in peace quotes to honor the memory of a special person.
R.I.P. Meaning
First, let's talk about what the phrase actually means. Often abbreviated as "R.I.P.," rest in peace comes from the Latin phrase requiescat in pace, which was written on Christians' gravestones in ancient times.
The idea was that they are not permanently dead, but simply resting, waiting for the anticipated resurrection at the return of Christ. This idea echoes Luke 8:52, where Jesus had been asked to come to a house to heal a young girl, but she died while he was on the way.
When Jesus arrived at the house, he told the grieving family, "Do not weep, for she is not dead but sleeping." He then proceeded to raise her from the dead, in what most interpreters believe to be a picture of the final, future resurrection, where the dead are raised and appear before God (Revelation 20:11-15, Romans 14:10).
"At Rest" and the Afterlife
With this in mind, you can see how the idea came about that Christians who have died are honored as simply "at rest." They are awaiting the day when they will rise from the dead, be given a new body, and enjoy God forever in the new heavens and new earth.
The idea that those who die go on to "the next life" or "the afterlife" is a powerful one. It is found in many religions and cultures throughout history and around the world.
From heaven, hell, and paradise in the Abrahamic religions to reincarnation in eastern faiths, people have often found comfort in thinking of their loved ones as being "at rest" in a peaceful, blissful life after death.
Today, the phrase is used in a wide variety of settings to honor departed loved ones.
Who do you say R.I.P. to?
You can say RIP to the decedent as a personal or public tribute, and you can say it in a condolence message to a grieving friend or family member.
To the Grieving Family
When said to the mourning family, you will want to say it as a wish, hope, or blessing – "May she rest in peace."
To the Decedent
Simply say, "R.I.P., [name]." This is appropriate and common in a public tribute, such as on a headstone or in a social media tribute post.
You can keep it short, with just that, or add whatever you might want to say in honor of their memory. Tell a story, say what they meant to you, how much you love them and will miss them.
You can say RIP in private, to. Write to the decedent in a grief journal or simply speak out loud.
Does your loved one hear you when you say, "rest in peace"? As a Christian, I've argued here (regarding Christmas and heaven) that the Bible gives us warrant to think that, yes, our loved ones in heaven may be able hear us.
101 Rest in Peace Quotes
We'll have more Q&A info about R.I.P. messages below, but let's go ahead and jump right into our collection of rest in peace quotes.
10 Best Rest in Peace Messages
Here are ten of the most beloved and meaningful rest in peace tributes.
Gone but never forgotten. Rest in peace, dear friend.
Rest in peace, you'll be with me forever.
May you touch dragonflies and stars, dance with fairies, and talk to the moon. May you rest in peace.
When someone you love becomes a memory, the memory becomes a treasure.
Rest in Peace, dear friend. I love you past the moon and beyond the stars.
Missing you feels like winter, with no summer in sight.
What the caterpillar perceives is the end, to the butterfly is just the beginning.
While we are mourning the loss of you, others are rejoicing to meet you at the gates of Heaven.
The loss is immeasurable, but so is the love left behind. Rest in peace, my friend.
Rest in peace, you are missed beyond measure.
10 Short RIP Quotes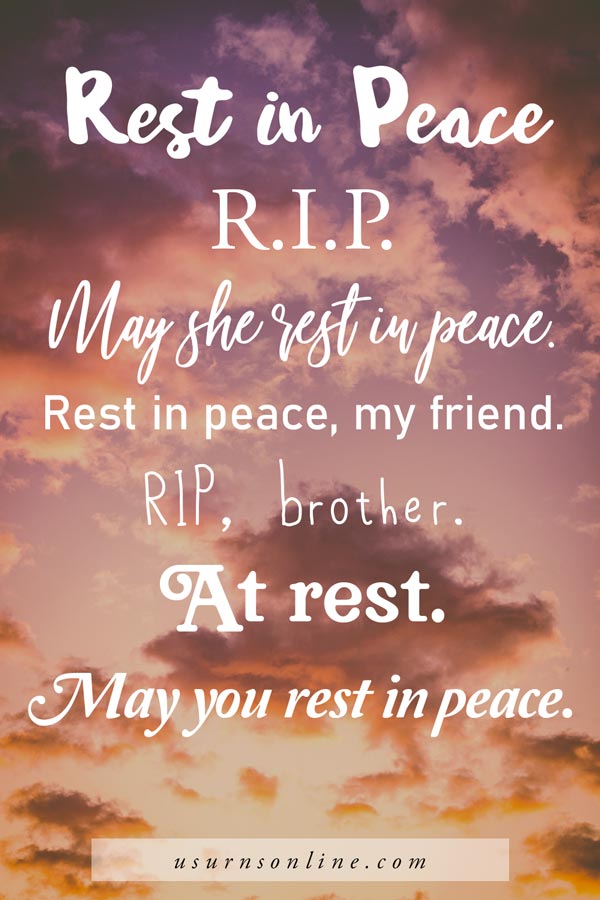 Brief messages for headstones, funeral guest books, texts, and social media posts.
Rest in peace, my beloved Sharon!
R.I.P. Henry Aaron, 1934-2021
T.M.D. / R.I.P.
Dave, you will be missed. R.I.P.
David Johnson, 1955-2020. Rest in peace, brother.
Angela Surrey, 1962-2021: A life well lived. May she rest in peace.
R.I.P. Angela Surrey
May your spirit soar even as you rest in peace!
Forever in my heart, my beautiful baby girl. May you always rest in peace.
Rest in peace, my love. As I whisper "I miss you," I believe somehow you can still hear me.
10 Best Rest in Peace Alternatives
What is better to say than rest in peace? Here are some creative and meaningful alternatives.
At rest.
Asleep in the arms of Jesus.
May you rest easy.
Eternal rest.
Rest with the angels.
Rest in heaven's glory.
Sleep the big sleep.
God rest his soul.
Bless his soul.
Rest be upon him.
RIP Quotes for Mom
It's hard to move forward after the death of a mother. Here are some ways to wish her a blissful rest.
"If I had a flower for every time I thought of you, I could walk in my own garden forever." — Alfred, Lord Tennyson.
Mothers hold their children's hands for a while, but their hearts forever.
A mom's hug lasts long after she lets go.
You are a beautiful mother, caring mom, and loving companion. My dad is so lucky to have found a woman like you in his life. May you rest in peace.
Mom, I will always be thinking of you. You deserve to be remembered.
Mom, rest easy in sleep eternal.
For a dear mom who will be sadly missed by all, reunited with dad, may you both rest in peace.
Heaven added an angel when your mother joined their ranks.
Your mother was a gift to everyone who ever met her. May she find rest.
May your mom rest in peace and continue to guide your way in life.
RIP Quotes for Dad
The loss of a dad is like the loss of a cornerstone. Your only wish is that he may truly rest in peace.
To my father, separated by death, together by love. Rest in peace, Dad.
Dad, your guiding hand on my shoulder will remain with me forever.
"There is no expiration date on the love between a father and his child." – Jennifer Williamson.
You may not be with me anymore, but my love for you will never die. I miss you. May you rest in peace, Dad.
Dad, I'm so thankful for all the memories we shared.
Losing a parent is never easy; may you find solace in the lovely memories you shared with your dad.
May your dad rest in peace. Please share our sympathies with your entire family.
Dad, you have found eternal rest.
May the soul of your father rest in peace.
Someone so special can never be forgotten; may his soul rest in peace.
RIP Quotes for Brother
Brother, you are always loved and never forgotten. May your soul rest in peace.
Goodbye for now, Brother. Sleep well.
You have fulfilled all your duties, rest in peace dear brother.
Your memory will live within me.
We loved him a lot but God loves him more.
My beloved brother, rest well.
Rest in peace, my brother.
Rest easy in sleep eternal.
A thousand words can never bring you back, so may you rest in peace.
May your departed brother's soul rest in peace.
RIP Quotes for Sister
In the clouds, we will meet again. May your soul rest in peace, my dear sister.
Sister, may you rest in peace as memories of you live on.
May God put her in a special place where she will be watching over us.
I wish R.I.P meant "Return if possible." I miss you, my sweet sister!
On the day I lost you, I lost my sister and my best friend.
Rest in peace, my sister. We know you are in a better place and one day we shall meet again!
My condolences on the passing of your sister. May her spirit rest in peace.
How can I be a sister without you?
Rest in peace big sister, you've given me all I need.
Like Sleeping Beauty, my sister rests until the day our fates align.
Rest in Peace in a Sentence
Rest in peace, Eliza. You were a dear friend and my constant rock. You will be missed.
Our condolences to you and your family on the loss of your beloved husband! May he rest in peace.
Grandma, may you rest in peace. We will miss you and love you always.
Your mother will be sorely missed. May her soul rest in peace.
Grandfather, in God's arms, you can gently rest.
Angela, when a person becomes a memory, the memory becomes a treasure. May your soul rest in the arms of the angels.
May your father's soul rest in peace; we pray for friends to comfort you, faith to uphold you, and loving memories to help you smile again.
We were saddened to hear that your grandfather passed away. May you find comfort in knowing that his soul rests in peace.
Our family is sharing in your sadness. May your mother's soul rest in peace.
Remembering Tony, may he rest in peace, and praying for his family.
Rest in Peace in the Bible
The words "rest in peace" are not found in the Bible, but the idea is certainly there. In addition to the Luke 8 resurrection story mentioned above, there are two instances where the the Scriptures speak of death as rest.
The closest the Scriptures come to this phrase is Isaiah 57:2, where the prophet mentions both rest and peace:
"Those who walk uprightly
enter into peace;
they find rest as they lie in death."
And in Daniel 12:13, the angel speaking to Daniel tells him (speaking of his death),
"You will rest, and then at the end of the days you will rise to receive your allotted inheritance."
Lastly, chapters 3 and 4 of the Letter to the Hebrews talks about the Israelites coming into the Promised Land as a rest, which is a type of the rest that Christians enjoy by faith. From Hebrews 4:3:
"We who have believed enter that rest."
Most interpreters view that as an "already-not-yet" promise, one that we enjoy in part now but will fully receive in heaven. So that verse can be taken to mean earthly inner peace, and also eternal rest at death or the second coming.
Rest in Peace vs Rest in Paradise, Rest in Power, & More
In recent years many have appropriated the R.I.P. acronym to expand or alter its meaning. This includes:
Rest in Paradise
Rest in Power
Rust in Peace
Rock in Peace
Really into Partying
Each variation has its own connotation depending on the context and culture. For instance, substituting "paradise" may be intended to honor someone of the Islamic faith, or it may be used simply as a creative alternative to "rest in peace."
The concept of paradise is found in Christianity and Judaism, with the word (often translated as "park") appearing in Song of Songs 4:13, Ecclesiastes 2:5, and Nehemiah 2:8 in addition to several places in the New Testament.
But in common parlance American Christians tend to refer to "heaven" rather than paradise. So sometimes a person might use the phrase "rest in paradise" to refer to a Christian or Jewish person, but – again, depending on context – they might also say it as an alternative to the Christian concept of "rest in peace" to avoid reference to Christianity.
Most rest in peace alternatives are non-religious ways of expressing wishes in honor of the dead.
"Rest in Power" is associated with social activism and has exploded into the public consciousness in 2020 after the death of George Floyd.
"Rust in Peace" is a way to wish ill upon the person, but can be used in a lighthearted way. For instance, in honor of a crusty but beloved auto mechanic uncle.
People often use "Rock in Peace" to pay tribute to rock 'n roll musicians and fans. "Really into Partying" is obviously a joke, used occasionally as a humorous inscription on urns and headstones or simply said in a joking manner.
Once again, depending on the context, any of these can be appropriate, heartwarming, meaningful, funny, or disrespectful.
Is it appropriate to say "R.I.P." or "Rest in Peace"?
In some instances, yes, it is appropriate to say rest in peace, while in others no, it is not appropriate. Many non-Christians do not draw any comfort from hearing the phrase due to its religious roots. Atheists, agnostics, and those who are non-religious probably don't want to hear it, or have it said of them.
Over time, the phrase has become more generic and less exclusively associated with Christians. Wishing someone to be at peace is typically seen as an appropriate, respectful way to pay tribute to the dead.
In modern times, the use of R.I.P or "Rest in Peace" on headstones and urn inscriptions has gone by the wayside in favor of "In Loving Memory." At our cremation urn and memorial gift shop, we engrave many urns and sympathy gifts. In over a decade, I can count on one hand the times customers have chosen an inscription to read RIP or Rest in Peace, while 90% or more include the phrase "In Loving Memory."
Interestingly, many social media posts and text messages will use the abbreviation or the 3-word phrase. I see this all the time on Facebook or Twitter in honor of a friend, loved one, or celebrity. So perhaps the phrase is making a comeback with the younger generation, or maybe it is simply easier to write an abbreviation when posting from your phone.
Read Next: Best Funeral Readings
Pin It