Your job environment can often be a delicate place to navigate in ordinary circumstances. When a coworker dies, or is grieving the loss of a loved one, it can be doubly difficult to know what to say and do.
How do you properly express sympathy in the workplace? Here are some helpful condolence messages to use when dealing with grief and loss in the professional domain of clients, bosses, employees, and colleagues.
Sympathy Messages for Grieving Coworker
We'll start with what to say to a grieving coworker, then we'll provide some ideas for the death of a coworker. All of these can apply to other professional relationships such as employer, client, customer, and so on.
Short Condolences to a Grieving Coworker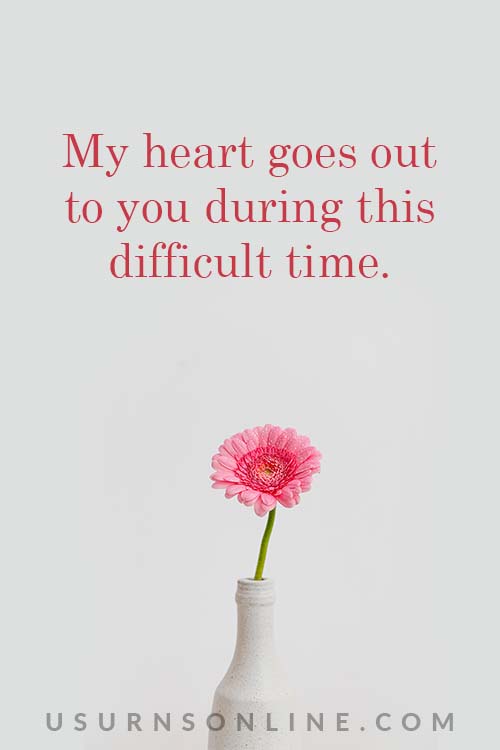 1. My heart goes out to you during this difficult time.
2. Please let me know if I can help in any way.
3. My warm thoughts and sincere prayers are with you and your loved ones.
4. Please know I'm here for you in this season of mourning.
5. I am so sad to see you sad. My deepest condolences.
6. My heart is heavy for you.
7. Take time to grieve – we are all rallying around you.
8. You've given so much to me. Please let me know how we lighten your burden.
9. In this heartbreaking time, I am here for you.
10. All of my love, prayers, hugs, and condolences.
Sympathy Messages from the Entire Team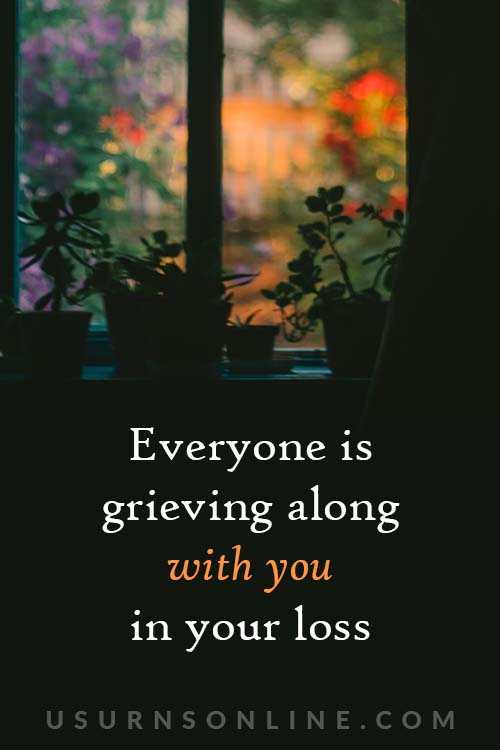 11. Everyone is grieving along with you in your loss. She was an inspiration to us all, and the memory of her courage, kind words, and constant compassion will always be treasured among those who knew him.
12. We are fully behind you and however much time you need! You have the sincere condolences of the entire team in this challenging time.
13. Please accept our condolences and let us know how we can help you in any way.
14. Your loss is our loss too. This is a time of grief, and we want to honor you and your loved one's memory in this season. Please take time to heal!
15. We are all surrounding you with positive thoughts, heartfelt prayers, and our warmest condolences.
16. There are no right words to convey our grief and sympathy at your bereavement. In this difficult time, we want you to feel our love and how much we miss you.
17. We want to express our appreciation for you at this time of loss. We feel your sadness deeply, so please know that our caring thoughts are with you in every gesture of support and care.
18. Please let us know how we can help.
19. With deepest sympathy, from all of us.
20. The team will miss your smile as you mourn your loved one. Our condolences.
Sympathy Message on Behalf of the Company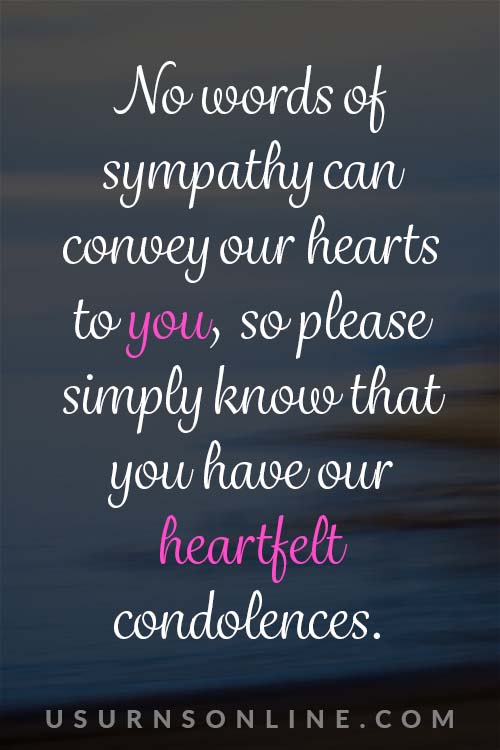 21. We are so very sorry for your loss. No words of sympathy can convey our hearts to you, so please simply know that you have our heartfelt condolences.
22. Our sympathies on the loss of a very special person to someone who is very special to us.
23. Our thoughts and prayers are with you during this tragedy.
24. On behalf of the company, we are here to help you through this.
25. We've seen you do great things. Please let us know if we can help you through this time of sorrow.
26. We are grieving with you. All of our condolences.
27. With heartfelt sympathy, ___.
28. From all of us to all of your loved ones, sincere sympathy.
29. Please accept our condolences and this small gift to help ease the burden.
30. We here at ___ are so very sorry for your loss.
Related: 50 "In Loving Memory" Condolence Quotes
Sympathy Messages for Loss of a Coworker
These are messages to send to family members or colleagues who are grieving another co-worker's death.
Condolences to a Coworker's Family
31. We are grieving with you, and simply put, have no words.
32. All of my thoughts and prayers are with you today.
33. She left behind a legacy to be proud of.
34. I will never forget your loved one and please know that their absence will be sorely felt.
35. He is missed, but never ever forgotten! On behalf of all of us who worked with him every day, please accept our deepest sympathies.
36. My condolences to your beautiful family on the loss of such an amazing person.
37. Please accept my well wishes and prayers for you, the loved ones of such a wonderful person.
38. Seeing the beauty through the pain. Thank you for sharing ____ with me!
39. All of my condolences on the loss of one of the best people I knew.
40. Thoughts, prayers, hugs, and anything else you need, from me to you.
Sympathy Messages for the Workplace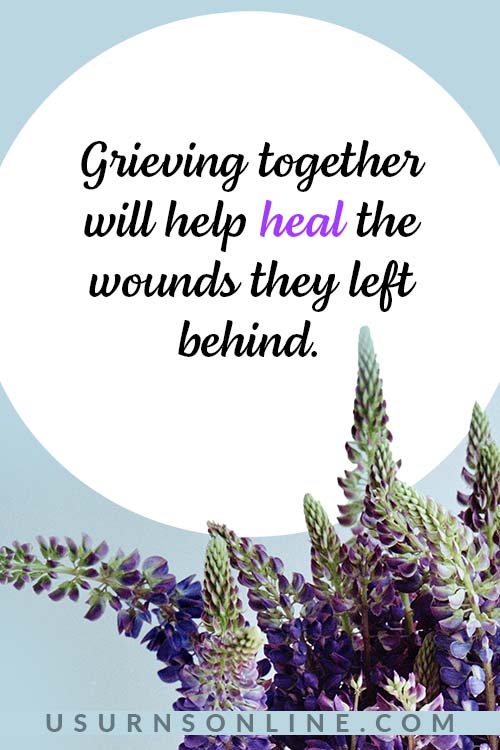 41. Grieving together will help heal the wounds they left behind.
42. I know your heart is hurting – please let me know how I can help.
43. I am so sorry to see you sad.
44. She left a hole I can never fill – but I will try my best to honor her memory!
45. Sincere sympathy on the loss we all feel.
46. We will remember ____ together, and someday smile through the tears.
47. I am so sorry for the loss you've experienced, and hope you reach out if needed. I'm ready and willing to provide support however I can.
48. Anytime, anywhere, I am here for you!
49. ____ was truly special, as are you.
50. My condolences on your loss, and know you are feeling an extraordinary hole where ___ should be.
Related: 101 Best Condolence Messages
How to Write a Professional Condolences Email
Maintain a professional tone and style. Don't be unprofessional or worse yet, flippant. Stay away from slang, emojis, or initialisms, and strive to avoid cliches.
Keep the subject line clean and simple. Start with, My Condolences, or With Deepest Sympathy, etc. This way they won't assume it's simply a work email and avoid it.
Express religious beliefs respectfully. Don't assume they believe in the afterlife, and stay away from generic spiritualistic expressions like, "They're in a better place." It is, however, perfectly acceptable to say that you will be praying for them, as this is your belief system and religion – not necessarily theirs.
Don't make it about you. For example, "I know how you feel," or, "I also lost my mother."
Tell a story. If you have a memory of the one who has passed, feel free to share it. Chances are the recipient has never heard many of the things that happen in the workplace. Every new story or memory is like getting another moment of their loved one – it is a blessing.
Offering help. Don't offer advice. Do offer help, but not in a pushy way. For instance, if you know the family, you could offer to deliver a home cooked meal. If you don't particularly know them well, a simple expression of condolences is often best. Don't be too insistent about following up.
Verify their email. Be sure that you have the correct email address! Preferably one that you've used before, to avoid your email going to their spam folder, never to be read.
Use the decedent's name. Sometimes people think that avoiding the person's name helps minimize the hurt. But in fact, the opposite is true. When you mention their loss by name, it not only validates their loss and feels more personal, but is also respectful and professional.
Remain genuine. Don't make up sentiments you don't feel.
Proofread. Check your spelling, punctuation, and grammar!
Sign off respectfully. Avoid signing off with sentiments like, "All of my love," as it can be too informal. Instead use "All my best" or "With sympathy" before signing.
See more tips on writing a sympathy email.
Read Next: What to Say Instead of "Sorry for Your Loss"
Pin It