You have your loved one's cremated remains back from the crematory. Now what? A lot of people struggle with what to do after the cremation is over.
Should you keep the cremated remains? Bury them? Scatter them? Do you need some help to make a decision?
Let's find out about some great options for a final resting place.
Our website is supported by our users. We sometimes earn a commission when you click through the affiliate links on our website. Learn more here.
1. What is a Memorial Garden?
A memorial garden is place where loved ones are laid to rest, with well-tended flowers, trees, and greenery meant to inspire reflection and remembrance.
Practically, memorial gardens can be one of two things.
First, it might simply refer to a cemetery. Many funeral homes with cemeteries have begun moving away from the more macabre-sounding word "cemetery" towards terms like "memorial gardens." If the name is apt, the cemetery will be lovely and well-kept, and will often have contemporary disposition and interment options like wall niches and scattering gardens.
Second, and perhaps more relevant, a memorial garden is also beautiful Edenic setting created by you! It offers a permanent resting place for your loved one in a verdant and natural setting. You can create your own memorial garden at home simply as a memorial tribute, or you can use it as a place to bury or scatter your loved one's ashes.
Your memorial garden – whether on your own property or at a cemetery – will allow friends and family a place to visit your loved one.
Related: How to (legally) bury a body in your backyard
2. What is a Cremation Garden?
A cremation garden is an area in a cemetery that is set aside for cremated remains. Since cremation gardens are a relatively new concept, not all cemeteries will have one.
Cremation garden can refer to an urn garden or a scattering garden. Continue reading to find out the difference.
3. What is an Urn Garden?
An urn garden is dedicated to cremated remains that are inurned (placed in an urn). It is a landscaped area for the burial of cremated remains in a cemetery.
Some urn gardens are small plots. Some cemeteries have cremation urn areas where the cremated remains can be incorporated into the landscape. These landscaping pieces can include a bench, a fountain, or other pieces of statuary.
4. What is a Scattering Garden?
A scattering garden is a landscaped area with the express purpose of scattering cremated remains. These gardens are also called a scatter garden or scattering area.
Scattering gardens will often have seating and shade trees. You can visit your loved one in a tranquil setting.
Related: Everything You Should Know About Scattering Cremated Remains
5. What is a Memorial Park?
A memorial park is a cemetery. It is a more modern cemetery with a difference. The most significant difference you will see in a memorial park is how they do the headstones or markers. The markers used in this type of cemetery are flat. Bronze is the typical material used in a memorial park.
A flat marker (also called a grass marker) sits flush to the ground. These markers are usually 3-4 inches thick and rectangular in shape.
Landscaping is not interrupted by using flat markers, which is the intention behind it all. The result is a park-like atmosphere where you only notice the grave sites up close.
Related: 100 Quotes on Tombstones That Won't Be Forgotten
More Garden & Park Memorial Ideas
Here are some more garden-themed and park-related memorial ideas to pay tribute to your loved one through nature, gardening, and the great outdoors.
Dedicate a Donation to a National Park in Your Loved One's Name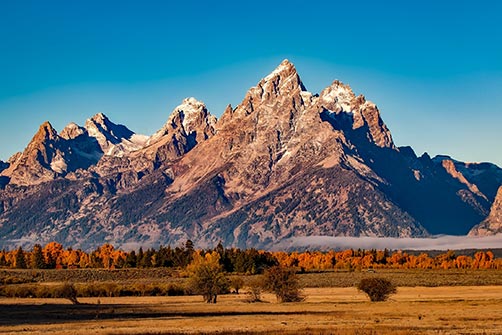 Donating to a national park is a positive way to memorialize your loved one. If your loved one enjoyed hiking the trails, cherished the breathtaking views, or looked forward to having a quiet picnic in the park, this is a perfect way to honor him/her.
Our Nation Park Foundation includes historical sites, ecosystems, and landscapes. The U.S. has over 480 national parks that encompass over 84 million acres. Care for all that land takes a lot of work – and money!
Make your donation to the National Park Foundation in your loved one's memory. A gift in any amount will help preserve our National Parks. A donation is an admirable way to celebrate a life well-lived.
Plant a Tree in Your Loved One's Name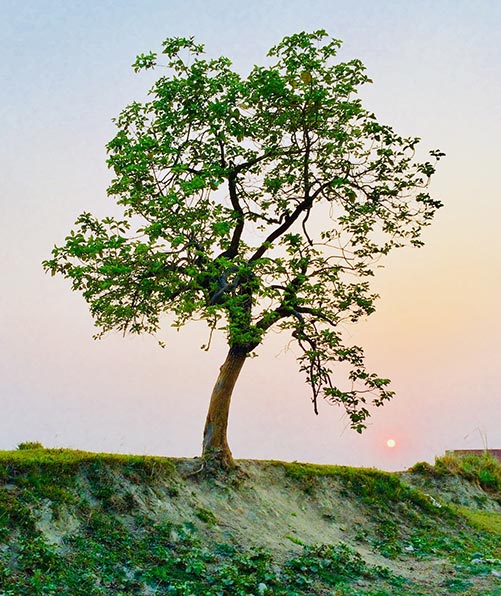 Planting a tree is a thoughtful way to honor your loved one and help the environment! When you decide to give a tree, the team at Trees for a Change will plant it in a U.S. National Forest.
Your memorial will last for decades and decades to come. You will receive photos and the tree's geographic location. You will also receive a card that will explain all you need to know about your gift.
Memorial Park Bench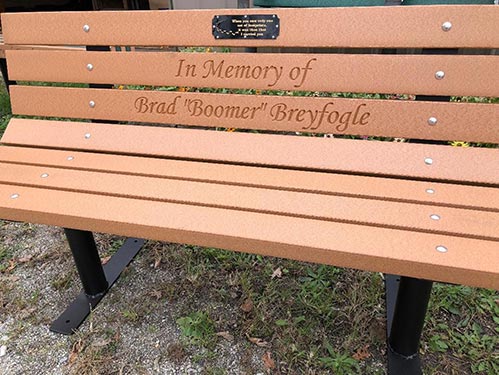 Made out of recycled plastics (using 540 milk jugs), this is a handmade bench. You can personalize this bench with your loved one's name and dates. This seat is a fantastic way to memorialize your loved one. A gift like this also helps the community by placing it in a park, on a street corner, or bus stop.
This beautiful bench will last for over fifty years!
Memorial Garden Stone
You can display a decorative resin memorial garden stone on a stand or place it on the ground. You can safely display outside just about anywhere. The resin marker is treated to withstand the weather and will last for years to come.
This beautiful stepping stone measures approximately 10" W x 1" D x 10" H. Perfect to place almost anywhere.
Related: Butterfly Memorial Gifts
Memorial Bird Feeder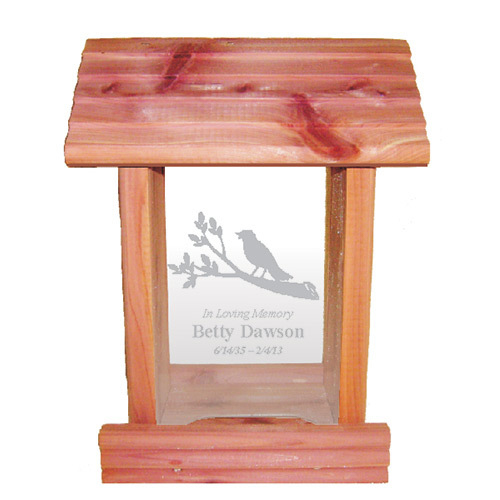 Our personalized cedar bird feeder is the perfect way to honor your loved one, especially if they enjoyed the outdoors and bird watching! You can have your loved one's name, dates, and "In Loving Memory" etched into the clear acrylic window.
This window will also allow you to see the level of seed in the feeder. The natural cedar will have some unique grains and knots in the wood. This is common to any real wood product. The feeder is handcrafted in Oregon and measures 7″ x 4-3/4″ x 10-1/2″
DIY Memorial Garden at Home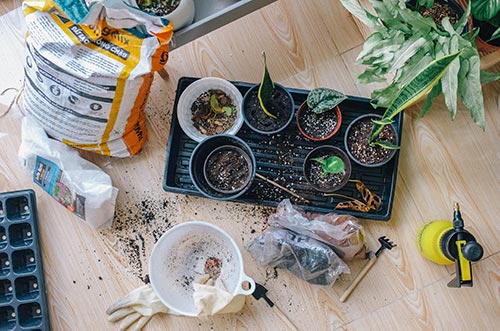 A DIY memorial garden is a perfect opportunity to honor your loved one.
A memorial garden can be as small as a single tree or a large garden area. You have created this space to memorialize a loved one.
When you are making this unique garden, consider your loved one's favorite flowers. Keep in mind what fragrances and colors they enjoyed. Include some statuary. For instance, if your loved one liked cats, place some small statues of kitties in the memorial garden.
Pick the area in your yard.
Decide how you want to make your border. Bricks, rocks, or wood?
Make the border.
Prepare your space. Does it need to be weeded? Do you need more soil?
Pick out your flowers.
Plant your flowers.
Add your décor – a bench, statues, rocks, and stones.
Enjoy your little sanctuary.
The garden should be a place of quiet and solitude. A lovely location for healing your soul after a loss. It doesn't matter how big or small it is. What matters is that you have created a garden that has meaning to both you and your loved one.
Can you scatter ashes in your garden?
Yes, you can. As long as you own the property, you can do as you like.
Read next: Flower Cremation Urns to Honor a Gardener or Flower Lover
Pin It