Today, we're going to show you the best way to ask for donations for a funeral.
There's been a death in the family, and you find yourself making funeral arrangements. You want to do it well, but you know there is going to be a financial burden.
Perhaps the death was sudden and unexpected, or perhaps you simply don't have the resources to cover the costs of the funeral.
What do you do?
In this article, we're going to show you exactly how to set up a tactful memorial fundraiser to collect donations for funeral expenses.
We'll also provide funeral donation message examples so that everyone (including you!) doesn't feel awkward, along with some tips on how to save on all the big expenses.
Our website is supported by our users. We sometimes earn a commission when you click through the affiliate links on our website. See our privacy policy & disclosures for more information.
Donations at Funerals
A funeral donation refers to money collected to help pay for a funeral and related expenses.
This is different from a memorial donation, which is when the family asks for charitable donations to nonprofit organizations like The Red Cross or Compassion International in lieu of flowers.
Funeral donations are for the funeral, to provide financial help for the cost of the funeral. Memorial donations are in memory of or in tribute to the decedent.
How to Pay for the Funeral
There are essentially four ways (five, if you're a member of the armed forces) to fund a funeral.
Pay for it yourself. This could come from your savings account, on credit or a loan, or by pulling out of your retirement accounts.
Family resources. You may have family members who are able and willing to finance the funeral.
Military VA benefits. Military service members have earned the thanks of a grateful nation. The U.S. Department of Veteran's Affairs (VA) provides certain benefits for service members and their families for the funeral, burial, and cemetery costs. Read more here.
Insurance. Many life insurance policies have burial benefits, and you can also get insurance specifically to cover funeral costs.
Crowdfunding. This is where the "crowd" provides the "funds" for the funeral expenses. Essentially, it's asking for donations to help cover the cost of a funeral. In this category you might also include memorial fundraisers like hosting a bake sale, a car wash, an estate sale, or auction.
If you're not a member of the military, haven't purchased insurance, and don't come from a wealthy family, what do you do?
At this point, you have two options: (1) Pursue free/low-cost funeral options, or (2) start a crowdfunding website to help cover expenses.
How to Set Up a Funeral Crowdfund Campaign
Here are two popular and easy ways to set up funeral donations.
Create a Free Memorial Website & Fundraising Campaign with Ever Loved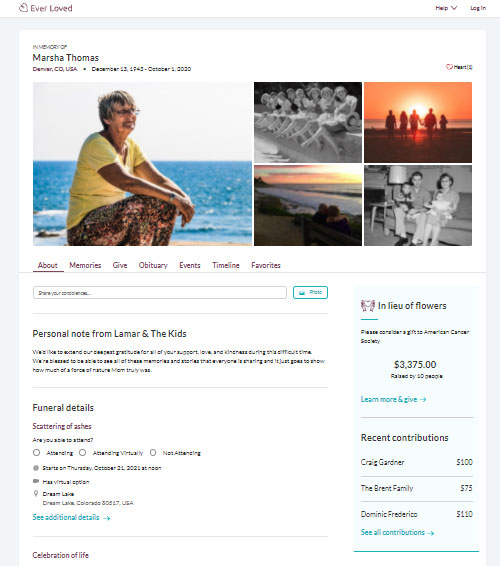 This is our favorite option. It's not as much of a "money grab" as Go Fund Me, and you get a beautiful memorial website to boot.
Ever Loved allows you to create free online memorial pages to honor your loved one. You can share photos and stories, post the funeral and viewing information, allow invitees to RSVP and post condolences or share their own memories on the memorial wall.
And, yes, you can collect donations to help with funeral expenses or for charitable causes. This is an excellent way to make a donation request because it is more subtle than just doing a fundraising campaign, yet it's still effective.
Set up is very simple. Here's how:
Click here, then "Get started."
Just fill in the information the forms. Click "Next."
Choose the reason why you are setting up this donation campaign. There is an option for Help the Family with Expenses or you can choose just about any charitable organization or specific cause. Click "Submit."
Describe the donation campaign, add photos and obituary, then share information about the memorial events. You can also add a personal message.
Finally, share the link through social media, text, or email.
Ever Loved is a very easy campaign to organize. Follow the simple instructions and you can't go wrong.
Start a Crowdfunding Campaign on Go Fund Me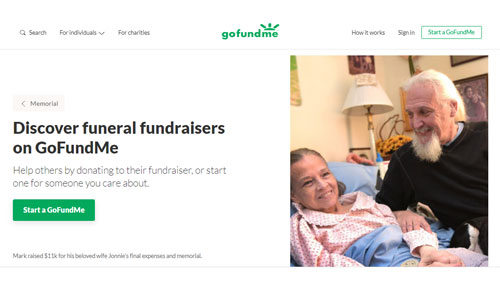 Go Fund Me is the world's leading crowdfunding platform. It doesn't have the "memorial website" feel that Ever Loved has, but is also a great way to raise money for funeral expenses.
Click on "Start."
From the dropdown menu, choose the purpose of the campaign.
Fill out the information requested. Click on Next.
Set your fundraising goal.
Create an account and complete the crowdfunding campaign setup.
Share the link on social media, on the memorial website, or anywhere else you like.
You can personalize and share your GoFundMe in just a matter of a few minutes.
Funeral Fundraiser Wording Examples
Most people are understandably hesitant to ask others for money. For some, it's actually the last thing that they would want to do!
To make it easier for you, we've put together funeral donations wording examples for you to borrow and adapt as needed.
Here's how to ask, politely, for financial donations for funeral expenses.
---
We are shattered by the loss of our son. We were simply not prepared for the cost of a funeral service. Any donation size is helpful as we try to give him the simple yet beautiful funeral he deserves.
In lieu of flowers, the family asks that donations be made to the funeral home to help cover costs.
In lieu of flowers, donations to help cover medical bills and living expenses are appreciated.
Please help the (Name) Family raise funds to cover the cost of (Name's) funeral.
Many of you have asked how you can help my family during this very difficult time. We appreciate your consideration. If you are so inclined, you can make a financial contribution to help pay for funeral expenses. 
After Dad's long illness, he has passed peacefully. Thank you for all of your prayers and caring. Mom's finances have been depleted due to his medical expenses. Please consider making a donation to his funeral fund.
For friends and family who are able to help at this time, we ask that you consider donating towards the costs of (Name's) funeral.
I want to thank everyone in advance for donating to our brother's funeral service. Your generosity is greatly appreciated.
You can also request donations in the obituary.
Write something like this as the last line of the obituary:
The family asks those who wish to express sympathy to consider a donation to help with funeral costs.
The family asks for donations towards (Name's) funeral expenses as an expression of sympathy instead of flowers.
Finally, you can as for memorial contributions in the funeral program.
In place of flowers, please visit [website address] to make a contribution towards the funeral expenses.
The right wording for memorial donation requests is what feels natural. Keep it simple, be clear, and express your appreciation. Everything else will come together.
Funeral Donation Etiquette & FAQ
Whether you're the one donating or setting up a campaign, here are tips for best practices and answers to common questions.
How much money should I donate at a funeral?
Donate the amount that you would have spent on funeral flowers for the service. Typically that is in the range of $50-$100.
Is it appropriate to give money at a funeral?
Yes. Place a check or money in a memorial card and give the card to the funeral director. The director will make sure the family receives all cards and donations.
If you know your friend has a digital wallet, payment sharing app, or online fundraising website, you can also make an immediate donation using your phone. Do it right away so you don't forget.
How do you write out a memorial check?
Make the check out to the next of kin. In the memo line, you can write "for [name of the person]'s service."
Are funeral donations tax-deductible?
Funeral donations are not tax-deductible.
Do I need to be related to the deceased to set up a campaign?
No, you do not need to be related to the deceased to set up a campaign.
How much do funeral fund campaigns cost?
This is where the rubber meets the road. Even the "free" funeral donation platforms have a cost to them. You don't pay a fee upfront to use their service, but they provide a service and (rightly) will be paid for doing so.
Most online crowdfunding platforms take out two expenses:
Credit card processing fees, typically about 3%
The platform's service fee, which varies but most are less than 5%
Ever Loved and Go Fund Me do not charge a separate service fee aside from the credit card processing fees, but instead ask for a tip or donation to cover the cost of their service.
So, for example, for every $100 you raise on one of those platforms, they would take approximately $3 for the credit card processing costs, and you would keep $97. Tip as you feel is appropriate.
Tips for an Affordable Funeral
Keep reading to find some different ways to save when planning a funeral service.
1. Keep it simple.
Don't buy anything extra. Purchase only what you need to have. Your funeral director will tell you what you need.
If you're worried about making emotional or impulsive decisions, we recommend that you bring a close friend.
2. Price shop.
Don't be shy about asking for prices from different funeral homes in the area. Some funeral homes might even do comparison pricing. You don't know if you don't ask.
3. Buy an inexpensive casket.
Caskets are the most expensive purchase for the funeral.
You don't need to spend thousands of dollars on an item that will only be seen for a bit during the funeral – then to be placed in the ground. Ask your director to show you their least expensive casket. It is usually a "cloth-covered casket."
You can also buy a casket from a niche online supplier like Trusted Caskets. The funeral home must, by law, accept a casket that hasn't been purchased through them. Read our Casket Guide for more info.
4. Have a potluck reception.
The reception can be a large portion of the funeral expenses if you're not careful. Catering, service staff, table and chair rentals, and the cost of the location itself. It all adds up.
Thankfully, it's easy to find a free or low cost venue (someone's house or backyard, perhaps your church or a community center).
And if you decide to do a potluck, then everyone contributes to the food costs, and all you need to do is provide paper plates, arrange tables and chairs, and add some table centerpieces.
Related: 55+ Best, Easy, and Comforting Funeral Potluck Recipes
5. Opt for a direct cremation (or burial).
A direct cremation is the most affordable way to put your loved one to rest. Direct burials have slightly higher costs compared to cremation, but if you've decided on full-body burial that is the least expensive option.
Either way, the body is cremated or buried "directly" (e.g., within about 24 hours) without any additional services or products needed.
You can then hold a memorial service at a later date.
Read more: Burial or Cremation – Which Is Right for You?
Start a Funeral Donation Campaign
Funerals are expensive—especially if you haven't been planning for one.
Let's face it, not everyone has insurance or a few extra thousand sitting in their bank account. There is no shame in asking for help in a time of need.
Start a funeral donation fund on Ever Loved or Go Fund Me and give others a way to show their love and support during this difficult time.
Related: 50 Frugal Funeral Planning Tips When You're On a Budget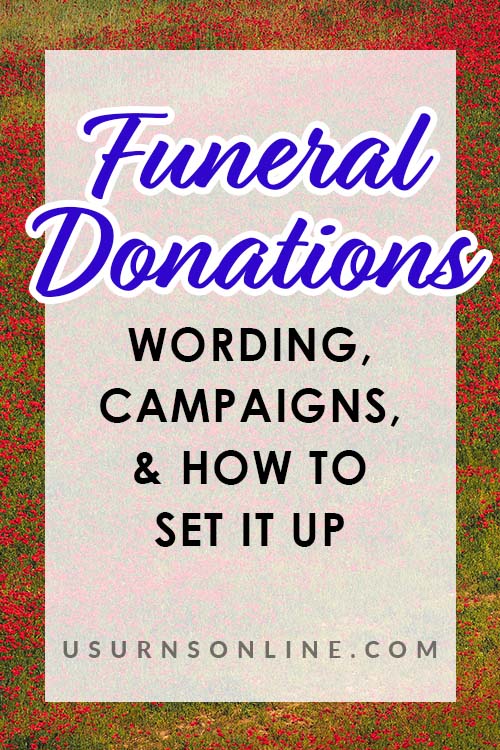 Karen Roldan has been in the funeral industry since 2006, and a licensed funeral director and embalmer since 2008. She is currently licensed in the states of Indiana and Pennsylvania.
She attended Worsham College of Mortuary Science in Wheeling, IL, and graduated with an associate degree in Mortuary Science.
Karen enjoys wring about the funeral industry because her passion is helping families in their deepest time of need. She feels being a funeral director is a calling and she is proud to fulfill this role.
Karen is a wife and the mother of four sons. She, her husband and their youngest son call Pennsylvania home.