The death of a father can be one of the most challenging moments anyone will ever experience. A father is someone you've known your whole life and you may feel an immense sense of emptiness and fragility.
If someone you know is grieving the loss of a father, we have put together some condolences so you can write the perfect message. When you don't know what to say, these quotes will help you express comfort, encouragement, and support.
Short Condolence Messages for Loss of Father
Here are ten brief things to say or write in a condolence message to someone who is grieving the loss of their father.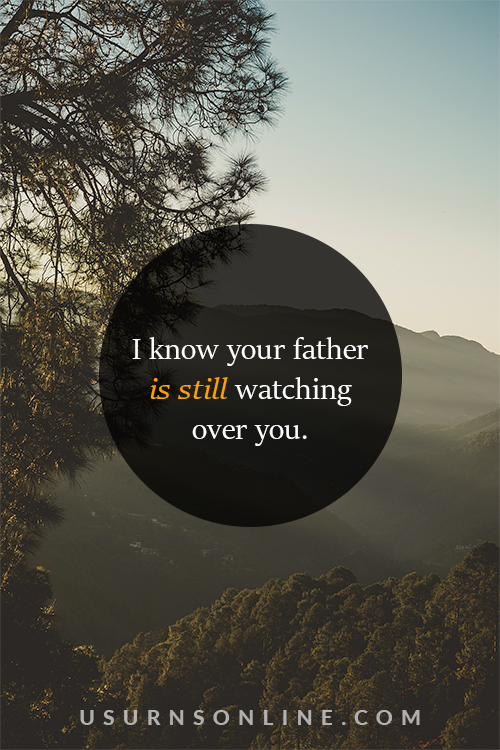 1. I know your father is still watching over you.
2. Sending our love your way at this time of sorrow.
3. Know that you are not alone.
4. Words of comfort are just not enough at this time.
5. The memories he gave you will last a lifetime.
6. Our deepest sympathy and prayers are being sent your way.
7. Praying for peace that passes understanding to settle in your hearts.
8. May the memories of your dad give you peace and comfort.
9. I am sorry for your sadness at your time of loss.
10. The love of your father can never be replaced.
Sympathy Messages for Loss of a Father
Here are twenty sympathy messages to jot in a card.
11. Your wonderful father will be greatly missed. He was an inspiration to many.
12. His soul will live on in my heart. And I will hold him close always.
13. I am sorry for the loss of your father; please accept my condolences.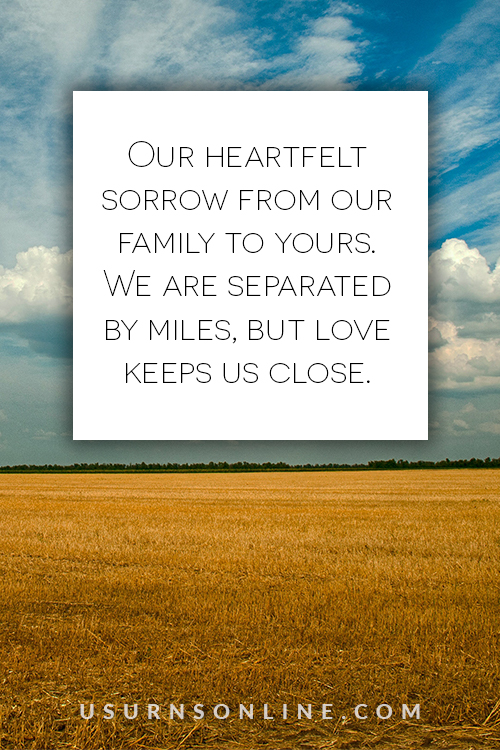 14. Our heartfelt sorrow from our family to yours. We are separated by miles, but love keeps us close.
15. We are sorry to hear of your dad's death. He touched the lives of everyone who knew him.
16. Sending prayers your way for the loss of your father. We will miss him too.
17. I am so sorry to hear of your father's death. He was like a dad to me, and I will miss him greatly.
18. I will always have great memories of your dad. Know that I will love and miss him always.
19. Your dad was loved by all. I have never heard a bad word said about him. He leaves a great legacy behind.
20. Noone could tell a better joke than your dad. His humor and love will be greatly missed.
21. Our family loved being around your dad. He was a genuinely caring man. We will all miss him.
22. We are all so sad to hear of the loss of your father. He was a mentor to so many people. His death is a significant loss.
23. I will treasure your father's memory for the rest of my life. He was such a powerful figure for me.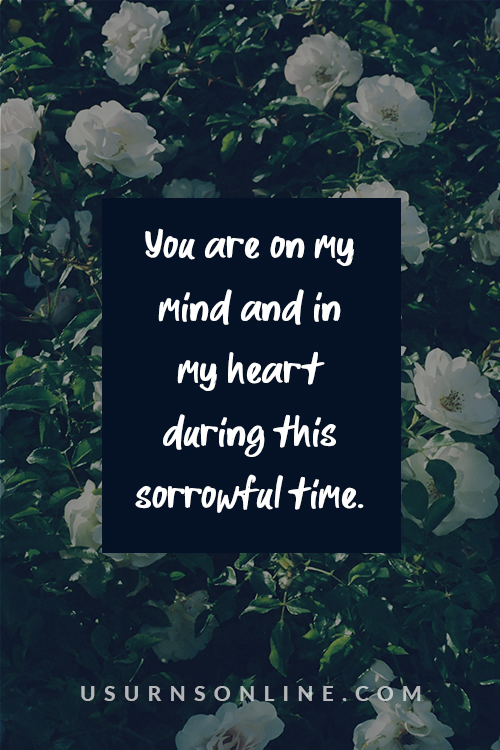 24. You are on my mind and in my heart during this sorrowful time.
25. I am praying over you, offering prayers of comfort and peace during this very difficult time.
26. Your father's loss is heartbreaking. Please accept our sympathies.
27. May the soul of your dad be at peace in the arms of the Lord. Our prayers are with you.
28. We remember his wonderful and gentle soul. He will forever remain in our hearts.
29. May your father's soul rest in peace. Our love and thoughts go out to you.
30. With love and friendship, we are sharing in your sorrow.
Related: How to Write a Sympathy Card
Loss of Father Quotes
Familiar yet meaningful quotes to honor a beloved father.
31. "What we once enjoyed and deeply loved we can never lose, for all that we love deeply becomes part of us." – Helen Keller
32. "It doesn't matter who my father was; it matters who I remember he was." – Anne Sexton
33. "There is no expiration date on the love between a father and his child." – Jennifer Williamson
34. "The heart of a father is the masterpiece of nature." – Antoine Francois Prevost
35. "Love has no age, no limit; and no death." – John Galsworthy
36. "Deeply, I know this, that love triumphs over death. My father continues to be loved, and therefore he remains by my side." – Jennifer Williamson
37. "It's so much darker when a light goes out than it would have been if it had never shone." – John Steinbeck
38. "The pain passes, but the beauty remains." – Pierre Auguste Renoir
39. "Death ends a life, not a relationship." – Robert Benchley
40. "When a great man dies, for years the light he leaves behind him lies on the paths of men." – Henry Wadsworth Longfellow
Honoring Fathers: 21 Stunning Cremation Urns for Dads
What to Say to Someone Who Lost Their Father
Words can be hard to find. Here are some ideas to get you thinking about how to come alongside your grieving friend.
41. My very favorite memory of your father is…
42. Remember, I am just a phone call or a text away.
43. Please tell me what I can do for you.
44. It's good to know that your father's suffering has ended, and he is at peace with the Lord.
45. There is no one in this world like your father. He was an extraordinary man.
46. I know that your dad went through a lot and fought so hard. His journey here has ended, but it has just started on the other side.
47. You were so lucky to have a father like him. I will never forget spending time with him.
48. I was so stunned to hear of your father's passing. I know how special he was to you and everyone that knew him.
49. I want you to know that your father was amazing, and I know how much he loved you.
50. I remember how much he used to love us, take care of us, and be there for us. We will always consider your dad part of our family. We will miss him always.
More: 101 Condolence Messages
What to Do for Someone Who Lost Their Father
Here are a few suggestions that might come in handy to help a friend.
Pick their kids up from school.
Take their favorite meal to them.
Do their grocery shopping.
Just listen.
Ask them to spend the night with you and your family.
Help with their elderly remaining parent.
Stay in touch with your friend that has lost their parent. Make sure to check in after the funeral is over and everyone else has gone back to their normal lives. Remember, your friend's life has now changed forever – they will need your support.
Read Next: Best Gifts for Someone Who Lost a Parent